Are you planning a trip to Kauai and want to know where to get the most famous Hawaiian shave ice? Scroll to find out the best shave ice on Kauai worth a stop on your next Hawaii vacation.
This list of the best shave ice on Kauai was written by Marcie Cheung (a Hawaii travel expert) and contains affiliate links which means if you purchase something from one of my affiliate links, I may earn a small commission that goes back into maintaining this blog.
I've been eating shave ice on Kauai since I was 10 years old. It's one of the highlights of each and every trip to Kauai.
What's better after an unforgettable day outdoors exploring the Na Pali Coast or touring the Royal Coconut Coast than indulging in some of the best shave ice on Kauai?
Perhaps Hawaii's most famous frozen treat is something you have to experience while in the Garden Isle!
The smallest of the main islands, Kauai is the least touristy and most rural. This is where to come if you're looking for an authentic Hawaiian experience, and that includes the food!
Across each of the Hawaiian Islands, you can find plenty of top-notch spots to get genuine Hawaiian shave ice. But Kauai shave ice is something special.
For the best shave ice in Kauai, check out one of the spots on my list below.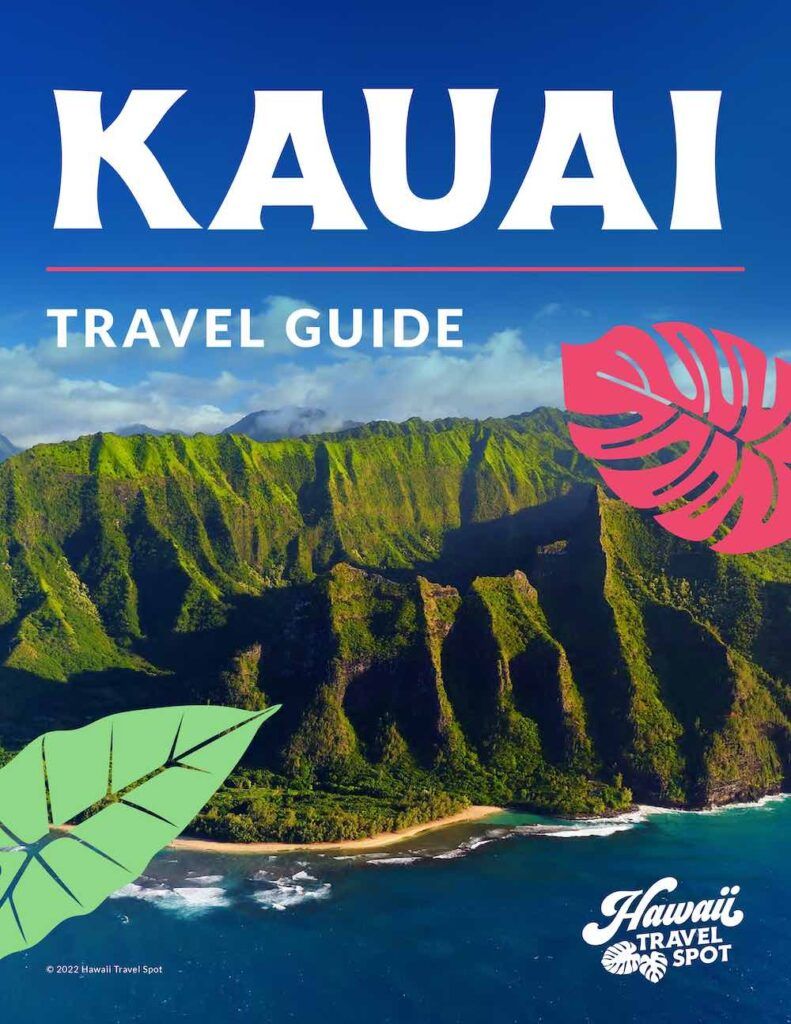 What Exactly Is Shave Ice?
Shave ice starts by shaving ice from a large block. It's packed high into a cup and topped with fruit-juiced-based syrups. Then, you can add a variety of toppings to add even more yummy flavor and texture!
Below are the most popular and traditional shave ice toppings.
Snowcapped
This is my all-time favorite topping for shave ice! And I recommend it if you're trying shave ice for the first time. The name "Snowcapped" describes what it looks like: a snowy peak of a mountain!
It's usually sweetened condensed milk that's drizzled over the top. Sometimes, shops will carry coconut cream or another non-dairy cream instead.
Vanilla Ice Cream
There's nothing quite like homemade Hawaiian vanilla ice cream added to the bottom of your shave ice. My sons always get this! It adds a lovely contrast with the creaminess of the ice cream next to the fluffy shave ice.
I love how syrups mix with the ice cream to create more complex flavors! And sometimes shave ice stands will have special ice cream flavors like macadamia nut or haupia.
Li Hing Mui Powder
If you like sweet and sour, you'll love this one. Li hing mui is Chinese salted plums, and it's fabulous. You can find the dried fruit form in some places but most shave ice stands have the powder form so you can shake it over the top!
We actually put it on fruit at home. If you've never tried it before, try just a little bit. Over shave ice, it's great paired with fruit like mango, pineapple, or even strawberry syrup.
Mochi Balls
If you're familiar with the dessert made of rice starch, these are mini mochi balls. They're usually hand-rolled balls and add a nice chewy texture to your shave ice.
Fresh Fruit
You can't go to Hawaii without enjoying all the amazing fruit straight from the land! Shave ice stands carry fabulous Hawaiian fruits in a few different ways, whether it's sliced, diced, or pureed into jams.
It's most common to see bananas, mango, lilikoi, pineapple, and more. They add yummy flavor and texture to the ice. And most shave ice syrups are made with fresh fruit juice as well.
Azuki Beans
Traditionally an Asian shaved ice topping, azuki beans have become popular over the last few decades. They're worth a try!
Red azuki beans are boiled in sugar till they're soft and then served in all their syrupy goodness over shave ice. Sometimes it's mashed into a creamy paste and drizzled over the top. It adds a kick of sweetness and an interesting, creamy feel to the treat.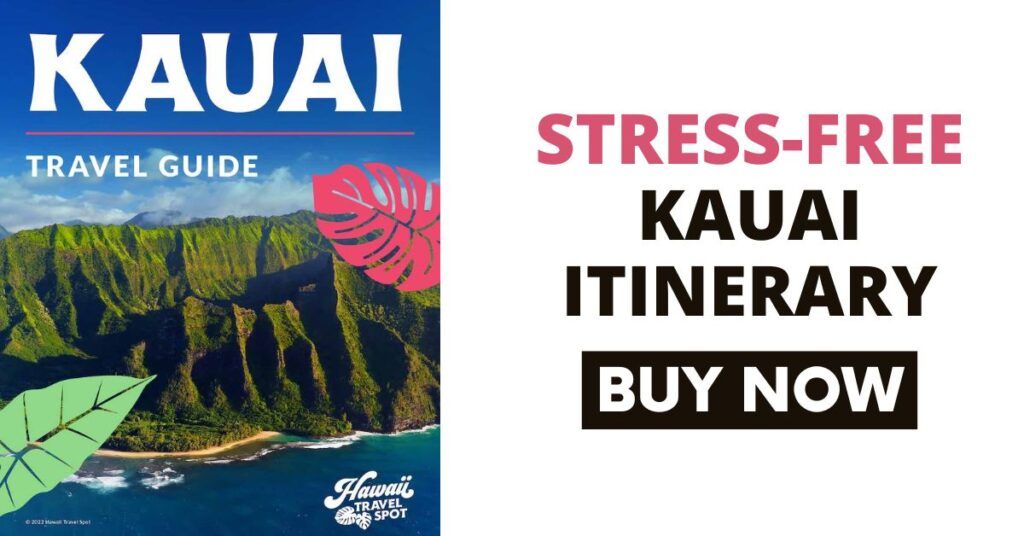 10 Spots to Score Kauai's Best Shave Ice
You'll find the best shave ice on Kauai walk-up windows and convenience stores across the island. Kauai's food truck scene is also a very popular place to find some of the very best Kauai shave ice. There are so many places to choose from but here are the top 10 I recommend starting with.
Wishing Well Shave Ice
I actually learned about Wishing Well Shave Ice in Hanalei because it was the last stop on a food tour of North Shore Kauai that I took! It's a Kauai shave ice truck that also sells coffee, acai bowls, and more.
Besides the cute branding and organic feel, what's great about Wishing Well is their commitment to quality organic ingredients.
They have toppings like fruit and ice cream. You can choose from traditional flavors like bubble gum and strawberry, but also organic options like hibiscus lime or ginger. They also have amazing house-made syrups with flavors like banana and li hing mui!
Sunrise Shave Ice
For Princeville shave ice, I suggest Sunrise Shave Ice next to the Foodland on Kuhio Highway. This is a new place that offers authentic shave ice compared to anything else you'll find in Princeville. It's a bit pricey, but it's worth it if you're staying in the area.
They offer a dozen flavors you know and love, including homemade fruit syrups. You can get add-ins like Snowcapped and vanilla ice cream, and also get chamoy, which is the Mexican version of li hing mui! Sunrise Shave Ice is a walk-up window with shaded picnic tables out front.
Wailua Shave Ice
Located in the heart of Kapaa, Wailua Shave Ice is a darling shop with some of the best shave ice on Kauai. It started off as a food truck in Kapaa but then they moved into a brick-and-mortar shop.
This is a super popular place on the island, but my first time trying them was at their location in Portland, Oregon several years ago! Now we make a stop on each trip to Kauai.
Wailua Shave Ice has great flavors that include orange juice, chocolate milk, and lemonade! Their haupia foam adds the best fluffy texture to your shave ice. And this is where to come for the fun signature combinations.
JoJo's Shave Ice
One of Kauai's favorite places to get shave ice is JoJo's Shave Ice. While the original location is in Waimea, you can also find 2 more storefronts, one in Hanalei and one in Kapaa. The brand is beloved for its no-frills take offering a consistent classic.
Choose from dozens of homemade syrups, 4 of which come free with your order of shave ice! They even have chocolate drizzle, which most places don't have.
And you have the option of 2 sizes. The biggest is a massive 40 ounces, which makes the low price even better!
Hee Fat General Store
Hee Fat General Store in Kapaa Town always has a line for their shave ice, and it's worth the wait! This is a great place to pick up Kauai souvenirs while also getting amazing Kapaa shave ice.
What makes Hee Fat some of the best shave ice on Kauai is the no-nonsense menu board! Go with one of their shave ice creations or build your own. All creations come with snowcapped included.
If you build your own, snowcapped and li hing mui are free! I also love that they always have a few extra locally-made ice cream flavors.
Skinny Mike's Ice Cream & Shave Ice
Not far from Kalapaki Beach in Lihue's Harbor Mall is Skinny Mike's Ice Cream & Shave Ice. There aren't many ice cream parlors I'd recommend for great shave ice, but this one is an excellent choice.
You won't find fruit toppings like a lot of places, just a lot of traditional flavor syrups. But it's perfect if you're a fan of ice cream in shave ice! It's fun to play with the flavors.
Go with POG (passion fruit, orange, and guava) with mango ice cream! Or try lychee lilikoi with pineapple cream ice cream.
Waikomo Shave Ice
Waikomo Shave Ice is the tiniest food trailer set up in the parking lot next to Kukuiula Market and Da Crack Mexican Food on Poipu Road in Poipu. It's one of the most expensive options on my list, but I can attest that it's worth the price!
This shave ice is so flavorful, and I love that the company focuses on sustainability and local ingredients, like coconut cream and honey. You can order yours in a coconut cup (that still has juicy coconut meat in it!) and it comes with a wooden spoon.
The Fresh Shave
The Fresh Shave is a family-owned business that used to run out of a food truck, but they recently opened a beautiful storefront that you can visit in Old Koloa Town. They have the cutest branding with signature flavors named after types of mustaches!
The reason The Fresh Shave is some of the best shave ice on Kauai is their passion for all-natural ingredients.
They keep a small list of high-quality options like fresh fruit jams, teas and coffees, and local honey. Try The Caterpillar, which is shave ice topped with fresh oranges and sweet cream!
Uncle's Shave Ice & Smoothies
Try a different Koloa shave ice spot every day, and make sure to include Uncle's Shave Ice & Smoothies on your list! They also have a location in Lihue, if you feel like you need more.
This place is famous for its amazing shave ice. It's the most expensive option on my list, but the massive size can be split among 2 or 3 people.
Uncle's has a great list of classic syrups and suggested combinations. But they stand out for their fresh fruit toppings. You can have fresh pineapple, strawberries, lilikoi, and more. They also have sweet cream or haupia cream, and vanilla or macadamia nut ice cream.
RipTides Shave Ice & Snacks
A bit off the beaten path, RipTides Shave Ice & Snacks is perfect for a cold treat during a beach day in Lawai! It's a brightly colored shave ice stand right across from Lawai Beach, and it's low-key some of the best shave ice on Kauai.
RipTides is perfect for grabbing snacks, drinks, and shave ice after a long morning in the sun. They have all kinds of artificial flavors and natural fruit-based flavors, so everyone can get their favorite shave ice! The staff here is the best, so if you need recommendations, they'll be happy to help.
FAQ about Hawaii Shave Ice
What is shaved ice called in Hawaii?
Hawaii's frozen treat made of finely-shaved ice topped with fruit juice may have been inspired by Japan's kakigori. But today, the islanders have made it their own beloved tropical dessert called shave ice. The name developed over time through Hawaiian Pidgin vernacular.
What is the difference between shaved ice and shave ice?
If it's called "shaved ice" it's probably not the real thing! Anyone worth their salt selling shave ice in Hawaii will call it by its common name. If you see a sign for "shaved ice" there's a chance you're paying for a snow cone with crushed ice instead of shaved ice. You want that fluffy, snowy texture to the ice.
Why is Hawaiian shave ice so good?
It's all about the texture and the flavor! If you've ever had a snow cone made with crushed ice, you know that the syrup falls to the bottom. Shave ice requires super-fine shaved ice that allows syrups, creams, and juices to absorb evenly through the entire treat! Plus, any shave ice stands worth their salt will poke holes through the ice to help flavor to soak in even more. After that, what makes shave ice so amazing are all the high-quality toppings that contrast and complement the creamy texture of the shave ice.
Is shave ice healthier than ice cream?
Shave ice is a sugary treat full of refined sugars. While it's lower calorie than ice cream it shouldn't be considered healthier! However, you might choose shave ice over ice cream for many reasons. It's a great option if you're trying to avoid dairy. And many shave ice spots are known to avoid corn syrup and artificial flavors and dyes. Plus, you can build your own shave ice with unprocessed toppings like sliced fruit.
Get Your Hands on the Best Shave Ice in Kauai
You'll find the best shave ice on Kauai in storefronts, ice cream parlors, and especially food trucks. If you've never tried shave ice before, go with a classic combo. Or try something new at a gourmet shave ice stand.
Did any of the Kauai shave ice spots on my list make your mouth water?