Are you heading to a wedding in Hawaii but don't know what to wear? You'll want to check out these ideas of what to wear to a wedding in Hawaii so you'll be comfortable and fashionable!
This guide to what to wear to a wedding in Hawaii contains affiliate links which means if you purchase something from one of my affiliate links, I may earn a small commission that goes back into maintaining this blog.
Great news! Someone you know is getting married. Even better news; the wedding is in Hawaii!
While this sounds like a great time, and certainly will be, it does raise some questions. Since life just operates on a different wavelength, what do guests wear to a wedding in Hawaii?
Well, here is a whole list of ideas for Hawaiian wedding attire for guests, based on the recommended level of dress for the wedding.
Want to skip all the planning and just access my detailed Hawaii itineraries complete with daily schedules, fun activities, and travel hacks? Click the button below.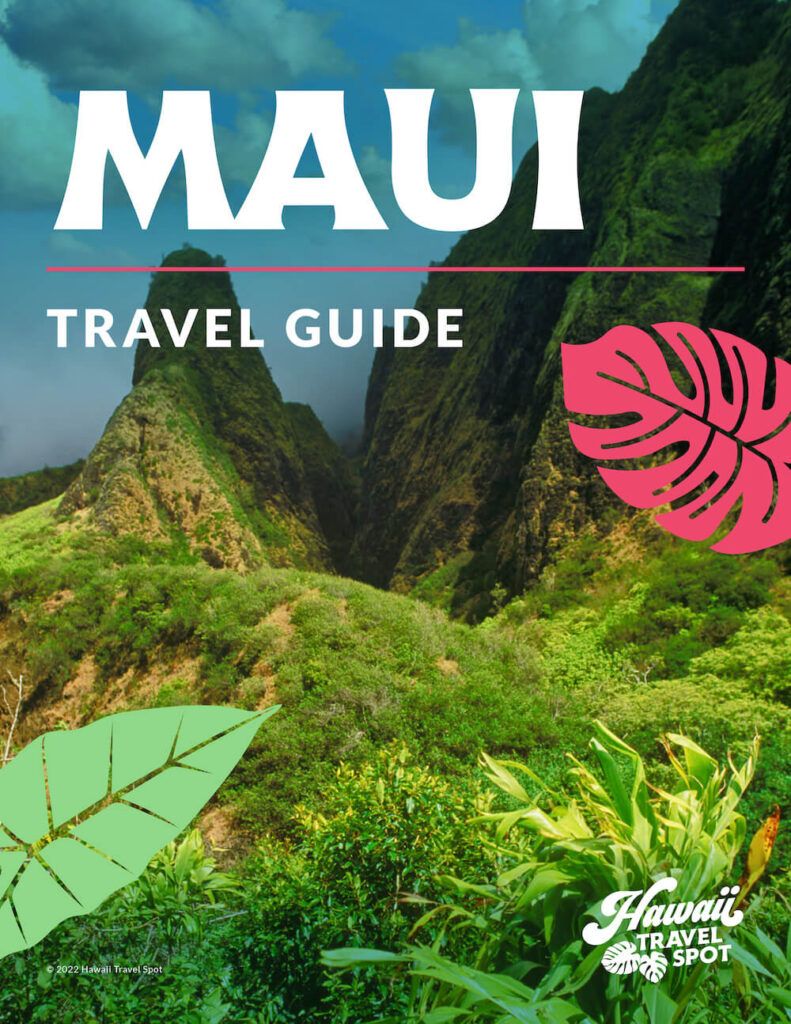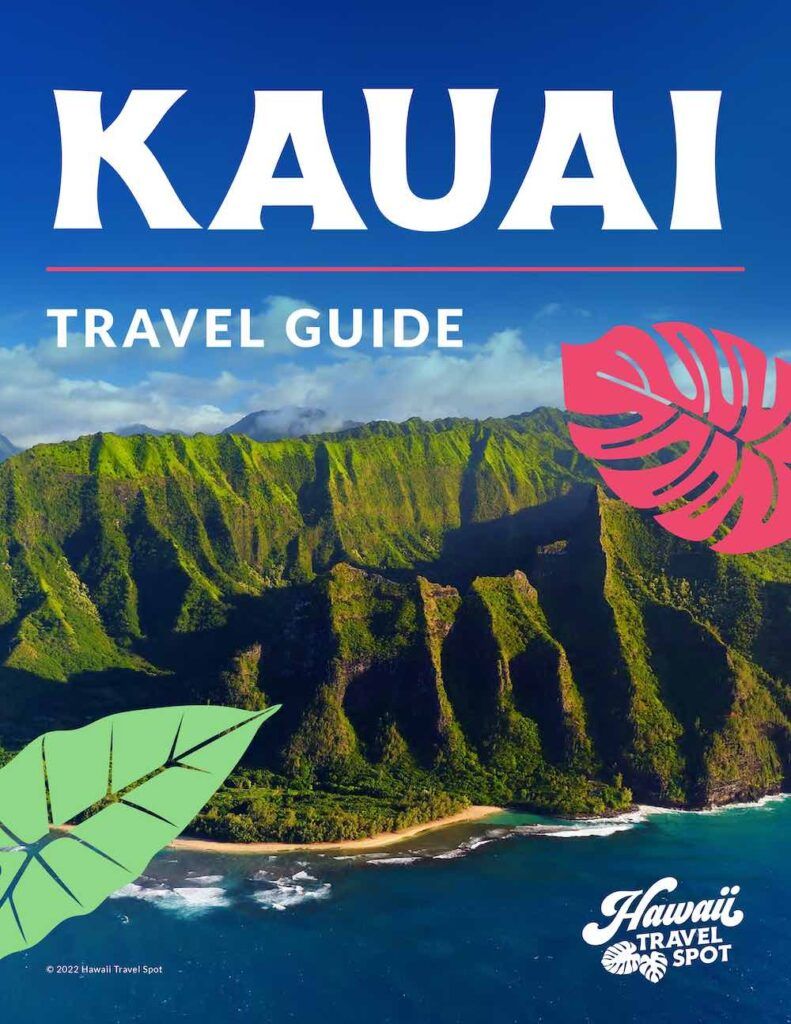 Style: Beach Formal
Beach formal is an interesting intermarriage of styles. While it leans more toward traditional wedding attire, there are some allowances made in deference to the location.
It is possible to be overdressed, and a full tuxedo at the beach fits that definition. This will tone it down without sacrificing class or elegance and help determine what to wear to a destination wedding in Hawaii.
Women's wear will trend toward long, elegant gowns, whereas men should show up in a traditional suit. Breezier fabrics and lighter tones fit the beach setting without sacrificing too much elegance. Also note, footwear has its own section to follow.
Beach Formal Dresses for a Hawaiian Wedding
One great option in Hawaiian wedding dress ideas is this full-length Plumeria Print Rayon Formal Dress. While a pattern that is too busy isn't ideal, this one just toes the line while still totally fitting in with the beachy vibe.
The full length ensures that it fits in with a more formal setting as well. And while cotton is to be avoided, breathable fabric is still recommended, as Hawaii tends to be on the warm side. Rayon checks every box on that list and is an ideal fabric for Hawaiian beach wedding attire.
Next is another print entry, but this one is even more understated than the last. The banana leaves still give off a beach vibe, but only slightly ornament this dress. This helps keep things in the realm of the formal.
Additionally, the Women's Floral Strappy Maxi Dress is backless, which is another plus for warm Hawaii. Any fabric that can be spared while not showing off too much is a plus.
The third dress on the list is an understated floral print, this time made of chiffon; another champ in the breathability realm. This Women's Floral Halter Gown also features a keyhole back, which is good for the warmer climate, but not as show-offy for those not quite brave enough to go the fully backless route.
If prints are just a little too casual, this series of Floor Length Infinity Dresses offers multiple color and style choices, all in solid colors to keep with the beach formal dress code.
These dresses could be bridesmaid dresses but work just fine as a dress for a Hawaiian wedding guest, assuming the bride didn't opt for the same ones. Multiple styles and colors are available, so there are options to suit a range of tastes.
Hawaiian Wedding Attire for Men
And lastly, we have a beach formal option for the men. This Men's 3-Piece Linen Suit is light and breathable, while still looking classy and formal. A nice, solid-color suit fits the beach vibe, and the lighter color also matches the mood.
The fabric is also a more breathable fabric. And in a 3-piece suit, any help with temperature moderation is greatly appreciated.
Style: Semi-Formal
Next, we have the semi-formal category. Prints open up, hemlines raise some for women, and overall this ups the casual factor, while still keeping things relatively pretty and elegant. This does make the task of choosing what to wear to a Hawaiian wedding a bit simpler, but it's still not free reign.
Semi-formal dresses for a Hawaiian wedding are recommended to be around tea length, so things are definitely cooler. Seeing as most beaches tend to be windy, the hemline shouldn't be raised up too much to avoid accidentally showing off way too much.
Additionally, prints are now welcomed into the fold. Nothing too loud; it's important not to take focus from the bride's Hawaii wedding dress.
What to Wear to a Hawaiian Wedding
Our first option for semi-formal is this Women's Casual Bohemian Floral Midi Tank Dress. This dress is light and breezy, with a pretty floral pattern to suit the beach. The fabric is a breathable polyester blend to allow for a cooler experience. Available in four colors.
Another great option is this Floral print Bohemian Maxi Wraparound Dress. With a very faint floral-patterned fabric, it's visually interesting without being too busy. The dress is flowy and perfect for a beach atmosphere.
The next option really pushes wearability in a warm climate like Hawaii's. This Off Shoulder Wrap Ruffle Puff Tie Back Dress is simple and offers plenty of cooling.
The off-the-shoulder cut is perfect for a semi-formal dress code. Its bright blue fits right in with a beach palette. Accent with some cream or beige-colored accessories.
Semi-Formal Attire for Men
And for Hawaiian wedding attire for men, there is the Casual Linen Beige Men's 2 Piece Suit. This is actually the same suit from above, so the three-piece option could also be selected, and then just leave the jacket in the room.
Or opt for the two-piece to save a little on the suit, depending on the intended use beyond the wedding.
Style: Casual
And finally, we have the full casual option for Hawaiian wedding attire. This is the least restrictive dress code, but there are still some considerations that must be acknowledged.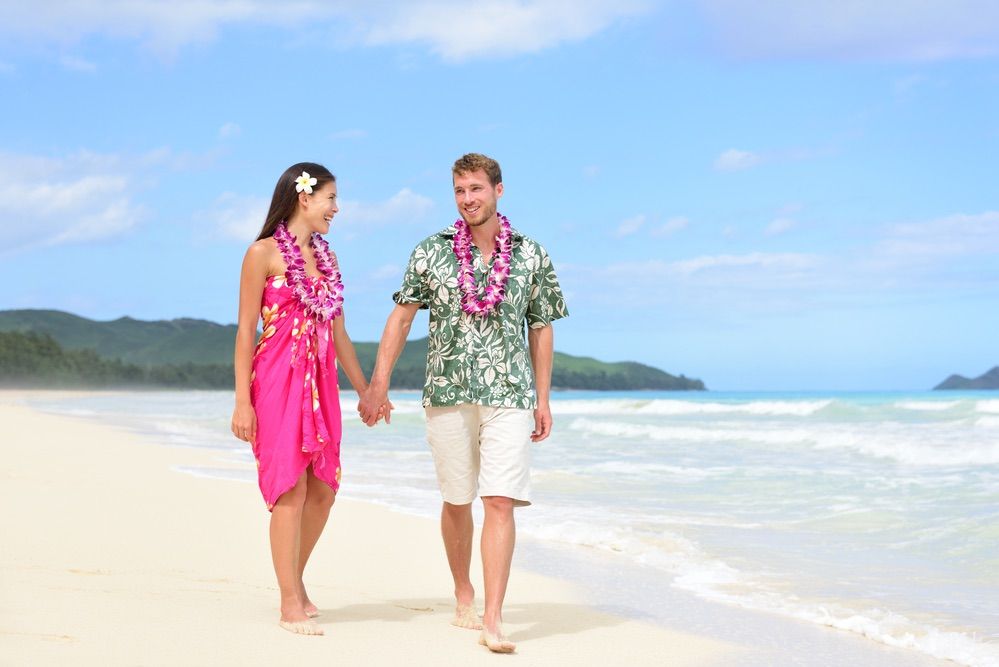 While myriad options can be worn, bathing suits or swimwear are still not appropriate. Additionally, t-shirts, shorts, and flip-flops are off the table. It is still a wedding, after all.
For women, a maxi dress is ideal. Men should stick to long pants and a button-down shirt with short or three-quarter sleeves. Light colors are recommended for both.
Casual Hawaiian Wedding Attire
The pretty, bright pattern on this Flutter Sleeve Pleated Maxi Dress and ivory base color really tie into a tropical palette. The A-line skirt silhouette is elegant but simple, making this dress something that could be worn as more than just casual Hawaiian wedding attire.
Here we have something that doesn't usually work out too well. Matched his and hers outfits.
Hawaii is one of the only places where his and hers doesn't end up looking weird. Usually it leans too much toward one side or the other. But a nice Hawaiian floral pattern looks perfect on both a Hawaiian shirt and a dress.
The soft yellow fabric and pleasant bamboo orchid pattern on this Matching Hawaiian Bamboo Orchid Aloha Shirt and Dress set isn't too masculine or too feminine and is something both members of a couple will enjoy wearing.
As the last entry hinted, beach casual is the dress code tier where the Hawaiian shirt finally enters the ring. While patterns that are too loud, wild, or feature hula girls should probably be avoided, there is nothing wrong with a simple pattern such as this Natural Shoulder Fern Aloha Shirt.
Besides being the coolest option available in menswear for a beach wedding, let's face it. Every guy, when told that they were going to a wedding in Hawaii, immediately thought "can I wear a Hawaiian shirt?" He won't be disappointed as long as it's Beach Casual. He might even enjoy deciding what to wear for a Hawaiian wedding.
And if the Hawaiian shirt just isn't in the works for some reason, there is always an option like this Men's Linen Henley Shirt. It's a half-button shirt with long sleeves, but a fabric that won't look wrinkly because it is naturally rumpled. This is perfect for a beach look that isn't overly casual, but not overdressed either.
Shoes for a Hawaiian Wedding
Stiletto heels and patent leather shoes just aren't going to work on the beach. Walking in any type of heels would be a nightmare, and leather shoes will get ruined faster than you can say sand and saltwater. This means that the dress code for shoes is equally relaxed, despite the level of dressiness.
For women, flats are ideal, although wedge heels or espadrilles can also work. For men, actual shoes are probably still best, but they should be a bit more casual. No sneakers, though. And sandals shouldn't be worn by men for anything above beach casual. And even then, only sparingly. Sorry, guys.
First up for women are these Rhinestone Lace up Flats. The lace adds a casual elegance to the shoes, keeping things classy but still practical for the beach. And so pretty! The lace is available in multiple color options, so coordination with the outfit is fully on the table.
Next up we have these white leather pearl sandals. Simple and classy at the same time, they would fit in perfectly with any level of beach wedding dress. Additionally, since white goes with everything, they can pair up with whichever outfit gets chosen.
Men are more limited, but that doesn't mean there are no options at all. The Men's Penny Loafer Moccasins are designed specifically for beach wear. They are designed to not get ruined simply by wearing them on the beach. Styled like penny loafers, they will fit with any outfit mentioned above for men. There are even color options available to add a little more visual appeal.
Or maybe, just maybe, there will be a sign declaring something like this Shoes Optional Sign. It's the beach. Not wearing shoes is totally appropriate, as long as it fits in with the wishes of the bride. Because it's her day, and her Hawaiian beach wedding. So if she's game, she might even go barefoot and allow the guests to follow suit.
Accessories for a Hawaiian Wedding
Of course, the outfit is only part of the picture. One is never completely dressed without the proper accessories. Additionally, this is one area where you can explore options and add some personality to an outfit. It really ups the "beach factor," as it were.
Starting things off, we have a truly elegant Tropical Flower Wedding Hair Comb. The plumeria flower is made from carved mother-of-pearl, both elements with strong ties to Hawaii. Accented with lots of gold, this can pull almost any outfit together, and will look perfect at a Hawaiian beach wedding.
Another option that is a bit less ostentatious, but no less pretty, is the Tropical Hawaiian Silk Flower Hair Clip. This lovely arrangement looks right at home on the beach, no matter the outfit. Purchasers have even stated that other people have trouble identifying that the flowers are silk and not real.
One for the guys, this Hibiscus Men's Tie fulfills any requests for a tie to be worn but brings that Hawaiian shirt vibe right along with it. Maybe his shirt can't be too busy, and the shoes have to be plain, and a jacket might even need to be worn. But a tie's a tie, right?
What to Wear to a Beach Wedding in Hawaii
So, while the idea of picking a beach-appropriate, but still respectfully elegant and classy outfit might seem daunting, it's actually quite doable.
Figuring out what to wear to a wedding in Hawaii doesn't need to be a chore. There are multiple options on all levels of dress code, so attendees can still find something that suits their personality and appearance.
All of this will combine to make an unforgettable wedding that the bride is sure to hold in her heart for a lifetime.