Are you thinking of going to Maui? Continue reading to learn about Kihei's top condo rentals on Maui that are ideal for couples and families.
This list of the best Kihei condo rentals was written by Marcie Cheung (a Hawaii travel expert) and contains affiliate links which means if you purchase something from one of my affiliate links, I may earn a small commission that goes back into maintaining this blog.
Wondering where to stay on your trip to Kihei?
Staying in a condo is a great option – they offer more than just hotels, and are usually cheaper as well. Plus, you can cook your own food and have more privacy.
In this article, we'll address some frequently asked questions about Kihei, walk through the greatest Kihei condo rentals, and even give you a breakdown of the top things to do in Kihei.
So whether you're still trying to figure out where to stay or are just looking for some ideas on what to do while in town, we've got you covered.
Need a reason to consider my guidance? My extensive 40+ visits to Hawaii make me a genuine expert in its attractions.
Keep scrolling for my list of the top Kihei condo rentals worth booking.
Want to skip all the planning and just access my detailed Maui itinerary complete with daily schedules, fun activities, and travel hacks? Click the button below.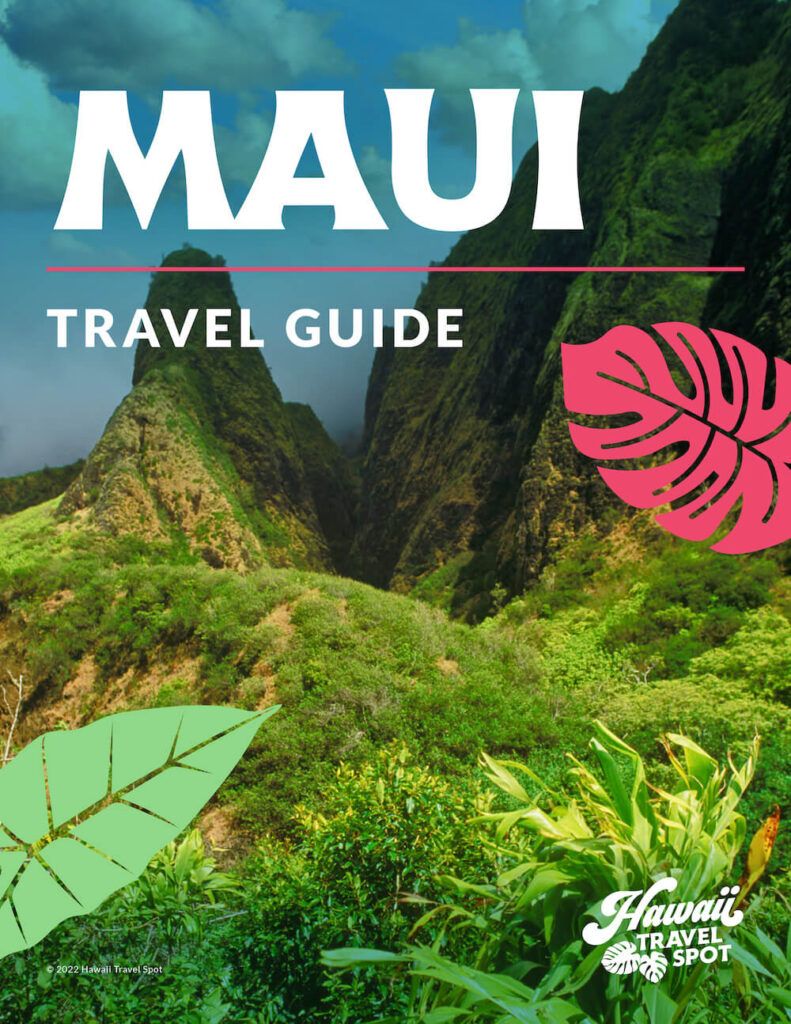 Kihei Vacation Rentals Within Walking Distance of Beach
Beachfront Home Kihei
If you prefer fewer crowds and being near a beach and main sites in Kihei, stay at this Kihei Vacation Rental.
Constructed in 1960, this holiday rental is a Hawaiian house with some renovations that give vibes of a Kihei trip. Check rates and more information.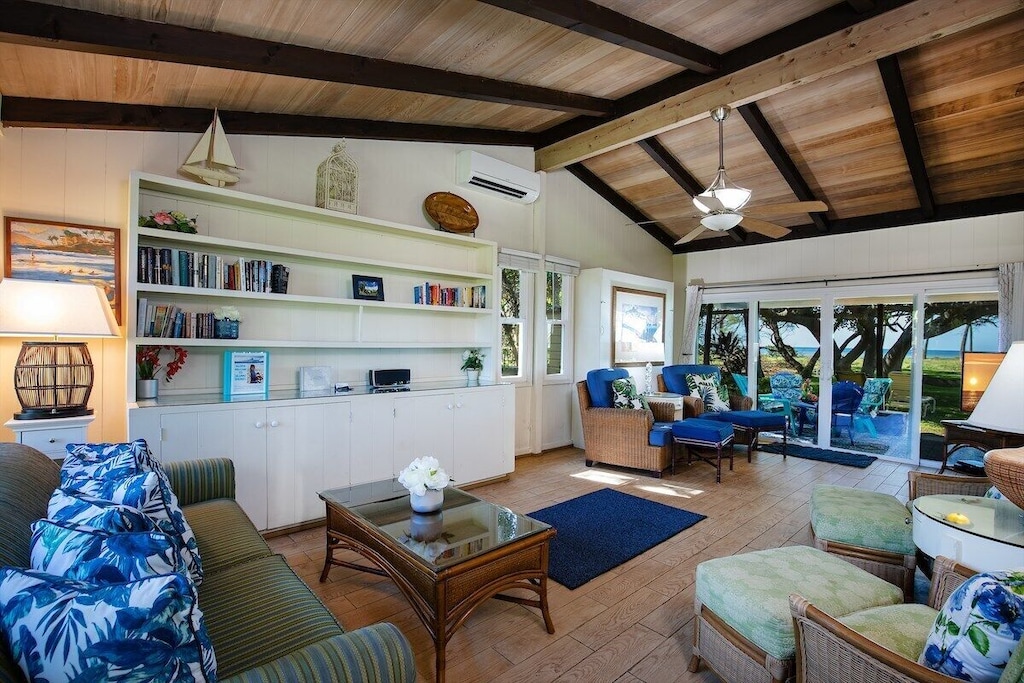 There are 2 bedrooms and 2 bathrooms, which can fit six people. There is also a laundry space, a fully equipped kitchen, and a separate air conditioner in each room
You can picnic on the extensive lawn or have a barbeque night on the lanai.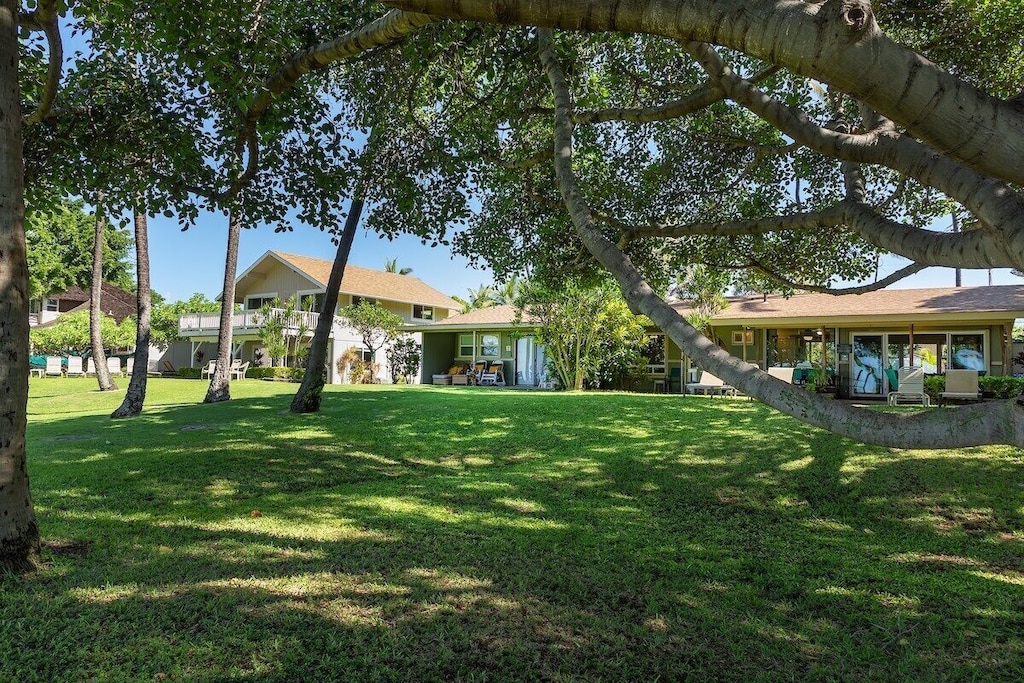 Whatever you decide to do, you're not that far from the marvelous private beach! It only takes a short stroll that will put you right in the heart of the bustling middle town of Kihei. Check rates here.
Mango Surf Beachfront Villa
The spectacular Mango Surf Beachfront Villa will provide you with a trip of a lifetime in Maui. Inside this home are three bedrooms, three bathrooms, a fully equipped kitchen, a laundry room, and a living room.
The outdoor area of this lovely half-acre place is quite captivating. Check the latest rates and more information.
It has a personal swimming pool that can be heated, a pool cabana with an outdoor kitchen, a hot tub, and a lawn.
The backyard connects to a secluded and serene private beach which is known to be a turtle and whale hotspot.
In addition, the villa features a concierge on the site who can help you plan anything from a water experience to a spa treatment in the villa. Check rates here.
Save Money with Points
Here are the best credit card offers for people who travel and want to use points to pay for airfare and hotels in Hawaii.
Menehune Shores Beachfront Condo
Located in South Kihei, Menehune Shores is a wonderful place where you can see stunning sunsets by the ocean.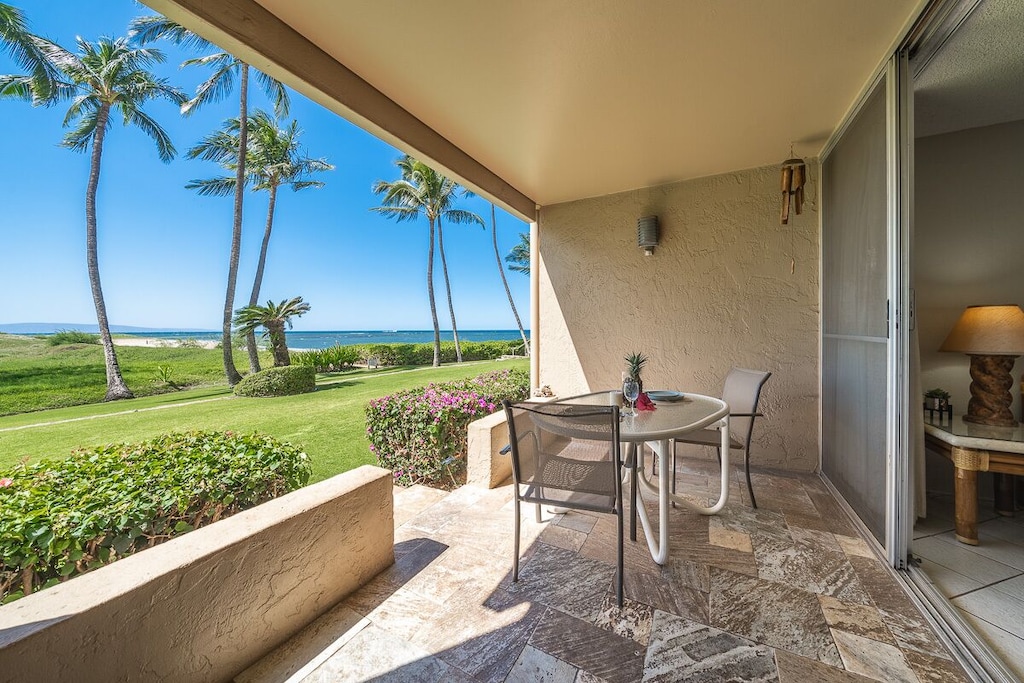 This Kihei Maui condo has two bedrooms and two bathrooms. It's great for a family of four, but additional beds can fit as much as six more people. Check the latest rates and more information.
This condo is in North Kihei and is away from crowds in town and offers total solitude to your family.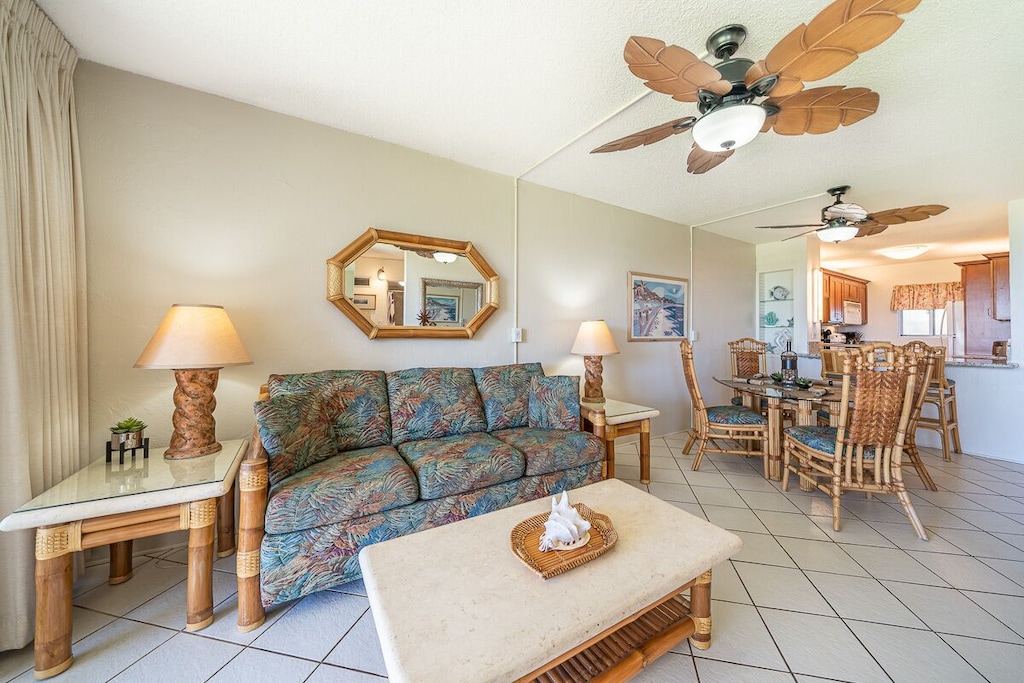 The outdoor pool, which is very close to the semi-private beach, is the main feature of this property. After an evening swim with your family, you can go to the rooftop to see Maui's breathtaking sunsets.
This condo fits your budget well. Although there is no air conditioning, the ocean wind will keep you cool. Check rates here.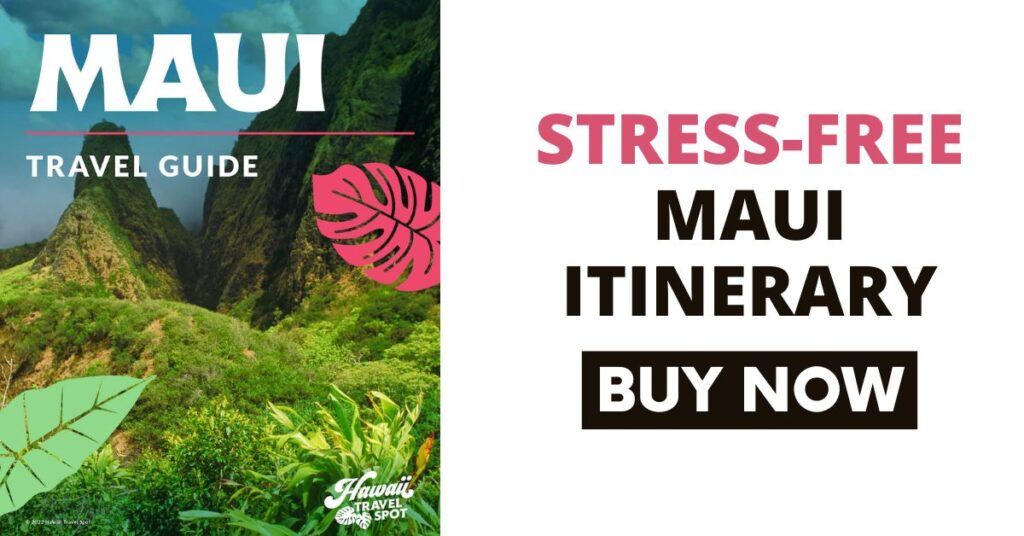 South Kihei Condos
Kihei Kai Nani
In terms of entertainment and value, Kihei Kai Nani is the best place in South Kihei to go to.
It takes less than five minutes to get here from places like Wailea Beach, Kamaole beach parks, and popular restaurants such as Cafe O' Lei.
It has one-bedroom condos that are sufficient and tidy. They also have a kitchen and a living area with a sofa bed that kids can sleep on. Check the latest rates and more information.
The living room and the bedroom each include air conditioners and fans.
Visitors will have a nice time staying at this affordable condo with the pool, barbeque, and picnic space. Check rates here.
Maui Sunset
Maui Sunset is an amazing place for families searching to rent a condo in South Kihei with a contemporary hotel feel.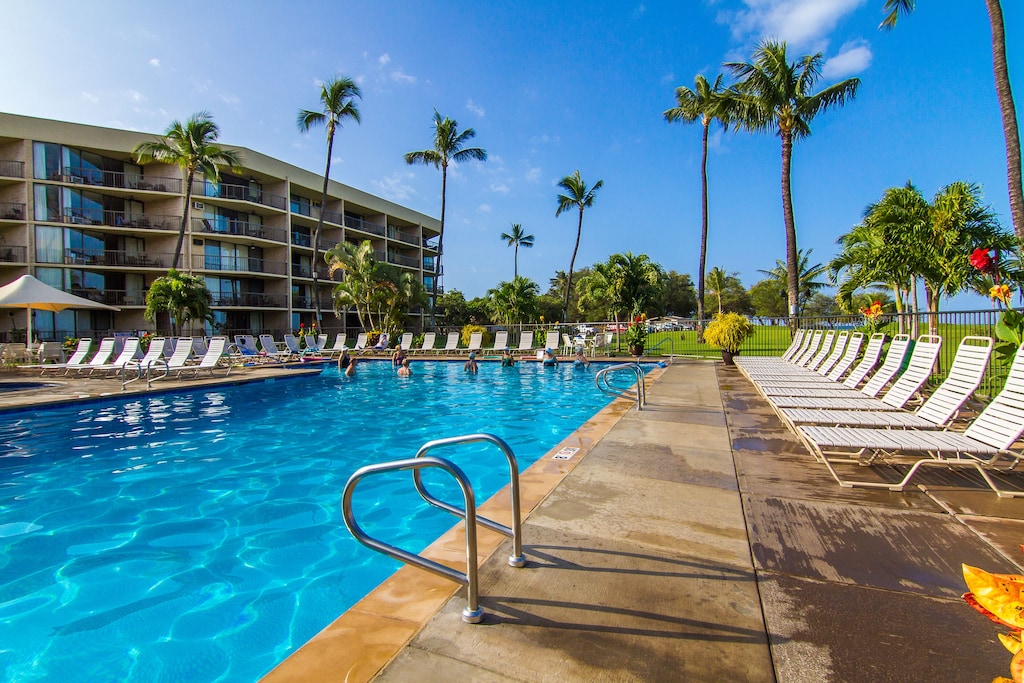 It has options to fit each family, ranging from an inexpensive one-bedroom garden view condo to a deluxe three-bedroom condo by the sea.
The facilities provided in each unit, like the kitchen and lanai, differ based on the condo you choose. Check rates and more information.
To guarantee the finest trip in Kihei, the condo is filled with kid-friendly activities.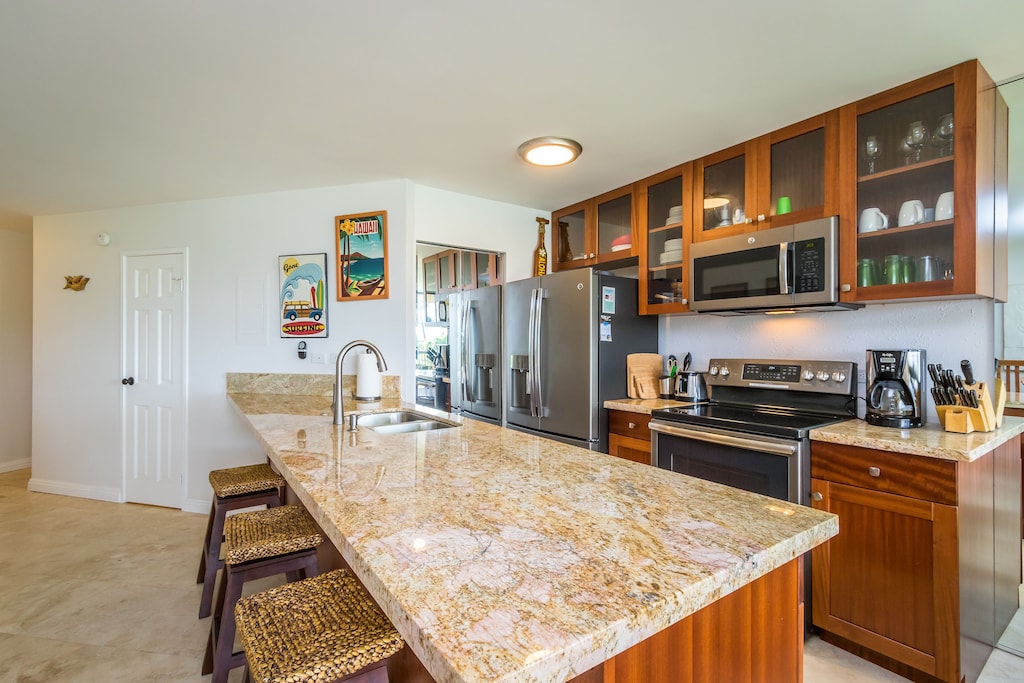 The 60-foot swimming pool and jacuzzi are popular with families. If you're looking for additional activities, hit the tennis courts or play some mini-golf.
The condo is close to Waiapulani Beach, which is well-known for windsurfing and paddleboarding. There is also a saltwater lagoon right next to the condo that your children will undoubtedly have a fun time. Check rates here.
The Royal Mauian Resort
Whether you like a condo with three bedrooms or just one, the Royal Mauian Resort attracts all kinds of families and is reasonably priced.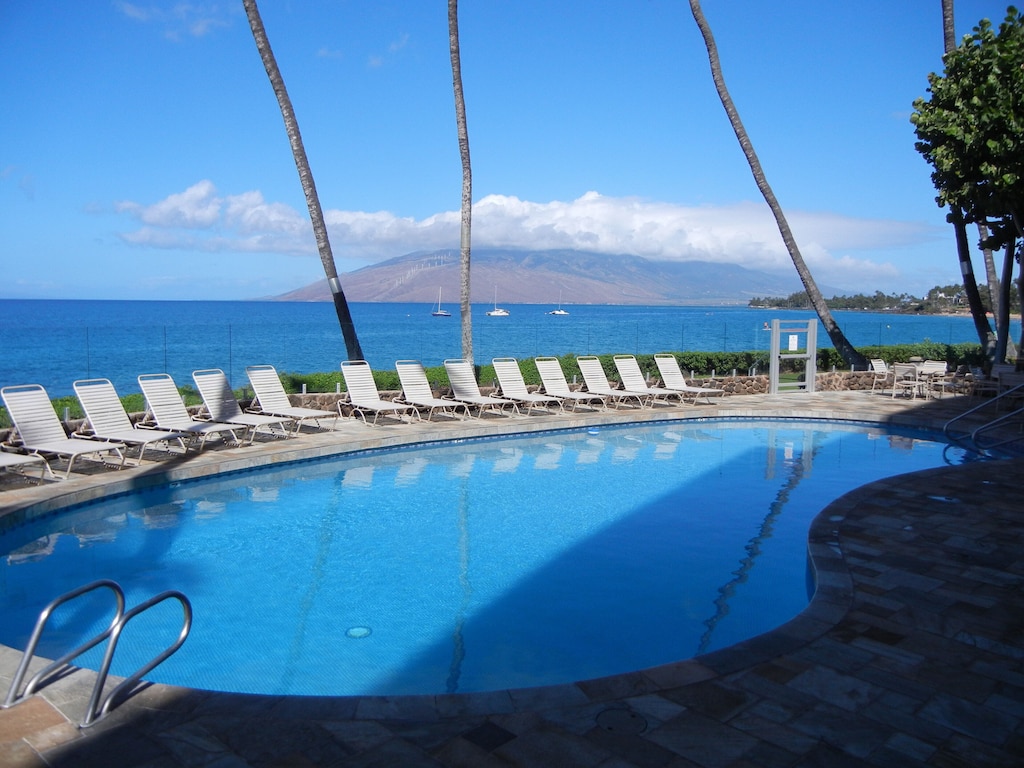 Each unit has their own lanai with stunning views of the ocean, a fully equipped kitchen, a living room, and a washer/dryer. The best part is that there is a T.V. in each room! Check the latest rates and more information.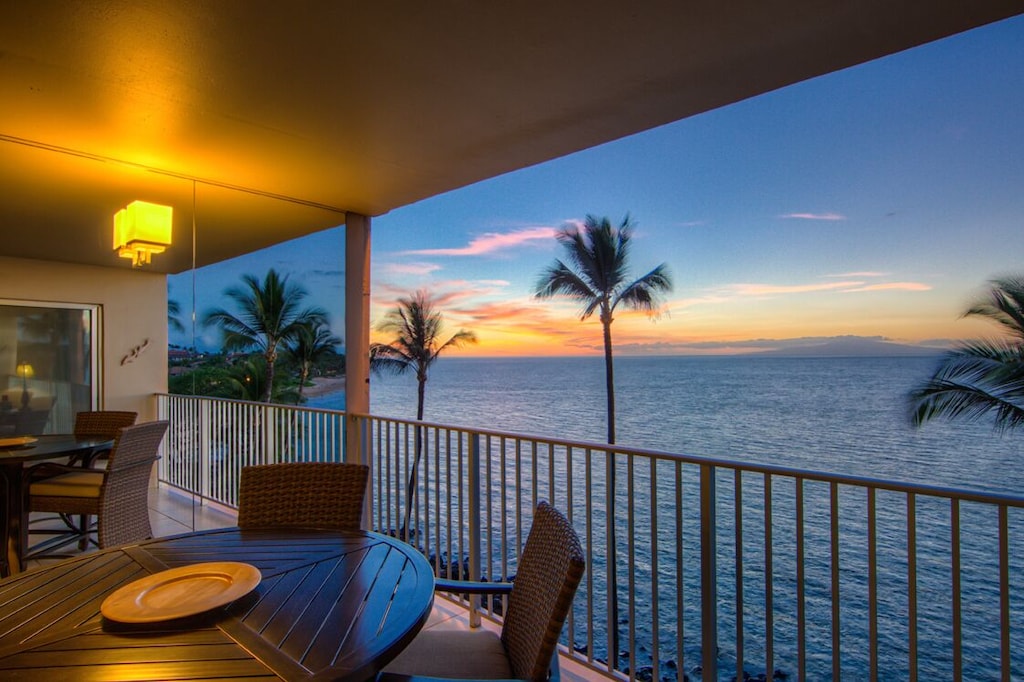 This is Kihei's only resort with a garden on the rooftop that overlooks the ocean and the Haleakala volcano. This is a popular place where families love to grill food while admiring the landscape.
You can walk to the Royal Mauian from Kamaole Beach and popular eateries such as Coconut's Fish Cafe and Maui Tacos. Because of this, you probably won't use the kitchen as much as you think you will. Check rates here.
Kihei Garden Oasis
We can't forget Kihei Garden Oasis when thinking of a deluxe condo to rent in Kihei.
A maximum of eight people can sleep in each condo. Each unit has four large bedrooms, two bathrooms, a living area, and a fully equipped kitchen. Check the latest rates and more information.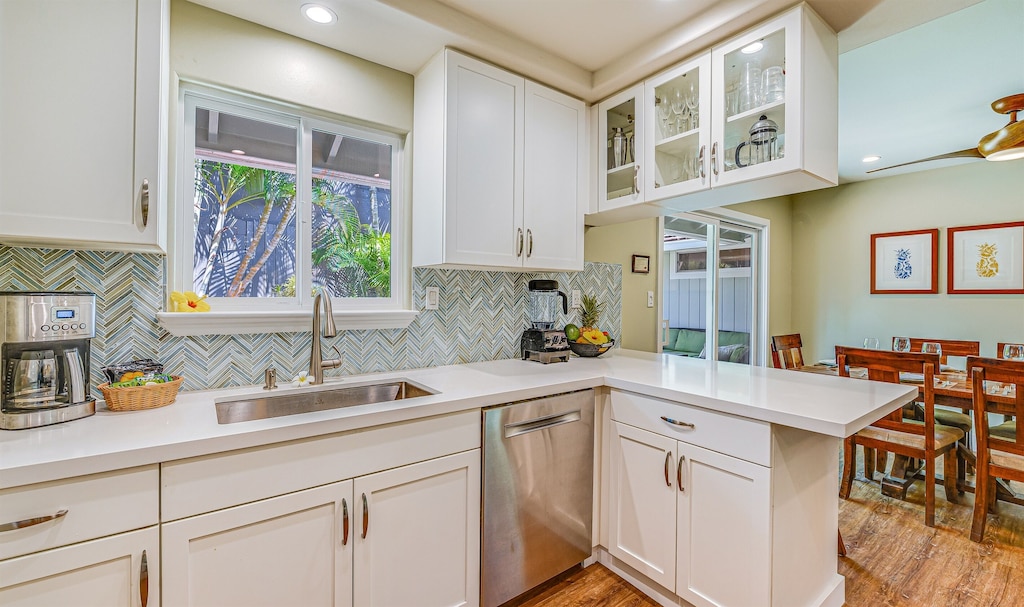 It's one of the most kid-friendly condominiums, as it comes with board games, books, toys, high chairs and bed rails. You can take a moment to relax outside on the large patio, which has a hot tub and a Weber gas grill.
It takes about ten minutes to walk to popular places like Kalama Beach Park, Cove Beach Park, and Kamaole Beach Park.
Hanging out at beaches aren't the only places you can go to. You can shop and even go to Sensei for sushi happy hour – they are both close to the condo. Check rates here.
Kihei Surfside Resort
If you're seeking for a pleasant and convenient stay in South Kihei, the beachfront condos at Kihei Surfside Resort are the best option.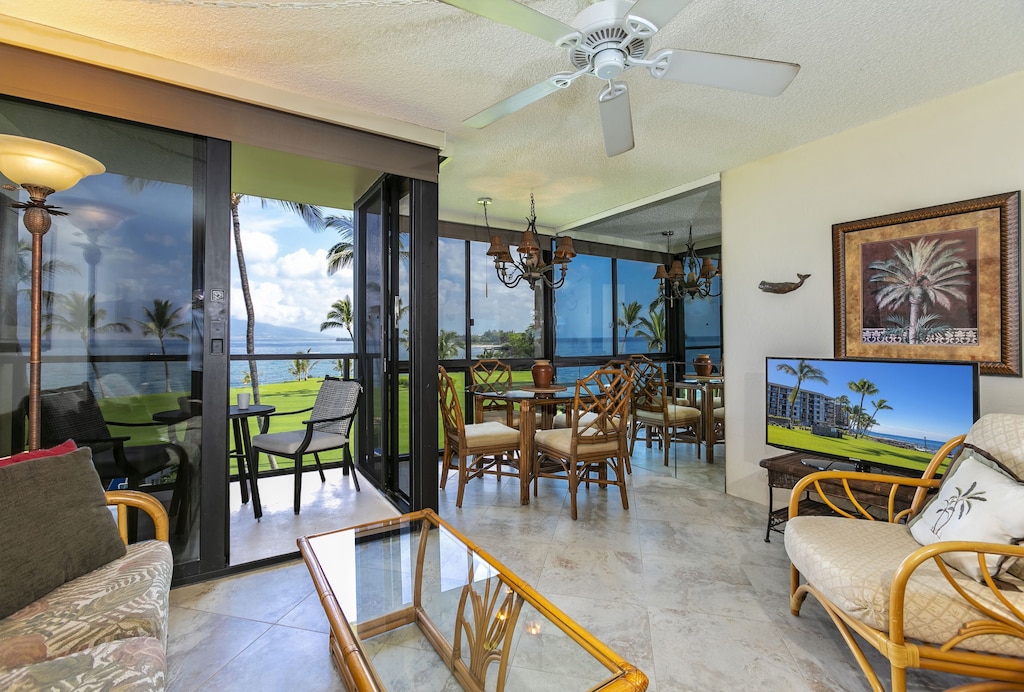 This place fits a family of three with one bedroom and bathroom. In the living room, there is a sofa bed, a T.V., and a window where you can view the ocean. Check the latest rates and more information.
The kitchen has a grill, stove, oven, and even a coffee grinder. You can begin each day by making coffee and then go to the beach to get some Vitamin D.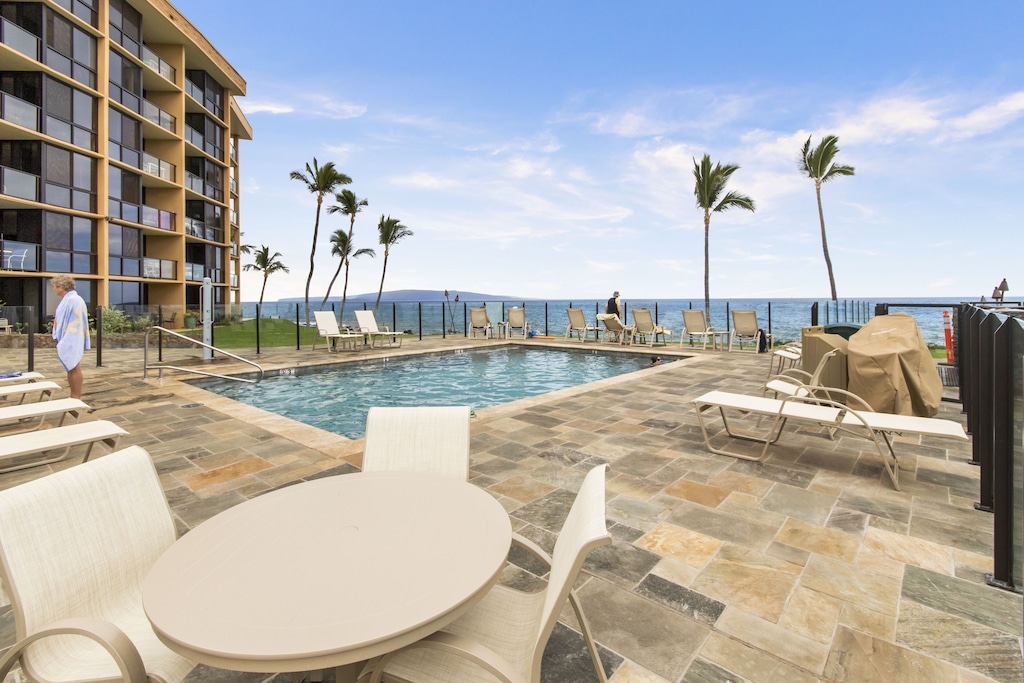 The condo gives out free beach chairs, umbrellas, and towels that you can use.
The Kihei Surfside Resort is located at the end of a road on South Kihei Road, which takes out noise from traffic. Now this could be the most restful vacation possible. Check rates here.
Maui Vista Complex
The Maui Vista complex is a one-of-a-kind property just across Kamaole Beach Park 1 that is surrounded by more than 10 acres of natural grasses.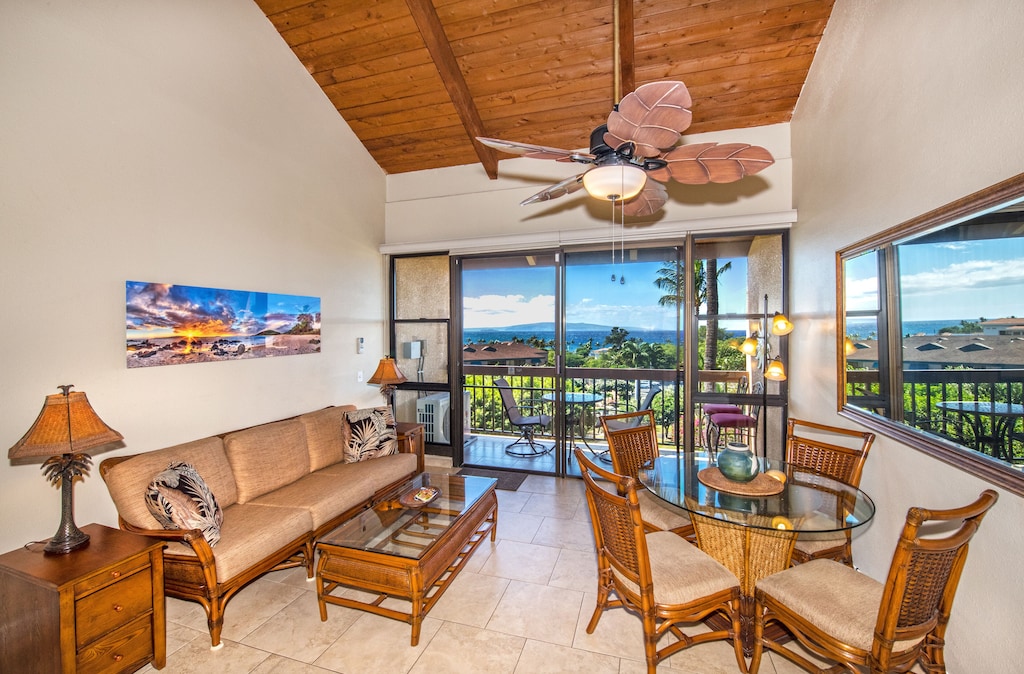 All of the most famous sites in Kihei are within a short walking distance or bike ride of the condo. It also includes complimentary beach, opportunities to swim, and snorkeling equipment to meet your needs.
In each condo, there are two bedrooms, one bathroom, a living room, a laundry room, and a fully equipped kitchen. Check the latest rates and more information.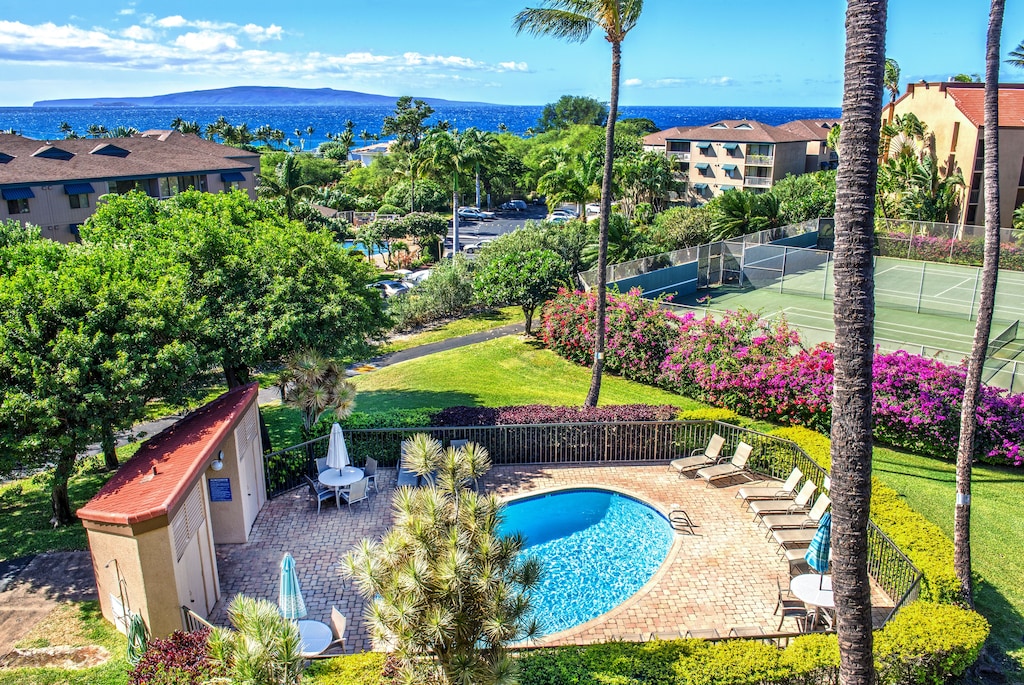 There is air conditioning in each room to help with the heat in the summer on Maui.
There is also a general pool that you can go to or throw a dinner party on your personal lanai. Check rates here.
Hale Kamaole
Families will have fun spending nights at Hale Kamaole where they can enjoy beautiful views of magnificent beaches and gardens of South Kihei.
The one-bedroom units are clean and spacious enough for as many as five people to sleep in. The extra dining area is helpful when you have messy children. Check the latest rates and more information.
You can make mocktails with your children in the kitchen that has everything you need and take in the cool breeze on the balcony while spending precious time together!
This Kihei condo rental has it all, from a terrific location and spectacular sights. Check rates here.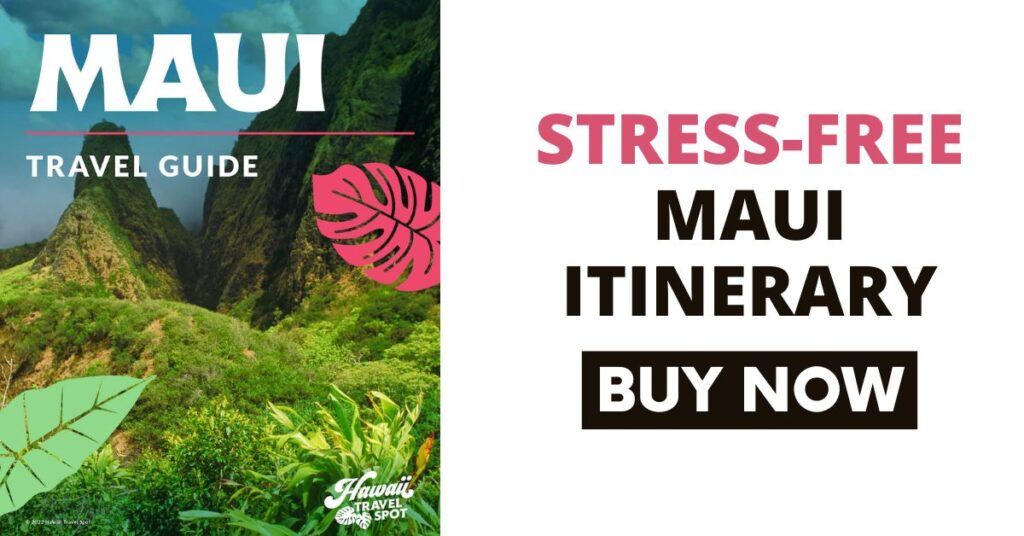 Hotels in Kihei Maui
Kohea Kai Maui
The Kohea Kai Maui is an opulent hotel with several room choices. If you have a small family and want to stay somewhere nice, book a single room or a suite as it will not disappoint you.
The beachfront, oceanview, and pool view penthouses are great for families who are ready to spend a lot of money. Check the latest rates and more information.
They are distinguished by luxurious amenities such as a gourmet kitchen, a personal porch, and a hot tub.
The hotel is located near the white sand oasis of Mai Poina 'Oe la'u on the southwest coast of Maui. You can take a 5-mile walk on this beach, go swimming, or snorkel.
Before your day comes to an end, you can swim in the hotel's pool. Check rates here.
Aston at the Maui Banyan
Another great option for families who are searching for a hotel-style condo complex with big, neat, and nice rooms is Aston at the Maui Banyan. Each unit has a large living area, a basic kitchen, a washing machine, and a dryer.
The units are decorated in a tropical design to reflect the atmosphere of Maui. Check the latest rates and more information.
Some places that you can stay in are right across the beach and have the best beach sights.
You can spend the day at Kihei, go swimming, or have a family cooking session in your kitchen. While you stay at Aston at the Maui Banyan, the entertainment never stops. Check rates here.
Ashton at the Maui Banyan provides hotel rooms AND condos that are owned individually.
Top Things to do in Kihei
Eat at Cafe O'Lei
Cafe O'Lei Kihei, which has many locations in Maui, is well-known for being one of the greatest places to experience Hawaiian cuisine for those who have never tried it before.
Located on a stunning beach, this is a casual eating area that serves famous foods such as Mahi Mahi and sushi.
The waiters there are excellent at giving recommendations for children from their specialty kids menu. So, if your children are hesitant about what they want to eat, you can ask the waiters for help.
Admire Nature at Humpback Whale Sanctuary
Humpback whales use Kihei's waters to breed, give birth, and nurse their young during the winter and spring.
You can see these beautiful whales firsthand on Kalepolepo Beach and understand more about their environment.
Visit Kamaole Beaches
There are three Kamaole beaches in Kihei. You can spend the day with your family and take part in various activities.
There are many things you can do, such as swimming, surfing, sunbathing, or even barbequing!
Snorkel at Molokini Crater
An existing activity you can do in Maui is snorkeling in Molokini Crater. When planning your trip to Kihei, make sure you have this place near the top of your bucket list.
With features like the half-submerged crater, magnificent tropical fish, and dazzling corals, this historic place allows you to see one-of-a-kind underwater scenery!
Shop and Dine at Kalama Village
Kalama Village is an outdoor mall that you can visit with your family. You can purchase Hawaiian clothing, food, and presents for your friends back at your home.
If you are hungry, you can eat at Lava Rock Bar & Grill, and if you are craving something sweet, you can go to The Hawaii Fudge Company.
Be Mesmerized at Maui Ocean Center
The best place in Maui to finish your vacation is Maui Ocean Center, which is among the best aquariums in the world.
It holds the Earth's largest coral exhibition and presents a variety of sea creatures from Hawaii like tropical fish, sharks, stingrays, turtles, and many more.
Make sure to watch the 3D whale film – especially if you have children with you during your trip.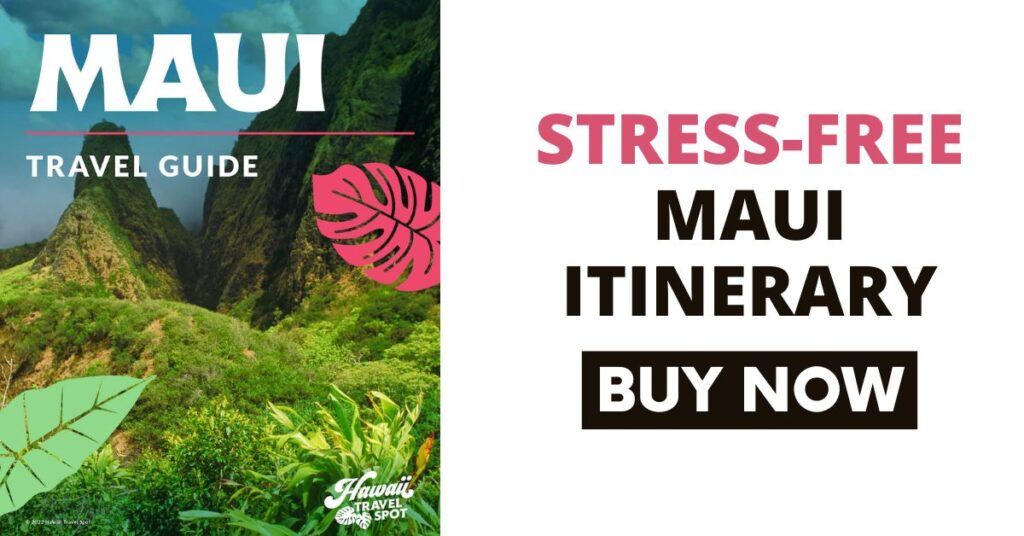 Condos in Kihei Maui FAQs
Why should you rent a condo in Kihei Maui?
Kihei is a seaside paradise with almost 6 miles of shoreline that offers everything from breathtaking sunsets and water adventures to shopping and brilliant delicacies. Renting condominiums in Kihei Maui will allow you to explore this gorgeous beach town with your family in a unique way. Kihei Maui condos help you feel at home while also providing the extra luxury of pools, lanais, and much more without breaking the bank.
Is North Kihei or South Kihei better?
North and South Kihei are so distinct that sometimes it's difficult to believe they're in the same town! North Kihei is secluded, calm, and pleasant. Condos in this area offer complete privacy for your family vacation. South Kihei, on the other hand, is the most bustling and happening part of town. This region is popular due to its proximity to beach parks and other tourist attractions. Although it does ultimately comes down to personal preference, travelers frequently prefer to stay in South Kihei due to convenience.
What are the best Kihei condos on the beach?
Having a Kihei condo rental on the beach can elevate your whole beach vacation experience. For a hotel-style condo, head to Maui Sunset. Menehune Shores Beachfront Condos is your best choice for a traditional home-style condo in south Kihei. The Mango Surf Beachfront Villa is a great option for those looking for a luxurious beach property in the north.
What are the best Kihei vacation rentals within walking distance of the beach?
There are several family-friendly seaside condo rentals in Kihei. Vacation rentals within walking distance of the beach are perfect if you intend to spend most of your vacation there. Coconut Bay Beachfront Villa, Hale Manu Mele, and Oceanfront Sugar Beach are all excellent choices. Beach House by the Water and Villa Moana Maui are good options for large groups.
What are some amenities you should look out for when renting a condo as a family?
When traveling with kids, look for bedroom safety, check to see what's included, and ask the owner all the questions you have. Some of the things that should be complimentary are bed rails, a high chair, and a crib. If you're planning to hang out at the beach a lot, check to see if the property has free beach chairs, boogie boards, and umbrellas.
Best Condos in Kihei Wrap Up
While the Kihei condo rentals that we have suggested are family-friendly and one of the best in Kihei, this little space on Maui's southside includes every type of condo you can think of.
Regardless of whether you want to splurge or stick to a strict budget, all it takes is finding a condo that suits your requirements and get going.
We hope this has persuaded you to book a condo, pack your bags, and prepare for the finest vacation in Maui.