Are you planning to take a big family on vacation to Maui? Find the top Maui vacation rentals for big groups by scrolling down.
This list of the best Maui vacation rentals for large groups was written by Marcie Cheung (a Hawaii travel expert) and contains affiliate links which means if you purchase something from one of my affiliate links, I may earn a small commission that goes back into maintaining this blog.
Planning a vacation to Maui with your large family or group of friends?
You're in luck! Maui is an amazing place to vacation with friends or family. There are plenty of activities and attractions to keep everyone busy and happy.
And, thanks to my list of the best Maui vacation rentals for large groups, you'll be able to find the perfect home away from home.
Imagine gathering your loved ones together in one of these beautiful homes. With plenty of space for everyone, you'll all be able to relax and enjoy your time in paradise.
These incredible properties come complete with all the amenities you need for a relaxing and fun-filled stay. So what are you waiting for? Start planning today!
Need a reason to consider my guidance? My extensive 40+ visits to Hawaii make me a genuine expert in its attractions.
Keep scrolling for my top recommendations for awesome Maui vacation rentals for large groups.
Want to skip all the planning and just access my detailed Maui itinerary complete with daily schedules, fun activities, and travel hacks? Click the button below.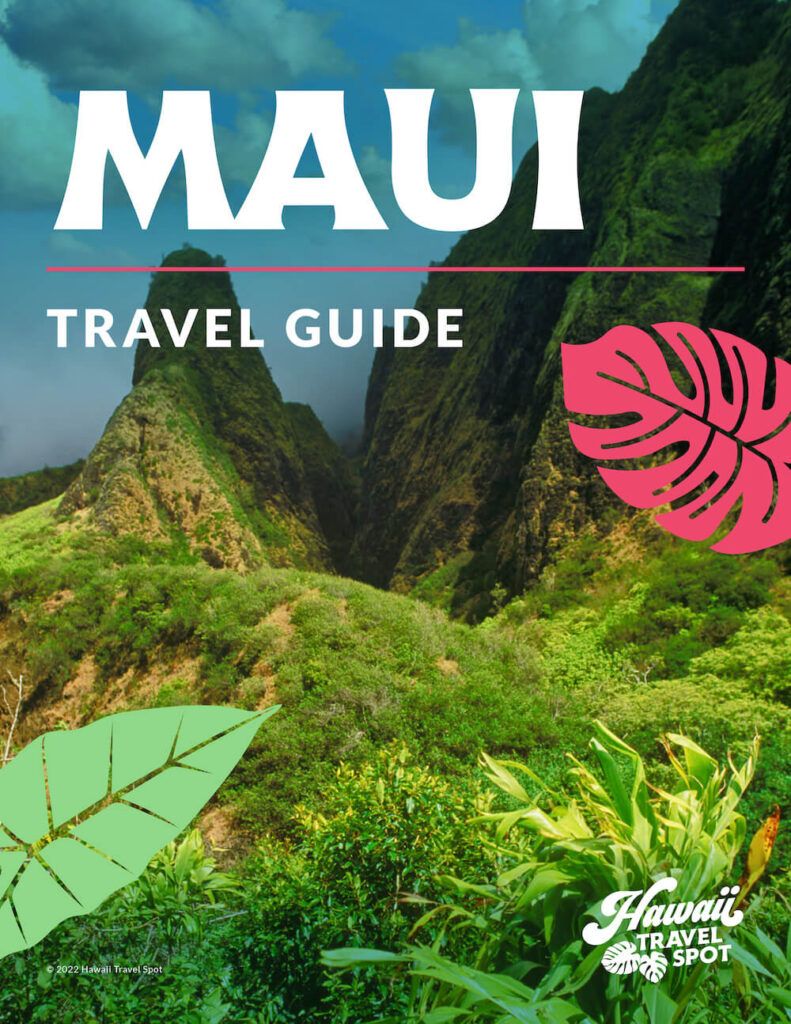 Where to Stay in Maui
The resort regions on Maui are where you'll find the majority of large-group vacation rentals, but you can also locate them farther inland and on the North Shore. Let's examine each region and what it may provide for your family.
West Maui
For sunny days and sandy beaches, head to West Maui! Lahaina and Kaanapali, two resort communities, provide fantastic shopping, water sports, whale-watching excursions, and upscale accommodations.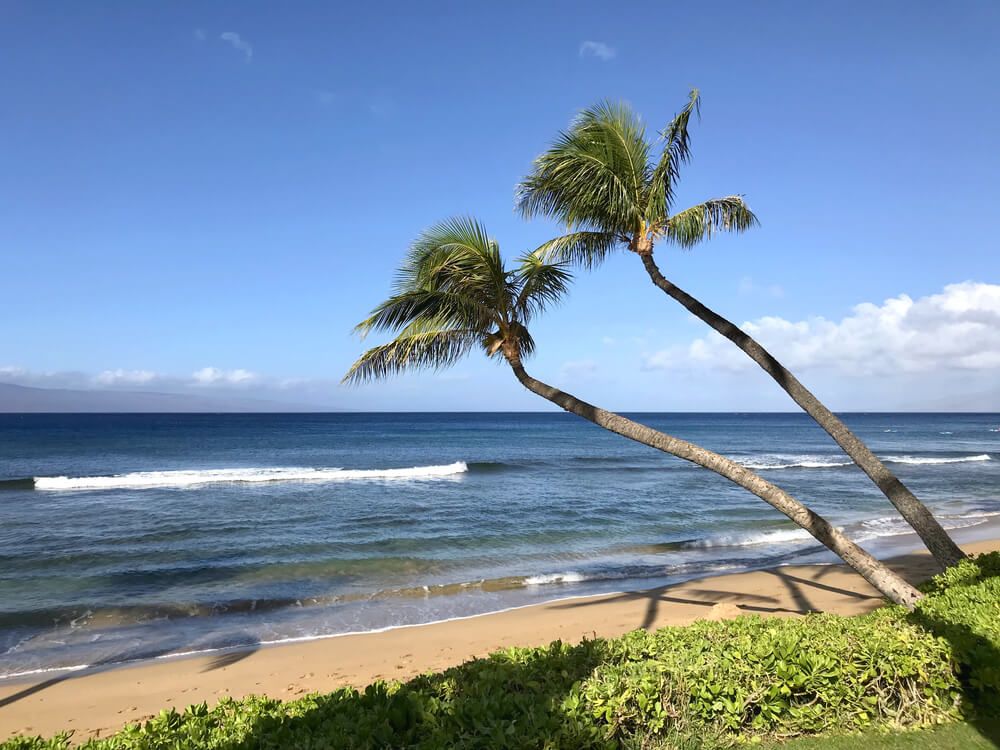 Surfing hub Napili is located to the north of Kaanapali. There are a few places to stay, although the region is small.
The upscale resort area of Kapalua is located on the northernmost point of West Maui. Along with walking and hiking routes along the rocky coastline, it's a terrific area to play golf. But up here in the north, there are no rentals.
Save Money with Points
Here are the best credit card offers for people who travel and want to use points to pay for airfare and hotels in Hawaii.
South Maui
For amazing beaches with golden sand, a ton of tourist attractions, and proximity to city conveniences like grocery shops, stay in South Maui.
More popular tourist destinations include Kihei and Wailea. There are several well-known tourist attractions here.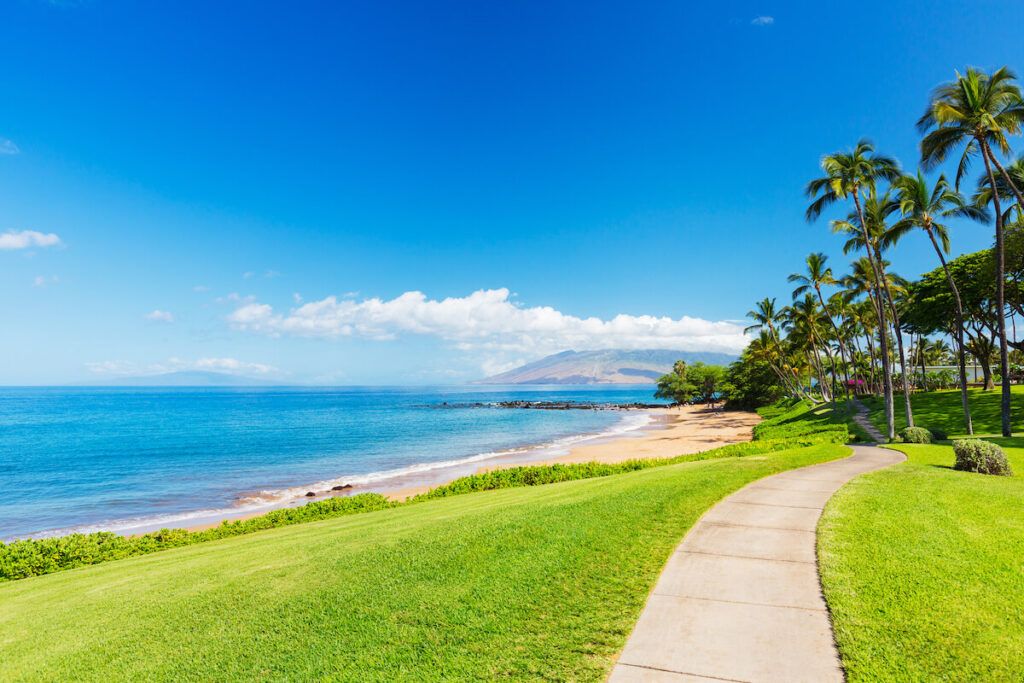 Wailea features numerous golf courses, beachfront resorts, and luxury condo complexes. It also has a city vibe, too, and offers fantastic shopping.
Along with houses and condos, you will find some of the best villas in Maui here.
North Shore
While the Road to Hana is North Shore Maui's most famous attraction, the island also has a ton of farming settlements, mansions, spa centers, and other properties that are used as holiday rentals.
Paia and Haiku are the two largest towns. Consider anything from cottages and sizable houses on private estates to vacation rentals on Maui's beaches.
Consider North Shore if your party wants to escape the city and go outside. The greatest beaches for windsurfing can be found there, along with rugged shorelines, waterfall treks, and wildlife preserves.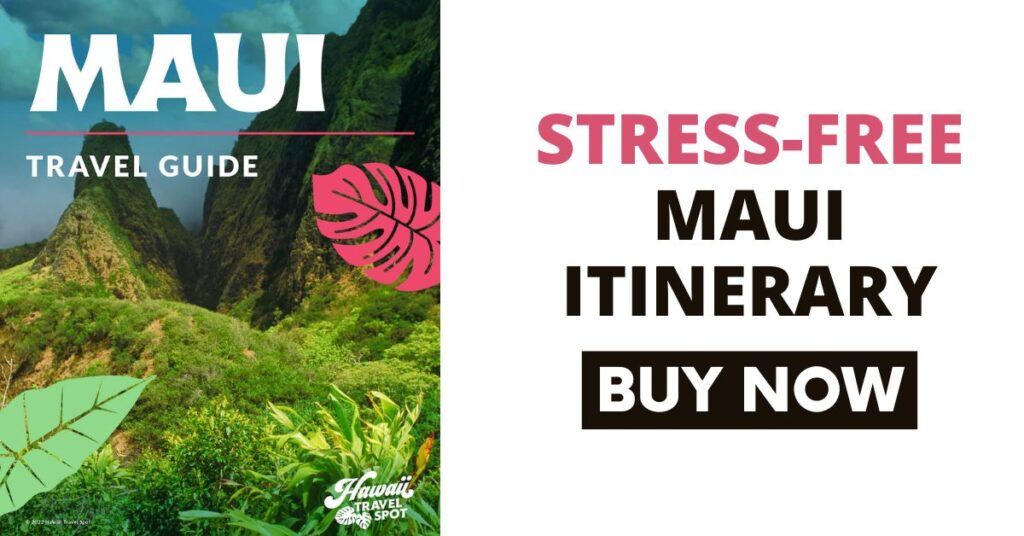 What to Look for in the Best Maui Vacation Rentals for Large Groups
There are a few things to watch out for when selecting Maui vacation rentals for large parties.
It is based on the current Maui STRH laws in Maui and what I have learned from my extensive travels there over the years.
Number of Guests
The majority of the bigger group vacation house rentals in Maui, Hawaii, included a range of single, Queen, and King beds. Bunk beds, pull-out sofas, and futons are frequently included as well.
It's important to keep in mind that many postings count a couch bed or a queen as a sleeping space for two people.
According to the specifics of your group, I advise you to pay close attention to pictures of the rooms and sleeping arrangements. For a group of people with kids in middle school, a cool bunk room would be nice, but not if the kids are all in diapers!
I looked for rentals with a minimum occupancy of 8 individuals. One location on my list can accommodate up to 24 people! However, there were probably 10 to 12 people on average.
There are presently no rules on Maui that restrict the number of people that can stay in a room, although there is a 6-room maximum per property.
Type of Rental
Families may choose from a choice of residences and resort villas for their Maui vacation rentals. There are several postings for Maui villas for rent for groups of 8 or more that include multiple apartments in the cost and reservation.
While some villas are detached houses in gated communities, others are large apartments in multi-unit complexes. Homes can range from modest starter homes to lavish palaces and estates.
Location
The majority of Maui STHRs are found in and close to the South and West Maui resorts. Along the Road to Hana and the North Shore, there are also rental homes available. They are all sandwiched between Hana and Paia/Haiku.
Your party will find fantastic amenities in villas inside resort communities! Maui also has a lot of residences with access to the water and the beach. Or, if you'd rather live nearer to city amenities, search for homes and villas that aren't near the ocean.
Amazing Vacation Homes for Rent in Maui, Hawaii
I've listed my top region-specific Maui vacation rentals for big groups below. To get inspiration from my best selections, keep reading!
West Maui
Kahana Nui Villa
Consider Kahana Nui Villa if you're seeking a luxury villa on Maui. This seaside villa in Napili is a 6 bedroom, 4.5-bath beachfront estate, and it can accommodate 12–14 people.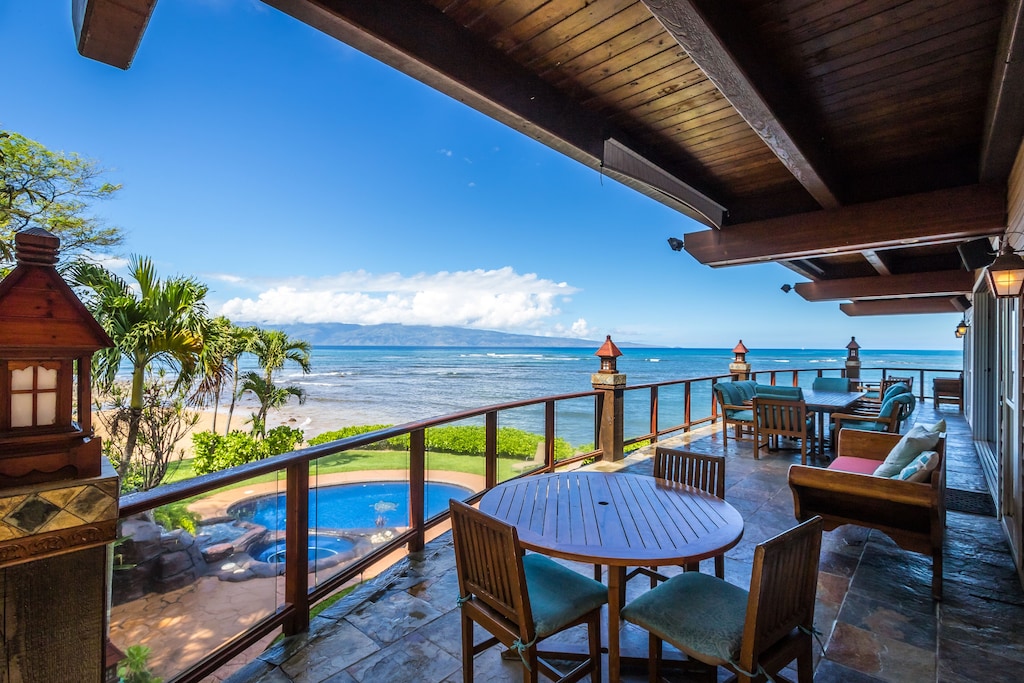 Locals refer to it as "The Bali House," and Indonesian craftsmen were commissioned to create many handcrafted features for it!
This gorgeous house has three levels of lanais that surround it. For the best views, every room features large, contemporary windows. Check the latest rates and more information.
Unwind in the den, living room, kitchen, or dining area, which all have artisanal furnishings and accents.
Keep a watch out for dolphins, sea turtles, seals, and other marine life as Kahana Nui sits close to the marine sanctuary! The best beaches in West Maui and two golf courses are each accessible by foot from your location.
The home has a waterfall-featured pool and hot tub, as well as a well-kept garden that leads to the ocean. Additionally, this listing provides a number of extra services including housekeeping, a private chef, and others.
Kaanapali Beachfront Estate
When it comes to luxury Maui vacation rentals, this is the best of the best! This 8-bedroom, 9.5-bath mansion, which has balconies and whirlpool spas, will be great for your group of up to 16 people. This open-air house in the Hawaiian style is a masterpiece.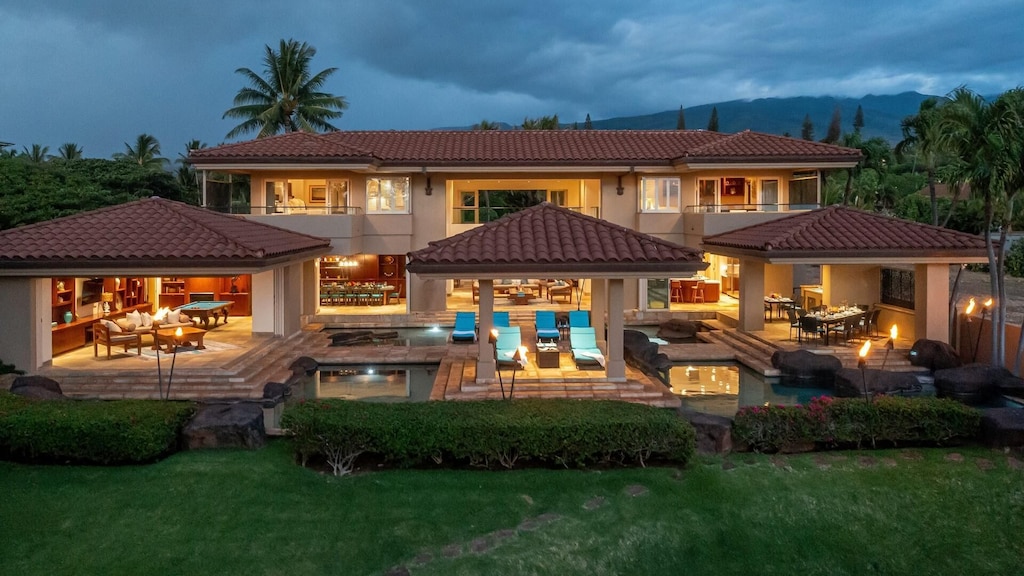 It is centered on a courtyard designed in an Asian style with a koi pond. From front to back, every room and level of the house offers a view of the lily-covered pond.
Rooms with lanai-style windows and sunlight open to the garden. Beyond the grassy yard, you may watch the sun set over the shore from that location. Check the latest rates and more information.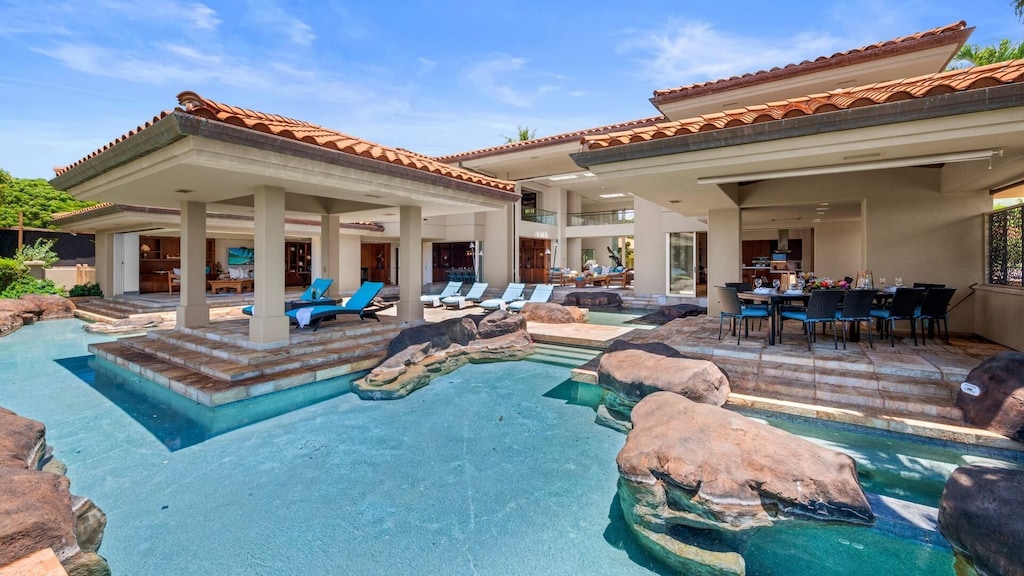 There is room for alfresco eating by the pool and a grill. Or you may make advantage of the sizable dining area and gourmet kitchen. Large heated outdoor pools are a wonderful location to unwind. You may also use kayaks to travel to the shore.
Make use of the house's included facilities, which include a private gym, a concierge, and cleaning.
You may stroll to resorts and all of its public amenities from the Kaanapali Beachfront Estate. Drive or walk to eateries, beaches, shops, and other destinations.
Book a Hawaii Photo Shoot
Whenever we travel to Hawaii, we almost always book a photo shoot with Flytographer. They are super easy, affordable, AND it guarantees that I'll have more than just selfies. You can get $25 off if you book through this link or use the code HAWAIITRAVEL.
Luana Villas at Honua Kai Resort
You can live privately and enjoy all the resort amenities when you stay at the Honua Kai Resort & Spa! Two flats are available for rent in the same building in Honua Kai.
Both the garden-level villa and upper-level villas have courtyard views and swimming pools with waterfalls that you can hear from the lanai! Check the latest rates and more information.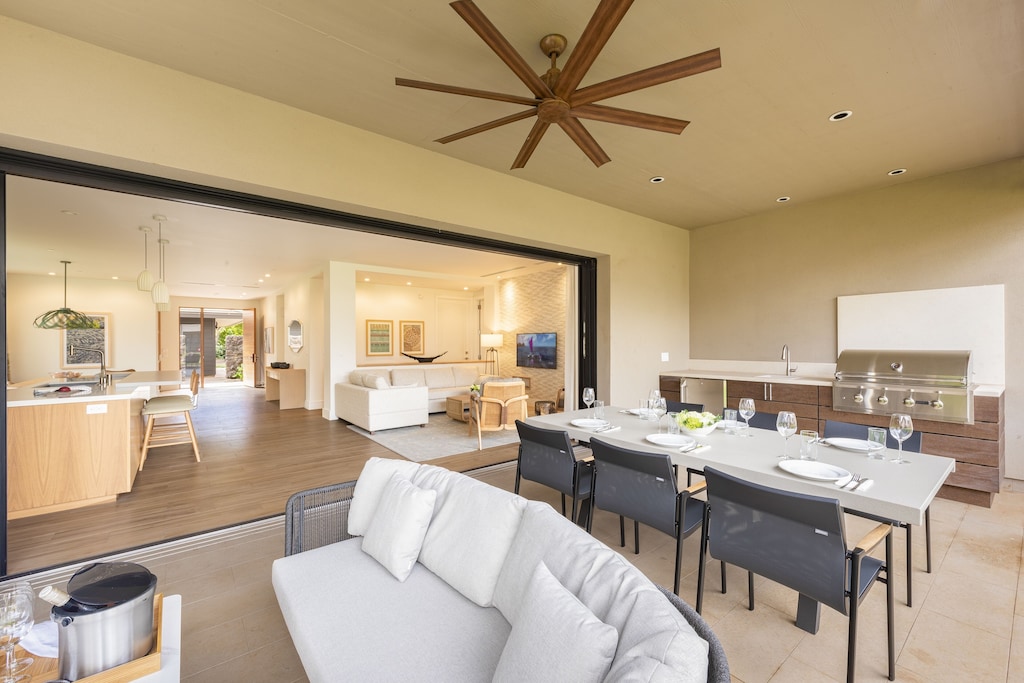 Three bedrooms, three bathrooms, parking garages, and other features are provided by both villas. Take advantage of luxurious lanais that have kitchenettes, barbecues, and a lot of outdoor seating.
Additionally, the host also provides family-friendly goods including beach equipment, child swim floats, wagons, and travel cribs.
You get access to the fitness center, resort pools, and optional housekeeping when you stay at the resort.
And if you want to be near to the activity, Kaanapali Maui vacation rentals are a fantastic choice! You can stroll to the well-known Kaanapali Beach or explore the town's food trucks, eateries, and stores. Check out my full Honua Kai Resort review!
South Maui
Beachfront Halama Street House
Take into account this home in Central Kihei if you're seeking for beach house rentals in Maui! You can access the beach from the backyard by walking there.
Additionally, Kihei, which has a ton of restaurants, the Kihei food truck park, and shopping, is only a short stroll away.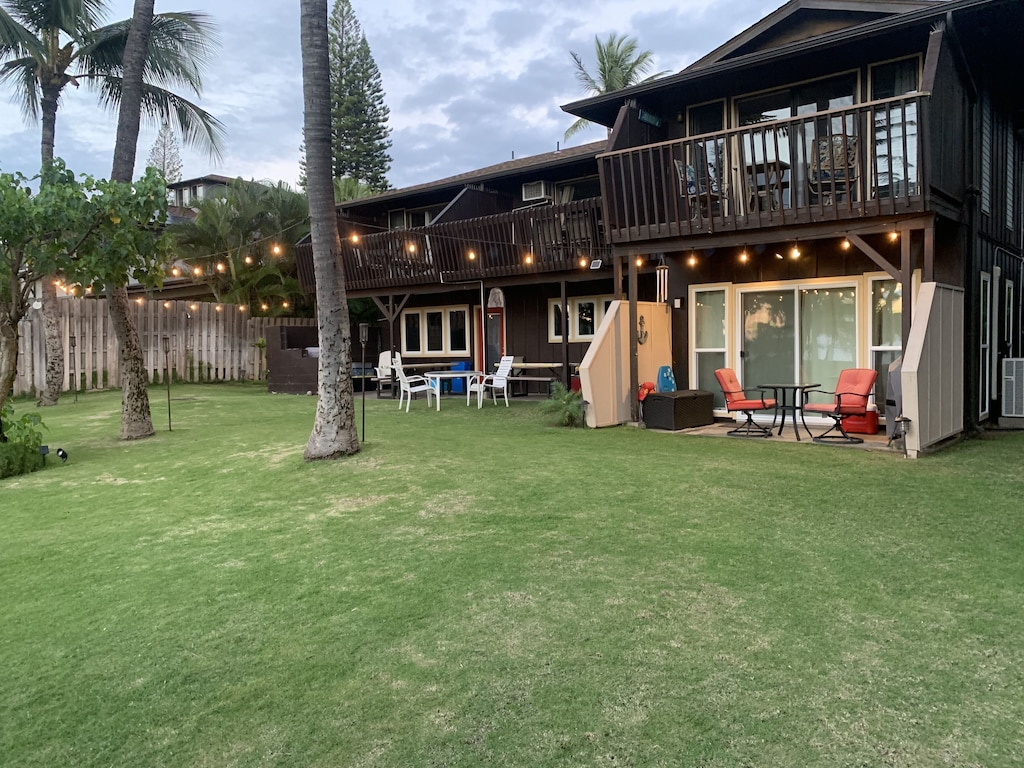 When searching for family-friendly Maui vacation rentals, you want to be sure that you'll enjoy all the conveniences of home. Check out the latest rates and more information.
Both levels are divided into 4 units, each with two bedrooms and one bathroom. A pull-out sofa in the living room, a full kitchen, and dining space are included in each unit.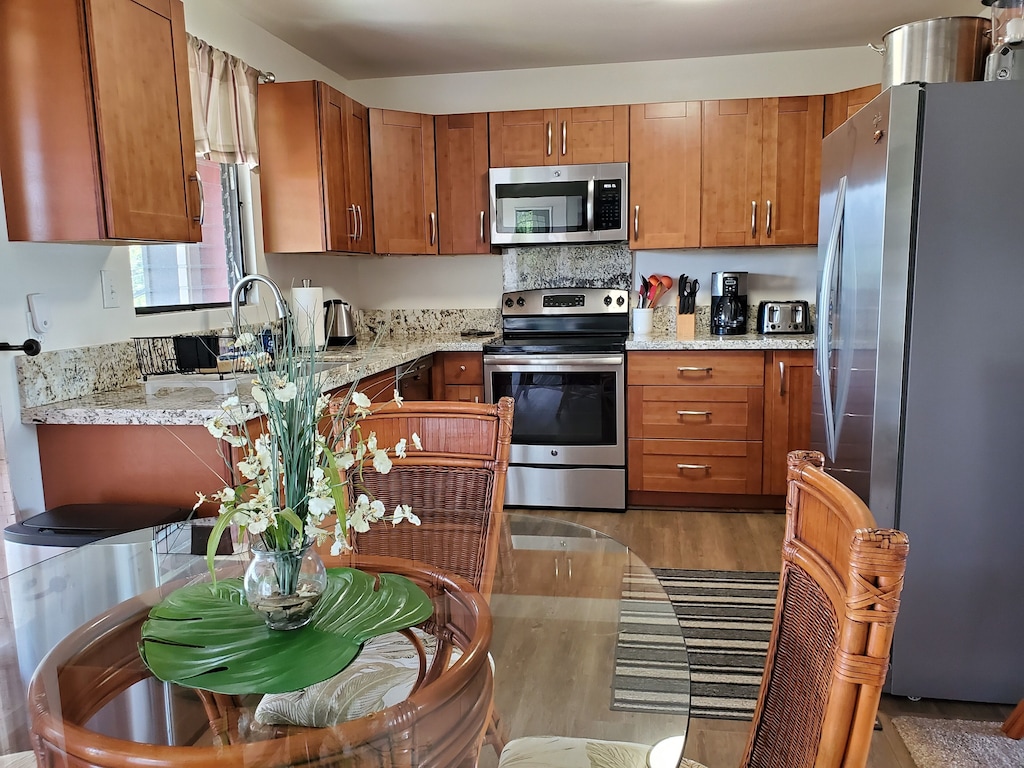 Each apartment has a lanai as well. Additionally, the ground-floor lanai, which features a barbecue and outdoor eating, is ideal for gatherings.
All ages will enjoy staying in this family-friendly apartment, which includes facilities like travel cribs, high chairs, toys, kid-friendly dishes, and more.
Aloha Villas Resort 4-Villa Package
Visit Aloha Villas and book a set of 4 Maui villa rentals. Up to 28 guests can stay in this Kihei rental. Each villa contains a pull-out sofa, three bedrooms, and three bathrooms.
Three of the villas are next to one other, making this one of the greatest Maui vacation rentals for large parties. Check the latest rates and more information.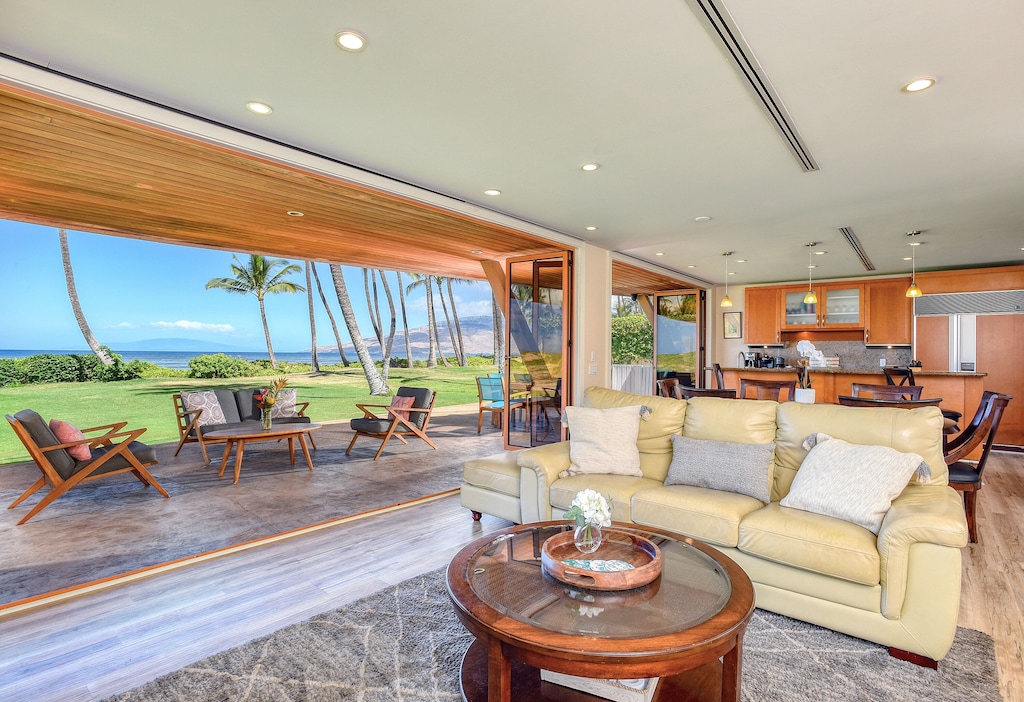 All of the villas feature ocean views, and two of them have 2-story townhouse designs. Additionally, each villa has a unique feature, such as an additional family room or a particularly spacious lanai.
There is a gourmet kitchen, dining area, and living room in every villa. Take advantage of luxury features like remote-controlled sunshades. Additionally, the host offers a ton of beach equipment, and the rental includes 8 parking spaces.
Pools, barbecues, a courtyard with seats, an outdoor shower, and a grass leading to Lipoa Street Beach are all available to guests of Aloha Villas. With quiet, shallow water, the alcove beach is excellent for children.
North Shore
Banyan Tree Estate
At Banyan Tree Estate, your group of 18 can take in North Shore's raw beauty. The home on the property contains 4 bedrooms and 5 baths, and 3 surrounding cottages, each with a bedroom and bathroom.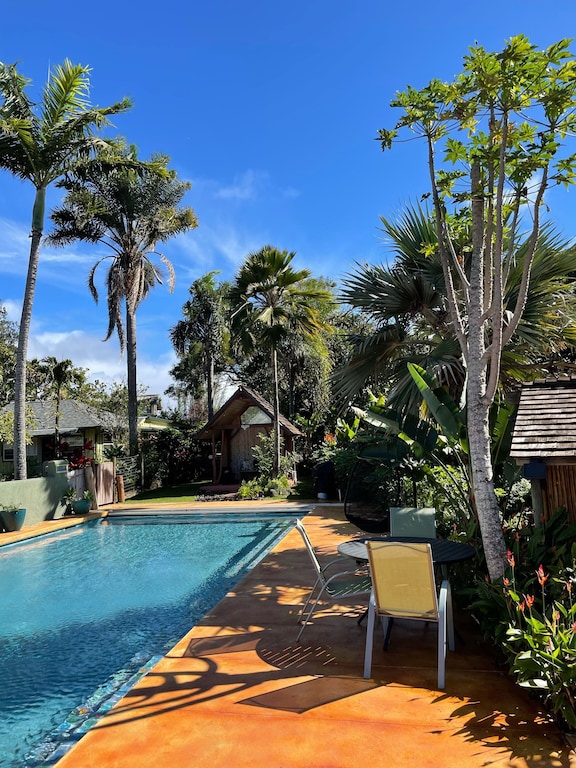 All of this is situated on a 2-acre property that is covered in tropical trees, gardens, and green lawns. Enjoy the North Shore's mountain vistas with only a short stroll from the town. Hana Highway is nearby, and Paia is approximately a 15-minute drive away.
This is a terrific option for multi-family properties when it comes to Maui vacation rentals for big families. Two of the cottages and the main house have full kitchens, while the others just have kitchenettes. Check the latest rates and more information.
Group meetings can be held on the lanai outside any of the residences or in the main house's spacious living and dining rooms.
The estate is a lovely escape thanks to its numerous major and minor characteristics! Enjoy a yoga studio, a 50-foot saltwater lap pool, and a Jacuzzi. Take a snooze in the hammock, play ping pong, or unwind on outside furniture.
Where Will Your Large Group Stay in Maui?
When searching for Maui vacation rentals for big groups, there are a few things to keep in mind. You should be able to discover the ideal location for your extended family vacation using the information I've provided.
Did any of the rentals on my list make you swoon?