Are you considering making travel plans to Maui? The greatest Maui luxury vacation rentals for groups or families can be found by scrolling down.
This list of the best Maui luxury vacation rentals was written by Marcie Cheung (a Hawaii travel expert) and contains affiliate links which means if you purchase something from one of my affiliate links, I may earn a small commission that goes back into maintaining this blog.
Are you looking for the perfect Maui luxury vacation rental?
I have years of experience visiting the Hawaiian Islands and know just where to find the best Maui luxury vacation rentals.
My selections offer all the amenities you might anticipate at a resort with the added bonus of space and solitude.
You will enjoy all the luxurious amenities you might anticipate at a resort along with the roominess and solitude of home when you choose one of my top Maui luxury property rentals.
Imagine waking up in the morning and taking in the incredible view of the Pacific Ocean from your lanai. With a luxurious Maui vacation rental, you can make this dream a reality.
All of my selections come with all the amenities you could want while on vacation, from private pools to gourmet kitchens. You'll feel right at home while enjoying all that Hawaii has to offer.
Keep scrolling to check out the best luxury vacation rentals on Maui!
Want to skip all the planning and just access my detailed Maui itinerary complete with daily schedules, fun activities, and travel hacks? Click the button below.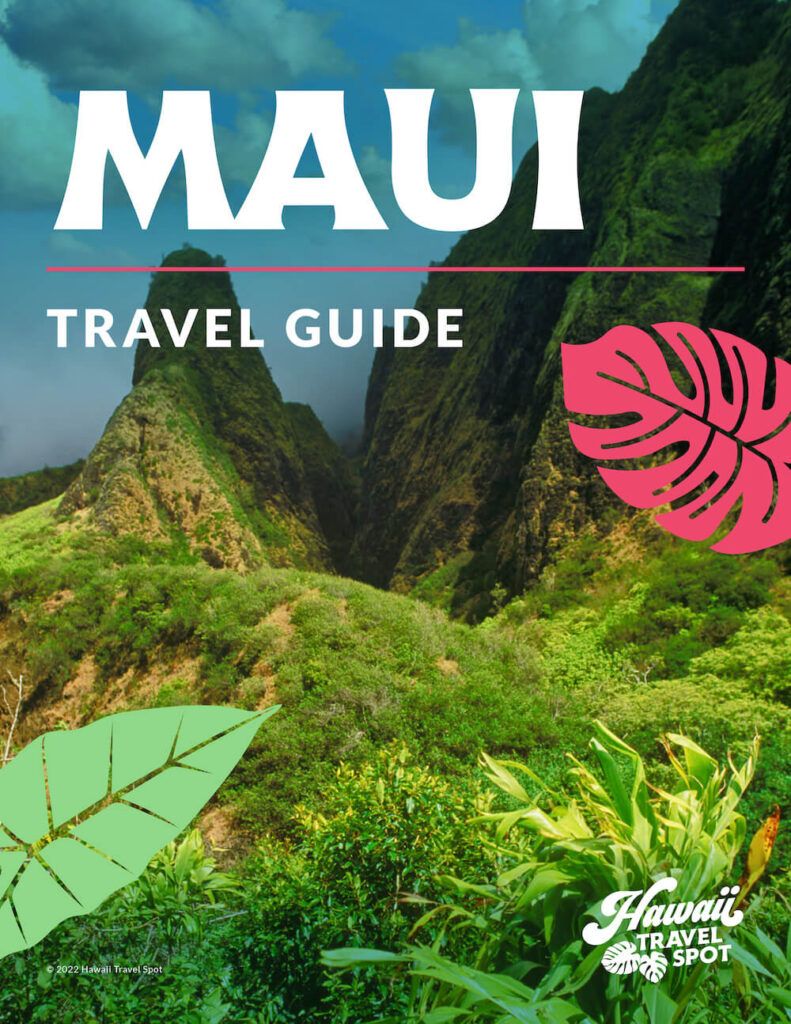 What is a Luxury Vacation Rental in Maui?
If you're looking for luxury vacation rentals on Maui, you undoubtedly have a specific type of vacation in mind.
It's important to understand what constitutes a luxury vacation rental so that you can get the most for your money and ensure that you'll have a fantastic time when you get to Maui.
Tourist hotspots typically distinguish themselves as luxurious with high-end accommodations in a few ways. A vacation rental often allows you autonomy, so once you get to your rental house, you are on your own.
A concierge or access to a host on-site or close by is more likely to come with a luxury rental. Various supplementary services, such as car rentals, house cleaning, and private chefs, are also to be expected.
I found several awesome luxury accommodations that I could share with you. You want to enjoy special amenities when paying more. There needs to be air conditioning as standard.
Toys and other kid-friendly amenities are typically found in high-end family-friendly residences. Additionally, I looked for lodgings with the highest ratings from verified visitors.
Where to Stay in Maui, Hawaii
There are three primary areas in Maui where you can find luxury vacation rentals:
West Side
South Side
North Shore
Elevated rentals come in a variety of styles depending on the area, but often feature villas, condos, and holiday houses. Visitors can expect to have a unique experience in each region of Maui.
West Side
If you like the whole luxury experience, stay on the West Side. There are many upscale resorts, hotels, and restaurants in Kaanapali and Lahaina. The resorts contain excellent beaches and a variety of tourist activities.
Kapalua, a tourist destination, is located a little farther north. Here, there are a few pricey resorts, golf courses, and rocky coasts, making it quieter and even more opulent.
Here is where you'll most likely locate Maui luxury villas for rent. A few condo complexes with first-rate family amenities might be found at a higher price bracket, along with the occasional beachfront property. This is usually the exception, though!
Save Money with Points
Here are the best credit card offers for people who travel and want to use points to pay for airfare and hotels in Hawaii.
South Side
The south coast of Maui, which is warm and sunny, is perfect for beach days and has loads of tourist attractions nearby!
If you'd like to be close to the activities, check out Kihei and Wailea. There is the greatest nightlife, family-friendly activities, and tourist shopping.
On a luxury vacation, you could also desire a high-end experience. The South Side of the island is home to some of the top professional golf courses, tennis courts, resorts, and dining establishments.
Check out Kihei if you're looking for luxury condo rentals on Maui. Furthermore, Wailea is home to luxurious resorts and neighborhoods where villas may be found. However, don't look for any spacious luxury rentals for families on the congested South Side.
North Shore
If you want to be in nature while still having access to all the modern conveniences, come to the North Shore! From Paia on the Road to Hana all the way east to the town of Hana itself, the North Shore is everything.
North Shore is a terrific choice if your family enjoys hiking and wants to visit waterfalls or natural areas. There are some fantastic surf beaches and unassuming settlements, but the area is considerably more remote and rough, with plenty of open space.
Condos and villas are not available on the North Shore. But if you're looking to rent a luxury vacation home on Maui, this is where you should come to reserve older, vast homes for your large company.
In close proximity to exclusive beaches and outdoor activities, there are also modern specialty homes for rent with a variety of facilities.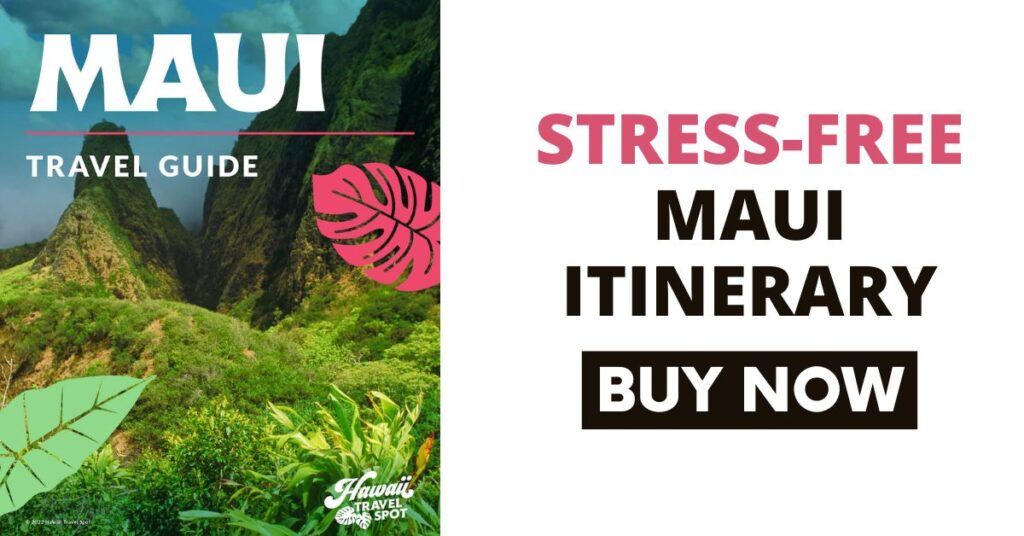 Fabulous Luxury Vacation Rentals in Maui
West Side
Hale Nui near Black Rock Beach
The best of the best in Kaanapali ranks first on my list of luxury vacation rentals on Maui. Enjoy the luxurious mansion that is positioned on the Kaanapali Golf Course's fairway.
You'll have unhindered views of the golf course, the beachside resorts, and the ocean beyond them! Check the latest rates and availability.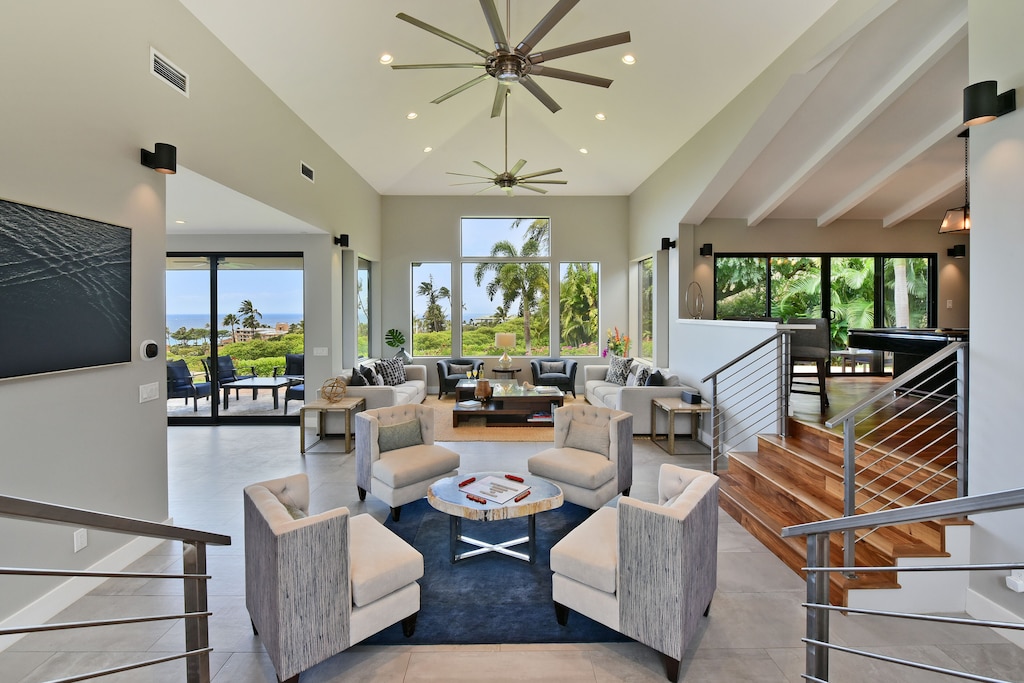 The busiest West Side beaches, Whaler's Village Shopping Mall, and the renowned Myth of Maui luau are all within a mile of your location.
Enjoy a private yard with a barbecue, outdoor furniture, and an outdoor pool with a whirlpool tub inside the gated luxury neighborhood where Hale Nui is situated. Additionally, housekeeping is available.
The house has a contemporary style with warm woods and cool stones. You have a lanai with ocean views and a dining room table that seats ten people.
There are 6 bedrooms, providing space for up to 10 people to sleep. spread out in a pool room and several social rooms. Check rates here.
Lahaina Oceanfront Estate Villa
Front Street in Lahaina offers the best Maui villa rentals by far. Don't be fooled by the word "villa." You have complete privacy and room to move around within this typical plantation-style property along this peaceful lane of private residences.
Despite the peace, you are still near the Old Lahaina Luau and Lahaina's commercial district. Check the latest rates and availability.
You can take in the sunset and the sound of the waves lapping the shore in the back.
While lounging on the hammock surrounded by palm palms, take in the distant views of Molokai and the ocean. Swim and soak in the hot tub, or cook outside. Additionally, there is a 2-car garage on site and lots of parking.
The terraces on the second floor and the lanai both provide lots of comfy seating. With King and Queen-sized beds, you can accommodate up to 16 guests.
You have access to house cleaning, laundry, supermarket delivery, car rentals, and airport transfers through the estate as well! Check rates here.
Book a Hawaii Photo Shoot
Whenever we travel to Hawaii, we almost always book a photo shoot with Flytographer. They are super easy, affordable, AND it guarantees that I'll have more than just selfies. You can get $25 off if you book through this link or use the code HAWAIITRAVEL.
South Side
Mango Surf Beachfront Villa
Beautiful Maui villas are available for rent in Kihei, allowing you to holiday in the lap of luxury. With 3 bedrooms and 3 bathrooms, Mango Surf Beachfront Villa is excellent for a family of 6. Check the latest rates and availability.
The interiors have a modern coastal aesthetic and include full-service kitchens, opulent teak furniture, and state-of-the-art home entertainment systems. There are bicycles, a variety of water sports equipment, and toys for children.
There is a tranquil beach that is ideal for children outside, as well as a pool with a waterfall and a hot tub. Pick mangos from the fruit trees on the rear lawn or prepare beverages at the cabana beside the pool!
Take advantage of extras like housekeeping, a private concierge, massages, a private chef, or car rentals.
Just off the lawn, you may stroll down to Waimahaihai Beach or head north into the city core. You may find a wide variety of stores, eateries, and neighborhood parks in Kihei. Check rates here.
The Palms at Wailea
When seeking luxury vacation rentals on Maui, condos are the best option.
You can enjoy the solitude of a vacation home while having access to a bigger condominium community's many exceptional features! Check the latest rates and availability.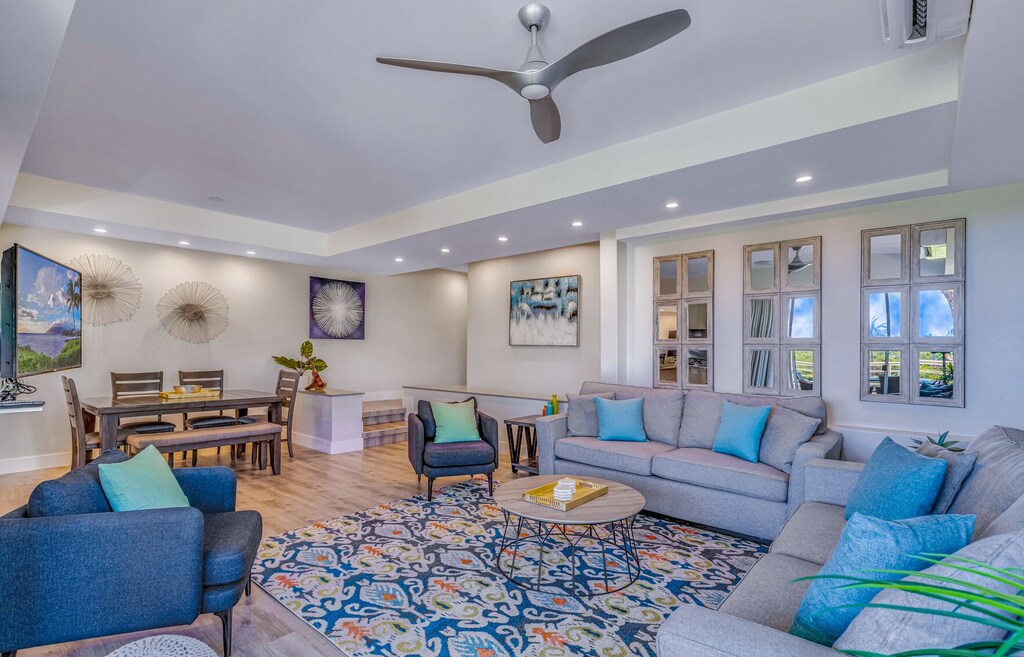 The balcony of this spacious, quiet, second-floor condo in the center of Wailea offers a distant view of Keawakapu Beach.
Gourmet food markets, fine dining establishments, and upscale retail centers are close by and are accessible by foot or car. You also have access to all the amenities offered by Wailea's beachside hotels.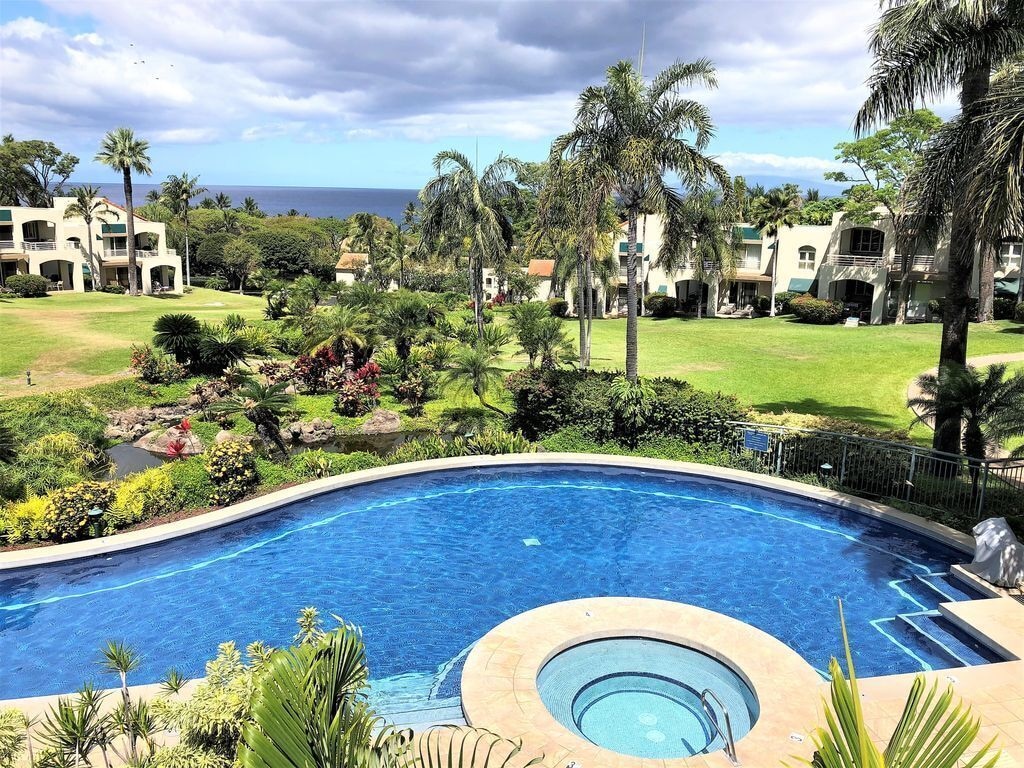 The proprietors of this two-bedroom, two-bath apartment gave families serious consideration, paying all the attention to detail you'd anticipate from a luxury property.
Sleep up to 6 people in rooms with memory foam beds and blackout drapes. Even the main restroom features a bathtub that's ideal for younger children.
Enjoy community features including an on-site concierge, swimming pools, and hot tubs. The house also has a ton of kid-friendly toys, games, and beach gear. Check rates here.
North Shore
Hale Mauka Makai
Check out Hale Mauka Makai if your family wants to get away from it all while enjoying life.
This charming designer home is in Haiku, close to the Hana Highway, and is situated on more than 4 acres. Check the latest rates and more information.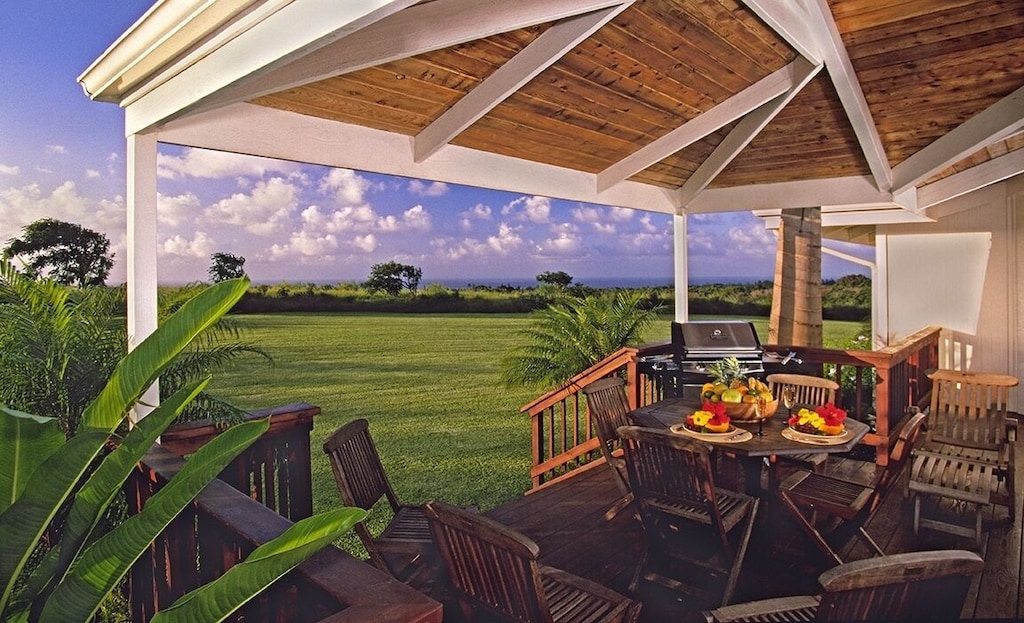 You'll enjoy being surrounded by expansive grassy plains, fruit tree groves, vegetable gardens, and flower gardens. However, it's only 15 minutes to trendy Paia and 5 minutes to Hookipa Beach Park.
Nine people can sleep in the three-bedroom, three-bath house. Each bedroom and the open-concept living area have doors leading out to the porch, and there is an outdoor shower for rinsing off after a day at the beach.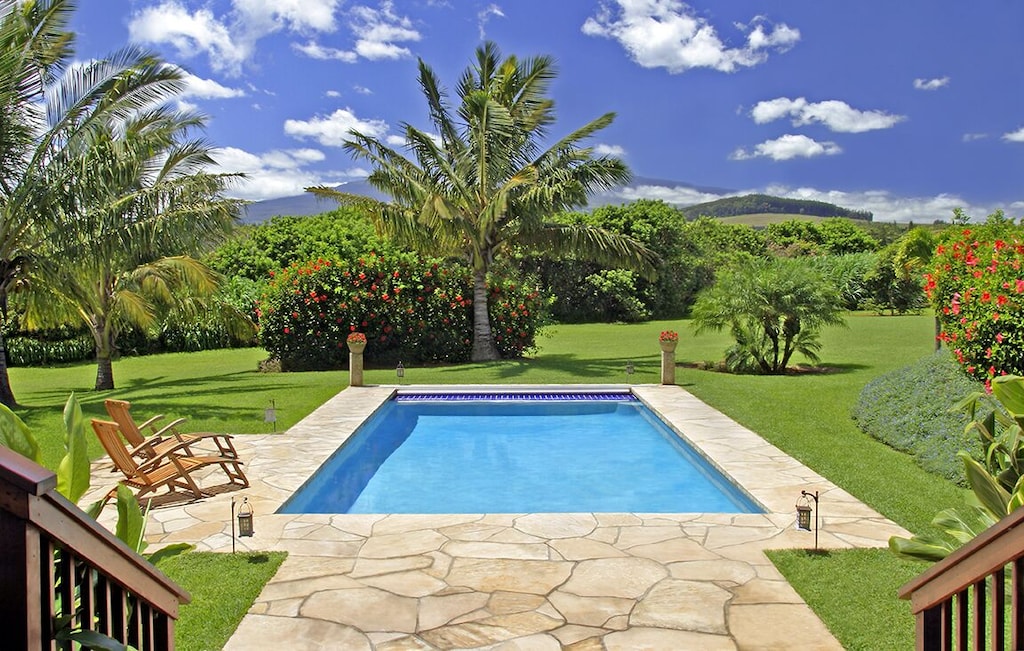 The property has a cozy atmosphere and showcases fine island art and opulent furnishings.
Numerous kid-friendly goods, such as a high chair, portable crib, toys, water toys, and more, will be provided by your hosts. You may ask for housekeeping, a private chef, meal delivery services, and other amenities with this opulent rental home. Check rates here.
The Sacred Garden Retreat
The last luxury vacation property on my list is a particularly special location for a big group. You can lodge on the premises of a working farm and spiritual retreat with your group of up to 10 persons!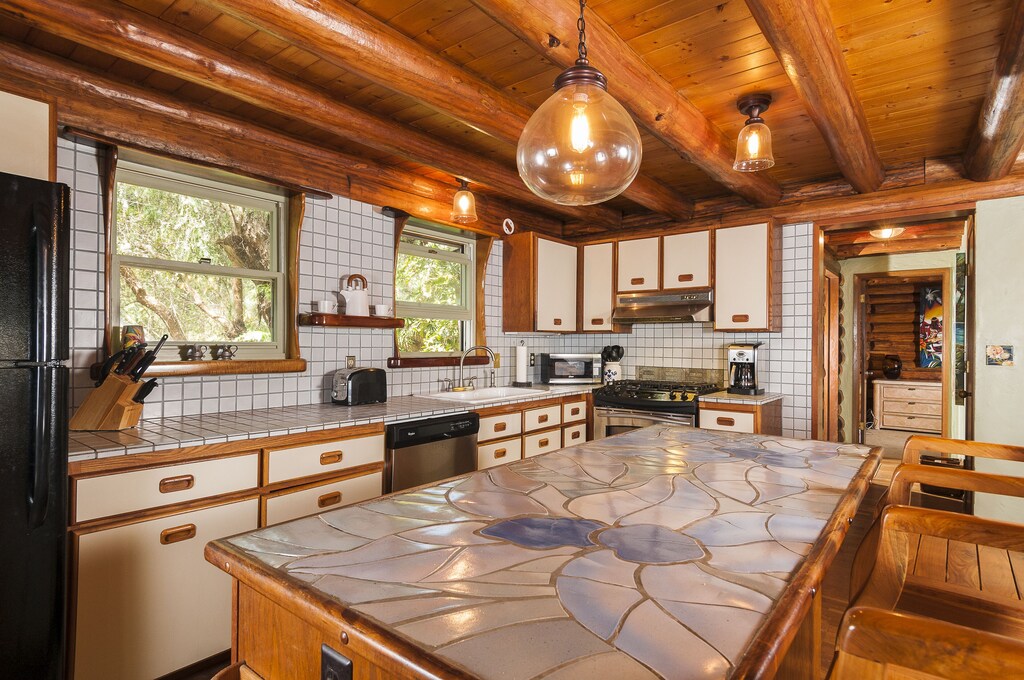 The Sacred Garden Retreat, a 3-story luxury log home tucked among 8 acres of rough tropical farmland in Makawao, is only 10 minutes south of the Road to Hana. Check the latest rates and more information.
You can inquire about gardening workshops or arrange a tour of the farm. There is always someone available to assist you and provide massage and private chef services.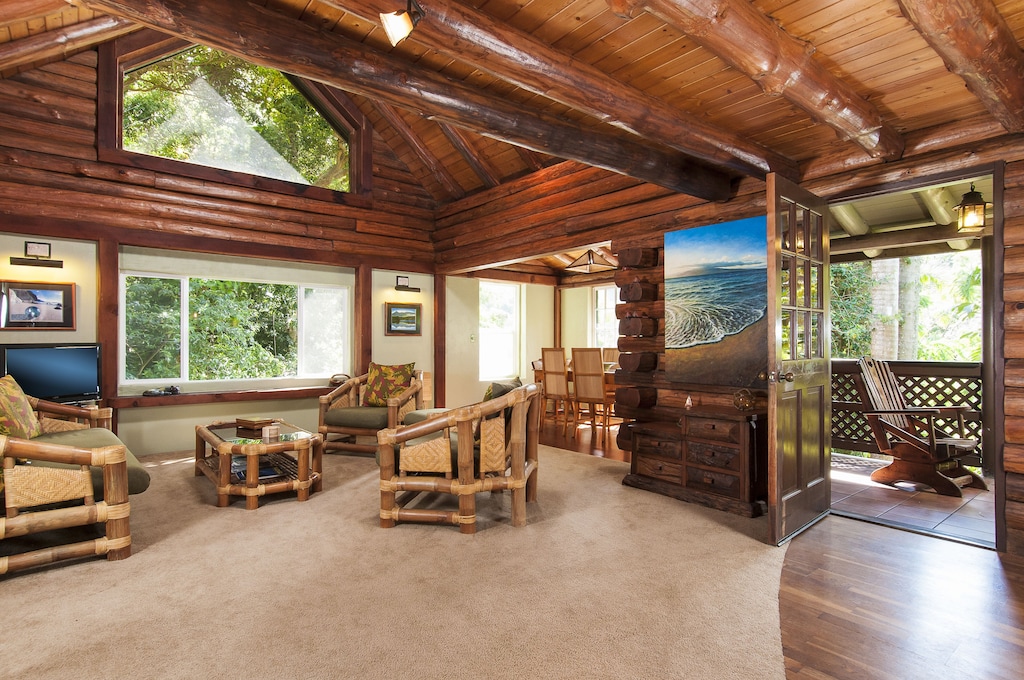 The gorgeous, hand-crafted home contains 5 bedrooms, 4 bathrooms, a loft bedroom, and a studio space with a kitchenette.
There are toys, baby gates, and a high chair available for children. The yard, the sizable communal areas, or the roomy lanai are all great places to unwind. Check rates here.
Luxury Maui Vacation Rentals FAQs
Can you rent homes in Maui?
Yes! Everything is available, from luxury Maui vacation rentals and complete private estates to surfers' huts and bungalows. Additionally, they're a fantastic method for a vacation with a larger family or group.
What area of Maui is best for families?
The best part of Maui for your family really depends on what you like to do and the age of your children. For resorts, tourist attractions, and sunny beaches, stick to the West Side or South Side. For outdoor adventures, rugged nature experiences, and wellness retreats, North Shore, Upcountry, and Hana are great choices.
Can you find babysitting services in Maui?
Families visiting Maui are catered to by a number of babysitting and nanny agencies, including the renowned The Nanny Connection. You can enquire with the host of your luxury Maui vacation rental about any unique accommodations. Or they could offer advice on which business to choose.
Are there any luxury experiences for my family in Maui?
While you're looking into Maui luxury vacation rentals, you can certainly enjoy the finer things elsewhere on the island! Rent a convertible sports car for the day or book a fishing charter for the whole crew. Take a private tour of Molokai and Lanai or spend a day at one of Maui's resort spas.
Best Maui Luxury Vacation Rentals Wrap Up
In all the well-known areas of Maui, you can find exceptional and magnificent luxury vacation rentals.
There is something for every sophisticated taste, from luxurious holiday homes in the north country to villas and condos by the sea!