Not sure about the best area of Maui to stay in? Keep scrolling to learn about the differences in hotels and resorts between Kaanapali vs Wailea and stay tuned to hear our top suggestions!
This comparison of Kaanapali vs Wailea: where to stay on Maui contains affiliate links which means if you purchase something from one of my affiliate links, I may earn a small commission that goes back into maintaining this blog.
Have you been debating whether to go to Wailea or Kaanapali on your trip to Maui?
You're in luck – this article is for you! I'll be comparing and contrasting Wailea and Kaanapali so you can figure out which spot is best for your needs.
With crystal clear waters, soft sand beaches, and lush vegetation, it's hard not to be charmed by Hawaii. And with amazing resorts like these on either side of the island, it just might be hard to choose where to stay!
Both locations are amazing, but they have different things to offer. With my help, you can make the most informed decision possible and pick the perfect place for your dream vacation.
Keep scrolling to read my honest thoughts about Kaanapali vs Wailea Maui.
Don't have time to read a bunch of Hawaii blog posts and reviews? Here are some of our top picks for visiting Maui.
Popular Maui Tours/Activities
Favorite Maui Resorts/Hotels
Hyatt Regency Maui (this has a swim-up bar and tons of amazing amenities)
Andaz Maui (this is a luxury resort with the best luau on Maui)
Honua Kai Resort & Spa (this is one of our personal favorites because there are tons of pools and there are condo options)
Want to Rent a Car in Hawaii?
One of the best places to rent a car in Hawaii is Discount Hawaii Car Rental because they get the best rates from top national companies like Alamo, Dollar, Thrifty, Avis, Enterprise, Budget, and Payless.
Want to skip all the planning and just access my detailed Maui itinerary complete with daily schedules, fun activities, and travel hacks? Click the button below.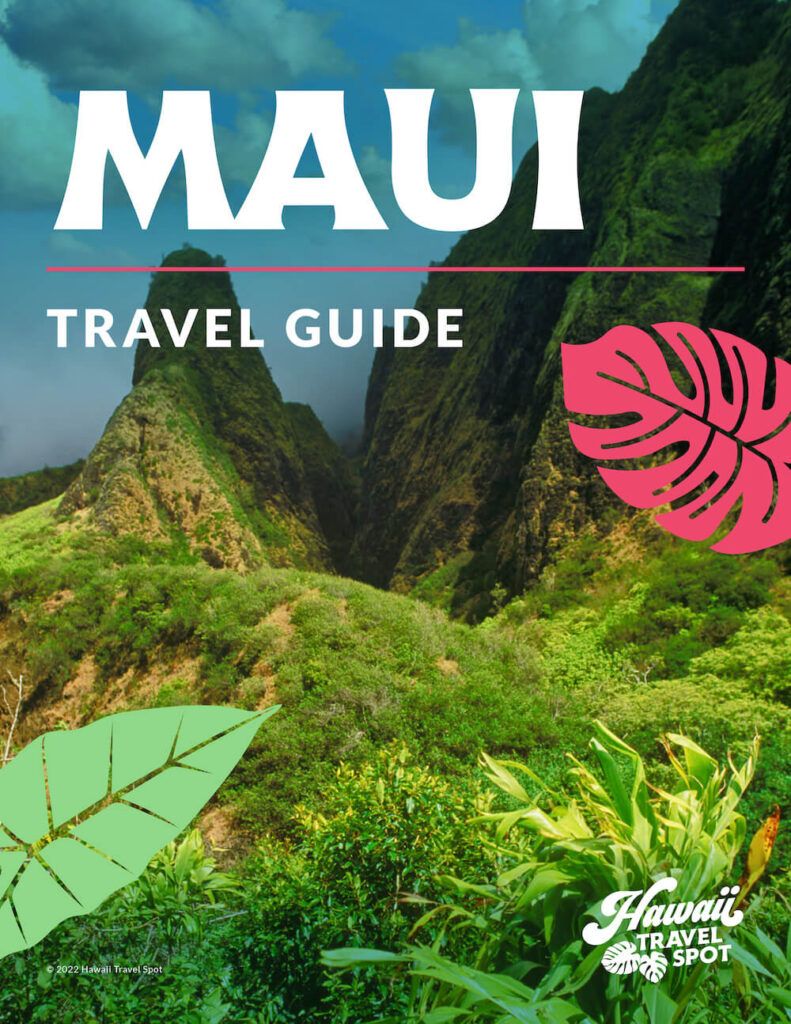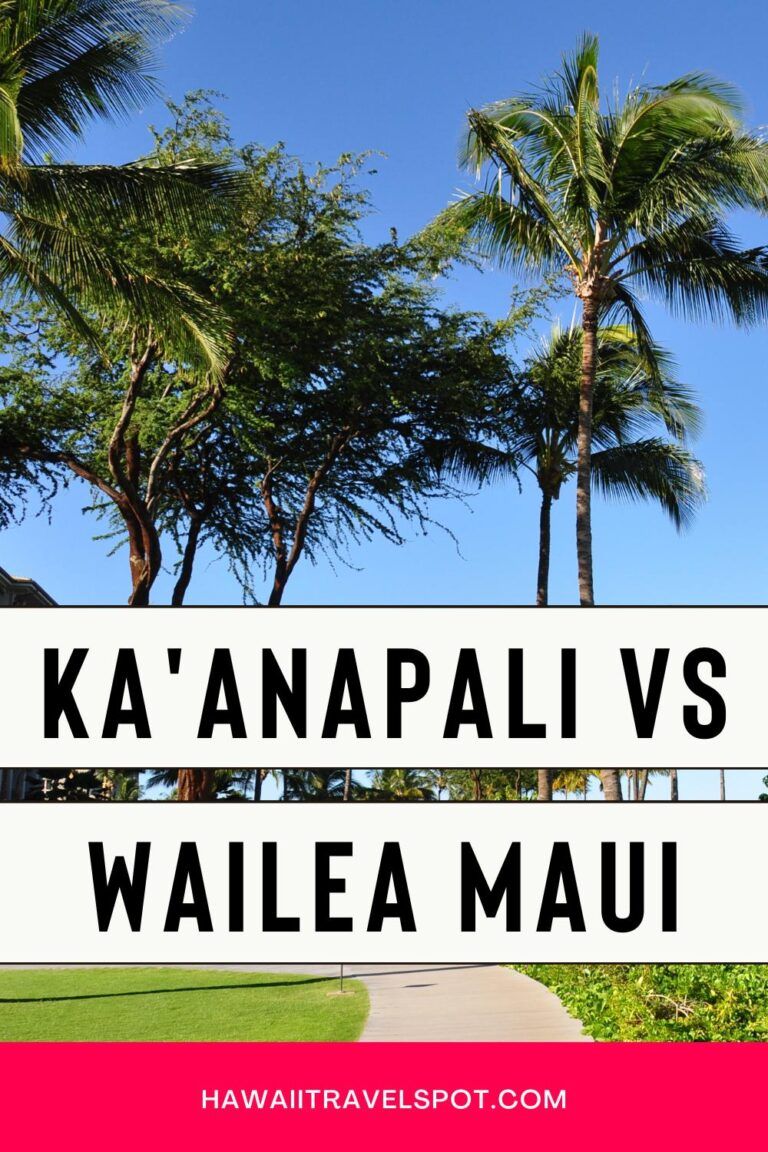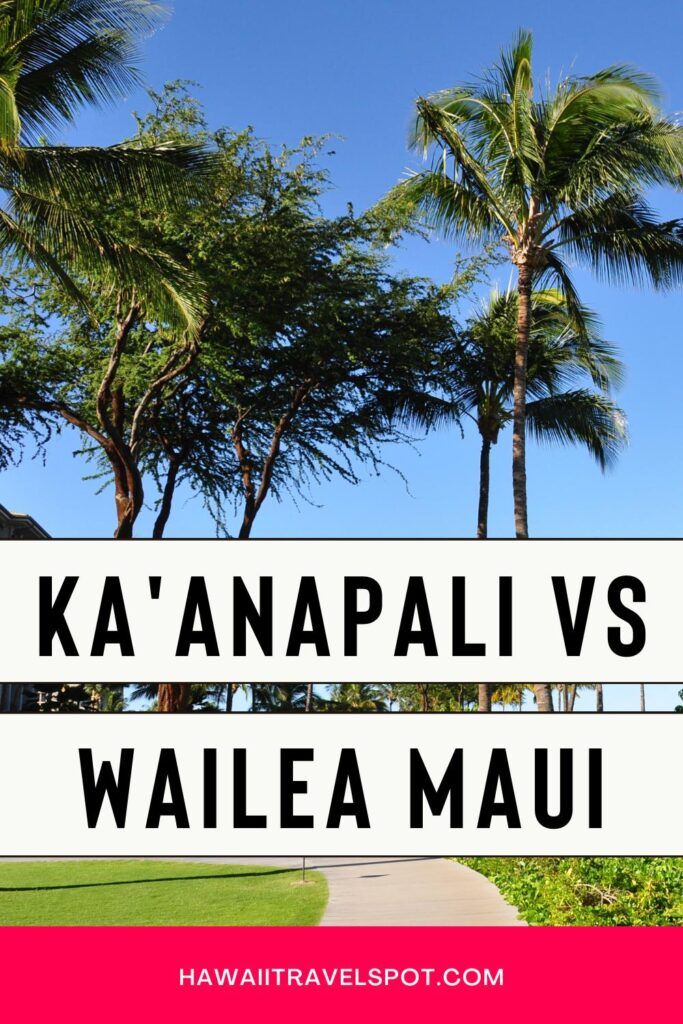 West Maui vs South Maui
Typically the thing that most people have trouble deciding on is picking between the Kaanapali and Wailea. These are on the west and southern coast respectively.
These locations both offer some of the best places to stay on Maui, so trying to choose can be tough. They are also friendly to new tourists and aren't extremely isolated like some other spots on the island. So it all depends on what exactly you are searching for.
Kaanapali
If you are looking for some exciting attractions and some chapter eats, Kaanapali might be the best place for you. You will find hotels and awesome eats that can fit any budget! With all these cool attractions, it is also going to be the more packed area of the two.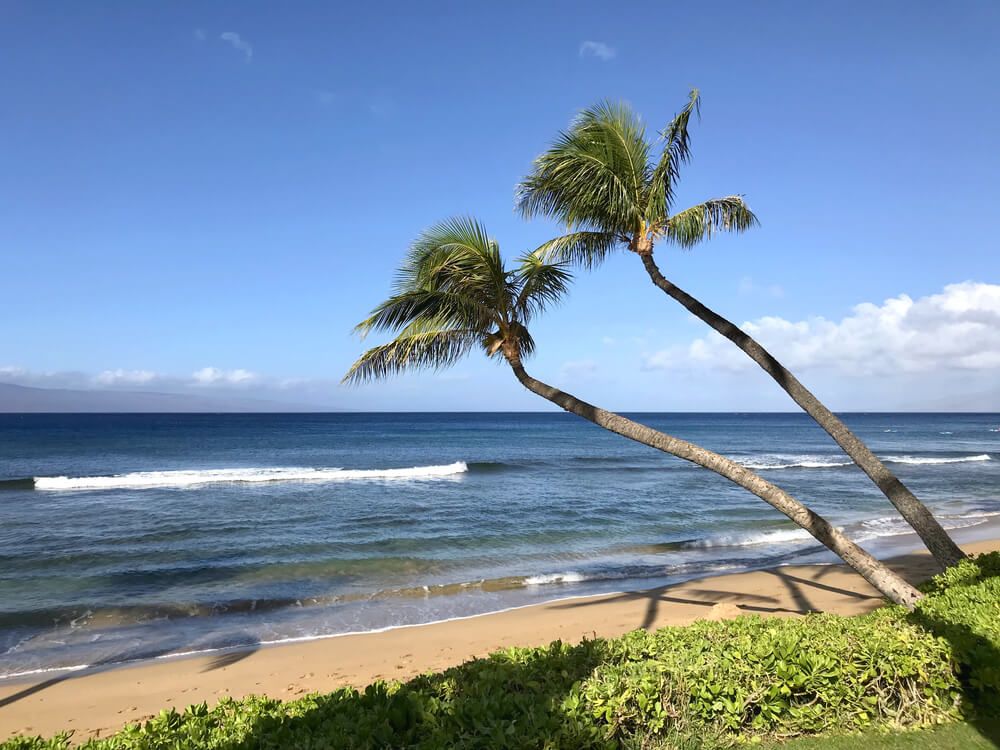 The area's downfall comes from its attractions, and because it is so well known, it can get crowded very quickly. For those travelers planning on renting a car, parking can quickly become a hassle. In the wintertime, it can also get pretty rainy, which is something important to consider.
Save Money with Points
Here are the best credit card offers for people who travel and want to use points to pay for airfare and hotels in Hawaii.
Wailea
If you are looking into staying at high-end luxury resorts or vacation homes, Wailea might be the area of Maui you should be looking at.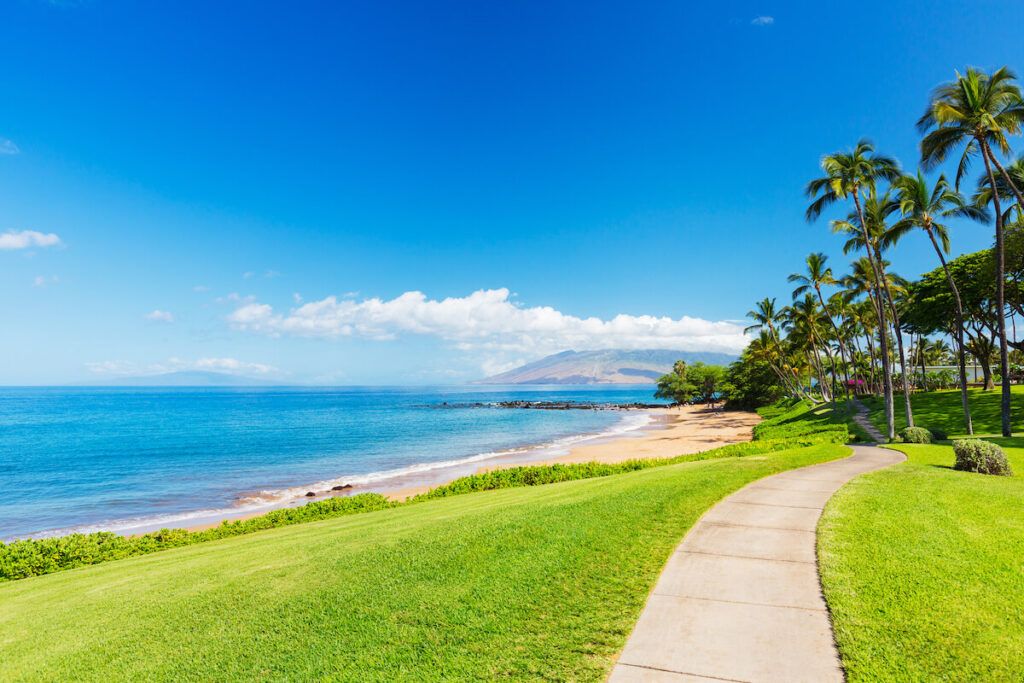 Because the resorts are spread out from each other, the area is much more relaxed. While tennis and golf are all available to you, most of the fun things to do in Wailea are going to be found in resorts, where all sorts of cool activities will be at your disposal.
Wailea is a little different from Kaanapali in that it simply gets crowded because there isn't nearly as much available to you. Your activities will also be pretty restricted to activities at the resort other than the beach.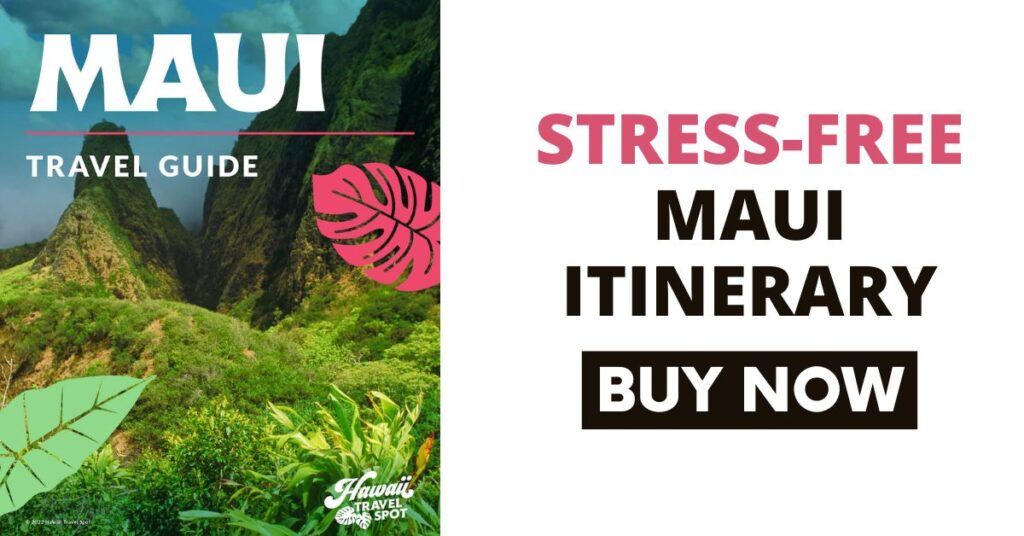 Kaanapali vs. Wailea: A Comparison
So now you know the main differences between the two, but you might still be wondering which choice is the one to make. I'll dive into this very question to help you figure out where to stay in Maui
Weather
The weather on Maui can vary pretty drastically depending on where you're staying at! In Kaanapali, the weather isn't too extreme, staying around 60 to 85 degrees Fahrenheit. On the other hand, Wailea is definitely on the hotter side. It averages around 70 to 85 degrees, even during the wintertime!
Wailea's winters are typically sunny and dry, while winters in Kaanapali are definitely on the cloudier and wetter side.
Travel Around the Island
For those flying in by plane, the trip from Maui Airport is going to be shorter to Wailea. It's about half an hour without traffic. Kaanapali, in comparison, is going to be about an hour away.
As for getting between the two places, it's going to take about 50 minutes to get from Kaanapali to Wailea with ideal traffic conditions.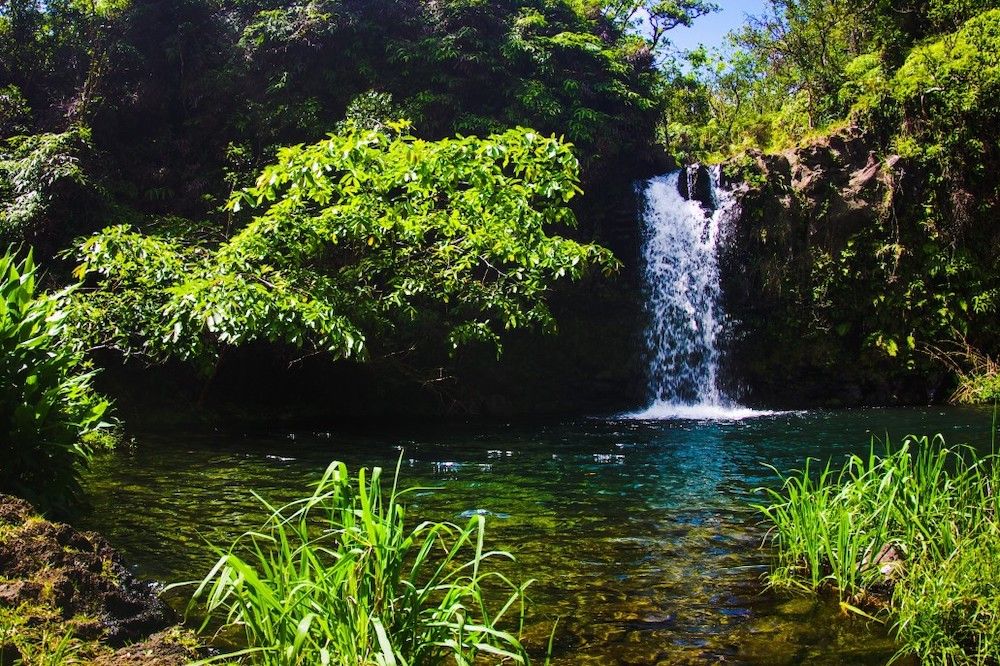 For those hoping to take advantage of some of the more touristy areas in North Shore, like Road to Hana, it's going to be about 2 hours from Kaanapali.
If the more touristy areas aren't your style, local places like the Iao Needle are likely to be less crowded. Plus it will allow you to experience the amazing outdoors that Kaanapali has to offer!
If you are looking into more touristy areas, Wailea might be your best bet. By car, you're going to be around 30 minutes closer to these attractions than Kaanapali.
For those of you who are looking into Road to Hana but are concerned about the need for a long drive, several bus tours can get you to these attractions without needing to rent a car.
Book a Hawaii Photo Shoot
Whenever we travel to Hawaii, we almost always book a photo shoot with Flytographer. They are super easy, affordable, AND it guarantees that I'll have more than just selfies. You can get $25 off if you book through this link or use the code HAWAIITRAVEL.
Humpback Whales
There is nothing more majestic than watching migrating humpback whales resting in the Maui Nui Basin. Hands down, Kaanapali is the best part of Maui for those who want to take a look at these amazing animals! At times during the whale season, whales are even visible directly from the beach!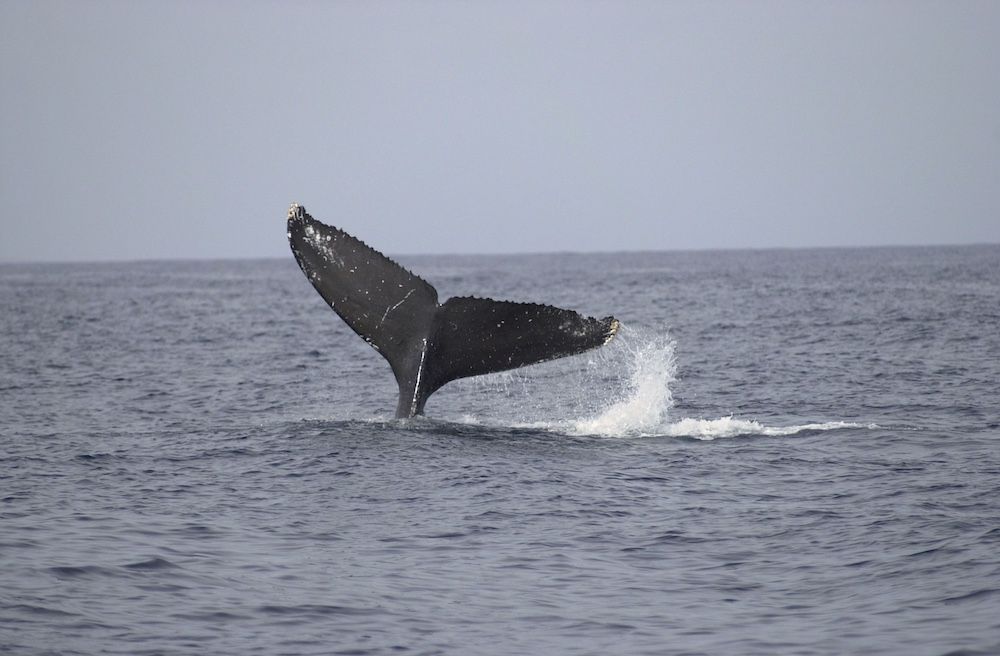 It is possible to see some whales from Wailea and you can get a whale-watching tour from both places. But if you are serious about seeing whales, Kaanapali is your best bet. You can check out my more comprehensive guide to whale watching on Maui.
Luaus
If you are on the lookout for a traditional Hawaiian luau, both Kaanapali and Wailea can provide this experience for you! In Kaanapali/Lahaina, the Old Lahaina Luau is an amazing thing to undergo. For Wailea Maui, the Feast at Mokapu luau is similarly considered one of the best you can check out.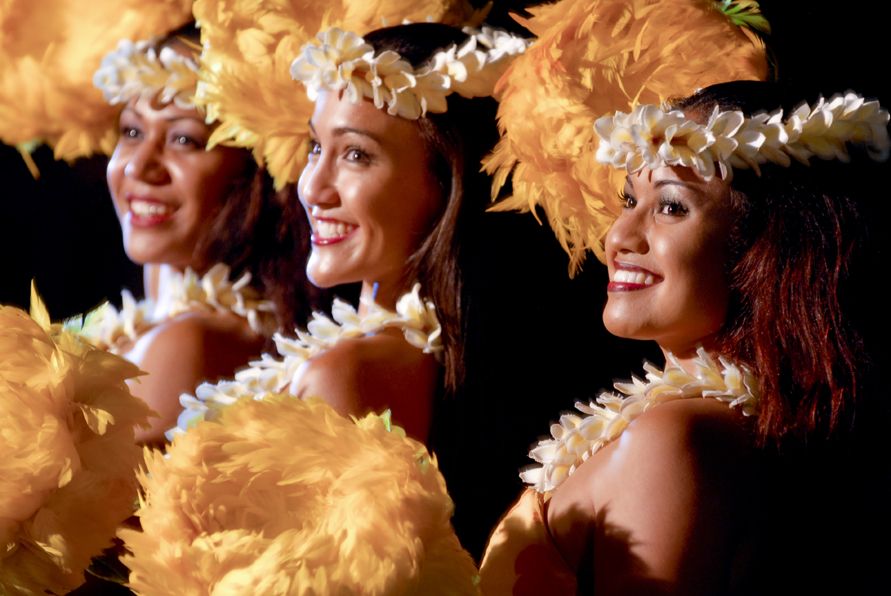 Many resorts in both locations also have their very own luaus, such as the Myths of Maui at the Royal Lahaina Resort as well as the Maui Nui at the Sheraton Resort.
Shopping
If you are looking for some fun items to bring back home from Hawaii, Whaler's Village in Kaanapali has tons of interesting shops and fun things to see. You can surely find something cool to embody your Hawaii experience.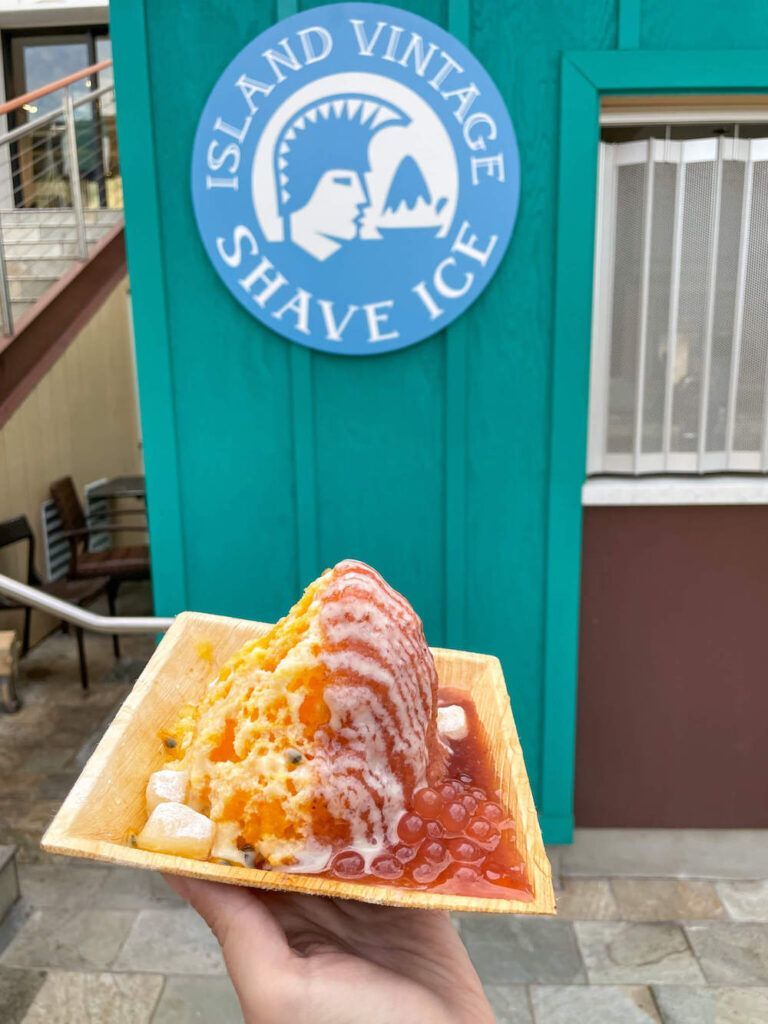 You can also check out Front Street in Lahaina. It has some restaurants and views of the water that you won't want to miss.
If you are looking for a premium shopping area to check out, The Shops at Wailea has some incredible stores for you to check out.
Here you can find luxury brands like Louis Vuitton as well as Tiffany & Co. You can also find various gift shops and other trinkets in this area as well.
Where to Eat
Because Kaanapali is focused on bringing in as many tourists as possible, you will find a plethora of restaurants for you to choose from in the area.
There are some traditional shave ice stands, fast food places, and family-owned restaurants that you should check out. There are also some fancier restaurants in the area for a more sophisticated eating experience.
However, eating breakfast in Wailea will likely be at the place you are staying because the options for breakfast in the area are going to be pretty limited. If you are looking for better breakfast options, your best bet is to drive up to Kihei and get your fix there.
Lunch in the Wailea area can be a great time to go on a short walk throughout the neighboring resorts and find out what restaurants they have available. There are also some grocers you can find nearby to get some fresh produce.
Kaanapali Beach vs. Wailea Beach
It's hard to argue for one beach over the other because both locations have some fantastic beaches with all sorts of amenities available to you.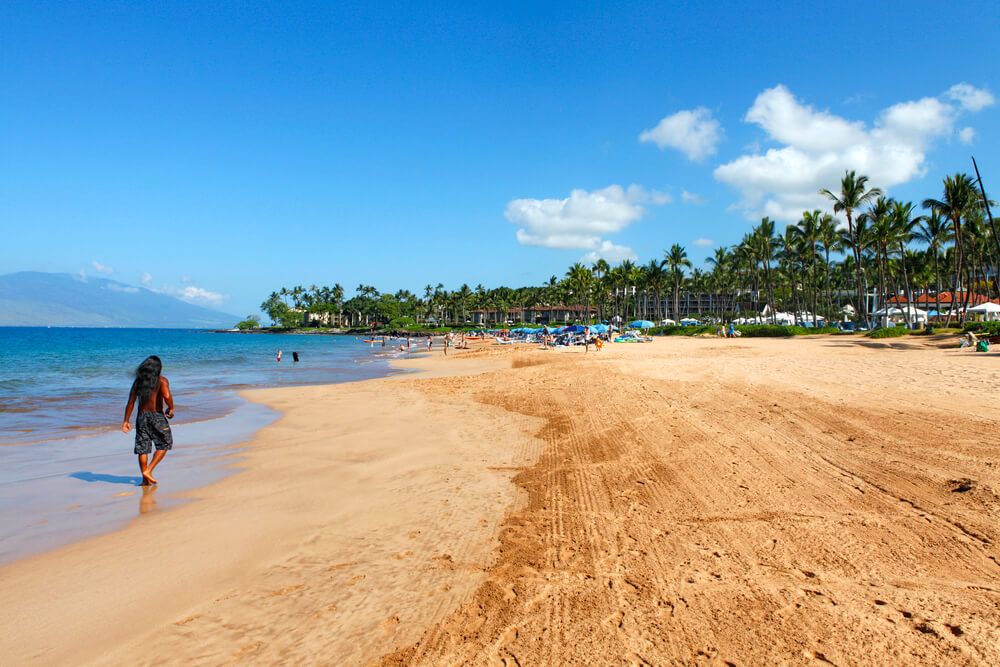 You can find some fantastic restaurants and whale-watching locations at Kaanapali's Kaanapali Beach. Wailea Beach also has some cool boat tours to the Molokini Crater, which can be an amazing experience for travelers of all ages.
Hiking
One of the similarities between the two locations is that the availability of local hikes isn't going to be very plentiful. South of Wailea, you can head to Makena State Park which will provide you with some trails suitable for all ages that provide you with some nice beach views.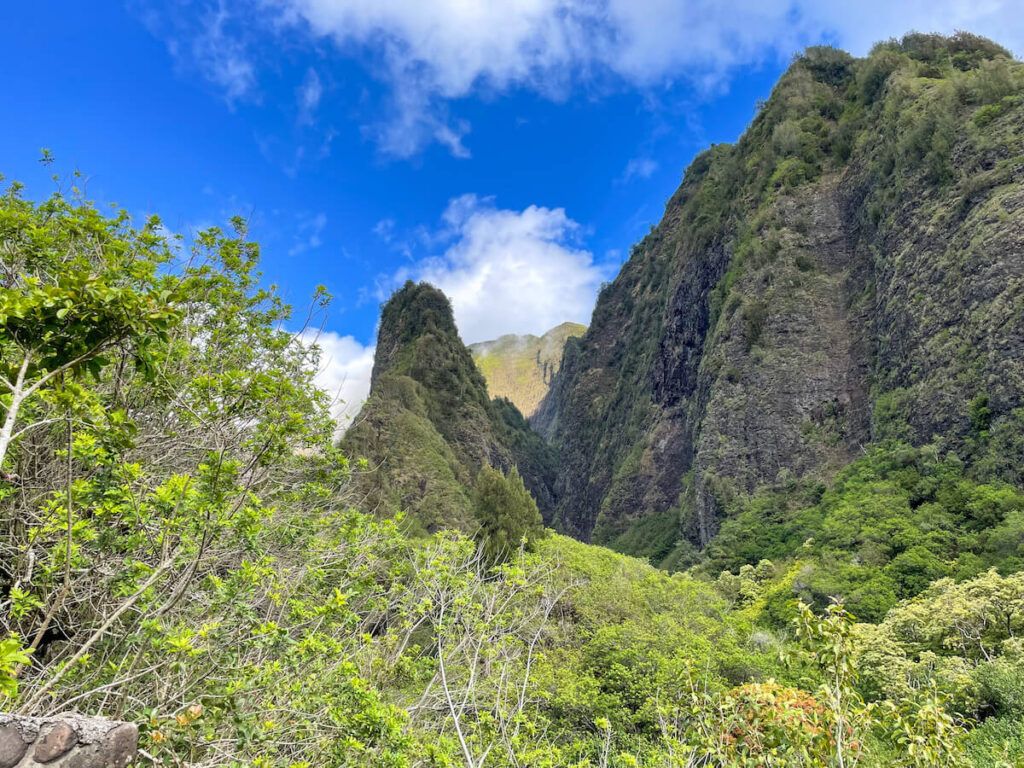 If you are hoping to get into the outdoors, I would recommend renting a car. That will allow you to get to some better areas. The closest hiking location to Kaanapali is going to be the I'ao Monument. This is a nice hike for all ages that is about 45 minutes away.
Both locations have ocean walking paths which can make for a casual walk as you listen to the crashing waves. As I've mentioned before, paths connect the resorts in Kaanapali. This means that the trails will be busier than Wailea's trails.
Where to Stay in Kaanapali
As you are trying to figure out where you are going to stay in Maui, I have some tips that might help you out!
Kaanapali Beach Hotel
For those of you who are trying to stay in Maui on a budget, this is going to be the place to check out. The Kaanapali Beach Hotel does have less to offer than some other results may have, but the affordability and the quality of your stay make up for it.
There is a wide selection of rooms to choose from and is a great option for single travelers, or entire families! Check rates.
It has very close proximity to Kaanapali Beach and is a short walk from Whaler's Village. There are also several activities available that can help you to learn a little bit more about the incredible Hawaiian history and the culture of the region. Check the latest rates and availability.
Hyatt Regency Maui
If you're looking for a place with neverending activities, Hyatt Regency is the place to go!
You can view some "real-life" mermaids at the Mermaid Swim Academy, or view the beautiful Hawaii stars on the rooftop stargazing program. They also have a fantastic wildlife tour where you can take a look at the incredibly different species of birds at the resort. Check rates.
Of course, be sure to make a pitstop at the Ululani shave ice stand or you can take the time and book a table at the lovely Drums of the Pacific Luau. Check the latest rates and availability.
Staying in Wailea, Maui
Wailea is the place in Maui to stay in Maui if you are looking for resorts that scream luxury and quality! There are tons of amazing resorts and places to stay and I would also consider this the best place to stay for couples.
Four Seasons Maui at Wailea
For those of you looking for a resort that's the best of the best, the Four Seasons checks off every box and more with service that can't be beaten.
This is the place where you're treated like family. Plus, you are provided with service that makes you feel like you are truly cared for! And to top it off, cabanas are complimentary for those staying here. Check rates.
There are also amazing rooms and quires along with a putting area and rooms to play video games. Check the latest rates and more information.
Fairmont Kea Lani
For Wailea prices, a more affordable palace to stay at is going to be the Fairmont Kea Lani. They provide you with large rooms and villas, along with some quiet beaches and fantastic spas. Check rates.
There are so many cool activities along with waterslides and pools. So this truly is an area that is suitable for travelers of all ages! Check the latest rates and more information.
Tips for Deciding the Best Location to Stay in Maui
If renting a car is not a direction you're not planning on going, this can significantly impact where you might want to stay. So it is important to figure out your priorities when on Maui.
If relaxing and chilling at a resort is a plan that is okay with you, Wailea is gonna be the spot for your stay. It is possible to get around Kaanapali without the need for a car. However you are going to have to book a shuttle to get to the airport.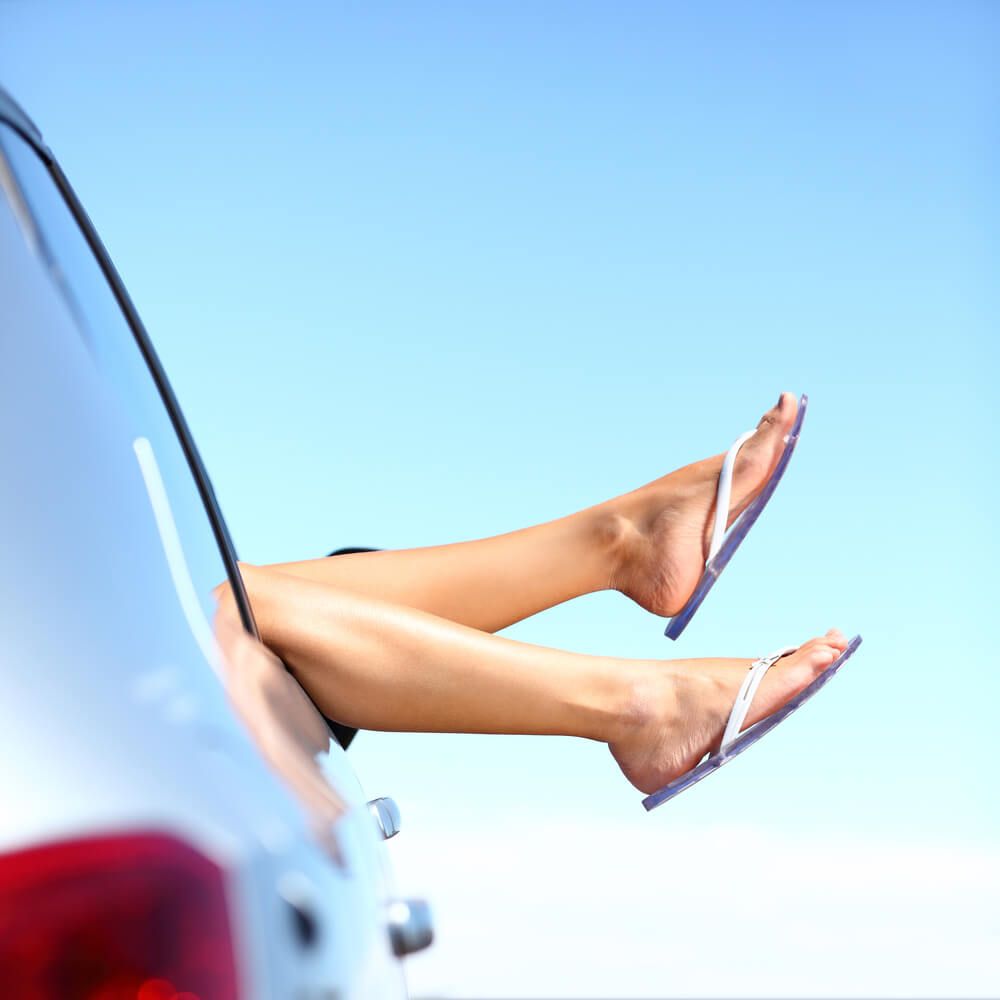 It is important to remember of the cool things to do in Maui are going to be a distance away from both of these locations. The Maui Pineapple Tour is one of my personal favorites along with the Garden of Eden. Both of these will require a bit of a drive from these locations.
If a luxury resort is something you are considering but are afraid about the costs, checking the prices during the fall or spring can often provide you with discounted rates. There are typically fewer tourists during this time and resorts want as many people as possible year-round.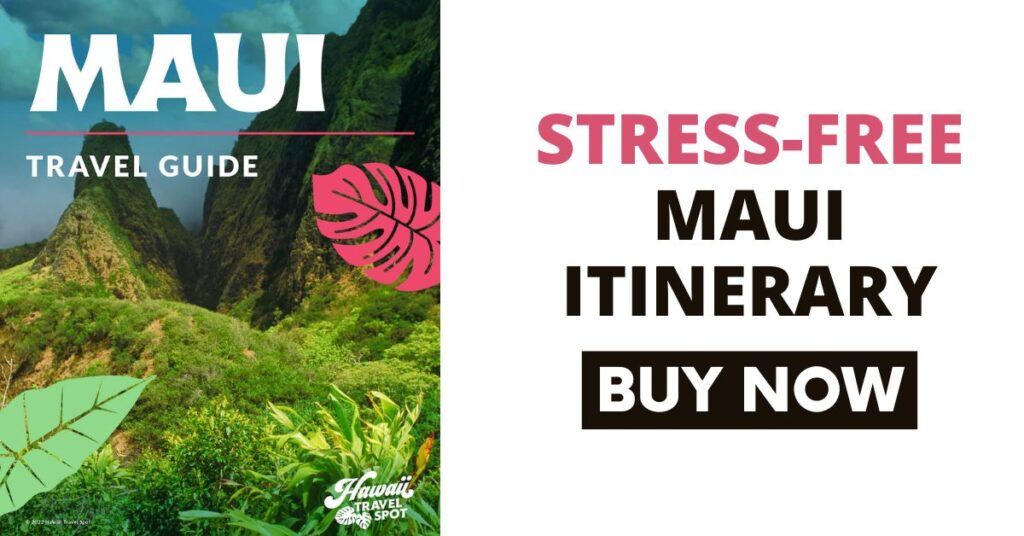 FAQ about Where to Stay in Maui
What is Wailea Maui known for?
Wailea is known for so many amazing things! It has awesome golf courses and beautiful beaches coupled with some amazing beach views. There are also some awesome trails and other things to do around the area, so I would recommend branching out and looking around to see what sights await!
Is Kaanapali Beach swimmable?
Not only would I recommend swimming, but the beach is geared towards swimmers of all skill levels. The beach is very big, meaning that you can keep your distance from other beachgoers if you so choose. Additionally, the sand as it goes to the water is very gradual, which makes it a fantastic swimming location!
Which side of Maui is less touristy?
I would have to say that North Shore Maui is your best bet for an area that is less crowded. However, that doesn't mean that you won't be able to experience some amazing views while you're at it! You can see some sea turtles as well as some of the world's best windsurfing. This area is much less touristy than some other places in the area.
So, Where's the Best Place to Stay in Maui?
By now, you'll realize that there are tons of pros and cons in each area depending on your preferences.
If an area with amazing resorts and spas is more up your alley, Wailea is going to be your best bet. However, if you want more attractions, shopping opportunities, and some awesome whale sightings, Kaanapali is going to be the way to go.
Of course, both of these places will provide you with the dreamlike view of the Hawaiian sunset that I have come to know and love.
Do you agree with my list? For more on where to stay in Maui, check out more of the Best Areas to Stay on Maui!