Planning a trip to Maui and want to check out some Maui sunsets? Keep scrolling for the most magical places to watch the best sunsets in Maui!
This list of where to see the best sunsets in Maui Hawaii contains affiliate links which means if you purchase something from one of my affiliate links, I may earn a small commission that goes back into maintaining this blog.
Have you ever imagined spending time with your significant other while relaxing on a warm beach and watching a gorgeous tropical sunset?
Whether it's for your most awaited honeymoon or a memorable family vacation, Maui, located Northwest of Hawaii, is a destination many people fantasize about visiting.
The island is well-known for its charming sunrises and sunsets, famous beaches, and views of humpback whales migrating through it in the winter.
Come enjoy a getaway unlike any other on the second largest Hawaiian island, and make your life the idyllic scene of your dreams!
Below are 14 of our favorite places to witness the Maui sunsets that could bring some color to your trip.
Don't have time to read a bunch of Hawaii blog posts and reviews? Here are some of our top picks for visiting Maui.
Popular Maui Tours/Activities
Favorite Maui Resorts/Hotels
Hyatt Regency Maui (this has a swim-up bar and tons of amazing amenities)
Andaz Maui (this is a luxury resort with the best luau on Maui)
Honua Kai Resort & Spa (this is one of our personal favorites because there are tons of pools and there are condo options)
Want to Rent a Car in Hawaii?
One of the best places to rent a car in Hawaii is Discount Hawaii Car Rental because they get the best rates from top national companies like Alamo, Dollar, Thrifty, Avis, Enterprise, Budget, and Payless.
Want to skip all the planning and just access my detailed Maui itinerary complete with daily schedules, fun activities, and travel hacks? Click the button below.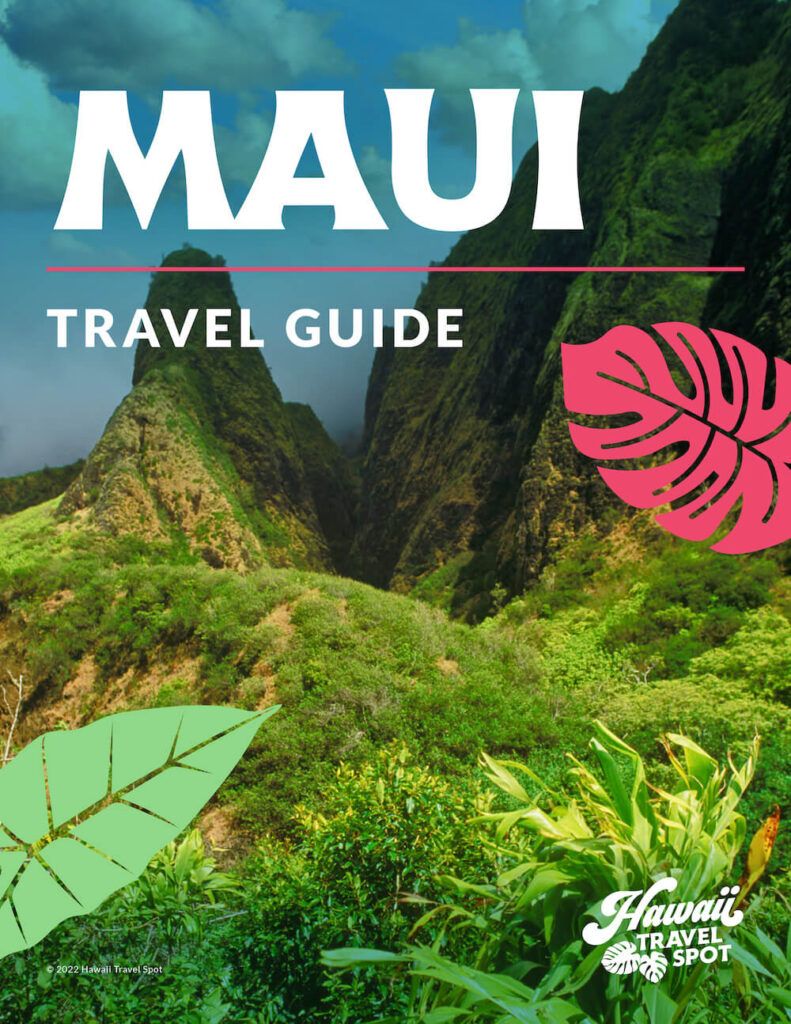 Where to Catch Maui Sunsets
1. Kapalua Bay – Kapalua
If you're seeking a picture-perfect view ,head out to Kapalua Bay Beach. It gained popularity last 2018 as "America's Best Beach."
You can relax on the beach, go for a swim, snorkel there all day. Then, cap off the afternoon with a stunning sunset photo shoot.
During sunset, the surroundings abruptly transform into a lake of purple and gold, enchanting you with its magical scene.
You can also dine at famous restaurants near Kapalua Bay including Merriman's Maui and Gazebo. This popular beach is recommended to visit during off-peak hours, such as on a weekday afternoon. You might even spot sea turtles and eels when the season is right.
You can leave your vehicle at Kapalua Bay Public Beach Parking. If you arrive early, take a quick walk to the fantastic Ironwood Cliffs.
2. Kamaole Beach Park III – Kihei
The Kamaole Beach Park III is perfect for water activity enthusiasts, families with young children, and surfers. In addition, the waves in Kam III are rougher than those at Kam I and Kam II, therefore, take caution when swimming there.
The beach offers visitors a variety of amenities, like public restrooms and picnic tables, allowing them to enjoy the orange hues during golden hour.
Due to its romantic ambiance and accessible location, it can get crowded every weekend. Make sure to bring a blanket and snacks with you for a cozier way to watch the sunset in Maui alone or with family and friends.
It's also a known photoshoot spot because of the gorgeous flat sand and delightful mountain backdrop.
3. Top of Haleakala Volcano
Catching one of the top Maui volcano sunsets at the peak of Haleakala Volcano. It is known for its chilly weather and diversity of Hawaiian wildlife, flora, and birds. Its sunsets feature a variety of pastel colors that make for an incredible photo opportunity.
Remember to dress appropriately, such as wearing hiking shoes and layers because you'll be on a volcano's peak.
Numerous activities are also available in the vicinity, including hiking trails, guided tours, and camping. Despite the cold weather, ensure to protect your skin with an adequate amount of sunscreen as you'll be at high altitudes throughout the day.
If you're unsure about between Haleakala Volcano sunrise vs sunset, you can never go wrong. Both are stunning. However, the sunset requires you to bring a flashlight. Park your car at the visitor center, then walk along the paved road until you see the well-marked trail.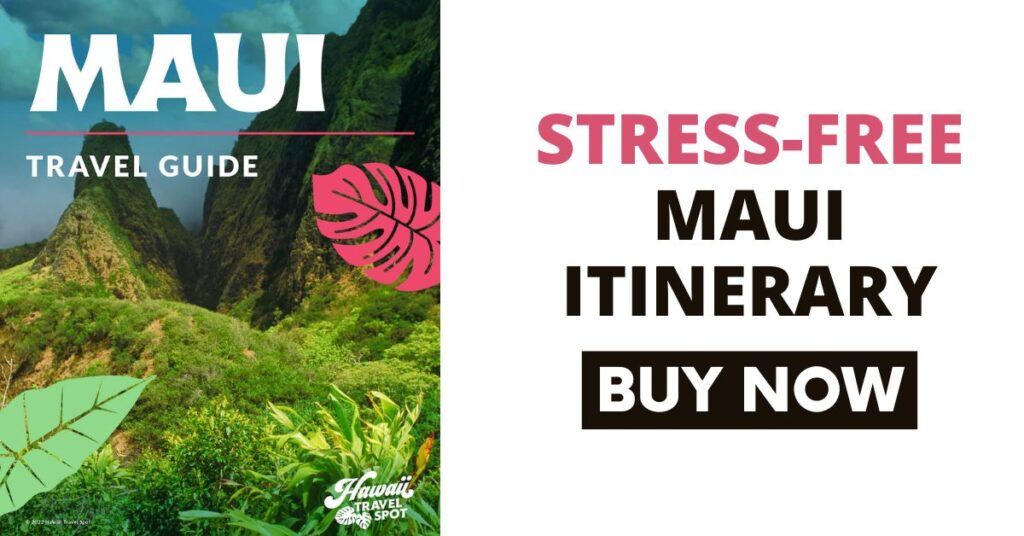 4. Keawakapu Beach – Kihei
Keawakapu Beach is another lovely spot with beautiful sunsets is Keawakapu Beach which stretches around half a mile.
It offers numerous places to spread a blanket where you can lay and enjoy the sea breeze while waiting for the sun to set. Enjoy a picnic date on the powdery white sand while observing the sun descend on the ocean's horizon.
Since this beach is located near a residential area and hotels, it's a popular sunset spot in Maui both for locals and visitors. Its picturesque scenery provides a relaxing afternoon while the small shops around sell snacks and drinks.
There are trees nearby, but far from the shoreline, you can bring a small parasol for shade and make sure to pack sunscreen. There are three parking lots before you reach the beach area.
5. Ulua Beach – Wailea-Makena
Gorgeous and captivating sunset photographs are made possible by the palm trees and enormous lava rocks spread around the sand at Ulua Beach. Pack some snacks and chairs, and get ready for a spectacular Maui sunset date with your partner.
The Marriott, a famous resort in Wailea, is close by and offers a seaside bar with huge games that both children and adults can enjoy.
For couples and families planning a getaway, this place is definitely for you. If you want to stroll further, you can pass by Grand Wailea and some shops, and perhaps an ice cream on your way back. Ulua Beach is located in the heart of Wailea, surrounded by shops, restaurants, and cafes.
If you're not staying near the area, there's a parking spot a few steps from Ulua Beach.
6. Hanakao'o Beach Park – Lahaina
If you're looking for a less touristy spot to spend some sunset sessions with your friends, head over to Hanakao'o Beach Park. This beach is also called "Canoe Beach" since you might occasionally see a canoer at the sea.
It has lots of parking spaces. Although it is recommended to arrive early as it can get a little busy especially if there's a canoe race on that day.
As an added bonus, this beach links to Ka'anapali Beach, which is much bigger. Also, picnic tables, BBQ pits, a public restroom, and lifeguards are available. If you're lucky, you might even spot some turtles.
There is a parking lot near Hyatt Residences for free. Since the other nearby beaches and businesses share it, it can be a challenge to find a spot, especially at the weekend, during sunset hours, and during the busy peak season.
7. Ho'okipa Beach Park – Paia
If you're a water enthusiast, then Ho'okipa Beach Park is for you. Surfing, kite surfing, windsurfing, and wing foiling are all popular sports on this beach.
It is not recommended to swim on this beach if you're still a beginner due to the size of the waves. However, it's a terrific location for taking a stroll along the beach, seeing the tidal pools and enjoying the sunset in Maui Hawaii.
You can also dine at Mama's Fish House, a popular seafood restaurant in Paia. Enjoy a sunset supper while admiring the scenery at this lovely photo location.
This place is situated along the highway and not many businesses are located here. It's a nice place to spend an afternoon, watch the windsurfers, and wait for the golden hour.
8. Lahaina Pali Trail – Wailuku
Do you prefer your sunset experience with a side of adventure? If so, you'll adore the sunset scenery from Lahaina Pali Trail because you'll get a view of the West Maui Mountains and some sailboats.
Beginning at the Ukumehame entrance, you'll have to ascend 500 ft over a brief 15-minute trip.
Once you've completed this challenge, it won't take you long to understand why this location holds the distinction of having the best sunsets in Maui.
Don't forget to pack some snacks and water on your way to the top and a flashlight for your way back home. Make sure to plan accordingly if you want to enjoy the exquisite Maui sunset time since you'll have to hike.
9. Makena Cove Secret Beach – Wailea-Makena
It used to be a kept secret among locals, but in recent years the lovely Makena Cove Beach has welcomed an increasing number of visitors.
The beach provides the ideal background for capturing a tropical scene thanks to the palm trees and lava rocks that border its shoreline.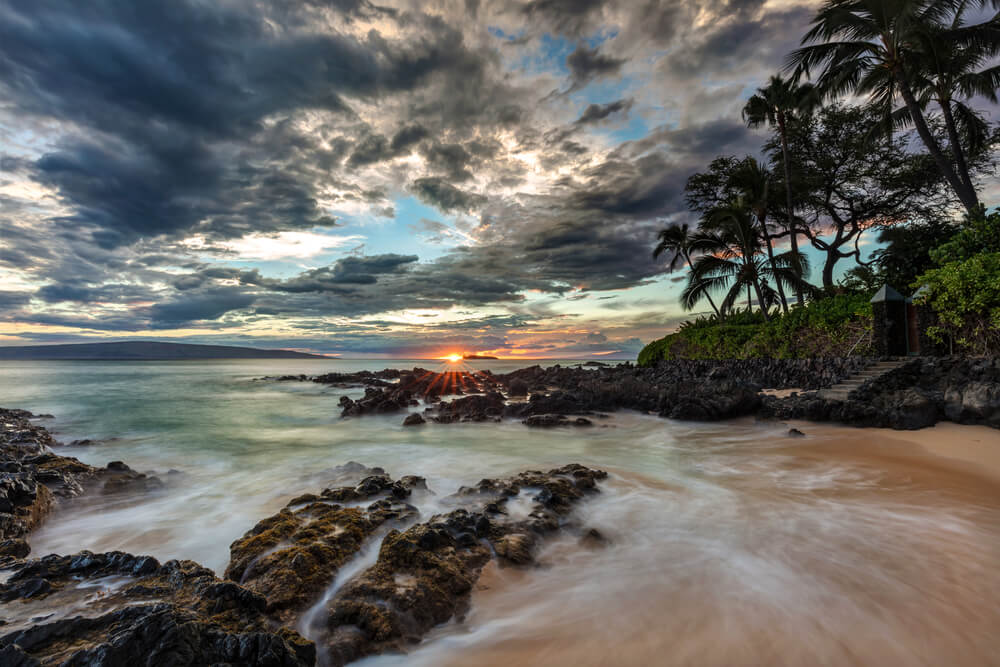 Makena Cove is not only popular as the best sunset in Maui but also as a wedding venue and wedding photoshoot location.
Seeing a sunset while sitting on this beach is certainly worth your time. The ocean is clear and the hike through the rocks provides a nice adventure.
Just be cautious once you reach this "secret" location tucked away because its intimate ambiance draws a lot of wedding celebrations.
There is a limited parking spots. Most people simply park on the roadside or near Makena Beach, then walk to Makena Cove.
10. Kamaole Beach Park I – Kihei
Given that there is a clear view of the crystal blue water and golden sand, Kamaole Beach Park I is an excellent location to see Maui's sunsets.
There is a high chance that you will encounter whale activity straight from the shore if you are visiting during the whale season, which usually lasts from November through April.
Considering that it offers picnic tables, restrooms, and lifeguards, the Kamaole Beach Park I is definitely a good choice for spending quality time while you wait for the golden hour.
It is located on the lively street of Kihei Road, filled with shops, restaurants, and resorts.
11. Po'olenalena Beach Park – Wailea-Makena
Po'olenalena Beach Park is another destination in Maui where you may see the finest sunset. This beach used to be a locals-only secret, but as word spread among tourists, it started to gain popularity. However, on weekdays, fewer people are on the vast, sandy beach.
Sunsets at this beach sparkle with vivid orange tones illuminating the sky.
For a fancy dining experience, head to one of the most popular restaurants in Wailea, Ko Restaurant, to taste some of its award-winning cuisines.
Don't forget to bring a camera to catch many Instagram-worthy areas. Po'olenalena Beach is surrounded by lush greenery and a private golf club. This location is ideal if you're looking to get away from the usual crowd and enjoy a quiet time.
12. Pāpalaua Beach Park – Wailuku
On West Maui's South shore is a little strip of coarse sand called Papalaua Beach Park. Due to the numerous surf breaks that take place on the shallow reef, it is also known as "Thousand Peaks."
Due to the waves, it is a favorite location for longboard surfers and bodyboarders. The shoreline is dotted with palm trees providing shade from the sun.
You can also grill BBQ and camp. However, a permit is required. When the water is calm, it is also a great location for snorkeling. It is regarded as one of the best places in Maui to see the sunset.
Compared to other beaches in Maui, Papalaua Beach is sandy, a perfect location for young children to make sandcastles and enjoy the water.
13. Kapalua Coastal Trail – Lahaina
You'll find the Kapalua Coastal Trail in the Northeastern portion of Maui. This stunning journey passes through wilderness and lava fields along the beach and to luxurious resorts and condominiums. It also connects Kapalua Bay and Fleming Beach.
The distance of this hike is roughly 3.5 miles round trip.
Wear comfortable shoes or a reliable pair of sandals. Despite the majority of the trail being flat, some parts can be rough and rocky. Once you've reached the end of the hike, find a seat and settle down for a picnic as you take in the sunset of Maui.
14. Polo Beach
Polo Beach is located near upscale resorts and condos such as Fairmont Kea Lani and Four Seasons. It's a sandy beach with lots of plants and trees around, making it a secluded and scenic location.
This spot has excellent amenities such as a parking area, restrooms, and showers. And it's surprisingly not too popular with the public. It's an awesome place to relax, read a book, and enjoy Maui's serenity.
Since Polo Beach is near fancy establishments, many people get intimidated and assume it's a private area. But simply drive through Kaukahi Street until it meets Makena Road, on its corner is the parking lot of the beach.
Plan to bring snacks and drinks if you want to stay for a few hours. You can also head near Fairmont Kea Lani, where you can find cafes, restaurants, and ATMs open to the public.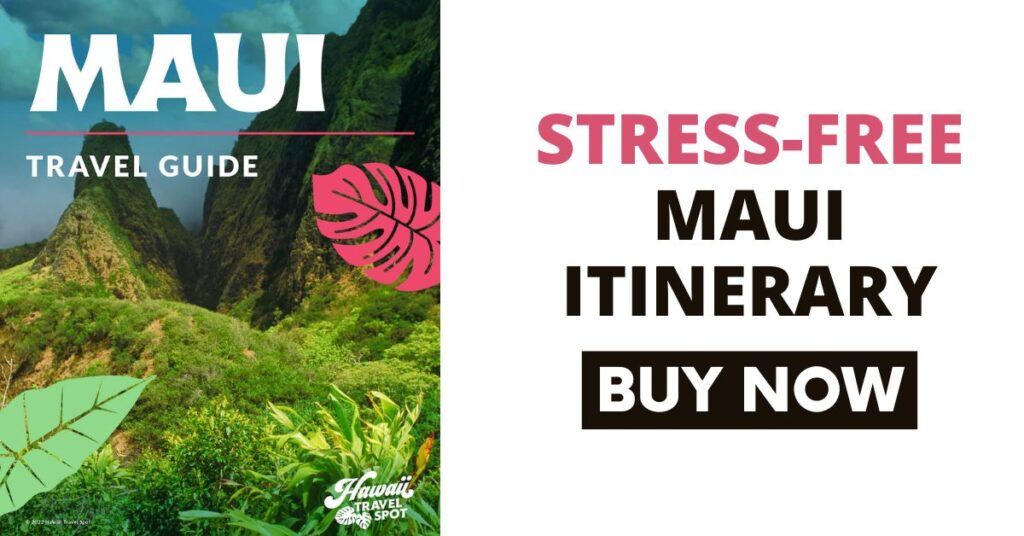 Best Sunset on Maui Wrap Up
There you have it. From Kapalua Bay to Kapalua Coastal Trail, you are now aware of the outstanding places to watch the best sunset in Maui.
It's not shocking that Condé Nast Traveler readers have chosen Maui as the country's "Best Island" for over 20 years.
The next time you book a trip to Maui, visit a different sunset location every day to truly appreciate the island's natural beauty.