Are you hoping to go golfing in Hawaii? Keep scrolling to find out how to plan the ultimate Hawaii golf vacation.
This guide to planning a Hawaii golf vacation contains affiliate links which means if you purchase something from one of my affiliate links, I may earn a small commission that goes back into maintaining this blog.
Traveling to Hawaii for a golf vacation is an exciting way to experience the beauty and culture of the islands while enjoying your favorite sport.
My husband and I have done it many times (including once when we played a golf course the day before President Obama)!
Whether you're looking for a luxurious escape or a more relaxed and affordable getaway, there are plenty of ways to plan a fun and memorable Hawaii golf vacation.
In this blog post, you'll find tips and advice on how to plan a Hawaii golf vacation from start to finish, from budgeting your costs to finding the best Hawaii golf resort and course to fit your needs.
With a little bit of preparation and research, you'll be able to make the most of your golf vacation in Hawaii!
Want to skip all the planning and just access my detailed Hawaii itineraries complete with daily schedules, fun activities, and travel hacks? Click the button below.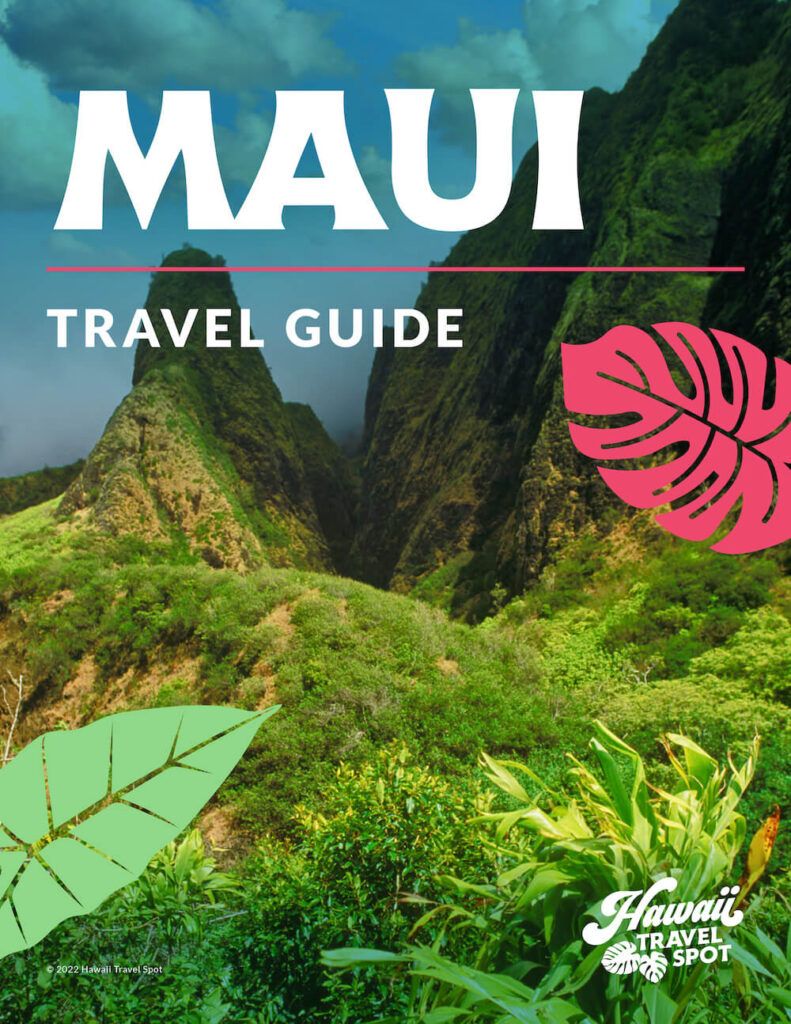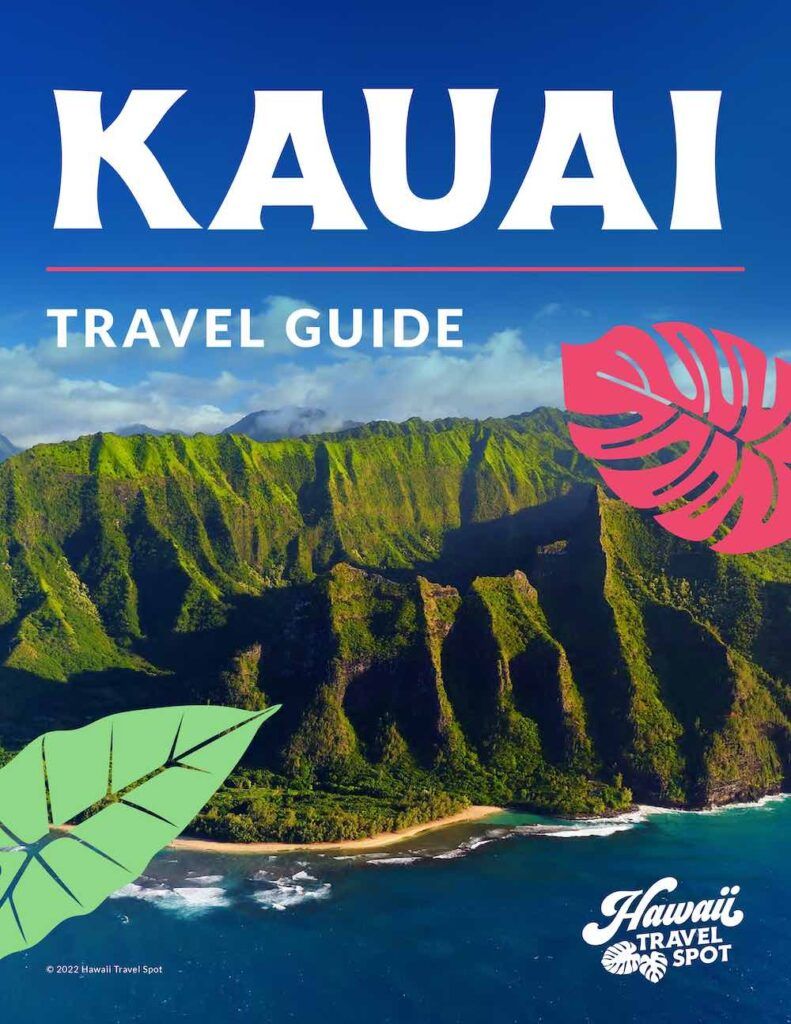 How to Pack Golf Clubs
If you are an avid golfer and want to bring your own golf clubs for your Hawaii golf vacation, you certainly can, and there are a variety of ways to pack your golf clubs.
You can bring them on your flight, but each airline will have its own restrictions and fees. If you fly with Hawaiian Airlines, your golf bag is considered a regular checked bag as long as it is less than 115 inches and 50 pounds or less.
You can even bring it free if you have special free or discounted bags too!
Bring them in a bag made for air travel, most likely a hard-case golf bag. You can use packing material to keep them safe, but you cannot bring anything else in your golf club; only 14 or fewer clubs.
Many companies will ship your golf clubs to your destination as well. Ship Sticks has a similar rate to many airline companies, leaving you with less hassle and worry about getting your golf clubs to Hawaii on time and in one piece!
While you can bring your own golf clubs, using the ones from the resort or renting golf clubs during your trip to Hawaii might be worth it. It might cost similar fees and will be less of a hassle anyway!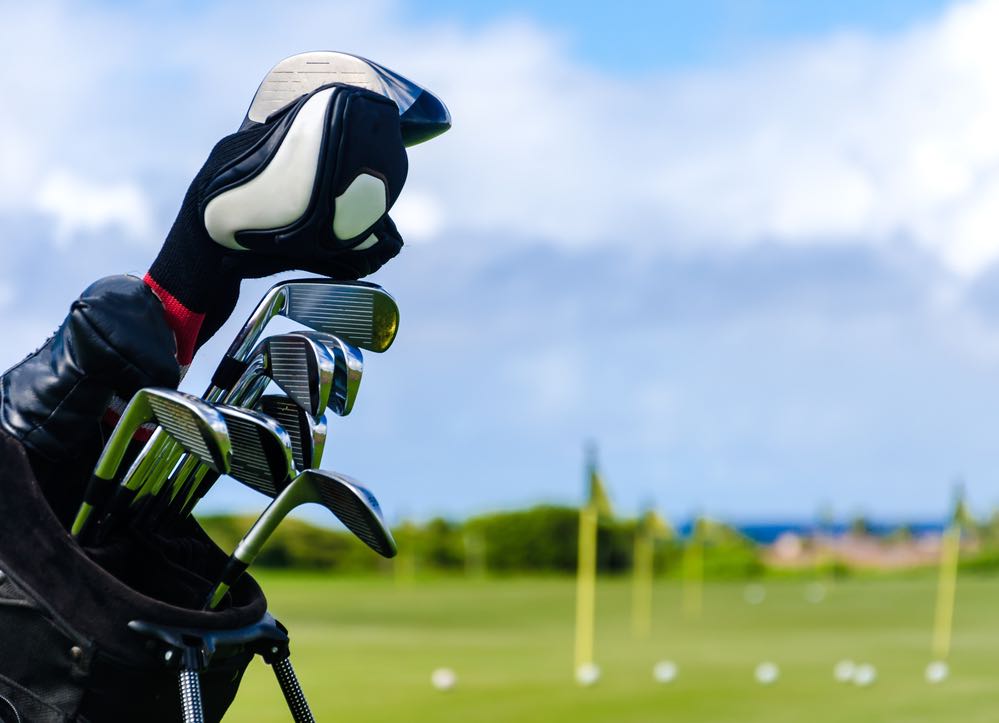 How to Find Golf Deals
One of the best ways to save money on a golf vacation to the islands is to take advantage of discounts with golf packages.
Many golf courses and resorts offer special golf packages in Hawaii that include discounted tee times, accommodations, and other amenities.
Many of these Hawaii golf vacation packages include your flight, hotel, and golfing costs all in one, saving you stress from planning it all. Plus, you get it all discounted!
Many of these Hawaii stay-and-play golf packages also help you get other fun activities and adventures on the islands as well.
Many resorts and golf courses all over the islands offer Troon Rewards, so you can experience golf on every island! With the reward program, you earn loyalty points which in turn reward you.
For more Hawaii golf deals, check out the courses you plan to play at to see if they offer discounted tee times and other specials when you are there.
Many resorts also offer special packages that give you a discount on the room during your stay, along with special golf tours and amenities for free!
Best Golf Courses and Resorts
There are a number of incredible golf courses in Hawaii, ranging from championship-level golf courses to more casual places to play.
Researching each of these courses before booking will help you determine which course is the best fit for you and your golfing desires.
Here are some of the top golf courses and resorts on each of the islands! 
Save Money with Points
Here are the best credit card offers for people who travel and want to use points to pay for airfare and hotels in Hawaii.
Big Island Golf Courses
Mauna Kea Golf Resort
The Mauna Kea Resort offers one of the best golf resorts in Hawaii on the Big Island. Here you will find two incredible golf courses: Mauna Kea and Hapuna. The tee times are cheaper in the afternoon for both the Mauna Kea Golf Course and the Hapuna Golf Course.
Both are 18-hole golf courses and have unique features that set them apart. The Mauna Kea Golf Course has a stunning hole over the ocean that is unlike anything you've ever seen.
The Hapuna Golf Course takes you from beautiful ocean views up to the mountain to enjoy all the beauty Hawaii has to offer.
Both courses have access to a pro shop, rentals, GPS golf carts, and a top-notch restaurant to enjoy your victory when you complete the course! Check the latest rates and availability to book a stay at the Mauna Kea Resort.
Hualalai Golf Course
You will find the Hualalai Golf Course at the Four Seasons Resort. It is a Jack Nicklaus signature course that features ocean views mixed with black lava rock for a complete island oasis.
This course and golf resort truly has it all, whether you are an avid golfer or want to enjoy golf with your family during your trip.
Here you can work with them to ship your golf clubs directly to the resort. They have rentals you can borrow, as well as a club shop, practicing facilities, and more!
At this golf course, you can even have a fun time golfing at night with its glow and dark night golf activity. Check the latest rates and availability to book a stay at the Four Seasons Hualalai.
Mauna Lani Golf Courses
Another one of the best Big Island Hawaii golf resorts is the Mauna Lani Resort. Here they have a North Course, South Course, and a fast 9-hole course.
This resort offers a clubhouse bar with golf equipment, snacks, and drinks to enjoy while you are out on the course.
The South Course features beautiful lava fields and the ocean, while the North Course offers Kiawe canopies and luscious green hills.
For a romantic evening, try the sunset golf tour with your spouse! Check the latest rates and availability to book a stay at the Mauna Lani Resort.
Makani Golf Club
This golf course is not located on a resort and is open to the public. It is an incredible place to golf, with plenty of ocean, mountain, and water beauty at each hole.
The tee time rates are more affordable than many of the resorts on the Big Island as well.
Maui Golf Resorts
Kapalua Golf
Kapalua Golf offers two of the best golf courses on Maui: The Plantation Course and The Bay Course. If you stay at any of the Kapalua Resorts, you get a discount on both of these courses with the Kapalua golf package!
The Plantation Course is by far one of the best golf resorts in Maui worth visiting. With this course, you can see the West Maui mountains and the ocean at pretty much every single hole!
The Bay Course has the only hole over the ocean on Maui and is a championship course you will love to play on. Check the latest rates and availability to stay at Kapalua Golf Villas.
The Royal Kaanapali
The Royal Kaanapali offers many of the best Maui golf packages for you to enjoy. As you make your way around the course, you can see amazing views of the ocean and mountains, and sometimes Molokai and Lanai in the background as well!
Kauai Golf Courses
Princeville Makai Golf Club
Located in the northern part of Kauai, this is one of the most scenic golf courses in the world. It's located on the bluffs of Princeville with panoramic views of the Pacific Ocean.
There are lots of places to stay in Princeville, but I recommend the Westin Princeville Ocean Resort Villas.
This luxury resort offers all the comforts of home in a stunning tropical setting. Plus, it's just minutes from the Princeville Makai Golf Club. Check the latest rates and availability.
Kukuiula Golf Course
If you want ocean views from every angle while you play golf in Hawaii, head to the Kukuiula Golf Course.
From the stunning course to the clubhouse full of amenities, this golf course is always ranked one of the top golf courses in all of Hawaii! Check the latest rates and availability to stay at the Lodge at Kukuiula.
Poipu Bay Golf Course
Located right next to the Grand Hyatt Kauai Resort and Spa, the Poipu Bay Golf Course is another great one to visit during your golf trip to Kauai.
This golf course offers great Kauai golf packages, too, that are full of specials to make your Hawaii golf vacation truly memorable. Check the latest rates and availability to stay at the Grand Hyatt Kauai.
Ocean Course at Hokuala
Another one of the Hawaii golf resorts, the Ocean Course at Hokuala, is a golfing paradise. Here you will find the longest stretch of oceanfront golfing!
This golf course and resort offers play and stay packages, a special app with app-only discounts, a special sunset golf tour, and tons of specials you can enjoy! Check the latest rates and availability for the Ocean Course at Hokuala.
Oahu Golf Resorts
Ko Olina Golf Club
Located in Kapolei, the Ko Olina Golf Club is quite amazing. Here you will find special rates if you stay at any of the Ko Olina Resorts, a top-rated golf shop, rental clubs, and so much more.
While you are golfing, you will experience lots of Hawaii's beauty, with water features, greenery, and more. Check the latest rates and availability at Marriott's Ko Olina Beach Club.
Turtle Bay Golf
The Turtle Bay Resort is another one of the best golf resorts on Oahu. On this resort, you will find two courses: Arnold Palmer Course and George Fazio Course. Both feature ocean and mountain views all along the North Shore of Oahu.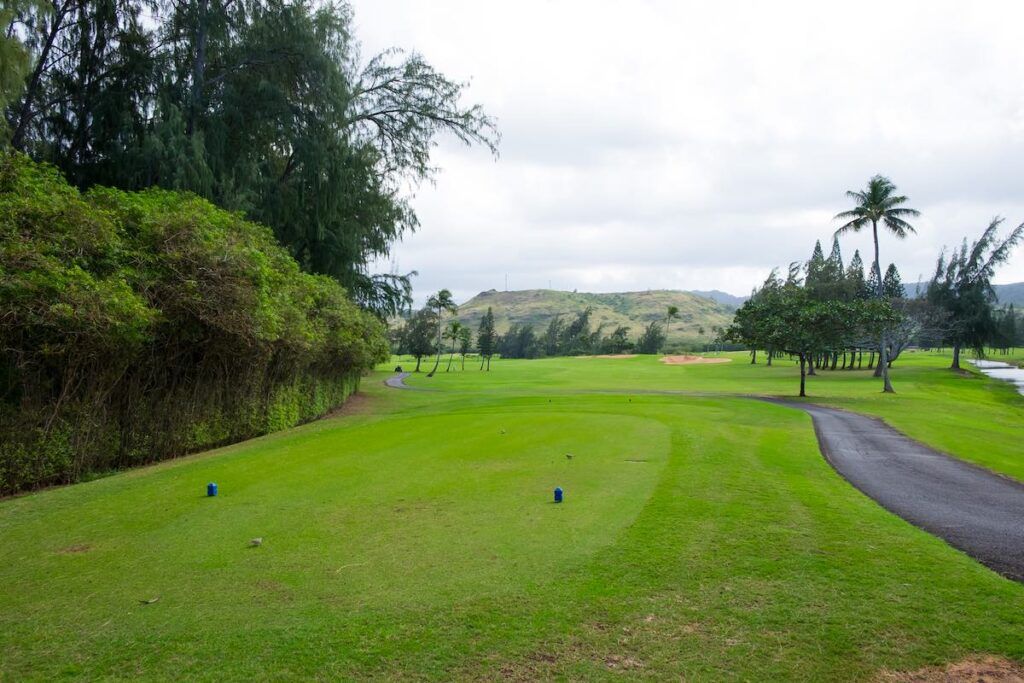 Here you will find great resort rates as well as many golf stay-and-play packages too! Check the latest rates and availability to stay at Turtle Bay Resort.
Hawaii Prince Golf Club
At the Hawaii Prince Golf Club, you will find a variety of holes that offer interchangeable playing conditions perfect for beginners and advanced alike. There are special packages and rates for those staying at the Prince Waikiki Hotel.
This course features ten different lakes and the Waianae mountains for some gorgeous views while playing! Check the latest rates and availability at Prince Waikiki.
Waialae Country Club
The Waialae Country Club is a premier golfing destination and is known for hosting the annual Sony Open in Hawaii, a tournament on the PGA Tour.
The Club boasts an 18-hole championship course that offers challenging play against a backdrop of spectacular views of both the Pacific Ocean and the Koolau Mountains.
While there isn't a resort directly on the property, the prestigious Kahala Hotel & Resort is located just next door and provides luxurious accommodations.
Known for its stunning beachfront location, gourmet dining, and world-class spa, this resort offers an array of amenities that make it perfect for a Hawaii golf resort vacation. Check the latest rates and availability to stay at the Kahala Hotel & Resort.
Hawaii Golf Vacations FAQs
Which Hawaiian island is considered best for golfing?
This really depends on everyone's preference, but the Big Island is usually considered the best for golf vacations in Hawaii.
Which Hawaiian island has the most golf courses?
Oahu has around 40 different golf courses to enjoy during your Hawaii golf trip! From fancy golf resorts to public golf courses, you can find exactly what you are looking for on Oahu.
Is there a best time of year for a golf vacation in Hawaii?
Hawaii's climate is pleasant year-round, but golfers often prefer the drier months from April to October. However, keep in mind that these are also the busiest months for tourism.
Are golf lessons available at Hawaii's golf courses?
Most major golf courses in Hawaii offer lessons for both beginners and advanced players. It's always a good idea to check in advance and book your lessons.
What should I pack for a golf vacation in Hawaii?
Hawaii's weather is generally warm, so pack lightweight, breathable golf attire. Don't forget a good sunblock, a hat for sun protection, and your favorite golf clubs. Most courses also have clubs for rent if you prefer not to travel with yours.
Are there golf courses with ocean views in Hawaii?
Yes, many of Hawaii's golf courses are renowned for their stunning ocean views. Notable ones include the Plantation Course at Kapalua in Maui, Princeville Makai Golf Club in Kauai, and Mauna Kea Golf Course on the Big Island.
Hawaii Golf Resorts Wrap Up
Hawaii golf trips are definitely tons of fun. Planning a Hawaii golf vacation does not have to be hard at all! With a bit of research and preparation, you can make the most of your time in the Hawaiian Islands.
So pack your clubs and get ready to have some fun; a Hawaii golf vacation awaits!