Are you thinking of popping the question in Hawaii? Keep scrolling for this list of the most romantic places to propose in Hawaii.
This list of romantic places to propose in Hawaii contains affiliate links which means if you purchase something from one of my affiliate links, I may earn a small commission that goes back into maintaining this blog.
If you're looking for the best places to propose in Hawaii, I have tons of ideas for you! I love Hawaii for many reasons, but especially for all the amazing places where you can disconnect from the stresses of everyday life and focus on the one you love.
Few places in the world are more romantic or more beautiful than the Hawaiian Islands. And Big Island, Kauai, Oahu, and Maui each offer different opportunities to propose in a way that neither of you will ever forget.
You might be an adventurous couple who loves going on exciting excursions together. Or perhaps you want to start off a classic island resort vacation with a bang by proposing on the beach!
Below, you'll find my favorite Hawaii engagement ideas based on all the places I've been on the islands.
Want to skip all the planning and just access my detailed Hawaii itineraries complete with daily schedules, fun activities, and travel hacks? Click the button below.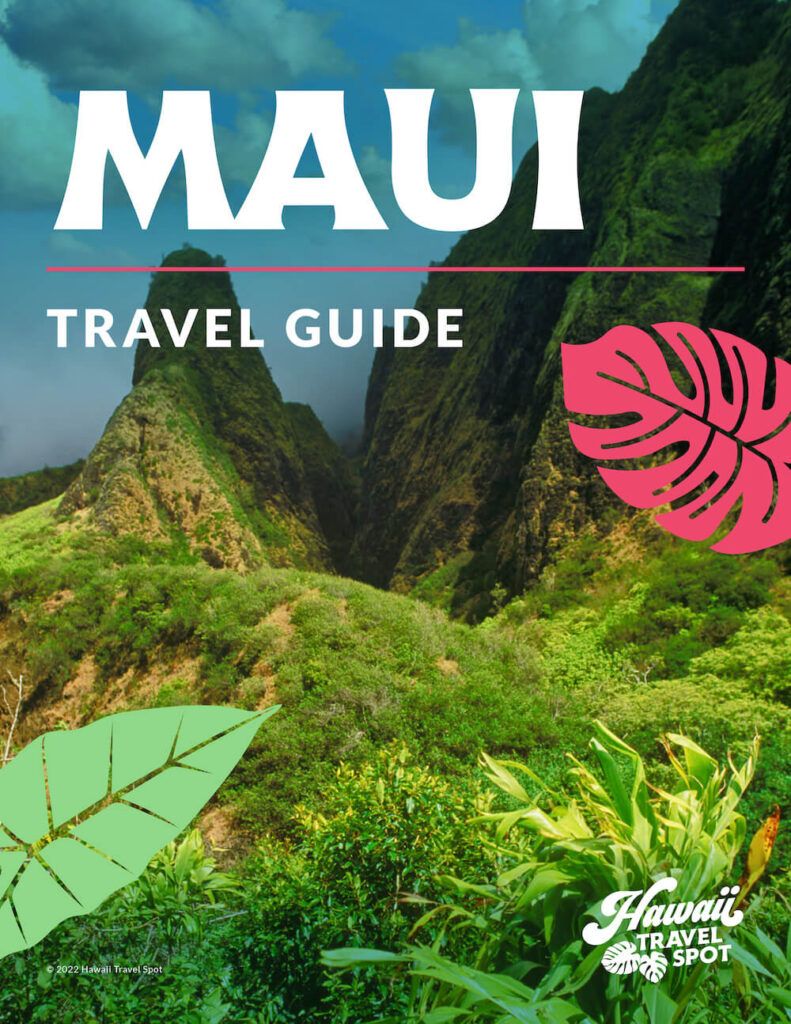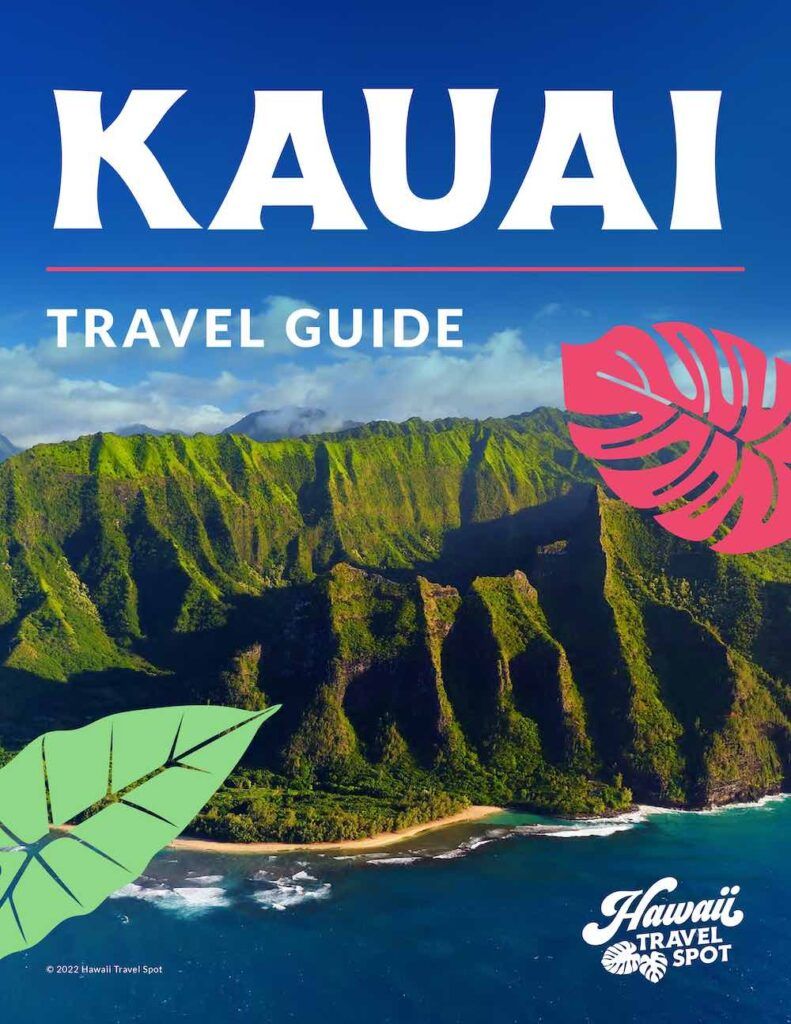 Check Out 20 Epic Spots to Propose in Hawaii
Each of the islands of Hawaii offers the perfect opportunity for you to propose! You can't go wrong with a classic beach proposal, but if that's not your style, don't worry.
Below are 5 ideas for each island so you can plan the most romantic way to propose in Hawaii.
Best Places to Propose in Oahu
Under the Fireworks at Waikiki Beach
Every Friday night at 7:45 PM, a 10-minute firework show launches from near Duke Kahanamoku Beach on the western side of Waikiki. You can see the show from a variety of places, but I suggest watching from a moonlit Waikiki Beach!
Imagine taking your love for a romantic walk on the sand. While they're looking up at the fireworks, you have your chance to kneel! Plus, it's also a completely free and utterly unforgettable way to get engaged in Hawaii.
During an Intimate Luau
There are so many great luaus in Hawaii, but I think the Experience Nutridge Luau would be especially excellent for an Oahu proposal. That's because it's a small, family-run luau on a macadamia plantation in the hills north of Honolulu.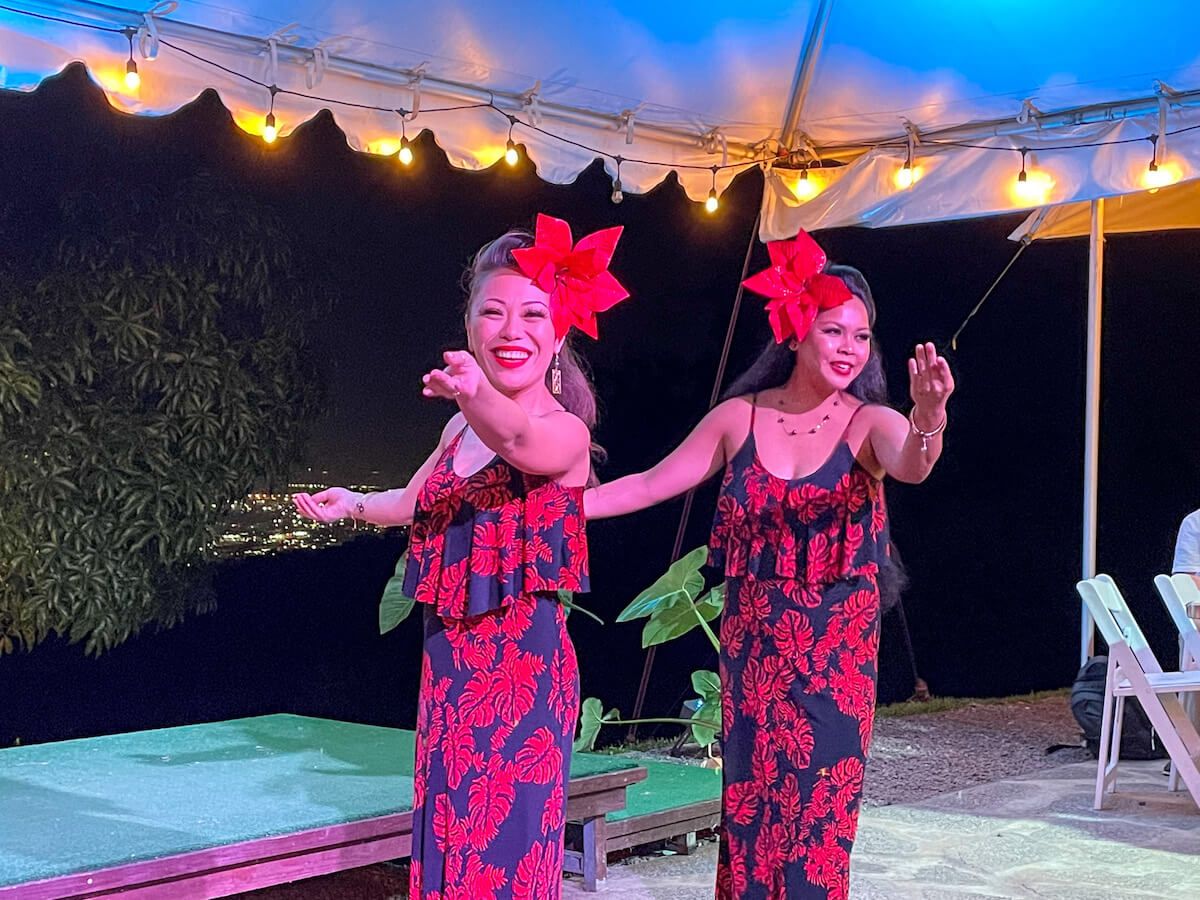 Imagine an intimate setting with stunning tropical scenery. I suggest calling ahead and letting them know your plan so they can suggest the perfect time during the evening.
On a Scenic Hike
If you and your partner love hiking together, it's natural that you would propose during an especially scenic hike in Hawaii. There are tons of great hiking trails to choose from in Oahu, but I suggest something with a little less traffic.
Two great trails are Mount Tantalus Lookout and the Lanikai Pillbox trail. Both have convenient locations and great views, and both are easy-to-moderate hikes.
Plus, they're more remote than hikes like Diamond Head, so you can have a special moment without interruptions.
At a Romantic Restaurant with Sunset Views
House Without a Key on Waikiki Bay is one of the best restaurants for sunset views. The New American restaurant at the Halekulani Hotel is known for its great cocktails and nightly live entertainment.
There's indoor and outdoor seating. Go without outdoor dining for the best sunset views and if you want to enjoy the show. And I suggest making reservations well in advance because they go fast.
Book a Hawaii Photo Shoot
Whenever we travel to Hawaii, we almost always book a photo shoot with Flytographer. They are super easy, affordable, AND it guarantees that I'll have more than just selfies. You can get $25 off if you book through this link or use the code HAWAIITRAVEL.
Any Place in Hoʻomaluhia Botanical Garden
You may be aware of Hoʻomaluhia Botanical Garden because of the highly-photographed road at the entrance. But that's not the only picture-perfect spot that makes this place one of the top Oahu proposal ideas.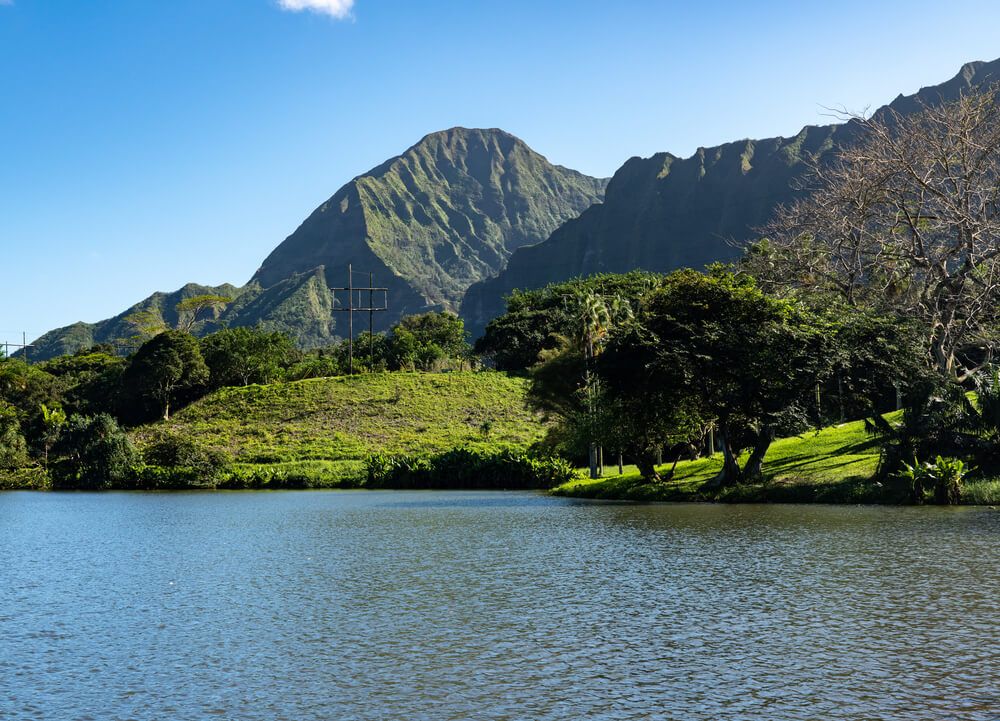 There's nothing more majestic than the lush lawns and Koʻolau Mountains in the background. But if you plan on using a photographer, make sure to get a photography permit ahead of time.
Ideas for a Maui Proposal
Snorkeling Molokini Crater
One of the coolest Maui proposal ideas I've heard of popping the question in a creative way at Molokini Crater! This is an absolutely gorgeous reef off the coast of Maui that's a popular spot for snorkeling tours.
Have your tour guide snap a GoPro picture of you holding up a waterproof sign that says, "Will you marry me?" But don't bring the ring! You don't want to risk losing it.
High Above Maui in an Airplane
One of the most romantic things you can do is put a lot of thought into the way you propose to your partner. Nothing says thoughtful like a private sunset flight with champagne!
Take in epic views of the Valley Isle with a bird's eye view of the most famous sites in Maui. Propose in the air with the sunset behind you and celebrate with a toast after you land.
In Makena Beach State Park
Located in South Maui, Makena State Beach is one of the perfect beaches to propose in Hawaii. It's an expansive, golden sand beach that curves just enough to make a stunning scene.
While Makena Beach is popular with beachgoers, it's massive and you won't feel crowded at all. This would be a great spot to go for a nice romantic walk on the beach and write your all-important question in the sand!
During the Old Lahaina Luau
Maui has several wonderful classic luaus. Old Lahaina Luau is one of my favorites! Luaus are always a popular romantic activity for couples in Hawaii. During dinner, you'll hear the MC ask if there's anyone who's celebrating a honeymoon or anniversary.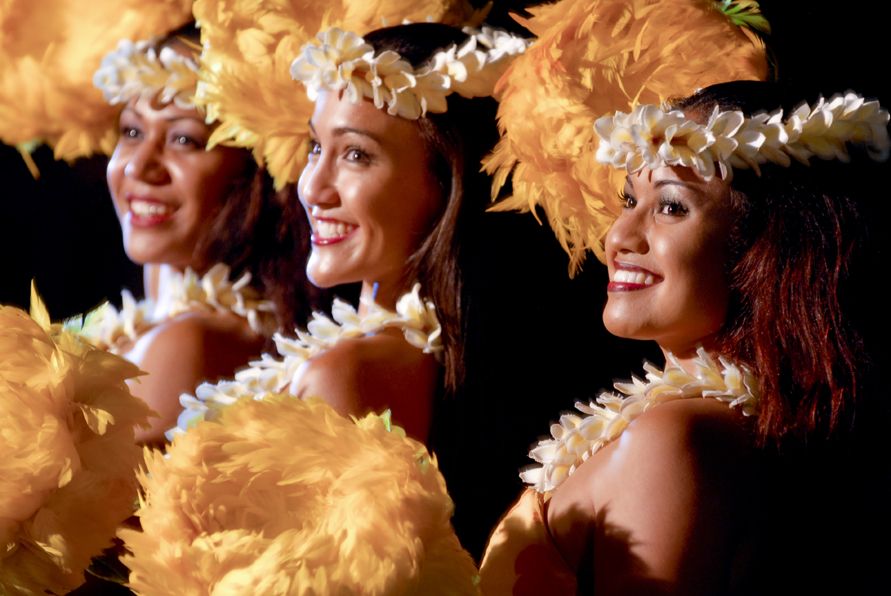 Luaus are also a great place to propose! Just make sure to communicate your plans to the luau, because there's some ceremony involved in a luau that you want to respect.
Lanai's Sweetheart Rock
On the remote southern end of Lanai is Pu'upehe, or Sweetheart Rock. There's a tragic but romantic tale associated with this iconic landmark that's popular for short hikes.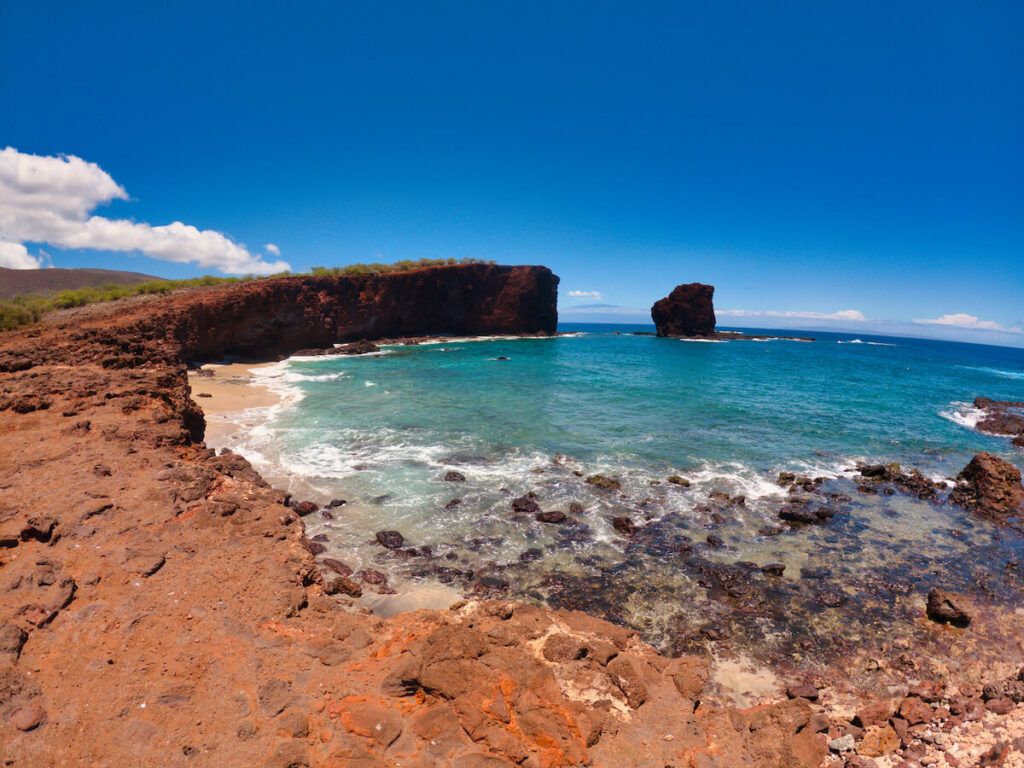 You can take the ferry from Maui to Lanai for a half-day or full-day trip.
It's quite a dramatic scene with the surf pounding on the black rocks, especially at sunset. Book a room at the luxurious Four Seasons Resort Lanai and take an evening hike to propose.
Top Places for a Kauai Proposal
With Waimea Canyon in the Background
Rightly called the "Garden Isle," Kauai has some breathtaking sites, including Waimea Canyon. There are a handful of scenic day hikes on the west side of the canyon.
Cliff Trail is an easy 30-minute hike to an overlook that's perfect for proposing.
On a Waterfall Hike
Kauai is definitely where to propose in Hawaii if you're an avid hiker. You'll find hikes for every skill level, including multi-day hikes.
The one to Hanakapiai Falls on the Na Pali Coast is a popular 4-mile trek that rewards you with a towering waterfall.
Before you take a dip, time to pull out the ring! Just beware that this is a popular tourist attraction, so you'll have company.
The one to Waimea Canyon's Waipoo Falls is very tricky, but you'll have unbelievable views if you can brave it!
At McBryce & Allerton Gardens
For a more accessible central location, head to the McBryce & Allerton Gardens in Koloa on Kauai's South Coast. The stunning botanical gardens offer countless spots that would be perfect for a proposal!
In the Sand on Hanalei Beach
If you're looking for the perfect spot for a Hawaii beach proposal, I'd go with Hanalei Beach. The wide cove beach has gentle waters and a soft, sandy beach.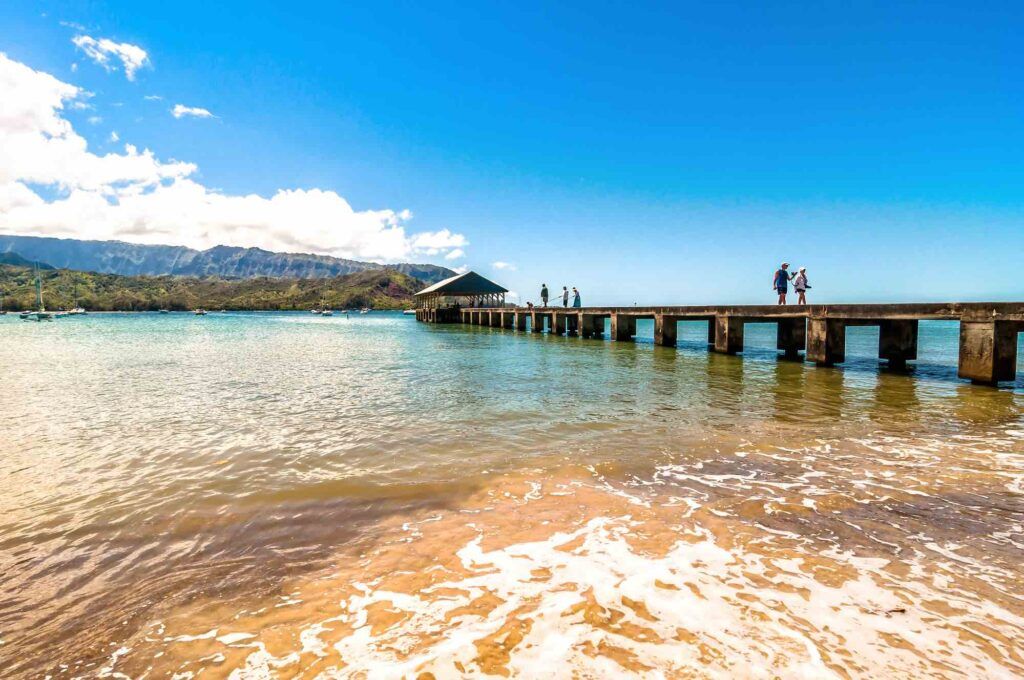 Located near Princeville on the North Shore, it's easy to access, too. The beach angles northwest so it would be great for sunset views. But the sunrise comes up over the mountains, which is also nice!
From Kalalau Lookout
Why not propose on a sunny day that's perfect for a scenic island drive Kauai? Highway 550 has great scenic overlooks that make the perfect backdrop for proposing.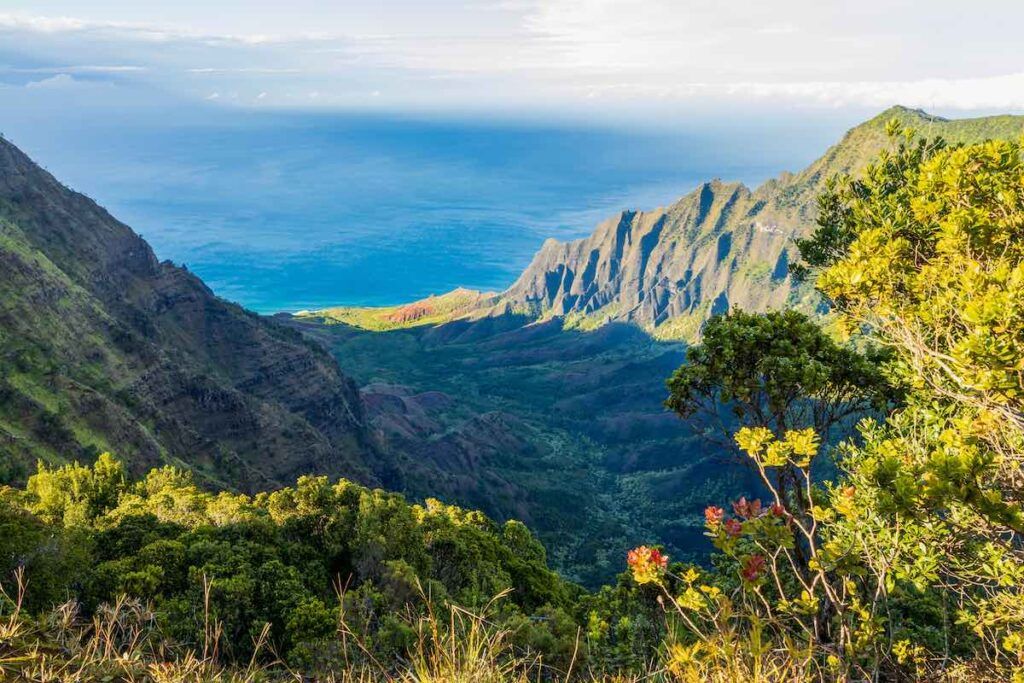 Take it to Kalalau Lookout, where you can park and enjoy amazing views of Lalalau Valley and the ocean beyond! If you want to go for a small hike, there's another lookout for even more views of Waimea Canyon from a distance.
Big Island Hawaii Proposal Spots
The Summit of Mauna Kea at Sunset
A summit and star-gazing tour of Mauna Kea is at the top of the list of magical Hawaii proposal spots! This tour will take you 14,000 feet to the summit for the sunset, then to a star gazing experience at 9,000 feet. So, you have 2 opportunities for a unique proposal!
On Makalawena Beach
The Big Island is known for its beautiful white sand beaches, so it can be hard to decide on the right one for popping the question! My pick is Makalawena on the Kohala Coast.
You take a short foot trail through lava fields to this powdery, white-sand beach that's the perfect amount of remote. There are banyan trees for shade, black lava rocks, and calm waters, thanks to the protected cove.
Over a Beachside Dinner
Go with a classic that never fails and plan a beachside dinner on the Big Island. Both Kailua-Kona and the Kohala Coast have a lot of wonderful resorts and hotels that offer dinners and romance packages for these special dinners.
Trust them to do all the planning! You can find both luxury and affordable beachside dinner packages. For a beachside dinner under the stars, book a stay at the Four Seasons Resort Hualalai.
On a Breathtaking Black Sand Beach
A big draw to the Big Island is the fascinating black volcanic sand beaches. If you're looking for eye-catching beachside proposal spots, dress in white and head to Puna.
Kehena Black Sand Beach is an accessible beach that's never very busy. You'll love the stunning black beach framed by palm trees, vines, and craggy rocks. And this eastern-facing beach would also be romantic at sunrise!
In the Heart of Waipi'o Valley
There are so many creative ways to propose in Hawaii's Waipio Valley. Highway 240 takes you to a popular scenic overlook where you'll take in sweeping views of the valley all the way to the ocean.
You can go on all kinds of tours, including horseback riding through the valley. Or hike down from the overlook into the valley below! Any point along the way would make for the most romantic backdrop for a proposal.
FAQ about Hawaii Proposal Ideas
How do you kneel to propose?
Traditionally, you kneel on your left knee with your right knee up at a 90-degree angle. Then you can hold the ring with your left hand and open it with your right hand for the best visual appeal (and your own balance!). Some people choose to stand instead of kneeling, and that's okay!
How do you propose?
There are so many ways to personalize a proposal so it's all about you and your partner! Normally you've both previously discussed the desire to get married, and you have a ring. Next, find the perfect spot with a great view or no crowds. Some people like to have loved ones present or book a private photographer. You might have a small speech prepared, or you simply kneel and pop the question!
What do you do after proposing?
Once your special someone says yes, it's time to celebrate! Take a few pictures to commemorate the moment. You might want to book dinner reservations before you propose so you can head to dinner with your new fiancé. Or plan ahead and pull out that bottle of champagne and glass flutes you were stashing somewhere! Then you can decide how to share the big news with loved ones or make plans for the wedding.
Best Places to Propose in Hawaii on Every Island
It's easy to find romantic places to propose in Hawaii. You're in paradise, thousands of miles from home, surrounded by sapphire blue water, emerald green mountains, and white sand beaches.
The Aloha Spirit of Hawaii means everyone will celebrate with you if you choose a classic tourist experience to pop the question. Or perhaps you want to venture to a remote, wild location to propose to symbolize all the adventures life will take you on together.
There are a million ways to propose in Hawaii, and these are just a few of my favorites. I hope my list inspired you for the big day!
Looking for more ideas? Check out the most romantic things to do on Maui, Oahu, Kauai, and the Big Island!