Are you looking for fun things to do on the Big Island for a honeymoon? Keep scrolling for this list of the most romantic things to do on the Big Island for a Hawaii honeymoon.
This list of romantic things to do on the Big Island Hawaii contains affiliate links which means if you purchase something from one of my affiliate links, I may earn a small commission that goes back into maintaining this blog.
Want to go on a romantic honeymoon to Hawaii?
The Big Island is the perfect place for couples looking for a romantic getaway. With plenty of things to do and see, you'll never be bored on your honeymoon!
We've put together this guide to the most romantic places in Hawaii Island so that you can make the most of your time there. From watching the sunset over the ocean to exploring ancient ruins, there's something for everyone here.
There really are plenty of romantic things to do on the Big Island for couples, making it the perfect Hawaii honeymoon destination!
Keep scrolling to check out this ultimate guide on finding the most romantic places in Hawaii on the Big Island!
Don't have time to read a bunch of Hawaii blog posts and reviews? Here are some of our top picks for planning your Big Island Honeymoon.
Best Big Island Honeymoon Tours/Activities
Best Big Island Honeymoon Resorts
Want to Rent a Car in Hawaii?
One of the best places to rent a car in Hawaii is Discount Hawaii Car Rental because they get the best rates from top national companies like Alamo, Dollar, Thrifty, Avis, Enterprise, Budget, and Payless.
Want to skip all the planning and just access my detailed Big Island Itinerary complete with daily schedules, fun activities, and travel hacks? Click the button below.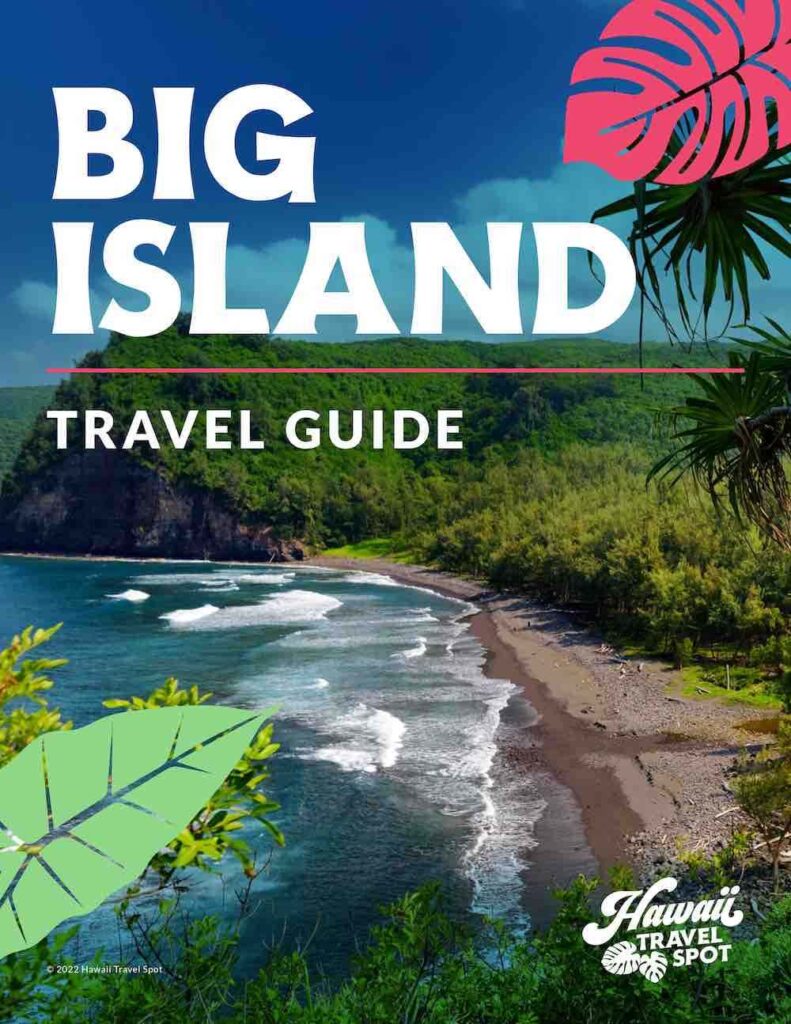 Best Romantic Things To Do on the Big Island
Here are some of the best things to do in Hawaii for couples. You'll find romantic and relaxing activities as well as fun and thrilling things to do too!
1. 5-Hour Hula Kai Deluxe Kona Coast Snorkel Cruise with Lunch
For a Kona Hawaii honeymoon, go on this super fun snorkel cruise! This is a five-hour cruise that will take you to Pali Kaholo and Red Hill and includes both breakfast and lunch!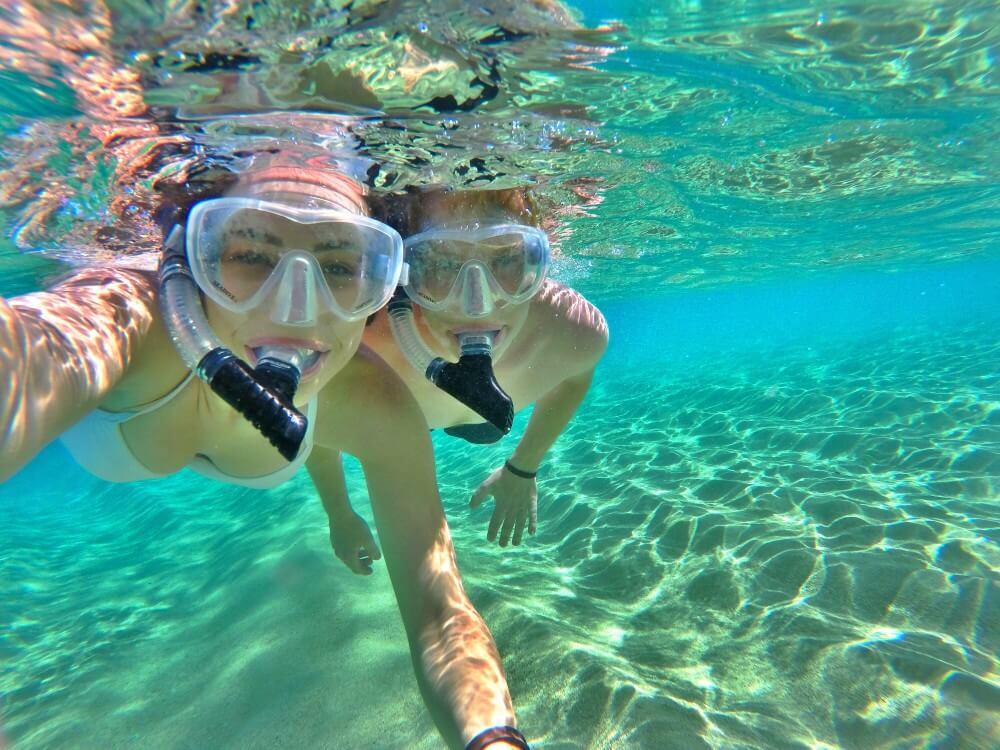 You will learn how to surf as you cruise out to the best snorkeling areas on the Big Island. Then, you'll get a few hours to swim with all the exotic fish. It makes for a great way to start your day on your honeymoon! Check the latest rates and availability.
2. Captain Cook Sunset Dinner Cruise
During your Big Island Hawaii honeymoon, you'll want to spend one night on a beautiful sunset cruise. This is one of the most romantic things you can do during your honeymoon.
Sail on the ocean with live music and a delicious dinner, all the while watching a gorgeous sunset. Check the latest rates and availability.
3. Circle of Fire Helicopter Tour
If this is your first time on the Big Island, go on this incredible helicopter tour. Not only will you get to see the entire island, but you will also get close to both of the volcanoes!
You'll get stunning views of both the Kilauea and Mauna Loa volcanoes. It is a short and comfortable tour to get you familiar with the island and is always a fun adventure to go on together as a couple. Check the latest rates and availability.
4. Zipline Over KoleKole Falls
Have you ever ziplined over a waterfall before? This zipline tour will have you zooming through the sky as you get a view of the KoleKole Falls you won't experience anywhere else.
You will get to go on seven different ziplines, each getting longer and more thrilling. Feel the wind in your hair as you soar on one of Hawaii's largest ziplines! Check the latest rates and availability.
5. Liliuokalani Park and Gardens
The Liliuokalani Garden is the only authentic ornamental garden other than in Japan, and it is quite beautiful. It is the perfect place to go for a nice romantic stroll with your love.
There is even a bridge that crosses over to Coconut Island too! Here you will find plenty of great photo opportunities to capture some of your honeymoon memories.
6. Horseback Riding Tour
Another one of the most romantic things to do on the Big Island is to go horseback riding! Nothing beats riding on a horse through the beautiful mountains on Kahua Ranch.
This shorter trail ride only takes 90 minutes, so you can easily enjoy other activities throughout the day.
The nice thing about this horseback riding tour is that it caters to your needs, whether you are a beginner or an experienced rider. It makes for a short, fun adventure during the day! Check the latest rates and availability.
7. Romantic Dinner
You'll be going on plenty of fun adventures during the day to capture as many memories as possible, but be sure to go out every night for a romantic dinner with your new spouse. What is more romantic than eating dinner right on the beach?
You'll find so many amazing restaurants in Kona that are romantic and delicious! On the Rocks has live music while you keep your toes in the sand and eat a tasty dinner with ocean views unlike any other.
8. Spa
During your honeymoon, be sure to get a massage at one of the spas near you. If you stay at a resort, check for their couple's massage selections before heading to another one. Resorts might even offer a special honeymoon romantic massage just for you!
Oceanfront Massage and Spa has a special couple's massage for honeymooners to enjoy relaxing to the sound of the ocean during their massage and treatment. The Kohala Spa also has a great couple's massage worth getting!
9. Atlantis Submarine Kona
Going on a submarine is one of the coolest Kona activities to do during your trip to the Big Island! You'll dive underwater to explore life under the sea to see things you wouldn't see anywhere else.
From marine life to the colorful coral, there are so many exciting things to see during this submarine tour in Kona! If you are lucky, you might even get to see a shark! It is a great option for those who don't want to get wet to see all the exotic fish. Check the latest rates and availability.
10. Glass-Bottom Boat Reef Tour
Another fun way to see the undersea life without getting wet is to go on a glass-bottom boat! You will see dolphins, turtles, and plenty of fish. It is a nice relaxing way to get out on the ocean and can be very romantic with your significant other. Read an honest review here.
During the winter months, you might even catch a glimpse of a whale! Check the latest rates and availability.
Book a Hawaii Photo Shoot
Whenever we travel to Hawaii, we almost always book a photo shoot with Flytographer. They are super easy, affordable, AND it guarantees that I'll have more than just selfies. You can get $25 off if you book through this link or use the code HAWAIITRAVEL.
11. Mauna Kea Evening Stargazing
Stargazing is so romantic, especially at the Mauna Kea Summit! This entire event is around 7 hours, where you will explore different parts of the island while making your way to Mauna Kea. 
Start by seeing Rainbow Falls, Wailuku River, and the Kaumana Caves. Here you will enjoy a quick picnic with sandwiches. Check the latest rates and availability.
Then, you get to watch the sun as it sets majestically. It is quite the experience! You will see the volcanoes from there until it is time to go stargazing. Depending on the weather, you might see galaxies, nebulae, star clusters, planets, and the moon!
12. Kona Sunset Sail
One of the fun things to do in Kona at night is to go on a nice sunset sail. This sail simply has drinks and a beautiful view. It is a great way to end your evening before heading back to your room for the night.
Go on this sunset sail and have an intimate room service dinner at your resort afterward. It would be a great romantic evening for your honeymoon. Check the latest rates and availability.
13. Beach
The beach is always a romantic place to visit during your honeymoon in Hawaii. There are a few more secluded options to have a more intimate experience, whether you want to swim, relax on the beach, have a picnic, or walk along the shore. It's also a great Hawaii proposal spot!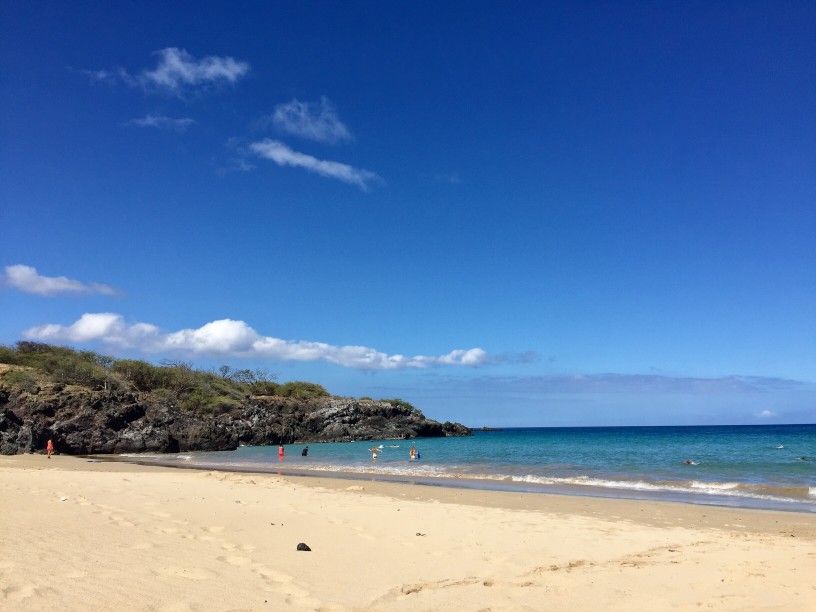 Hapuna Beach is one of the largest beaches on the island, so there will be plenty of spaced-out room for you to enjoy some time to yourself. You can do just about anything on this beach!
If you go to the south side of the island, you'll find 69 Beach, which is more secluded and has plenty of shade from the trees. You can swim and relax on this beach as well!
To visit one of four green sand beaches in the world, head to Green Sand Beach, also known as Papakolea. You'll need a 4WD vehicle, and you need a hike to get there, but it is so worth it! You cannot swim at this beach, but be sure to get a picture when you go!
14. Manta Ray Village Swim & Night Snorkel
Another one of the fun things to do at night on the Big Island is to go night snorkeling and swim with the Manta Rays! This is a unique experience that is exciting and romantic all at the same time!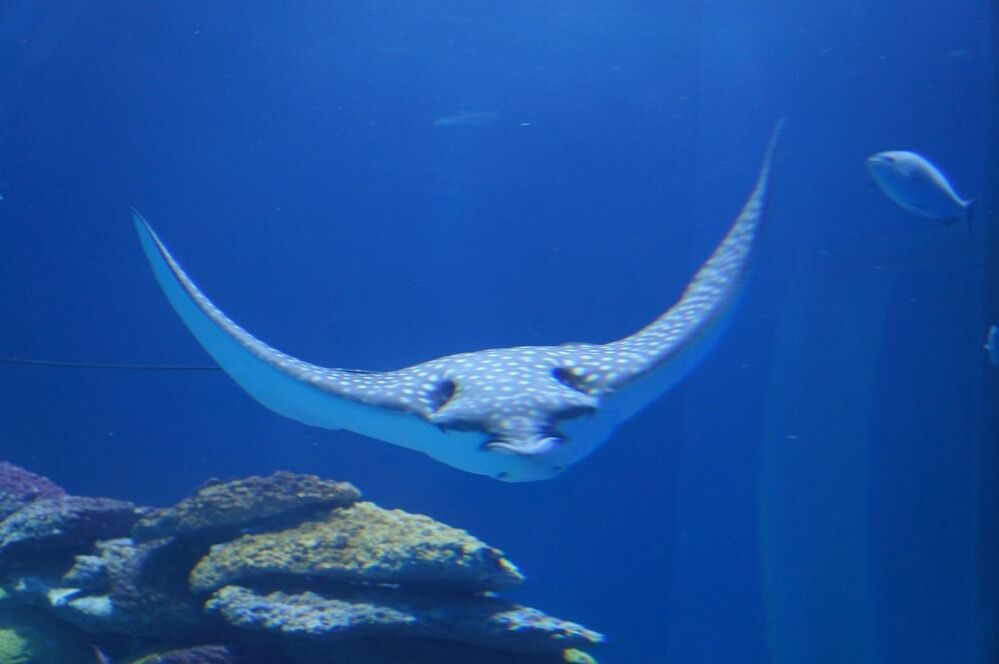 First, you'll enjoy a sunset cruise, followed by snorkeling and swimming with these amazing creatures. Check the latest rates and availability.
15. Luau
You'll have to experience a luau at least once during your honeymoon to the Big Island. A luau is a romantic evening spent eating a great buffet meal with live music and dancing. You'll see a beautiful show with the hula and fire knife dancing! There are tons of Big Island luaus to choose from.
16. Rainbow Falls
Rainbow Falls is one of the most romantic places in Hawaii. It is best to visit during the early morning for your chance to see rainbows in the water!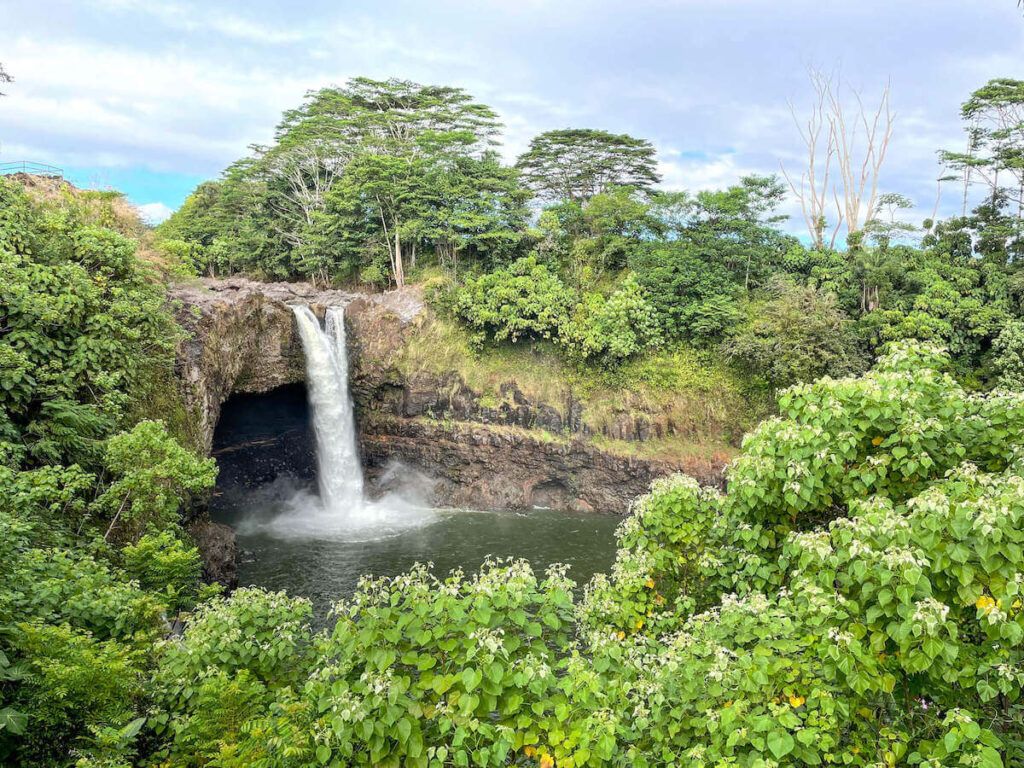 It is very easy to get to and accessible and isn't a very long hike either. Plan to spend an hour or two here one morning during your honeymoon.
Big Island Hawaii Honeymoon FAQs
Is the Big Island good for couples?
The Big Island is a great place for couples to go on vacation. Many couples choose to have a Kona honeymoon where there are many popular resorts, spas, and romantic dinner options to enjoy.
What is there to do on the Big Island on a budget? 
If you are on a budget, exploring many of the beaches is always a fun, romantic time. Grab some poke and chicken katsu and have a nice picnic on the beach! You can also explore Liliuokalani Gardens or Rainbow Falls!
Where should I stay for my honeymoon on the Big Island?
Kona is a popular area of the Big Island to stay in during your honeymoon to Hawaii. This area has many luxurious resorts, including the Four Seasons Resort and the Royal Kona Resort.
Most Romantic Places in Hawaii Wrap Up
There are so many things to do on the Big Island, Hawaii, that you will love to spend your honeymoon on this romantic island.
From watching stunning sunsets to sailing the ocean, snorkeling, ziplining, and more, your honeymoon will be a memorable one for sure!