Are you looking for fun things to do in Kauai for a honeymoon? Keep scrolling for this list of the most romantic things to do in Kauai for a Hawaii honeymoon.
This list of romantic things to do in Kauai Hawaii contains affiliate links which means if you purchase something from one of my affiliate links, I may earn a small commission that goes back into maintaining this blog.
Kauai is a smaller island in Hawaii that is considered the garden island full of luscious greenery all year round. Who wouldn't love to spend a honeymoon in Kauai with all the natural beauty here?
A Kauai honeymoon is full of outdoor activities and water adventures, but there are also plenty of romantic things to do in Kauai. You and your spouse will love this romantic getaway location!
Here is your ultimate guide on all the romantic things to do in Kauai for a Hawaii honeymoon. You will find this article full of Kauai honeymoon ideas, so you can easily create a honeymoon itinerary of your dreams.
Don't have time to read a bunch of Hawaii blog posts and reviews? Here are some of our top picks for planning your Kauai Honeymoon.
Best Kauai Honeymoon Tours/Activities
Best Kauai Honeymoon Resorts
Grand Hyatt Kauai (this Poipu resort has a luxurious pool area, romantic restaurants, and a stunning ocean view)
Koloa Landing Resort (this is a luxury resort with an amazing pool area and truly spacious rooms)
Koa Kea (this is the best boutique hotel on Kauai that caters to adults)
Want to Rent a Car in Hawaii?
One of the best places to rent a car in Hawaii is Discount Hawaii Car Rental because they get the best rates from top national companies like Alamo, Dollar, Thrifty, Avis, Enterprise, Budget, and Payless.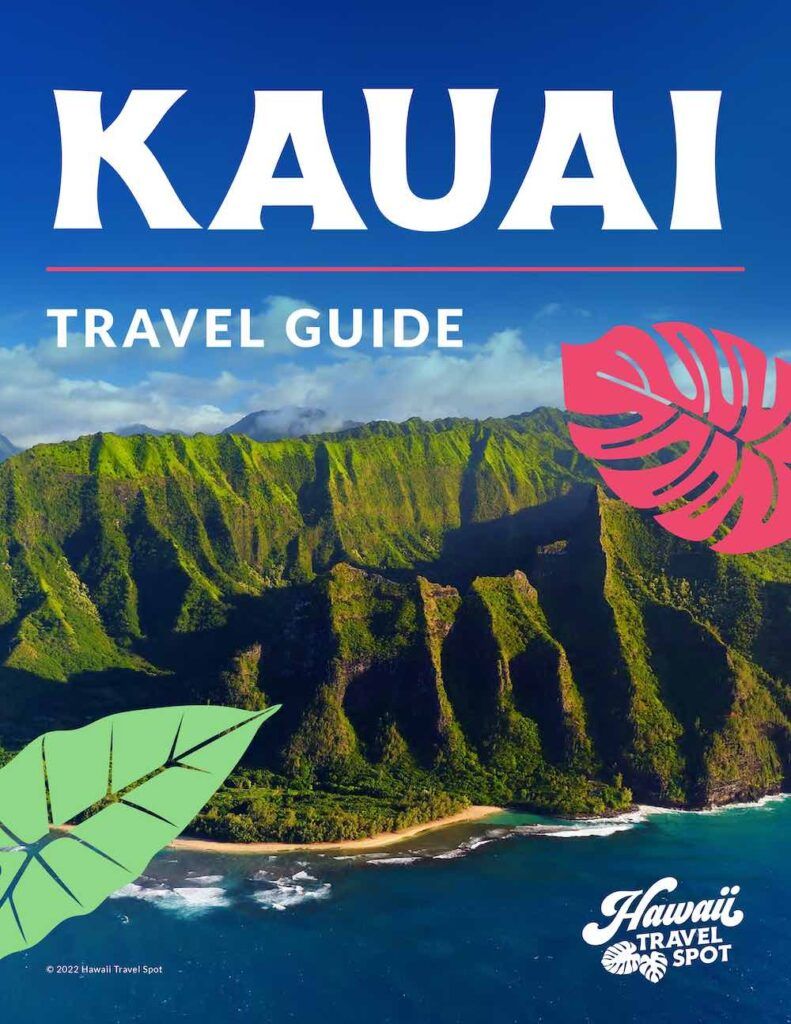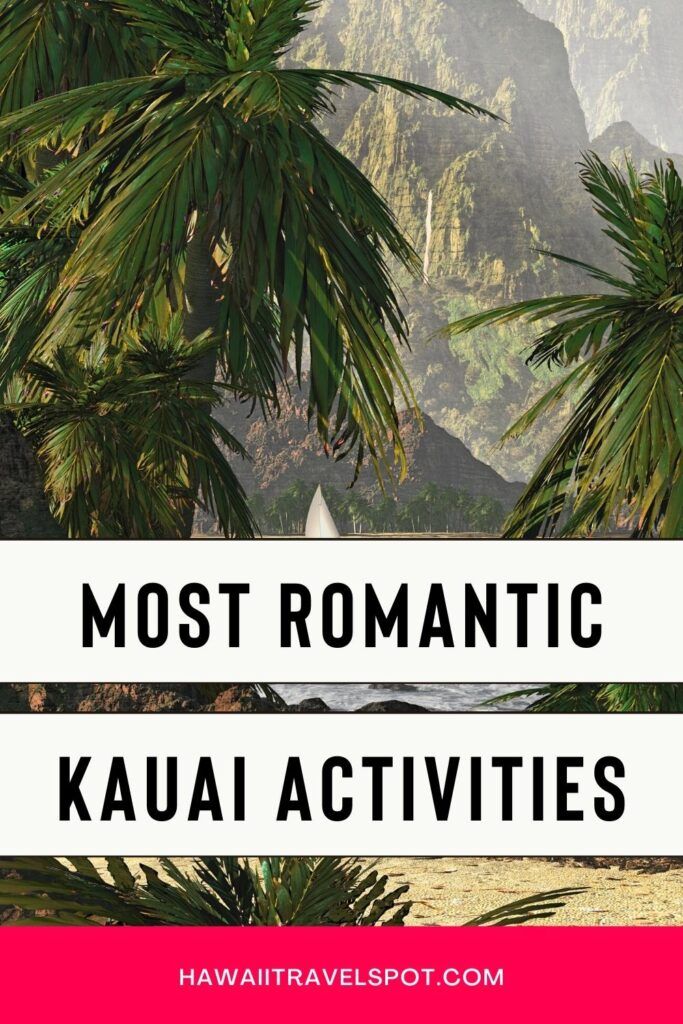 Kauai Honeymoon Packing List
Here are just a few things you will definitely want to bring on your honeymoon in Kauai:
Reef-safe sunscreen
2 Swimsuits
Lightweight jacket
Water bottle
Hat
Camera
Cash
Hiking shoes
Intimate items
You'll need the usual things you will need to bring like toiletries, medicine, clothes, etc. Depending on how long you stay, bring 3-4 different outfits.
Romantic Things to do in Kauai
Here are the best things to do in Kauai for couples. There will be many Kauai outdoor activities as well as romantic things to do.
Waimea Canyon
Waimea Canyon is one of the best free Kauai activities. You can hike a few trails at the canyon, or you can drive up to the top and walk a short distance to the lookout.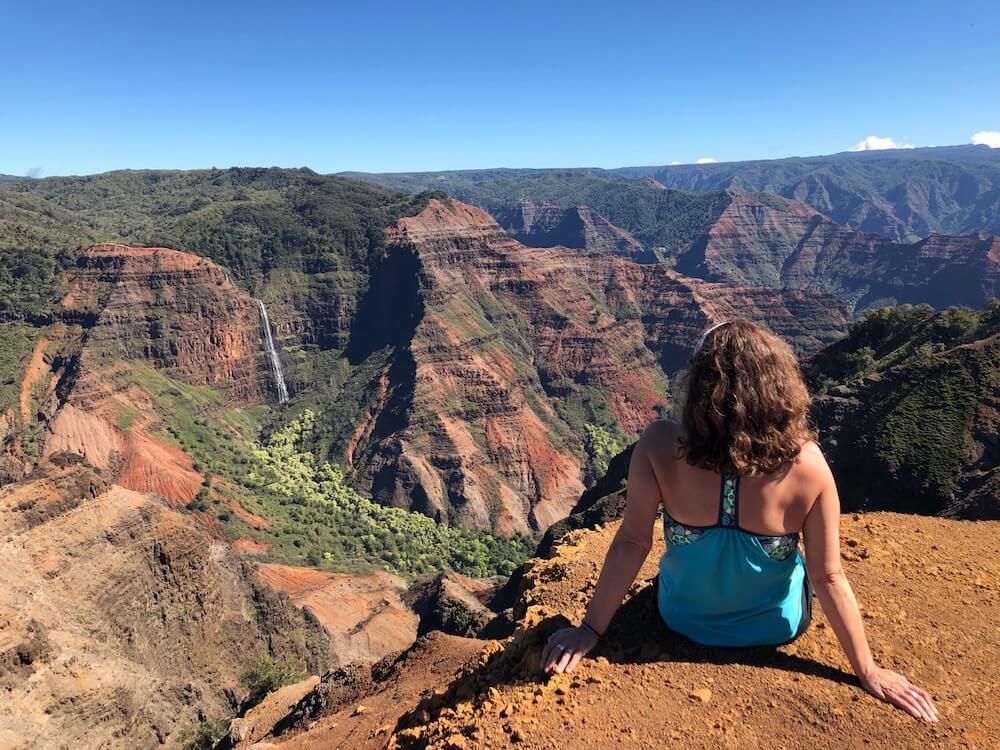 It is so beautiful to look at the canyon and all the nature surrounding it, as well as see a clear picture of the ocean. There is someone at the top usually who shares about the culture of Hawaii too.
As you drive up the canyon, take pictures every couple of minutes. No matter where you end up stopping alongside the road, you'll get spectacular ocean and canyon views. Grab some poke before heading up and have a nice picnic lunch watching the ocean from above.
Dinner at Romantic Restaurant
You will find many romantic restaurants all over the island of Kauai. Be sure to go to them every night to have a romantic honeymoon activity.
Eat along the beach and watch the sunset at Oasis, or eat at an elegant place like Merriman's. Nothing is more special than a candlelit dinner with your new spouse. There are restaurants for every type of food you enjoy, not just Hawaiian food.
Watch the Sunset
Watching the sunset is another one of Kauai's free activities that you need to experience at least once. You'll see beautiful colors of blue, pink, purple, orange, and red, unlike anything you've ever seen.
Go on a romantic walk at the beach as the sun sets and enjoy the beauty surrounding you. Any beach you head to will make for a beautiful sunset.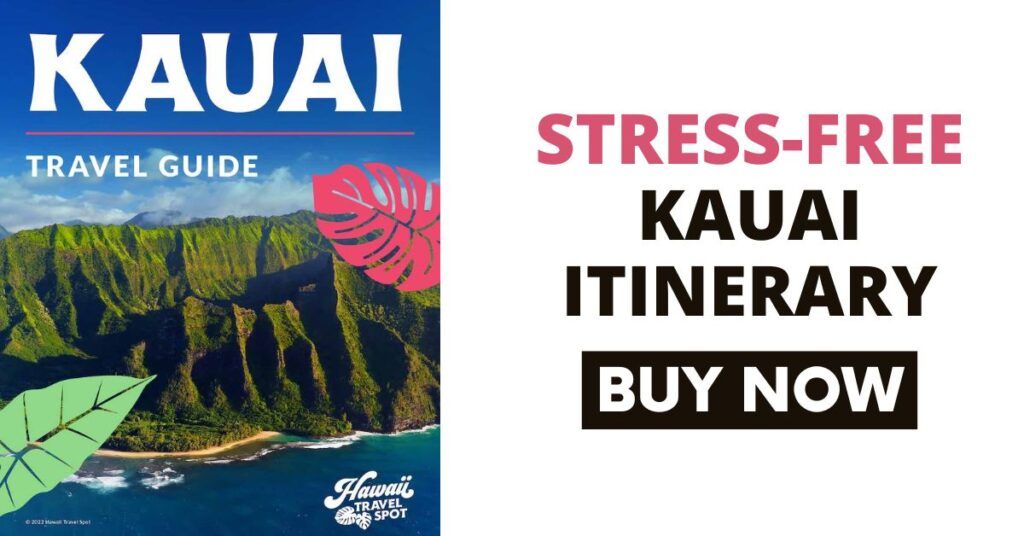 Horseback Riding
One of the many fun Kauai HI activities is to go horseback riding. At Princeville Ranch, they offer trail riding around their 2500-acre ranch and up in the mountains. You'll experience a relaxing ride with your loved one right next to you.
This is one of the best Kauai North Shore activities! At this ranch, you have to have a minimum of two people, making this the perfect activity on your honeymoon. Enjoy being in nature and the stunning ocean views during your ride.
Waterfalls
You'll find plenty of beautiful waterfalls all around Kauai. Go on a tour or hike to go see one with your spouse! This is one of the top Kauai activities for couples to enjoy on their honeymoon.
Wailua Falls is one of the most popular ones, as it splits into two separate falls and is a peaceful oasis. It is super easy to get to, which makes it a great one to visit for a short trip. You can even swim in the pool for a refreshing dip in the water.
Be sure to take a couple's picture, because this is a stunning view.
Helicopter Tour
Another one of the best Kauai activities is to experience the island from a helicopter! Helicopter tours are super popular on any island of Hawaii, but they are especially cool on Kauai because you get to experience a surreal view of the Waimea Canyon.
For a thrilling adventure during your honeymoon, go on this doors-off helicopter tour! You can see the canyon, amazing waterfalls, the Na Pali Coast, and so much more.
Go to the Beach
Of course, you will want to spend a lot of your time at the beautiful beaches in Kauai during your honeymoon. It's also perfect for a Hawaii beach proposal if you haven't popped the question yet.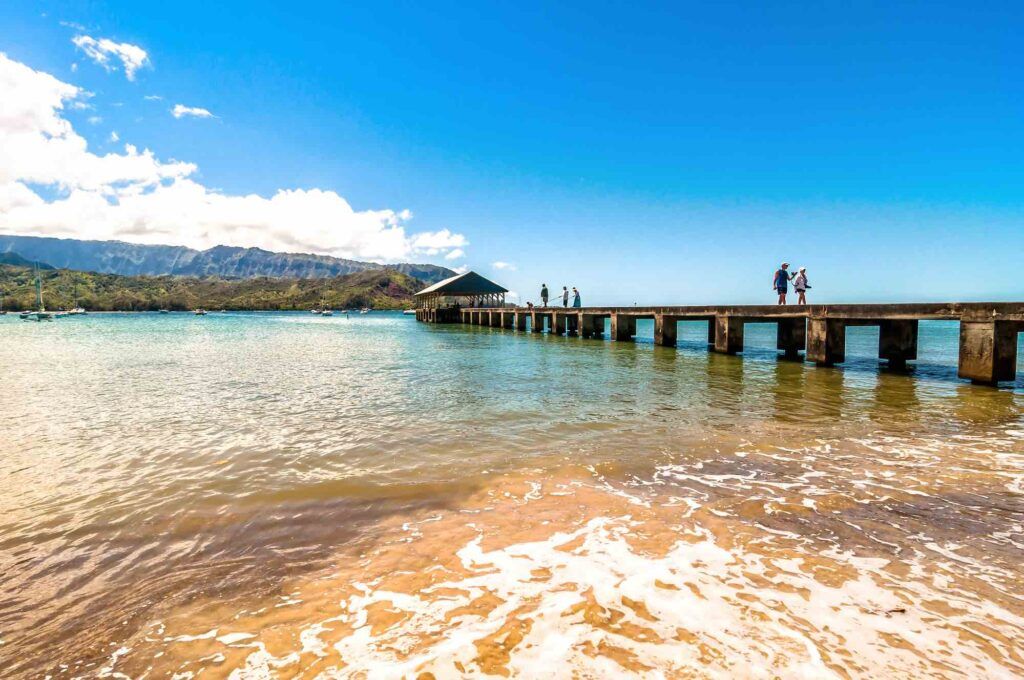 Hanalei Bay is a popular beach, but it might be crowded. You can enjoy surfing, paddleboarding, swimming, or just lying on the beach here. There are even some great picnic spots here too!
Ke'e Beach is one of the most gorgeous beaches in Kauai and is a must-see. There are plenty of trees that give plenty of shade in case you don't want to get sunburned. It is a great beach for snorkeling!
Anini Beach is another great beach in Kauai. With two miles of beautiful white sand, you'll be sure to find a good spot. There is even a pavilion with picnic tables to enjoy a romantic lunch at the beach.
If you want a more secluded beach, head to the west side and go to Polihale Beach. You can't swim here, but you can enjoy a nice sunset walk or a picnic to enjoy the scenery.
Couple's Massage
One of the many Kauai honeymoon things to do is get a couple's massage. At Hanalei Day Spa, you can enjoy a nice couple's massage right along the beach! This will be one of the most relaxing things you do on your honeymoon.
This massage is 80 minutes long and uses organic coconut oil. Along with the massage, you can get a deep tissue hair conditioning treatment with coconut oil as well!
Snorkel Tour
Going snorkeling is another fun Kauai honeymoon activity you'll want to try at least once. Kauai has so many amazing snorkeling locations.
A snorkel tour will take you to the best snorkeling spots on the island for a half-day adventure. This one takes you to sea caves and waterfalls, and you might be able to see some dolphins and turtles as well!
For an extra romantic activity, go on a sunset snorkel tour!
Book a Hawaii Photo Shoot
Whenever we travel to Hawaii, we almost always book a photo shoot with Flytographer. They are super easy, affordable, AND it guarantees that I'll have more than just selfies. You can get $25 off if you book through this link or use the code HAWAIITRAVEL.
Zipline
Going on a zipline is one of the adventurous Kauai activities for couples that will make your honeymoon memorable. Use the handlebars or be a daredevil and try a superman pose!
This activity will get your adrenaline pumping and will be a great memory to add to your honeymoon.
Secret Falls Kayak and Hiking Tour
For some Kauai water activities, try this Secret Falls kayak and hiking tour! First, you will go in a kayak and paddle with your new spouse across the water to head to Uluwehi Falls, also known as Secret Falls.
The hike isn't too difficult, and the waterfall is incredible. You'll also be able to enjoy a swim by the waterfall to cool off after your hike.
Luau
One night you'll want to go experience a luau as this is one of the top Kauai activities! Learn more about the rich Hawaiian culture and eat some delicious food too!
You will be entertained with fire knife dancing, the hula, and so much more during this luau. First, you will tour the farm while taking a stroll through the beautiful botanical garden.
Then, you'll get to experience the traditional Imu ceremony, followed by plenty of food, drinks, and fun. Be sure to do this toward the end of your trip, so you aren't too exhausted from the jet lag!
Na Pali Sunset Dinner Sail
What's more romantic than a sunset dinner sail with your newly wedded spouse? This Na Pali Sunset Dinner Sail is one of the best Hawaii honeymoon activities you will ever do.
Hop aboard a deluxe catamaran for a five-hour cruise where you get to take in the beautiful scenery of the mountains while enjoying a stunning sunset on the ocean. There will be drinks, appetizers, and a locally-grown dinner. Or check out one of the other amazing Na Pali Coast boat tours.
Ho'opi'i Falls
Enjoy a nice and easy walk to see a beautiful waterfall. It isn't great for swimming in, but it is a more private hike through a forest that is very romantic. Just be sure to wear insect repellent to protect yourself from the mosquitos!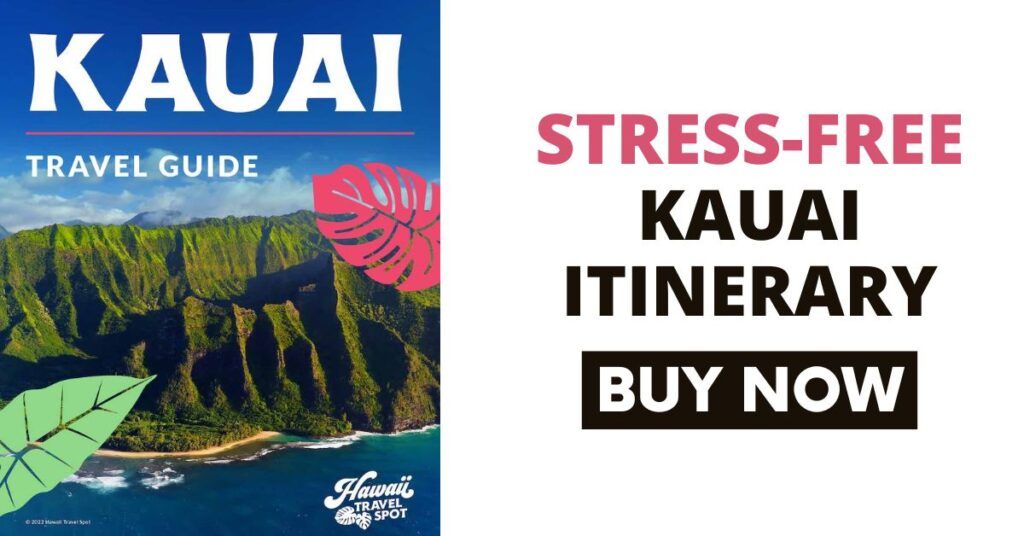 Kauai Honeymoon Activities FAQ
What is the number one thing to do in Kauai? 
You will definitely want to check out Waimea Canyon! You can easily drive up to the top and take in all the natural beauty you will find.
How many days is enough for a honeymoon in Kauai Hawaii? 
To get the most out of your trip, you will want to spend at least a week here. That way, you can relax, tour the island, spend time together, and do all the top activities in Kauai.
Best Kauai Activities for Your Honeymoon Wrap Up
These are some of the best Kauai romantic activities for you and your new spouse to enjoy during your Kauai Hawaii honeymoon. From enjoying the beach and water to going on thrilling adventures, there is something for each couple to enjoy.