Planning a honeymoon in Hawaii? Look no further for my list of most romantic Big Island Hawaii honeymoon resorts!
This list of the most romantic Big Island Hawaii honeymoon resorts contains affiliate links which means if you purchase something from one of my affiliate links, I may earn a small commission that goes back into maintaining this blog.
So, what factors decide which are the most romantic Hawaii honeymoon resorts? Luxury, beauty, and relaxation create the perfect environment for love and romance to flourish.
Or you might be looking for one-on-one time with your love on secluded white sand beaches. For some, heart-racing, once-in-a-lifetime adventures in tropical rainforests are perfect for a romantic honeymoon getaway.
If you're headed to the Big Island, you'll find the top honeymoon resorts in Kohala and Kona on the west coast.
Imagine waking up each morning to stunning views of the Pacific Ocean from your private balcony. Picture spending lazy afternoons sipping cocktails by the pool. Or taking long walks hand-in-hand under swaying palm trees.
With our help, you can make these fantasies a reality!
Keep scrolling to find out where to stay for your Big Island Hawaii honeymoon!
Don't have time to read a bunch of Hawaii blog posts and reviews? Here are some of our top picks for planning your Big Island Honeymoon.
Best Big Island Honeymoon Tours/Activities
Best Big Island Honeymoon Resorts
Want to Rent a Car in Hawaii?
One of the best places to rent a car in Hawaii is Discount Hawaii Car Rental because they get the best rates from top national companies like Alamo, Dollar, Thrifty, Avis, Enterprise, Budget, and Payless.
Want to skip all the planning and just access my detailed Big Island Itinerary complete with daily schedules, fun activities, and travel hacks? Click the button below.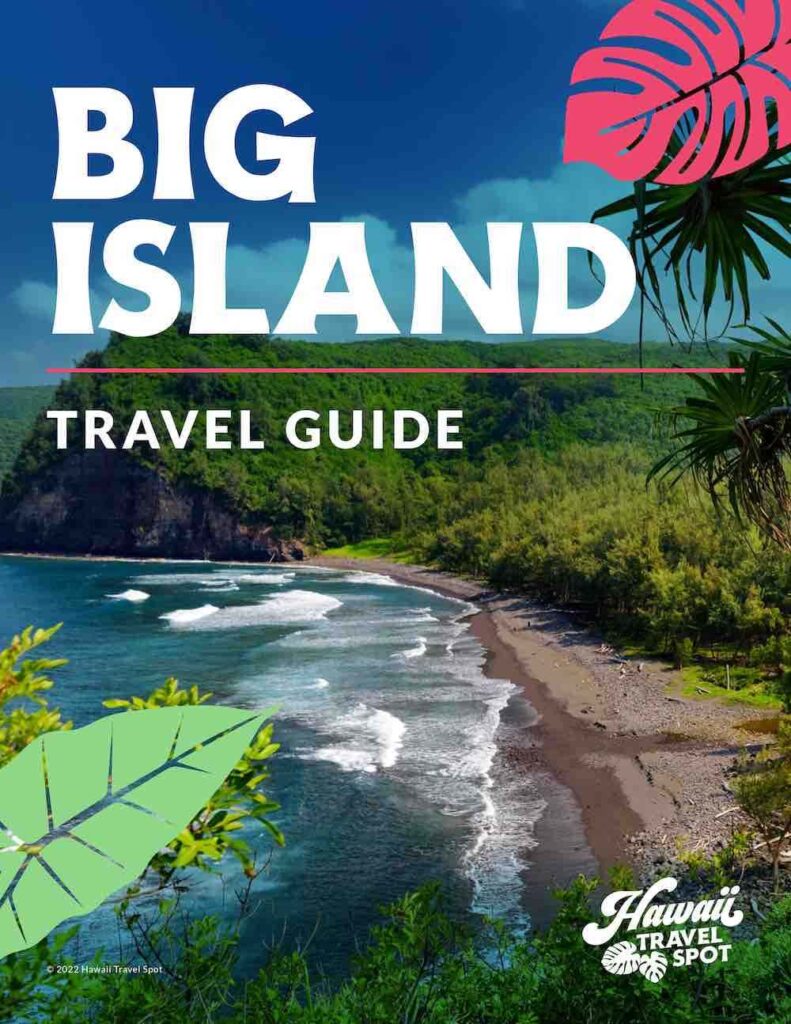 Best Honeymoon Resorts in Hawaii
Look for the best Hawaii honeymoon resorts on the western coast of the Big Island, in the Kohala and Kona regions of the island.
You'll find luxury inns and hotels in other regions of the island, like Hilo, or more remote locations like Kua and Puna. But the best place to stay for a honeymoon in Hawaii is definitely on the west coast.
Across the entire west coast, you have stunning ivory-sand beaches. The most popular and high-end resorts in Hawaii for a honeymoon will be in Kohala. And Kona offers a mix of resort experiences with access to tourist attractions. Plus, it's close to the airport.
Below you'll find what I think are the most romantic destinations for your Big Island Hawaii honeymoon.
Save Money with Points
Here are the best credit card offers for people who travel and want to use points to pay for airfare and hotels in Hawaii.
The Westin Hapuna Beach Resort
At the Westin Hapuna Beach Resort in Kohala on the Big Island's western coast, you'll enjoy Hawaiian sunsets over the ocean every night! This resort is perfect for the couple who wants it all. You'll enjoy a luxury resort experience with a full-service spa as well as all the outdoor adventures and attractions the island has to offer.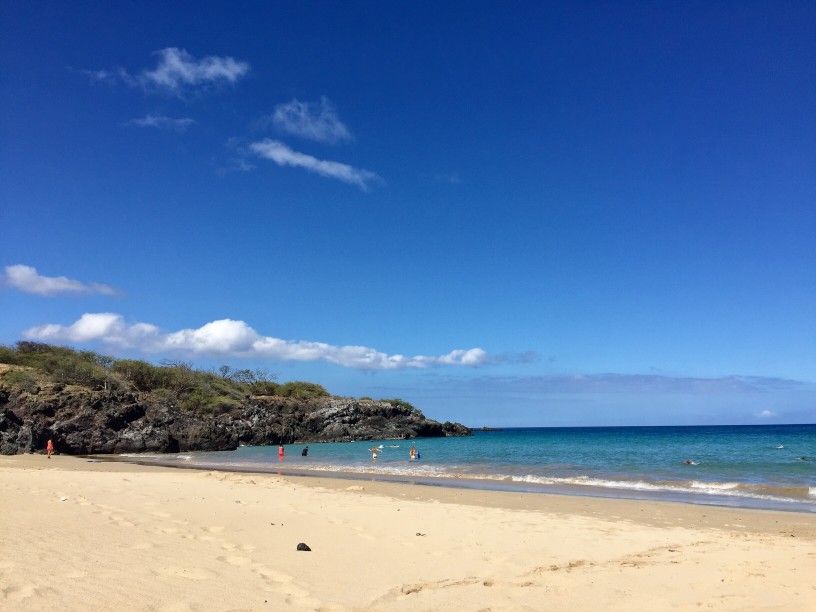 Set just off the white sands of Hapuna Beach, it truly is one of the best honeymoon hotels in Hawaii. You'll love the open-air resort with an organic, modern design and sweeping views everywhere you look. Check the latest rates and availability.
Choose from 2 different outdoor pools including a private adults-only heated infinity pool and whirlpool. Rent a private cabana for the day or meet on the great lawn for guided cultural activities. Plus it's one of the best Hawaii resorts with Peloton bikes!
On the beach, the resort has a complimentary activity hut with different activities every day like surfing, snorkeling, kayaking, and more! And nearby you have direct access to a variety of outdoor adventures. There's the popular Hapuna Golf Course, hiking trails, and helicopter tours.
Enjoy a romantic meal at the Mediterranean restaurant or visit the grill or café during the rest of the day. And every room and suite at the Westin Hapuna Beach Resort has a lanai with ocean views. Check resort rates.
Book a Hawaii Photo Shoot
Whenever we travel to Hawaii, we almost always book a photo shoot with Flytographer. They are super easy, affordable, AND it guarantees that I'll have more than just selfies. You can get $25 off if you book through this link or use the code HAWAIITRAVEL.
Fairmont Orchid
If you're looking for Hawaii honeymoon resorts with unique experiences, consider the Fairmont Orchid. It's a luxury beachfront resort near Waikoloa Village on the Kohala Coast and it's considered one of the most romantic resorts on the Big Island of Hawaii!
The first unique experience at the Fairmont Orchid is the resort's private beach off Pauoa Bay. A small, protected cove beach, it's the favorite spot for green turtles and colorful tropical fish. It also makes the perfect spot for snorkeling or swimming. Check the latest rates and availability.
Or you can try out the Spa Without Walls. Melt away during an oceanfront treatment in a private outdoor spa cabana.
You can get active at the resort's golf course or tennis courts during your stay. Visit a handful of restaurants available to you, including a steakhouse & sushi bar, an oceanfront grill, and a breakfast buffet. And the Fairmont Orchid is also home to the Hawaii Loa Luau.
Make sure to take advantage of different Hawaii honeymoon packages for the ultimate destination honeymoon. Try out a romantic in-room dining package, a beachside picnic lunch, or a couples' massage at the Spa Without Walls. Check resort rates.
Four Seasons Resort Hualalai
Get away from it all at an ultra-luxurious resort by staying at the Four Seasons Resort Hualalai. Moving further south, you're now in the popular Kailua-Kona region, considered the best place to honeymoon in Hawaii.
And if you're looking for beachfront hotels in Kona Hawaii, the golden sand Kumukea Beach is just a stroll from your doorstep.
This is where you stay when you plan on never leaving the resort! The massive grounds include a variety of rooms, hotels, and multi-tier villas of the highest quality. Check the latest rates and availability.
There are 8 outdoor pools with different experiences. Visit the salt-water lava-rock aquarium for snorkeling with in-house marine biologists. There are also beachside soaking pools, infinity pools, hot tubs, and more.
Play golf at the Jack Nicklaus Signature Hualalai Golf Course or create custom treatments at the Hualalai Spa. You can also book several guided experiences on and off the resort with knowledgeable professionals.
Explore the resort's herb gardens and oyster farm or enjoy a helicopter or scuba diving tour off the Kailua-Kona coast!
The Kaupulehu Cultural Center honors the memories of the historic fishing village that used to be where the resort now sits. And the Four Seasons Resort Hualalai is home to 3 different restaurants and 2 luxurious beachside lounges. Check resort rates.
Waikoloa Beach Marriott Resort & Spa
The Waikoloa Beach Marriott Resort & Spa is perfect for honeymooners looking for a classic Hawaiian resort experience. There's nothing more romantic than a classic Hawaiian honeymoon at a luxury resort with all the trimmings.
The Mandara Spa has a wide range of Western and Eastern treatments available. Or hone your game at the 27-hole Waikoloa Beach Resort Golf.
Waikoloa Beach Resort has multiple free-form pools, including a heated infinity pool, hot tubs, cabanas, and poolside seating for ultimate lounging. Check the latest rates and availability.
One thing that makes this resort one of the top Hawaii honeymoon resorts on my list is the Sunset Luau right on the property. You can enjoy this classic Polynesian-style luau with a buffet dinner twice a week.
The beachfront hotel is steps away from the protected alcove sands of Waikoloa Beach. And nearby you can explore historic Waikoloa petroglyphs!
While you can enjoy the resort's restaurant or café, there's great shopping right by the resort. Explore 2 different shopping malls, restaurants, bars, and coffee shops. Check resort rates.
Club Wyndham Kona Hawaiian Resort
Nestled oceanside in the heart of Kailua-Kona is the Club Wyndham Hawaiian Resort. If you crave a casual experience on your Kona honeymoon. You'll still be at a resort but have more independence and space with this all-condo destination.
The expansive Club Wyndham features condo buildings and bungalows styled to look like a nostalgic Hawaiian village from the turn of the century. Check the latest rates and availability.
One of the best hotels in Kona, you'll find concierge services, pools, grills, and picnic tables. Walk the grounds that shine with gardens, fruit trees, tropical flowers, and coconut palms. In your private condo, enjoy jungle views, state-of-the-art clawfoot tubs, and walk-in showers.
Visit the resort's restaurant or multiple cafes, grills, and outdoor bars. Venture a walk nearby to Honl's Beach or rent a car and drive a few miles to different shopping malls.
There are grocery stores, gift shops, restaurants, and more in Kona Town. Check out the Kona Farmers Market or spend a day at Magic Sands Beach Park. Check resort rates.
Outrigger Kona Resort and Spa
Located in south Kona, Outrigger Kona Resort and Spa is the ideal destination for those who love having a variety of cultural experiences at their fingertips. This is one of the best resorts in Kona Hawaii, with rooms and suites set on black volcanic cliffs overlooking Keauhou Bay.
Stroll through gardens with lawns, hammocks, fruit trees, and tropical floors, or take a swim in the fabulous, one-of-a-kind 2-level pool! Check the latest rates and availability.
The Hoola Spa offers different therapeutic treatments, including a Himalayan Salt Room. And the Outrigger Kona puts on a thrilling show with the Feast & Fire Luau.
You might be looking for Hawaii honeymoon resorts with all the trimmings, but also lots of island experiences. The Outrigger Kona is it!
They have guided walking tours of the historic area around the resort and a special opportunity to go night snorkeling with manta rays. Learn to play the ukulele, make a lei, or book a tour of local Kona coffee farms.
Next to the resort are the Kona Country Club Golf Course and tennis courts. Keauhou Bay Beach Park has a small but lovely white sand beach and gentle waves. And you can rent kayaks and canoes or book a boat charter at the Keauhou Harbor. Check resort rates.
Holualoa Inn
While Holualoa Inn isn't your traditional high-end resort, this luxury inn should definitely be a consideration. It's set on a 30-acre estate on the side of Mt. Hualalai, with a secluded inland rainforest setting and amazing coastal views.
You'll love the suites and cottages with garden views and private lanais. Each space is uniquely designed with rich colors, Polynesian furniture, eucalyptus floors, and local art. Check the latest rates and availability.
Outside every window, there are either expansive countryside and ocean views, or lush orchards and gardens of fragrant flowers, mangos, coffee, avocado, and more.
Everywhere you go on the estate, you'll find spaces set up for your ultimate enjoyment. Lounge in tiki furniture and enjoy a cup of coffee with a view. There are hammocks in the garden and patios with grills and comfortable seating.
And you can enjoy breakfast in the dining room with even more rainforest and coastal scenery! Plus, you're a short walk from local restaurants, grocers, and shops.
Some suites feature hot tubs and there's an outdoor pool at the Holualoa Inn. You're also just a 10-minute drive to local beaches and attractions.
And if you want to try local Kona coffee, you're in luck. Brazen Hazen Coffee is the inn's own in-house private coffee label that you can try. The beans are grown, processed, and roasted right on the property!
Take advantage of the inn's honeymoon packages for your Kona Hawaii honeymoon. Enjoy champagne, Hawaiian chocolates, and leis greeting you upon arrival. They also include things like picnic beach lunches and a couple's massage. Enjoy a guided tour of the Big Island's volcanos and waterfalls or book a private yoga class for 2. Check resort rates.
FAQ About a Big Island Hawaii Honeymoon
Is the Big Island a good place for a honeymoon?
The Big Island of Hawaii is one of the most popular honeymoon destinations in the world! There are opportunities for romantic dinners, sunset walks on the beach, and exciting jungle hikes and mountainside waterfalls. There are so many things for a couple to do, as well as resorts geared toward honeymooners.
What is the Big Island in Hawaii?
"The Big Island" is the local name for the island of Hawaii, and you should also call it that. At over 4,000 square miles, it's the largest of the islands that make up the archipelago that is the state of Hawaii in the Pacific Ocean.
What is the Big Island of Hawaii known for?
The Big Island is best known for being the largest island and for having the most beautiful white sand beaches of all the islands. It's also known for being the only place you'll find Kona coffee and the only volcanic national park in the United States.
Stay at One of the Best Big Island Hawaii Honeymoon Resorts
Set the mood for a romantic getaway by booking one of the best Hawaii honeymoon resorts. They offer settings that are perfect for relaxing, lounging, and enjoying the beauty and luxury all around you.
There's a reason Hawaii is one of the top honeymoon destinations, with historic sites, tropical settings, and white sand beaches. Attend a luau or enjoy a glass of wine in your poolside cabana while you listen to the waves.
Whether you plan on exploring the Big Island or never leaving your resort, you'll find everything you need conveniently located at the resorts on my list.