Trying to figure out your plans for Maui but aren't completely sure what way you want to get to Lahaina? Here are some tips on getting from Kahului Airport to Lahaina.
This guide on how to get from Kahului Airport to Lahaina contains affiliate links which means if you purchase something from one of my affiliate links, I may earn a small commission that goes back into maintaining this blog.
If you're looking for a way to get from Kahului to Lahaina, I'm definitely the person to ask, since I have flown to Maui tons of times with my family over the last couple of years.
When trying to get from Kahului Airport to Lahaina, many different things can impact the way you want to travel across the island, along with how you plan on returning to an airport so you can get back home.
Throughout this article, I'll teach you all the things you need to know about the options you have for travel!
Don't have time to read a bunch of Hawaii blog posts and reviews? Here are some of our top picks for visiting Maui.
Popular Maui Tours/Activities
Favorite Maui Resorts/Hotels
Hyatt Regency Maui (this has a swim-up bar and tons of amazing amenities)
Andaz Maui (this is a luxury resort with the best luau on Maui)
Honua Kai Resort & Spa (this is one of our personal favorites because there are tons of pools and there are condo options)
Want to Rent a Car in Hawaii?
One of the best places to rent a car in Hawaii is Discount Hawaii Car Rental because they get the best rates from top national companies like Alamo, Dollar, Thrifty, Avis, Enterprise, Budget, and Payless.
Want to skip all the planning and just access my detailed Maui itinerary complete with daily schedules, fun activities, and travel hacks? Click the button below.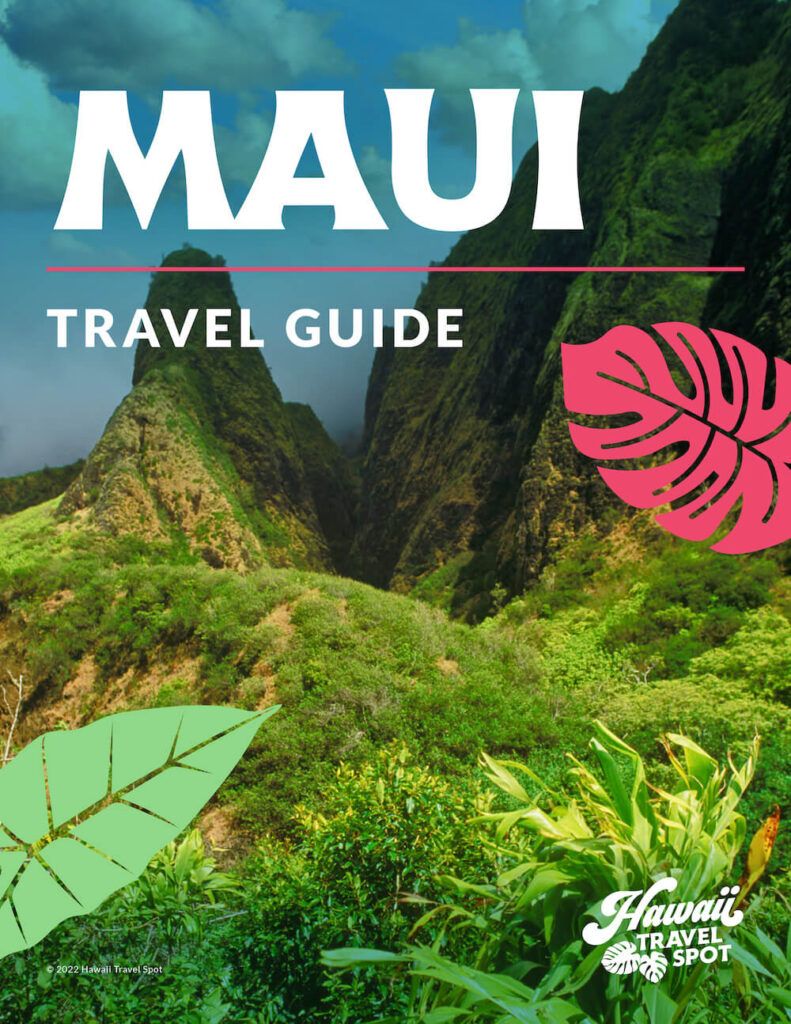 Facts about Maui Airports
One fact about Kahului Airport that you should know is that it is one of the three airports in Maui. The other two are Kapalua Airport and Hana Airport.
Kahului is the largest of the three, the only one with international flights, and has the most amenities. It is great because you can easily get a rental car or any other transportation you may need, including a shuttle or rideshare service. The Kahului Airport is also known as OGG airport.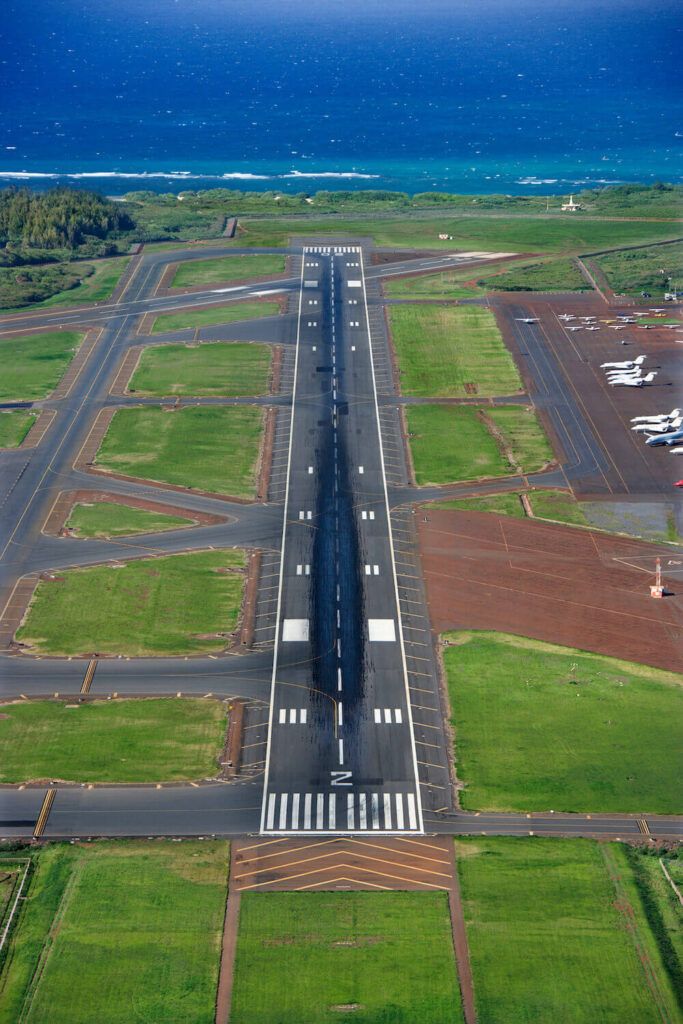 The airport closest to Lahaina is Kapalua Airport, but it isn't as popular as there are no international flights. It also doesn't have nearly as many amenities as Kahului Airport, making finding transportation more difficult.
The Hana Airport has even fewer amenities. Hana Airport will likely only service those with private planes, so you likely won't be flying to this one.
Best Way to Get from Kahului Airport to Lahaina
To get to Lahaina, you will likely be taking the highway from Central Maui, which will likely take you an hour or less!
Here are some of the best ways to get from Kahului to Lahaina.
Public Transportation
The cheapest way to get from place to place is to take a bus.
Each bus ticket costs a couple of dollars, and you won't have to worry about shelling out the money to rent a car.
You can also rest easy knowing that the bus goes to major areas like Wailea, Kihei, and Kaanapali.
However, if you want to do some sightseeing or check out the Road to Hana, the bus isn't the best choice as it can be pretty slow and will take twice as long as it would be to drive there.
Also, you will have to be able to fit a bag on your lap, and you will end up needing to make a transfer, so keep this in mind if you have a lot of stuff to carry with you.
Taxi from OGG Airport to Lahaina
Like any other taxi you would find at an airport, a Kahului airport taxi is another option to get around.
You just need to stand in line at the taxi terminal and you will be brought to the next available taxi!
While this option may be convenient, it can be difficult at times, especially if the lines are long and you are tired after the long flight. It can also add up quickly, given that you are given a flat rate based on mileage. One cab to Lahaina can be around $100.
A taxi can typically accommodate six to seven people, so while it is convenient, this would not be my recommendation for trying to explore the island.
Car Service Apps
Out of all the ways to get around, carshare apps may be the easiest and most convenient, with apps ranging from Lyft, Uber, and Holoholo.
While you may have heard of Lyft and Uber, Holoholo is a local option that uses local drivers to help you get around. You can also compare app rates to ensure you get the best price.
There are many perks of rideshare apps, as you can request a driver whenever you need and text directly with your driver. Being able to track where the car is is also a handy feature.
While using a rideshare app is usually $75 or less, the rates for the rideshare can go way up during the holidays. And if you need to cancel your ride, there will be a cancellation fee.
However, the benefits are numerous, as you don't have to wait in line and can get a car at your leisure.
If you want to take your car riding experience up a notch, you can use the Execucar app to get a luxury ride just the same as a regular rideshare app!
Maui Airport Shuttle to Lahaina
Shuttles are another easy and cheap form of transportation, with the airport using the service SpeediShuttle.
The rates are pretty low and you also don't need to book a shuttle beforehand, but you can always book in advance on their website.
The great thing about the shuttle service is that there is a flat rate for a van, which accommodates eleven people. That means you can transport a great number of people and your luggage for less than $50!
There are also other shuttle services like Hawaii Executive Transportation, which will provide a private shuttle for you. What's even cooler is that they will give you a lei greeting outside of the limousine!
Rent a Car
Another great way to get yourself from Kahului Airport to Lahaina is by renting a car, and the airport has about a dozen rental companies that you can pick from.
You can book ahead to get a cheaper rate on your car, and the car can also get you wherever you want very fast and make exploring the island much easier.
You can also just drop off your car at the airport, so you won't have to worry about how to get back.
I have found that Discount Hawaii Car Rental is definitely something you should check out. They have some awesome deals on almost all of the national car rental brands. Check out the latest prices and more details.
Rental cars are popular and can sell out quickly, so be sure to book in advance so you can get a car if you need it. Finding parking can also be a hassle depending on where you are in Maui, and parking fees can also stack up.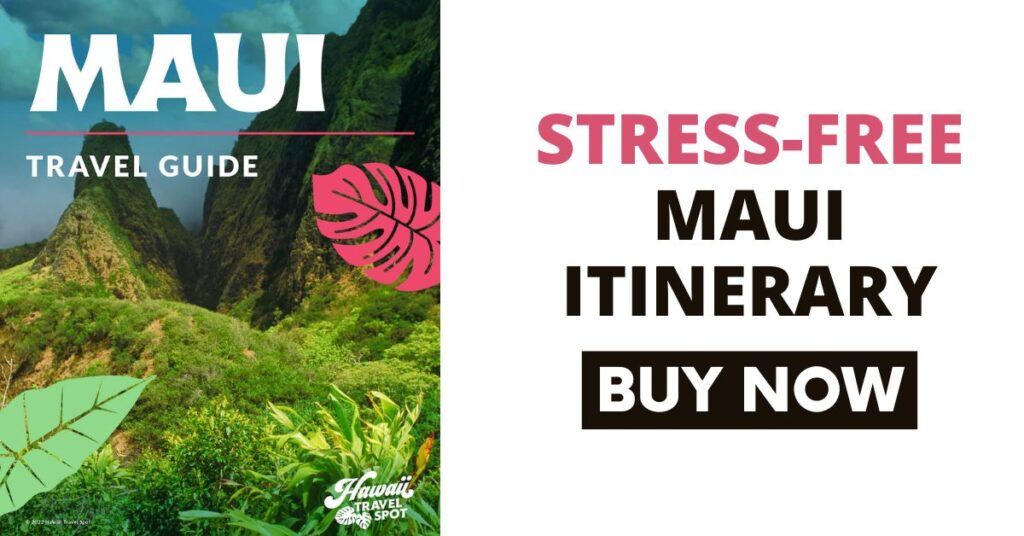 Frequently Asked Questions about Flying to Maui
Is Uber available in Maui?
Yes, ridesharing services such as Uber and Lyft operate in Maui, especially in popular tourist areas (like Lahaina). There's also a Hawaii-based company called Holoholo that's a great option.
Are there shuttles from Maui airport to Kaanapali?
Yes, many shared and private shuttle services can get you to several different regions within Maui, all with different prices that can suit your budget.
What is the best month to go to Maui?
Generally, the best times to check out Maui are from April to May, and September to November, as these are the times that will still provide you with good weather but don't have super high rates or crowds that are more typical of the summer and winter.
Final Thoughts on Getting from Kahului to Lahaina
Hopefully, you now have a much better understanding of the different ways you can get yourself from Kahului Airport to Lahaina. If you want to lessen the stress on yourself during the vacation, using a rideshare app or shuttle service would be my personal recommendation.
If you want to leave the driving to the professional, shuttles are a great choice, and all you have to do is head to the counter and tell them what you are looking for!
Now you have some things to consider as you make plans for your next Maui trip.