Are you planning a trip to Hawaii in December and want to know where to see Christmas lights in Hawaii? Keep scrolling to find out how to see Hawaii Christmas lights on your next trip.
This post about where to see Christmas lights in Hawaii in December was written by Marcie Cheung (a Hawaii travel expert) and contains affiliate links which means if you purchase something from one of my affiliate links, I may earn a small commission that goes back into maintaining this blog.
Trying to find ways to make your Hawaii winter vacation truly special?
Well lucky for you, I have some of the best places to check out Christmas lights in Hawaii, with some of the most pretty spots in the world.
Why listen to me? I've been to Hawaii over 40 times and know it like the back of my hand!
There are so many reasons why you would want to check out Hawaii Christmas lights. The area always seems so happy and festive, and it is the perfect temperature to go out and absorb all the sights.
You will also be able to walk around with others who are also excited about seeing the lights, which can make for a great family event or romantic outing!
Without further ado, check out my guide on everything you need to know about Hawaii Christmas lights.
Want to skip all the planning and just access my detailed Hawaii itineraries complete with daily schedules, fun activities, and travel hacks? Click the button below.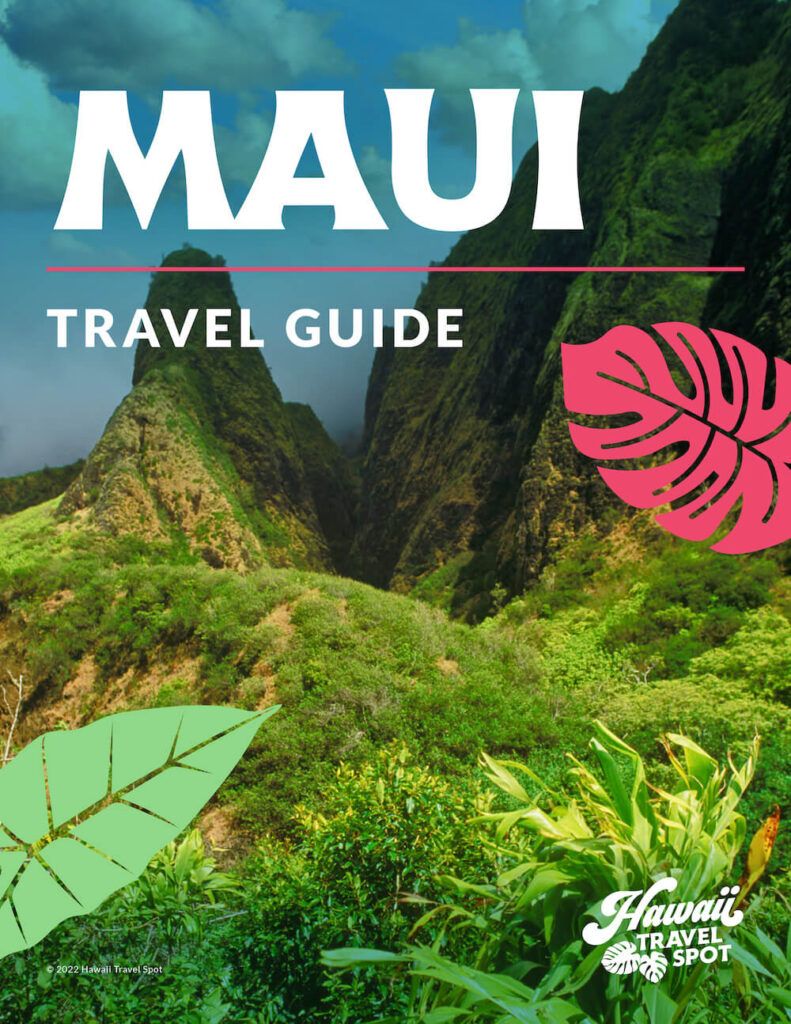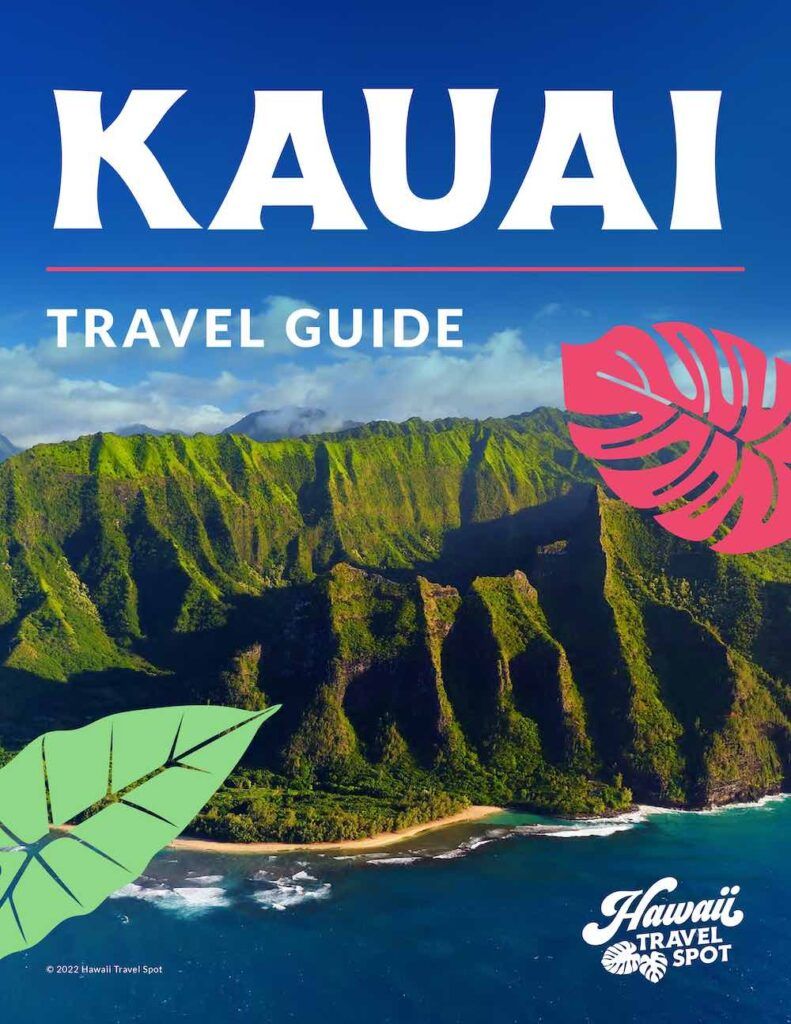 Where to See Christmas Lights on Oahu
If you are looking into spending time for Christmas in Hawaii, here are the Christmas lights that you can check out that will really add some festivity to your vacation!
Honolulu City Lights
One of the coolest places for Christmas light has got to be the show by Friends of Honolulu City Lights, that have a month dedicated solely to Christmas lights. The Honolulu City Lights are completely free, and they have lots of cool events as well!
You will be able to see a wreath contest along with an amazing tree, Shaka Santa, Mrs. Claus (Mele), and so many other things! Plus, they also have lights on all some of the businesses to help out the event.
To add to the festivity, there are plenty of activities and things to eat, which further adds to what makes this one of the coolest Christmas events in Hawaii!
Kaneohe Christmas Lights
During the holiday season, Namoku Street has all sorts of amazing light and festivities to the point where some consider it to be "Christmas Tree Lane." Along this street, you can see tons of houses lined with many Christmas lights.
Another interesting street to check out has to be 45-229 Nakuluai Street. The coolest part is that you will find tons of wooden Disney characters that were personally crafted, with some of your favorite characters like Dora, Harry Potter, and several others!
The 45-623 Hinemoe Loop truly puts you in the Christmas spirit, with the house featuring fake snow, along with all sorts of snacks and other exhibits, making this such a magical road to visit and absorb the holiday vibes.
Kapolei Christmas Lights
If you happen to be in Kapolei, I would recommend taking a peek at 91-6523 Kapolei Parkway to see one of the coolest light shows ever, with a huge Christmas tree, snow machine, and around 49,000 lights!
Even Santa and Mrs. Claus make an appearance, and you can get updates about it on this Facebook page.
91-887 Puhikani Street has another fantastic display, which creates a show that has several Disney characters in it, which really differentiates it from other traditional Christmas light shows.
Polynesian Cultural Center
Found in Laie, the Polynesian Cultural Center (PCC) has a Christmas event they have every year with tons of activities, music, and lights that are all free to the public!
These events usually last for about two weeks before Christmas and are always a fun way to get into the festivities.
You can also take the time to look at Brigham Young University Hawaii's campus to see more lights and decorations that are truly majestic. Click here to buy your Polynesian Cultural Center tickets.
Kailua Christmas Lights
On Oahu's west side, you will find that Kailua's Akumu Street has one of the largest light displays you have ever seen, with over 10,000 lights in total! While the majority of the homes you will see there are decorated, the coolest thing is that all of the lights are synchronized to Christmas music!
With inflatable decorations and other eye-catching displays, this is one of the coolest activities that travelers of all ages can enjoy.
If you want more cool things to see, 255 Kuupua Street has its house adorned with an "It's a Small World" theme, with a huge display of lights that comes with a message of peace across the globe with the decorations it has.
With many more cute things to look out for and even an homage to Snoopy, these truly are some of the coolest Christmas lights in Hawaii.
Pearl City Christmas Lights
At 98–1297 Hoohuali Place in Pearl City, you will find a Mickey and Minnie-themed light display that was decorated by Francis and Estrella Aki, who have been spreading holiday cheer for the past 30 years. Now that's some commitment!
They have all sorts of decorations ranging from Disney to bands and orchestras, and all sorts of other references! They really enjoy presenting this show to the people who stay at Aulani Resort, so you are really lucky if you happen to be staying here and they do the show!
Waikele Christmas Lights
You know that 94-226 Anapau Place in Waikele is going to be spectacular when it was featured on ABC's The Great Christmas Light Fight. With thousands of lights on the house and amazing light structures, this makes a lot of sense!
They also coordinate 20 songs with the other houses to give you a literal surround sound experience.
To really get into the holiday spirit, they accept donations so they can help out local charities. They also use solar panels to power the display, which also helps it to be environmentally friendly!
Where to See Christmas Lights on Maui
If you hope to enjoy Xmas in Maui and want to check out some lights as well, here are two of the best displays on the island that you have to check out.
Grand Wailea
A true Christmas in Maui can only be completed by checking out Grand Wailea. It has a huge tree that is fluffy and decorated with lights and also has lights scattered on the other trees within the resort as well.
In the front lobby, you can even see the whole village that was made out of gingerbread, which is crazy!
Banyan Tree Park
As the oldest tree in the whole state at a whopping 148 years old, the Banyan tree is special not only for its age but because of how festive it gets each December, by being decorated with lights.
Activities are also available on the premises as well, including cookie decorating, and some selfie opportunities with a six-foot snowman.
Where to see Christmas Lights on Kauai
If Christmas on Kauai is the way you are going and you went to check out some lights as well, here are some of the best places to get your fix.
Kauai Festival of Lights
Being completely free and one of the largest displays on the island, the Festival of Lights is a fantastic place to check out for its "Santa's Gone Kauaiian" theme, along with its decorations that were renovated from trash by some amazing teens on the island.
While there are a lot of cool displays, they have some rather atypical ones as well, like a tree decorated with SPAM cans along with Santa on a surfboard catching some waves!
Where to See Christmas Lights on the Big Island
Here are some cool places to check out on the Big Island that have awesome Christmas light displays!
Punalights
While this event initially started in 2008, the event has continually grown and has added new things added to it every year, and the lights on display are synchronized with the music as well.
Their music often differs, with it switching from holiday music to general music, but you can always check out what music they will be playing each night on their Facebook page.
Hawaii Volcanoes National Park
If you happen to be on the way to the amazing volcano on the Big Island during December, you will get to see two types of lights on the way up.
The first one is the Kilauea Military Camp, which houses current and past veterans at these cabins. During the holiday season, you will find these cabins packed with lights, garlands, and statues as you head up the volcano.
Once you make it to Kilauea, the coolest thing to see is the orange light from the actual volcano! This is an experience that you can't get anywhere else!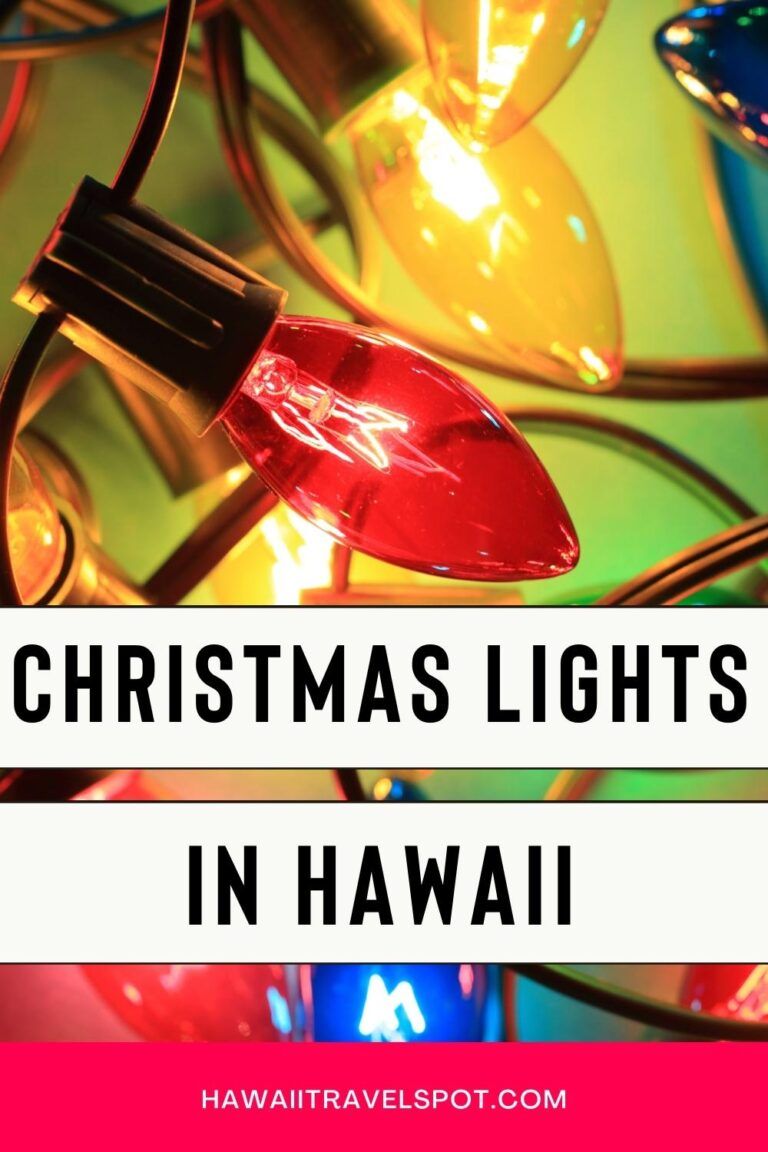 Christmas in Hawaii FAQs
Where can I see the lights on Oahu?
If you are looking for some Oahu Christmas lights, Akumu street has a huge display with several lights, that are even synced with Christmas music. Even better is that several homes on the street will be decorated to fit the festive feeling!
Is it too cold to swim in Maui in December?
Definitely not! On average, the sea temperature is going to be about 78°F, which is the perfect temperature to swim and enjoy the water.
Is December a good month to go to Hawaii?
It depends on what you are looking for. December is going to be the most expensive and crowded time in Hawaii as many people come here for a holiday getaway. However, lots of events are going on at this time, so if you are willing to deal with some of the other stuff, December can be a great time to check things out.
Hawaii Christmas Lights Wrap Up
Christmas time in Hawaii is an amazing experience that can't be replicated. While it may not fit the traditional persona of a winter wonderland, it is just as joyous and festive as it is on the Mainland!
I hope you get the chance to experience Christmas lights in Hawaii at least once in your life!