Curious how to get leis at Maui Airport for when you arrive? Scroll down to find out how to book a Maui Airport lei greeting!
This guide to how to get leis at Maui Airport contains affiliate links which means if you purchase something from one of my affiliate links, I may earn a small commission that goes back into maintaining this blog.
Are you looking for something special to make your trip to Maui extra memorable?
A lei greeting is the perfect way to start your vacation in Hawaii. The lovely island flowers will put a smile on your face and make you feel right at home.
I know you'll enjoy the pleasure of being met by someone holding a fresh flower lei. It's one of my favorite memories from my trips to Maui.
And it's super easy to get leis at Maui Airport!
Keep scrolling to find out how to make arrangements for your Maui Airport lei welcome today! Plus I'll share my personal tips on how to make your lei last as long as possible!
Don't have time to read a bunch of Hawaii blog posts and reviews? Here are some of our top picks for visiting Maui.
Popular Maui Tours/Activities
Favorite Maui Resorts/Hotels
Hyatt Regency Maui (this has a swim-up bar and tons of amazing amenities)
Andaz Maui (this is a luxury resort with the best luau on Maui)
Honua Kai Resort & Spa (this is one of our personal favorites because there are tons of pools and there are condo options)
Want to skip all the planning and just access my detailed Maui itinerary complete with daily schedules, fun activities, and travel hacks? Click the button below.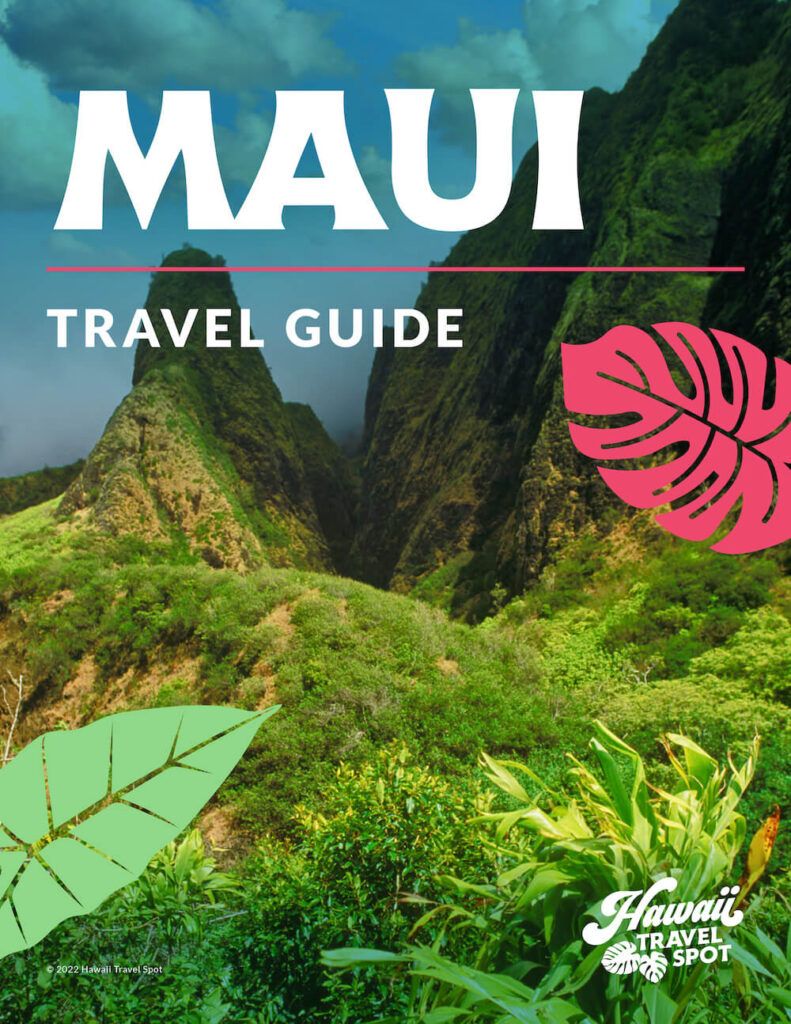 What is a Lei?
Leis have traditionally been created from natural materials like flowers, vines, nuts, and shells that are strung together and worn as ornaments. Additionally, you could observe the usage of feathers, bones, specific kinds of berries, seeds, or even leaves.
Polynesians most frequently wore leis to signify their social, political, or economic status. But they were also stunning to wear!
Some leis were manufactured to be worn in homage to Polynesian deities, while others were created to be used during chiefly peace negotiations. They gradually came to stand for respect, affection, friendship, and an open door.
Never have lei only been given as a greeting. At luaus and other special events, including as weddings and celebrations, flower leis are commonplace.
But in the islands, you may wear yours whenever you choose! Locals can be seen wearing a garland made of shells, nuts, or other items that endure longer than flowers.
How Do You Wear a Lei?
Leis are typically worn draped over the shoulders, evenly hung in front and back, rather than as a necklace.
You may also find lei po'o (flower crowns worn on the head) along with bracelets and anklets. These are frequently worn during hula dancing.
Although they are frequently given leis made of ti leaves or kukui nuts, men can wear floral leis as well.
When Did Lei Greetings Become a Thing?
Immediately following the United States' annexation of Hawaii, vessels full of tourists began to arrive. Back then, you might see lines of lei merchants eager to welcome tourists and collect money.
Americans began picturing an island retreat with a local Hawaiian greeting them with a handcrafted floral lei!
This remained the custom far into the 20th century. It gradually got less frequent along the route, particularly with the expansion of airport security. The custom changed when greeters could no longer meet you at your gate.
What is a Maui Lei Greeting Like Today?
You may savor the nostalgia of bygone eras by arranging a Maui lei greeting for your airport arrival. Your welcomer will give you and your guests a warm welcome and put leis on your shoulders.
If you have reserved a lei greeting with a shuttle, they will then gladly help you carry your baggage to your vehicle.
Does Everyone Get a Lei When They Arrive at the Airport?
NO. This could have been the case in the past, but not any longer. Today, you may pay a price to receive a lei greeting from a number of businesses before you arrive.
A lei greeting can also be included to your hotel shuttle package or given to you by someone else. If you're traveling with other people, it's a fantastic opportunity to surprise the family!
Where to Book a Maui Airport Lei Greeting
Your search for a lei greeting in Maui, Hawaii, will lead you to a variety of private businesses.
It might be complicated, but I advise using booking services that include ratings and reviews from customers who have already used the service.
My Top Pick for Maui Lei Greetings
Check out this lei greeting from Honolulu Lei Greeting for a traditional airport lei greeting in Maui. They provide a basic package that you may reserve once for the whole family.
Choose from a variety of traditional leis, premium leis, and kid-friendly leis. Even candy leis are available! Check the latest prices.
Hawaii Flower Lei representatives will greet you at the Kahului Airport's baggage claim area. Look for their official airport identification cards and someone holding a sign with the name of your group on it. They'll drape leis over your shoulders to greet you.
Then, in the spirit of Aloha, they will help you with your bags and respond to any inquiries you may have. They may assist you find connecting flights or rental cars, snap pictures of you and your family wearing leis, and more.
Romantic Maui Lei Greetings
On your honeymoon or any other romantic vacation, you may also discover couples' lei greetings if you'd want something a little more unique.
For a smaller traveling group, I prefer this one from Honolulu Lei Greetings since it eliminates booking uncertainty!
Just select a pair of leis from the many available options, such as an orchid lei for a woman and a kukui nut lei for a guy. Check the latest prices.
The couple's reservation offers another significant benefit, since the other reservation is non-refundable for no-shows such as if your flight is canceled. Your leis will be brought to your hotel if, for whatever reason, you are unable to meet your greeter.
How to Book a Lei Greeting in Maui
There are specific actions you want to follow in order to schedule your Maui lei airport greeting. To have the best experience, adhere to my advice below:
Book Your Airfare and Lodging
First and foremost, book your airfare and lodgings. When scheduling your lei welcome, you'll need this information.
Check Availability for Your Arrival Date
The steps on booking websites differ. I strongly advise inputting your arrival date and the number of passengers first so you are aware of your alternatives.
Pick Your Lei(s)
The website will ask you what sort of lei you want for each guest you plan on include in your reservation.
Double-Check Your Order
Verify again at this time that you are satisfied with your order. Verify that the arrival date, person count, and lei preferences are all accurate.
Give your specific flight and hotel information along with your payment preference.
Print Confirmation
Print the confirmation or voucher after your reservation is complete. You might receive it by email or as a pop-up message. When you meet your greeter, you will need this printed document to identify yourself.
That's pretty much all! Booking a lei greeting is simple, but it's a good idea to have all the necessary information on hand. Make everything as simple as you can so you can unwind and relish your holiday!
Tips for Booking a Hawaii Lei Greeting for Maui
There are certain considerations to make if you enjoy the sound of the traditional Maui lei greeting. For all the information, keep reading.
Learn About the Different Types of Leis Available
Leis created with tuberose should not be worn by someone who is allergic to or sensitive to scented flowers. This flower has a strong scent.
Instead, you should opt for unscented purple orchids or pick a different kind of lei, such one made of ti leaves or seashells.
Book Leis in Advance
Remember that for practical reasons, the majority of businesses that offer lei greetings require you to make reservations at least 48 hours prior to your arrival. Occasionally, if you pay a little rush charge, you can make a last-minute reservation.
Prices Range Between $35-$50 Per Person
Depending on where you book, expect to pay between $35 and $50 per person for leis at the Maui airport. This pricing includes both the work of your greeter and the cost of the lei!
The pricing may also vary depending on if you want a deluxe lei or a kukui nut lei. The cost of the add-on will generally be between $15 and $25 if you arrange your welcome together with a shuttle to your airport.
Find the Right Maui Lei Greeting Service
You must choose the type of service you like before making a lei welcome reservation in Maui. Bookings are available for both lei greetings alone and lei greetings with transportation or island visits.
To make sure you receive what you want, read the fine print along the way.
Consider Booking a Shuttle That Includes a Lei Greeting
You may reserve a shuttle instead of renting a car in Maui to go to luaus or take scenic excursions, for example. Many of these van shuttles have Lei welcomes.
Consider adding a lei to your shuttle package as a special treat if a lei greeting at the Maui airport seems too busy!
How Do You Properly Dispose of Your Lei?
It's disrespectful to throw your lei in the trash! A lei is a gift that represents friendship and affection, thus it should be treated with care.
You're meant to put it back into the earth according to tradition. Because tourists are urged to leave their lei someplace they felt a connection to the island, you are likely to see lot of leis on statues or strung in trees all across Maui.
The flowers can alternatively be taken off the thread and thrown in the sea or burned.
Reserve Your Leis at Maui Airport Today
The details you require to reserve a lei welcome in Maui, Hawaii, are now at your fingertips! Everyone enjoys traditions more when they have a historical and cultural background when they go.
The technical aspects are also the last thing you need to worry about if you've never received a lei welcome!
Breathe deeply, relax, and keep in mind that you're going on vacation! A Hawaiian greeting's main goal is to make you feel at home and at ease from the moment you arrive.
Be receptive to the friendly, individualized greeting. Enjoy their hospitality while they decorate you with the lei!