Are you planning a trip to Kauai but don't know where to stay? Keep scrolling to check out this honest Royal Sonesta Kauai review!
This honest Royal Sonesta Kauai Resort Review was written by Marcie Cheung (a Hawaii travel expert) and contains affiliate links which means if you purchase something from one of my affiliate links, I may earn a small commission that goes back into maintaining this blog.
I've visited Kauai about 25 times and I'm always checking out Kauai resorts and hotels! There are so many cool places to stay on Kauai!
Recently, I stayed at the Royal Sonesta Kauai (formerly the Kauai Marriott) which is located on the East Shore. I'd heard about their massive pool area and nearby dining options and wanted to check it out for myself.
Why should you take my advice? I've visited Hawaii more than 40 times and bring a depth of firsthand Hawaii expertise unmatched in the travel sphere.
Keep scrolling to read my honest Royal Sonesta Kauai review so you know if it's one of the Kauai hotels worth booking.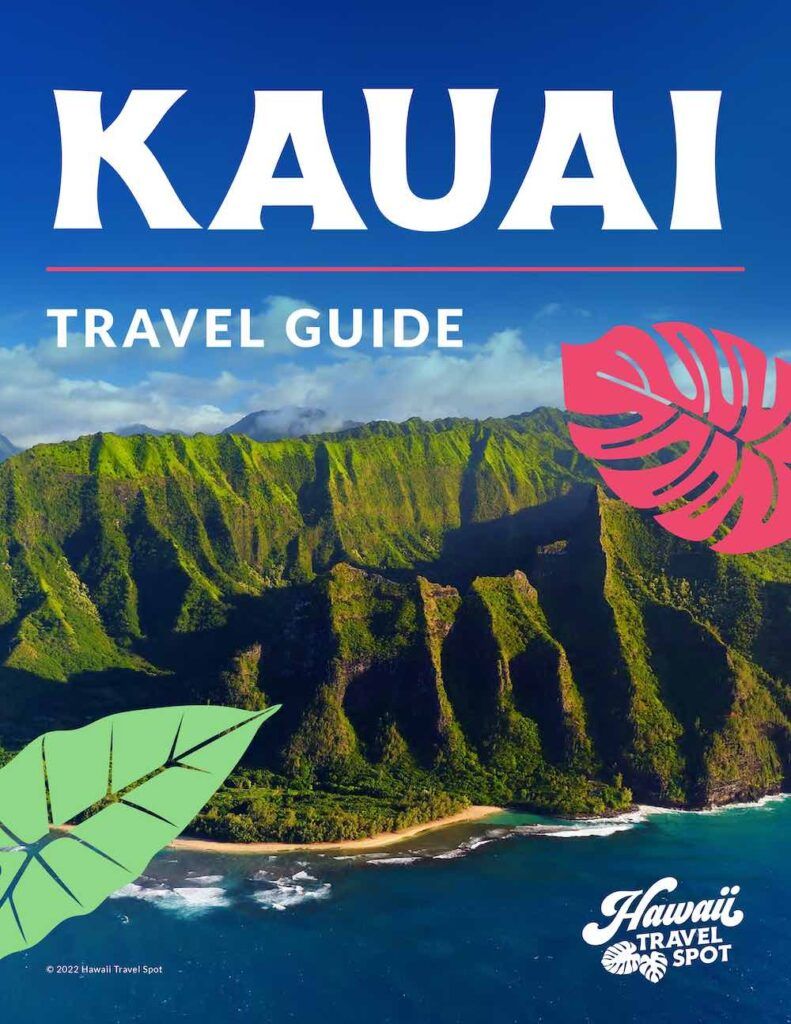 Where is the Royal Sonesta Kauai Resort?
The Royal Sonesta Kauai Resort is a gem, sitting pretty on Kalapaki Bay, just a short 2-mile hop from the Lihue Airport.
But, don't let its closeness to the airport fool you. It's like a hideaway, surrounded by Hawaii's natural beauty.
The great thing about this spot is that it's smack in the middle, making trips to all sides of Kauai super easy.
Looking for family activities? You've got the Luau Kalamaku and Kauai mountain tubing nearby.
Oh, and stores like Costco and Walmart? Just around the corner!
For those driving, they've got self-parking and even electric car charging stations. If you're flying in, their shuttle can get you to the resort in no time.
First Impressions & Check-In
As soon as we entered the Royal Sonesta Kauai Resort, the lobby's design caught my eye.
It's down an escalator, and a bit more of a walk down some stairs. This was a tad tricky, especially since I was lugging a heavy bag.
However, the small workout was quickly forgotten because the staff were so welcoming. They greeted us with warm smiles and made the check-in process a breeze.
Even with the unique layout, their friendliness made me feel right at home from the start. Check rates here.
What Was Our Room Like?
Our stay at the Royal Sonesta Kauai Resort started with our family-friendly room that had two comfy queen beds.
The room came equipped with a handy mini fridge, a table with chairs, a spacious credenza, a cozy sofa, and a clean bathroom.
Despite our luggage and belongings, the layout allowed us plenty of space to move freely, which was a big plus for our family of four.
One thing I loved was our view! We could easily see the kiddie pool from our window, and with just a slight turn to the left, we got a breathtaking view of the ocean backed by majestic mountains. It was a treat to wake up to every morning!
Inside, the room had all the essentials and more: fast internet with a speed of over 50 Mbps, a flat-screen TV, refreshing air conditioning, and a useful hairdryer.
We missed out on capturing photos since we arrived late, so I used a hotel photo above.
And although there wasn't an in-room washer or dryer, the resort did offer laundry services. Room service was also an option.
For families like ours, Royal Sonesta Kauai is an excellent pick. They're ready to help with any special room requests you might have, making sure you have a comfortable stay. Check the latest rates and availability.
Hotel Facilities at Royal Sonesta Kauai
When you think of Hawaii, you think of fun in the sun, right? For families, especially those with kids, the pool area at a resort can make or break the vacation experience.
At the Royal Sonesta Kauai Resort, the pool is a dream come true. In fact, it boasts the largest pool in Hawaii!
Designed like a beautiful Chrysanthemum flower, the pool spreads out in petal-like sections, giving each section a unique feel while staying connected to the whole. My kids were overjoyed.
There's a small water slide and a special kiddie pool, perfect for little ones like my 4-year-old. The shallow and warm waters made it a safe and delightful spot for him, while the abundance of lounge chairs meant I could relax and keep a watchful eye.
And for those who crave a little heat, there are 5 hot tubs. Three of them can only be accessed by swimming, offering a fun little adventure, while the other two are conveniently located next to the deck.
Speaking of fun, my 7-year-old couldn't get enough of the waterslide at the kiddie pool. Even during busy times, the line moved fast, making the wait minimal.
But the standout experience? Renting a cabana for a whole day.
For around $100, we got two lounge chairs, a table, and a sunshade that could be adjusted as the day went on. It was the ideal spot for me to relax while the kids played. An attendant regularly provided us with treats and refreshments, adding a touch of luxury to our day.
If pools are a deciding factor for your family getaway, the Royal Sonesta Kauai tops the list. It's not just a resort; it's a tropical paradise tailored for families.
Dining Options at the Royal Sonesta Kauai
Every vacation needs good food, and the Royal Sonesta Kauai Resort doesn't disappoint! There's a mouthwatering array of places to eat.
Kukui's on Kalapaki Beach is the resort's main restaurant, blending international and Hawaiian flavors. Whether you're in the mood for a hearty breakfast or a tropical drink by the pool, this is the place to be.
Aupaka Terrace is perfect for breakfast lovers. You'll find rich Kaua'i coffee, warm pastries, and other breakfast goodies.
But take note, their coffee is a bit on the pricey side – my soy chai latte was $8. For those looking to save, consider getting some groceries for breakfast.
Duke's Kauai gives you the real Hawaiian experience. Not only do they serve island-inspired dishes and the famous Hula Pie, but they also have an informal barefoot bar. It's super family-friendly, making it a hit with both kids and adults.
Kukui's on the Beach became our favorite breakfast spot. It's located right by the pool, offering lots of fresh air and tasty American breakfast dishes. Plus, they've got a kid's menu – a win for families!
Cafe Portofino is for those fancy dinner nights, offering Italian flavors with a fantastic ocean view. Though we didn't get a chance to try it, it's on our list for next time.
If you're more into cozy nights, they offer in-room dining, bringing the culinary delights straight to your door.
With so many options, every meal at the Royal Sonesta Kauai Resort is an adventure in flavors!
Understanding the Cost: Pricing & Packages at Royal Sonesta Kauai
If you're planning a stay at the Royal Sonesta Kauai, here's what to expect for pricing.
The average cost for a standard room ranges from $450 to $700 per night. This can change depending on the type of view you pick, like the ocean, garden, or pool.
If you're traveling with a bigger group or just need an extra bed, they do offer rollaway beds. But remember, it'll cost an extra $30 each night.
As for special deals, it's a good idea to check their website or call ahead. Sometimes, they have promotions for tourists that can save you some cash.
Considering the location, amenities, and service, the value for your money feels just right for such a tropical getaway!
Nearby Attractions & Activities at the Royal Sonesta Kauai
If you're the kind who likes to explore, the Royal Sonesta Kauai Resort is in the perfect spot!
Just a short walk away, you can play some golf at the Kauai Lagoons Golf Club or relax on Kalapaki Beach. Both are only about 5 minutes on foot.
Want to enjoy a park? Nawiliwili Park is an 11-minute walk from the resort. If golf's your thing, The Ocean Course at Hokuala is just 13 minutes away by walking.
If you're thinking of heading to the harbor, Nawiliwili Harbor is a quick 3-minute drive.
And don't worry about getting to and from the airport; Lihue Airport is a speedy 7-minute drive.
The hotel can also help arrange tours or experiences to make your stay even more special. So, there's always something to do nearby!
Royal Sonesta Kauai FAQs
How does this hotel stand out from its competitors in Hawaii?
While it doesn't have the same bells and whistles that other "fancy" Hawaii resorts offer, it's still a fabulous hotel with an incredible pool area.
Is the location practical for the activities and sights I want to enjoy?
Absolutely! With its central location, it's pretty easy to get up to North Shore Kauai as well as go south to Poipu, or even go west to Waimea Canyon. Plus, it's really close to several waterfalls.
Is it worth the price, and am I getting good value for my money?
The rooms are typical hotel rooms but they are cheaper than Poipu resorts. I think it's a pretty good value if you want to stay at a resort on Kauai. If you're just planning on sleeping there, you can find cheaper options.
Conclusion & Personal Verdict on the Royal Sonesta Kauai
The Royal Sonesta Kauai Resort is a gem, especially for families. One of its biggest draws is Kalapaki Beach, perfect for kids and water activities. It's super close, making it easy for beach days.
The resort spa offers a touch of luxury, with options like beachside massages.
But, there are some things to note. The check-in process might be a bit of a trek, especially if you have heavy bags. Parking can be a challenge, and valet, though available, can be costly.
However, for families wanting a central location with great amenities, this resort is a top choice. I'd definitely recommend it for families and can't wait to return!
Rating for the Royal Sonesta Kauai
Overall Score: 8/10 ⭐️⭐️⭐️⭐️⭐️⭐️⭐️⭐️
Location: 9/10 – The resort's central location is perfect for those wanting to explore Kauai. With Kalapaki Beach nearby, offering swimmable waters and epic views, plus plenty of dining and shopping options within walking distance, it's a traveler's dream.
Service: 7/10 – The staff was friendly, but the check-in process and parking were a bit cumbersome at times.
Amenities: 7/10 – While the pool is impressive, the resort doesn't offer as many amenities as some other Kauai resorts.
Dining: 8/10 – Lots of dining options around, satisfying various taste buds, but prices can be on the higher side for some selections.
Value for Money: 8/10 – Given its location and offerings, it provides a good balance between cost and experience, although parking can be frustrating.
Overall, the Royal Sonesta Kauai offers a solid experience for travelers, especially those with families, who value location and dining variety.