Are you planning a trip to Kauai but don't know where to stay? Keep scrolling to check out this honest Koloa Landing Resort review!
This honest Koloa Landing Resort Review was written by Marcie Cheung (a Hawaii travel expert) and contains affiliate links which means if you purchase something from one of my affiliate links, I may earn a small commission that goes back into maintaining this blog.
I've visited Kauai about 25 times and I'm always finding new best places to stay in Poipu! I mean, there are TONS of amazing options!
Recently, I stayed at the Koloa Landing Resort which is located on the South Shore. I'd heard about their amazing pool area and spacious units and wanted to check it out for myself.
Why should you take my advice? I've visited Hawaii more than 40 times and bring a depth of firsthand Hawaii expertise unmatched in the travel sphere.
Keep scrolling to read my honest Koloa Landing Resort review so you know if it's one of the Poipu hotels worth booking.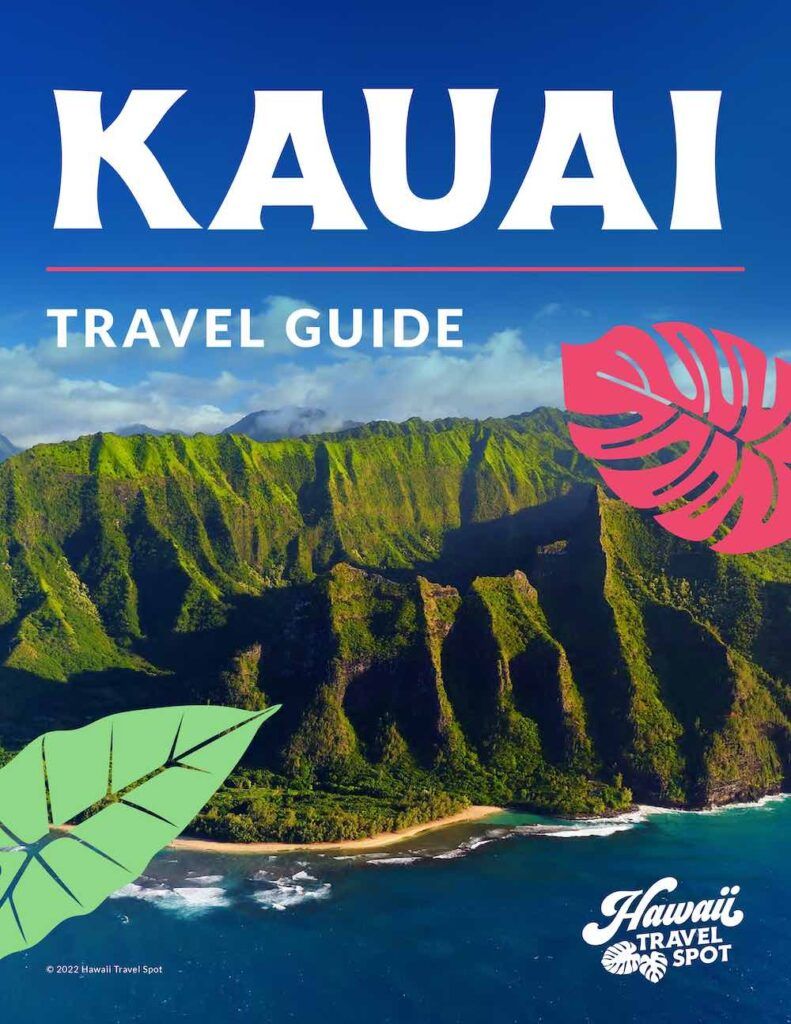 Where is the Koloa Landing Resort on Kauai?
The Koloa Landing Resort sits on Kauai's sunny South side, close to the famous Spouting Horn in Poipu.
Getting there is a breeze, with just a 20-30 minute drive from the Lihue Airport. But remember, they don't have an airport shuttle, so plan your ride in advance.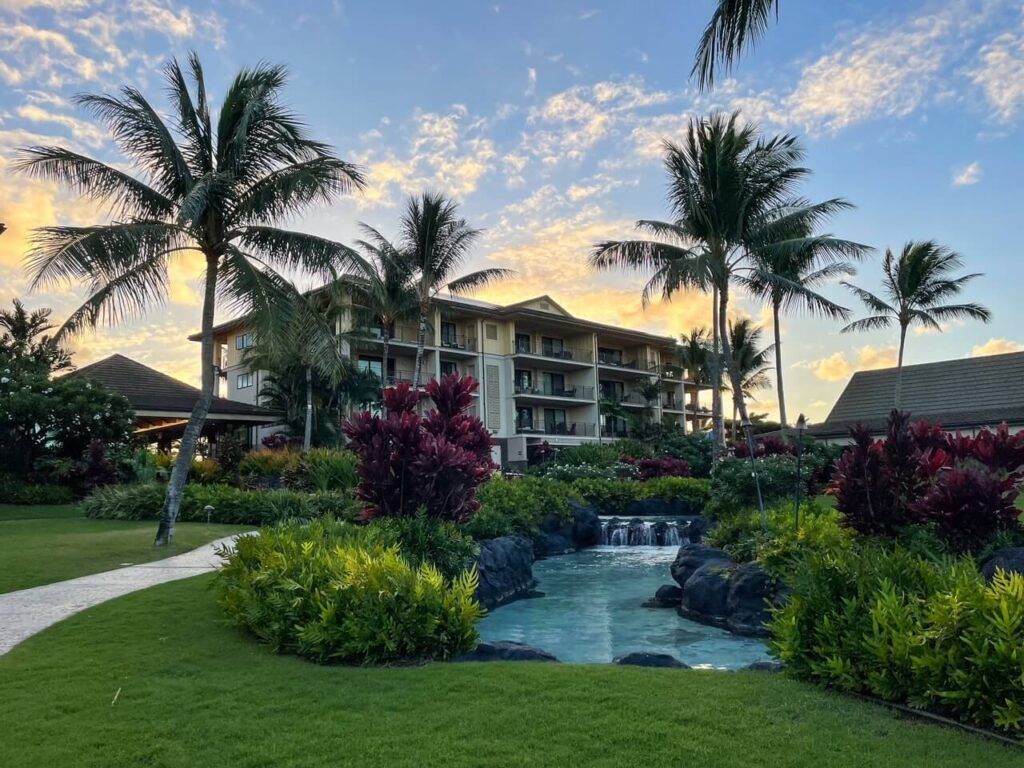 Once you're at the resort, they do offer a free shuttle for exploring the Poipu area. Families love this spot since it offers a full resort experience.
If you're driving, valet parking is handy and costs USD 12 per day. Plus, there are spaces for those needing wheelchair-accessible parking.
First Impressions & Check-In
Stepping into Koloa Landing Resort, the architecture and decor immediately grabbed our attention. It has that unique blend of modern and traditional Hawaiian styles.
The staff were polite, but things felt a bit rushed. We missed out on our leis, which was a bummer.
While checking in was quick and we got our room by 4 p.m., getting our luggage was a challenge. It took hours!
We understand that they were understaffed, but waiting for so long was tiring. Thankfully, once we reminded them, they delivered our bags within 30 minutes. Check rates here.
What Did Our Room Look Like?
Our room at the Koloa Landing Resort was more than we could've hoped for!
We stayed in Building 11, room 114, right behind the Holoholo Grill. The room was huge!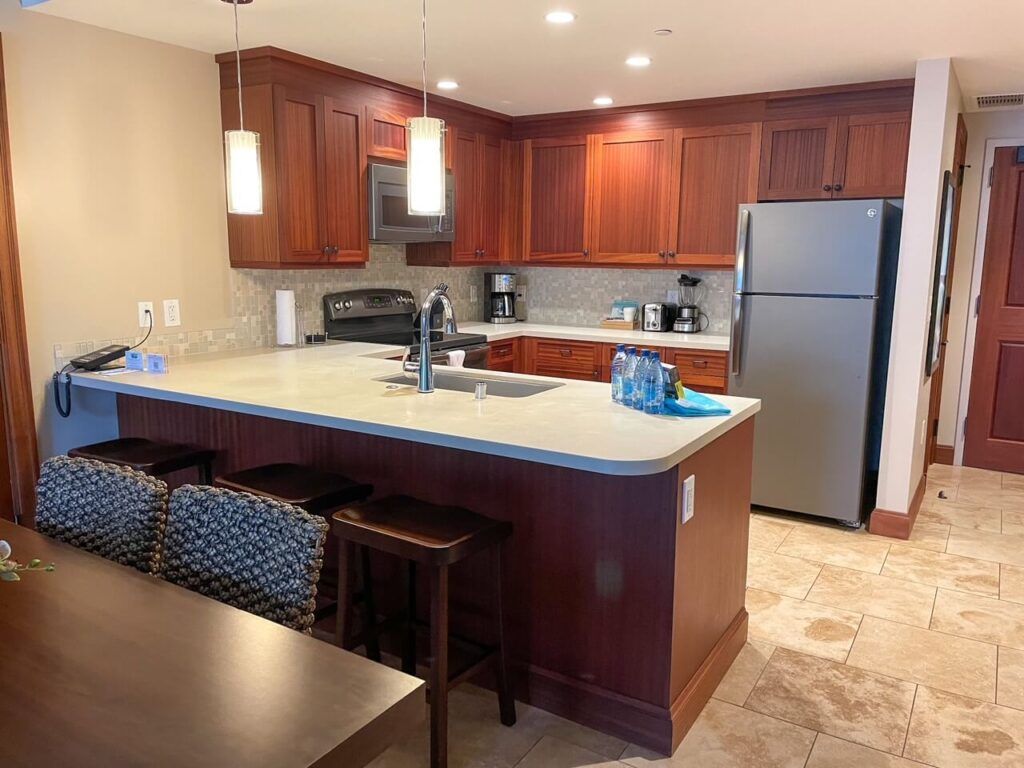 The kitchen felt like home with all its modern appliances like a fridge, stove, and even a blender. It was great having a dining area for meals.
The living room was comfy, complete with a TV that even had Netflix! Plus, the sofa turned into a cozy bed.
The main bedroom was spacious and the bed? Super comfy!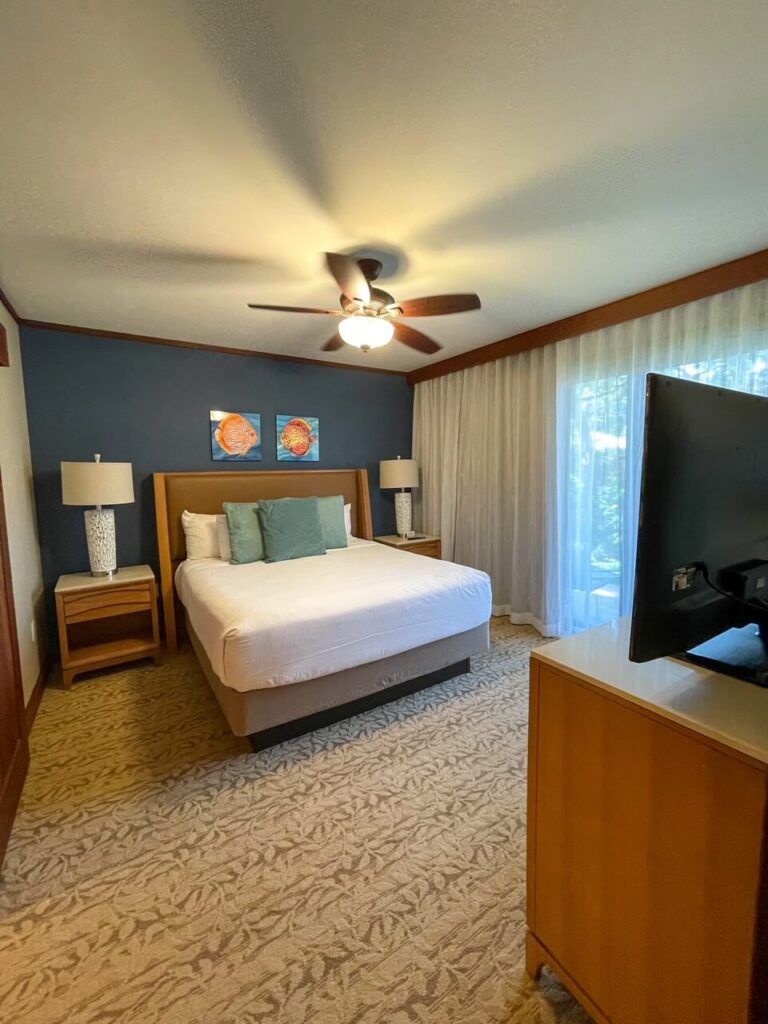 The room had not one, but two bathrooms. One had a big tub, which our kids loved, and the other had a large shower. Each bathroom was stocked with lovely toiletries that smelled wonderful.
A major bonus was the washer/dryer in our room, super helpful for drying swimsuits or doing quick laundry.
Everything about our stay felt thoughtful and designed for comfort! Check the latest rates and availability.
Hotel Facilities at Koloa Landing Resort
Koloa Landing Resort is like a dream come true for anyone looking for a mix of fun and relaxation.
The standout feature? Their pool! In fact, USA Today's 10Best voted it the Best Pool in America in 2020 and 2021. It's huge!
For the kiddos, there's a zero-entry pool and a neat splash pad, while everyone can enjoy swimming through waterfalls, exploring caves, and speeding down the waterslides.
One of the slides is super tall, perfect for brave adventurers!
If you love views, the infinity pool overlooking the resort and ocean will leave you in awe. And when you need a break, dip into one of their cozy hot tubs.
Thinking of something more luxurious? They have a full-service spa!
Even though we didn't try it, I heard they offer massages, facials, and more in rooms that even have a private balcony and a unique Japanese tub.
For fitness enthusiasts, there's a 24-hour gym, a volleyball court, a putting green, and even a soccer field. So no excuses!
If the beach calls you, there are two access points from the resort, but I'd advise going a bit further if you want calmer waters for family swimming.
A small piece of history awaits too, with an old lava tube and traces of an ancient train track from sugar plantation days on-site. So not only do you get luxury, but a touch of Kauai's past too!
Dining Options at the Koloa Landing Resort
At Koloa Landing Resort, you won't go hungry with their array of food choices.
First, there's the Gourmet Marketplace right in the lobby. It became our go-to morning spot for coffee and quick bites.
They serve delightful specialty coffee drinks, breakfast items, and lunch goodies like sandwiches. Oh, and don't forget the guava bread and their tasty kombucha!
The resort's main restaurant, Holoholo Grill, offers a sit-down dining experience. Open for all meals, this place is where you get your poolside orders too.
Their breakfast was delightful, especially the taro french toast. And for lunch or dinner, the flatbread margarita pizza is a must-try! For the little ones, they offer a standard kids menu, perfect for hungry tummies after pool play.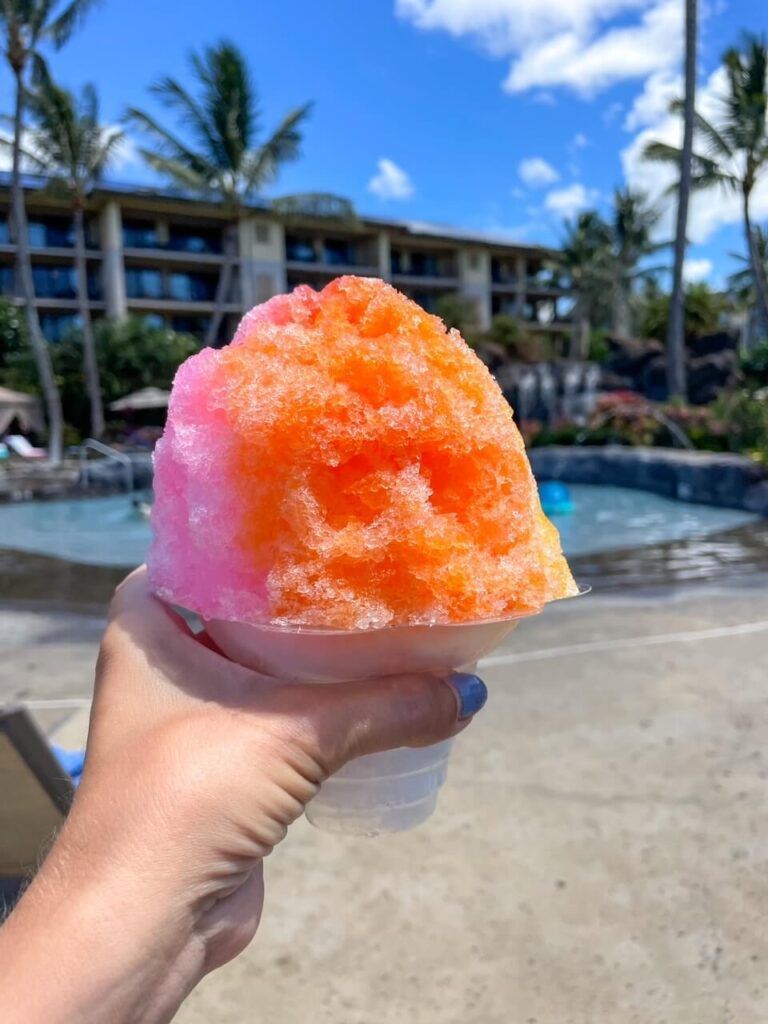 And if you're chilling by the pool and want a refreshing treat, head to the Beach Hut. It's not just for beach gear; it's a paradise for sweet cravings.
We treated ourselves to shave ice daily! They have different sizes, including one with ice cream at the bottom. Yum!
All in all, Koloa Landing ensures guests have a variety of dining options to choose from, each one more delightful than the last. Whether you're looking for a full meal or just a quick snack, they've got you covered!
Understanding the Cost: Pricing & Packages at Koloa Landing Resort
If space is what you're looking for on your vacation, Koloa Landing Resort has got you covered.
Their Deluxe Studios are massive! At about 500 square feet, they're almost double the size of standard hotel rooms on Kauai.
Now, if you're thinking of going even bigger, they have Villas that range from one to three bedrooms, boasting 800 to a whopping 2,700 square feet of space.
And for the ultimate luxury, there's the four-bedroom penthouse with a huge 3,600 square-foot space.
Price-wise, a night in a Deluxe Studio typically ranges from $700-$800.
But here's the good news: they offer special kamaaina rates for locals. And if you're planning a longer stay, they have deals for stays of five nights or more.
Considering the size and luxury of the accommodations, the pricing offers good value for the experience you're getting.
Nearby Attractions & Activities at the Koloa Landing Resort
One of the great things about Koloa Landing Resort is its prime location! Within just a short walk, you have a variety of places to explore.
Fancy some shopping? Shops at Kukuiula are just a 5-minute stroll away, and Poipu Shopping Village is just 8 minutes on foot.
If you're looking to dip your toes in the sand, Baby Beach is a mere 12-minute walk, with Kiahuna Beach and Lawai Beach not far behind.
Want a caffeine fix? Little Fish Coffee is only 11 minutes away, and for a delightful meal, Beach House Restaurant is an 18-minute walk.
Inside the resort, there are fitness and yoga classes to keep you active.
And if you're planning a beach day, they make it super easy – just pop over to their activity hut and rent all the beach gear you'll need. No fuss, no hassle!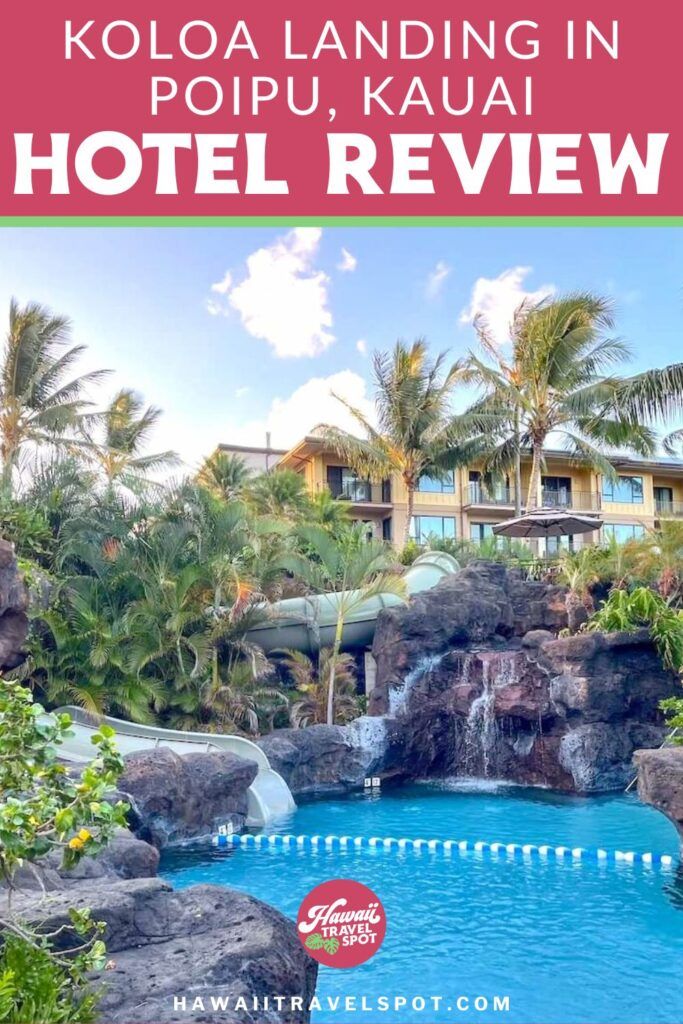 Koloa Landing Resort FAQs
How does this hotel stand out from its competitors in Hawaii?
We've stayed a LOT of places on Kauai and this is hands-down one of our favorite Kauai resorts! The pool area is phenomenal and the rooms are so large and have great amenities like a full kitchen, huge bathrooms, and washer/dryers.
Is the location practical for the activities and sights I want to enjoy?
Koloa Landing Resort is in the heart of Poipu, which is a popular Kauai resort area. It's pretty convenient to visit Waimea Canyon as well as head to the Lihue area. The North Shore is a much longer drive, but still totally doable.
Is it worth the price, and am I getting good value for my money?
If you are looking for a luxury Kauai resort with an amazing pool, dining options, and large rooms, it's worth the money. However if you are just planning on sleeping here and spending most of your time exploring Kauai, you might not get your money's worth.
Conclusion & Personal Verdict on the Koloa Landing Resort
Staying at Koloa Landing Resort was a delight for our family. The resort's prime location, combined with its outstanding pool, made it a big hit with the kids. They even declared it the best hotel in Hawaii!
It's perfect for families seeking a mix of relaxation and nearby activities.
Yet, no place is without its flaws. We experienced some delays with bell services, and a misleading smoothie order was a tad disappointing.
Also, for families needing extra sleeping arrangements, it's important to note that roll-away beds aren't available.
Despite these hiccups, our overall experience was overwhelmingly positive. We're eagerly anticipating our next visit!
Rating for the Koloa Landing Resort
Overall Score: 9/10 ⭐️⭐️⭐️⭐️⭐️⭐️⭐️⭐️⭐️
Location: 9/10 – Close to shops, restaurants, and beaches, making it super convenient for families.
Service: 7/10 – Generally good, but the luggage delay was a noticeable hiccup.
Amenities: 10/10 – Between the massive pool and in-room washer/dryers, they've got almost everything a family needs.
Dining: 8/10 – Delicious offerings and convenience, but a high-end restaurant would've been the cherry on top.
Value for Money: 9/10 – The spacious rooms and amenities provide great value, especially with affordable valet and self-parking options.