Are you planning a trip to Kauai but don't know where to stay? Keep scrolling to check out this honest Grand Hyatt Kauai review!
This honest Grand Hyatt Kauai Resort Review was written by Marcie Cheung (a Hawaii travel expert) and contains affiliate links which means if you purchase something from one of my affiliate links, I may earn a small commission that goes back into maintaining this blog.
I've visited Kauai about 25 times and I'm always finding amazing places to stay in Poipu! I mean, there are TONS of fabulous options!
Recently, I stayed at the Grand Hyatt Kauai Resort & Spa which is located on the South Shore. I'd heard about their amazing pool area and gorgeous ocean views and wanted to check it out for myself.
Why should you take my advice? I've visited Hawaii more than 40 times and bring a depth of firsthand Hawaii expertise unmatched in the travel sphere.
Keep scrolling to read my honest Grand Hyatt Kauai review so you know if it's one of the Poipu hotels worth booking.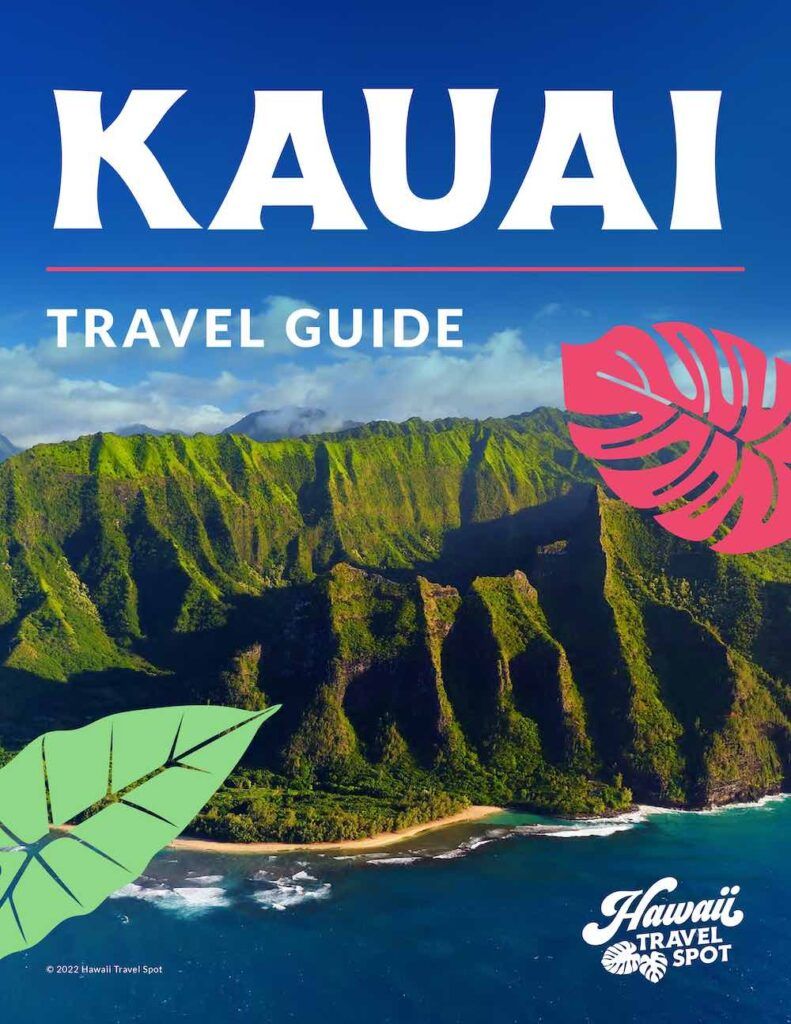 Where is the Grand Hyatt Kauai Resort & Spa?
The Grand Hyatt Kauai Resort is beautifully set on Shipwreck Beach, just 30 minutes from Lihue Airport.
Nestled in Poipu, this oceanfront resort boasts over 600 rooms, a spa, top-notch restaurants, and even a golf course. It's perfect for families wanting sunshine during winter, as Poipu stays dry and bright.
Interested in exploring Kauai? The resort is close to Waimea Canyon, Kokee State Park, the Shops at Kukui'ula Village, and fun activities like ziplining and luaus.
For guests driving, they offer free self-parking, while valet parking costs $30 but includes in/out privileges.
First Impressions & Check-In
When we first arrived at the Grand Hyatt Kauai Resort, we were greeted with fresh purple orchid leis, which my kids absolutely loved! Even though we checked in late at night, the front desk had them ready for us.
The lobby had a special touch – real parrots in designated spots! It added to the island vibe of the place. The architecture and decor beautifully captured the spirit of Hawaii.
The staff was professional and welcoming, making us feel right at home. Our check-in process was quick and efficient, and our luggage was immediately taken to our room. A great start! Check rates here.
What Did Our Room Look Like?
At the Grand Hyatt Kauai Resort, we settled into the 2 Queen Beds Partial Ocean View room. Immediately, we were smitten!
The room was spacious and adorned with delightful island-themed decorations. The wooden accents added a touch of warmth and elegance.
With two young kids in tow, we were grateful for ample space to store our luggage and belongings.
A table with chairs was handy for our room service meals. A highlight was the lanai – from which we could catch glimpses of the ocean and have a panoramic view of the resort.
Our room was well-equipped to ensure comfort. Air conditioning kept us cool, and the flat-screen TV provided entertainment.
While we stayed in one room type, the resort offers a range of options to suit different needs. Standard rooms don't typically have extra beds, but special requests for amenities like rollaway beds can be made.
Additionally, rooms come with a ceiling fan and refrigerator, and you can even request a microwave.
For those needing to connect multiple rooms, options are available. Overall, our accommodation was a delightful blend of comfort and style! Check the latest rates and availability.
Hotel Facilities at Grand Hyatt Kauai
The Grand Hyatt Kauai Resort boasts an impressive array of facilities that promise to keep everyone entertained.
For starters, the resort has a whopping five pools! But that's not all; they've also got a saltwater lagoon, a thrilling 150-foot waterslide, and a lazy river that winds its way through mystical caves and refreshing waterfalls.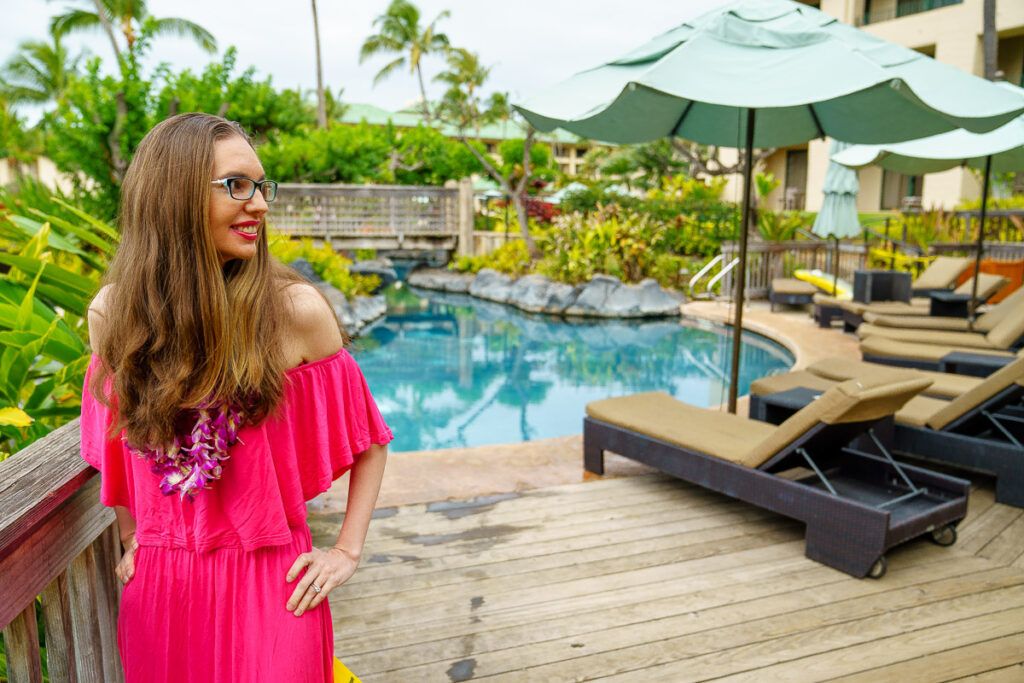 The lazy river isn't just for floating, either – you can play volleyball or basketball in its waters, making it a hit with the kids.
If you're more of a beach person, the lagoon offers a sandy retreat where you can feel the ocean's touch without straying too far from the poolside.
Need some peace and quiet? There's an exclusive adult pool where you can dive into your favorite book without interruption. For those chilly moments or nights, a hot tub awaits.
All around the pool area, you'll find tons of lounge chairs. Some come with umbrellas to shield you from the sun, but if you desire full shade and a touch of luxury, you can rent a cabana. Prices vary, but the comfort and privacy are well worth it.
What I personally loved were the multiple cozy spots around the pools – perfect for unwinding. As much fun as the waterslide and lagoon were, my kids adored the saltwater lagoon the most.
In retrospect, I wish we'd allocated more pool relaxation time during our stay. It truly stands out as one of the Grand Hyatt Kauai's premier features.
If you're planning a Kauai vacation here, make sure to carve out ample time for these delightful water havens!
Dining at Grand Hyatt Kauai
The Grand Hyatt Kauai Resort spoils its guests with a rich array of dining choices. In total, there are seven unique bars and eateries on-site, each offering a distinct flavor palette and ambiance.
Tidepools is a standout, known not only for its delicious offerings but also for its stunning design. Imagine dining in a hut that appears to float over a koi pond!
Nearby, Stevenson's Sushi & Spirits beckons with indoor seating and an outdoor lanai, perfect for sunset viewings.
If you're an early riser, 'Ilima Terrace serves a hearty breakfast buffet. But if you're like me and prefer a light start with a view, Seaview Terrace offers coffee and pastries against the backdrop of a breathtaking ocean vista.
For those spending their day by the pool, Hale Nalu is a godsend, with its diverse menu ranging from full meals to shave ice.
For those who fancy a drink, the resort houses two bars: Captain's Bar and Shipwreck Bar. Both provide splendid ocean views, ensuring relaxation with every sip.
There's also the convenience of in-room dining, which is a lifesaver, especially for families.
And if you're in the mood for an exclusive treat, consider upgrading to the Grand Hyatt Kauai Club Lounge. It promises a curated food experience, complemented by concierge services.
All the food and beverage establishments at the resort prioritize sustainably sourced ingredients from local vendors. The vast variety ensures there's something to tantalize every taste bud!
Understanding the Cost: Pricing & Packages at Grand Hyatt Kauai
At the Grand Hyatt Kauai, there are various rooms and suites to pick from.
Depending on what you want to see from your window, you can get rooms with pool views, garden views, or even stunning ocean views.
On average, standard rooms usually cost between $800 to $1,000 a night. This might seem pricey, but the beauty and luxury you get are top-notch!
Plus, if you're a Hyatt member, there's good news. You can snag some special deals which can help save some money.
So, if you're planning to enjoy a luxurious stay in Kauai, and you want good value for your money, this resort is a solid pick. Remember to check for member discounts if you're part of the Hyatt Club!
Nearby Attractions & Activities at the Grand Hyatt Kauai
The Grand Hyatt Kauai Resort is perfectly placed for fun adventures!
Just a short 3-minute walk, and you're at the Poipu Bay Golf Course. If you love nature, the Maha'ulepu Heritage Trail is only 5 minutes away on foot.
For beach lovers, both Shipwreck Beach and Brennecke Beach are close. It's an 8-minute walk to Shipwreck Beach, and about 17 minutes to Brennecke. If you continue for just a bit more, in 20 minutes, you'll reach the lovely Poipu Beach.
But wait, there's more! The resort hosts its own on-site luau. So, you can experience Hawaii's rich culture without even leaving the property.
Whether you're into walking, beach days, or cultural experiences, there's something for everyone close by.
Environment & Sustainability
The Grand Hyatt Kauai Resort isn't just luxurious; it's also eco-friendly!
The resort is an "Eco-Certified Property", meaning they're recognized by the Green Key Eco-Rating Program. This program checks how places like the Grand Hyatt help the environment, community, local culture, and economy.
One cool thing? There's a station in the lobby to refill your reusable water bottles. So, guests can easily reduce plastic waste. It's great to see a big resort taking steps to care for our planet!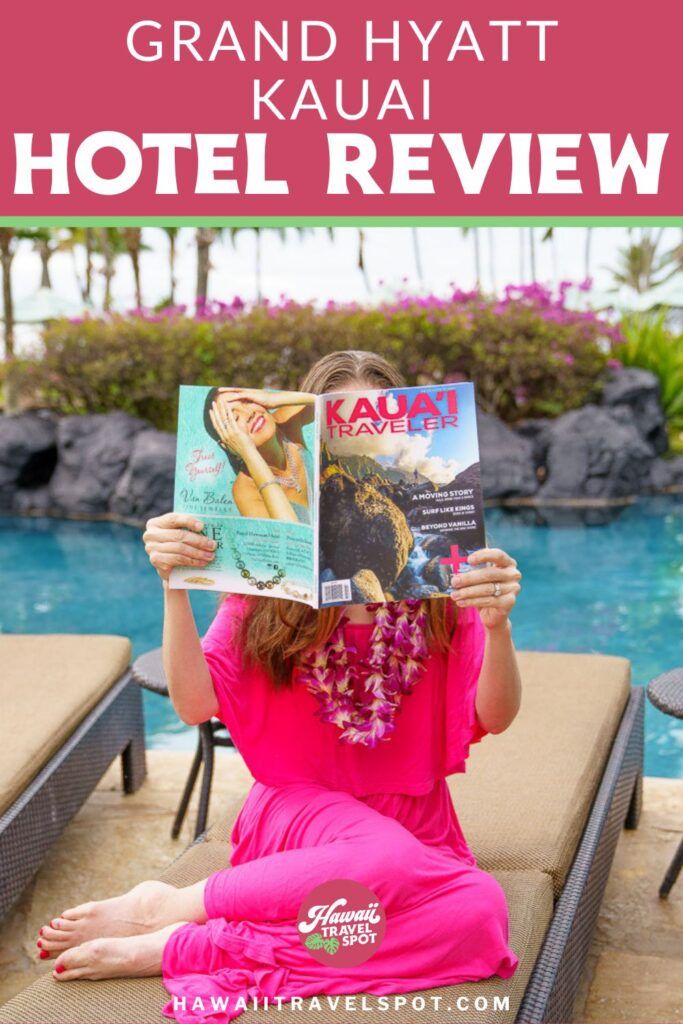 Grand Hyatt Kauai FAQs
How does this hotel stand out from its competitors in Hawaii?
If you're looking for luxury resorts on Kauai, the Grand Hyatt Kauai should be near the top of your list right next to the Koloa Landing Resort. Those are two of the nicest Kauai resorts and they are both in Poipu.
Is the location practical for the activities and sights I want to enjoy?
The Grand Hyatt Kauai Resort & Spa is in the heart of Poipu, which is a popular Kauai resort area. It's pretty convenient to visit Waimea Canyon as well as head to the Lihue area. The North Shore is a much longer drive, but still totally doable.
Is it worth the price, and am I getting good value for my money?
If you are looking for a luxury Kauai resort with an amazing pool, dining options, and an on-site luau, it's worth the money. However, if you are just planning on sleeping here and spending most of your time exploring Kauai, you might not get your money's worth.
Conclusion & Personal Verdict on the Grand Hyatt Kauai
The Grand Hyatt Kauai is truly a gem for families. The amazing pool area, great food options, and sunny location are big wins.
But remember, Shipwreck Beach isn't for kids to swim. To find a kid-friendly beach, you'll need a short drive.
While the resort's location is great for Poipu activities, trips to the East or North Shore do take time.
But for families wanting a fun, sunny spot with top-notch amenities, this place shines. The free self-parking is a plus for travelers with rental cars.
Bottom line: for families, especially with kids, I'd say it's a must-visit. We'll be back!
Rating for the Grand Hyatt Kauai
Overall Score: 9/10 ⭐️⭐️⭐️⭐️⭐️⭐️⭐️⭐️⭐️
Location: 8/10 – The resort's location is beautiful, but the beach in front isn't great for swimming. Some attractions aren't in easy walking distance.
Service: 9/10 – Staff is friendly and helpful. They made our stay comfortable.
Amenities: 10/10 – From the waterslide and pool area to the saltwater lagoon, it's fantastic.
Dining: 9/10 – Lots of tasty options. The on-site luau is a special treat!
Value for Money: 9/10 – While it's a bit pricey, the experience and amenities make it worth it.