Are you pregnant and heading to Hawaii but don't know which island to pick? Keep scrolling to find out the best Hawaiian island for babymoon vacations that will blow your mind!
This post about the best Hawaiian island for babymoon vacations contains affiliate links which means if you purchase something from one of my affiliate links, I may earn a small commission that goes back into maintaining this blog.
Have you been dreaming of the perfect Hawaii babymoon?
You might be looking for a final romantic getaway before the baby comes. Or maybe you want a big adventure in one of the most beautiful places in the world while you can still see your feet.
Hawaii offers it all on each of its major islands. Keep reading to find out which one is right for you!
Having a baby is a magical time, but it's also a big adjustment. A babymoon is a great way to soak up every last minute of alone time with your significant other (and every last minute of sleep).
The Hawaiian Islands are one of the best babymoon destinations in the world, with luxury resorts, unforgettable scenery, and tourist-friendly attractions. But what's the best Hawaiian Island for a babymoon? That all depends on what kind of experience you're looking for.
So, let's go over what each island offers for your big Hawaiian babymoon!
Want to skip all the planning and just access my detailed Hawaii itineraries complete with daily schedules, fun activities, and travel hacks? Click the button below.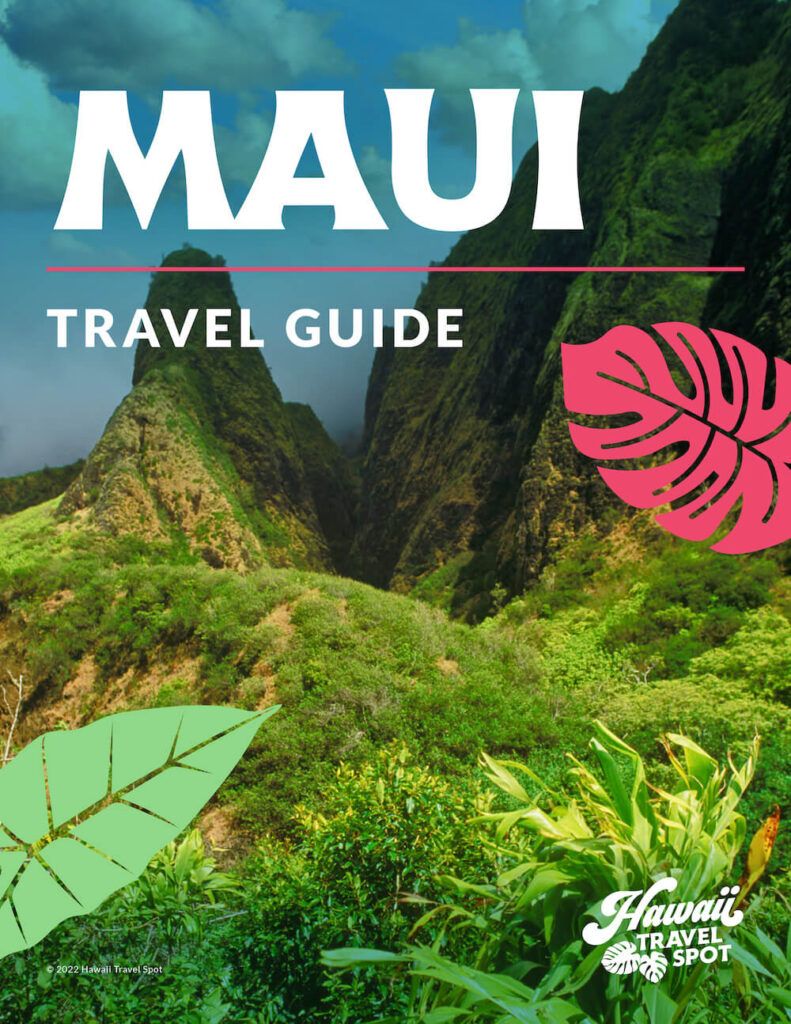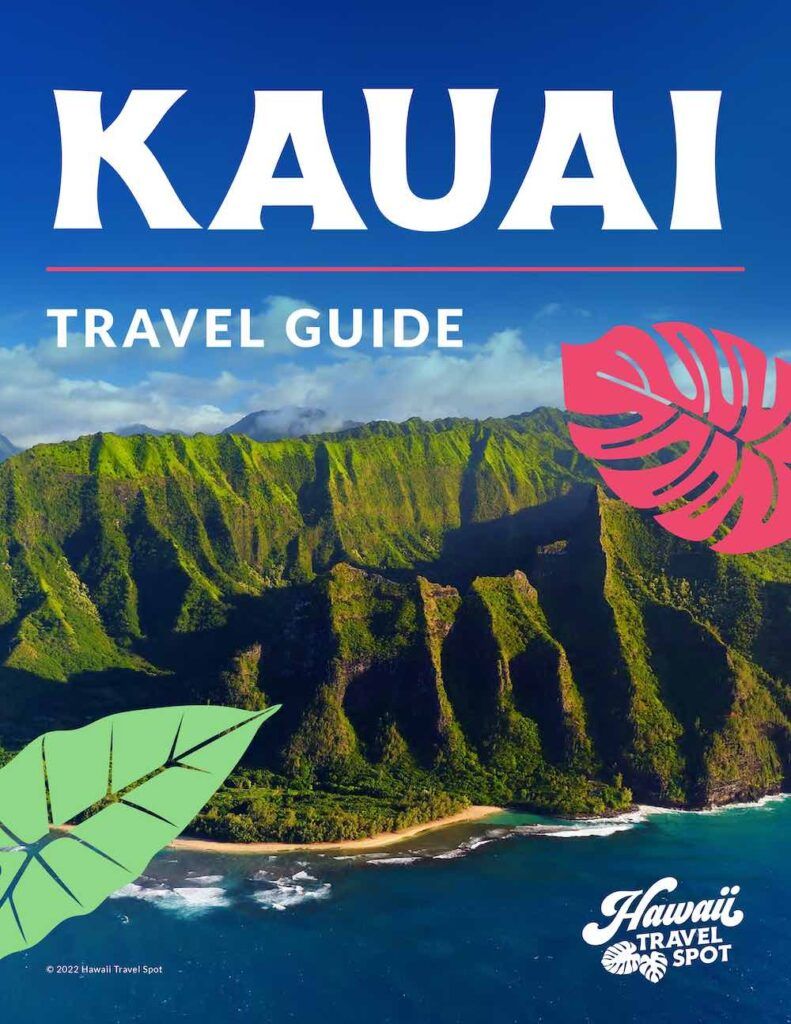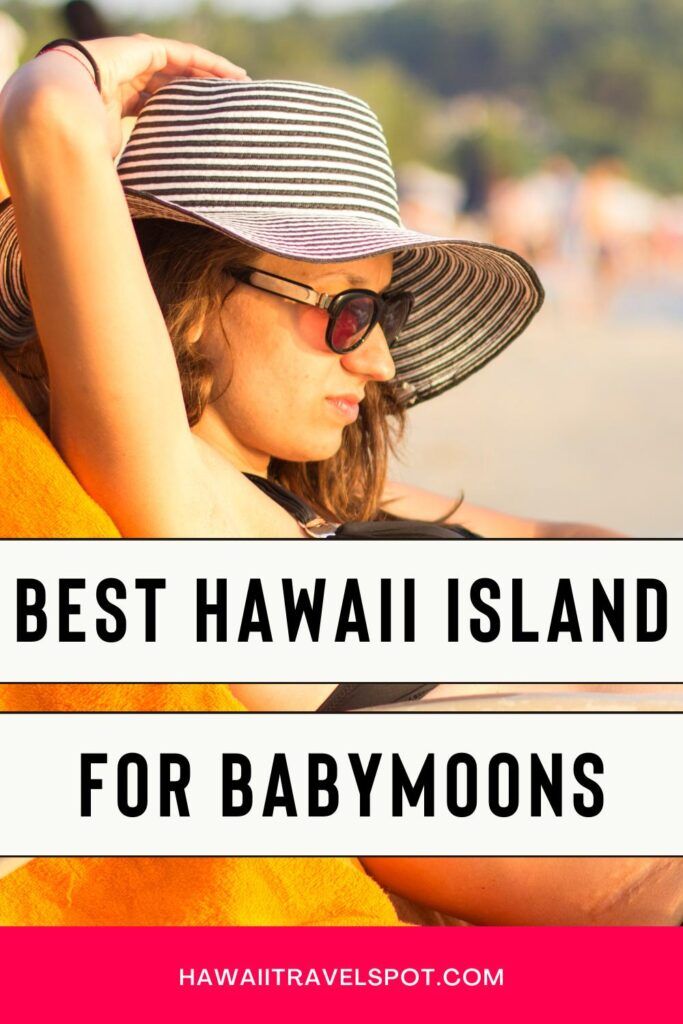 Best Island for a Babymoon in Hawaii
I've been to Hawaii close to 40 times since I was a child. Today I travel there with my husband and 2 children, so I've experienced Hawaii both as a single woman and now with kids!
From my perspective, Oahu or Maui are the best overall islands for a Hawaii babymoon.
Across the board, both islands have the best resorts, attractions, opportunities to relax, adventure activities, and more. However, Big Island, Kauai, and even Lanai offer wonderful opportunities, depending on your interests.
Below you can read an overview of the best things to do on a Hawaii babymoon on each island. You can also see lists of the best resorts on each island because you should be as comfortable as possible when you're pregnant in Hawaii!
Keep reading to make the best choice for your babymoon in Hawaii.
Save Money with Points
Here are the best credit card offers for people who travel and want to use points to pay for airfare and hotels in Hawaii.
Lana'i
Lana'i is the perfect place to enjoy a low-key luxury babymoon in Hawaii! Plus, the island is just a short ferry ride from Maui. However, you won't find the typical tourist experience on Lana'i Island.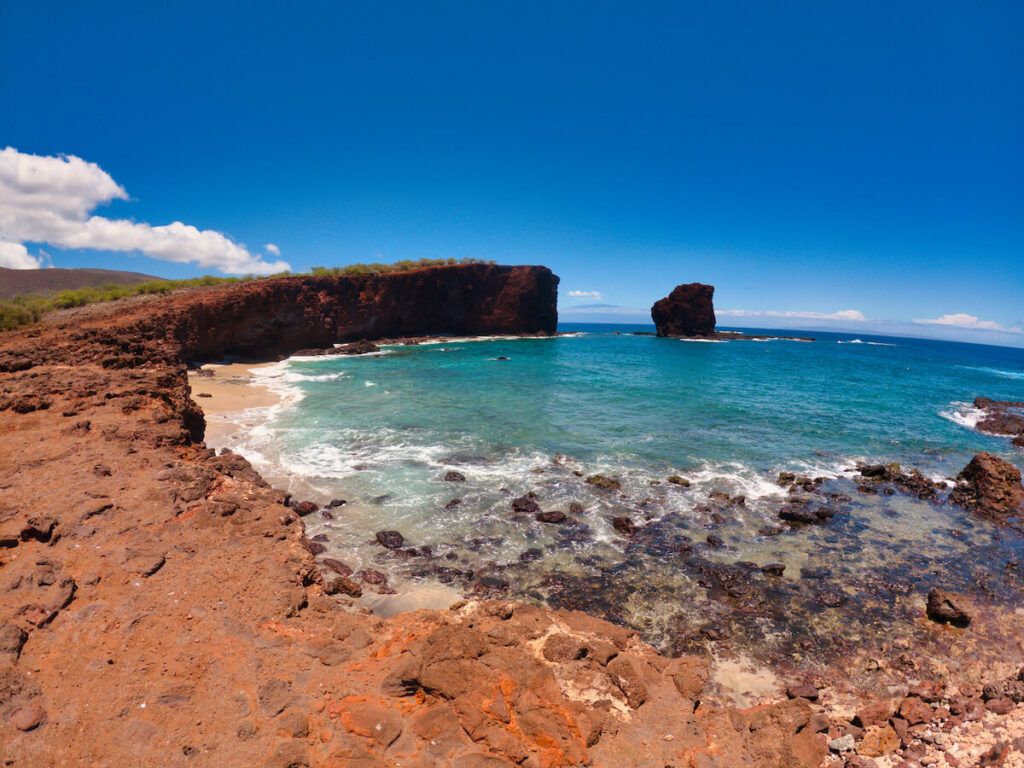 If you're pregnant and love staying active outdoors, you'll love Lana'i. You can hike Hawaii's unique pine forests or explore the rocky Garden of the Gods. Or if you prefer quiet beaches, there are plenty of accessible ones.
I love Shipwreck Beach and Hulopoe Beach, both of which are also perfect for swimming and snorkeling. Also, Lana'i is one of the best places to see whales in Hawaii, because they like to rest in the channel between Lana'i, Moloka'i, and Maui!
Where to Stay on a Hawaii Babymoon in Lanai
Four Seasons Resort Lanai – this is the only resort on Lanai, and it's perfect for pregnant people! Enjoy a quiet getaway on this luxury 5-star resort with 2 locations: Lanai City and Hulopoe Bay. If you prefer an adults-only experience, visit the Lanai City location, which also has a lovely babymoon package.
Big Island
The Big Island of Hawaii is massive, and you'll find tons of things to do. You'll probably take a connecting flight here from Oahu or Maui. Most people stay in the more touristy area of Kailua-Kona on the east coast, but Hilo and the North Shore are also popular.
A Big Island babymoon is best if you're interested in a mix of tourist attractions and outdoor adventures.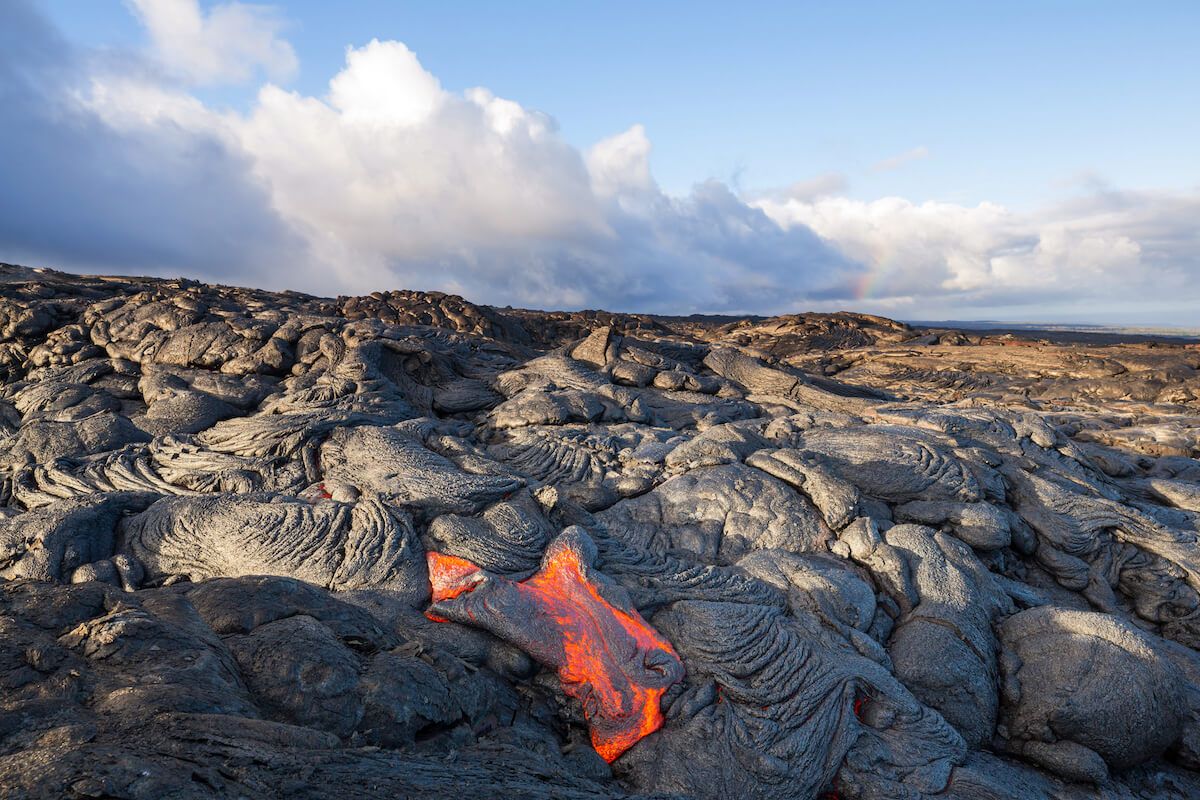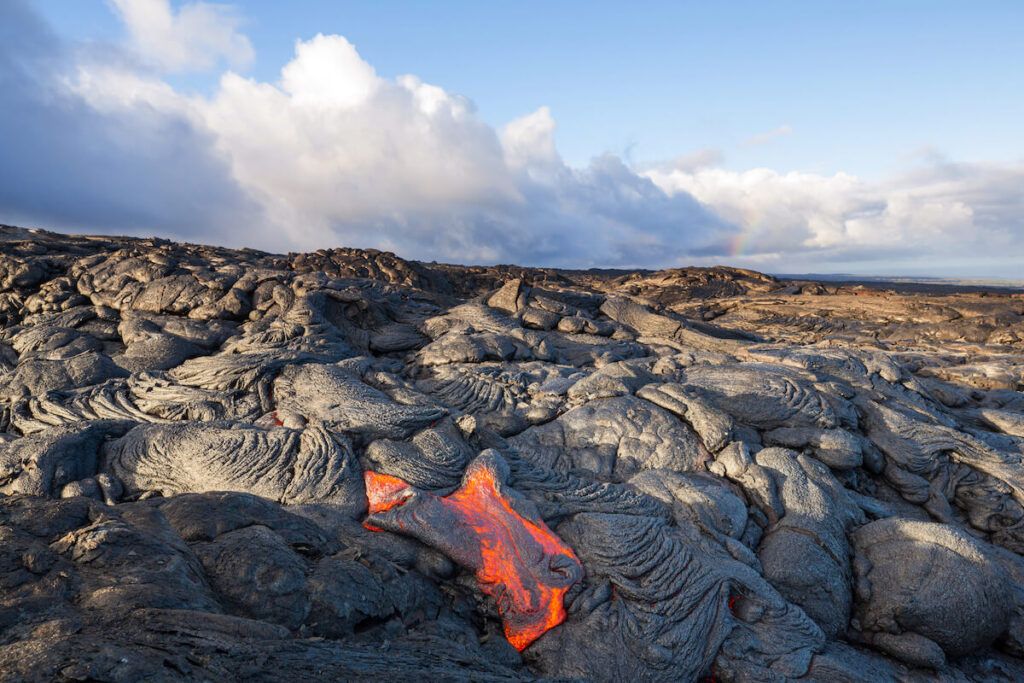 Take a tour inside Hawaii Volcanoes National Park, the only place you can see lava in the Hawaiian Islands. And all along the southern coast of the Big Island, you'll find scenic drives with stunning ocean views, remote hiking trails, and isolated beaches that you can only reach by foot.
The northwestern Kohala Coast is where you'll find luxury resorts that feel exclusive. And just south of there is Kailua-Kona. This is the region with all the big attractions you'd expect on a Big Island of Hawaii babymoon!
Go to a luau and enjoy a delicious buffet dinner or snorkel on the stunning beaches along the coast.
I recommend visiting a beach park or state beach, which will have amenities like showers, toilets, and parking. Kekaha Kai State Beach in Kailua-Kona is a gorgeous option, with classic palm trees and turquoise waters that are perfect for taking a dip!
Where to Stay on Big Island
Four Seasons Resort Hualalai – everything about this north shore Kukio resort is picture-perfect. Enjoy sprawling golden sand beaches surrounded by black volcanic rock. And make sure to visit the spa, which offers prenatal services to relieve the discomforts of pregnancy.
Fairmont Orchid Hawaii – nestled onto the banks of Pauola Bay in Waimea, there's no better place to enjoy a relaxing babymoon. The beach benefits from calm waters from the protected bay. And you'll feel like a new person after a prenatal massage at the Spa Without Walls!
Hilton Waikoloa Village – you may never even leave your resort if you stay here. There's a golf course, a full-service spa, and different eateries on-site. Enjoy the pools or have dinner at the Legends of Hawaii luau. Plus, there's a tram if you don't want to walk around the expansive resort.
Maui
A babymoon in Maui is perfect for a variety of people because of just how easy it is to find pregnancy-friendly things to do. There are accessible beach parks, fun tourist attractions, and some of the best scenic drives in Hawaii. And if you are looking for low-impact hikes, a Maui babymoon is just the ticket.
One of the best things to do in Maui is driving the Road to Hana. There are places to stop along the way for fresh smoothies and Maui's world-famous banana bread. You can drive right by waterfalls or stretch your leg and go on a rainforest hike.
For more outdoor adventures, you can find more day hikes and breathtaking mountain views in I'ao Valley State Park. Maui is also home to some of the best luaus in Hawaii, including Myths of Maui and Old Lahaina Luau.
And you'll find stunning beach parks in Maui, including Kahekili Beach Park in Kaanapali and Makena Beach near Wailea. At both beaches, there are great facilities, Instagram-worthy views, and usually a few food trucks around if you get hungry!
Book a Hawaii Photo Shoot
Whenever we travel to Hawaii, we almost always book a photo shoot with Flytographer. They are super easy, affordable, AND it guarantees that I'll have more than just selfies. You can get $25 off if you book through this link or use the code HAWAIITRAVEL.
Where to Stay in Maui
Fairmont Kea Lani – If you're planning a Hawaii babymoon with kids in tow, this is a great option. The luxury resort in Wailea has spacious suites and even larger villas with full kitchens for full comfort. They have on-site activities for kids and enjoy a romantic dinner as well.
Four Seasons Maui – located on stunning Wailea Beach, the Four Seasons knocks it out of the ballpark with this one! The massive pool area will leave you speechless, too. And make sure to visit the award-winning spa.
Royal Lahaina Resort – stay here if you want to enjoy a classic Hawaiian vacation in a relaxing, luxurious setting. You're near the best beaches in West Maui, and you can try all kinds of cultural activities at the resort.
Oahu
Oahu is one of the best Hawaiian Islands for a babymoon vacation because of how easy it is to travel the island.
You'll find some of the best beaches in Hawaii here, accessible tourist attractions, and great day hikes. Plus, it's one of the best places to book a stunning maternity photoshoot.
Visit the iconic Waikiki Beach, where you have access to beachfront restaurants, cabanas for rent, and amazing shopping.
You can find classic souvenirs at Duke's Marketplace and shop the high-end brands on Kalakaua Avenue. Or buy baby clothes at House of Mana Up, a boutique selling only goods by local Hawaiian creators.
Take a scenic drive north to the surfing village of Haleiwa or stay closer to Honolulu with a visit to Ho'omaluhia Botanical Garden. You can drive to or easily hike all over southern Oahu, including to Tantalus Lookout for great overhead views of Honolulu.
Where to Stay on a Hawaii Babymoon in Oahu
Disney Aulani Resort – Disney Aulani is located in Ko Olina, Oahu's luxury resort community. It's the perfect babymoon destination for everyone with great entertainment, a full spa, romance packages, and even a photography service.
Royal Hawaiian Hotel – Enjoy a classic Waikiki resort vacation at the historic "Pink Palace," right on Waikiki Beach! You'll love the prime location, within walking distance of great shopping, fun restaurants, and local nightlife.
Kahala Hotel & Resort – For a quieter stay near everything to do in Waikiki, stay on the east side of Diamond Head. Named the most romantic luxury resort in Oahu, this is the place for couples' spa treatments and romance packages!
Kauai
Plan your babymoon in Kauai if you love epic sites and outdoor adventures. Make your base on the southern or northern side of the 5th smallest Hawaiian Island. Both offer tourist attractions, great resorts, and sparkling beaches.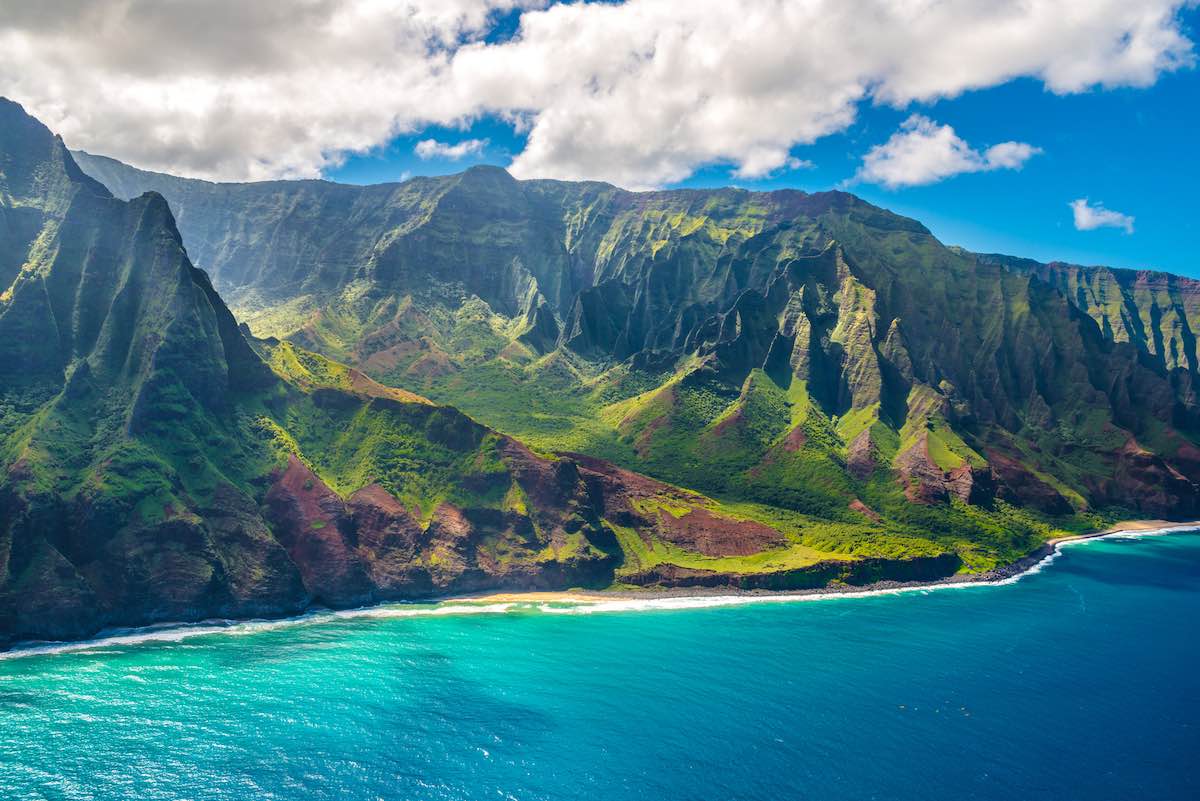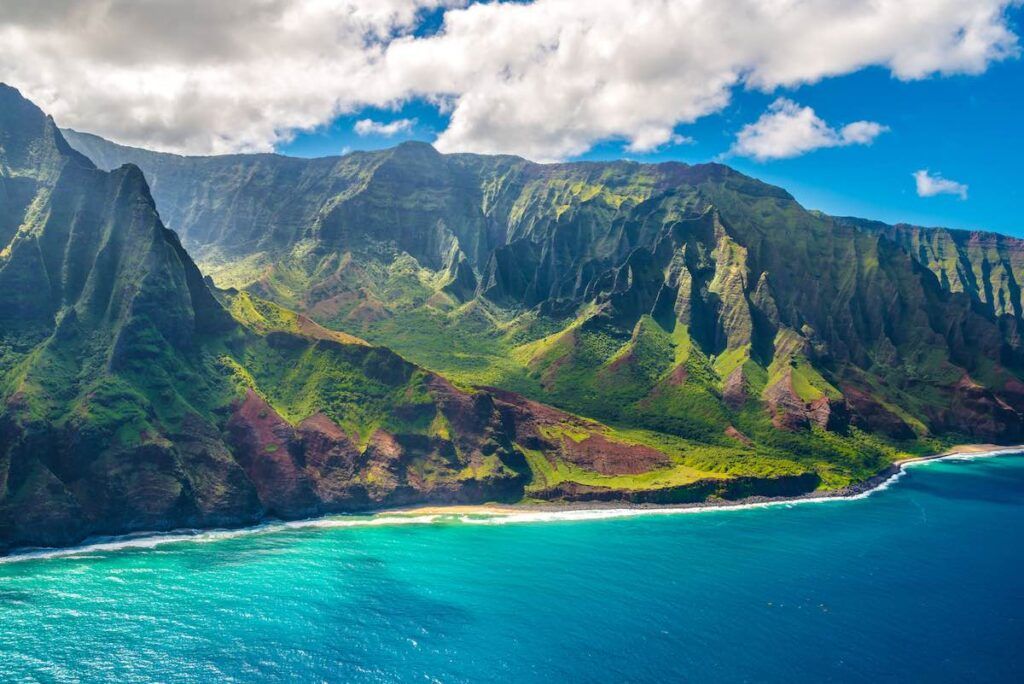 North Shore has a few luxury resorts and the rugged Na Pali Coast. Poipu on the southern shore has all the sunshine, shopping, and beachfront hotels.
Some of the most popular things to do are tour the Golden Coconut Coast or take a helicopter tour of the cliffs along the Na Pali coast. You can hike the stunning Waimea Canyon, or just take a scenic drive through it.
Still having morning sickness? Try an ice-cold smoothie or shave ice at one of the island's amazing food truck tours. And a Kauai babymoon is your opportunity to try all the amazing food on Kauai.
Where to Stay on a Kauai Babymoon
Grand Hyatt Kauai – Enjoy a classic Hawaiian resort vacation on Shipwreck Beach in Poipu near tons of attractions. Book treatments at the onsite spa. Plus, you're a short drive from Waimea Canyon.
Koloa Landing Resort –You'll find this oceanfront resort in the heart of Poipu. Major points for their spacious rooms and free shuttles around town! And you're near great shopping, just minutes away at The Shops at Kukui'ula Village.
1 Hotel Hanalei Bay – Stay at this luxurious Princeville resort for 5-star amenities and North Shore outdoor activities nearby. There are great programs for children and teens, and you can visit the holistic spa or take a yoga class.
FAQ about Visiting Hawaii While Pregnant
Is Hawaii a safe place for a babymoon?
Hawaii is definitely a safe place for a babymoon! It's always important to plan ahead and talk to your doctor about your plans. A big plus is that Hawaii is part of the US. That makes it an easy place for Americans to visit and still be able to receive timely medical attention if that's your concern.
What trimester is the best time for a babymoon?
Try to am for your 2nd trimester, between 14 and 28 weeks. Professionals agree that this is the best time to avoid any complications that are possible in your 1st or 3rd trimesters. The 2nd trimester is usually when you have the most energy and feel your best. Plus, there are medical limitations on flying after 28 weeks.
What are the best things to do when pregnant in Hawaii?
There are endless things to do in Hawaii while pregnant! Think about what you want your babymoon in Hawaii to look like. Some of the best things to do in Hawaii include going on a hike, shopping, attending a luau, or enjoying local food. At your resort, you can put your feet up by the pool or book a prenatal massage.
Do resorts in Hawaii offer babymoon packages?
Yes! Much like honeymoon packages, you'll find many resorts in Hawaii offering babymoon packages with amenities like prenatal massages and daily in-room breakfasts. Other resorts have customizable romance packages that you can build to create your very own Hawaii babymoon packages.
What's the Best Hawaiian Island for a Babymoon?
A Hawaii babymoon is a wonderful way to connect with your partner, relax, and think about the exciting months ahead of you. You can stay active and get outdoors or soak up all the joys of pregnancy and lounge by the pool with chocolates and tropical fruit!
The best Hawaiian Island for a babymoon in Hawaii is going to be Oahu or Maui. It offers the most variety and ease of travel. But each of the Hawaiian Islands has something special you can experience.
Make your babymoon whatever you want it to be! Which island will you visit for your special getaway?