Are you pregnant and looking to travel to Hawaii for your babymoon? Scroll to find out exactly how to plan the ultimate Hawaii babymoon, including where to stay, where to eat, and pregnancy-friendly things to do!
This post about how to plan a Hawaii babymoon contains affiliate links which means if you purchase something from one of my affiliate links, I may earn a small commission that goes back into maintaining this blog.
Your life will change forever once you welcome your little one. You and your partner will change.
You both will grow stronger, and things will change, which is why it is so important to go on a babymoon before you welcome your new baby!
Hawaii is one of the best places you can travel to for your babymoon! Its sights, activities, and resorts with private time for you and your partner make it your ideal babymoon vacation.
This guide will help you plan the perfect Hawaii babymoon.
Want to skip all the planning and just access my detailed Hawaii itineraries complete with daily schedules, fun activities, and travel hacks? Click the button below.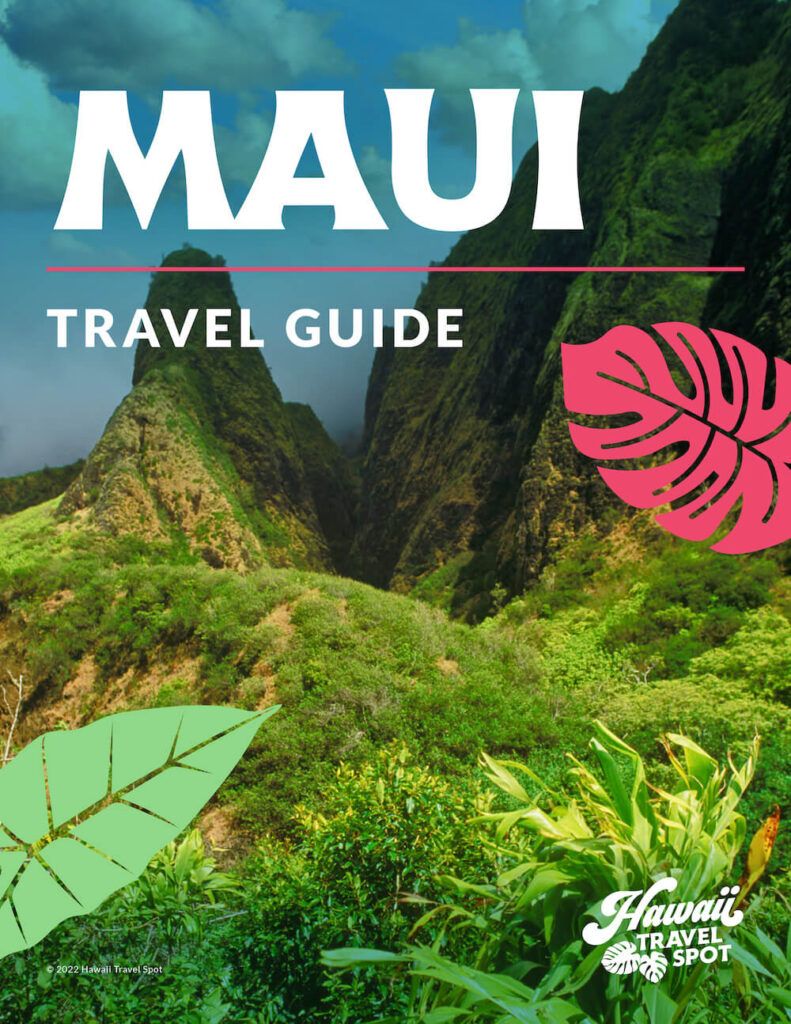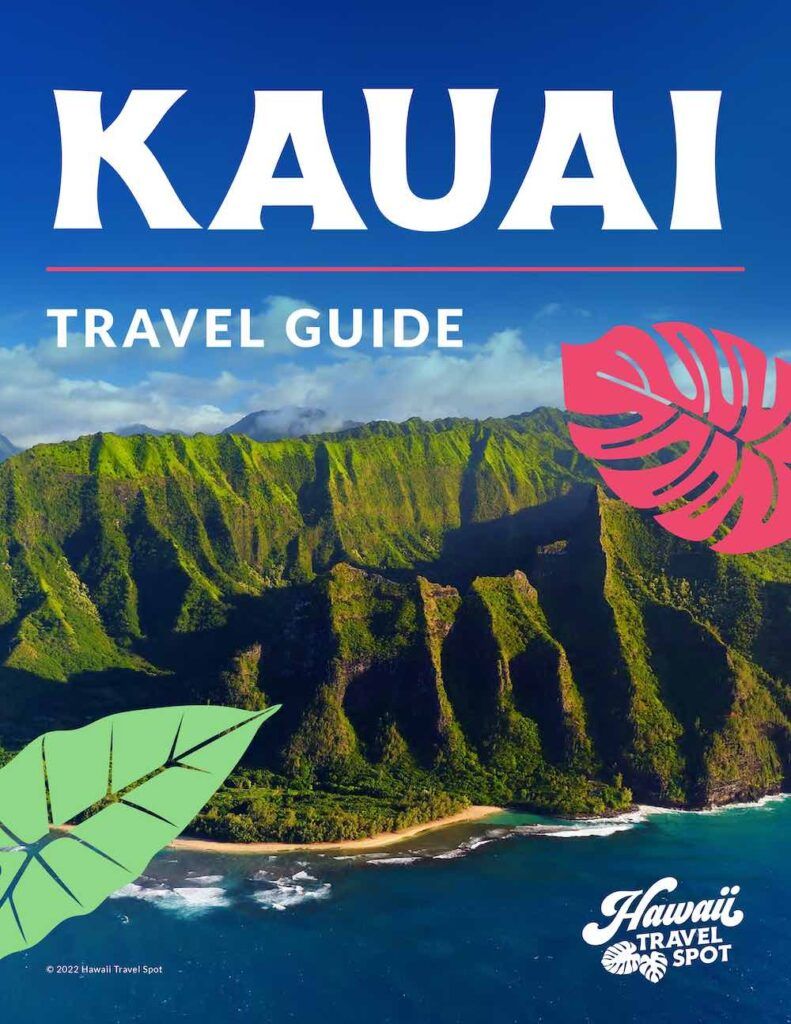 Can I Fly to Hawaii While Pregnant?
Yes, you can fly while you are pregnant! However, check your airline details for flying while pregnant first, as some may have certain restrictions!
You can normally fly before you are 36 weeks pregnant, but getting your OBGYN's approval is crucial first.
Your second trimester is the best time to go on your babymoon because it is after the sickness you experience during your first trimester but before it is unsafe to fly.
You will be more comfortable throughout your flights and trip overall!
After you return, you can plan more for your little one's arrival, so take this time to relax and enjoy yourself.
Babymoon Resorts in Hawaii
Firstly, consider staying in a secluded resort. You will have to stay in family resorts for the rest of your life, so choosing a more private and romantic resort may ensure the best experience for you and your partner before your little one arrives! Read my full guide to Hawaii babymoon resorts.
Secondly, choose a resort with a spa that offers a prenatal massage. This will be a relaxing massage you should definitely experience for you and your baby!
Save Money with Points
Here are the best credit card offers for people who travel and want to use points to pay for airfare and hotels in Hawaii.
Here are some of the top resorts for pregnancy-friendly spas
Aulani, a Disney Resort and Spa
The tranquil Aulani resort on the West Side of Oahu holds an impressive spa for new and upcoming parents. Check out the latest prices and more details.
A more relaxing possibility is booking a villa, where you would have a more secluded stay. After enjoying a day at the spa, head to the beautiful beach on the pristine shores of Ko Olina, just alongside the resort.
Royal Lahaina Resort
The spa at the Royal Lahaina Resort in Maui offers a striking hapai prenatal massage. Check out the latest prices and more details.
Compared to the Disney resort mentioned above, this resort is more private, giving off more honeymoon-style vibes.
Revel in falling asleep to serene waves crashing along the seashore in one of the resort's oceanfront rooms.
Marriott Ko Olina Beach Club
This Oahu hotel does not disappoint; although it is not considered a resort, it is incredibly luxurious and fulfills several pregnancy needs. Check out the latest prices and more details.
Relish the parental massage in the hotel's spa serviced by trained massage therapists.
The couple's experience offered by the Marriott Ko Olina Beach Club is a must for one-on-one time with your partner before you have a new addition to your family. Activities include an adult's pool and a romantic waterfall.
Turtle Bay Resort
The famous Turtle Bay Resort resides along the North Shore of Oahu. It is considered one of the best resorts in Hawaii, and with its multifarious amenities ensuring only the best experiences, it's not hard to see why. Check out the latest prices and more details.
One of these amenities includes their spa, where you can get a prenatal massage and a couple's massage! In addition to relaxing in the spa, another great activity while pregnant is yoga, and you're just in luck; the resort also offers yoga classes!
Another relaxing activity is relaxing on the beach, which is just outside your room.
Book a Hawaii Photo Shoot
Whenever we travel to Hawaii, we almost always book a photo shoot with Flytographer. They are super easy, affordable, AND it guarantees that I'll have more than just selfies. You can get $25 off if you book through this link or use the code HAWAIITRAVEL.
Where to Eat on your Hawaii Babymoon
Hawaii is known for its seafood; however, if dietary restrictions do not allow for seafood, that is completely fine!
Instead, try some local foods!
While there are dietary restrictions on foods you can eat while pregnant, the decision is between you and your doctor, of course.
Try Loco Moco, a local classic made with rice, hamburger, and eggs drizzled with mouth-watering brown gravy. The protein in this famous Hawaiian dish is a great alternative to seafood.
If you are pickier with your foods, at least try Hawaii's best smoothies. Made with fresh fruits, you and your baby will be fed with high nutrients and energy. Also, try out the best shave ice Hawaii has to offer!
You can also find other cuisines throughout the islands. From Chinese to Thai to Mexican to your classic burger and fries, there are plenty of culinary options out there (including Hawaiian food!)
So if you are worried about food in Hawaii, know that Hawaii has it all, no matter your dietary restrictions!
Things to Do in Hawaii While Pregnant
Think of your babymoon as your honeymoon: relaxing and romantic. Here are some pregnant-friendly activities!
Relax on the Beach
It is important to relax as much as possible instead of going on lots of hikes and tourist adventures. Spend quality time in the warm ocean of several Hawaiian beaches!
Spending time in the water is a great activity if you are pregnant. Make sure you don't leave the island without getting that prenatal massage as mentioned earlier!
Drive-Up Hikes
Drive-up hikes are excellent alternatives to normal hiking that you may not enjoy while pregnant! There are numerous drive-up hikes with amazing views you can enjoy on multiple Hawaiian islands.
Haleakala Crater
Haleakala National Park on the island of Maui holds an amazing sunset view that you do not want to miss. Simply drive up and enjoy the scenery!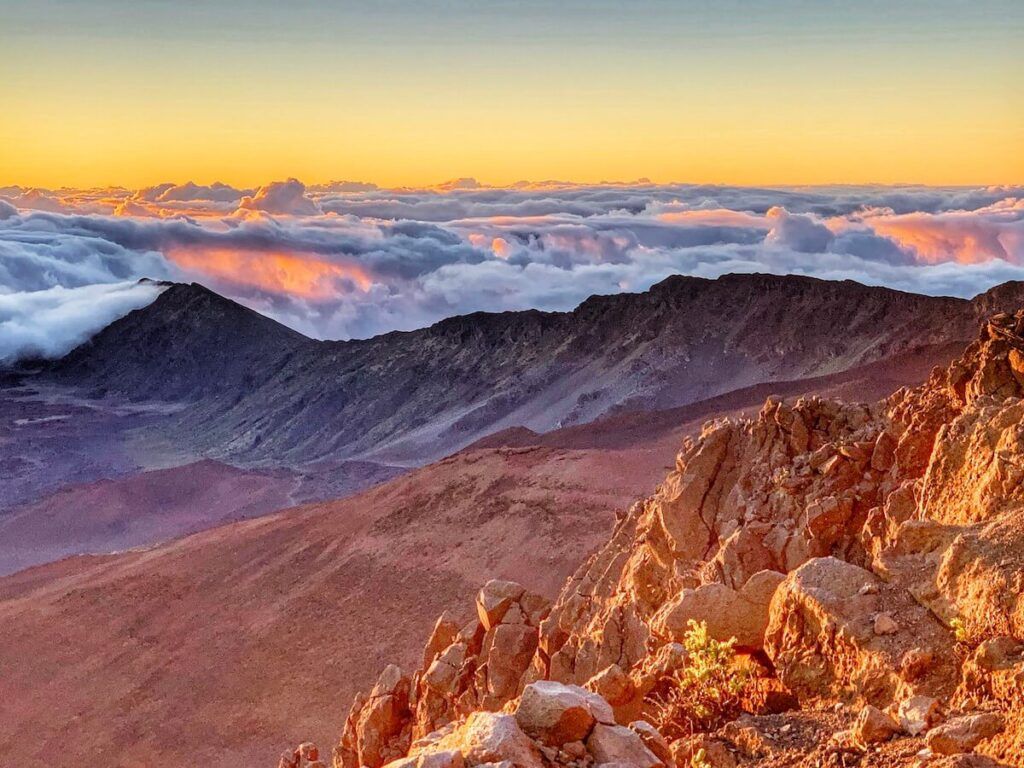 If you plan to get out of the car to take pictures, pack warm clothing, as it gets colder the higher you drive. Check out my top Haleakala tips!
Waimea Canyon
Waimea Canyon, known as the Grand Canyon of the Pacific, is on the island of Kauai. It is another drive-up hike that has a beautiful view.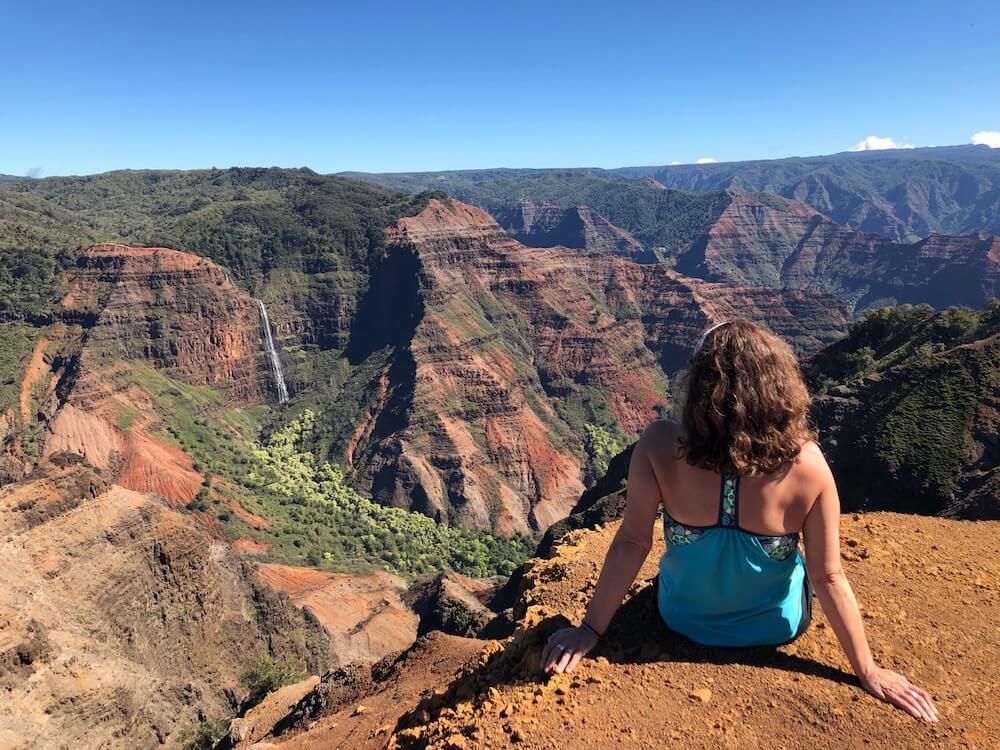 You can literally drive the whole way up while seeing the gorgeous scenery! You can take incredible pictures at the top and see the drop-offs.
Luaus
Luaus are incredibly relaxing and are an incredibly pregnancy-friendly activity to partake in while on your Hawaiian babymoon. Eating delicious food while watching talented dancers – doesn't that sound incredibly relaxing?
Fire knife dancing is an extremely popular attraction, along with traditional hulas and other dancers. Remember, wherever you go in Hawaii, you will find foods suitable to your dietary restrictions, so do not worry about that!
Find out the best luaus on Oahu, Kauai, Big Island, and Maui
Enjoy Shave Ice
A tasty treat to enjoy while pregnant is shave ice! Shave ice is incredibly popular in Hawaii.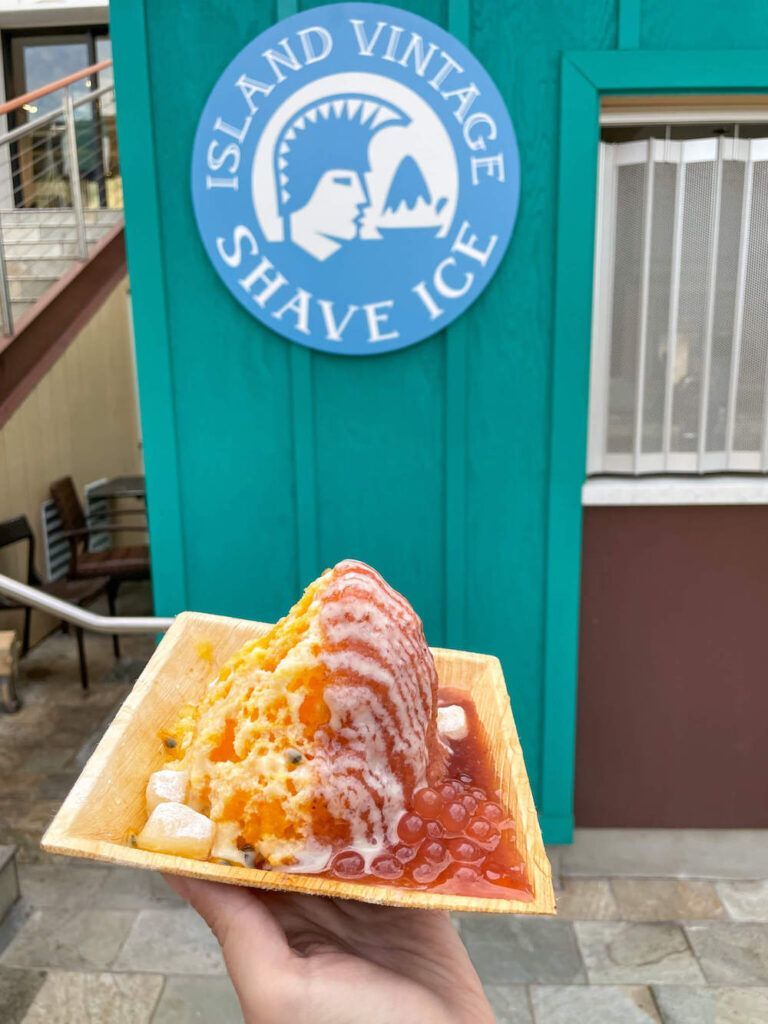 It is essentially shaved ice packed tightly and drizzled with fruit-flavored syrups of your choice. Occasionally, you can top it with condensed milk or a scoop of ice cream in the bottom.
Shave ice spots are all over the islands, but they can be different. Organic syrups made of fresh fruit can be found in trendier spots and taste incredible!
Find the best shave ice on Oahu, Maui, and Kauai
Go Shopping
Going shopping for your upcoming baby is yet another fun activity you can do during your Hawaiian babymoon!
The beautiful Hawaiian islands have several boutiques with amazing products, especially locally made onesies, toys, blankets, and books that you will love!
Coco Moon is currently one of my favorite obsessions. This Hawaii designer has the cutest Hawaii-inspired prints and makes the softest swaddle blankets and baby clothing.
Several Hawaiian boutiques such as Sand Kids sell Coco Moon products, or you can order online.
Hawaii is the PERFECT place to have your maternity photo session with your partner before you little one arrives! Hawaii is surrounded by beautiful scenery everywhere you go. Check out the latest prices and more details.
Take gorgeous pictures of Hawaii's beautiful beaches with your partner.
You can find several talented photographers all over Hawaii. However, while I personally have used multiple talented photographers, I particularly like Flytographer.
Flytographer is an affordable concierge photography company that services all over the world, including Hawaii. They make it incredibly easy to find details and an amazing photographer!
Save $25 on your first Flytographer photoshoot
Hawaii Babymoon Packing List
It is especially important for you to wear comfortable clothing while vacationing on the tropical islands of Hawaii.
Make sure to bring a maternity swimsuit and a cover-up for the pool and the beach. And for romantic date nights and luau experiences, I highly recommend bringing some cute maternity maxi dresses.
More essentials you should not forget to bring include reef-safe sunscreen, sunscreen lip balm, a wide-brimmed sun hat, sunglasses, and flip flops.
Read my 21 pregnancy packing essentials
Hawaii Babymoon FAQs
Is Maui safe for babymoon?
Absolutely. Maui is aZika-free babymoon destination (so is all of Hawaii!). It is also one of the best places in Hawaii you can travel to for your babymoon. In addition, as it is part of the United States, communication in healthcare is just as if you were home.
What week do you go on a babymoon?
The American College of Obstetricians and Gynecologists recommends planning your babymoon in your second trimester, between 14 and 28 weeks into your pregnancy. This is the perfect time to travel, as it is after your first-trimester sickness and before your uncomfortable third trimester.
Can I fly to Hawaii 32 weeks pregnant?
While airlines may have their own restrictions, most allow you to fly up to 36 weeks of pregnancy! It is safe to do so as long as your doctor approves and you have no safety issues.
Babymoon in Hawaii Wrap Up
Your Hawaiian babymoon will be relaxing and romantic as you spend well-deserved time soaking up vitamin D.
You and your partner will have an amazing time together before your baby arrives.