Are you planning a trip to the Big Island but don't know where to stay in Waikoloa? Keep scrolling to check out this honest Fairmont Orchid Resort review!
This honest Fairmont Orchid Review was written by Marcie Cheung (a Hawaii travel expert) and contains affiliate links which means if you purchase something from one of my affiliate links, I may earn a small commission that goes back into maintaining this blog.
One of my favorite places to visit in Hawaii is the Big Island. It's ginormous and there are tons of really cool activities and attractions.
Recently, I stayed at the Fairmont Orchid Resort which is located in Waikoloa, just north of Kailua-Kona. I'd heard about their great pool area, fantastic restaurants, and amazing on-site luau and wanted to check them out for myself.
Why should you take my advice? I've visited Hawaii more than 40 times and bring a depth of firsthand Hawaii expertise unmatched in the travel sphere.
Keep scrolling to read my honest Fairmont Orchid review so you know if it's one of the Big Island hotels worth booking.
Want to skip all the planning and just access my detailed Big Island Itinerary complete with daily schedules, fun activities, and travel hacks? Click the button below.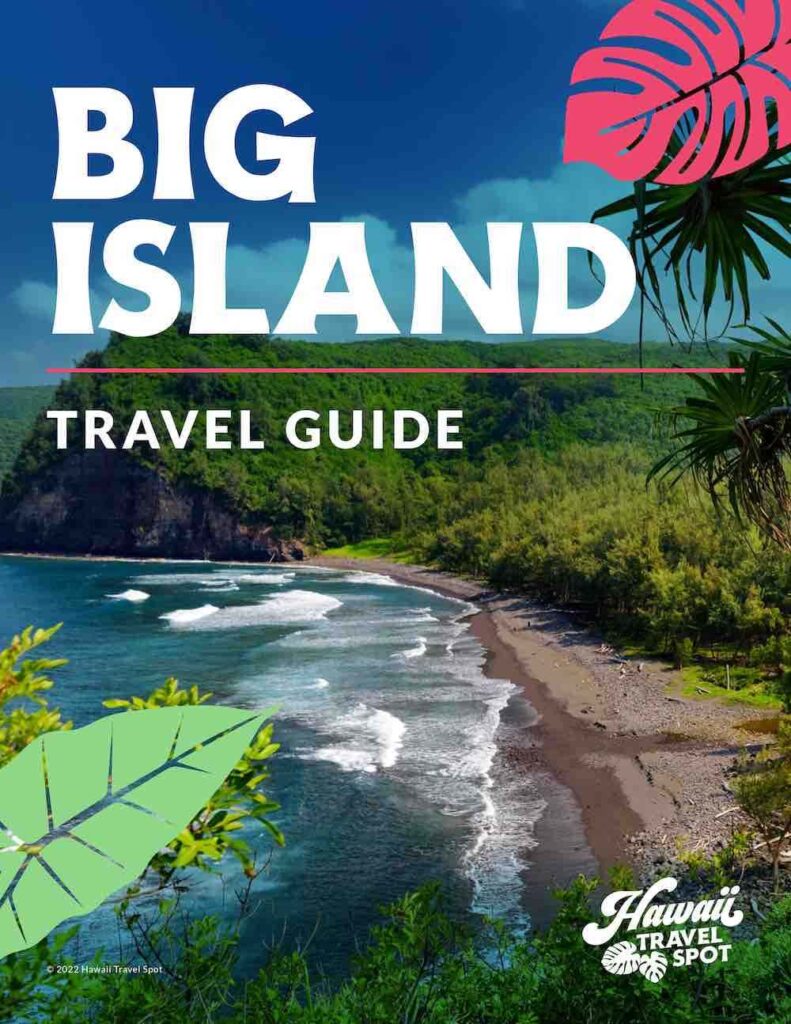 Where is the Fairmont Orchid on the Big Island?
The Fairmont Orchid sits on the Northwest coast of the Big Island, near Waimea. It's a scenic 30-minute drive from the Kona Airport.
The hotel has a beautiful beachfront setting, perfect for families wanting to relax and enjoy resort luxuries.
Although the hotel doesn't have its own airport shuttle, you can grab a taxi or rent a car. If you bring a car, they offer valet parking for $25 a day, which lets you come and go as you please. Plus, there's wheelchair-friendly parking.
With nearby attractions, it's a top spot for a Hawaiian vacation!
First Impressions & Check-In
From the moment we arrived at the Fairmont Orchid, we felt the warm Hawaiian welcome.
As our car pulled in, the bell services greeted us with beautiful leis – an orchid one for me and a special kukui nut one for my son. The hotel's design is lovely, blending perfectly with its tropical surroundings.
At the check-in desk, the friendly staff quickly provided us with a handy property map and our room keycards.
And a nice touch in our room? Two free water bottles and a helpful flyer with QR codes to explore resort activities and dining. The start was truly inviting! Check rates here.
What Was Our Room Like?
At the Fairmont Orchid, we opted for the stand-by upgrade to an oceanfront room, and oh, was it a treat! For just an extra $84/night, we were granted a breathtaking view that was worth every penny.
The room was spacious, way more than other Hawaiian stays we've experienced. It easily accommodated our luggage and bags, giving a clutter-free feeling.
The bathroom was a highlight for me – spacious with a long countertop, double sinks, a full bathtub, and a separate shower area.
Essential amenities like a minibar, coffee maker, and a hot water pot were smartly placed under the TV.
But the crowning jewel? The lanai. It boasted a mesmerizing view, and those lounge chairs? Perfect for some laptop work or just cozying up with a book.
As for the Wi-Fi, it comes at a cost of USD 14.95 per night, but the connection is stable. There's also complimentary wired internet in public areas.
And yes, the room has efficient air conditioning – a must in Hawaii.
If you're traveling with family or friends, connecting rooms are available, making the stay even more comfortable! Check the latest rates and availability.
Hotel Facilities at the Fairmont Orchid Resort
The Fairmont Orchid Hotel is a playground for both relaxation and activity. With 10 outdoor tennis courts, an 18-hole golf course, and even an arcade room, it's clear that there's something for everyone.
Families will love the family pool, surrounded by cushioned lounge chairs and close proximity to Brown's Deli where they serve a delightful shave ice. Kids can enjoy swimming, and I even spotted a young girl with a mermaid tail, making quite a splash!
For those seeking a more peaceful experience, the adult-only pool, marked by its distinctive orange cushioned lounge chairs, offers a tranquil oasis.
If the ocean calls, the lagoon is a fantastic choice. Its calm waters are perfect for families and snorkelers alike.
Cabana lovers are in for a treat with numerous options available, from poolside ones to those overlooking the beach. The latter offers a mesmerizing view of the ocean, making it a serene spot for reading or simply taking in the scenery.
One of the standout features is the Spa Without Walls. This uniquely named spa boasts eight outdoor huts set amid trickling waterfalls, providing a serene setting for relaxation.
They also have oceanfront cabanas and indoor treatment rooms. The spa uses local products, letting guests immerse in Hawaiian scents and textures.
Golf enthusiasts shouldn't miss the renowned Mauna Lani Golf Course. With its 45-hole championship layout, it caters to golfers of all abilities. If my husband had been with us, he'd surely have spent his days there.
Whether it's indulging in sports, relaxation, or family fun, the Fairmont Orchid offers facilities that cater to every guest's needs.
Dining Options at the Fairmont Orchid
Dining at the Fairmont Orchid Hotel is a delightful culinary journey. With an array of four in-house restaurants, two bars, and a coffee shop, there's something for every palate.
Here's a quick rundown of our experience:
Brown's Deli
An essential stop for coffee lovers like me! They offer specialty coffee drinks, and I particularly loved the latte.
The deli also serves fresh malasadas, fruit smoothies, and quick breakfast items. Their turkey sandwich was huge, and the shave ice with various syrups was a refreshing treat.
Brown's Beach House
A more formal dining setting, it boasts stunning ocean views, especially at sunset. Although we didn't dine here due to the winds, it's definitely a picturesque spot.
Hale Kai Restaurant
A beachfront gem. We ate here twice. The first visit was for drinks and appetizers. The macadamia nut hummus was unforgettable.
On our second visit, we had lunch, and the kids' menu was a hit, especially with the coloring sheets provided.
Binchotan
An interesting dining experience where you can order family-style dishes. The macadamia nut shrimp was the star dish. They also had a scrumptious Japanese cheesecake for dessert.
Luana Lounge
Positioned near the lobby, it's great for tropical drinks and fresh sushi. Perfect for those who fancy small bites with a grand view.
Orchid Court
For those craving a hearty breakfast, this place has both hot and cold options to satisfy your morning hunger.
Kahakai Bar
Mainly an outdoor bar with appetizing small dishes, ideal for poolside snacking.
In-Room Dining
After a tiring day, we opted for this on our first night. The menu is concise but features popular dishes from the hotel's restaurants. The macaroni and cheese, and the short ribs, were comforting and delicious.
The Fairmont Orchid offers a diverse range of dining options, from casual to formal, ensuring guests are always treated to quality, variety, and delightful flavors.
Understanding the Cost: Pricing & Packages at the Fairmont Orchid
At the Fairmont Orchid, you're not just paying for a room, but a memorable experience.
Their rooms are big and can fit families comfortably. There are 540 rooms in total, some facing the ocean and others with garden views.
The nightly rates for standard guest rooms range from $649 to $982. It might sound pricey, but remember, you're getting top-quality, beautiful views, and amazing services.
If you need an extra bed, it's available for $75 per night. However, if you have a baby, note that they don't offer cribs.
From time to time, the hotel might have special deals or promotions, so keep an eye out!
Overall, while it's on the higher end, the value you get for your money at this hotel is totally worth it.
Nearby Attractions & Activities at the Fairmont Orchid
The Fairmont Orchid isn't just about the hotel itself; it's also about what's around it.
Within a short walk, you can reach Waikui-Puako Beaches, catch a fun 4-D movie, or explore the Mauna Lani Historic Park.
Golf lovers are in luck, as the Mauna Lani Resort Golf Course is just a quick drive away.
If you're with kids, don't miss out on the hotel's cool activities like canoe rides, yoga by the sea, hula lessons, and crafting with coconut fronds.
One highlight we enjoyed was the Hawaii Loa Luau right at the hotel. It's more than just a meal; it's an experience. From the welcoming drinks to the vast food choices and the amazing performances, it was a night to remember!
So, while the hotel offers tons of fun, there's also plenty to explore nearby.
Fairmont Orchid FAQs
How does this hotel stand out from its competitors in Hawaii?
The quality of service is probably the best we've experienced anywhere in Hawaii. Staff members were attentive and they made everything feel so easy. We also thought the food options and the on-site luau were outstanding!
Is the location practical for the activities and sights I want to enjoy?
If you're planning on exploring a lot of the Big Island, be prepared for a long drive to get down to Kona or to Hawaii Volcanoes National Park. Personally, I recommend doing a split stay and ending your trip here for a true resort vacation.
Is it worth the price, and am I getting good value for my money?
I admit that I was sticker-shocked when I booked this hotel. But, I have to say that the resort amenities were truly exceptional and it's one of the best Hawaii resorts we've ever stayed in.
Conclusion & Personal Verdict on the Fairmont Orchid
The Fairmont Orchid truly shines when it comes to luxury. The views are simply breathtaking, and the range of activities keeps both kids and adults entertained.
It's the ultimate Hawaii resort for both families and honeymooners.
The spacious rooms, especially the double queen, made our stay comfortable. Plus, the nearby attractions like ziplining and dolphin swims add to the adventure.
However, there's room for improvement; I expected a finer shave ice consistency and perhaps a fun water slide for the kids at the pool.
But overall, for families seeking a mix of relaxation and adventure, I'd highly recommend the Fairmont Orchid. Your kids (and you) might just find a new favorite spot in Hawaii!
Rating for the Fairmont Orchid
Overall Score: 9/10 ⭐️⭐️⭐️⭐️⭐️⭐️⭐️⭐️⭐️
Location: 8/10 – Though the resort is breathtaking, it's a bit away from some Big Island attractions.
Service: 9/10 – Staff were welcoming, but a little more attention to kid-specific needs would be a bonus.
Amenities: 9/10 – The pools and beach area are lovely, but a waterslide for kids would've made it perfect.
Dining: 10/10 – Among the best hotel restaurants we've tried! Plus, the on-site luau was a memorable experience.
Value for Money: 9/10 – It's a bit on the pricey side, but the quality and offerings make it worth every penny.