Are you looking for fun things to do on Oahu at night? Keep scrolling for this list of the best things to do in Waikiki at night.
This list of the best things to do in Waikiki at night contains affiliate links which means if you purchase something from one of my affiliate links, I may earn a small commission that goes back into maintaining this blog.
The king of Hawaiian nightlife is definitely Waikiki! You can find all kinds of fun things to do in Waikiki at night. There's everything, from romantic walks on the beach to exciting once-in-a-lifetime experiences.
Waikiki Beach is the place to be in Oahu for high-end resorts, expansive beaches, 5-star restaurants, luxury shopping, and more! You're in the perfect spot to watch a breathtaking sunset over the water. Then lights sprinkle the oceanfront as the party begins after dark!
You might be looking for something romantic to do on your honeymoon or perhaps you need an affordable date night option. Did you know that you can find water-based adventures to do after dark in Waikiki?
We'll look at all of these, as well as more things to do in Oahu at night. So, keep reading to plan an unforgettable experience under the moon in Waikiki.
Don't have time to read a bunch of Hawaii blog posts and reviews? Here are some of our top picks for visiting Oahu.
Popular Oahu Tours/Activities
Favorite Oahu Resorts/Hotels
Want to Rent a Car in Hawaii?
One of the best places to rent a car in Hawaii is Discount Hawaii Car Rental because they get the best rates from top national companies like Alamo, Dollar, Thrifty, Avis, Enterprise, Budget, and Payless.
Want to skip all the planning and just access my detailed Oahu itinerary complete with daily schedules, fun activities, and travel hacks? Click the button below.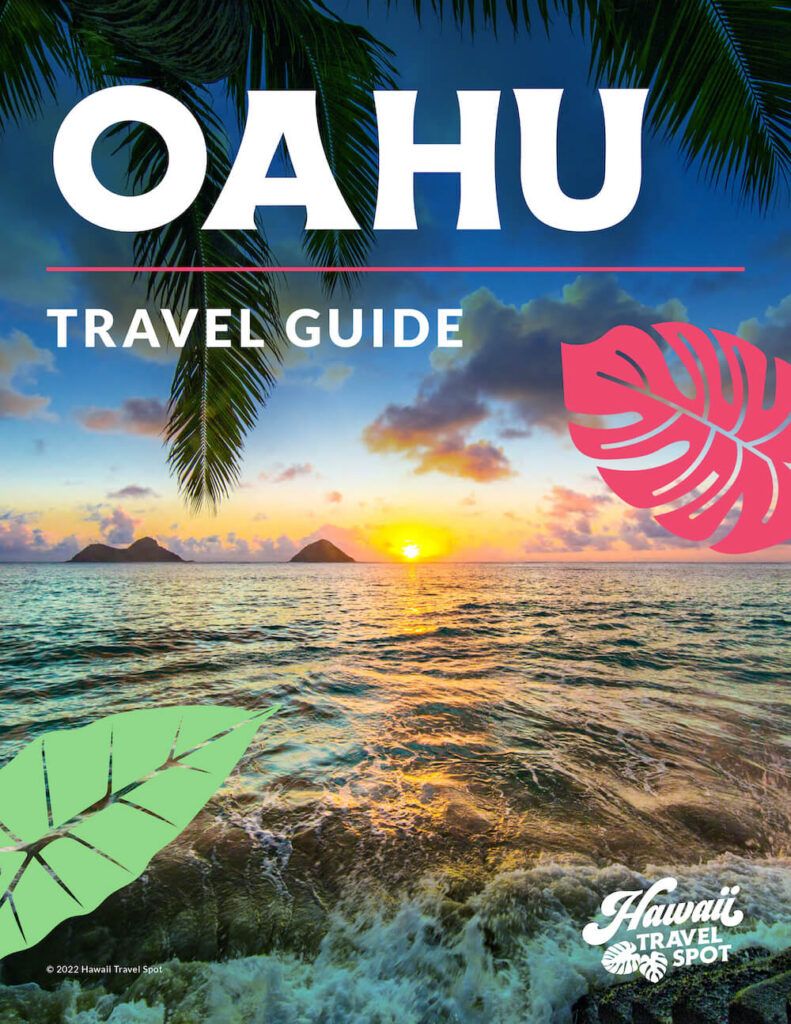 Does Waikiki Have a Nightlife?
The biggest thing visitors to Hawaii want to know is if Waikiki even has things to do after dark. The answer is yes! While island villages and residential areas calm down after sunset, you can find all kinds of things to do in Hawaii at night, and the best of them are in Waikiki.
Located on the waterfront of Honolulu, Waikiki has been one of the top tourist destinations in the world for almost 100 years. You can't have a run that long without having some seriously fun attractions!
Not only is Waikiki Beach absolutely beautiful, but it caters to guests with nighttime shows, hopping bars, and walkable streets. Keep reading for the most iconic after-dark activities in the area, as well as a few local favorites.
Top Things to Do at Night in Waikiki
Visit the Best Bars in Waikiki
Nightlife in Waikiki begins and ends with amazing places to grab a drink. Start your Waikiki evening activities with a mai tai at Duke's Waikiki. It's the perfect old-school tiki bar, right off the beach.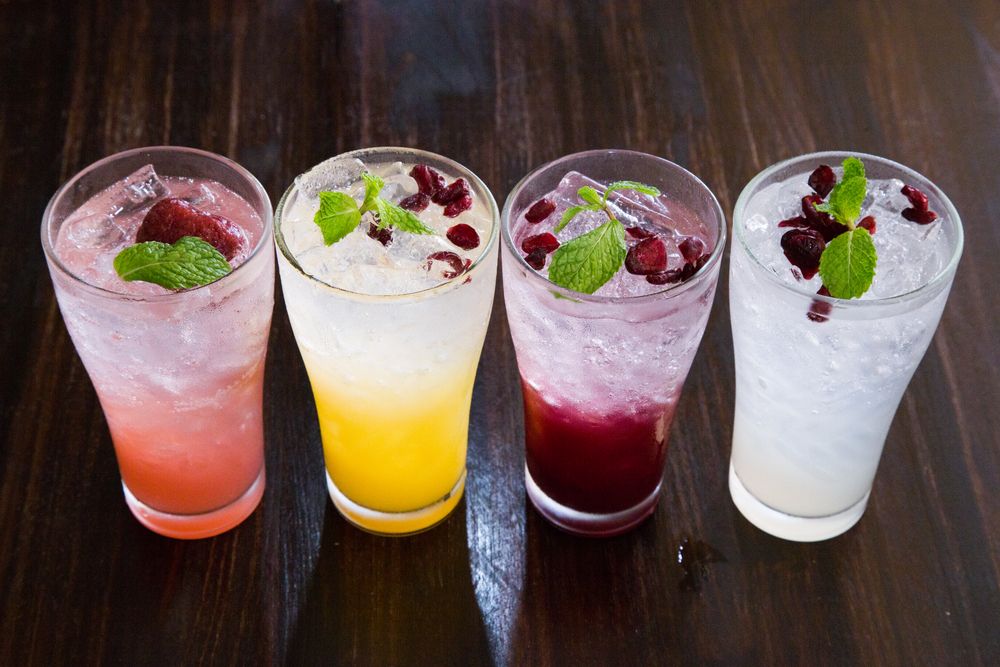 Tiki's Grill & Bar is a fun, over-the-top tiki bar with great views of the sunset! And while Arnold's Beach Bar is a few blocks inland, it's still a fun lowkey place with a great atmosphere.
Go on a History Tour Pub Crawl
If you want to meet new people and see Waikiki from the local perspective, go with a fun pub crawl tour that doubles as a history tour! A local guide will take you to a handful of the best pubs in Waikiki.
This is a heartwarming way to learn both ancient and modern history from an islander in a way that's completely laid back and natural. Ask your guide questions and enjoy the local ambiance. Check the latest prices and availability.
Have a Romantic Sunset Dinner
Waikiki is in just the right spot for spectacular sunset views. Especially if you're looking for things to do in Waikiki at night on your honeymoon getaway, have dinner at House Without a Key.
This upscale restaurant serves island and American cuisine. Sit in the garden and enjoy live music and a hula dancer every night. Just make sure to book reservations in advance of your trip.
See a Show at Blue Note
One of the most popular places to go in Waikiki at night is Blue Note. They host jazz and blues musicians, but also local performers and the best comedians in the world.
Come for dinner and 1 of the 2 shows Blue Note puts on each night. Every table has great views of the stage, and there's bar seating in the back of the space as well.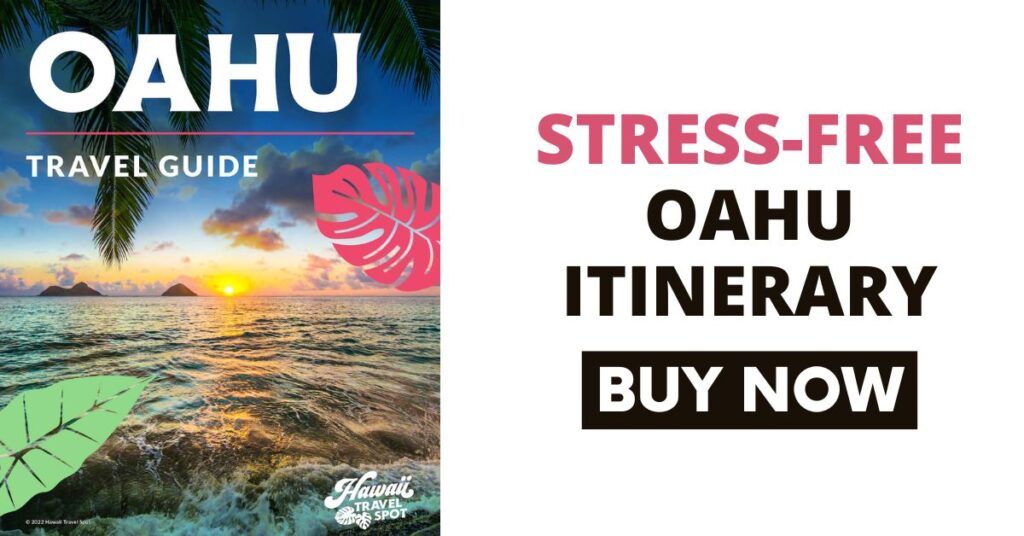 Book a Waikiki Luau
There are quite a few luaus to choose from in Waikiki, and most of them are big, flashy productions! Aha Aina Royal Hawaiian Luau is perfect for first-time visitors to Hawaii.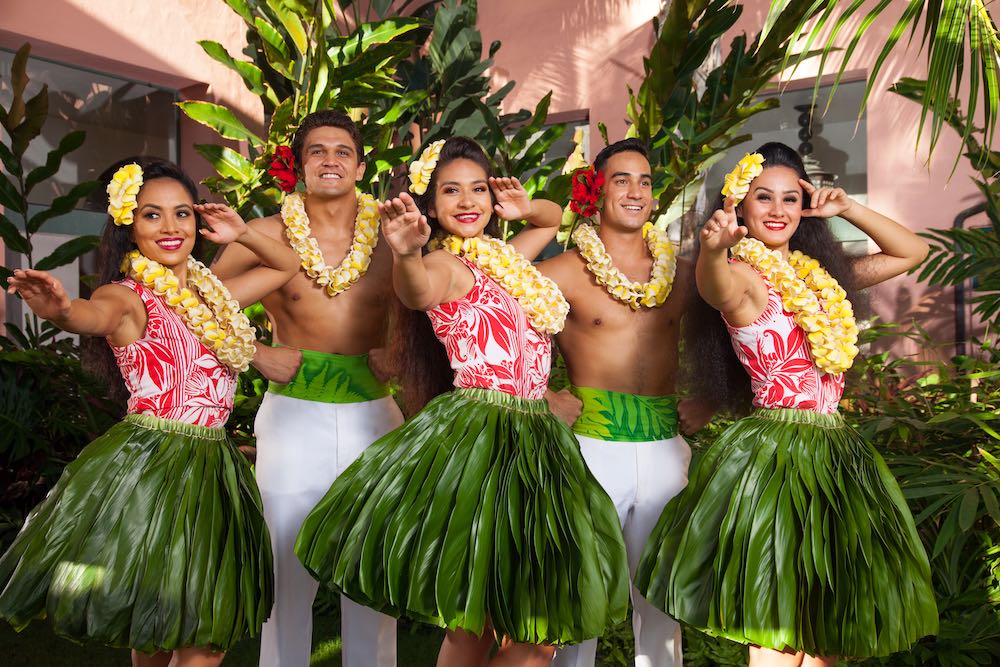 Waikiki Starlight Luau has amazing views of the sunset behind the stage. And for free things to do in Waikiki Beach at night, stop by the banyan tree at Kuhio Beach where you can watch a free hula show a few nights a week!
Walk Waikiki Beach at Night
Soak in the sounds of Waikiki Beach nightlife with a walk on the sand after dark. It's one of the most romantic and exciting experiences in Oahu, and it's absolutely free!
The beach is only a mile long, so it's not difficult. Plus, if you plan your walk for around 7:45, you can enjoy the fireworks show that the Hilton Hawaiian Village puts on each night.
Go on a Sunset Cruise
What is a better way to end the day than jumping on a catamaran at Waikiki Beach for a sunset sail with drinks? The Kepoikai II Catamaran is right in front of Duke's Waikiki and Mai Tai Bar.
They load up at sunset for a 90-minute cruise of Waikiki Bay with spectacular views all the way to Diamond Head! The prices are great and the drinks are only a few bucks.
Shop for Souvenirs at Duke's Marketplace
There's no end to the shopping on Kalakaua Avenue in Waikiki. You'll find tons of high-end shops and luxury shopping malls there. But if you're looking for that old-school experience, I love Duke's Marketplace.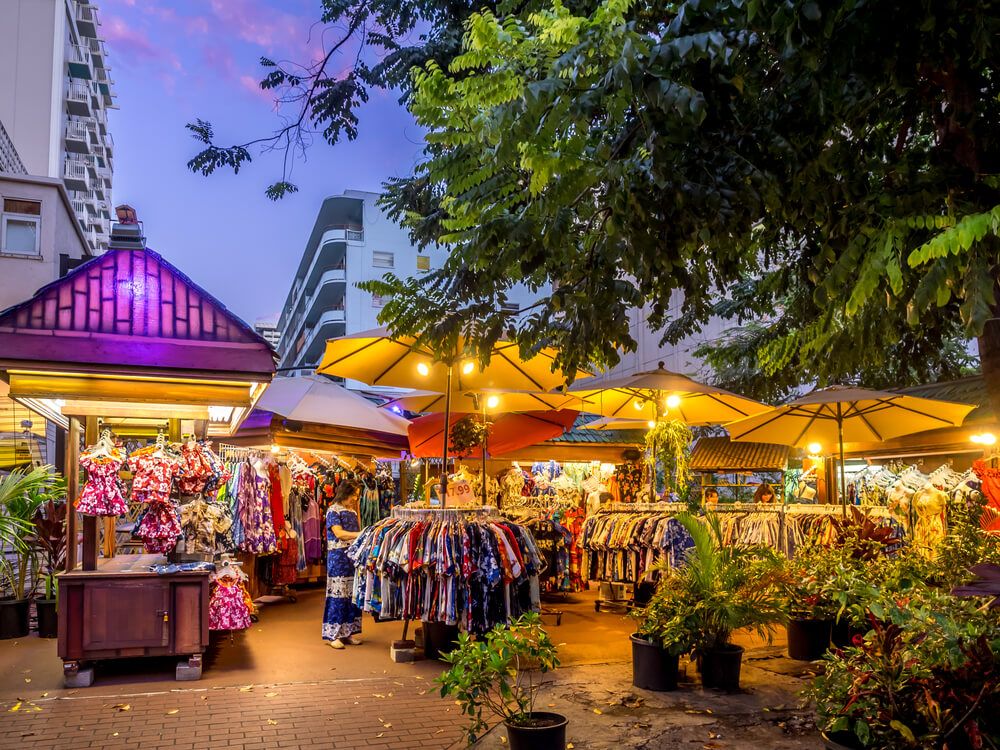 Look for the sign as you turn onto Duke's Lane. You'll see rows of small stalls where you can find affordable handcrafted items, classic Hawaiian shirts, and souvenirs.
Go for a Moonlit Swim
What sounds more relaxing or romantic than a swim under the stars? When you're looking for the best things to do in Waikiki at night, don't forget that your resort or hotel will leave pools open for guests only.
Hotel pools are well-lit and tend to be less busy than during the day. It's a safe way to enjoy the water after dark.
See a Rock-a-Hula Show
If you enjoy seeing big, Vegas-style shows, you'll definitely want to get tickets for the Rock-a-Hula show in Waikiki.
It's a great mix between a traditional Hawaiian luau and a big, flashy dinner show with impressionists and musical numbers.
Book a Nighttime Dive
If you're a certified diver, take the opportunity to go on a nighttime dive with Waikiki Dive Center. Enjoy the sunset from the boat as you head out to any number of dive spots of your choosing. If you go on Fridays, you can watch the fireworks from the water!
A nighttime dive is completely different from a daytime dive. A lot of sea life is much more active at night, especially during a full or new moon. You'll get a flashlight and you might even see bioluminescent creatures.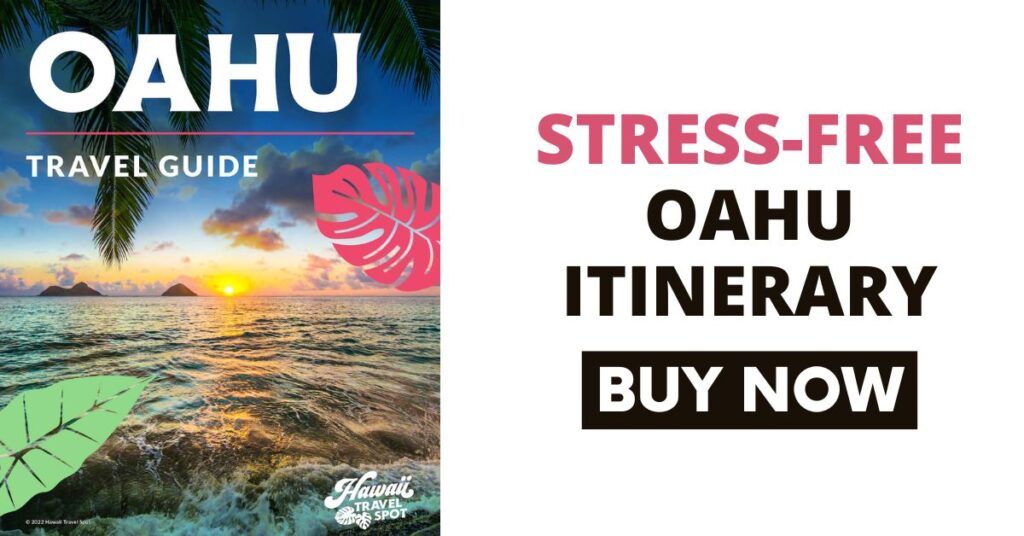 Things to Do in Honolulu at Night
Check Out Honolulu's Night Scene
When you're looking for things to do in Waikiki at night, don't hesitate to venture out into the greater Honolulu area. The city has even more amazing pubs and bars.
Enjoy La Mariana Sailing Club, a tiki bar overlooking Keehi Boat Harbor. It boasts great food and was actually the set for Hawaii Five-O! Or grab a drink at Bar 35 in the Art District. It's a beautiful, laid-back space where you can lounge on leather couches and enjoy a cocktail with friends.
Go to a Night Market
One of the very best Honolulu things to do at night is going to a community night market like the Ala Moana Night Market. Street fairs and food carts are beloved Hawaii traditions. Night markets are the best place to find dozens of different vendors selling every food you can think of!
Located at the Ala Moana Center, you can also enjoy a live DJ, different lawn games, and children's activities. Bring cash and peruse arts and craft vendors, local produce, and other goods. The market is held every 2nd and 4th Friday from 4 to 9 PM. Check their Instagram for the latest updates and any last-minute location changes.
Nutridge Luau
While Waikiki has touristy, fun luaus, you might be looking for something more unique and authentic. Nutridge Luau is a wonderful time on a historic macadamia farm north of Honolulu.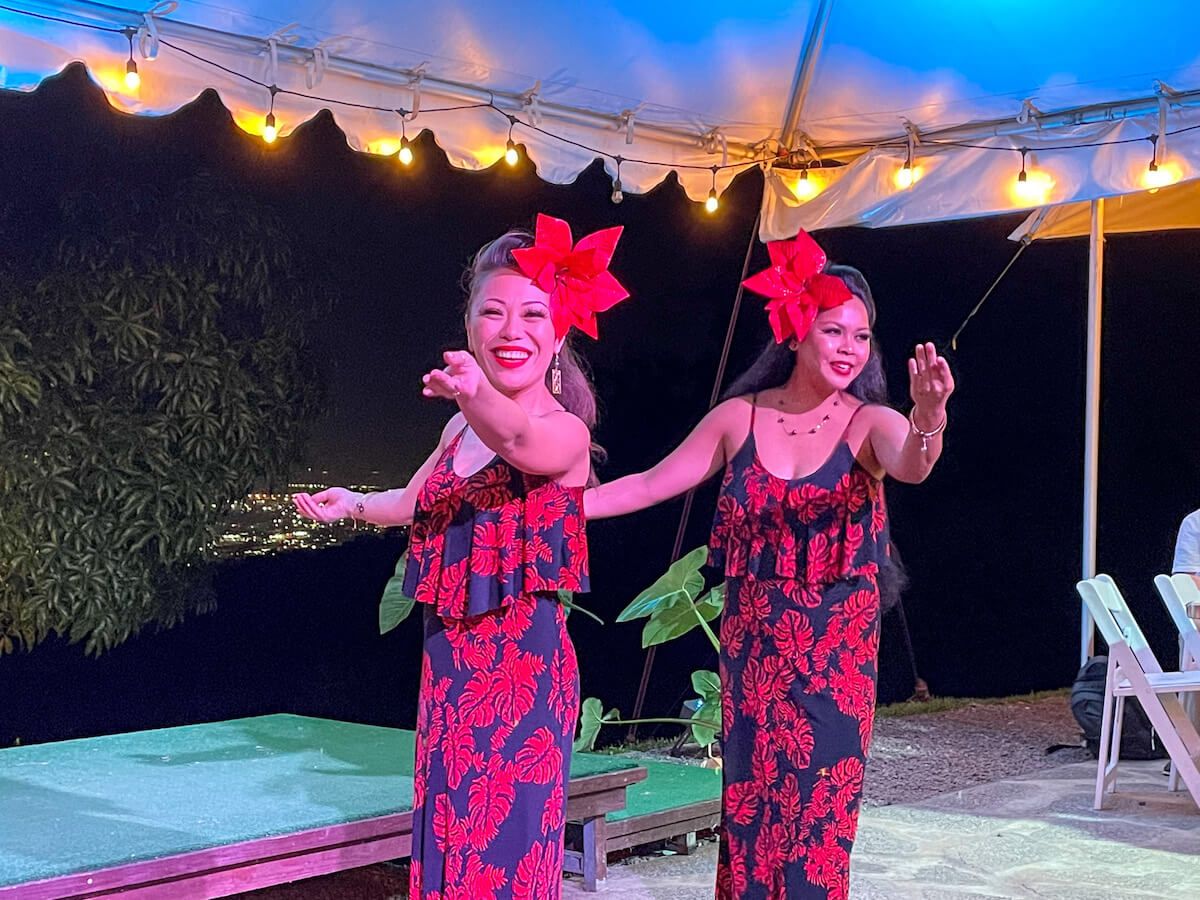 This is a very intimate luau on a family plantation. They make you feel welcome and focus on teaching you about the different Polynesian cultures that have influenced Hawaii. There are interesting games and crafts, authentic food, and a beautiful and interesting show.
Even More Things to Do at Night in Oahu
When you're thinking about what to do in Oahu at night, you might want to get away from the crowds. If you have a rental car, you can explore some of the amazing places outside of Waikiki and Honolulu.
Maui Brewing Company
Not far from Waikiki, on the windward side of Oahu is the Maui Brewing Company. They also have a location in Waikiki, but the Kailua location is my favorite!
It's a great family-friendly taproom and restaurant with live music and tons of space. Kailua offers a welcome, laid-back vibe, and that extends to this Maui Brewing Company location.
Besides local brews, they also have whiskey, seltzers, wine, cocktails, and non-alcoholic beverages. Come enjoy yummy island takes on classic bar food like burgers, pizza, nachos, and more.
Go on a Sunset Hike
While it's not safe to hike at night in Oahu, sunset hikes are a great way to enjoy the view. If you're on the North Shore, the Ehukai Pillbox Hike is also one of the best things to do in Oahu at night for free!
This moderate hike takes about 45 minutes one way to a historic site high above Ehukai Beach Park. You can check out historic World War 2 bunkers and take in the sunset before beginning the hike back down.
Overall, the hike is about 2 miles out-and-bak and can be timed to get back at dusk. Just don't go after it rains because the steep areas can get muddy and slippery.
Watch a Perfect Sunset
For more free Oahu night activities on the North Shore, head to the properly named Sunset Beach in Pupukea. Its western vantage point offers perfect unobstructed sunset views over the Pacific Ocean!
There's a parking lot across the street and cafes and restaurants a short stroll from the beach. I don't suggest swimming here because the waves get pretty choppy, but it's fun to watch experienced surfers.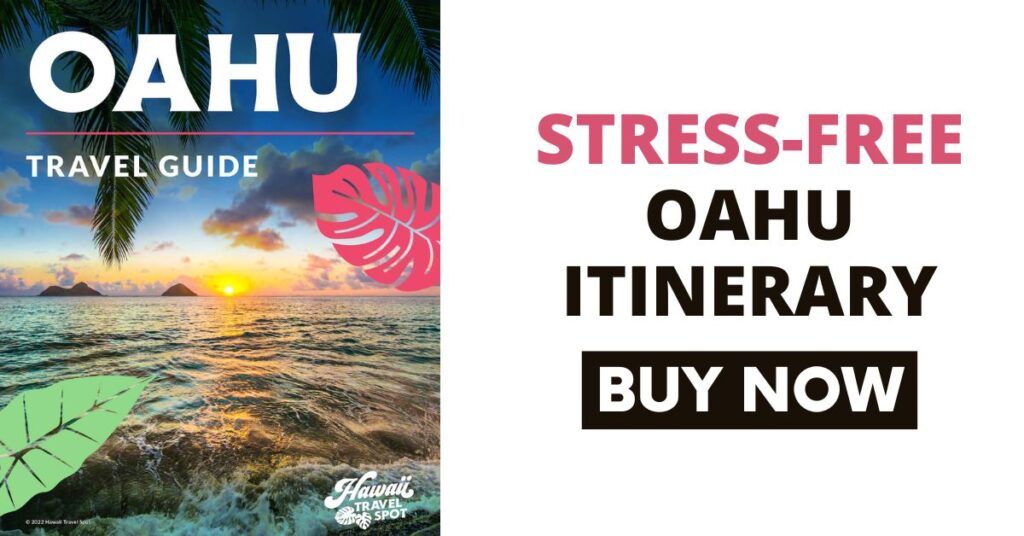 FAQ about Waikiki Things to Do at Night
Where's the best nightlife in Hawaii?
Honolulu and Waikiki offer some of the best nightlife of all the Hawaiian Islands. There's truly something for everyone! You'll find some of the best tiki bars, lounges, and dance clubs. There are fun nighttime historic tours, as well as free activities like fireworks shows on the beach. And that's just the beginning!
Can you swim at Waikiki Beach at night?
When you're looking for what to do in Waikiki at night, it might be tempting to go for a swim in the ocean in the moonlight. While you're allowed to do it, I don't recommend it. Lifeguards won't be on duty, and while it's rare, sea life like jellyfish and sharks swim a lot closer to shore at night. Better to stick to hotel pools!
Can you drink on Oahu beaches and in the parks?
Oahu has open container laws that keep you from drinking in public spaces (including beaches and parks). But you can find enjoy several great local restaurants and bars right off the beach! I suggest checking out Rumfire or the famous Mai Tai Bar, both offering panoramic views of Waikiki Beach.
What time do beaches close at night in Oahu?
Most Oahu parks, including beach parks, close from 10 PM to 5 AM. That means park parking lots close then, as well. Beaches are open 24/7, though lifeguards are only on the beach during sunlight hours.
Check Out the Best Things to Do in Waikiki Hawaii
There are all kinds of things to do in Waikiki at night for every taste and budget! The bar scene is a lot of fun, and you'll find all kinds of entertainment up and down Kalakaua Avenue.
A little further out, Honolulu is welcoming and inviting to its nighttime guests. And greater Oahu offers some of the best local attractions in Kailua and westward sunset views on the North Shore. So, which Waikiki night activities will you add to your Oahu itinerary?