Planning a honeymoon in Hawaii? Look no further for my list of most romantic hotels in Kauai!
This post about Kauai Hawaii honeymoon resorts was written by Marcie Cheung (a Hawaii travel expert) and contains affiliate links which means if you purchase something from one of my affiliate links, I may earn a small commission that goes back into maintaining this blog.
Planning a trip to Hawaii and need starting advice?
Kauai is perfect for a low-key honeymoon trip in Hawaii and will especially be suited if you are an adventure lover or a foodie!
Known as the "Garden Island," this lush, green island prides its farm-to-table dishes and food truck culture.
See magnificent views at Hanalei and Princeville just a drive North. Poipu, the sunny side of the island just a drive South, is great for spending days relaxing on the beach.
Whether you are planning an affordable Hawaii honeymoon or want to splurge for a luxury vacation, we've got you covered!
Want the best Hawaii advice? I've visited over 40 times and have tons to share!
If you are seriously considering having your honeymoon in Kauai, read further to see the best Kauai resorts to fit your needs!
Check out my Ultimate Hawaii Honeymoon Packing List!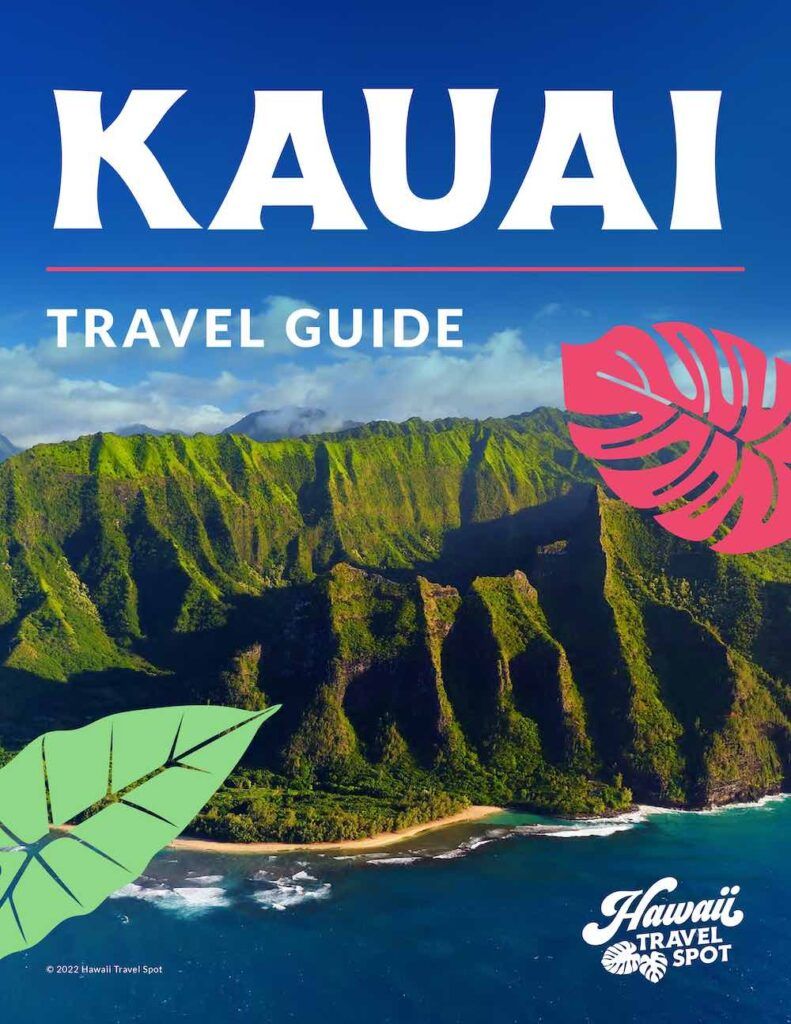 6 Romantic Kauai Honeymoon Resorts Worth Checking Out
Scroll to see my personal picks of the best romantic Kauai resorts for your honeymoon!
Grand Hyatt Kauai in Poipu, Kauai
The Grand Hyatt Kauai in Poipu, the island's sunny side, is one of the most gorgeous Kauai honeymoon resorts. It is my personal favorite for a romantic Kauai vacay!
The hotel does not disappoint. The resort's large lobby has a breathtaking ocean view, and you will be offered fruit-infused water and a fresh flower lei. Read our full Grand Hyatt Kauai review.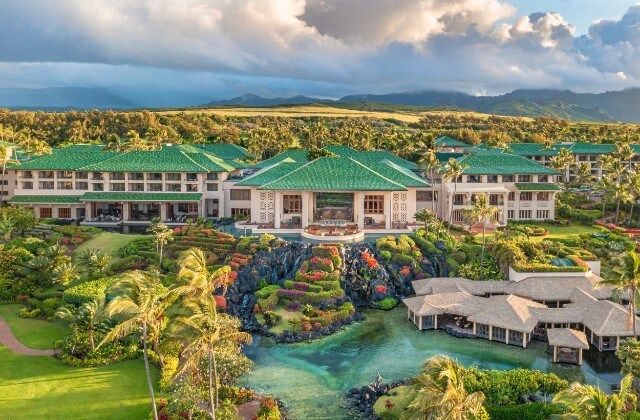 Couples looking for a luxurious hotel with easy access to several boutique shops, restaurants, and bars will find the Grand Hyatt Kauai ideal.
Not only are shops and entertainment easily accessible, but top Kauai attractions such as Spouting Horn and the Waimea Canyon are just short drives away as well! Check out the latest prices and more details.
Save Money with Points
Here are the best credit card offers for people who travel and want to use points to pay for airfare and hotels in Hawaii.
Grand Hyatt Kauai: Romantic Things to do
The Grand Hyatt Kauai, while large, offers many experiences that make it feel more private, perfect for your romantic vacation!
The hotel has five on-site restaurants. My suggestion for the most romantic date night spot is Tidepools, rated as one of the best restaurants in Kauai. The restaurant is really cool – it looks like a floating hut! You can also see fish in the lagoon.
Booking a starlit beach-side dinner will give you a more intimate experience, or you can always order room service while snuggled up in bed.
The resort is also a great place to view Hawaiian culture. It hosts an on-site luau twice a week, and even features several local artisans in its lobby.
The award-winning multi-level pools and the saltwater lagoon of the Grand Hyatt Kauai are absolutely gorgeous, leaving no room for further questions on which the most romantic hotel in Kauai is.
It holds an impressive 150-foot waterslide, a lava-rock-lined lazy river, waterfalls, and secret caves. If you are looking for a quieter, more private area, check out the adult pool area or rent out pool cabanas for extra privacy!
Make sure you check out the largest spa on Kauai, the Anara Spa. You can book a couples spa or even a private bungalow!
If you're feeling luxurious, go for the more expensive Anara Pilialoha spa package, which includes a luxurious massage, Oxygen Facials, a warm stone and kava body scrub, an outdoor shower for two, a tropical pedicure volcanic clay mask, and even lunch! Incredibly fancy!
Grand Hyatt Kauai Hotel Rooms
The hotel proudly contains 604 beautifully decorated, Hawaiian-themed guest rooms where you will enjoy your stay. They all have private balconies, which is an amazing perk!
The resort's King Bed Ocean View room contains double sinks and marble bathrooms. Step out of your 500-square-foot room onto your private lanai that overlooks the Pacific Ocean and Shipwreck Beach. The room is lovely and very relaxing.
Or choose the Ocean View Suite for an upgrade. These 866-1,084 square feet rooms offer a separate bedroom, sitting area, and dining table. It essentially feels like a mini private home!
Be sure to check with the resort for any Kauai honeymoon packages! Read my full Grand Hyatt Kauai review HERE.
Check Rates at Grand Hyatt Kauai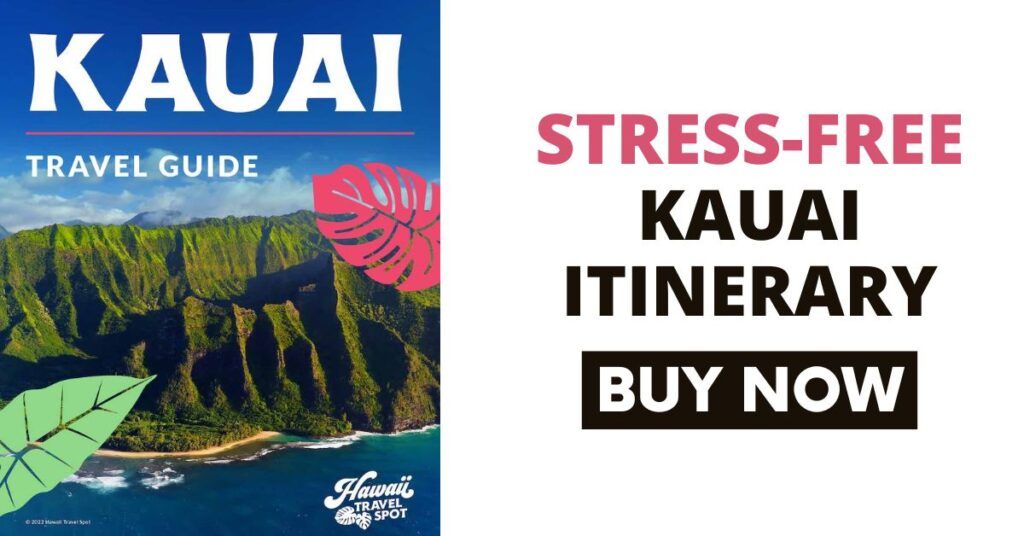 2. Koloa Landing Resort in Poipu, Kauai
The Koloa Landing Resort is yet another remarkable Kauai hotel, and it is perfect for the first trip to Hawaii. This also resides in Poipu, known for its best weather!
This is one of the newest resorts on Kauai. You can read my full Koloa Landing Resort review HERE.
For couples looking for larger rooms, this resort is perfect for you. The room sizes of the Koloa Landing Resort sets the hotel apart from other Kauai resorts; its rooms are twice as large as most standard hotel rooms on Kauai!
The resort has several luxuries, including an on-site restaurant that is in collaboration with top Hawaii chef Sam Choy! Others include a free shuttle around Poipu and a massive swimming pool. Check out the latest prices and more details.
Koloa Landing Resort: Romantic Things to do
The LA Times voted the resort's pool as one of the best pools in Hawaii. With its Instagrammable 350,000-gallon swimming pool with swim-through waterfalls, waterslides, and an infinity edge, it's not hard to see why.
Booking a private poolside cabana provides you with a more intimate experience for couples looking for more privacy. You will be provided with chaise lounge chairs, overhead fans, flat-screen TVs, small plate food items, and island cocktails.
The resort also has an adult-only tranquility pool, also for a quieter and more private experience. It's no wonder this is one of the most romantic hotels in Hawaii!
Make dishes such as Huli Huli Chicken on the resort's poolside BBQ grills, then eat complimentary island s'mores at the fire pits!
Make sure you relax with a couples treatment at the Koloa Landing Resort's 4,000-square-foot spa, with Kauai's only all-copper Ofuro Japanese soaking tub. Enjoy rainfall showerheads and a private lanai!
Another perk of the resort is the short walking distance between the hotel and the Shops at Kukui'ula Village! The village contains one of the best shopping and dining areas in Kauai, with a natural foods store, several art galleries, dozens of restaurants, and chic shops.
Every week, a gourmet culinary market is held. Over 20 Kauai farms take part in selling local produce! You can also buy hand-made specialties, enjoy live music, and even watch cooking exhibitions.
Koloa Landing Hotel Rooms
You can choose if you want a room that faces the island or the coastline at Koloa Landing.
The Deluxe Studios at Koloa Landing are 500 square feet (nearly twice the size of a standard hotel room!) and offer a washer/dryer, a mini-fridge, and a cook-top kitchenette.
You can also choose the One-Bedroom Villa for an upgrade. This over-800-square-feet room offers a private bathroom with a separate tub and sink and a gourmet kitchen containing cookware and silverware.
Make sure to check with Koloa Landing about any Kauai honeymoon deals they may be offering during your stay.
Book a Hawaii Photo Shoot
Whenever we travel to Hawaii, we almost always book a photo shoot with Flytographer. They are super easy, affordable, AND it guarantees that I'll have more than just selfies. You can get $25 off if you book through this link or use the code HAWAIITRAVEL.
3. Ko'a Kea Hotel in Poipu, Kauai
The Ko'a Kea Hotel is a more laid-back and secluded Poipu resort that is ideal for couples who looking for a relaxing Kauai honeymoon!
While there are not as many amenities offered as the previous resorts mentioned, there is more time to relax at the pool or beach. There are fewer families, and most of the guests are on their honeymoon!
Ko'a Kea has been voted the top resort in Kaua. It was also ranked as the 5th best resort in Hawaii in 2019 by Travel + Leisure Magazine. In addition, TripAdvisor has it listed in their "Top 3 Most Romantic Hotels in the U.S."
The resort's honeymoon registry allows wedding guests to choose from champagne, booking restaurant gift certificates, or other accommodations. Check out the latest prices and more details.
Ko'a Kea Hotel: Romantic Things to do
The Ko'a Kea hosts daily yoga and wellness classes on their lawn. Enjoy these while viewing the ocean every day!
The award-winning Red Salt Restaurant here is perfect for a romantic dinner! The staff uses locally-sourced Hawaiian ingredients to create the perfect dish for you and your partner on your romantic evening.
Relax on the oversized Adirondack chairs at the oceanside fire pits in the evenings while watching the sunset. You can also stay for the nightly sunset tiki torch lighting ceremony!
The hotel's lovely pool is surrounded by tropical plants, lava rock, and palm trees. Ko'a Kea also offers a Pool Bar where you can order food and tropical cocktails.
Definitely book the spa's Hawaiian Honeymoon Ritual for Two Kauai packages! You and your partner will be in an intimate couples treatment room with relaxing side-by-side massages.
Ko'a Kea Hotel Rooms
Ko'a Kea's 121 rooms boast beautiful ocean views and garden views, both perfect for your Kauai honeymoon.
Honeymoon couples will love their Ocean View Guestroom, which has a stunning view of Poipu Beach and the Pacific Ocean. The spacious rooms are 364 square feet and have a luxurious marble shower with dual showerheads.
You can also choose the lovely Oceanfront Suite for an upgrade! This 624-square-foot room offers all Guestroom features plus a deep soaking tub and a living area.
A great honeymoon option is to get the Spark the Romance Package. You get credits for spa treatments, food, and beverages!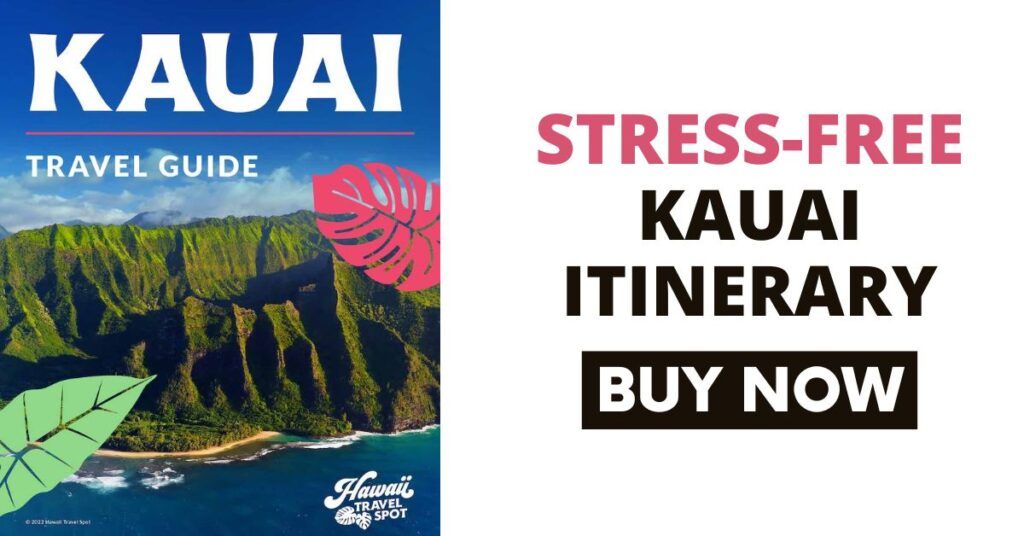 4. Royal Sonesta Kauai Resort in Lihue, Kauai
The Royal Sonesta Kauai Resort (formerly Kauai Marriott) is yet another brilliant Kauai resort, perfect for honeymoons! This one is in the city of Lihue, which is pretty close to the airport. Read my full resort review HERE.
The resort is on Kalapaki Bay, known for its calm waters and popular for swimming and learning water sports, such as surfing.
Check out the beautiful beaches in the North and Waimea Canyon in the South with easy access, as Royal Sonesta Kauai Resort is located in the center of the island's highway.
In addition, the location is ideal for the accessibility it offers to shops, grocery stores, and restaurants. Check out the latest prices and more details.
Royal Sonesta Kauai Resort: Romantic Things to do
Surfing, kayaking, paddle boarding, and snorkeling are perfect for beginners! The tranquil water makes it easy to learn, and it is right next to the pool on the bay.
You can also rent private beach cabanas to relax on the beach all day without the harsh glares of the sun.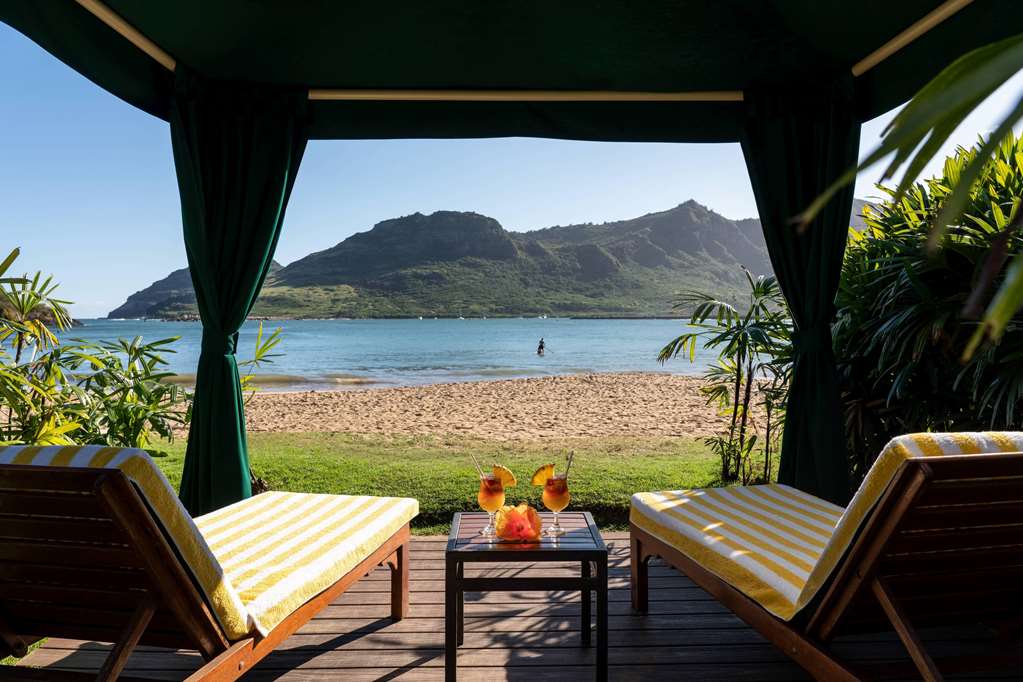 Book a beachside couples massage or another package at the spa for a romantic time with your partner.
The Royal Sonesta Kauai Resort has five restaurants. One of these is Kukui's on Kalapaki Beach, which is right next to the pool! It features Kauai-grown produce in its dishes.
Another option for lunch and dinner is Duke's Kauai, popular for its large Hula Pie dish that is often shared.
The resort also holds an on-site luau Hawaii Alive. Make sure you book tickets!
Another cool aspect of the Royal Sonesta Kauai Resort is that it contains the only Jack Nicklaus Signature Course in Lihue. Named "Hawaii's Best Golf Course" for the past 3 years, its size is incredible; it presents the longest stretch of oceanfront golf on the islands.
The resort also possesses the largest single-level outdoor pool in the entire State of Hawaii. Take the time to relax at the pool and enjoy the scenery while drinking a mai tai.
Royal Sonesta Kauai Hotel Rooms
The Deluxe Ocean View room has sweeping views of Kalapaki Bay. The rooms are 450 square feet and offer standard hotel amenities.
You can also book a One-Bedroom Suite for an upgrade! These 1,000-square-foot rooms offer a marble bathroom with a bathtub with spray jets and dual vanity. Also offered include living/sitting and dining areas and a privacy wall used for bedroom separation.
Check Rates at Royal Sonesta Kauai Resort
The Kauai Beach Resort is another chill and more low-key resort. It is also in the city of Lihue and close to the airport!
This resort is ideal for couples looking to go on adventures together! You will find plenty of boat tours, hiking trails, waterfalls, and snorkeling beaches, and you can also go ziplining and mountain tubing.
Take a romantic walk and view the mesmerizing Kauai sunrise on the beach!
Couples who are looking to vacation in Hawaii on a budget – The Kauai Beach Resort is perfect for you! It is named the Best Value Hotel in Kauai. Check out the latest prices and more details.
Kauai Beach Resort: Romantic Things to do
After spending your day exploring and adventuring in beautiful Kauai with your partner, spend time chilling in the resort's lagoon-style swimming pools and treat yourself to some tasty shave ice!
You can also spend the whole day relaxing at the pool and have Hawaiian-style plate lunch and frozen cocktails. Treat yourself!
The Shutters Lounge plays live Hawaiian music nightly and has plenty to eat and drink.
Enjoy a romantic candlelit dinner at Naupaka Terrace. They feature foods with ingredients from local Kauai farms!
Be sure to book the resort's spa's private oceanside massage in their exclusive beachside bungalow. Relax as you feel the gentle Hawaiian tradewinds and hear the ocean's rhythm.
You can also book a Rainforest Honeymoon Ritual, which is a couples massage featuring a warm coconut oil scalp massage, luxurious coffee hand and foot treatments, and tropical body butter.
Kauai Beach Resort Hotel Rooms
Book the resort's Standard Partial Ocean View room with a King sized bed for an affordable Kauai honeymoon. You can see the gorgeous Kauai sunrise and hear the ocean from your room.
You can also book an Oceanfront Suite for an upgrade! This room offers a wet bar and a private sitting area that is extremely close to the beach.
No matter which room you choose, book the Kauai Beach Resort's Romance Package! You get a 10% discount on their best available rate PLUS a couples treatment at its Hawaiian Rainforest Spa.
Check Rates at Kauai Beach Resort
6. 1 Hotel Hanalei Bay in Princeville, Kauai
The 1 Hotel Hanalei Bay does not actually open until late 2022, but it is already expected to be an incredible resort.
The resort used to be the famous St. Regis Princeville, and afterward, the popular Princeville Resort, and it is now being transformed into 1 Hotel Hanalei Bay.
The resort's 5-star amenities and location make it the perfect, luxurious honeymoon spot.
This 9,000-acre property overlooks Makana Mountain and Hanalei Bay up on Kauai's lush North Shore. Check out the latest prices and more details.
1 Hotel Hanalei Bay: Romantic Things to do
Five restaurants and bars are currently being launched, and they will focus on dishes using ingredients from neighboring farms and the hotel's organic, on-site garden.
There are plans to launch an 18,000-square-foot spa and fitness center.
On the property already is a lovely waterfront golf course!
1 Hotel Hanalei Bay Hotel Rooms
1 Hotel Hanalei Bay will have 252 rooms, 51 of them being suites, after it is finished with renovations.
The decor will feature neutral elements through organic cotton linens and reclaimed materials. You will be able to see the beautiful views of Hanalei Bay, among the views of mountains and tropical gardens.
Check Rates at 1 Hotel Hanalei Bay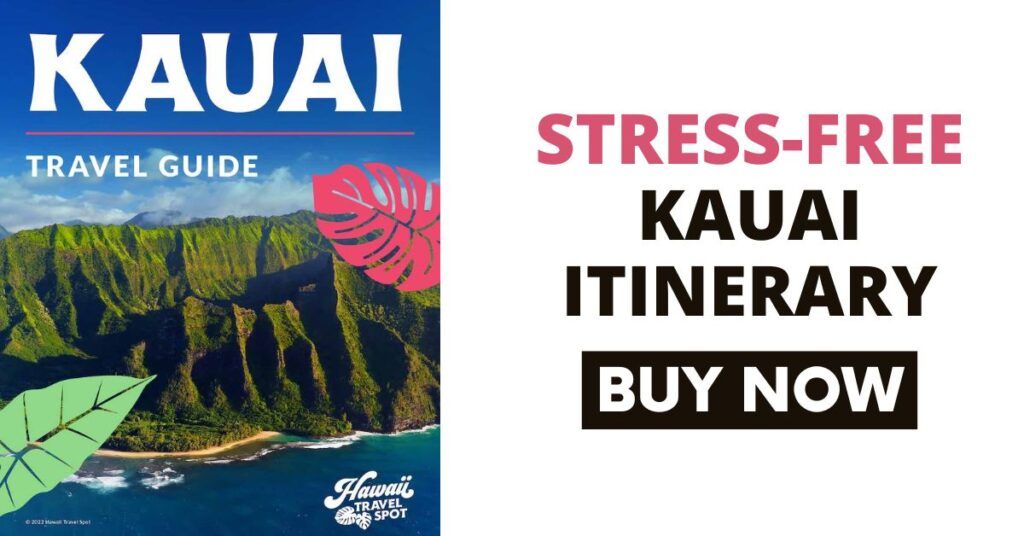 Kauai Honeymoon FAQs
Is Kauai or Oahu better?
Oahu is popular for being one of the most famous cities in the world and its lovely nature. Kauai, however, is more peaceful and may be better suited for a honeymoon trip, as it is a more private experience.
Why is Kauai so popular?
Kauai is home to several beautiful landscapes, such as the Coconut Coast and Waimea Canyon, among several other magical waterfalls, beaches, and mountains. These sites make the area incredibly attractive!
What is the best month to go to Kauai?
April and May are some of the best months to go to Kauai! These early spring months are fantastic to visit because of the great weather, low tourists, and rates. Just be sure to avoid spring break!
Best Honeymoon Resorts in Kauai Hawaii Wrap Up
As you can see, there are plenty of romantic places to stay for your honeymoon in Kauai, Hawaii! Check out all the different Kauai honeymoon packages before choosing your ultimate Hawaii honeymoon resort!