Are you looking for the best restaurants in Kona for your Hawaii honeymoon? Keep scrolling for this list of the most romantic restaurants in Kona Hawaii totally worth a reservation.
This list of the most romantic restaurants in Kona Hawaii contains affiliate links which means if you purchase something from one of my affiliate links, I may earn a small commission that goes back into maintaining this blog.
Planning a romantic getaway to Kona, Hawaii?
We've got you covered! Kona is such a romantic place to stay for couples at any stage of their relationship.
From the best beaches for couples to the most romantic restaurants, we know all the spots that will make your stay unforgettable.
Imagine enjoying a delicious dinner while watching the sunset over the Pacific Ocean. With our guide, you can find the perfect restaurant for any mood. These also make great Hawaii proposal spots!
Here is your ultimate guide to finding the most romantic restaurants in Kona, Hawaii!
Don't have time to read a bunch of Hawaii blog posts and reviews? Here are some of our top picks for planning your Big Island Honeymoon.
Best Big Island Honeymoon Tours/Activities
Best Big Island Honeymoon Resorts
Want to Rent a Car in Hawaii?
One of the best places to rent a car in Hawaii is Discount Hawaii Car Rental because they get the best rates from top national companies like Alamo, Dollar, Thrifty, Avis, Enterprise, Budget, and Payless.
Want to skip all the planning and just access my detailed Big Island Itinerary complete with daily schedules, fun activities, and travel hacks? Click the button below.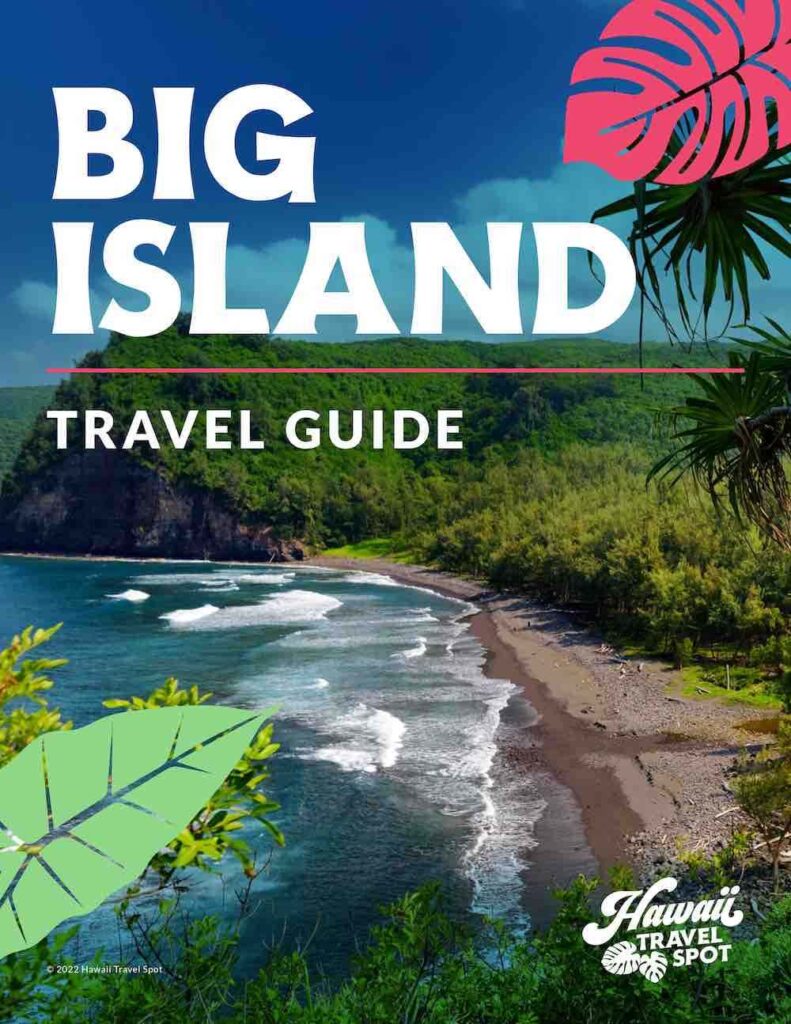 Most Romantic Restaurants in Kona Hawaii
Here are some of the best romantic places in Kona, Hawaii, so you can enjoy a delicious meal with your significant other each night of your trip. Many of these have incredible views, while others are more intimate and make for a perfect romantic evening.
1. Huggo's
Huggo's is a great place to eat and enjoy the ocean views in Kona. You get to eat dinner right along the Kona coast at this casual yet elegant restaurant.
Enjoy some wine or cocktails, along with black Angus steak, crusted ahi, shrimp, clams, and more! For dessert, try the lime pie or coffee cheesecake!
2. Kona Inn Restaurant
At the Kona Inn Restaurant, you will find a restaurant on the water that offers some delicious food for everyone to enjoy! It is a more casual place, but if you go during the sunset, you will find a gorgeous view unlike any other!
From sashimi to prime sirloin, calamari sandwiches, teriyaki shrimp, and hula chicken, their dinner menu is incredible and full of options!
3. La Bourgogne
La Bourgogne is a great fine dining option in Kona, Hawaii. This restaurant offers intimate dining situations so you can fully enjoy each other's company. It is one of the best French and Italian restaurants on the island!
Here you will find a wide selection of wine, along with lobster, steak, duck, fresh fish, and more. Share a creme brulee with your significant other to finish off the evening.
4. On the Rocks
At On the Rocks, you can enjoy some live entertainment and music while you eat your dinner. It is another one of the great restaurants here in Kona. You won't be disappointed with this casual dining option.
On the Rocks focuses on fresh food and offers delicious poke bowls, fish and chips, beef tacos, and kalua pork sandwiches.
5. Magics Beach Grill
Magics Beach Grill is one of the best restaurants in Kona, Hawaii. Overlook a beautiful sunset along the Kona coast while eating an incredible meal with your loved one here. It is so good; you'll want to come every night!
Some of their favorite meals include their ahi steak, mushroom pasta, fish tacos, and fish and chips. This restaurant has one of the best dinner ocean views, so you'll want to add this to your Hawaii honeymoon itinerary!
6. Sam's Choy
You'll find a 230-degree view of the Pacific Ocean at Sam's Choy. This is one of the great places to go when you want some authentic Hawaiian food for a romantic evening out with your spouse.
Overlook a beautiful ocean sunset while eating some teriyaki beef, duck stew, poke bowls, fish tacos, and chicken tenders. While it is not a luxurious place to eat, it is delicious, and you can't beat the ocean views you'll find here!
7. Kenichi Pacific
At Kenichi Pacific, you will have the option to eat inside or outside. While eating outside, you might even catch a live hula show! Kenichi Pacific has an extraordinary Japanese food selection, with tons of high-quality dishes and desserts for everyone.
You'll find the best seafood and sushi on the island right here! From scallop curry to filet mignon, crusted lamb, and duck confit, no matter what you decide, it will be delicious!
8. Honu's on the Beach Restaurant
Honu's on the Beach Restaurant is another one of the best Kona coast restaurants you'll find. You'll find this place at the Courtyard King Kamehameha's Kona Beach Hotel. At night, it is lit up with lights to make for a very romantic evening.
Sit at a fire pit and enjoy some tasty seafood chowder, prime rib, crab, and so much more!
9. Voyagers of the Pacific Luau
You'll want to go to a luau at least once during your trip to Hawaii. The Voyagers of the Pacific Luau at the Royal Kona Resort is located right in Kona and has a great dinner and show you don't want to miss.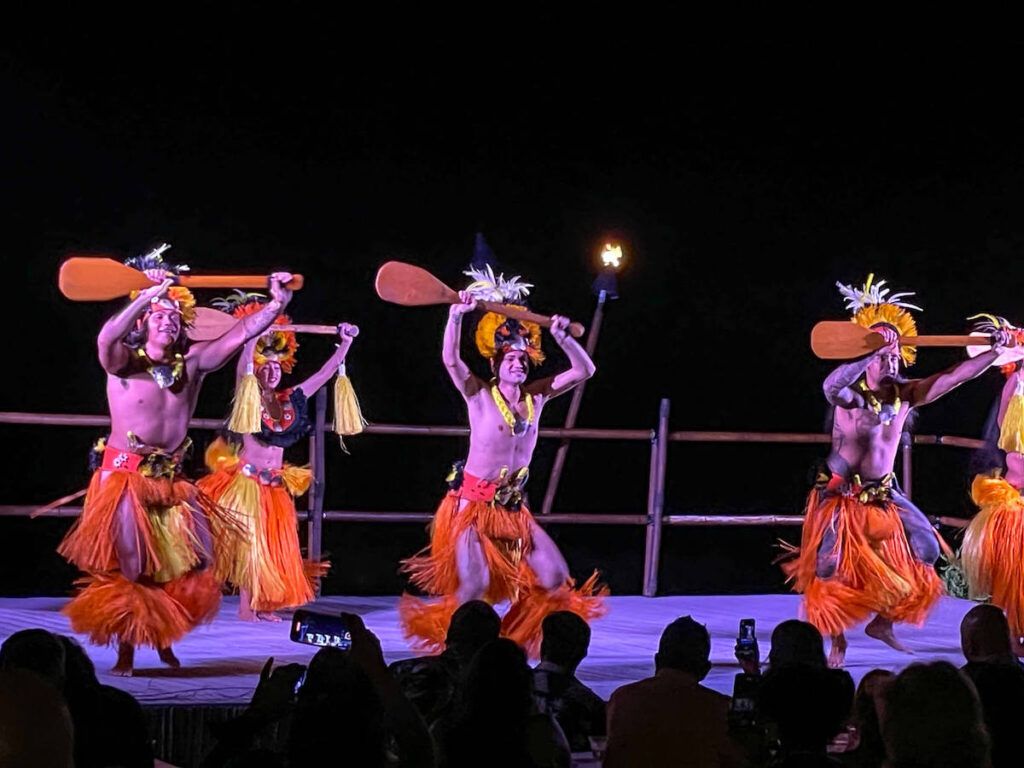 You'll get a special shell lei when you arrive, along with the opportunity to learn how to make your own lei. Afterward, you will have the traditional Imu ceremony, followed by a delicious buffet and an awesome show.
Enjoy some hula and fire knife dancing, all the while learning about Hawaiian culture. Going to the luau is always a romantic evening option in Hawaii!
10. Jackie Rey's Ohana Grill
Jackie Rey's Ohana Grill in Kona is a smaller restaurant that has candles at every table to create a warm and happy experience for couples. Enjoy some warm rosemary bread while figuring out what to eat!
You'll be able to choose from a variety of options, including pork ribs, grilled fish, lamb chops, and angel hair pasta. Drink some delicious wine, cocktails, mocktails, or beer throughout your evening too!
11. Papa Kona
You'll find a two-story place to eat overlooking the beautiful black rocks and ocean at Papa Kona. Enjoy some live music every night to further enjoy your evening with your spouse. It is one of the best places to watch the sunset in Kona too!
Papa Kona offers avocado fries, pulled pork sandwiches, seared ahi, and so many more mouth-watering meals. You'll definitely want to check out this place one night during your honeymoon.
12. Kona Canoe Club
For another oceanfront dining option, head to Kona Canoe Club. It is a laid-back place to eat but will provide a beautiful view of the water to create a relaxing romantic evening out with your significant other.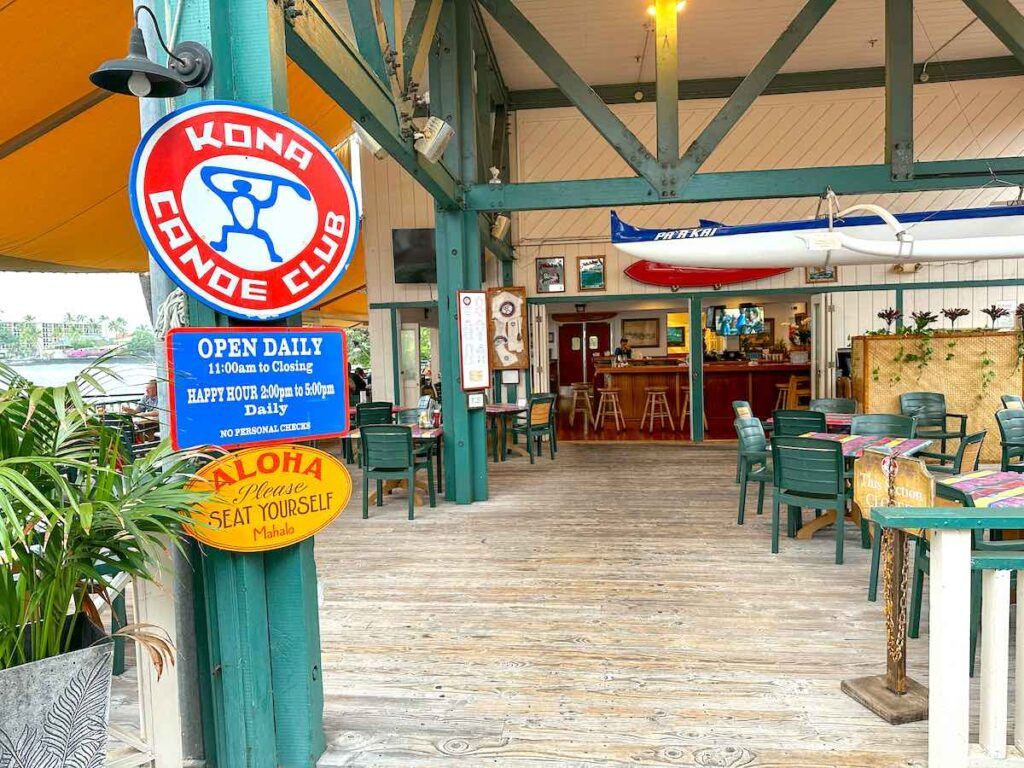 This is the best place to eat if you love burgers, taco salads, calamari, kalua pig, and fish and chips! Be sure to try out their macadamia nut ice cream for dessert to finish off the evening.
13. Dinner Under the Stars
If you are staying at the Four Seasons Resort, you might enjoy their Dinner Under the Stars special. The staff will create a perfect romantic evening for the two of you. It is personalized to fit your needs too!
You'll choose from a variety of food options and will have a very intimate evening together. It is an experience you'll definitely want to try during your honeymoon!
14. 'Ulu Ocean Grill
The 'Ulu Ocean Grill is one of the most romantic restaurants in Kona, Hawaii. Enjoy a night out eating dinner with your loved one under the stars right next to the ocean. What is more romantic than that?
Enjoy some delicious seafood, including poke, oysters, calamari, and ahi tuna. You can also grab some New York steak, curry, and other options as well.
15. Hualalai Grille
For some Kona fine dining, head to Hualalai Grille. This is another one of the restaurants at the Four Seasons Resort, and it has some of the best steaks you'll eat on this island. It overlooks the golf course and is a more intimate experience.
Get started with a shrimp cocktail, and then enjoy some ribeye, filet mignon, or pork chops. Finish off your evening with a strawberry shortcake or macadamia nut toffee ice cream pie.
16. Sunset Dinner Cruise
While this is not a restaurant, it does make for the perfect romantic evening for couples. Eat out on the ocean while watching a stunning sunset on this Sunset Dinner Cruise. It definitely makes for a very romantic dinner in Kona, Hawaii.
Sit back and relax to live music while eating a delicious meal and watching the sunset together with your spouse. This is a 3-hour cruise that is completely worth it. It is a memory you won't ever forget.
17. Picnic Dinner
If you are traveling to Kona on a budget, grab some dinner to go and enjoy a nice picnic dinner on the beach. It is a quick and easy way to have a romantic dinner during your honeymoon.
You can order takeout from one of the restaurants above or get a poke bowl from Foodland. Go on a walk along the beach, watching the sunset when you are finished!
18. Room Service
If you are staying at a resort, order room service for one night, and don't leave your room! Nothing is more romantic than having an evening together all alone. It might even just turn out to be your favorite night of the trip!
Best Restaurants in Kona Hawaii FAQ
Is Kona a good place for a honeymoon?
Kona is one of the best places to go on a honeymoon on the Big Island. There are a few incredible resorts on this side of the island and plenty of romantic dining options; you will have the perfect getaway here with your significant other!
Are there any romantic restaurants in Kona on the beach? 
Yes, there are plenty of romantic restaurants on the beach in Kona! Read down below to find all the restaurants on the beach and those that offer stunning ocean views while you eat.
Fine Dining in Kona Hawaii Wrap Up
Choose from any of these romantic restaurants in Kona, Hawaii, for the perfect night out during your honeymoon or couple's trip. No matter where you go, you will find a romantic evening filled with delicious food, great drinks, and mouth-watering desserts.