Heading to Oahu and want to know the top Oahu beaches for swimming? Scroll to check out the best swimming beaches in Oahu!
This list of best swimming beaches in Oahu contains affiliate links which means if you purchase something from one of my affiliate links, I may earn a small commission that goes back into maintaining this blog.
As one of Hawaii's most popular and vibrant islands, Oahu is known for its stunning beaches that offer a variety of activities.
Whether you're a swimmer, a surfer, or just want to soak up the Hawaiian sun out on the ocean, there's a beach here for everyone.
Here are some of the best swimming beaches in Oahu to enjoy during your trip to Hawaii!
Some of these top beaches in Oahu are more suited for families with younger children, while others are better for adventurous swimmers looking to explore the sea life.
Don't have time to read a bunch of Hawaii blog posts and reviews? Here are some of our top picks for visiting Oahu.
Popular Oahu Tours/Activities
Favorite Oahu Resorts/Hotels
Want to Rent a Car in Hawaii?
One of the best places to rent a car in Hawaii is Discount Hawaii Car Rental because they get the best rates from top national companies like Alamo, Dollar, Thrifty, Avis, Enterprise, Budget, and Payless.
Want to skip all the planning and just access my detailed Oahu itinerary complete with daily schedules, fun activities, and travel hacks? Click the button below.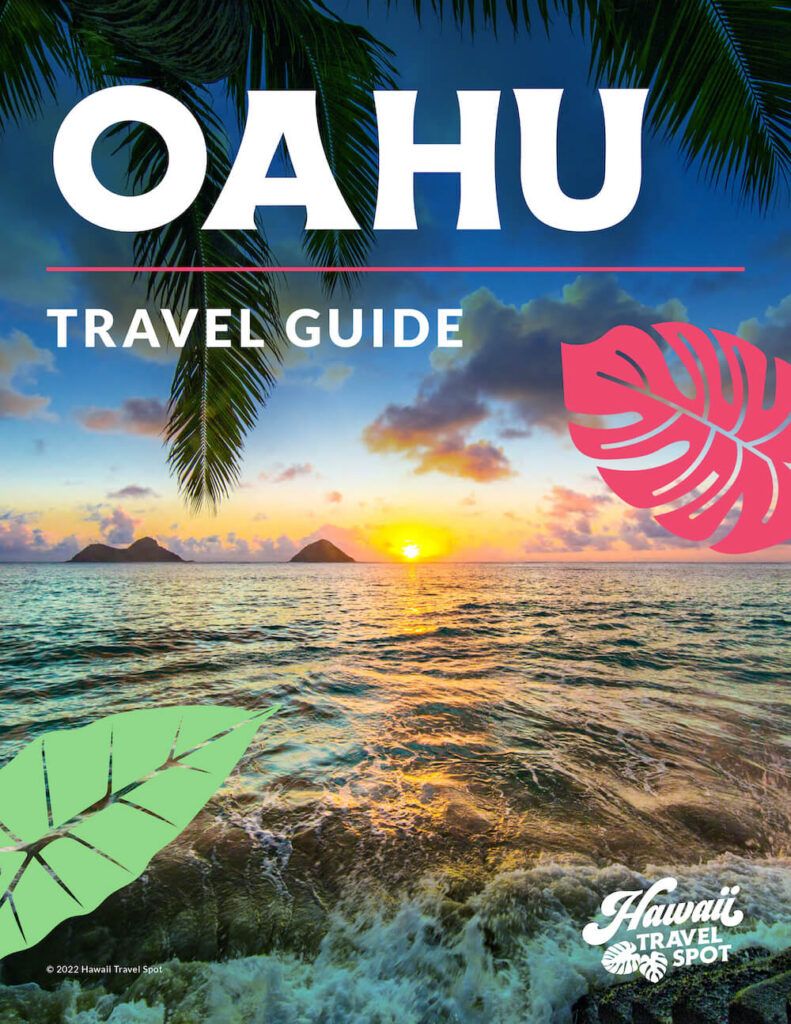 15 Best Swimming Beaches on Oahu
Here are some of the best places to swim in Oahu. From the most popular ocean shores to some special hidden beaches in Oahu, you'll enjoy any of these awesome beaches.
Waikiki Beach
Waikiki Beach is one of the most famous and best beaches in Oahu, and for a good reason. With its clear turquoise water, warm temperatures, and gentle waves, Waikiki Beach is perfect for swimmers of all levels, including families with small children.
It's a large crescent-shaped beach that stretches for miles along Honolulu's shore and is known for its soft, golden sand. The water is protected by an offshore coral reef, which helps to create a calm and safe swimming area for visitors.
This is one of the best beaches in Waikiki since it is central to just about everything and is calm to swim in. However, the only downside is that it can get pretty crowded with all the visitors. Get my insider tips on where to park in Waikiki.
Lanikai Beach
Lanikai Beach is also considered one of the best swimming beaches in Oahu. It has incredibly soft, white sand and gorgeous aqua waters.
Located in Kailua, the beach offers a peaceful escape for visitors looking to unwind and soak up the sun. The clear, calm waters offer the entire family a relaxing place to swim and enjoy the Hawaiian ocean.
Kailua Beach
Located very close to Lanikai Beach, Kailua Beach ranks among the most beautiful beaches in the world and is another one of the best beaches in Oahu for swimming. It also features super soft sand and bright blue water that last for miles on end.
The beach is perfect for swimming, body surfing, kite surfing, and kayaking with its smaller waves.
It's no wonder that Kailua Beach Park is a favorite spot for both locals and tourists who are looking for a relaxing and enjoyable day at the beach.
There are plenty of amenities available, including parking, restrooms, showers, and picnic tables to make the experience all the more comfortable.
Ko Olina Lagoons
Some of the best Oahu beaches for swimming are over in Ko Olina at each of the lagoons. These man-made lagoons were created with the perfect swimming conditions for the entire family!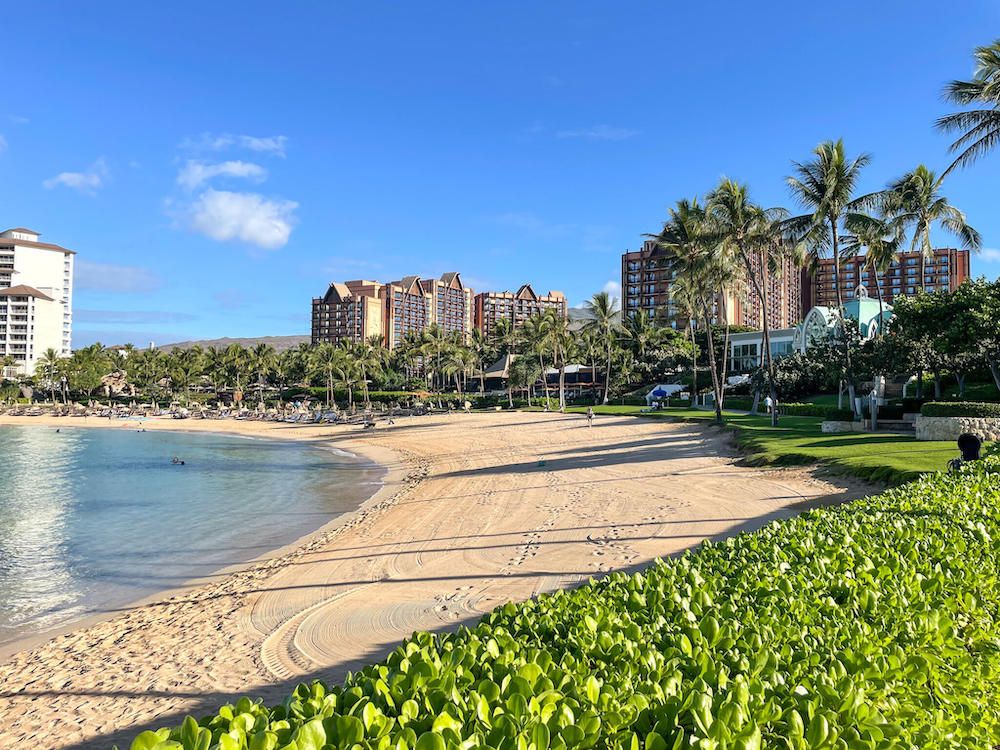 There are four different lagoons in Ko Olina, and each one has a sea wall to protect the lagoons from getting very many waves.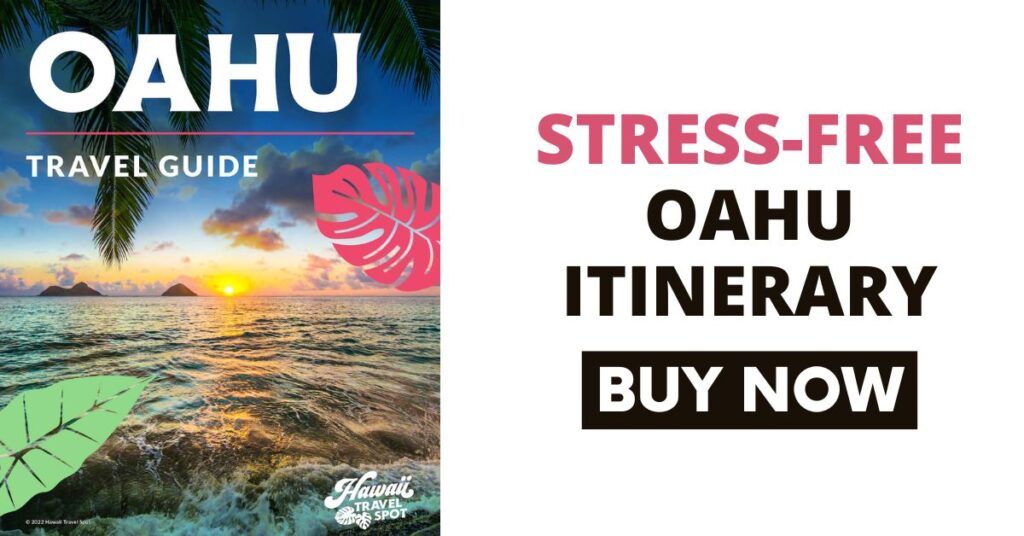 Pokai Bay Beach Park
Located on the West Side of the island, Pokai Bay Beach Park is a lesser-known beach that also is great for swimming.
There is a breakwater here that helps protect the area from strong waves, making it perfect all year round for children and beginner swimmers.
Waimanalo Bay Beach Park
Waimanalo Bay Beach Park is a breathtaking location situated close to Kailua and another one of the best beaches to swim in Oahu. It is surrounded by a forest which just adds to its beauty.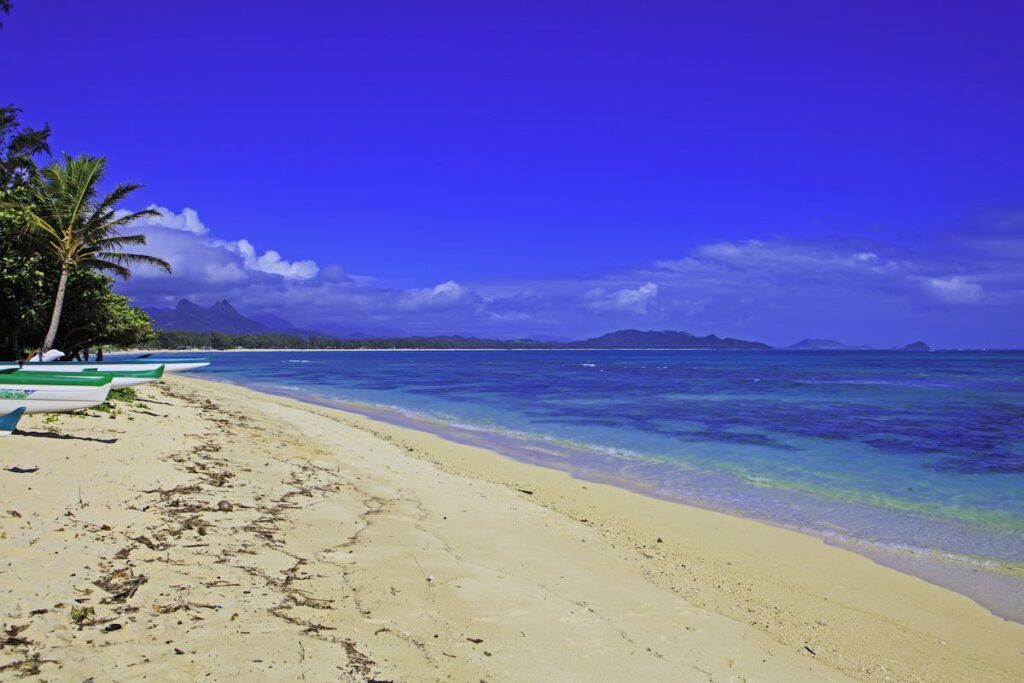 This beach provides the perfect atmosphere for swimming, sunbathing, and other water activities. There are some small waves perfect for body surfing too!
Ala Moana Beach Park
Among the top swimming beaches on Oahu is the Ala Moana Beach Park, which offers everything you need for an unforgettable day at the beach.
Located in Honolulu, the Ala Moana Beach Park offers a wide sandy shoreline, along with calm waters that are ideal for swimming and paddleboarding. It even has another small crescent beach called Magic Island that you will love to swim at too!
With its calm waters and close amenities nearby, it is one of the best beaches in Oahu for families to enjoy!
Malaekahana Beach
Located between Laie and Kahuku, Malaekahana Beach is another great beach for swimming during your trip to Oahu. Here you will mainly find locals as it is a popular place for them to camp.
During the wintertime, you will find more waves for surfing or body surfing, while the summer months offer more calm waters to enjoy.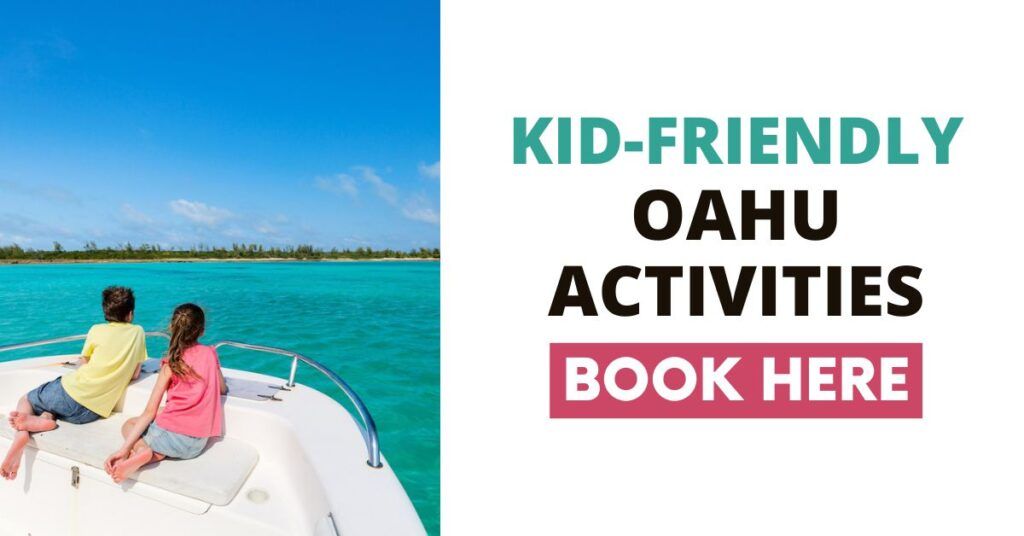 Waimea Bay
One of the most popular North Shore Oahu beaches to swim and go surfing at is Waimea Bay. The beach is known for its large waves and is perfect for surfers, especially during the winter months.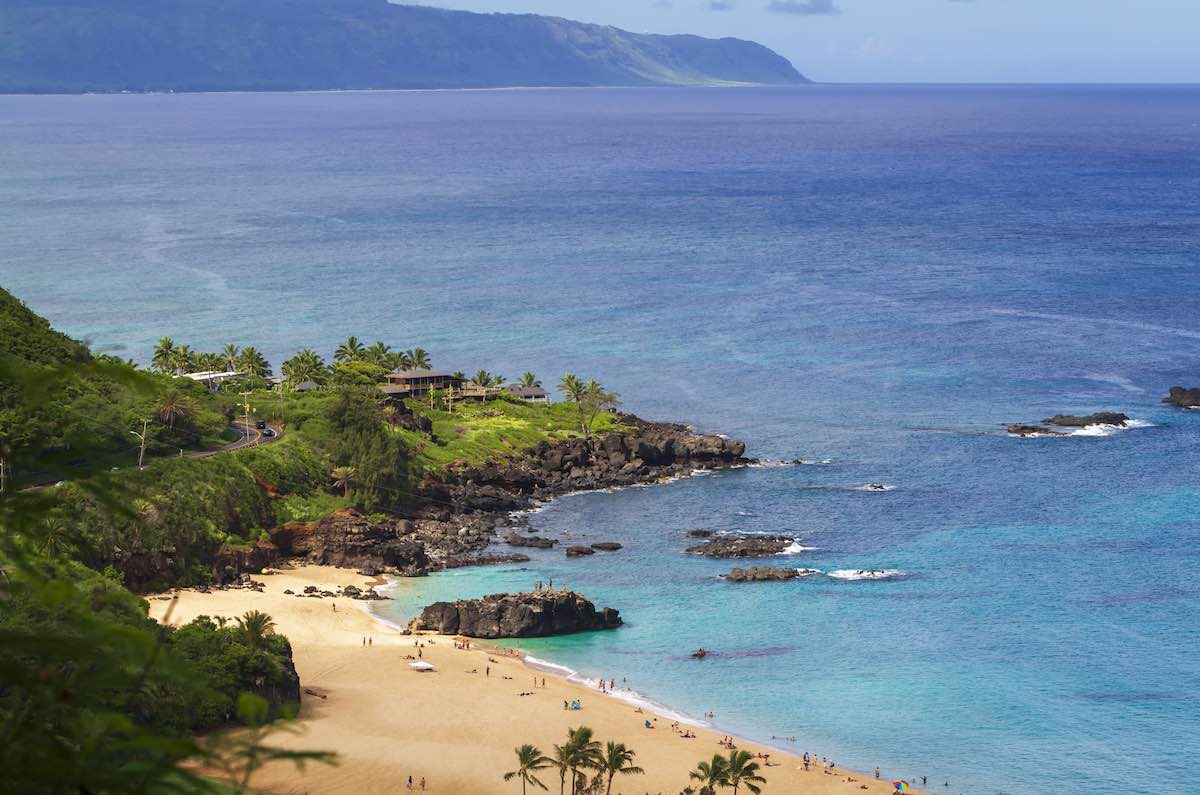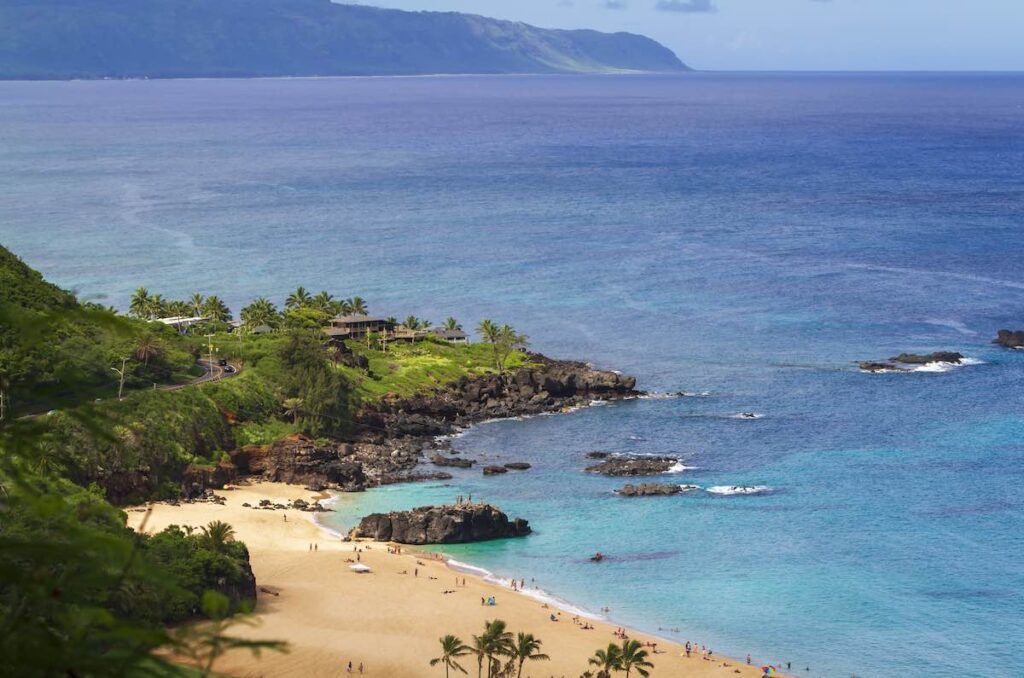 During summer months, the waters are calm and perfect for swimming, while in winter, the waves can reach heights of up to 30 feet!
You will see a tall rock that many locals will jump off of, but it can be risky. It is best to just enjoy swimming in the relaxing waters to be safe.
Kuilima Cove
Kuilima Cove is right by Turtle Bay Resort and is open for everyone to enjoy its clear waters and soft sand! The cove is protected by some sea walls of limestone, making the waters calm and relaxing for the entire family when the surf is low.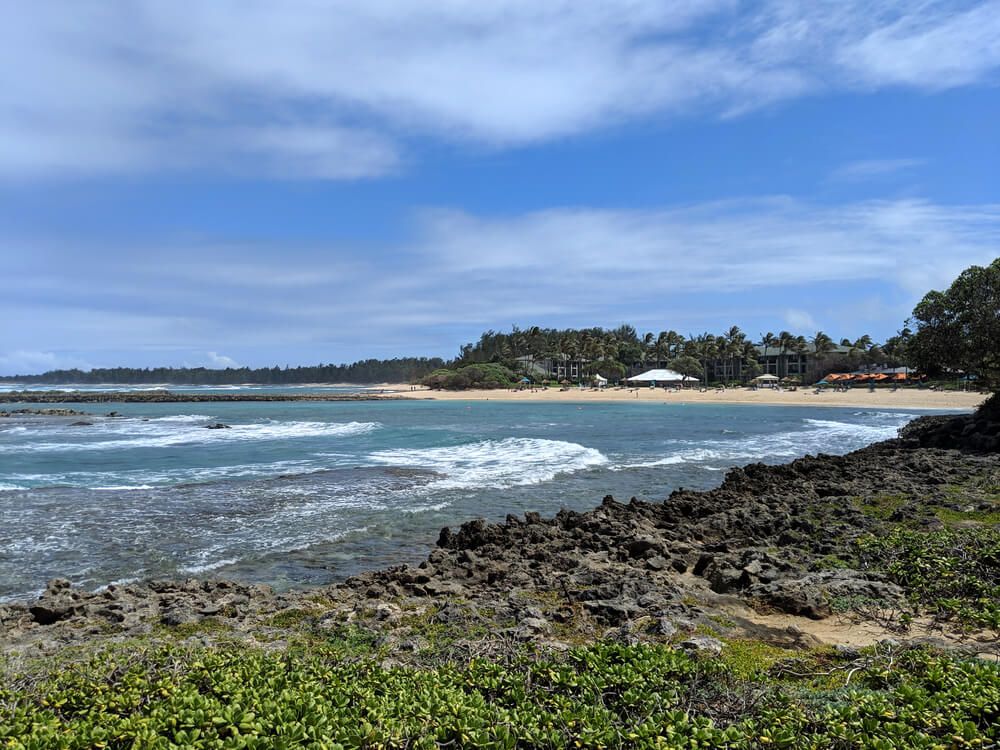 During the winter months, the surf can get higher, so be cautious and enjoy this beach during the summer months!
Paradise Cove Beach
Located close to Disney's Aulani Resort & Spa, Paradise Cove Beach, also known as Lanikuhonua Beach, is another popular swimming beach in Oahu.
This cove is protected by a rock wall, which helps the waters to remain shallow and calm. You can even enjoy some snorkeling here as well! Sometimes you can even find some tidepools for your little ones to enjoy too.
Hanauma Bay
Hanauma Bay is one of the best Oahu beaches for snorkeling and swimming. This crescent-shaped bay brings the perfect conditions for snorkelers! You'll find clear turquoise waters, an expansive coral reef, and a huge selection of fish species to observe!
There is a nice sand area to rest and keep your things while you are out swimming and seeing all the fish.
Since it is one of the most popular places to snorkel on Oahu, it does get very crowded, so if you are just looking to swim, try another one of the beaches on the list.
Temple Beach
Temple Beach is located right in Laie and is a popular swimming beach for the BYUH students nearby as well as those visiting the Polynesian Cultural Center.
Here you will find kite surfers, body surfers, and swimmers enjoying the beautiful water. This is a great beach for the entire family, especially during the summer months.
While this is a great beach to swim at, it can get very crowded with college students, especially during the weekends, so if you are in the area, try Malaekahana Beach right next door for a more secluded option.
Turtle Beach
One of the best places to snorkel with turtles on Oahu is Laniakea Beach, also known as Turtle Beach.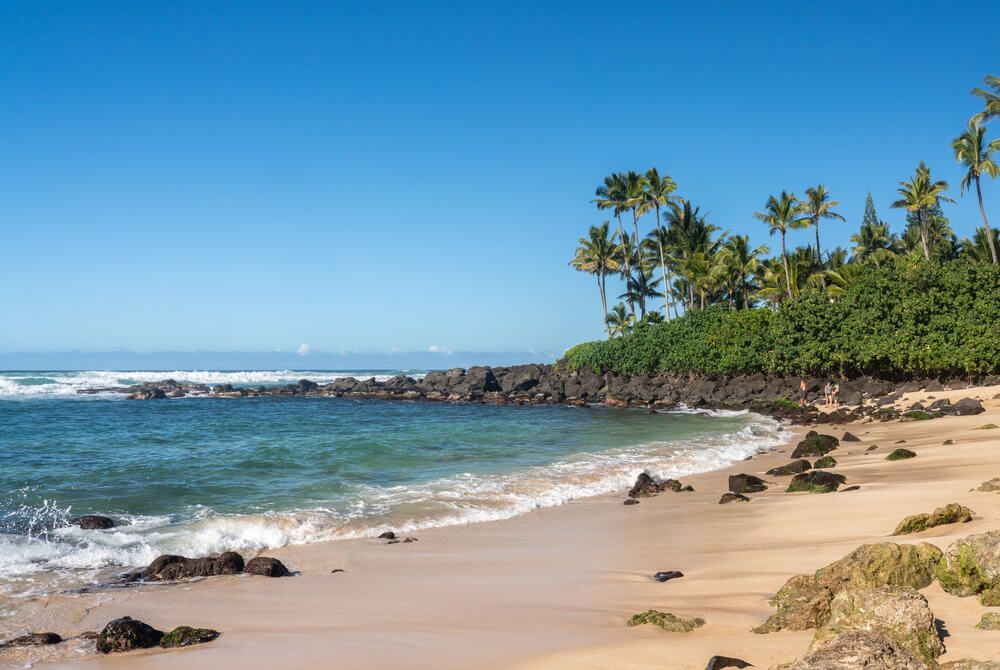 The water conditions can be a bit rough at times, and there are rocks and moss you have to get around, so it is not the best beach to swim in with your children. If you want to snorkel with turtles on your honeymoon, this is the perfect beach for you!
Secret Island
If you are heading to Kualoa Ranch, be sure to go on the Secret Island tour. Here you will find another one of the best Oahu swimming beaches! You can only access this secluded beach with the tour, so you know it will never be overcrowded.
The sand is soft, and the island offers the perfect swimming conditions, rain or shine! You won't find any waves, so you can even kayak or go paddleboarding here too. It is another great place for the entire family to enjoy being out on the water.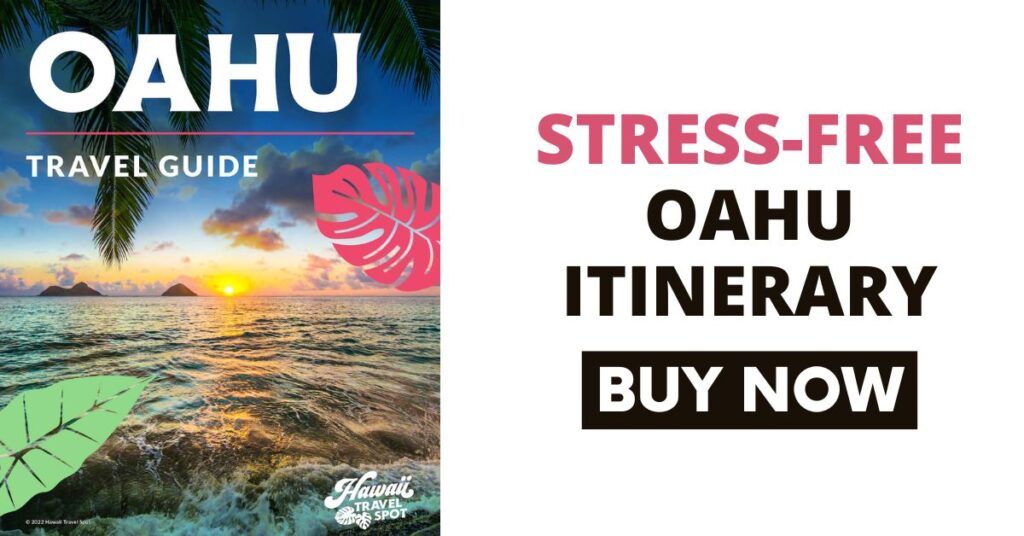 Best Swimming Beaches in Oahu FAQs
What is the best swimming beach on Oahu?
There are plenty of great beaches on Oahu you can swim in, but either Waikiki Beach or Lanikai Beach are two of the best beaches for swimming in Oahu!
Which beach in Oahu has the clearest water?
Lanikai Beach typically has some of the clearest water in all of Oahu. It is often also considered one of the most beautiful beaches in Oahu too!
What is the safest beach to swim in Oahu?
While many beaches on Oahu are safe to swim in, one of the safest beaches is Waikiki Beach. Here you will find calm waters, not very many waves, a soft, sandy bottom, and shallow waters.
Are Oahu's beaches safe for swimming all year round?
While many of Oahu's beaches are safe for swimming, conditions can vary throughout the year. The North Shore beaches, including Waimea Bay, can have large, potentially dangerous waves in the winter. Always check local conditions and heed lifeguard warnings before entering the water.
Are there lifeguards at the swimming beaches in Oahu?
Yes, many of Oahu's popular beaches, such as Waikiki Beach, Ala Moana Beach Park, and Kailua Beach, have lifeguards on duty during daylight hours. However, not all beaches are lifeguarded, so always prioritize safety when choosing a beach.
Is snorkeling good at Oahu's swimming beaches?
Yes, some swimming beaches in Oahu also offer excellent snorkeling opportunities. Hanauma Bay Nature Preserve is known for its abundant marine life, making it a top choice for snorkeling. Shark's Cove on the North Shore is also popular among snorkelers during the summer months when the water is calm.
Are there facilities like restrooms and showers at Oahu's beaches?
The most popular beaches in Oahu, including Waikiki Beach, Ala Moana Beach Park, and Kailua Beach Park, have facilities like restrooms, showers, and sometimes picnic areas and concessions. It's always a good idea to check before you go, particularly if you're planning a full beach day.
Are the best swimming beaches in Oahu close to Honolulu?
Yes, some excellent swimming beaches are located close to Honolulu. Waikiki Beach is right in the city and is renowned for its calm, warm waters. Just a bit further west is the family-friendly Ala Moana Beach Park. To the east of Honolulu, you'll find the beautiful Hanauma Bay Nature Preserve, known for its fantastic snorkeling as well as swimming.
Best Oahu Beaches for Swimming Wrap Up
These are just some of the best swimming beaches in Oahu, but there are so many other great options all over the island. Be sure to visit any of these throughout your trip to see which beach is your favorite.
Whether you're looking for a quiet, secluded spot to swim or a beach with plenty of amenities around, there is something for everyone on this island!