Are you visiting Hawaii and love shopping? Check out this guide to the best Hawaii souvenirs worth buying!
This list of the best Hawaii souvenirs contains affiliate links which means if you purchase something from one of my affiliate links, I may earn a small commission that goes back into maintaining this blog.
Hawaii offers a unique blend of culture, cuisine, and natural beauty that you'll fall in love with on your island vacation. There's no better way to keep the aloha spirit alive than by bringing home a piece of Hawaii.
Commemorate your trip and share your experiences with loved ones back home by finding the best Hawaii souvenirs.
But with so many options to choose from, it can be overwhelming to know what to buy. That's why I've put together a list of souvenir ideas from Hawaii.
From traditional crafts and clothing to tasty treats and skincare products, I've got you covered.
In this post, you'll take a closer look at some of the most popular souvenirs from the islands, including where to find them.
Whether you're looking for a keepsake to display in your home or a great gift for a friend, you're sure to find it on my list.
Want to skip all the planning and just access my detailed Hawaii itineraries complete with daily schedules, fun activities, and travel hacks? Click the button below.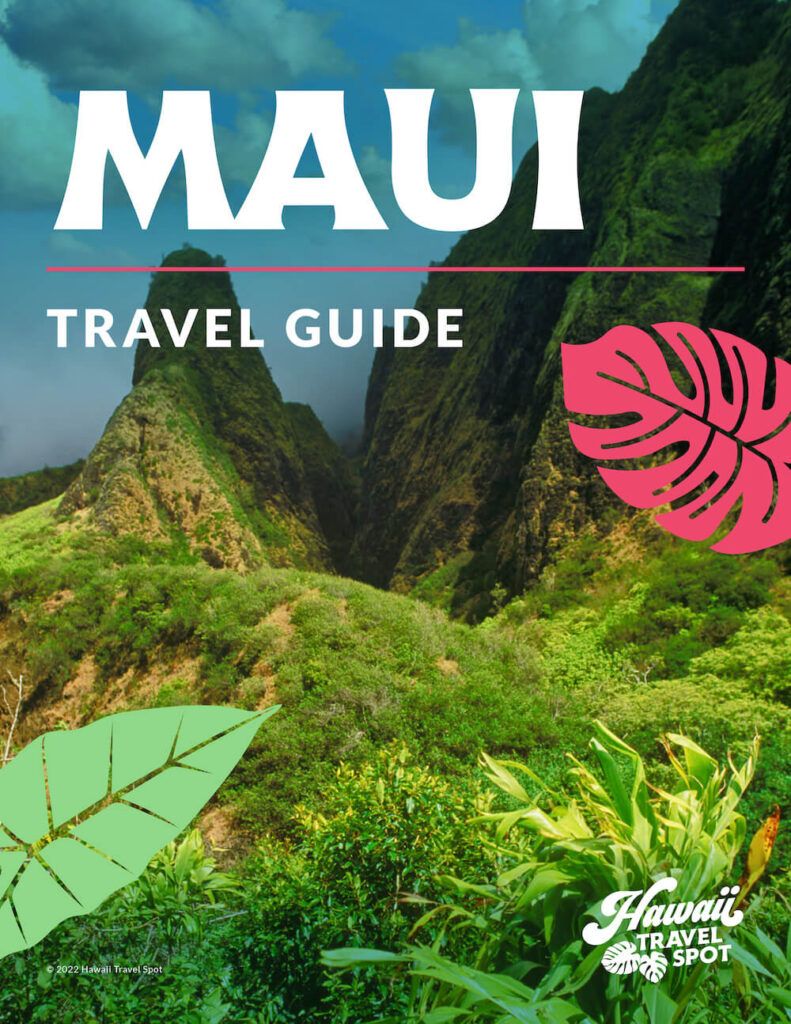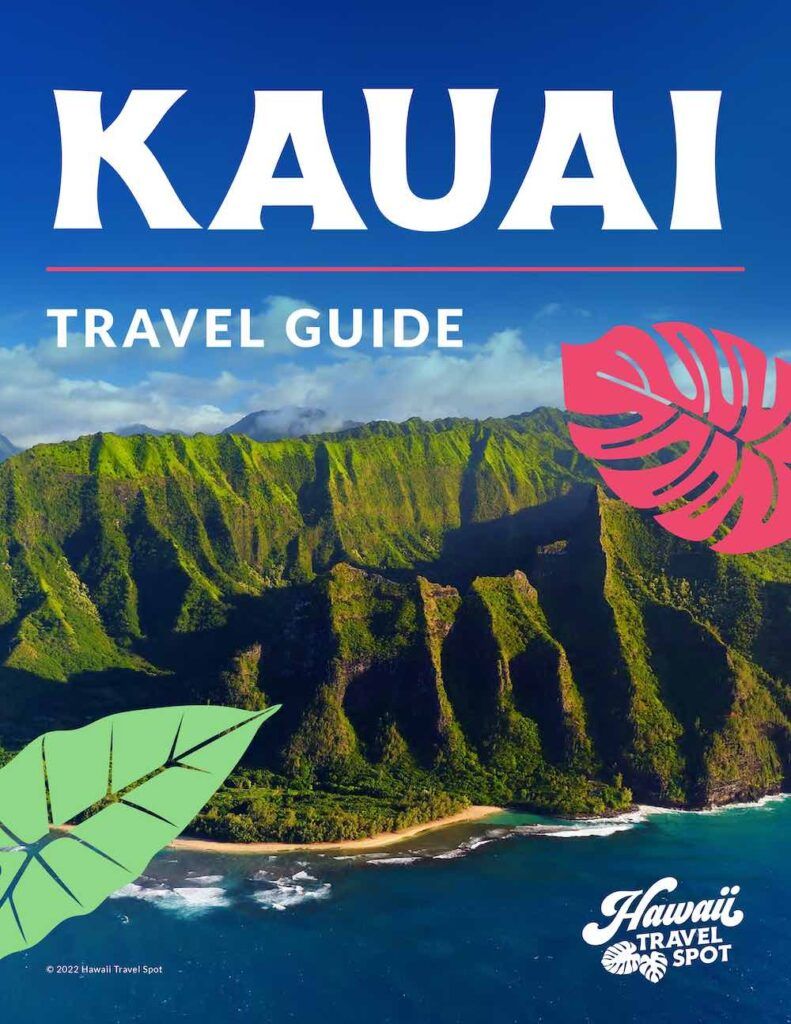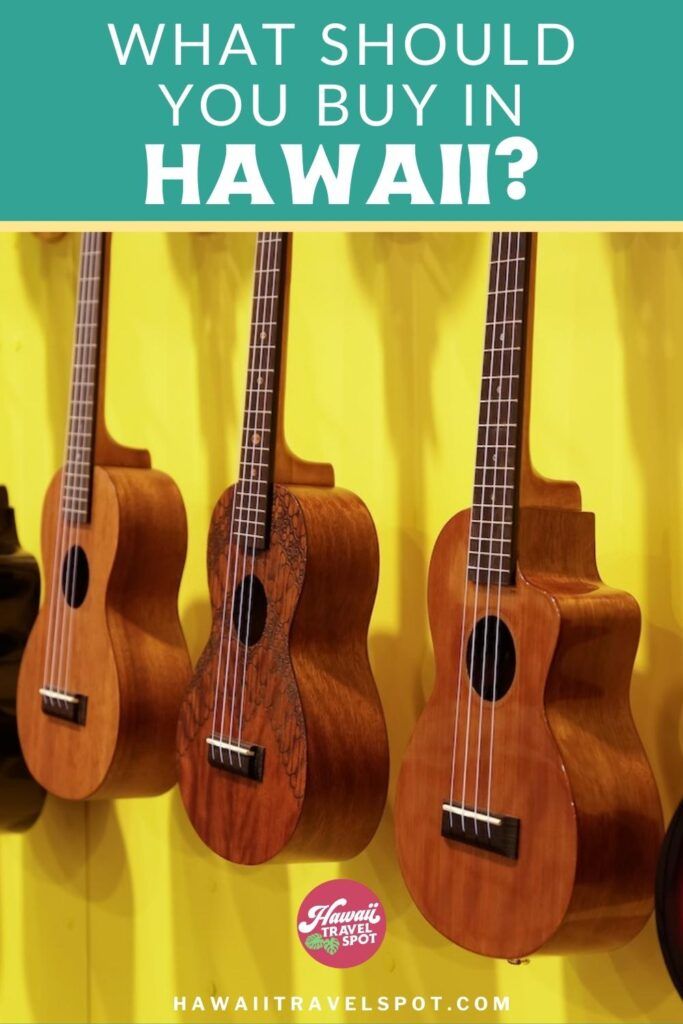 What Should You Not Bring Home from Hawaii?
Let's talk about shells, sand, and lava rocks. When you're looking for cool souvenirs from Hawaii, you might have the idea to bottle some sand or grab a few shells. What better way to remember your trip than a physical representation?
But it's important to know that in recent years, it's become illegal to take sand from Hawaii. This happened after it was reported that a significant amount of sand was taken from one Hawaiian beach.
Today, if you try to take sand, it could result in huge fines and it's just not worth it.
You can legally take seashells from the beach. But a good rule to follow when visiting a natural habitat is to leave it the way you found it. That means you don't leave any garbage or cairns (when you stack rocks).
But also don't take any natural materials away that could unbalance the local ecosystem.
Lava rocks are a different story. While you're exploring the Hawaii Volcanoes National Park or any of the beaches on the Big Island, it can be tempting to pocket a few lava rocks to take home.
But it's against the law to take anything, including lava rocks, out of a National Park in the U.S.
21 Best Souvenirs from Hawaii You'll Want to Grab
Whether you're looking for classic Hawaii souvenirs, food items you can only get in Hawaii, or unique gifts for that hard-to-impress friend, you'll find the best ideas below!
Classic Hawaiian Souvenirs
Ukulele
Did you know that the ukelele is the national instrument of Hawaii? Ukuleles are deeply rooted in the history of Hawaii and make the best souvenirs from Hawaii to bring home.
Go with a toy ukulele for the kids or a hand-painted one as a keepsake. They make great wall decor!
Hawaiian Shirt or Dress
Locals and visitors alike wear beautiful floral shirts and dresses for special occasions or just to go out to dinner! They make the best Hawaiian gifts and feature unique Polynesian prints and floral designs.
Lei
Whether you're gifted a lei in Hawaii or you're picking one up for a loved one, it's no surprise that beautiful handmade leis are one of the most popular Hawaii souvenirs.
Concerned about the agricultural inspection? Go with a silk version to take home.
Music from Hawaii
Nothing takes you back to a memorable night in Hawaii like the Hawaiian music you listened to! Souvenir shops will have plenty of options for you. Or if you attend a live show, see if they're selling their music afterward.
A Hula Girl
Don't underestimate the power of the iconic Hula Girl! This dashboard accessory dates back to World War II and definitely gives a nostalgic feel. Today you can find the classic bobblehead style, or solar-powered ones as well.
Kona Coffee
One of the best Hawaiian souvenirs, Kona coffee can be found everywhere in Hawaii. The unique flavor comes from the Big Island's volcanic soil and it's considered a specialty coffee.
You know your friends will love this gift from Hawaii! Plus, it's a great way to reminisce about your trip each morning.
Hawaiian Keychains and Magnets
Sometimes the best souvenirs are the simplest. Maybe your friend collects destination magnets or just wants something small so you don't forget this trip. You're sure to find a Hawaii gift shop with dozens of options!
Reusable Tote
If you go grocery shopping in Hawaii, you'll probably end up with a few reusable tote bags. I love the idea of these as a Hawaii souvenir!
They come in fun prints, they're affordable, and they remind you of Hawaii's commitment to the environment.
Book a Hawaii Photo Shoot
Whenever we travel to Hawaii, we almost always book a photo shoot with Flytographer. They are super easy, affordable, AND it guarantees that I'll have more than just selfies. You can get $25 off if you book through this link or use the code HAWAIITRAVEL.
Hawaii Food Souvenirs
Tropical Fruit Jams
While you can't take home all the amazing tropical fruit in Hawaii, fruit jams are a great way to bring the flavors of the island home! I grab a few jars of Aunty Lilikoi every time we're on the islands.
Hawaiian Macadamia Nuts
Buttery macadamia nuts make one of the best gifts from Hawaii and they're always a hit when you give them as souvenirs!
Pick up a bag from a local farm or grab Mauna Loa's chocolate-covered macadamia nuts at any store.
Hawaiian Sea Salt
Looking for a souvenir from Hawaii that your loved ones will actually use? Hawaiian sea salt is a unique option that many will love. The flavor is unique and you can find both natural red and black versions.
Pineapple Wine
You probably didn't know that pineapple wine was a thing! This sparkling wine by MauiWine is made with rare Maui Gold pineapples. Crack it open to remind you of white sand beaches or get it for your friend who collects wine.
Honolulu Cookie Company Cookies
If you've ever been to Oahu, you know that these shortbread cookies are a taste of the islands.
They come in tropical flavors and make great gifts. And if you love them, you can buy more online.
Hawaiian Rum
Looking for what to buy in Hawaii that's truly unique to the islands? Koloa Rum Company honors Hawaii's agricultural roots by growing native cane sugar and using local rainwater. Nothing tastes more like Hawaii than this!
Hawaiian Honey
Honey takes on different flavors and colors depending on what flowers the bees pollinate. Hawaiian honey makes a great souvenir because of the fragrant tropical flowers that the honey originates from!
Li Hing Mui
You'll find li hing mui, a salty, sweet dried plum snack, all over Hawaii. Grab a snack bag in the convenience store or pick up the powder. We keep the powder at home and love to sprinkle it on fruit!
Unique Gifts from Hawaii
Hawaiian Quilt
These are Hawaiian souvenir ideas that most people don't think of, but they make precious heirloom pieces and are great for home décor. You'll love the distinct floral designs. And who doesn't love a souvenir blanket?
Pay attention to the different designs as they each represent something special in Hawaii, such as plants.
Hawaiian Jewelry
I love getting jewelry as Hawaii souvenirs because it's easy to pack and it's treasured for years to come.
You can find all kinds of jewelry for every taste, from handcrafted silver and gold to artisan pieces made of Koa wood, shells, and pearls.
Personally, I love shopping for jewelry at Na Hoku.
Sarongs
One of the most authentic Hawaiian souvenirs is a sarong. These traditional clothes worn by both men and women in the Pacific Islands are long pieces of fabric with bright prints and colors.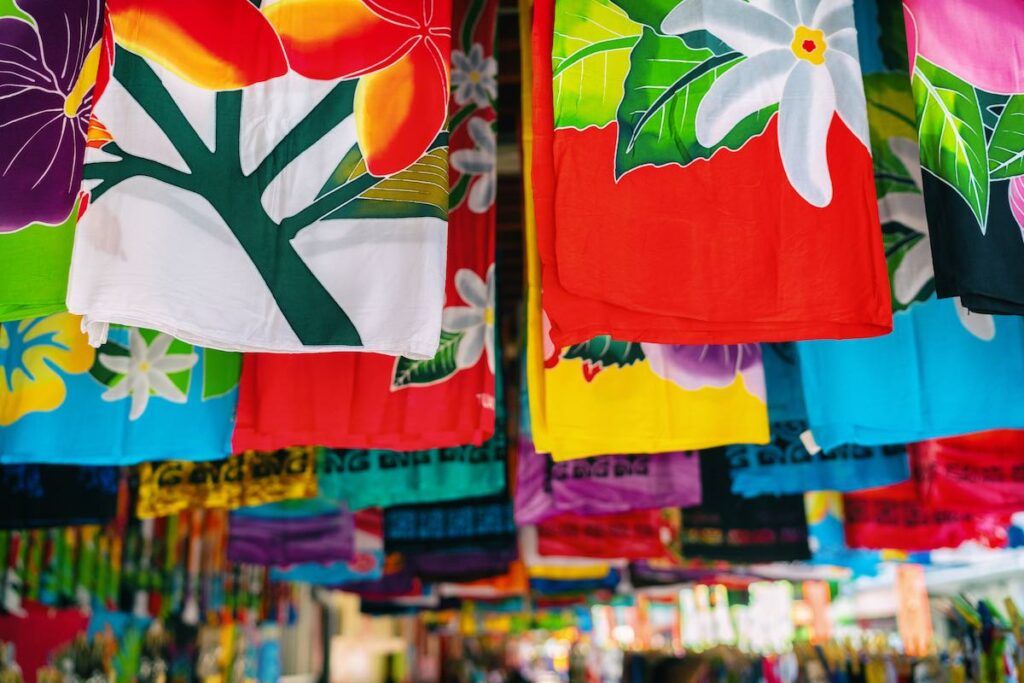 You'll most commonly see women wearing them as beautiful shawls, skirts, or beach cover-ups.
Coconut Oil
For the person who uses coconut oil for all the life ails you, get them some locally sourced Hawaiian coconut oil! It's great for cooking and is used in treats. You'll often see it among skincare products as well.
Koa Wood Souvenirs
Koa wood is one of those things you can only buy in Hawaii because it grows naturally only on the islands.
Beautiful Koa wood carvings, household items, jewelry, and more can be found at Hawaii souvenir shops, specialty stores, and farmers markets.
Where to Buy Hawaii Souvenirs
You can find good souvenirs from Hawaii everywhere you look! A lot of people swear by places like Target and Walmart for generic souvenirs because their easy to find.
Costco is also a great place to find packaged Hawaiian foods you can bring back. We usually pack a duffel specifically to fill up with Costco snacks to bring home.
And local stores like Don Quixote, ABC Stores, and Longs Drugs are also good places to find typical souvenirs and Hawaiian products.
However, some of my favorite places to get the best gifts to bring back from Hawaii are farmers markets and local shops! Here are a few excellent places to start on each island:
Oahu Souvenirs
Haleiwa Town Center, North Shore
This small shopping mall is a great place to find some of the best souvenirs from Oahu, including jewelry and local coffee.
Aloha Stadium Swap Meet & Marketplace, Honolulu
Don't pass up this massive flea market if you're near Pearl Harbor! It's a great place to grab traditional Oahu souvenirs, fresh fruit, and more. Just prepare to pay a small entrance fee.
Duke's Marketplace, Waikiki
This is one of my favorite Waikiki souvenir shops. It's one of the last few places with an old-school Hawaii feel.
Maui Souvenirs
Lahaina Front Street, Lahaina
Start around the Lahaina Banyan Court, this busy street in Lahaina features some of the best Maui gift shops. You'll find toy stores, clothing boutiques, surf shops, a mall, restaurants, and much more.
Whaler's Village, Kaanapali
Shopping at Whaler's Village is a must-do for anyone on West Maui. There are luxury brands, small shops for Maui souvenirs, as well as specialty stores for unique gift ideas.
Kauai Souvenirs
Hanalei Center, Hanalei
This is an absolutely beautiful local shopping center on North Shore. Come here for the artisan products you can't find anywhere else, like handmade sarongs and seashell jewelry.
Coconut Marketplace, Kapaa
This small mall has a nice mix of local stores and Kauai souvenir shops.
Old Koloa Shops, Koloa
Visit the shops in this historic sugar plantation village for classic Kauai souvenirs, original art, clothing, and local handmade bath products.
Big Island Souvenirs
King's Shops at Waikoloa Village, Waikoloa Beach Resort
There's a little bit of something here for everyone! There are high-end brands and old-school Hawaii gift shops. And on the weekends there's a farmers market, too.
Kona International Market, Kona
Visit this low-key open-air market for Hawaiian food products and handmade items by locals.
FAQ Souvenirs to Get from Hawaii
What is a good traditional Hawaiian gift?
If all else fails, go with food. Hawaii is known for its coffee, pineapples, and macadamia nuts. For a classic Hawaiian souvenir, leis, and ukuleles come to mind. But there are also a variety of handmade items you can only get in Hawaii, like beautiful bowls and carvings made from local Koa wood.
Can you bring fruit back from Hawaii?
The only fruit that's cleared for flights is pineapple. But they must be airport ready. Thankfully, most places offer packaged pineapples ready to go, like the Dole Plantation in Oahu. So, pick one up during your travels (and skip the expensive ones at the airport).
Can you take a lei on the plane?
You can take leis home on the plane. But keep in mind that certain plants are restricted by the U.S. Department of Agriculture for air travel! Just make sure your lei don't include any citrus flower, leaves, or any other part of a citrus plant. Other flowers like gardenia and Mauna Loa are also prohibited. And you can check the department's fact sheet for the complete list.
What is a recommended souvenir from Hawaii for kids?
For kids, consider getting stuffed animals of Hawaiian creatures like sea turtles or dolphins, ukuleles, or Hawaiian children's books.
What is the best place to buy Hawaiian shirts?
Bailey's Antiques and Aloha Shirts in Honolulu has one of the largest collections of aloha shirts. Other great stores include Reyn Spooner, Tori Richard, and Tommy Bahama.
What are some high-end Hawaii souvenirs?
High-end souvenirs might include locally made art, jewelry featuring black pearls or Hawaiian heirloom jewelry, high-quality Koa wood products, and designer aloha wear.
Are there any eco-friendly souvenirs from Hawaii?
Yes, consider products made from recycled or sustainable materials, locally-made organic beauty products, or contribute to a local conservation organization in someone's name.
21 Things to Buy in Hawaii that Your Friends Will Love
The best gifts to bring back from Hawaii are ones that remind you of your island adventures. They might let your friends and family experience a small touch of the Hawaiian Islands or take you back to your favorite moments.
You'll find Hawaii souvenirs worth buying at big-name stores, farmers markets, and local shops. The easiest to find are classic items like ukeleles, leis, and Aloha shirts. Food items are great if you know where to find them.
And for gifts made in Hawaii, look to craft vendors at farmers markets and in historic town centers.
Looking for more Hawaii travel tips? Check out my top planning tips for Oahu, Maui, Kauai, and the Big Island!