On the lookout for Hawaii adventurous? Find out where to go cliff jumping in Hawaii for the ultimate island adventure!
This list of where to go cliff jumping in Hawaii was written by Marcie Cheung (a Hawaii travel expert) and contains affiliate links which means if you purchase something from one of my affiliate links, I may earn a small commission that goes back into maintaining this blog.
Cliff jumping in Hawaii can be fun and rewarding for adventure sports enthusiasts. But in Hawaii, cliff jumping is also considered a right of passage.
Cliff jumping was first invented in Hawaii and has strong cultural meaning for locals. And it's no surprise, with all the amazing jumping spots across the Hawaiian Islands!
What's better than enjoying the stunning natural rock formations along Hawaii's coast or going on a jump after a long waterfall hike?
Wondering why my advice matters? I've been to Hawaii over 40 times and have unparalleled firsthand knowledge of the islands.
Every year people go cliff jumping in Hawaii. For some, it's an adrenaline rush and a great way to cool off. For others, it brings a sense of meaning and encourages them to try more new things!
But is cliff jumping safe? If you're responsible, it can be safe and tons of fun. Below you'll learn safety tips and find out the 10 best cliff-jumping spots in Hawaii for visitors.
Want to skip all the planning and just access my detailed Hawaii itineraries complete with daily schedules, fun activities, and travel hacks? Click the button below.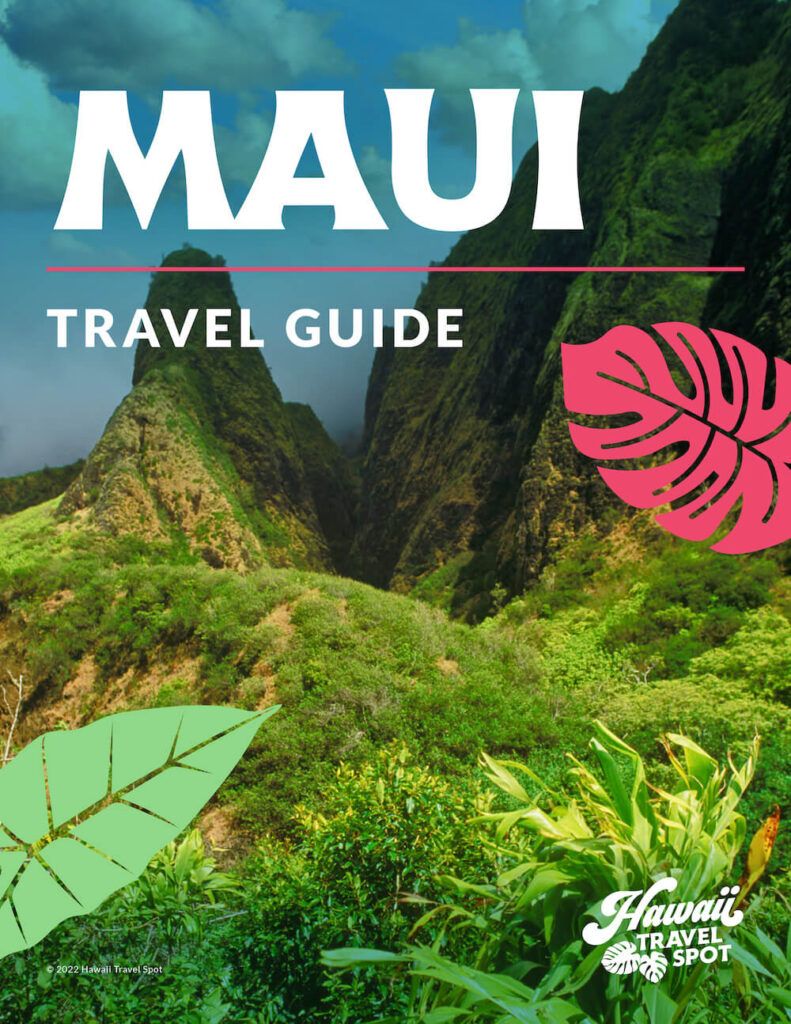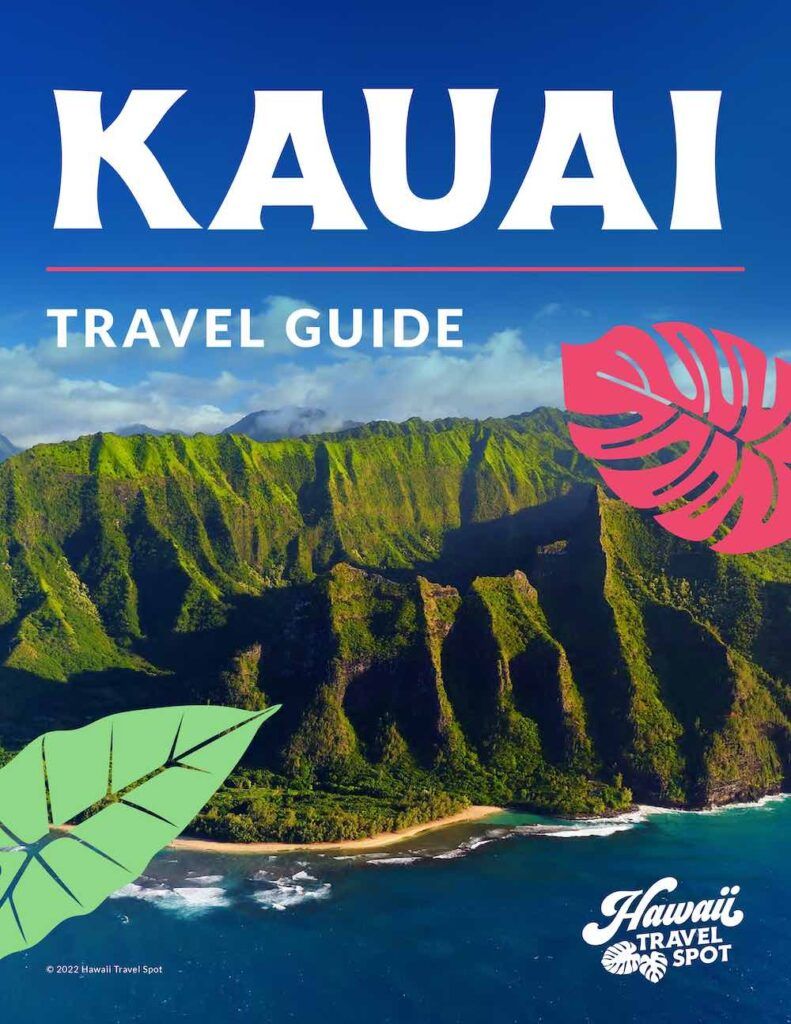 The Origin of Cliff Jumping in Hawaii
Today, cliff jumping is a professional sport with annual championship competitions through the World High Diving Federation. But did you know that cliff jumping has its origins deeply rooted in Hawaii?
Truthfully, it's a bit of forgotten history. But recent interest in cliff jumping has opened up the history books. In the 1700s, Maui's King Kahekili would have his warriors jump feet first off Puu Kekaa (Black Rock) in Kaanapali as a test of courage.
It was thought that the Puu Kekaa was a sacred portal where the dead jumped into the water to enter the afterlife. You can see why you had to be really brave to do this jump! It was also a test of strength and loyalty to their chief.
Maybe you've been swimming or snorkeling at Kaanapali Beach and seen people jumping every night into the water as part of a ritual with horns and torches. This is why.
For many, it's once again become a rite of passage, honoring their ancestors and proving to themselves that they have courage and strength.
Travel Tips for Safe Cliff Jumping
When discussing cliff diving in Hawaii, it's important to be straightforward. Cliff jumping is dangerous, but you can have a safe and fun time if you're responsible!
Before you get into the list of the 10 best spots for cliff jumping in Hawaii, read these tips.
Respect signage. If a sign says don't jump, then don't jump. If it's discouraged in the winter, it's probably because currents are too strong. Better be safe and go to another spot that's not as dangerous!
Only go cliff jumping if you're an excellent swimmer. You'll need those skills to rise to the surface and pull yourself back to shore.
Never go cliff jumping alone. Go with a friend, watch out for each other, and record each other jumping in!
Make sure the water is deep enough. There's a math equation for this, but the idea is that the water should be 8 feet deep for a 10-foot drop. Then you add 2 feet of water for every additional 10 feet of cliff.
Check the water conditions. Even if it's a popular jumping spot, if there are rip currents or the surf is too strong, it may not be the best time to jump.
The northern shores of the Hawaiian Islands are too rough for jumping in the winter because of seasonal currents. Unless otherwise noted, jump on the northern shore in the summer and the southern shore in the winter.
Only jump feet into the water first and with your toes pointed. This will keep your entry smooth and limit any risk of injury to your spine.
Jump as far away from the rock as possible (that goes for waterfalls too).
Never jump where people are swimming below.
If you're visiting Hawaii and want to go cliff jumping, I suggest sticking to popular spots that have been scouted out and vetted by other jumpers. You'll find many of them on my list below!
The 10 Best Cliff Jumping Spots in Hawaii
So, you want to make unforgettable memories and prove your courage by cliff jumping in Hawaii. Below you can read about the best places for the average person to go cliff jumping across the major Hawaiian Islands.
Waimea Bay in Oahu
If you're looking for the best Oahu cliff jump for beginners, check out Waimea Bay Beach on North Shore.
Among soft sandy beaches and crystal clear waters, you'll see a massive rock jutting into the water about 20 feet. This is Jump Rock and it's 25 feet high.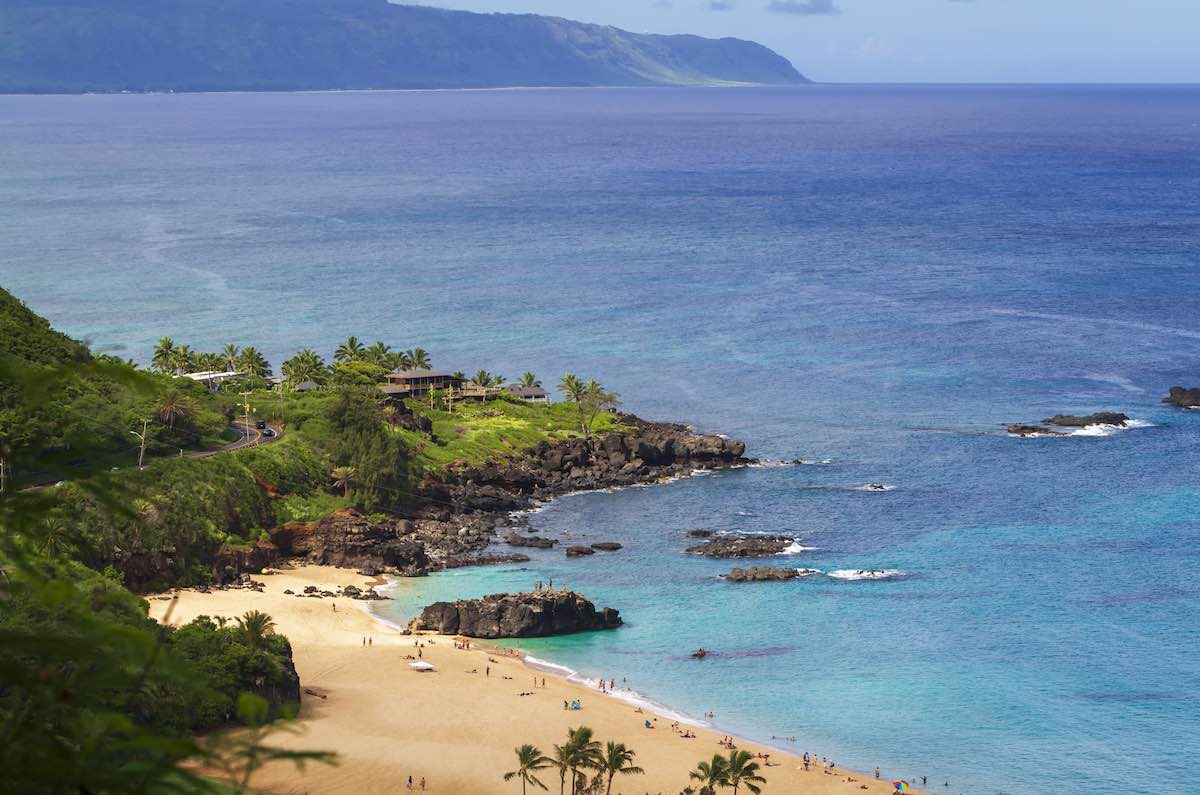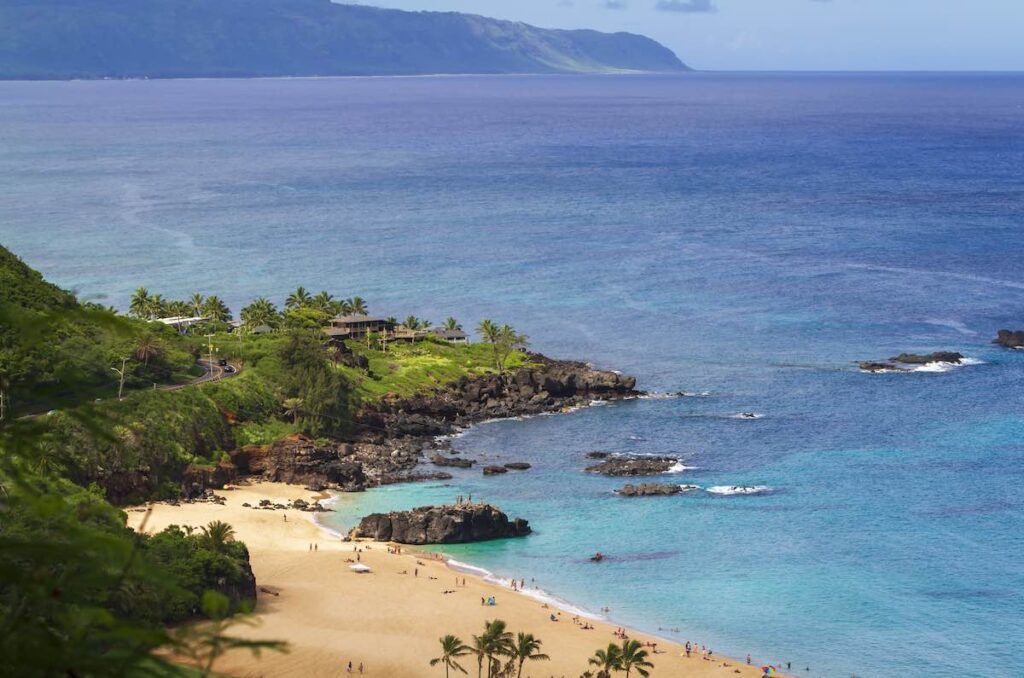 Waimea Bay cliff jumping is popular because the water is calm, the rock is easy to climb, and the bottom is soft and sandy.
But be aware that in the winter, this is actually a popular place to surf with strong rip tides. This jump is best for summer visitors.
China Walls in Oahu
China Walls is another popular spot for cliff diving in Oahu. This gorgeous volcanic shelf sheers off at the southernmost tip of the island with stunning views of the Atlantic Ocean and a comfortable 15- to 20-foot jump.
If you go in the summer, it's too dangerous to jump. This one is best in the winter when the water is calm and very flat. And if you can't jump, this is still a cozy hang-out spot with great views of the sunset. It's also a great place to go whale watching in the winter!
Laie Point in Oahu
Laie Point cliff jumping has always been popular, but it was immortalized when the spot was featured in the movie Forgetting Sarah Marshall! And the views are stunning with the natural arch of Kukuihoolua Island in the distance.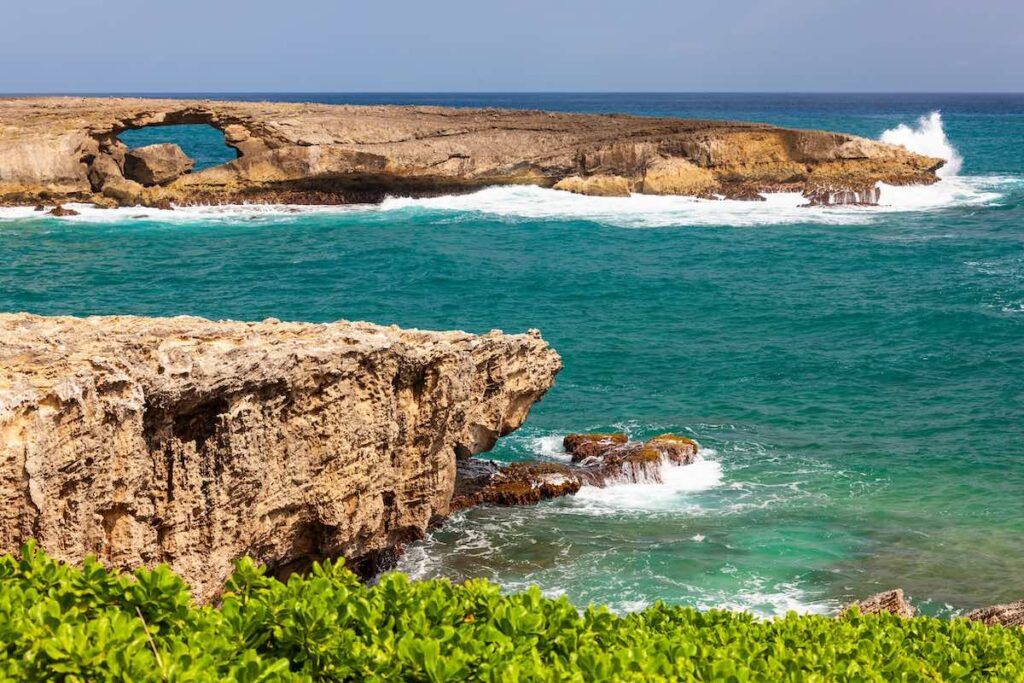 This is considered some of the best cliff jumping in Oahu for experienced jumpers. It's about 30 feet high with tricky surf.
It's on the North Shore of Oahu, so it's too rough in the summer. Go cliff jumping at Laie Point in the summer for the best time.
Maunawili Falls in Oahu
There isn't much cliff jumping in Honolulu Hawaii, but if you're up for waterfall jumps, I've got you.
Located just north of Honolulu is Maunawili Falls and it's another popular Oahu cliff jumping spot for teens and thrill-seekers alike.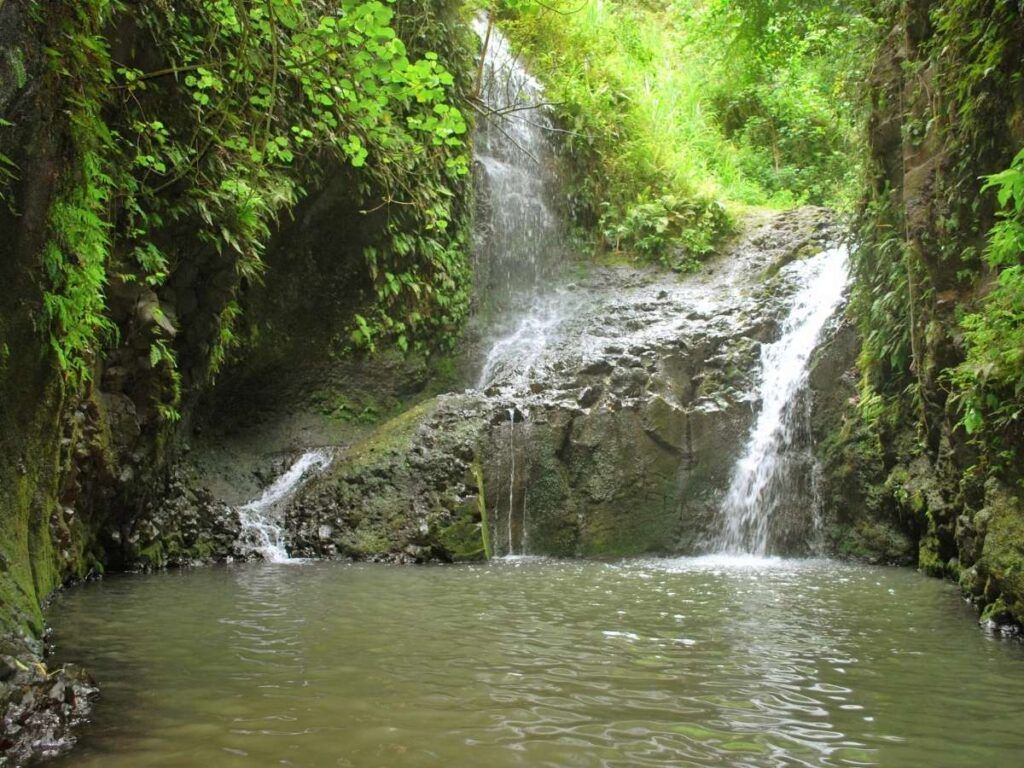 You'll take the 3.8-mile Maunawili Falls Trail to the waterfalls. It's a bit muddy, but it's worth it! At the end, you can jump into a waterfall lagoon from heights of 10 to 20 feet. Note: at the beginning of 2023, the trail was temporarily closed for renovations but should open again soon!
Black Rock in Maui
What experienced cliff jumper would miss out on the chance to jump at the most famous spot in Hawaii? Located in Lahaina in West Maui, Black Rock Maui cliff jumping is a right of passage.
This is a popular spot for cliff diving in Maui for many reasons. The jumps are all around 12 to 20 feet high, so you can find something you're comfortable with.
It's conveniently located near the busy Kaanapali Beach. And every night you'll see those honoring their heritage with a ceremony that includes jumping into the waters below.
Twin Falls in Maui
Some of the best cliff jumping in Hawaii can be found at Twin Falls on the Road to Hana in Maui.
If you're cliff jumping in Maui and want to try a waterfall jump, I suggest this one. But you'll have to work for it! It's at the end of a moderate 2-mile hike.
There are actually a series of gorgeous, classically beautiful falls with vines, grottos, and lagoons. They range from 10 to 60 feet tall. The tallest should only be attempted by long-time cliff jumpers, but the rest are great for most people.
Kapalua Cliff House in Maui
The Kapalua Cliff House on Namalu Bay is one of the most popular cliff jumping spots in Maui. It attracts visitors and locals every day during the summer.
For kids and adults alike, this is a great Maui cliff jumping hang-out spot with jumps as small as a few feet or up to 40 feet. And the water is very deep. Just don't go in the winter when the surf crashes on the rocks.
South Point on Big Island
There's no getting around it, I had to include South Point on my list. The views are stunning and they go on for literal miles up the shore.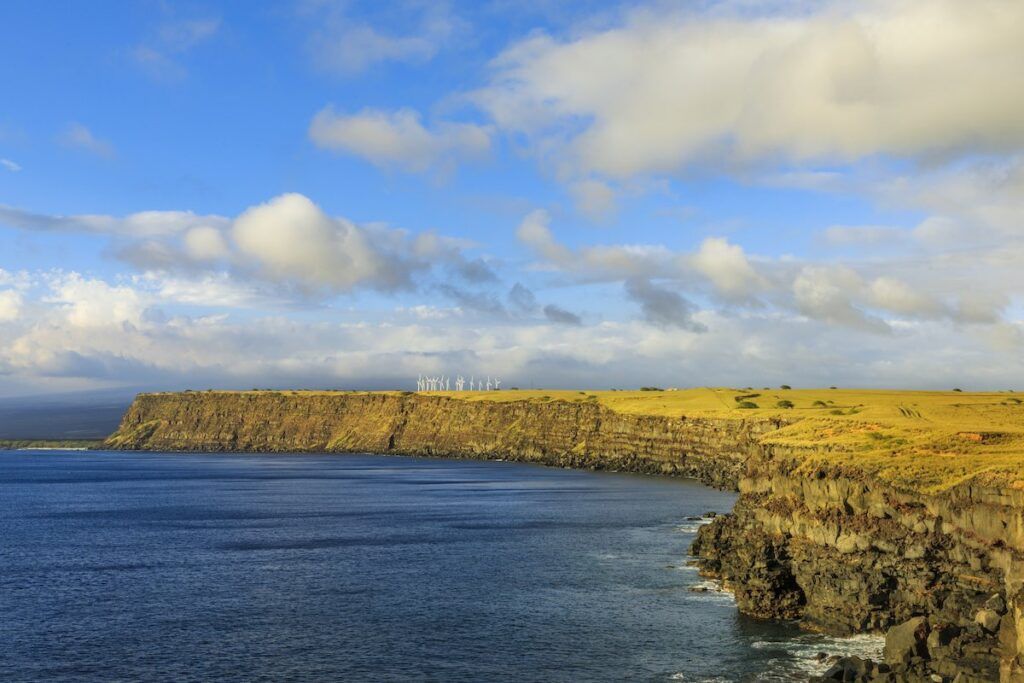 Hawaii's South Point cliff jump is between 40 and 60 feet high and only for cliff jump experts and competition-level swimmers. But it's a once-in-a-lifetime experience and is always understandably on extreme sports addicts' bucket lists!
End of the World on the Big Island
One of the most infamous Kona cliff jumping spots is the End of the World Jump near Keauhou. It's at the southern end of the Kona region, and you'll have to hike to the scenic jump site. It's an easy hike that's less than a mile from the trailhead.
End of the World is considered the best cliff jumping on the Big Island. Maybe it's the dramatic name, the uninterrupted views, or the 40-foot drop into the water! If you're an experienced jumper and looking for excellent cliff jumping in Kona, come here.
Ho'opi'i Falls in Kauai
Known for extreme outdoor sports, many suggested spots for cliff jumping in Kauai are just too dangerous and not recommended.
But Ho'opi'i Falls near Kaapa is a great spot for anyone seeking adventure. You'll take a 20-minute hike and pass a pretty waterfall, but this isn't it.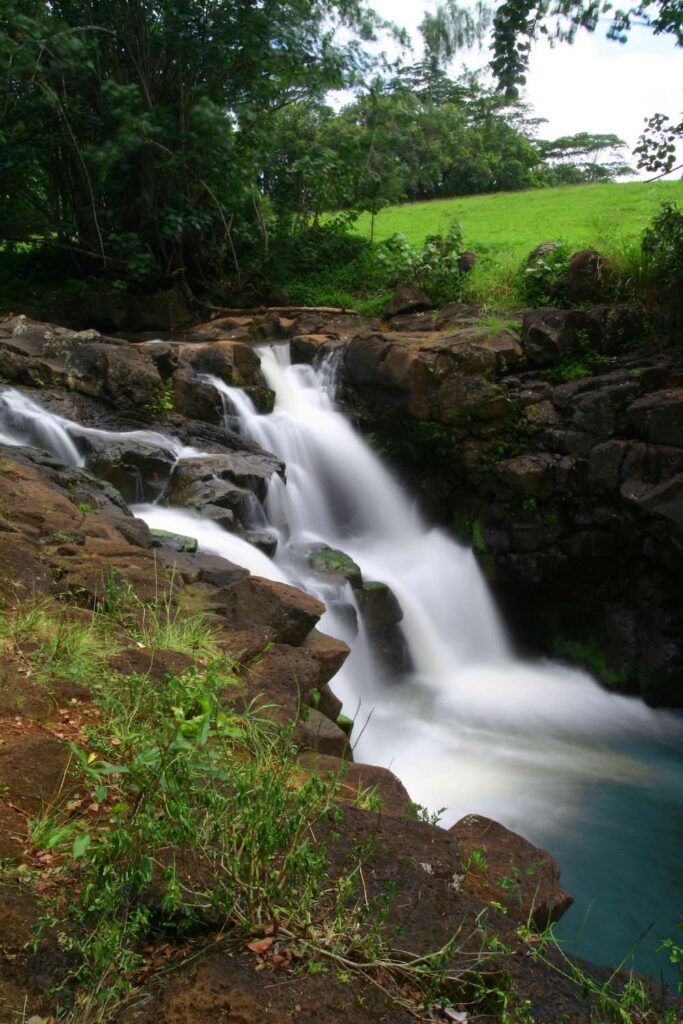 Look for some secret freshwater pools that are great for cliff jumps, and you've found them! The jumps are about 20 feet and the pools are wide and deep. It's the perfect place to spend an afternoon jumping if you want to get away from the crowds.
FAQ about Hawaii Cliff Jumping
How high is it safe to cliff jump?
Safe is relative. Think about it this way: the higher the cliff, the faster you fall and the greater the risk of injury. The World High Diving Federation recommends heights above 65 feet for professional divers only. For first-timers, it's recommended to stick to heights of 25 to 30 feet, max.
Can you go cliff jumping in Hawaii?
It's legal in a lot of places! What's important is to respect signs where it's NOT legal. Every summer, cliff-jumping spots in Hawaii are made inaccessible because of tragic accidents caused by people ignoring warning signs. If jumping is discouraged, think about why. Is the water deep enough? Are there rocks at the bottom? Is the surf too strong?
How high is the End of the World in Hawaii?
This popular cliff jump on the Big Island is as high as 40 feet in some places! You just can't beat the views here. But be aware that if you do this jump, you need to be an amazing swimmer and climber. You'll have to swim away from the rocks and the only way back up is by climbing the cliffs!
Where can you cliff jump on the Road to Hana?
If you're in Maui with plans to go cliff jumping as much as you can, check out Twin Falls on the Road to Hana. You'll hike along a moderately difficult trail for about 2 miles with 3 different waterfalls that are picturesque and waiting for you to jump in! The falls range from 20- to 60 feet tall, so there's a jump for both newbies and experienced cliff jumpers.
Check Cliff Jumping in Hawaii Off Your Bucket List
Cliff jumping in Hawaii can be a rewarding and memorable experience. It's something you'll want to do with friends and family. It can be a great way to bond with your partner or your kids. Take videos and pictures with amazing views in the background!
You can take your right of passage, honor your ancestors, or get over that ex that broke your heart. Cliff jumping is a popular pastime in Hawaii for a reason and these are some of the best spots to do it! Just remember to be safe and you'll have the best time.