Planning a trip to Oahu in December and want to know how to spend Christmas in Waikiki? Scroll to find out the best Waikiki Christmas things to do to celebrate the season.
This list of Waikiki Christmas activities was written by Marcie Cheung (a Hawaii travel expert) and contains affiliate links which means if you purchase something from one of my affiliate links, I may earn a small commission that goes back into maintaining this blog.
Heading to Oahu in December?
Many who plan on visiting the Hawaiian islands during the holiday season are concerned about one thing: how are they going to celebrate Christmas? This is especially true for families, as children hate missing out on holiday gifts.
Luckily, a huge percentage of Hawaii's population celebrates Christmas, so you can totally have a Christmas vacation in Hawaii! This is especially true for Waikiki, one of the most popular areas on Oahu!
Whether you'd like to participate in a joyous Waikiki parade, attend a festive Christmas party, go on a tour through Christmas lights, or something else, Waikiki may have just what you're looking for!
Why listen to me? I've been to Hawaii over 40 times and know it like the back of my hand!
Keep scrolling to learn about the best Waikiki Christmas activities that can help you celebrate an amazing Hawaii Christmas!
Want to skip all the planning and just access my detailed Oahu itinerary complete with daily schedules, fun activities, and travel hacks? Click the button below.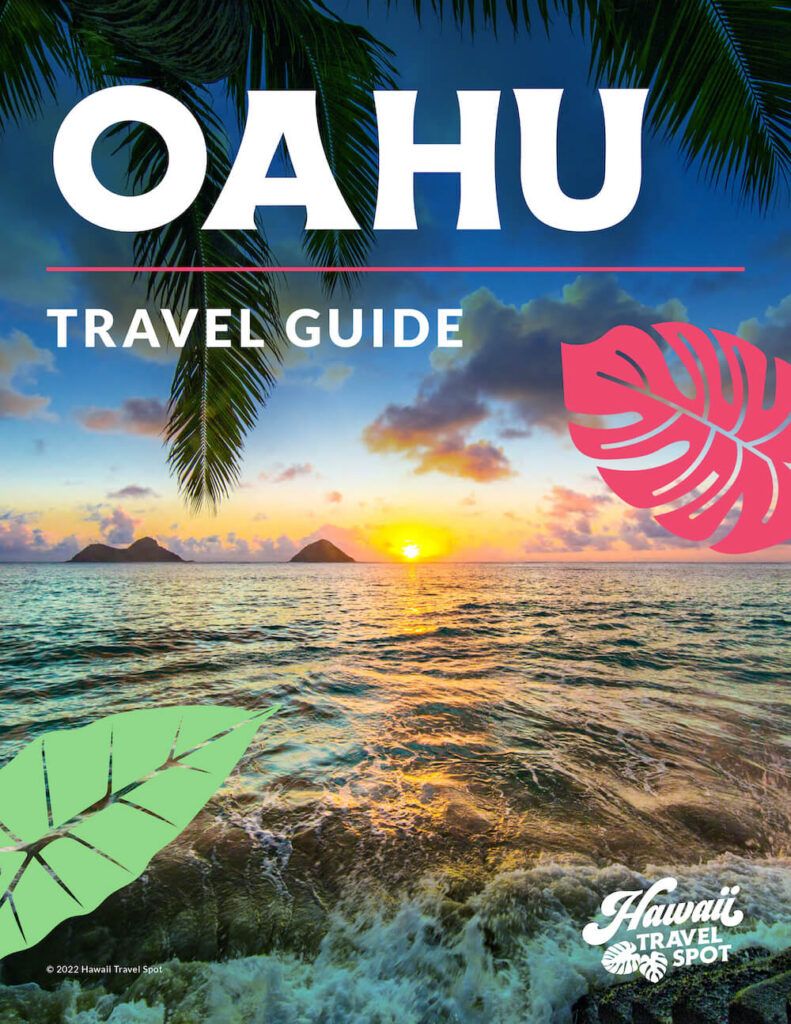 What is the Weather Like During Christmas in Hawaii?
Hawaii, of course, is known for its fantastic weather at all times of the year: warm temperatures, bright sunshine, and clear blue skies! For many tourists traveling from the Mainland, Hawaii's weather is a welcome change from the suffocating snow and cold!
I would keep in mind that there are some subtle differences between Hawaii winters and Hawaii summers.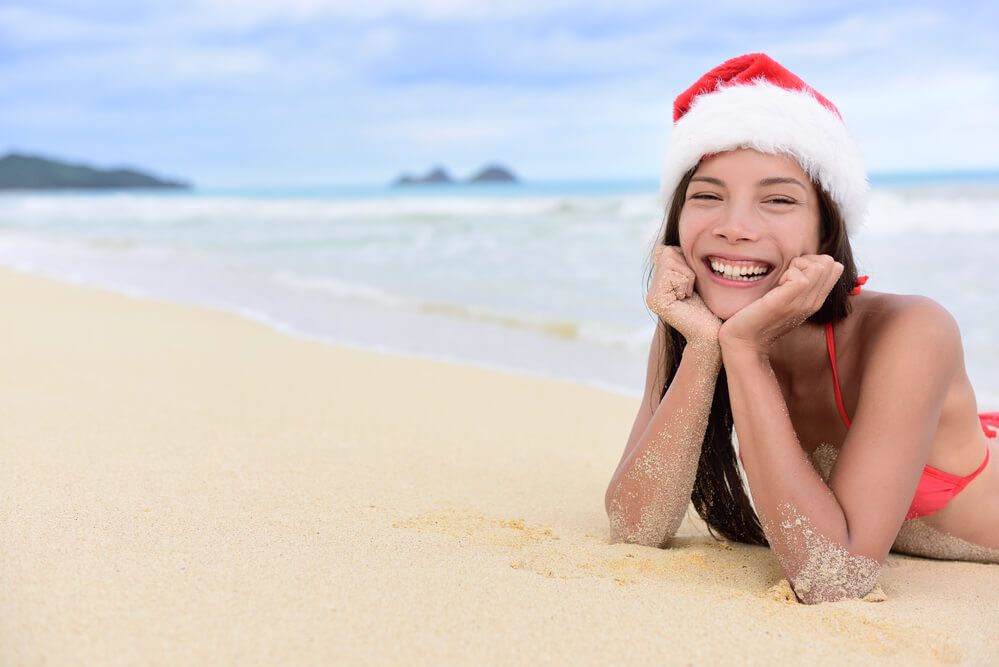 While you'll doubtlessly still get sunny weather, December isn't known as Hawaii's windiest month for no reason. You'll experience mid to low 80s during the day and low 60s at night, as well as somewhat frequent sprinkles and windstorms!
When packing for Hawaii, especially during the winter seasons, many tourists make the mistake of only packing shorts and T-shirts. Be sure to pack some warmer clothing such as sweatshirts and jeans for colder weather and outdoor activities such as hiking or biking!
Can you Find Christmas Trees in Hawaii During Christmas?
Absolutely! If you'd like to buy a tree to decorate your rental cottage or house with during your Christmas vacation, Christmas trees can be sourced locally or shipped from the Mainland! Do keep in mind that they will be more expensive, as stocks are generally lower.
One of the best benefits of putting up a tree at your vacation rental in Hawaii is how homely you can make the place feel, especially if you take the time to buy some ornaments while you go shopping!
If you aren't in favor of going out, buying, and decorating your own tree, no worries – there are beautifully decorated Christmas trees in many shopping districts and malls.
Are Things Open on Christmas in Oahu?
Yes! Most attractions and many restaurants will be open on Christmas Day in Oahu. This is because Oahu is so frequented by tourists that it's the most profitable and convenient for everyone to stay open!
One thing I'd note is that attractions are surprisingly more crowded on both Christmas Eve and Christmas Day, so if you were looking for a day for a resort pool day or a spa day, I'd definitely pick one of those!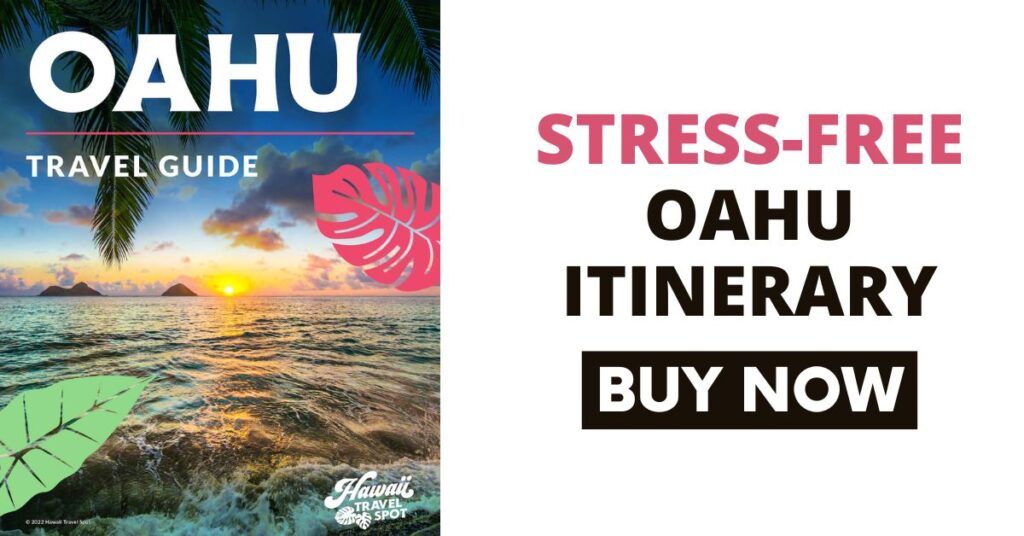 Where to See Hawaiian Christmas Lights in Waikiki
One of the most universally enjoyed Christmas attractions is Christmas lights, usually put up by city officials all across buildings and street lights! They truly contribute to a flawless holiday atmosphere.
You have many options if you're interested in seeing the Christmas lights in Waikiki! I'd recommend doing this if you have kids or want a romantic moment with your partner.
Some of the best Christmas lights can be found in Honolulu, so if you're staying there, definitely stop by the nearest lights! Some of the most popular ones are the Waikiki Trolley Holiday Lights Tour, Honolulu Hale City Lights, the Rainbow Bridge lights show, and much more!
Royal Hawaiian Center
The Royal Hawaiian Center is another place that'll be absolutely decked out with lights when you visit. Many also love it because of the elaborately decorated 34-foot tall Christmas tree that really completes the feeling of Christmas spirit!
Waikiki Trolley Holiday Lights Tour
The Waikiki Trolley Holiday Lights Tour is yet another fun trolley tour, where you can sit back, relax on your air-conditioned vehicle, and enjoy both Christmas lights and the Christmas decorations within the wreath!
One of the best Christmas lights is on Auahi Street in Ward Village, where you can observe the Christmas lights through a 45-minute tour on the Waikiki Christmas trolley. This is definitely one of the best and most stress-free ways to experience Christmas lights.
The best part is that this adventure is totally affordable for budget-minded folks. It costs $15 per adult, $10 per child, and is free for children under three years old. In my opinion, it's absolutely worth the cost!
This is one of the only tours that completely explores nearly all of downtown Honolulu, which is one of the best areas to see Christmas lights!
Santa Saturdays
Lastly, consider checking out Santa Saturdays, where Christmas lights deck out Santa's visitation center!
If you're hoping to see some amazing Christmas lights, admire intricate decorations, and meet Santa and Mrs. Claus, and enjoy the holiday spirit with other families and travelers, definitely consider Santa Saturdays!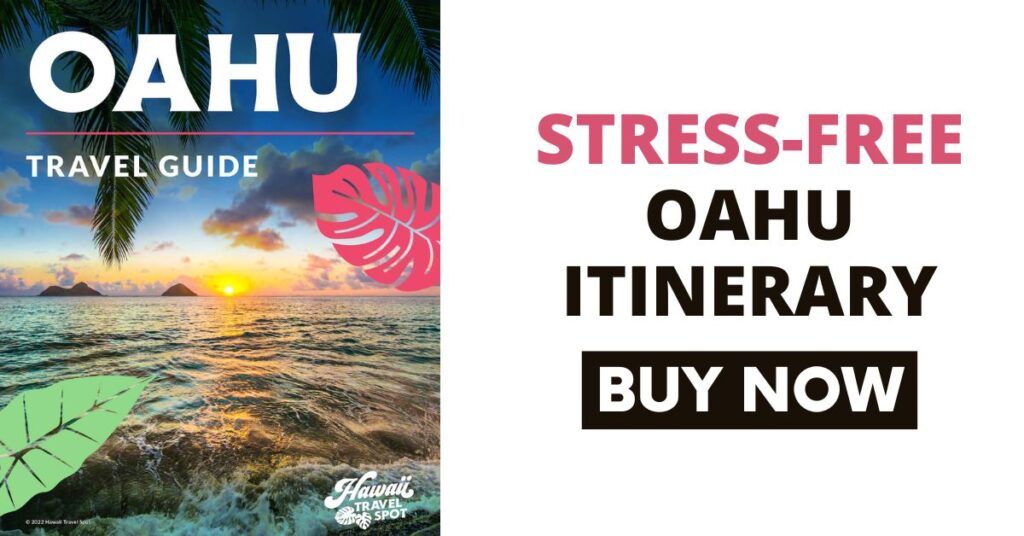 Magical Waikiki Christmas Events
Consider these options if you're looking for more activities and events to enjoy during your Christmas vacation!
Waikiki Christmas Parade
Christmas parades are some of the best ways to feel the holiday spirit! Usually themed around winter, Christmas, and Santa Claus, they often include live music, dancing groups, and themed floats with performers!
One of the only unfortunate aspects of the Waikiki Christmas Parade is that it occurs directly after Thanksgiving instead of at a time closer to Christmas, which is when most visit Hawaii. The Waikiki Holiday Parade is also unique in that it's meant to commemorate Pearl Harbor and its survivors.
Waikiki Beach Walk
Waikiki Beach is lined by those celebrating Christmas, live performers, decorations, and many events. Taking a relaxing sunset stroll along the picture-perfect shores of this famous beach is the perfect way to take in the holiday spirit!
Meet Santa in Waikiki
Meeting Santa is definitely one of the most iconic Christmas activities no matter where you are in the world. If you happen to be in Hawaii during the holiday seasons, it's an amazing way to experience the Christmas spirit!
One of the best things about this Hawaii Christmas tradition is that it deviates greatly from traditional Santa visits. For example, you'll see him decked out in Aloha shirts and sandals instead of his iconic Santa suit.
If you're traveling with kids, this is an especially fun experience for them. Many kids delight in watching Santa row his canoe onto the shores or see him decked out in Christmas-themed luaus. Be sure not to miss out!
Book a Hawaii Photo Shoot
Whenever we travel to Hawaii, we almost always book a photo shoot with Flytographer. They are super easy, affordable, AND it guarantees that I'll have more than just selfies. You can get $25 off if you book through this link or use the code HAWAIITRAVEL.
Shopping at the Waikiki Christmas Store
If you were hoping to go shopping for some souvenirs, looking to support local artisans, or just spend an afternoon browsing through beautiful goods, be sure to stop by the Waikiki Christmas Store!
This store is the perfect place to buy Christmas and Hawaii-themed decorations.
Check Out The Sheraton Waikiki Sand Sculptures
If you want to appreciate some artistry and support the work of local artists, be sure to check out the Waikiki Sand Sculptures, located at the Royal Hawaiian Hotel every holiday season.
The Waikiki Sand Sculptures, based on aspects of Hawaiian culture and traditional Christmas illustrations, are crafted entirely from sand and takes artists over 200 hours to make! After visiting, if you feel inspired, try to build your own at Waikiki Beach!
Rock a Hula Christmas Luau
The Hula Christmas Luau is one of Waikiki's biggest shows. It's one of the best ways to experience holiday spirit, Hawaiian culture, and delicious Hawaiian cuisine, all in one night! Be sure to enjoy their live Christmas music and delicious desserts!
Where to Eat Christmas Dinner on Oahu
Hula Grill Waikiki
With ingredients sourced from local fishermen and farmers and a beautiful view of Waikiki Beach, the Hula Grill Waikiki is the perfect place to pick up some delightfully comforting Hawaiian food!
They have separate menus for Breakfast, Brunch, Lunch, and Dinner, and they're open from 7 am to 9 pm. I'd definitely recommend checking out their poke tacos – I've never tasted anything quite like it! Also be sure to try some of their hand-made cocktails.
Paradise Cove Luau on Christmas
The Paradise Cove Luau is an amazing traditional luau experience with cuisine that combines local Hawaiian and traditional mainland tastes to create a truly unique and expansive menu! Read our full Paradise Cove Luau review.
The Paradise Cove Luau's friendly and attentive staff will greet you with a mai tai and give you time to explore the nearby attractions such as a canoe ride in the Cove, arts and crafts in a historical Hawaiian village, and much more!
Prince Waikiki Christmas Dinner
The Prince Waikiki is actually a hotel with dining so delicious it's truly award-winning! They have a special menu especially for the holiday season with truly unique dishes, so I'd definitely check them out!
Duke's Waikiki
If you're looking for a relaxing and laid-back dinner experience, consider checking out Duke's Waikiki – one of the most iconic restaurants in the area with delicious mainland and Hawaiian fusion cuisine.
While you're at Duke's Waikiki, be sure to check out their iconic Hula Pie – a one-of-a-kind dessert you won't be able to find anywhere else! With chocolate-cookie crust, macadamia nut ice cream, hot fudge, and whipped cream, you won't be able to stop eating!
Other Christmas Events on Oahu
Honolulu City Lights
The Honolulu City Lights show is run by a nonprofit organization and features not only beautifully arranged lights but intricately displayed decorations and huge statues of Santa Claus and Mrs. Claus!
This is by far one of the most popular things to do in Oahu in December. There are a bunch of events and gorgeous holiday decorations.
Winter Wishes Holiday Festival
This holiday festival is simply chock-full of holiday joy! If you wish to spend an afternoon of your holiday season with fellow tourists and friendly locals, surrounded by holiday cheer and joyful children, consider the Winter Wishes Holiday Festival!
Here, you'll be able to enjoy a huge number of attractions fit for people of any age such as live holiday music, meeting Santa Claus, doing Christmas crafts, participating in mini-games, and even decorating the immense Christmas tree!
Christmas in Polynesia
Visit the Polynesian Cultural Center during the holiday to eat delicious Hawaiian cuisine, witness an amazing luau, and take a canoe ride to authentic Polynesian villages to witness their culture and how they celebrate Christmas!
Watch The Nutcracker
The Nutcracker is definitely one of the most iconic holiday ballets out there. For fans of music, theater, or ballet, be sure to check out Hawaii's fantastic rendition of this time-tested classic! This is an especially perfect activity for those with kids! Find out where to see the Nutcracker in Hawaii.
Festival of Lights Boat Parade
Take pleasure in this Christmas custom at the Hawaii Kai Towne Center! Locals deck out their boats for the holidays with lights and other ornaments before displaying them on the lake. Prizes are awarded to the most creative ones, and you'll be able to see some displays of true artistry!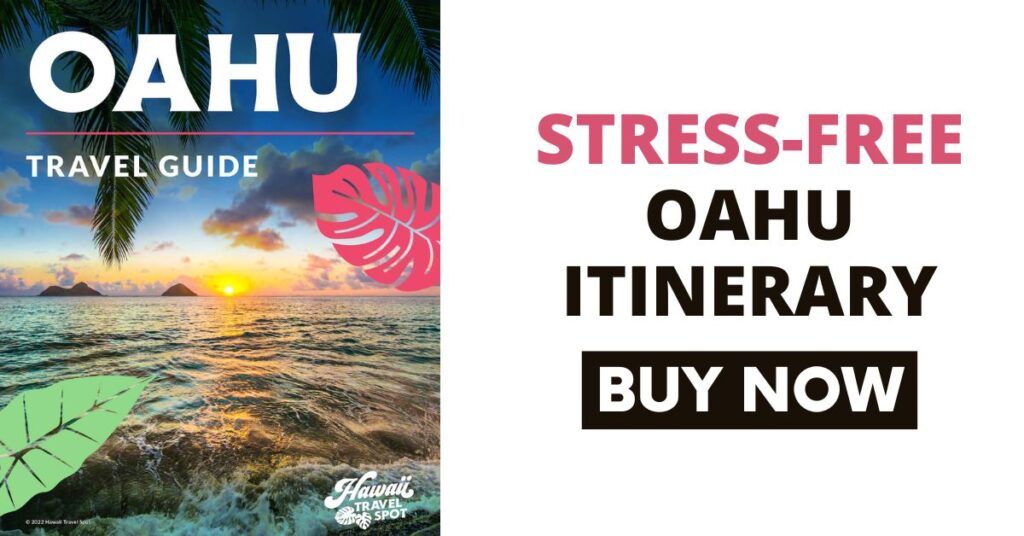 Hawaii for Christmas FAQs
Does Hawaii celebrate Christmas?
Yes! Many tourists are surprised by the enthusiasm and commonality of Hawaiian Christmas celebrations. Although there are a huge variety of Christmas-centered celebrations, some of the most common that you'll see during your time on the island range from wearing and distributing holiday-themed leis, raucous holiday parties, Santa meets, and much more!
Is Christmas a good time to visit Hawaii?
It really depends! Hawaii definitely gets more tourists during the holiday season, as it's winter break, when most families with kids can travel. As a result, attractions are usually more crowded and the cost of needs such as rental cars, airplane tickets, and hotel or resort rooms skyrockets. However, the holiday spirit and increased variety of events make it worth it for some!
What're some Christmas activities you can do in Hawaii?
There are too many to list! You can see Christmas lights, attend a Christmas parade, wear a Christmas lei, and much more!
Waikiki Christmas Wrap Up
Now that you know about some of the best things to do in Hawaii during the holidays, you're sure to have an amazing holiday during your next Hawaii vacation filled with happiness and seasonal cheer!