Planning a trip to Hawaii and want to create a few Hawaii movie nights before you go? Keep scrolling to check out the most heartfelt Hallmark movies filmed in Hawaii!
This list of Hallmark movies filmed in Hawaii was written by Marcie Cheung (a Hawaii travel expert) and contains affiliate links which means if you purchase something from one of my affiliate links, I may earn a small commission that goes back into maintaining this blog.
Planning a vacation to Hawaii (or maybe just dreaming of one)?
You're in for the trip of a lifetime! Hawaii is home to some of the most diverse and beautiful scenery on Earth. Whether you want to explore volcanoes, hike through rainforests, or relax on the beach, you can find it all in Hawaii.
And if that's not enough, Hawaii is also home to some of the best Hallmark movies filmed in recent years. So you can enjoy your vacation even more by watching some great films set in paradise.
Here are some of the best Hallmark movies filmed in Hawaii!
Want to skip all the planning and just access my detailed Hawaii itineraries complete with daily schedules, fun activities, and travel hacks? Click the button below.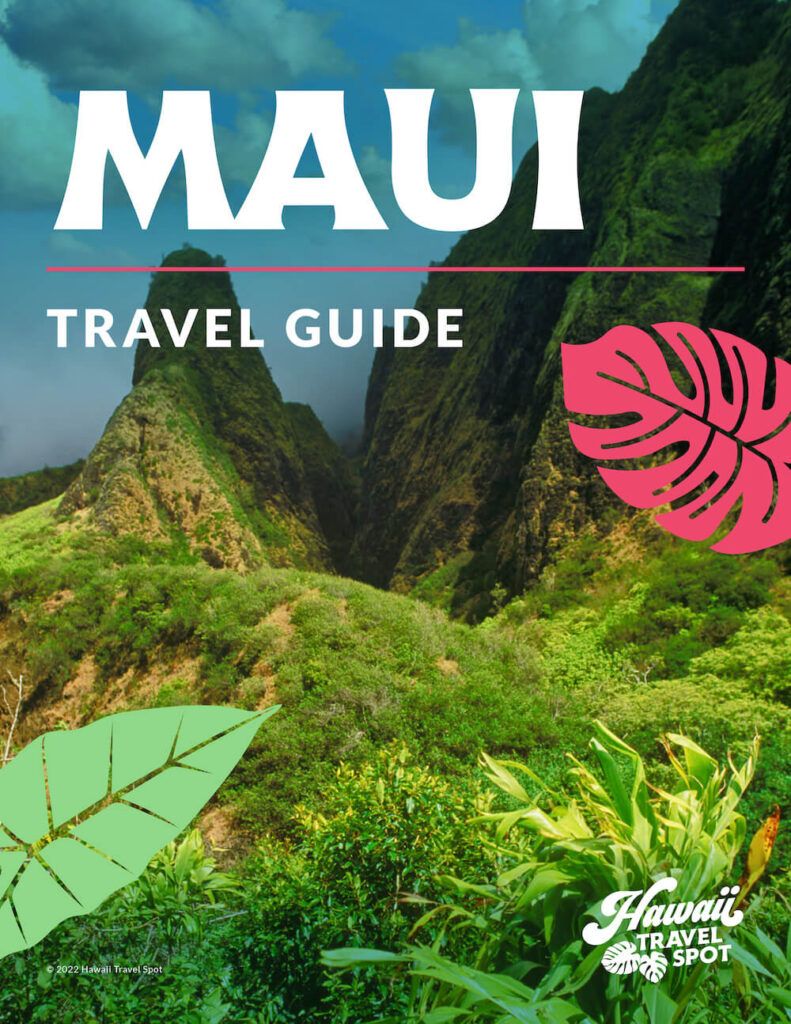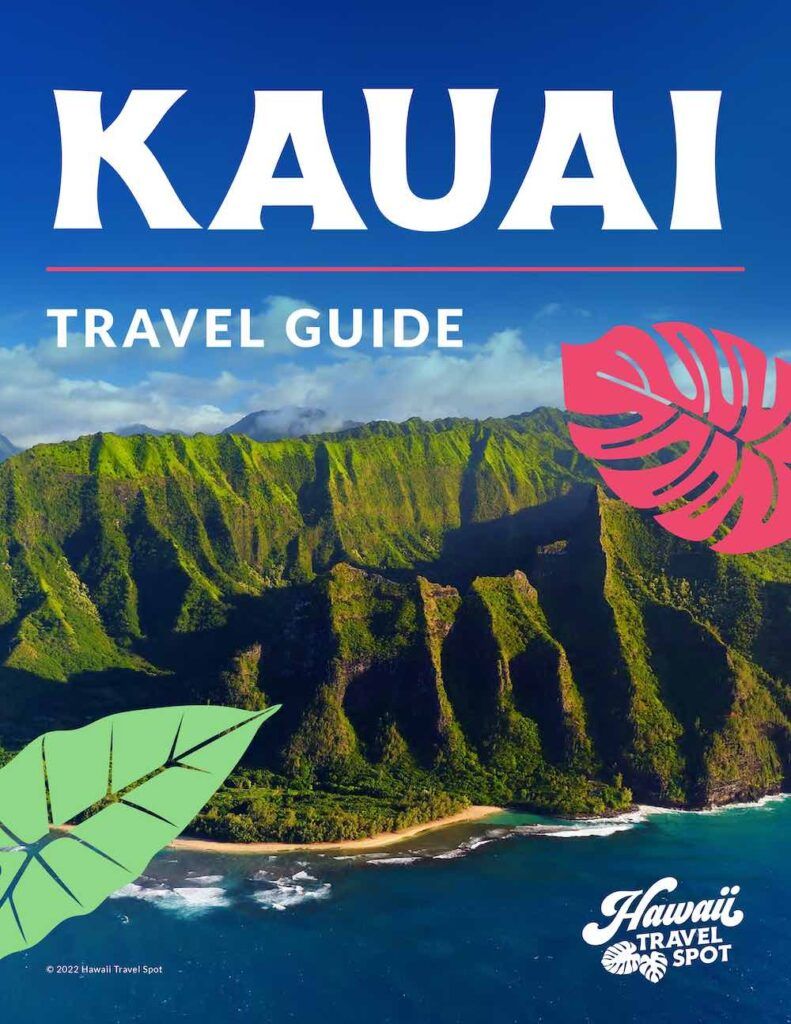 Are There Hallmark Movies About Hawaii?
You will find plenty of Hallmark movies that were filmed in Hawaii that are worth watching. These are some of the best movies about Hawaii, and many of them share about the culture as well.
Keep reading to learn about each of the Hallmark movies filmed in Hawaii!
Hallmark Movies Filmed in Hawaii
Here are all of the incredible Hallmark movies filmed in Hawaii! Each of these is filmed in Hawaii, and the movie is based on the islands as well.
You Had Me at Aloha
One of the Hallmark movies on Oahu is You Had Me at Aloha. This movie was filmed in 2021 and is one of the movies about Hawaii too! Pascale Hutton (Paige) and Kavan Smith (Ben) are the two main characters.
Ben and Paige become new co-hosts of a show all about Hawaii. They were put together by their boss and can never seem to agree on anything. They go all over the island, advertising different aspects of the island on their popular show.
This Oahu movie takes place at various locations over the island. Most of the shots are at Kahala Hotel & Resort or nearby. You will also see the Kualoa Ranch, Waimea Falls, and a few other Oahu spots.
It is G-rated and is a fun romantic comedy to watch!
Groundswell
Groundswell is another one of the Hallmark movies filmed in Oahu. It stars Lacey Chabert (Emma) and Ektor Rivera (Ben).
Emma decides to break up with her boyfriend, quit her job, and uptake her entire life to go visit her aunt in Hawaii. Here she decides to take a surfing lesson, where she meets Ben, the surf instructor. There is an instant spark between the two, but will it last?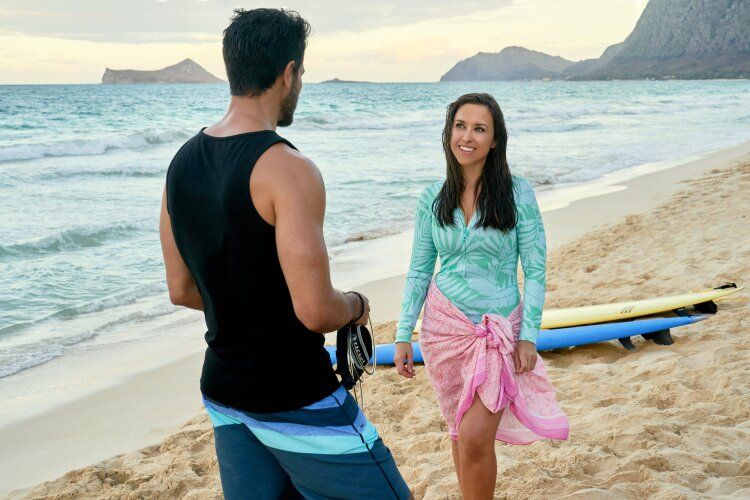 This Hawaii-based movie is a fun one to watch and look for all the locations shown around the island. You will see Waikiki Beach and Kualoa Ranch as the primary filming locations on Oahu.
While this movie is based in Hawaii, the idea of the movie is based on the novel Groundswell written by Katie Lee Biegel. It was adapted to include Hawaii for the set! It was released in August 2022 and is a great Hallmark movie to enjoy.
Two Tickets to Paradise
One of the best movies set in Hawaii that came out in 2022 is Two Tickets to Paradise! It features Ashley Williams (Hannah) and Ryan Paevey (Josh).
This Hallmark movie in Hawaii is all about two people who were both stood up at the altar. After being left at the altar, Hannah and Josh find each other at a park, where they share their stories. Then, they encourage each other to go on their honeymoons despite what happened.
Evidently, they both booked a honeymoon to Hawaii! As they repeatedly see each other on the island, they team up to enjoy this vacation.
It is one of the movies in Hawaii that takes place at the Royal Hawaiian Resort. You will also see shots of the beautiful beach at Kaneohe Bay Sandbar too!
Hidden Gems
Another one of the romantic Hallmark movies set in Hawaii is Hidden Gems. Hunter King plays Addie, and Beau Mirchoff plays Jack in this rom-com. It also came out in 2022 during Hallmark's Summer Nights.
Addie heads to Hawaii for her sister's wedding. She takes a paddleboard class, where she accidentally drops her grandmother's ring in the ocean and loses it. She frantically tries to find it and hires a local scuba instructor, Jack, to help her out. Will they find love along their journey?
This Oahu movie takes place at the Kahala Hotel & Resort, just like You Had Me at Aloha. You will find scenes in Honolulu and Waimanalo Beach, and the dolphin scene takes place at Sea Life Park Hawaii! A few scenes were also shot in Maui, Hawaii as well.
Love, For Real
Love, For Real is another one of the best Hawaii movies that Hallmark made. It came out in 2021 and starred Corbin Bleu, who plays Marco. Chloe Bridges (Hayley), Scott Michael Foster (Luke), and Taiana Tully (Bree) also star in this film set in Hawaii.
Hayley and her best friend Bree decided to enter a reality tv show all about finding love. However, they don't want to find love but rather show off their fashion line in hopes that it will become popular. They planned on getting eliminated as soon as they started getting popular.
Similarly, Luke, the producer of the show, and Marco, the bachelor on the show, want to keep both Hayley and Bree on the show until the finale. They think it will create drama and make the show a hit. Along the way, Hayley and Bree find love, but is it the way they thought, and will it tear their relationship apart?
This is another one of the movies made in Hawaii that was filmed on the island of Oahu. During the film, you will see scenes taking place mainly at Kailua Beach and Kualoa Ranch. Taiana Tully is a native Hawaiian, making this such a fun Hawaii film to watch!
Other Romantic Movies Filmed in Hawaii
There are a few other romantic movies filmed on Hawaiian islands that are worth mentioning, even though Hallmark did not create them. Here are some other great films set in Hawaii!
Same Time Next Christmas
Although Hallmark did not make this movie, it is very similar to a traditional Hallmark movie that took place in Hawaii, so I had to include it in the list!
This is by far one of the best movies in Hawaii that you can watch every time during Christmas! It stars Lea Michele (Olivia), Charles Michael Davis (Jeff), and Bryan Greenberg (Gregg). It was filmed and released in 2019 and is one of the best Christmas movies filmed in Hawaii!
Each year, Olivia's family went to Hawaii for Christmas. At the same resort, Jeff's family did as well! Early on in their life, they met at the Hawaii resort and became best friends, and even a bit closer than that as teenagers. However, one year, Jeff's family does not come back, leaving Olivia hurt and sad.
Fast forward to their adult lives, and they both happen to come back on Christmas to the same resort. As their lives are on two different paths, what will happen? Will a familiar spark of love appear, or will hurt take over their relationship forever?
This Hawaii movie was mainly filmed at the Turtle Bay Resort on the North Shore of Oahu. You will also see scenes at Kuilima Cove, Waimea Falls, Kahala Hotel & Resort, and Haleiwa Harbor, amongst others.
Even the parts of the movie that were supposed to take place in Cincinnati were actually filmed at a bank in Honolulu! It is definitely one to add to your must-see movies during the holiday season.
Aloha with Love
This is also not a Hallmark movie, but it is one of the romantic movies filmed in Maui worth mentioning! Tiffany Smith stars as Gemma, and Trevor Donovan as Ben.
The movie starts off with Gemma losing a big-time job opportunity, getting dumped by her boyfriend, and her aunt Lani passing away. So, she flies home to Hawaii to be with her family for the funeral. It is there she learns that Aunt Lani left Gemma her house, which is a complete fixer-upper.
Gemma must fix the home with her old high school boyfriend, Ben, and then decide to sell it or keep it. As they work on the house together, will their love be rekindled, or did Ben lose his chance back in high school?
Like most movies filmed on Maui, you will see some absolutely beautiful views of the ocean and beach as you watch this movie.
Movies Filmed in Hawaii FAQs
What movies and TV shows have been filmed in Hawaii?
There have been over 100 tv shows and movies set in Hawaii! From well-known Jurassic Park to Hawaii Five-0, Jumanji, and Two Tickets to Paradise, there are so many incredible Hawaii movies to watch! 
What movies were filmed in Kauai?
Some of the movies filmed on Kauai include Soul Surfer, Jurassic World, Pirates of the Caribbean, The Descendants, and more! 
Are there any Christmas movies filmed in Hawaii?
Yes! You will find a few Christmas movies that took place in Hawaii, but one of the best ones is Same Time Next Christmas! 
Hallmark Movies Set in Hawaii Wrap Up
These Hallmark movies filmed in Hawaii are definitely ones you want to add to your list to watch. Make some popcorn, cuddle up, and enjoy these Hawaii movies all night long!
These are some of the best movies made in Hawaii, so I'm sure you will see many more Hallmark movies set in Hawaii soon too!