Going to Hawaiian during the December months but also want to know about Hawaiian Christmas food, Christmas traditions in Hawaii, or how Hawaii celebrates Christmas? I know a lot of Hawaii Christmas traditions that you should know!
This post about Hawaiian Christmas traditions contains affiliate links which means if you purchase something from one of my affiliate links, I may earn a small commission that goes back into maintaining this blog.
Want to enjoy a Hawaiian Christmas?
I have some great tips so you can learn about many Hawaiian things like the Hawaiian Christmas tree.
Hawaii is unique, especially when you're celebrating Christmas in Hawaii. Here are some Hawaiian Christmas traditions for you to check out.
Whether going to Hawaii as a newcomer or if you're very used to Hawaii, All of these Christmas things in Hawaii are fun activities that you will not forget!
Want to skip all the planning and just access my detailed Hawaii itineraries complete with daily schedules, fun activities, and travel hacks? Click the button below.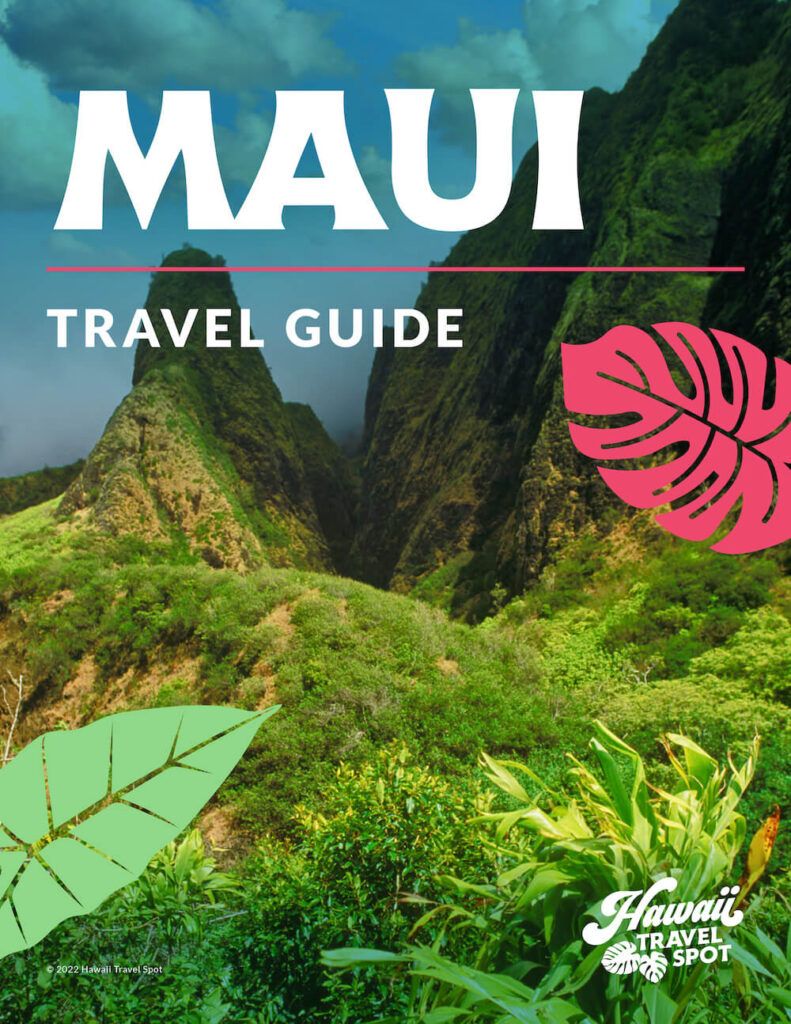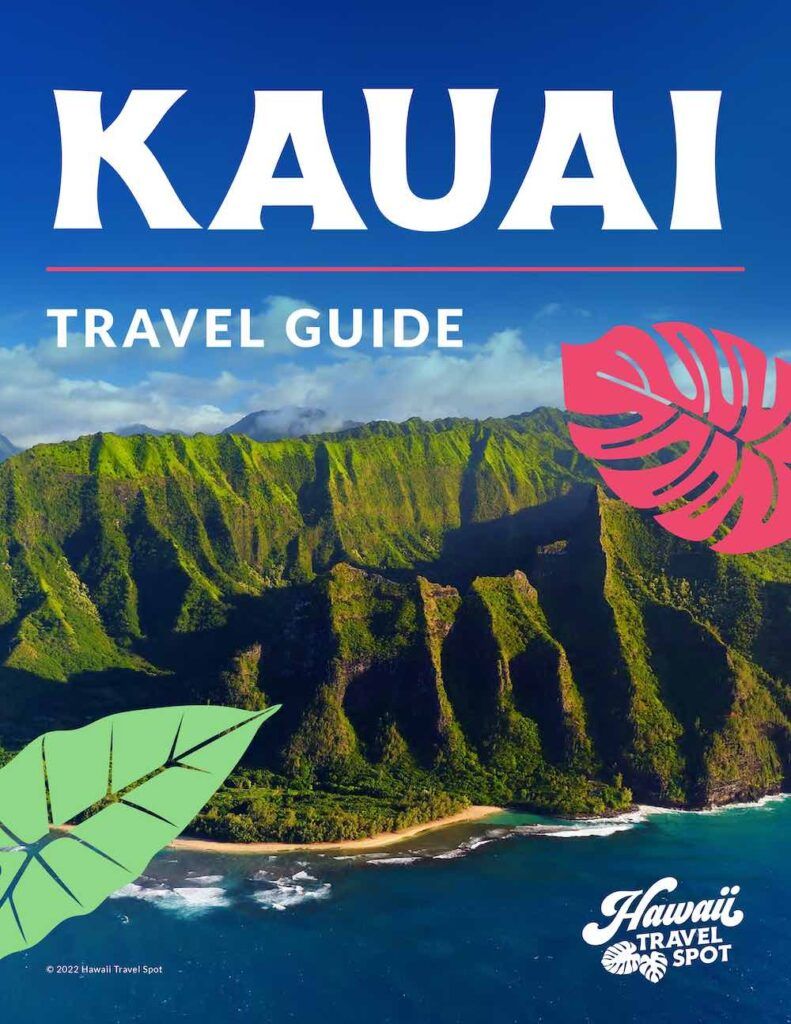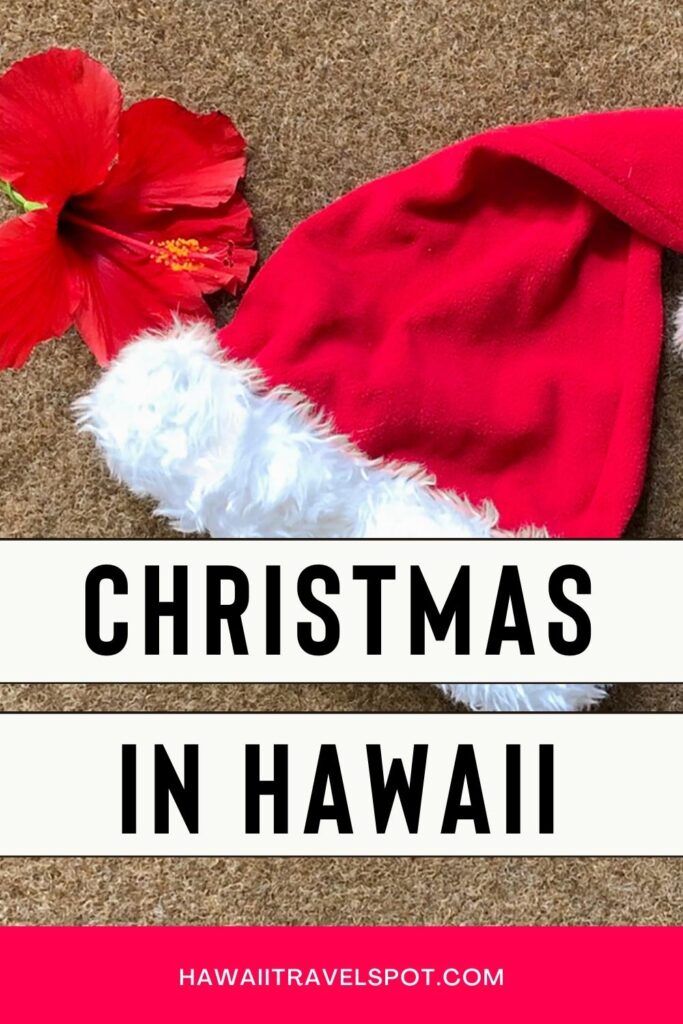 The History of Hawaiian Traditions on Christmas
Most Hawaiian culture comes from a mix of Polynesian traditions. Some of these Polynesian islands include Samoa, French Polynesia, Cook Islands, Fiji, and New Zealand.
Later, during Plantation Days, Hawaiian traditions were been influenced by the arrival of Portuguese, Filipino, Japanese, Chinese, and Korean cultures.
When the United States annexed Hawaii in the late 1800s, they also tried to get rid of Hawaiian culture and traditions. Thankfully, the Hawaiian culture is strong and although the culture has adapted over the decades, it's still alive and well today.
What Are Some Hawaiian Christmas Traditions?
A Hawaiian Christmas is celebrated similarly to that of the Mainland, except they have tropical flairs that set it apart.
Makahiki is known as the Hawaiian Christmas tradition. To this day, some but not all of these traditions are still in practice. This celebration lasted around 3 to 4 months, which was meant to provide wishes so that they would prevent war from breaking out, and is meant to be a time for giving gifts to one another.
The Christmas spirit of Hawaiian Christmas is similar to that of American culture, but it's a bit different.
In 1786, the very first Christmas was celebrated in Hawaii (at least to be recorded). This was a time when George Dixon was with other crew members to eat a large feast.
Some believe that Christmas was first spread out around 1820. Before Christmas was introduced, Hawaiians celebrated Makahiki. This was a time when no wars were fought and were meant to be a time for gift-giving.
Over the years, Hawaiian and American cultures have been shaped together in different forms. Around the 1800s, with the arrival of the missionaries, Christmas became more and more popular in Hawaii than ever before.
Today, Hawaii celebrates Christmas similarly to the Mainland in terms of Santa, and other Christmas decorations. They also participate in other traditions of Christmas like giving gifts, traditional feasts, and outdoor games.
How Do You Say Merry Christmas in Hawaiian?
They have a unique system of saying Merry Christmas. They don't say "Merry Christmas", but instead say, "Mele Kalikimaka" During Christmas. Directly translated, they mean the same thing.
Hawaii's First Christmas
In 1820, people from New England known as Protestant Missionaries went to Hawaii and soon spread Christmas culture. Before this, there was a time when Christmas happened in Hawaii before, which was in 1786.
George Dixon was on a ship known as Queen Charlotte. It went to Waimea Bay at Kauai. He made a Christmas feast with roasted pigs, grog, and coconut milk. They had a toast dedicated to families back home.
In 1856, Kamehameha IV said that December 25th would be the day that Christmas would be celebrated. Santa Claus soon arrived in 1858.
Are There Hawaiian Christmas Trees?
In public areas, you can find many Christmas trees decorated for all to enjoy. They also light up trees during the holidays for special events.
Trees like these are hard to find as many don't exist in Hawaii. People usually pay to have them shipped from the Mainland or they purchase artificial trees to use year after year.
But, some people display poinsettias or decorate little palm trees to celebrate the holidays.
Who is Hawaiian Santa?
To us, we usually know Santa Claus as Santa and Mrs. Claus.
In Hawaii, this is more commonly referred to as Shaka Santa. It means "hang loose," and you can see Santa Claus waving this sign everywhere he goes.
Mrs. Claus is known as Tutu Mele. "Tutu" means grandmother, while "mele" means a specific Hawaiian song. Tutu Mele wears a muumuu as well as a hibiscus flower in her hair. Shaka Santa is known for having open shirts, shorts, and flip-flops.
Quite the interesting way to make Santa Claus seem more island-style.
A Hawaiian Christmas Feast
Even though many American and European cultures shaped Hawaiian Christmas, the food is not similar.
People do not eat ham or turkey. Instead, they eat roasted pig, which is known as Kalua Pork. It's one of the most popular foods, especially when used for celebrations and events.
People usually make Kalua Pork with underground ovens (called an imu). If you want to make it at home, you can still do it in slow cookers, Instant Pots, and ovens.
Other Hawaiian Christmas dishes include poi, lomi lomi salmon, and poke. And there's usually large helpings of steamed white rice.
Hawaiian Christmas Words
"Mele Kalikimaka" is the Hawaiian way of saying "Merry Christmas." It's the title of the famous Bing Crosby Hawaiian Christmas song.
The new year in Hawaiian is "Hau'oli Makahiki Hou," a phrase that refers to the Makahiki Festival. This event happens over four months in celebration of the new year. Hou means New, Makahiki means Year, and Hau'oli means Happy.
"Ahiahi Kalikimaka" is the Hawaiian term for Christmas Eve. Wehi means ornament. Santa Claus is referred to as Kanakaloka. Star is referred to as Hoku. Love is known as Aloha.
Hawaiian Christmas Events
Christmas Parades
The Hawaiian community participates in these special events that happen each year. In Honolulu, there are special boat parades with festively decorated boats that sail across the waters. There's also a parade in Waikiki honoring the lives lost at Pearl Harbor.
Santa's Arrival
Unlike our Santa Claus, Hawaiian Santa Claus does not appear in a sled or with reindeer. Santa appears at a beach on a canoe. He's known for greeting hula dancers and other people from his boat.
One of the most popular locations where you can see this is Waikiki Beach. If you want to see this moment in action, you should come here to see the event!
Christmas Carols in Hawaii
If you love listening to Christmas carols, you'll appreciate hearing ones with a Hawaiian spin. These Hawaiian Christmas songs often use ukuleles and Hawaiian lyrics to make them island-style.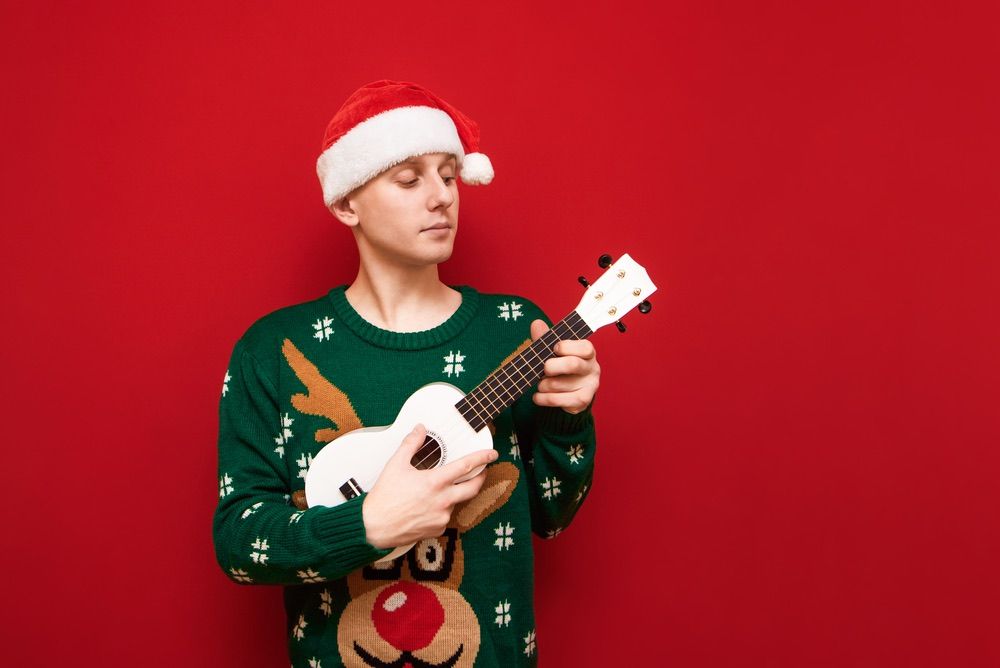 You'll hear Hawaiian Christmas carols in restaurants, stores, on the radio, and at the beach.
Hula Performances During Christmas
Just like caroling at Christmas, people also celebrate the season with hula dancing. You'll see holiday-theme hula shows with stages decorated with poinsettias and Christmas trees.
There are also Christmas Day luaus, holiday shows, and recitals.
Hawaiian Traditions on Christmas Day
Christmas Luau
One of the most popular Christmas traditions in Hawaii is hosting or going to a Christmas luau.
These include a huge party of people, which includes communities, families, and friends. The most common location for these celebrations during Christmas to take place is in someone's backyard.
But, you can also get tickets to a professional luau if you are visiting Hawaii for Christmas.
Hawaiian Presents
This is a common tradition in Hawaii that's also found in other places. On Christmas morning, friends and families exchange their gifts. Some people open their gifts on Christmas Eve, but Christmas morning is the most popular time.
Christmas Buffet/Dinner
Many places are still open even if it's Christmas, such as restaurants. A lot of people are with families and go to enjoy large feasts of food.
Some like to make their meal and like to enjoy a large feast. However, they also like to get food on their own and like to order fancy feasts.
Surfing During Christmas
Many surfing events occur during December. With the culture, most people generally enjoy surfing, regardless of the time of the day, year, month, or century.
It's also believed that Santa would arrive on the beach and like to surf as well. This would happen during Christmas time and no one would not enjoy catching waves at his time.
People also like to open their presents first, and then they like to go surfing for a lot of fun. Santa hats are on a lot of people, while others sit or lay on the beach.
Makahiki
Similar to Christmas, this happens during Christmas times. They also like to celebrate a traditional festival that only happens at the end of the year.
This festival lasts for about 4 months. During this time, people can decorate holidays and enjoy the tradition. They have a lot of time before the tradition starts.
This was meant to honor Lono, a god of agriculture and fertility God. It was meant to prevent wars in many different aspects during the time and is meant for people to give gifts to each other.
Hawaiian New Year
These Hawaii New Year traditions were influenced by Portuguese, Korean, Japanese, and Chinese cultures. Over a couple of hundred years, this culture spread for a while.
Fireworks
You may see this happen a lot at different times of the year, but these fireworks in Hawaii bring purpose other than looking cool.
Chinese culture believed that evil spirits would be scarred if they let off fireworks in the area. To this day, Hawaiian culture uses Chinese traditions.
Mochi Pounding
Japanese created a dessert called Mochi. To this day, Hawaiian culture keeps pounding mochi and will be kept for a while as a part of Hawaiian culture.
The purpose for these actions of making mochi was that they believed that pounding mochi was key so that there would be good luck the next year as it comes.
Chinese New Year
Around the 1900s, Chinese culture blended in with Hawaiian culture so Hawaiians no celebrate Chinese culture to this day.
There's a Honolulu Chinatown which also provides further proof of Chinese influence. It's also the time that there are China festivals in Hawaii as well.
Eating Sashimi
Japanese traditions blended in with Hawaiian traditions. Certain Hawaiian dishes like poke are all loved by Hawaiians. This dish was so powerful that it was believed that good fortune would unfold if it was eaten.
Tuna became popular and the demand became very high. This caused the prices of tuna to be extremely popular, which is proof that Hawaiian traditions caused fish to be so expensive and popular.
First Day Hike
Many people like to hike, but Hawaii takes it to another level. They like to see beautiful views, but Hawaii has one of the best ones out there.
There are many places people like to go to, such as this one overlook. People like to go to this area and wait for the sun to set and rise.
Hawaii Christmas FAQs
What is a traditional Hawaiian Christmas food?
A popular thing that people eat on a Hawaiian Christmas day is the Kalua pig. Kalua pig is pork that has been cooking for a long time in an underground oven. This gives it a unique flavor and allows it to be super tender as well.
What is Santa called in Hawaii?
Santa Claus is referred to as Kanakaloka in Hawaiian. Kanakaloka doesn't arrive with reindeer on sleds but arrives while on an outrigger canoe.
What does Tutu Mele mean?
Mrs. Claus whom we're used to is not the same in Hawaii. Mrs. Claus is referred to as Tutu Mele. Tutu means grandmother, while mele means a special chant or Hawaiian song.
Christmas in Hawaii Wrap Up
If you were wanting to know more about Hawaiian culture, you may be surprised by what you'll find! Hawaii is full of surprises, and these will unravel to show extremely amazing things.
There is no New year or Christmas event like this one, and you'll be shocked at how there are so many limitless possibilities! If you ever decide to come here during December, you'll be treated that a journey of adventures!