Are you planning a trip to the Big Island but don't know where to stay in Kona? Keep scrolling to check out this honest Royal Kona Resort review!
This honest Royal Kona Resort Review was written by Marcie Cheung (a Hawaii travel expert) and contains affiliate links which means if you purchase something from one of my affiliate links, I may earn a small commission that goes back into maintaining this blog.
The Big Island is one of my favorite Hawaiian islands to visit because it's MASSIVE! And there are no shortages of places to see in Kona.
Recently, I stayed at the Royal Kona Resort which is located along the famous Ali'i Drive in downtown Kona. I'd heard about their awesome location and amazing on-site luau and wanted to check them out for myself.
Why should you take my advice? I've visited Hawaii more than 40 times and bring a depth of firsthand Hawaii expertise unmatched in the travel sphere.
Keep scrolling to read my honest Royal Kona Resort review so you know if it's one of the Big Island hotels worth booking.
Want to skip all the planning and just access my detailed Big Island Itinerary complete with daily schedules, fun activities, and travel hacks? Click the button below.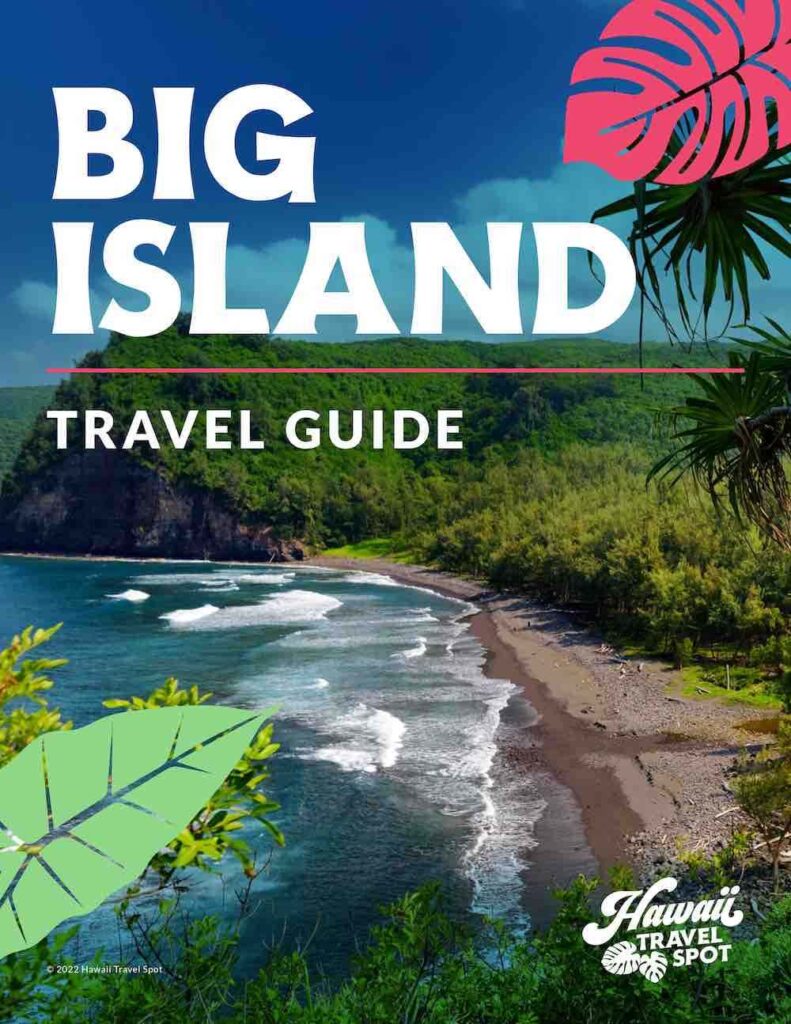 Where is the Royal Kona Resort?
The Royal Kona Resort sits in the lively heart of Kona, right on the famous Ali'i Drive.
One of the coolest things? It's super easy to stroll to many restaurants and fun shops. If you're looking to enjoy the beach, Kamakahonu Beach is just an 18-minute walk away.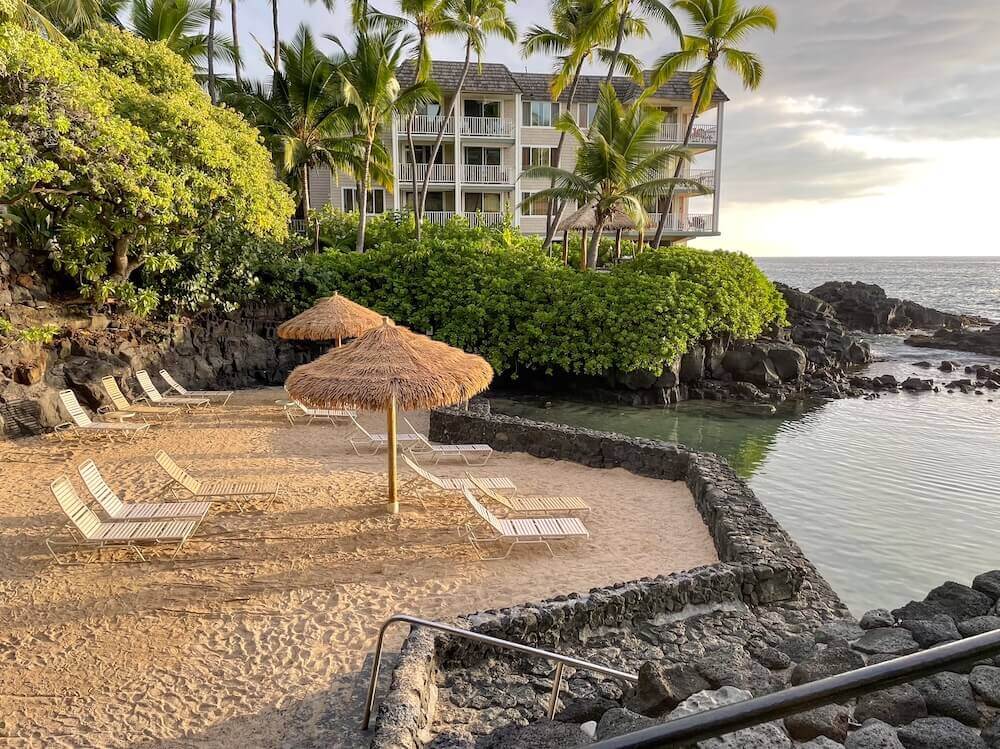 Plus, getting to Kailua-Kona Airport is a breeze – only an 18-minute drive.
If you've got a car, the resort offers secured parking for $25 a day, and they even let you come and go as you please. Plus, they've got special parking spots for vans and wheelchairs.
It's perfectly placed for a Hawaii adventure!
First Impressions & Check-In
From pictures online, it's sometimes tough to get the real feel of a place. When I first stepped into the Royal Kona Resort, it felt older than the pictures showed.
However, it was clear they were updating things – like the Lagoon Tower which was under renovation when we were there.
The lobby had a welcoming feel and finding it was a breeze. Though the pool area was smaller than expected and got crowded fast, the check-in process made up for it.
It was quick and smooth, and our room was all set when we arrived. Check rates here.
What Was Our Room Like?
Our stay at the Royal Kona Resort had us sleeping in the Lagoon Tower. One cool thing? The rooms there all face an outdoor courtyard, giving it a cozy, homey feel.
Our 5th-floor room was right by the elevator and overlooked the parking lot. Inside, it had everything: two full beds, a handy mini-fridge, and a desk space.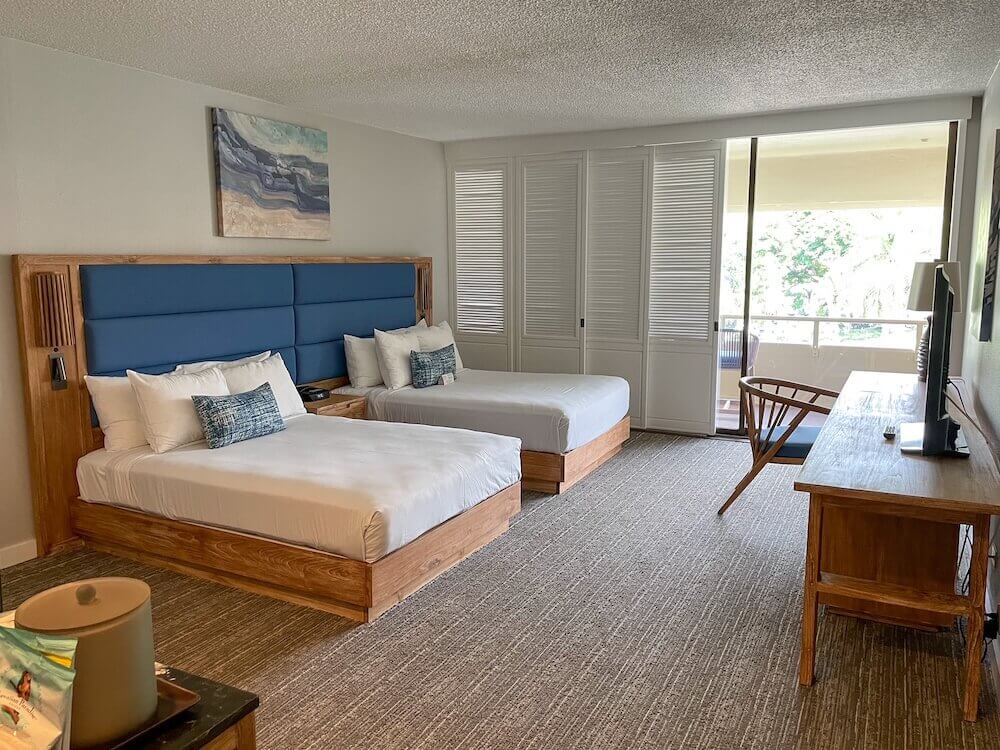 For families, the bathroom is a win with its bathtub – great for kiddos!
But the best part? The lanai! It was the perfect spot for outdoor meals with comfy chairs and an amazing view of the sunrise.
Our room was super roomy, making moving around easy and hassle-free.
If you're curious about other options, there are three towers: Ali'i, Lagoon, and Bay. Each one offers rooms with awesome ocean views.
Every room is equipped with air conditioning, free Kona Coffee, a private lanai, and clean, modern furnishings. They can even add a rollaway bed if you need it.
Throughout our stay, the service remained top-notch, making our stay truly memorable. Check the latest rates and availability.
Hotel Facilities at Royal Kona Resort
The Royal Kona Resort has facilities that fit both those looking for relaxation and adventure. If you're into pampering, their full-service spa will do the trick.
Fitness enthusiasts can use the gym, attend yoga classes, or play tennis, with lessons available for those eager to learn.
For families, the Lagoon Tower's ground floor offers a laundry center, making longer stays hassle-free.
A cool tidbit: this same tower houses two radio stations! Guests can even catch a glimpse of the DJs in action through large windows.
One thing to note is the pool size. It's on the smaller side, but a neighboring kid's pool makes up for it. This shallow pool is perfect for toddlers, but it's so cozy that even adults like to relax there.
And here's a fun evening activity: watch and listen to luau performances right from the pool area!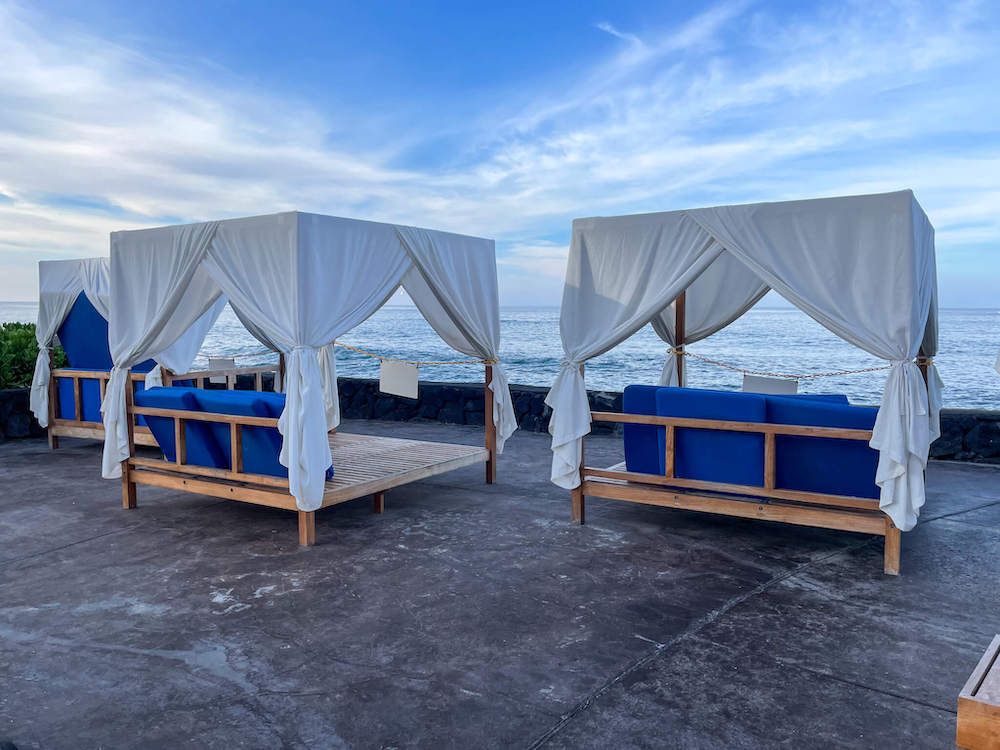 Considering renting a cabana? The resort's offerings are among Hawaii's most affordable. With both daybeds and full cabanas facing either the pool or ocean, they're perfect for families or groups.
Lastly, the lagoon was a delightful surprise! Not just a sight, but a part of the resort by the Lagoon Tower.
Lounge chairs and umbrellas make it a comfy spot, but remember those reef shoes! The lava rock floor can be tricky.
Snorkeling here is a treat, with tropical fish galore and sometimes even sea turtles making an appearance.
The lagoon isn't just a picturesque backdrop; it's an adventure waiting to happen!
Dining at the Royal Kona Resort
Hungry at the Royal Kona Resort? Don't fret; there's a good spread of options to satisfy your taste buds.
Start your day with a hearty breakfast. While it's not complimentary, the pricing isn't too steep, costing $23 for adults and $13.50 for kids.
A must-visit is Don's Mai Tai Bar & Restaurant. Here's a fun fact: it's said that this is where the famous Mai Tai cocktail was born!
But heads up, it can get crowded. We once faced a 2-hour wait! Though we missed out, we later discovered they offer a pre-order and pick-up option.
If ocean views during mealtime sound enticing, you can't miss The Beachcomber Restaurant. It offers an unbeatable ocean-view dining experience in Downtown Kailua-Kona.
For those craving some refreshing drinks by the pool, Don's Breezeway Lounge is the spot. While we didn't personally try it, many guests seemed to enjoy their cocktail and mocktail offerings.
A bonus for food-lovers staying here: the hotel's prime location on Ali'i Drive means a ton of nearby dining options. Notable mentions include Huggo's and its counterpart, Huggo's on the Rocks, both boasting an impressive menu with fresh poke and more.
If you're a burger aficionado, Island Ono Loa Grill claims to have the 9th best cheeseburger in the nation! With an easy-to-pick kids' menu and delicious fish tacos, it's a hit.
With so many eateries in the vicinity, foodies are in for a treat!
Understanding the Cost: Pricing & Packages at Royal Kona Resort
Staying at the Royal Kona Resort is a treat, with freshly renovated rooms that make you feel at home.
Depending on where you want to stay, they offer Corner King Rooms and regular Guest Rooms. You can wake up to beautiful ocean or serene garden views.
As for prices, standard guest rooms range between $183 to $400 per night. It varies a lot depending on the time of year! If you're traveling with little ones or extra guests, they offer rollaway beds and cribs.
Occasionally, they might have special deals or packages, so it's a good idea to keep an eye out for those.
Considering the location, views, and top-notch rooms, the value you get for your money here is fantastic!
Nearby Attractions & Activities at the Royal Kona Resort
The Royal Kona Resort is perfectly placed for those who love exploring.
A short 6-minute walk will take you to Honi's Beach, while history lovers can head to Hulihee Palace, just a 13-minute stroll away.
Kailua Pier and Kailua-Kona Wharf are both reachable within a 16-minute walk. If you're up for a bit more walking, Kamakahonu Beach and the famous Kona Brewing Co & Brewpub are about 20 minutes away.
For a quick bite or drink, On The Rocks and Huggo's are only 3 minutes from the resort.
One must-do activity is the on-site luau, Voyagers of the Pacific Luau. Right next to the hotel, this luau offers some of the best food in Hawaii and a complimentary bar with delicious tropical drinks.
The show is rich in Polynesian culture, showcasing dances and traditions from various islands. It's an experience you won't want to miss!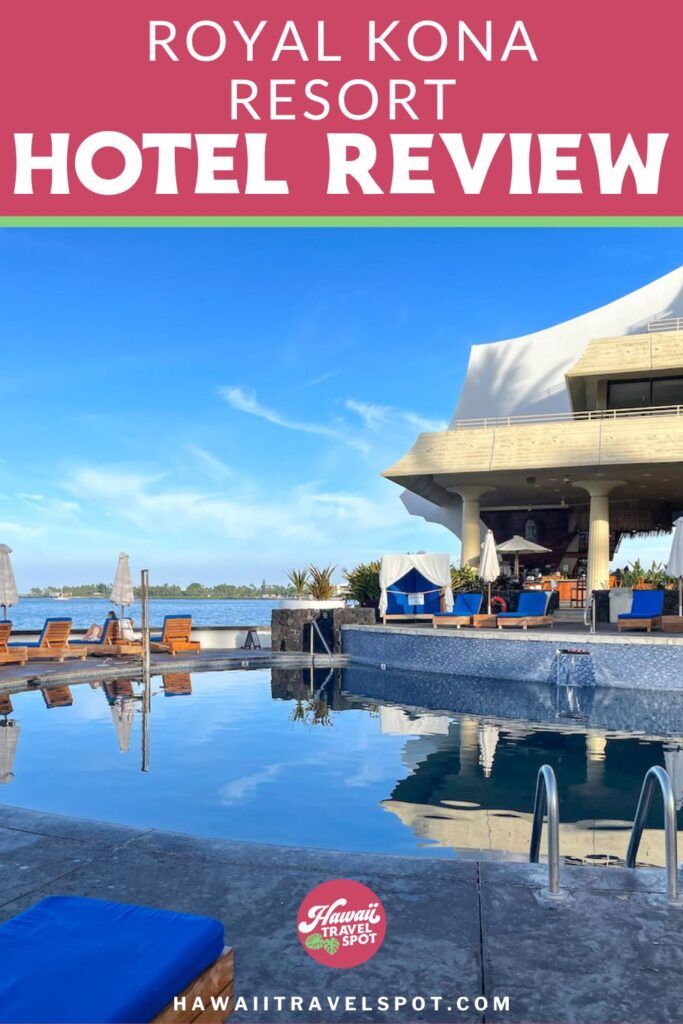 Royal Kona Resort FAQs
How does this hotel stand out from its competitors in Hawaii?
The Royal Kona Resort is a great place to stay in Kona. The room quality is on par with the Courtyard by Marriott King Kamehameha but that hotel has a LOT of extra amenities and a higher price tag.
Is the location practical for the activities and sights I want to enjoy?
The Royal Kona Resort is in an ideal location for visitors wanting the freedom to walk for cool shopping and restaurants. And it's easy to hop on the highway to explore outside of Kona.
Is it worth the price, and am I getting good value for my money?
If you're looking for a Kona hotel just to sleep and use the pool, it doesn't get much better than the Royal Kona Resort. But, if you're planning on spending a lot of time at the hotel, you might be a little underwhelmed.
Conclusion & Personal Verdict on the Royal Kona Resort
After spending 5 nights at the Royal Kona Resort, I'd say it's a gem in Kona. The location is unbeatable, with the coast just steps away, offering beautiful sunsets and the soothing sounds of waves.
Nearby, there are plenty of spots to eat, drink, and shop. Our room was spacious with conveniences like a bathtub and a mini-fridge.
However, there were some drawbacks. Thin walls meant we could hear our neighbors, and the sight of a Hawaiian burial ground in the parking lot was unexpected and saddening.
Despite that, the resort exuded the warm 'aloha spirit'. I'd recommend it for families and couples seeking a memorable Kona experience.
Rating for the Royal Kona Resort
Overall Score: 8/10 ⭐️⭐️⭐️⭐️⭐️⭐️⭐️⭐️
Location: 9/10 – The resort is super close to both an ocean lagoon and the pool, making it perfect for water lovers. Plus, it's within walking distance of many dining and shopping options.
Service: 8/10 – Staff showcased the 'aloha spirit', but there were moments that could have been improved upon.
Amenities: 7/10 – While having an ocean lagoon was a huge bonus, the resort lacked some of the amenities offered by newer hotels nearby.
Dining: 8/10 – Lots of nearby eateries and the on-site options were decent, though not extraordinary.
Value for Money: 8/10 – With its unique features and location, it offers good value, but the dated building did impact the overall feel.