Are you considering planning a trip to Kauai? Discover the top family-friendly vacation properties in Poipu, Kauai, by scrolling down.
This list of the best Poipu Kauai vacation rentals was written by Marcie Cheung (a Hawaii travel expert) and contains affiliate links which means if you purchase something from one of my affiliate links, I may earn a small commission that goes back into maintaining this blog.
Looking for a place to stay on your trip to Kauai?
Poipu is one of the most beautiful areas in Kauai and offers something for everyone. Poipu, which boasts a magnificent Tree Tunnel entrance, a historic Koloa town center, and a lot of activities, is a great area to call home while on the island.
From charming and rustic accommodations to lavish and magnificent villas, we have something for everyone.
Although they are always an option, hotels may not always be the best choice due to their formal atmosphere, small rooms, and astronomical prices with little to no amenities. If you are traveling with a lot of people, they become even less rational.
Let us do all the research for you and compile a list of the top vacation rentals in Poipu so you can relax and enjoy your vacation.
Need a reason to consider my guidance? My extensive 40+ visits to Hawaii make me a genuine expert in its attractions.
Scroll down to find my top recommendations for a vacation rental in Poipu Kauai!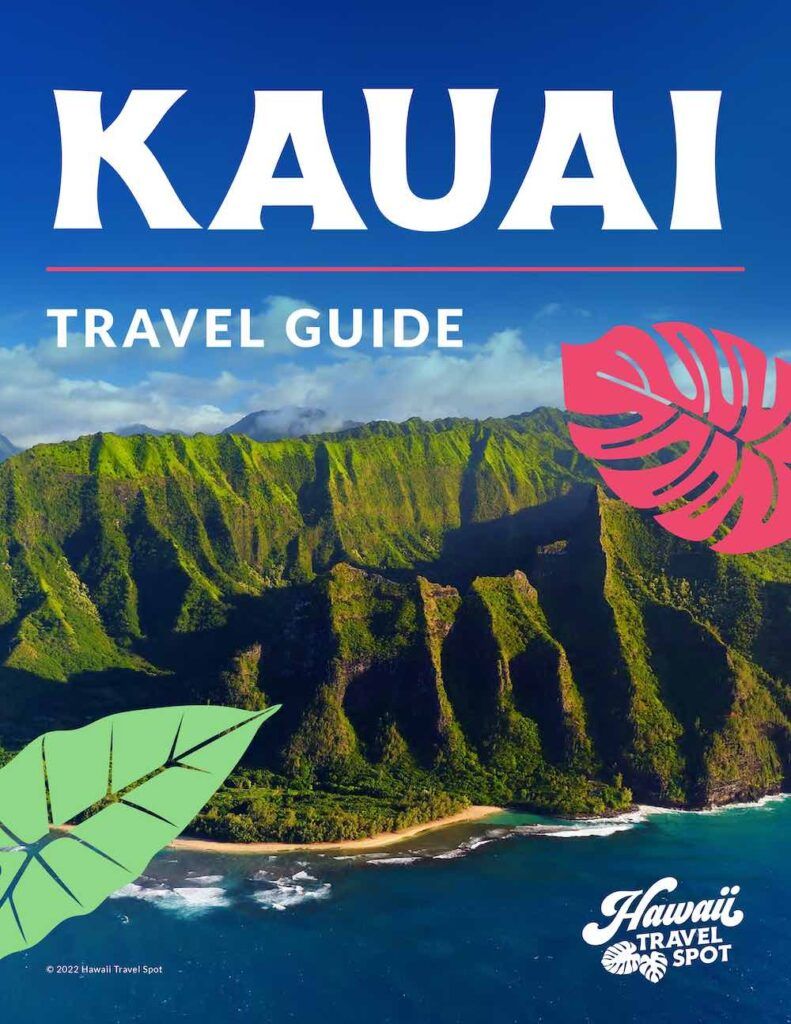 Poipu Timeshares
Due to Kauai's popularity as a travel destination, it fills up very quickly during the busy season. Timeshares are a practical method for frequent visitors to avoid the hassle of lodging search.
If you already have one, all you need to do is use your points to redeem it, saving you from having to pay exorbitant travel expenses every year.
Marriott's Waiohai Beach Club
This resort offers self-catering accommodations, a spa, and an outdoor pool with a stunning ocean view just a hop, skip, and jump from the beach. Additionally, it offers you the solitude of a charming rental property along with the conveniences of a resort.
The Kiahuna Golf Club and the coastal attractions at Shipwreck Beach are both within a 5-minute drive of the resort. Spouting Horn Park is also only a few kilometers distant. Check rates here.
Although it lacks a full-fledged restaurant, the poolside bar offers a selection of small meals and beverages.
Each room has air conditioning, contemporary furniture, and a pull-out sofa. With a dishwasher, microwave, kitchen utensils, and small dining space, each room features a fully functional kitchen. Check the latest rates and availability.
Save Money with Points
Here are the best credit card offers for people who travel and want to use points to pay for airfare and hotels in Hawaii.
The Point at Poipu by Diamond Resorts
This 22-acre property, which is right at the edge of the ocean and is extremely near to the beach, offers views of Keoneloa Bay and Shipwreck Beach.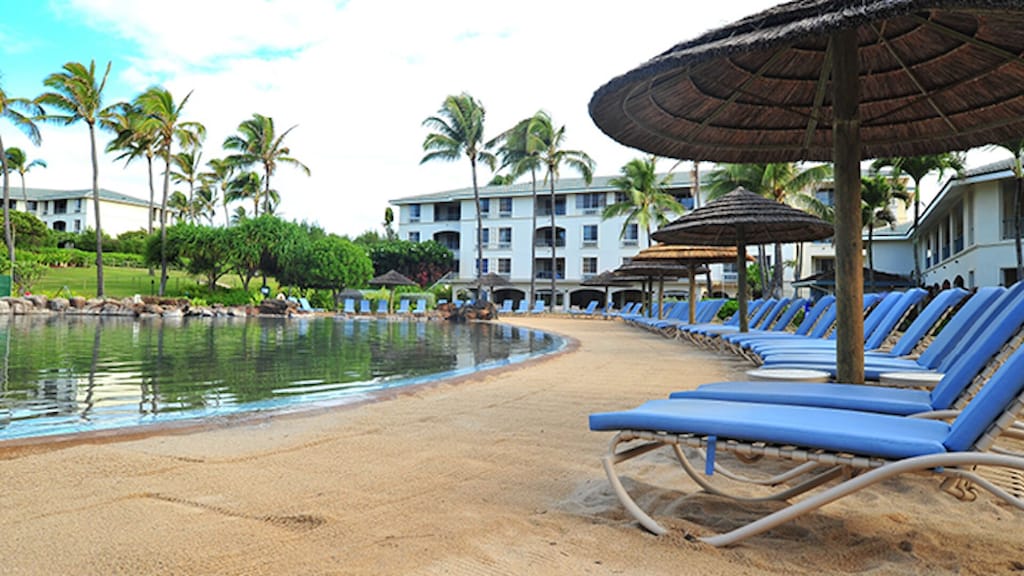 The Point at Poipu is not only conveniently positioned 14.5 miles from Lihue Airport, but it is also close to renowned golf courses, beautiful hiking, and horseback riding paths, and is a short distance from snorkeling and scuba diving locations. Check rates here.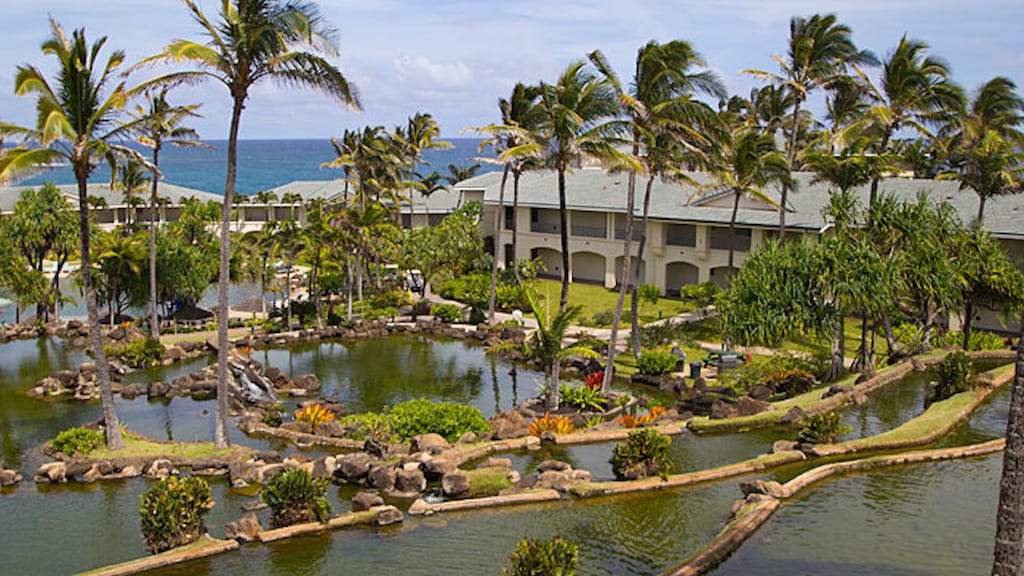 At Poipu Point, kitchens come fully furnished with cookware and coffeemakers. There is a private balcony, an outside grill area, a washing and dryer in each room, making it perfect for large families or group getaways. Check the latest rates and availability.
Lawai Beach Resort
The Lawai Beach Resort, one of Kauai's top snorkeling and surfing locations, has 176 condominium units and is situated on 7 acres of lush gardens on the island's south shore.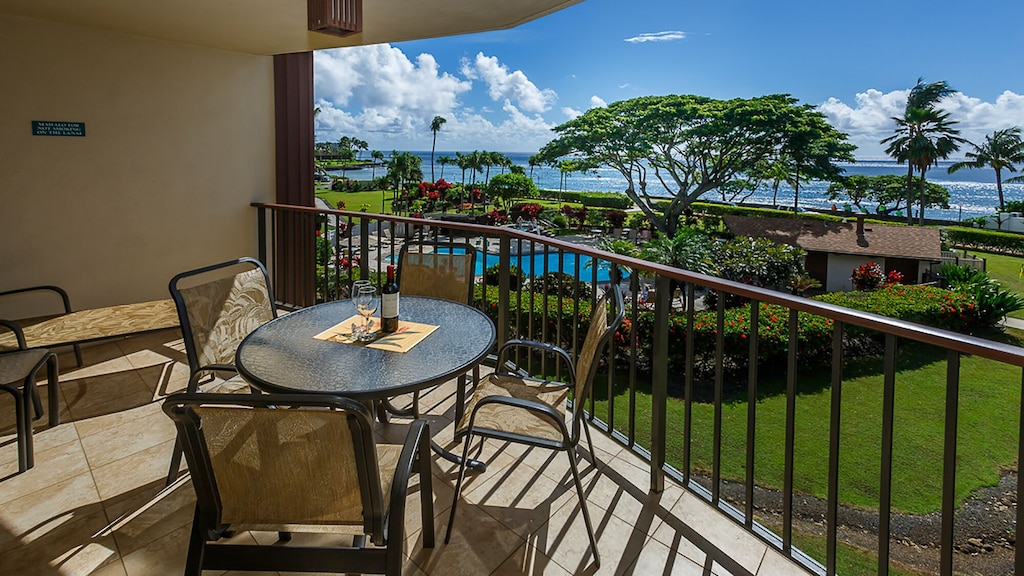 It is one of the most popular Poipu Beach rentals among tourists due to the breathtaking views from sunrise to sunset. Check rates here.
Large families will enjoy the resort's three pools and spas, fitness center, tennis court, miniature golf course, roof-top cafe, and different community grilling areas.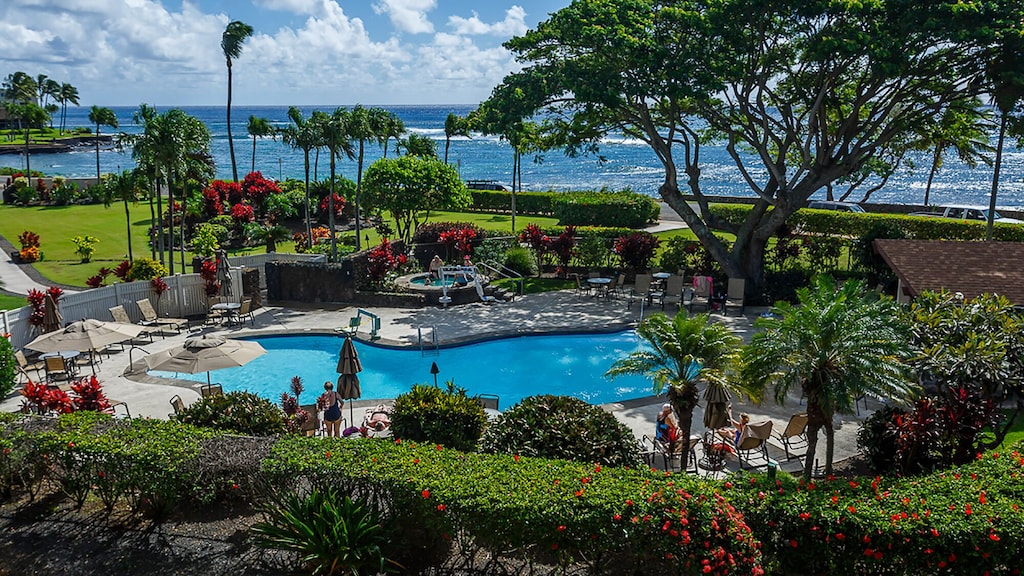 One-bedroom and two-bedroom condominiums are available for rent at the resort in Poipu, Kauai. The large, oceanfront suites are all on one level and include a covered patio.
King-sized beds, pull-out sofas, and a spacious bathroom give it a stylish and modern appearance. The apartments also come with a washer/dryer and kitchenettes that are fully stocked. Check the latest rates and availability.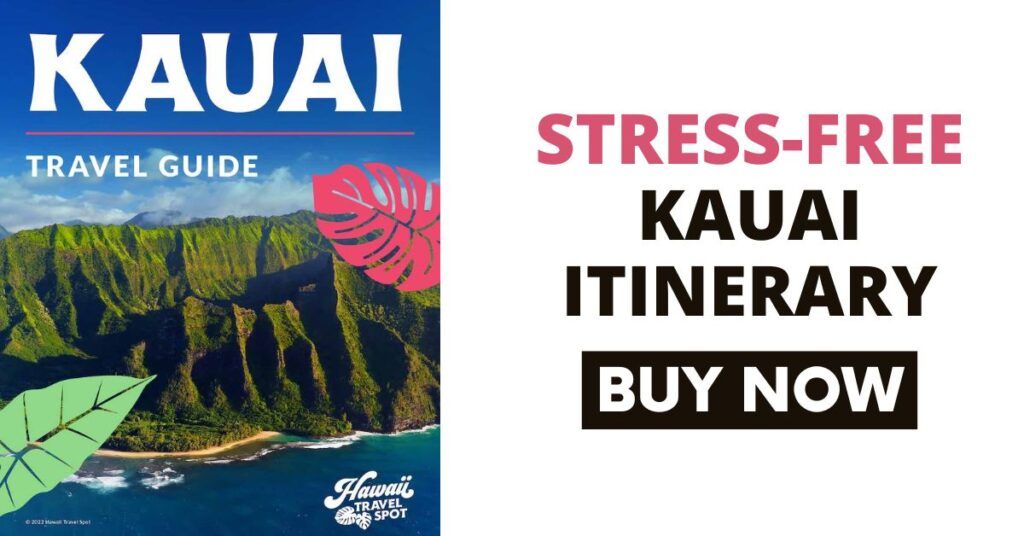 Poipu House Rentals
Castle Poipu Shores
This oceanfront property is only a short stroll from the Keoneloa Bay, Shipwreck, Brennecke, and Poipu beaches and is tucked away amid the breathtaking South Shore of Kauai. Poipu Shopping Village is also accessible by foot.
This is one of those wonderful home-away-from-home Kauai beachfront vacation rentals, with all-ocean views, an ocean-side pool, and a barbecue area. Check rates here.
Each of the one, two, and three-bedroom condos has one or more bedrooms, a modern, fully supplied kitchen, a washing machine, and a dryer, and faces the beach. To combat the tropical Hawaii heat and humidity, ceiling fans are also provided. Check the latest rates and availability.
Kiahuna Plantation
On 35 acres of lush gardens, this oceanfront property is situated directly on Poipu Beach.
The National Tropical Botanical Garden, Waimea Canyon State Park, and the earliest sugar plantation in Old Koloa Town are all close by to the Kiahuna Plantation.
During your stay, you get exclusive access to The Poipu Athletic Club, which has ten tennis courts, a sun deck with lounge chairs, a swimming pool with a slide, and a kid's pool with sand beds. Check rates here.
Additionally, you'll get access to the best golf courses and flights over the forest in a helicopter.
Every room has a fully functional kitchen, a separate balcony, a living area, and ceiling fans. Additionally, each room has a coffee maker with real Hawaiian coffee.
Although there isn't a restaurant on the property, Poipu Shopping Village across the street offers a wide variety of dining and shopping alternatives. Check the latest rates and availability.
Kuhio Shores
This Kauai beachfront vacation home offers the best of island life and is only ten feet from the surf.
You may enjoy the sounds of the ocean while watching surfers against a stunning sunset from your lanai. Check rates here.
Given that the condominium complex is surrounded by golf courses, riding stables, restaurants, and retail malls, it is easy to see why many people use it as a base for exploring the island's attractions and activities.
Due to its proximity to the beach, you won't even notice that the home lacks a pool!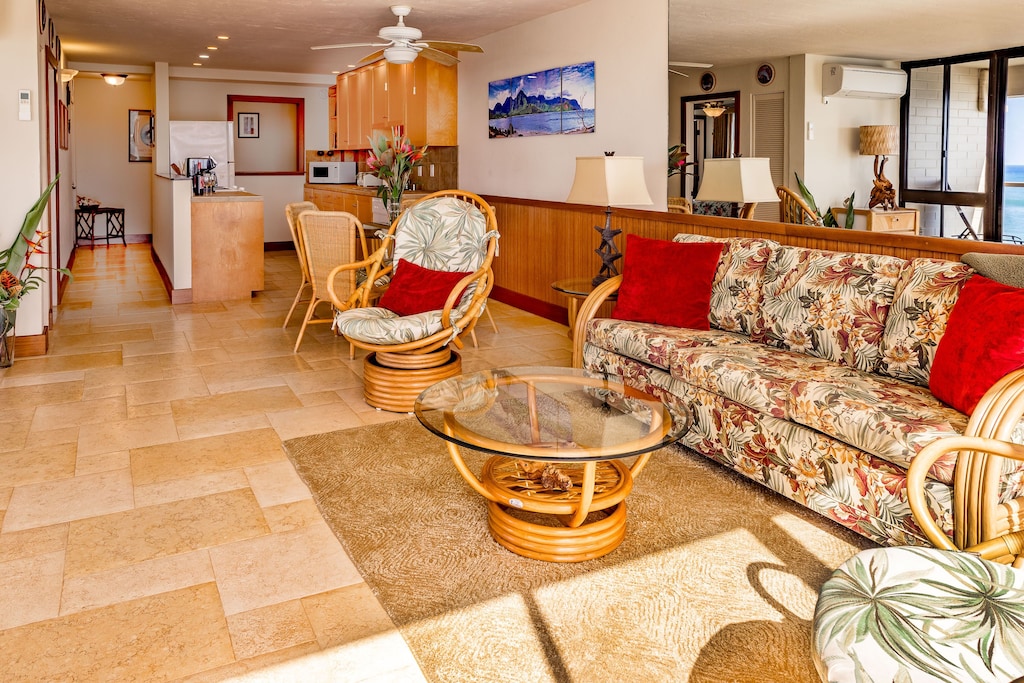 Both the 1 and 2-bedroom condominiums' pricing includes the balcony, seating area, and cable TV. There is also a fully equipped kitchen with a dishwasher, microwave, refrigerator, and coffee maker. Check the latest rates and availability.
Aston at Poipu Kai
Aston at Poipu Kai, with its seventy acres of verdant lawns and five opulent condominium developments, is situated adjacent to well-known tourist destinations including Poipu Beach, Waimea Canyon State Park, and the Spouting Horn.
This family-friendly resort provides a number of on-site features, such as five swimming pools, outdoor barbecues, and multiple tennis courts. Check rates here.
Each large condo features its own patio, a washer/dryer, and a warm, modern interior décor. It is completely furnished. A modern kitchen comes complete with a full-sized refrigerator, dishwasher, and oven. Check the latest rates and availability.
Poipu Palms
Only 12 condos are housed on this intimate property, which was constructed directly on the edge of the stunning Poipu shoreline. All of the units have amazing views, and there is a magnificent oceanfront pool thanks to the location and positioning.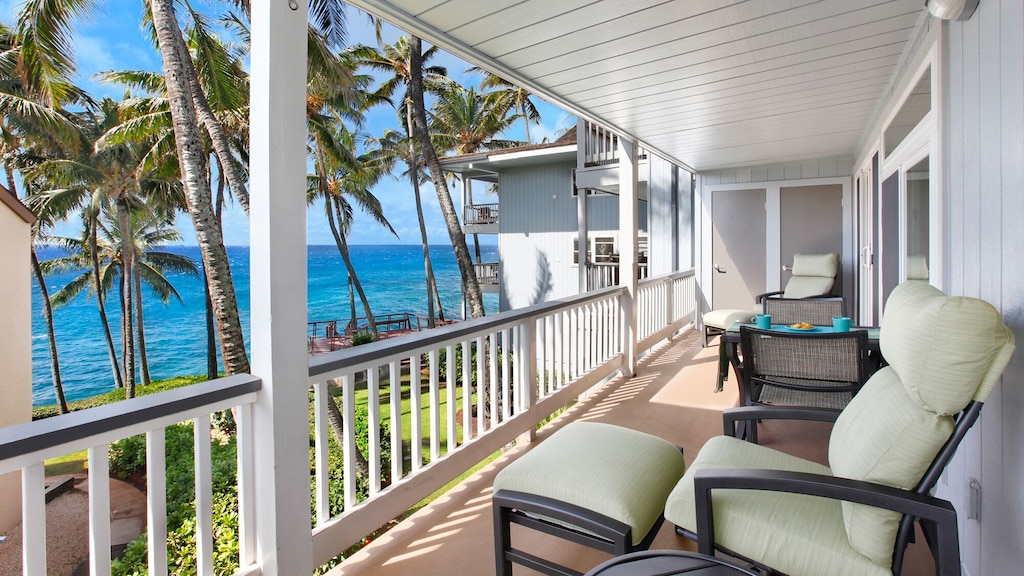 A pull-out sofa, a lounge space with a TV, a full kitchen with a dining area, a safe, and a private bathroom are all included in each 2-bedroom unit. Check rates here.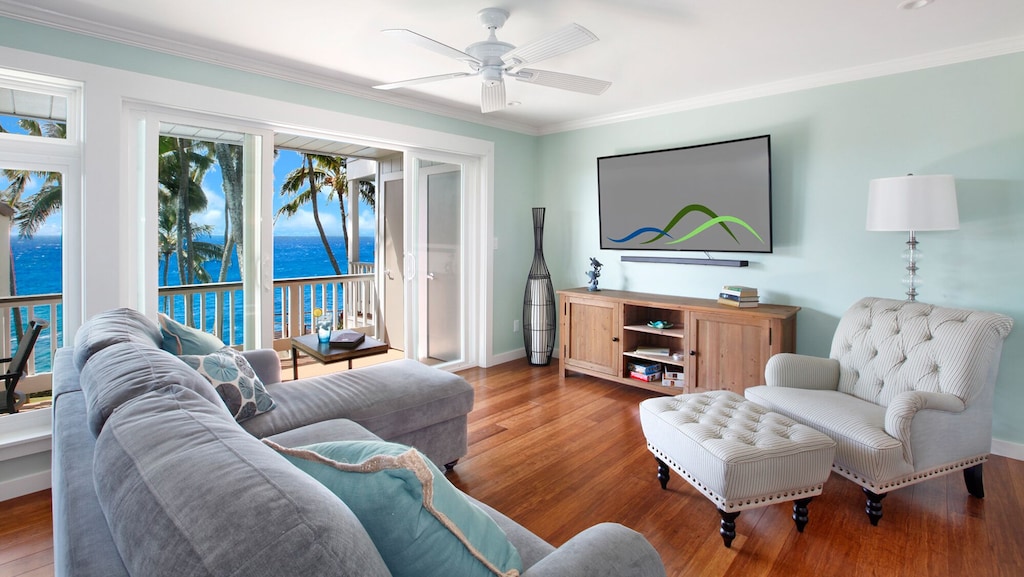 From the luxury of the lanai of your Poipu condo rental, enjoy the sounds of the ocean, and the sight of sea turtles, and even whales! Check the latest rates and availability.
Hotels in Poipu Kauai
It can be good to spend a few days in a nice resort to cap off your journey. Here are some of the greatest hotels in the area if you yearn for some pampering and want to experience complete relaxation.
Grand Hyatt Kauai
The Grand Hyatt Kauai Resort, which is situated on the sugar-white Poipu sands, is the pinnacle of opulent living.
Dining with amazing coastal views is available at seven different restaurants serving various cuisines. The opulent spa offers body and soul-detoxifying massage therapies and other spa services. Check rates here.
An 18-hole golf course, tennis courts, a water sports complex with equipment rentals, horse stables, and a series of 24-hour swimming pools are also available.
On Wednesdays and Sundays, the resort also conducts a traditional Hawaiian luau featuring a meal, specialty drinks, and Polynesian dance performances.
Every accommodation has a private lanai to enjoy the breathtaking island views. Check out my full Grand Hyatt Kauai review.
In addition to the usual furnishings, the rooms have desks, seating spaces, and marble bathrooms with double vanities and bathrobes for the whole 5-star experience. Check the latest rates and availability.
Book a Hawaii Photo Shoot
Whenever we travel to Hawaii, we almost always book a photo shoot with Flytographer. They are super easy, affordable, AND it guarantees that I'll have more than just selfies. You can get $25 off if you book through this link or use the code HAWAIITRAVEL.
Sheraton Kauai
The 20-acre Sheraton Resort is situated in a prime location on the south shore of Kauai, just 2 minutes from Poipu Beach.
It gives visitors unrivaled access to everything the Garden Island has to offer, including its breathtaking beaches, lush jungles, and top-notch golf courses. Check rates here.
The resort is home to a variety of genuine Hawaiian restaurants with appealing waterfront dining in a tropical setting. Its namesake restaurant, RumFire, offers breathtaking sunset views.
The Sheraton Kauai has a beach activity center, an ocean pool with cabanas, and an on-site spa.
Its recently refurbished rooms and suites come equipped with a variety of modern facilities, including flat-screen TVs and mini-refrigerators.
In comparison to the other resorts on our list, it is somewhat more reasonable, and guests can choose between rooms with an ocean view or a garden view, depending on their tastes. Check the latest rates and availability.
Koa Kea
This boutique resort, constructed directly on Poipu Beach, makes the most of its setting. This is certainly the resort for you if the main reasons you're visiting the island are to indulge in luxury and engage in watersports.
For breakfast and supper, the hotel's on-site Red Salt Restaurant serves a variety of Hawaiian seafood and fresh veggies. Additionally, there is 24-hour room service and a lunch menu at the poolside bar. Check rates here.
The opulent guest rooms, which feature either a balcony or a patio, have a beach-chic vibe thanks to their sophisticated furnishings and understated design. The rooms are air-conditioned and have a TV, coffee maker, soft bathrobes, and high-end toiletries. Check the latest rates and availability.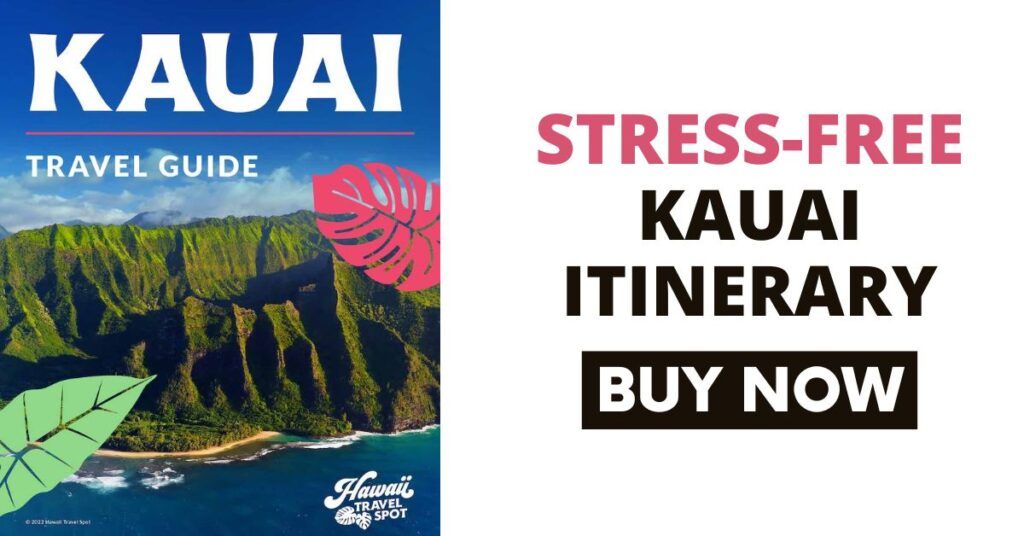 Top Things to do in Poipu
The stunning Poipu region's white sand beaches juxtapose with amazing lava rock formations, resulting in a bizarre landscape.
There is always interesting and exciting stuff to do, whether you want to unwind or go on an adventure. Here are the suggestions we have.
Visit the Spouting Horn Blowhole
One of the most well-liked tourist destinations on Kauai is the Spouting Horn Blowhole. The lava tube that flows from the ocean into the rocks is what creates the natural fountain.
Water is propelled through the lava tube as waves crash against the rocks, creating an amazing geyser of water that soars 50 feet into the air!
Go to a Luau
A classic Hawaiian luau party consists of music, dancing, and—most importantly—food.
Both the Auli'i Luau at the Sheraton and the Luau at the Grand Hyatt are highly recognized for their delectable buffets, exotic beverages, and Polynesian dance performances. These are some of the best Kauai luaus.
Swaying hula hips, dining under a starry sky, and the aroma of a fresh flower lei—not what's to love?
Explore the Gardens
Without going to the gardens, a trip to the Garden Isle would be lacking. The 80-acre Allerton Garden is popular on the south shore. Additionally, it has appeared in a number of movies, including Jurassic Park and Pirates of the Caribbean.
Another stunning botanical park, the McBryde Garden, covers more than 200 verdant acres.
Hang at the Beach
There are many beaches in the Poipu area, including Poipu Beach Park, Kiahuna, Brennecke Beach, Baby Beach, and others. Poipu Beach Park is the most well-known of them all.
This beach has it all, whether you want to relax with your kids or take part in different water adventure sports.
Enjoy the local cuisine
There are some great places in Poipu to taste food with Hawaiian influences. Both Puka Dog and Waikomo Shave Ice are unquestionably popular.
The greatest family restaurants in the area include Brennecke's Beach Broiler, Ilima Terrace Restaurant, and Keoki's Paradise.
Go Shopping
The Shops at Kukui'ula on Kauai's South Shore provide an amazing outdoor shopping experience.
The shopping area, which features plantation-era architecture, is home to dozens of distinctive stores, eateries, and galleries of modern art.
It also has a Kauai Culinary Market every Wednesday, which includes a farmer's market, cooking demonstrations, and live Hawaiian music.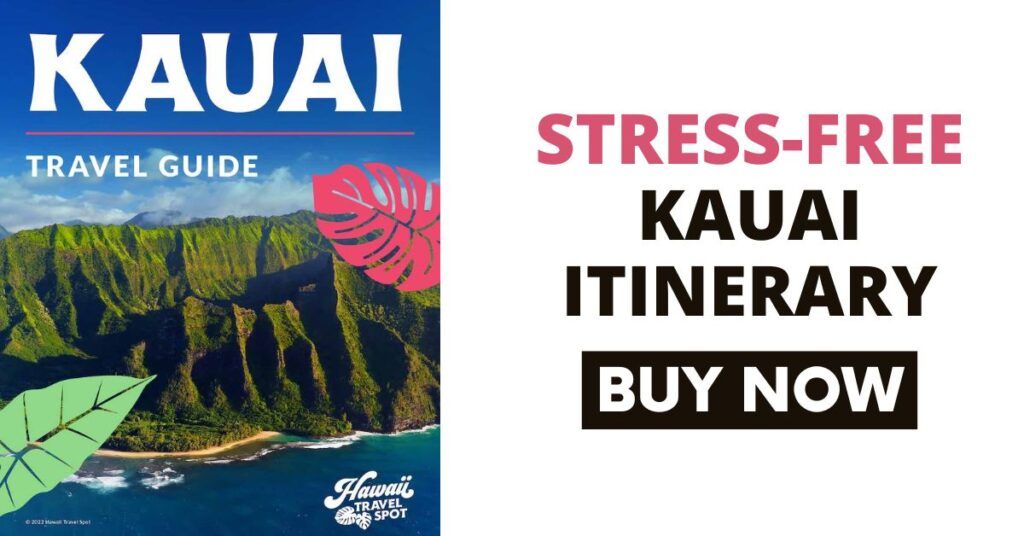 Poipu Kauai Vacation Rentals FAQs
What is the time difference from Poipu Beach Kauai to the mainland?
Hawaii observes Hawaii Standard Time, which is 2 hours from Pacific Standard Time and 5 hours later than Eastern Standard Time. Hawaii does not observe daylight saving time, therefore from March through November, add an hour to the time difference.
What is the best time to visit Poipu?
Poipu may be visited at any time of the year. The usual temperature is from 75 to 85 degrees Fahrenheit. Winter is a little bit colder than summer, which is also drier. Year-round comfort is ensured by trade winds.
How far is the airport from Poipu?
Poipu is roughly 15 miles from Lihue Airport, and the trip there takes about 20 to 30 minutes.
Do I need a car to get around Kauai?
There aren't many options for transportation on Kauai. Although many tourists prefer taking bus tours to conveniently see Kauai, you might think about renting a car to truly experience this island.
Best Condos in Poipu Kauai Wrap Up
When it comes to vacation homes, the Kauai area of Poipu is a veritable gold mine.
Vacation rentals in Poipu Kauai, whether they are opulent resorts, opulent villas, or modest condos, all share the stunning scenery of the sunny south shore.
We hope this list has inspired you and assisted you in selecting the ideal lodging for your ideal island getaway.