Are you planning a trip to Oahu but don't know where to stay? Keep scrolling to check out this honest Hilton Hawaiian Village review!
This honest Hilton Hawaiian Village Review was written by Marcie Cheung (a Hawaii travel expert) and contains affiliate links which means if you purchase something from one of my affiliate links, I may earn a small commission that goes back into maintaining this blog.
I've personally visited Oahu dozens of times and I'm always finding new best places to stay in Waikiki! I mean, there are OODLES of fun options!
Recently, I stayed at the Hilton Hawaiian Village which has it's own saltwater lagoon next to Waikiki Beach. I'd heard about this Waikiki resort for years and figured it was time to check it out for myself.
Why should you take my advice? I've visited Hawaii more than 40 times and bring a depth of firsthand Hawaii expertise unmatched in the travel sphere.
Keep scrolling to read my honest Hilton Hawaiian Village review so you know if it's one of the Waikiki hotels worth booking.
Want to skip all the planning and just access my detailed Oahu itinerary complete with daily schedules, fun activities, and travel hacks? Click the button below.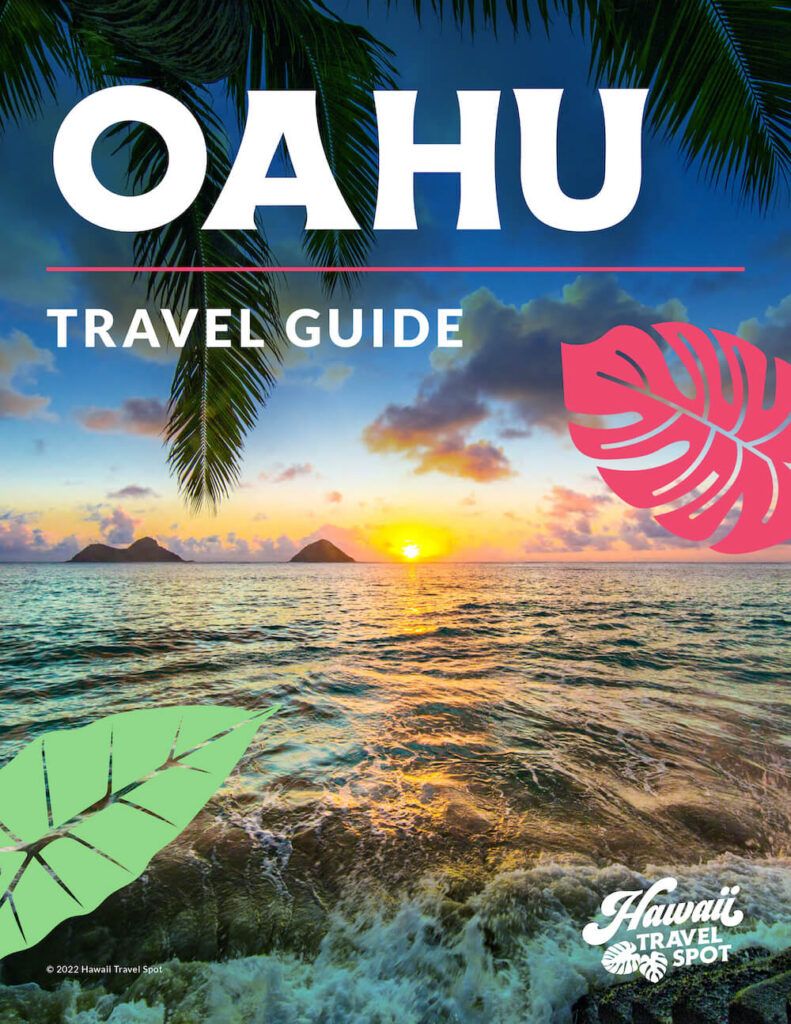 Where is the Hilton Hawaiian Village on Oahu?
The Hilton Hawaiian Village sits on the West side of Waikiki, Oahu, only a 30-minute ride from the Honolulu Airport.
This beachfront hotel is in a prime spot! It's a short walk to famous places like Ala Moana Center, Waikiki Beach Walk, and Royal Hawaiian Center.
If you decide to bring or rent a car, they offer both self-parking and valet services, though there's a fee. For those with electric cars, they've got charging stations. Plus, if you need a fancy ride somewhere, they have limo services ready!
This hotel is super accessible for all travelers.
First Impressions & Check-In
As soon as we entered the Hilton Hawaiian Village, its unique architecture and decor caught our eye.
But, our initial check-in felt a bit tiring with the long line. Although it took a while to reach the counter, the hotel staff were incredibly warm and understanding.
When we wanted a room change, they were quick to help us upgrade to the famed Rainbow Tower, which was truly a treat! Their guest services manager made the experience even better with their kindness.
Despite the initial wait, their service and friendliness made a big difference in our first impression. Check rates here.
What Did Our Room Look Like?
At the Hilton Hawaiian Village, we stayed in a room that truly felt like a mini paradise.
As soon as we walked in, a cozy nook greeted us with a large closet, coffee amenities, and a handy mini-fridge.
The room itself was spacious, featuring two full-size beds, a pull-out couch, a work desk, and a comfy sitting area. Our bathroom was quite roomy too, boasting both a bathtub and a separate shower stall.
But the best part? Our double lanais! From the 14th floor, the views were simply breathtaking. We could see the lagoon, beach, marina, and even where they hold the lively luaus.
The partial ocean view and efficient air conditioning added to our comfort.
And for those who need to stay connected, the room offers Wi-Fi (for a fee) at a speed of 250+ Mbps, suitable for a group or multiple devices.
The Hilton Hawaiian Village provided the perfect blend of comfort and scenic beauty, making our stay memorable. Check the latest rates and availability.
Hotel Facilities at Hilton Hawaiian Village
At the Hilton Hawaiian Village, there's a world of activities and amenities to discover! With a grand total of five pools, guests have an array of choices.
The Super Pool is impressive, boasting 10,000 square feet and sitting almost directly on Waikiki Beach.
If you have little ones, the Keiki Pool is perfect with its shallowness, although you should note that pool toys or floats aren't permitted.
For a more serene experience, the Tapa Pool, nestled between the Tapa Tower and Diamond Head Tower, is your best bet.
Exclusive to Ali'i Tower guests is a private pool with a relaxing sundeck. If slides are your thing, the Paradise Pool is a must-visit, and for adults seeking some peace, the Kalia Tower Pool awaits.
A unique feature of the Hilton Hawaiian Village is its private lagoon, positioned by the Lagoon Tower.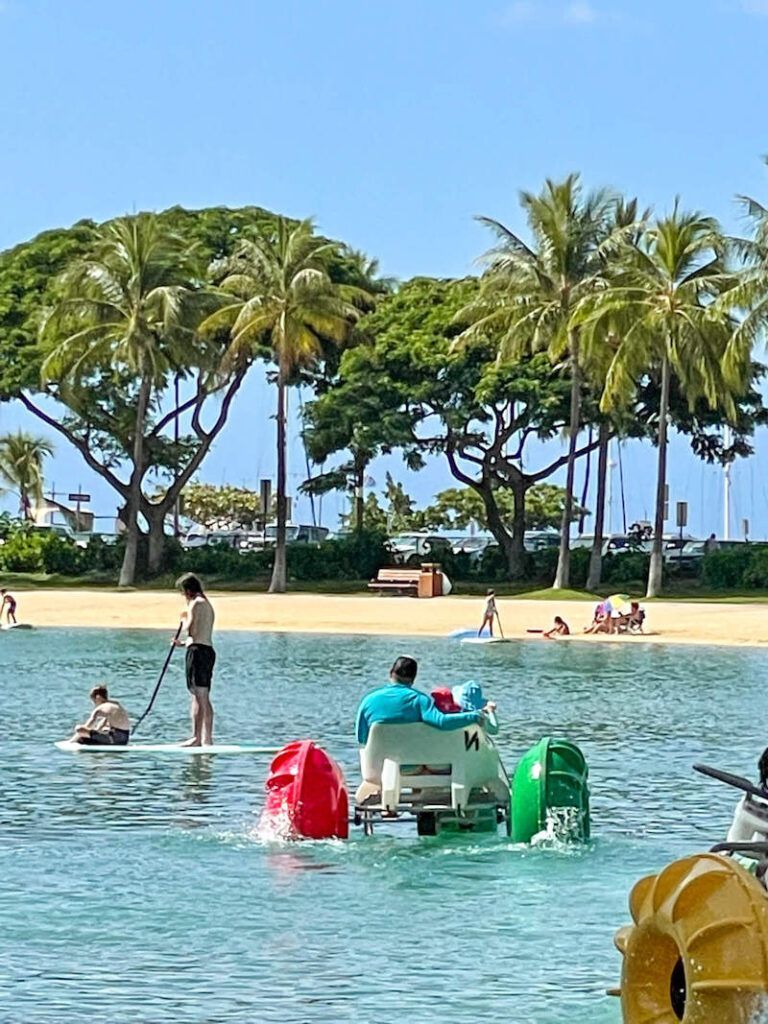 Whether you're into kayaking or trying out water tricycles, the lagoon offers endless water fun. And just a bit further is the Duke Kahanamoku Beach, perfect for catching sunsets and learning to surf.
Besides these, the resort houses the Mandara Spa, a haven for those looking for rejuvenating treatments, though they might be a tad pricey.
And a standout experience especially for families? The Waikiki Atlantis Submarine, which conveniently departs from the hotel, offering an underwater adventure for all ages.
With such an array of facilities, Hilton Hawaiian Village offers an unmatched experience in Waikiki.
Dining Options at the Hilton Hawaiian Village in Waikiki
At the Hilton Hawaiian Village, the dining options are vast and mouthwatering. Nestled within the hotel's Rainbow Bazaar shopping center, there's a place for every craving.
For a quick bite, the Wiki Wiki Market is ideal. Kids can grab hot dogs, and the shave ice is a refreshing treat.
Coffee lovers, watch out! There are several Starbucks around, and while they're popular (so expect lines), it's a perfect spot for morning energy and Hawaii-themed souvenirs.
For beach views and a blend of American and local dishes, the Tropics Bar & Grill is a must. On hot days, Aloha Bowls & Tea offers flavorful bubble teas and smoothies. Their snack items are kid-friendly, and it's an affordable option in Waikiki.
If you're lounging by the main pool, the Hau Tree Bar & Cantina is perfect for midday meals.
For those missing the Big Apple, CJ's New York Style Delicatessen offers delicious deli sandwiches, while Blue Water Shrimp & Seafood is ideal for a tropical twist with its pineapple smoothies.
Craving Italian? Fresco Italian serves mouthwatering pasta dishes.
A highlight, especially for families, is Rocky Japanese Steak Teppan Restaurant. With entertaining chefs and delectable dishes, it's a fun-filled dining experience.
And if you fancy a pizza night, Round Table Pizza has got you covered.
Finally, for dessert or snacks, DQ/Orange Julius has a varied menu, while Lappert's Hawaii offers tempting ice creams.
Island Deli, part of the ABC store chain, offers a range of dishes, including the famous poke and musubi.
Every meal at the Hilton Hawaiian Village was delightful, and the room service was top-notch!
Pricing & Packages at Hilton Hawaiian Village
The Hilton Hawaiian Village offers a range of rooms across five towers, each with its own unique charm.
While the Ali'i Tower boasts private check-ins and exclusive perks, the Rainbow Tower offers breathtaking views of Honolulu.
Plus, the newly renovated Tapa Collection feels fresh, though some towers could use a bit of updating.
With a variety of room options, including corner rooms and junior suites, there's something for everyone.
The typical pricing for studio rooms ranges between $260 to $450 per night. What's even better for locals is the availability of kamaaina rates.
For those planning an extended getaway, there are special deals for stays of 4-5 nights, which means better savings!
All in all, considering the amenities and the location, the Hilton Hawaiian Village offers good value for your money.
Nearby Attractions & Activities at the Hilton Hawaiian Village
The Hilton Hawaiian Village isn't just about the hotel – it's about the adventure waiting outside too!
Within a short stroll, you can reach the beautiful Duke Kahanamoku Beach in just 8 minutes.
If shopping's your thing, Ala Moana Center, Waikiki Beach Walk, and the Royal Hawaiian Center are all about a 15-minute walk away. For business travelers, the Hawaii Convention Center is nearby too.
But the excitement doesn't stop there! The hotel hosts the vibrant Waikiki Starlight Luau, giving you a true taste of Hawaiian culture.
And don't miss the magical fireworks every Friday evening on the beach, lighting up the night sky.
Want to start your day right? The hotel offers morning yoga sessions on the Village Green. Plus, get hands-on with lei-making classes, hula lessons, and more to truly immerse yourself in the Hawaiian lifestyle.
Hilton Hawaiian Village FAQs
How does this hotel stand out from its competitors in Hawaii?
If you're looking for a high-end resort, you'll probably want to check out Turtle Bay Resort or the Disney Aulani Resort. While it used to be the premiere place to stay on Oahu, it needs some TLC to avoid becoming too outdated.
Is the location practical for the activities and sights I want to enjoy?
It's on the West end of Waikiki and you'll need to walk a bit (or take the Waikiki Trolley) to get to the heart of Waikiki.
Is it worth the price, and am I getting good value for my money?
The Hilton Hawaiian Village is totally worth it IF you can get a deal. They usually run specials throughout the year.
Conclusion & Personal Verdict on the Hilton Hawaiian Village in Waikiki
In wrapping up our stay at Hilton Hawaiian Village, there were a few bumps.
The elevators sometimes got crowded, making waits longer, and picking floors was tricky. The parking spot was a bit far from some towers, and a few of the towers could use a fresh touch-up.
However, these are minor issues. The overall experience was wonderful!
For families, especially, this hotel shines as a gem in Waikiki. The beachfront location and kid-friendly environment make it perfect. We've stayed in many Waikiki hotels, but this one truly stood out.
Whether it's your first or fifth visit to Hawaii, I'd wholeheartedly recommend it!
Rating for the Hilton Hawaiian Village
Overall Score: 8/10 ⭐️⭐️⭐️⭐️⭐️⭐️⭐️⭐️
Location: 9/10 – Being right on Waikiki Beach is a major win. Close to many attractions and shops.
Service: 8/10 – Always helpful, but with the crowd, there might be slight delays.
Amenities: 10/10 – This place boasts 5 pools, a spa, fireworks, and even its own luau! It's hard to beat that.
Dining: 7/10 – Lots of choices but can be busy at peak times.
Value for Money: 7/10 – With so much offered, it feels worth it. Yet, the slightly dated rooms pull the score down a touch.
In short, it's a fantastic spot with just a few areas that could use some polishing.