Are you planning a trip to Oahu but don't know where to stay? Keep scrolling to check out this honest Alohilani Resort Waikiki Beach review!
This honest Alohilani Resort Waikiki Beach Review was written by Marcie Cheung (a Hawaii travel expert) and contains affiliate links which means if you purchase something from one of my affiliate links, I may earn a small commission that goes back into maintaining this blog.
I've visited Oahu dozens of times and I'm always finding new best places to stay in Waikiki! I mean, there are TONS of amazing options!
Recently, I stayed at the Alohilani Resort which is located just across the street from Waikiki Beach. I'd heard about their rooftop infinity pool and aquarium in the lobby and wanted to check it out for myself.
Why should you take my advice? I've visited Hawaii more than 40 times and bring a depth of firsthand Hawaii expertise unmatched in the travel sphere.
Keep scrolling to read my honest Alohilani Resort Waikiki Beach review so you know if it's one of the Waikiki hotels worth booking.
Want to skip all the planning and just access my detailed Oahu itinerary complete with daily schedules, fun activities, and travel hacks? Click the button below.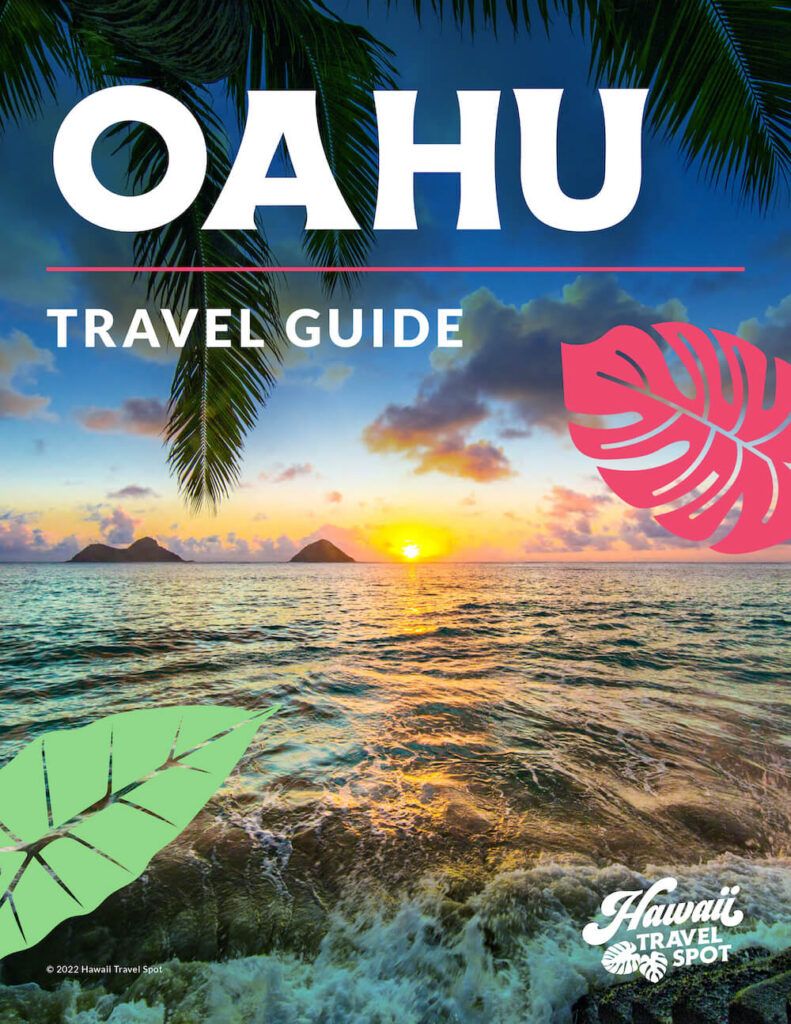 Where is the Alohilani Resort Waikiki Beach?
The Alohilani Resort Waikiki Beach is perfectly positioned right across from the famous Kuhio Beach, making it a dream spot for beach lovers.
Located at the Diamond Head end of Waikiki, it's surrounded by great shops and tasty restaurants. Craving something sweet? Leonard's Bakery and its delicious malasadas are just a short drive away.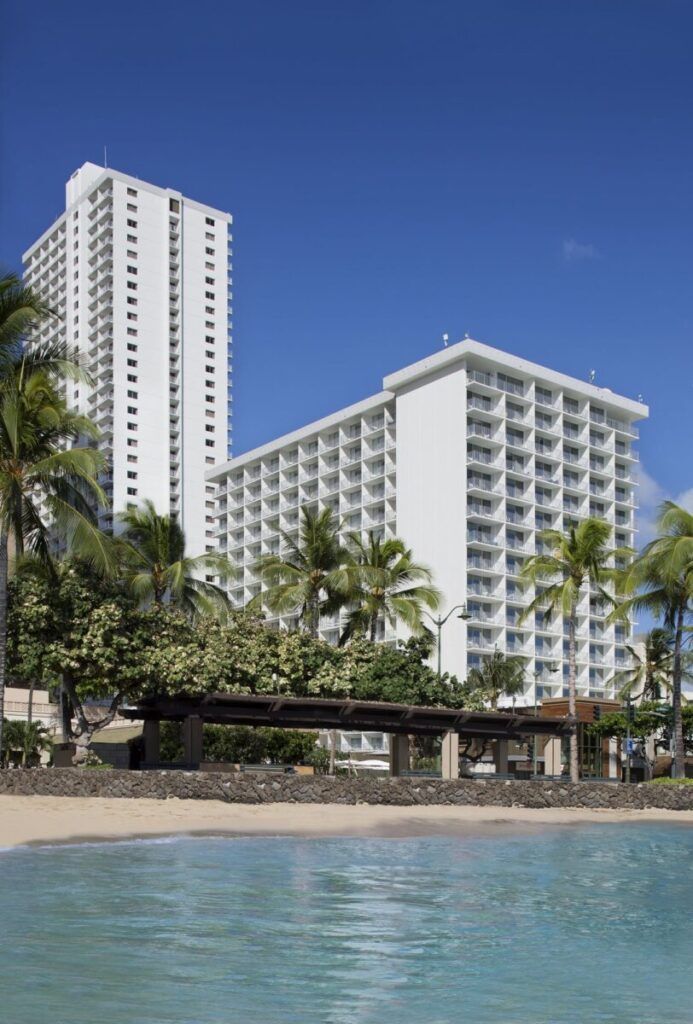 For those with cars, there are both self-parking and valet options, though space might be limited.
If you're aiming to explore Waikiki on foot, major attractions like the Duke Kahanamoku Statue and International Market Place are just minutes away. Perfect for adventurers and relaxers alike!
First Impressions & Check-In
From the moment I walked into the Alohilani Resort Waikiki Beach, the huge aquarium in the lobby grabbed my attention. Watching the fish get fed is an unexpected and fun treat!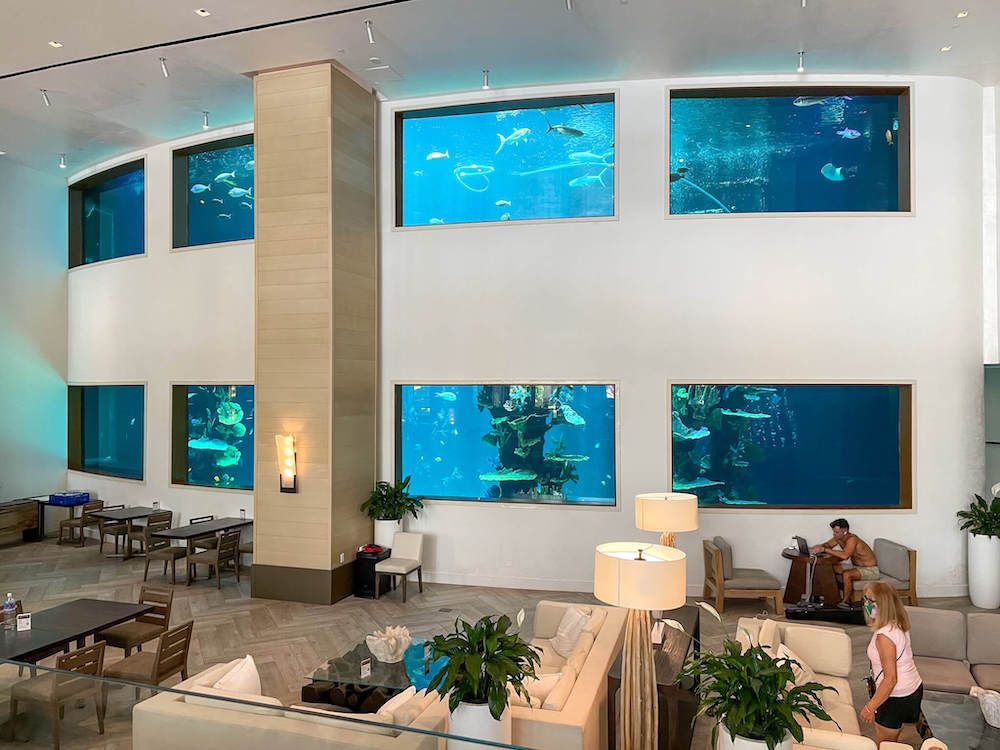 The lobby's design is sleek and modern, making it a great spot to relax, work, or just enjoy a moment of cool air.
As for the check-in, it was smooth and hassle-free. The staff greeted me with warm smiles and ensured I was all set in no time. First impressions matter, and Alohilani Resort surely knows how to make it count! Check rates here.
What Did Our Room Look Like?
At the Alohilani Resort Waikiki Beach, we stayed in a standard room with two queen beds, complete with a lanai and a modest bathroom. The room's design leaned towards a modern touch with a clean, minimalist vibe.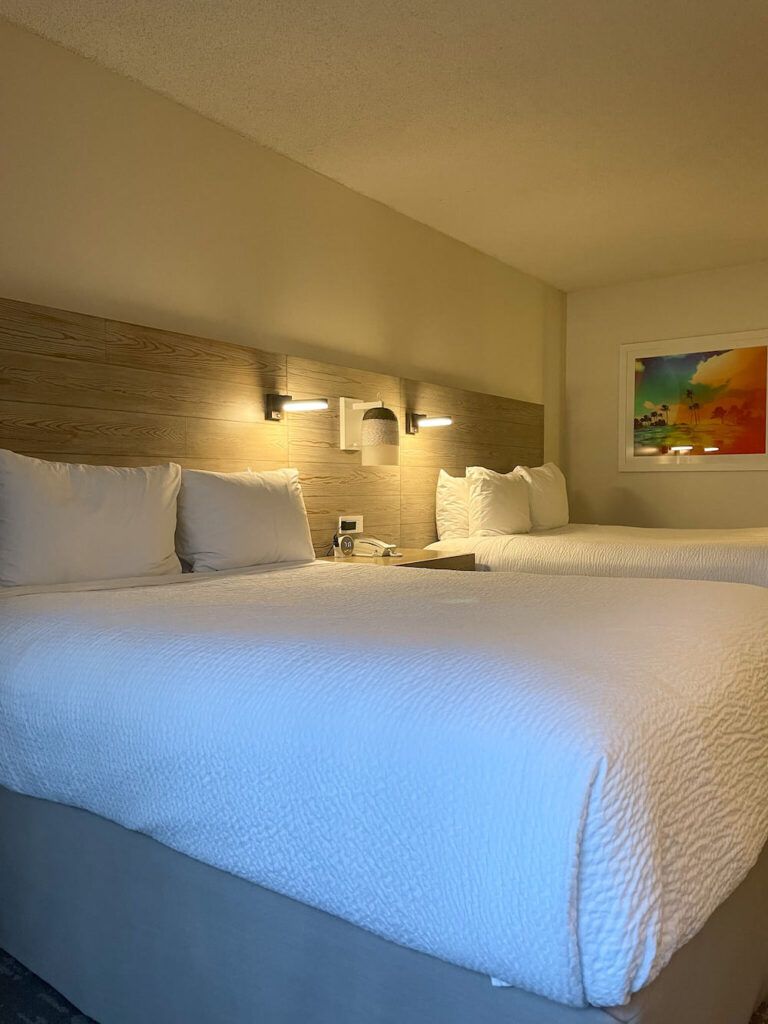 While it didn't boast extravagant amenities, everything we needed was there – from the mini-fridge to the climate-controlled air conditioning. The WiFi was a bonus, and it was consistently reliable.
The lanai, although basic with just chairs and a table, was quite similar to what we've seen at other Waikiki hotels. But what truly elevated our stay was the view.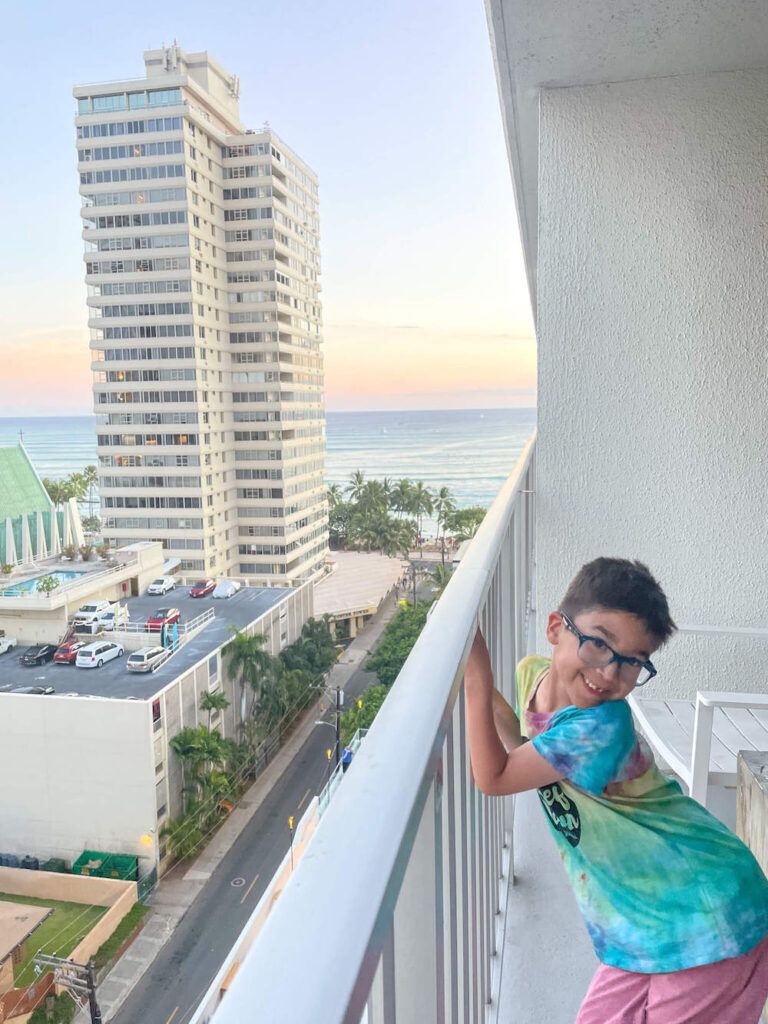 Even though our room was positioned towards the back of the hotel, we were treated to a captivating partial ocean view.
Looking down, we had a perfect angle over the pool's cabana area, adding a lively scene to our morning coffee moments. Check the latest rates and availability.
Hotel Facilities at Alohilani Resort Waikiki Beach
The Alohilani Resort Waikiki Beach boasts a pool area that feels straight out of a glossy magazine spread.
Picture a stylish setup complete with a DJ spot, outdoor lounging, a bar, cabanas, and an enchanting infinity pool with Waikiki Beach as its backdrop.
However, the pool, while visually appealing, is quite compact compared to other resort pools in Hawaii. This can mean it gets crowded, especially when everyone's trying to get that perfect Instagram snap.
For a bit of luxury, there are cabanas set back from the main pool area, ideal for those seeking a more relaxed vibe. They also have lounge chairs inside the pool you can rent.
If shopping's your thing, there's an ABC store conveniently located within the hotel. A Hawaiian staple, this store has just about everything a tourist might need.
Plus, with the resort's prime location at the edge of the Waikiki strip, a ton of shops are just a short walk away.
Additionally, the resort offers a fitness center, a spa, tennis courts, and engaging activities like yoga and Pilates classes.
Dining Options at the Alohilani Resort Waikiki Beach
The Alohilani Resort Waikiki Beach offers a variety of dining options to satisfy your cravings.
We started our mornings with delicious brews from Kai Coffee located in the lobby. Conveniently, there's a full-blown Kai Coffee cafe just outside the hotel entrance, where we couldn't resist grabbing their unique macadamia nut coffee syrup.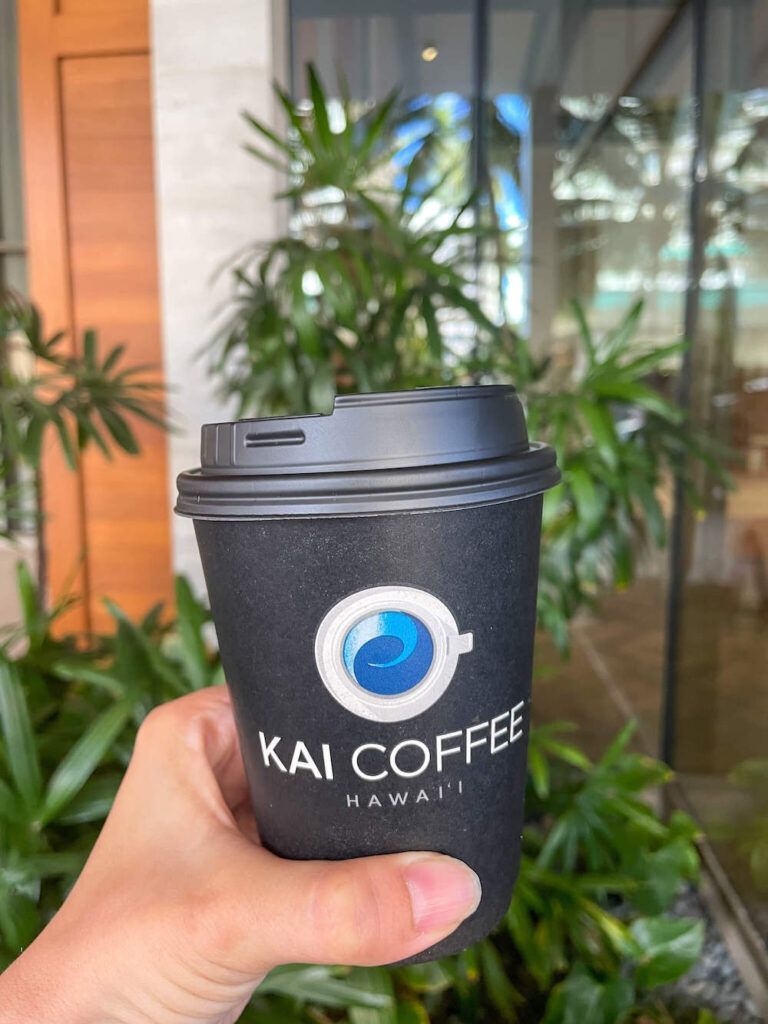 For meals, we relished tasty treats from the Swell Restaurant and Pool Bar, with their poke nachos and yam fries being standouts.
However, a note on the fancier spots: my in-laws tried Morimoto Asia Waikiki and Momosan, and they felt it wasn't particularly exceptional.
For dessert, you can't go wrong with the neighboring Haagen-Daaz, but there's also Double Fat Ice Cream if you're looking for more options.
Whether you're looking for a quick bite or a sit-down meal, this resort has something for everyone!
Understanding the Cost: Pricing & Packages at Alohilani Resort Waikiki Beach
The Alohilani Resort Waikiki Beach offers various room types, including studio rooms, suites, and even 1 and 2-bedroom units.
Depending on your preference, you can choose rooms with beautiful ocean views or ones facing the stunning Diamond Head.
For those who are eligible, they provide special rates like military, AAA, government, and kamaaina discounts.
Typically, studio rooms are priced between $260 to $325 a night.
While it might seem a bit pricey, considering the amenities and the prime location, it offers good value for your money, especially if you can snag one of their special rates.
Nearby Attractions & Activities at the Alohilani Resort in Waikiki
The Alohilani Resort Waikiki Beach is nestled in a spot that puts you right next to some of Waikiki's best attractions.
In just a 2-minute walk, you can dip your toes in the famous Waikiki Beach, stroll through Kuhio Beach Park, or snap a pic with the Duke Kahanamoku Statue.
If shopping's your thing, the International Market Place is only a 6-minute walk away, offering loads of unique shops and eateries.
For a longer walk, about 12 minutes, you can reach the Waikiki Beach Walk, which is packed with entertainment, dining, and shopping.
The hotel's concierge can also help arrange various tours or experiences to make your Hawaii trip unforgettable.
Alohilani Resort Waikiki Beach FAQs
How does this hotel stand out from its competitors in Hawaii?
The Alohilani Resort distinguishes itself with its trendy pool atmosphere, massive lobby aquarium, and a prime beachfront location on the iconic Waikiki Beach.
Is the location practical for the activities and sights I want to enjoy?
The resort's location is highly practical, being steps away from renowned attractions like Kuhio Beach Park, Duke Kahanamoku Statue, and the bustling Waikiki Beach Walk.
Is it worth the price, and am I getting good value for my money?
Given its premium location, unique amenities, and array of dining options, the Alohilani Resort offers good value, especially for travelers seeking a mix of relaxation and vibrant Waikiki life.
Conclusion & Personal Verdict on the Alohilani Resort in Waikiki
The Alohilani Resort Waikiki Beach has its high points and its challenges. Its location is excellent, close to Waikiki Beach, and convenient for teens or couples to explore the area.
The vibe at the pool is upbeat, which my teenage relatives absolutely loved. It offers them a chance to be independent, shop, eat, and even explore using nearby transportation like the Waikiki Trolley.
However, for families with younger kids, the loud music and the packed summer pool can be a drawback. Plus, the rooms near the pool can get quite noisy.
I'd recommend this hotel to travelers with teens or couples looking for a vibrant atmosphere and a prime location. For families with little ones, this might not be the best fit.
Rating for the Alohilani Resort Waikiki Beach
Overall Score: 8/10 ⭐️⭐️⭐️⭐️⭐️⭐️⭐️⭐️
Location: 9/10 – The resort boasts a fantastic location, right in the heart of Waikiki, close to all the prime attractions.
Service: 8/10 – Staff were generally helpful and friendly, though there were occasional hiccups.
Amenities: 9/10 – The infinity pool and the giant aquarium in the lobby were definite highlights, making the stay unique and memorable.
Dining: 8/10 – Good on-site options with diverse menus, offering something for everyone.
Value for Money: 7/10 – While the hotel offers a lot, the noise levels in certain areas might not appeal to everyone, affecting the overall value.