Are you planning a trip to Kauai but unsure of how long to stay? In this piece, I'll explain the perfect number of days to spend in Kauai.
This post about how many days in Kauai do you need contains affiliate links which means if you purchase something from one of my affiliate links, I may earn a small commission that goes back into maintaining this blog.
Are you planning a trip to Kauai and are attempting to determine how many days you'll need to see everything there?
You're going to enjoy this! One of Hawaii's most picturesque and welcoming islands for families is Kauai. You can make lifelong memories thanks to the many attractions and activities available to both children and adults.
How long would it take you to see all the main attractions on Kauai? I'm here to assist you in figuring it out. For my professional recommendation on how long you should stay in Kauai, continue reading down below.
I've been to Kauai a lot, both with and without kids, and I can give you loads of tips on how to organize your trip so you can participate in all the island's major attractions.
How long do you need to spend in Kauai? Find out by continuing to scroll!
Don't have time to read a bunch of Hawaii blog posts and reviews? Here are some of our top picks for visiting Kauai.
Popular Kauai Tours/Activities
Favorite Kauai Resorts/Hotels
Grand Hyatt Kauai (this Poipu resort has a luxurious pool area, romantic restaurants, and a stunning ocean view)
Koloa Landing Resort (this is a luxury resort with an amazing pool area and truly spacious rooms)
Royal Sonesta Kauai (we LOVE the pool here because it's the largest one in Hawaii)
Want to Rent a Car in Hawaii?
One of the best places to rent a car in Hawaii is Discount Hawaii Car Rental because they get the best rates from top national companies like Alamo, Dollar, Thrifty, Avis, Enterprise, Budget, and Payless.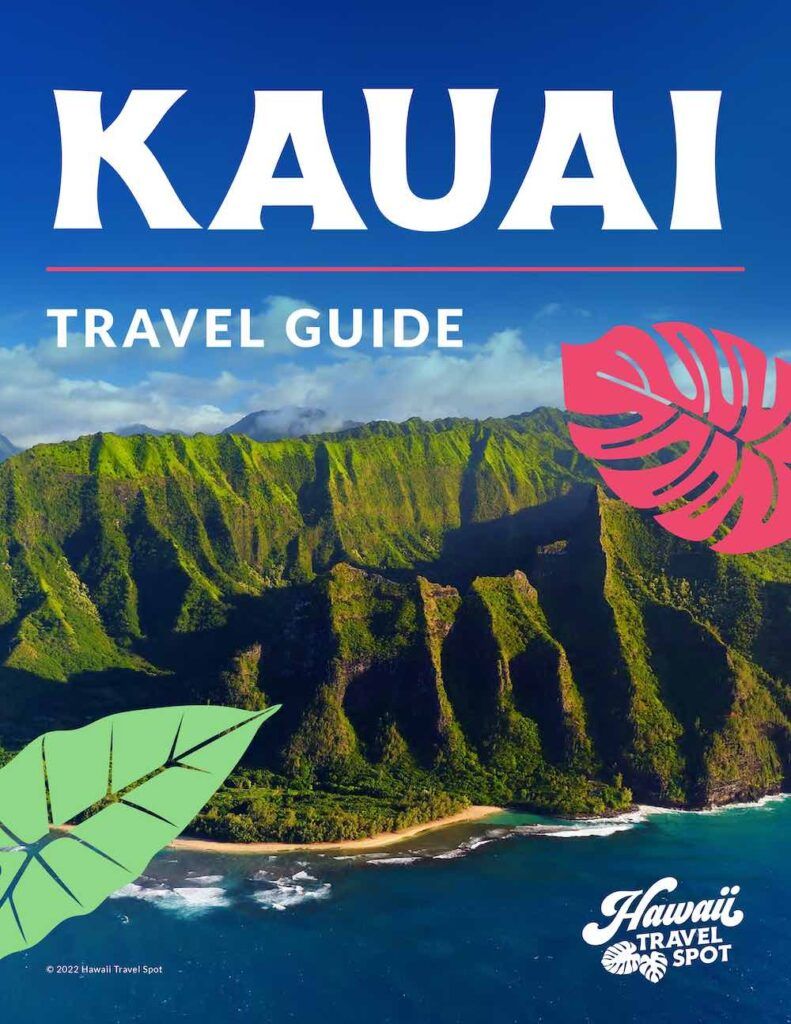 Kauai Overview
One of Hawaii's most picturesque islands is Kauai. The natural surroundings, amazing waterfalls, and mouthwatering cuisine of the fourth-largest island make it a fantastic vacation spot.
Everyone can find something to do on Kauai, whether they want to unwind on a tropical beach or walk one of the island's well-known trails.
Make your ideal tropical holiday on the Garden Isle a reality with the help of our Kauai visitor's guide.
Getting To Kauai
Lihue Airport (LIH), which is found on Kauai's east shore, serves as the island's primary airport. Today, numerous well-known airlines provide non-stop flights to Kauai.
You can also choose to arrive at Oahu's Honolulu International Airport (HNL) first, then go to Kauai via a quick 25-minute inter-island flight.
Wondering how to get around Kauai? The majority of visitors to Kauai will rent a car. That's because this island offers TONS of exciting things to see and do.
Just across the street from baggage claim is the automobile rental desk. You will board the little shuttle bus to the car rental lot. It's a really quick ride because the auto rental lot is so close.
Tip for groups: Just send one adult to pick up the rental car while the others stay at baggage claim with the luggage. That way, you won't have to lug everyone. Then, simply pick up the rest of the group and luggage.
Discount Hawaii Car Rental is the cheapest location I could find. Top national firms like Alamo, Dollar, Thrifty, Avis, Enterprise, Budget, and Payless provide them the greatest deals. Check out the latest prices and more details.
Save Money with Points
Here are the best credit card offers for people who travel and want to use points to pay for airfare and hotels in Hawaii.
What's the Best Time To Visit Kauai?
The shoulder seasons of September through Mid-November and March through May offer the best deals, the most pleasant weather, and the fewest tourists, as is true of many Hawaiian Islands.
The best time to travel is in October because there are no crowds, excellent weather, cheap accommodation, and flights.
Where To Go In Kauai
Lihue
The airport for Kauai is located in this historically significant location, which is also the island's main cruise port (Nawiliwili Harbor). Shopping, dining, as well as cultural and historical events are available in Lihue.
One of the most famous spots in the fabled and real Alekoko Fishpond, where it is said that the mythical Menehune (a mischievous race) built the Alekoko in a single night.
The region has amazing waterfalls like Wailua Falls and historical displays at the Kauai Museum.
North Shore – Hanalei and Na Pali Coast
The adventurous were developed for the North Shore of Kauai. Consider verdant valleys, breathtaking waterfalls, and stunning mountains.
Hanalei is a classic vacation spot adjacent to the renowned Na Pali Coast. Spending time on the North Shore has several drawbacks, including unpredictable weather.
With all the incredible sights and activities on the North Shore, you'll feel like an adventurer again. There are also a ton of fantastic North Shore Kauai vacation rentals available.
Book a Hawaii Photo Shoot
Whenever we travel to Hawaii, we almost always book a photo shoot with Flytographer. They are super easy, affordable, AND it guarantees that I'll have more than just selfies. You can get $25 off if you book through this link or use the code HAWAIITRAVEL.
Coconut Coast – Kapaa and Wailua
Because so many coconut palms are growing in the resort areas, Kauai's East Side is also known as the Coconut Coast. Due to the stunning beaches and well-liked local attractions, this is one of the most inhabited districts on the island.
Kappa, Lihue, and Wailua are well-known vacation spots that are located along the Coconut Coast. The Coconut Coast offers a wide range of well-liked outdoor pursuits, such as riding and kayaking.
South Shore – Poipu and Koloa
The island's South Shore is known for its opulence and immaculate beaches. The South Shore is the perfect destination if you're seeking for a romantic weekend. You'll have not only great weather, but also lots of great dining and shopping options.
Poipu and Koloa are the two largest resort areas in this portion of the island. There are tons of resorts perfect for a Kauai honeymoon or family vacation. There are also lots of Poipu vacation rentals to choose from.
West Side – Waimea
The West Side of Kauai is ideal for hikers. Despite being only an hour away from well-known Lihue, it seems like a whole different island.
Visit Waimea Canyon, sometimes known as the "Grand Canyon of the Pacific," while you are at the West Side. Another option is to go hiking in Kokee State Park, where there are more than 45 different trails to select from.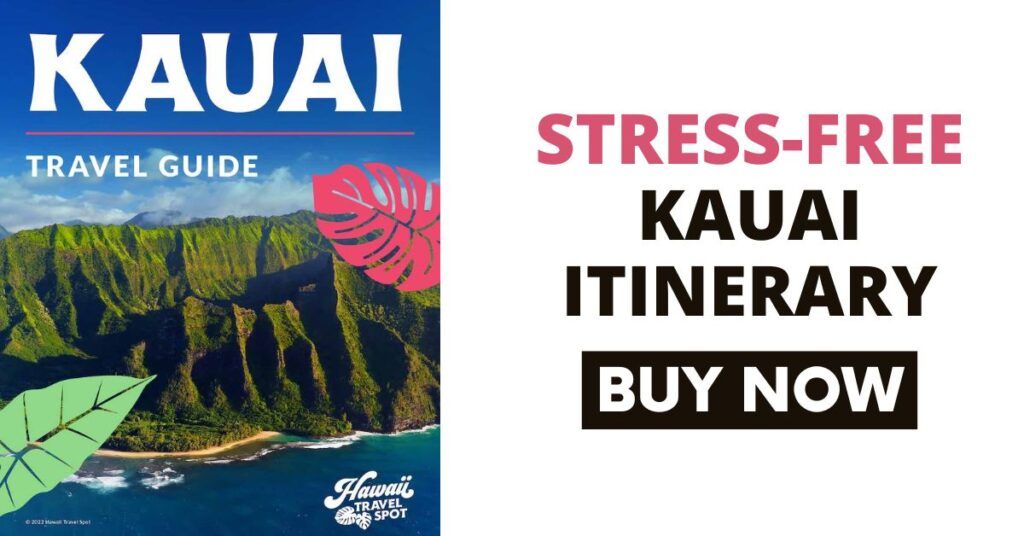 Top Kauai Attractions
The top Kauai attractions are undoubtedly on your mind as you research your trip there. On Kauai, you can visit some attractions that are not present on the other islands.
Waimea Canyon
Waimea Canyon is what the majority of travelers visiting Kauai want to see. It is quite magnificent and known as the "Grand Canyon of the Pacific."
Visitors love exploring the hiking trails. But, there are also several lookouts at Waimea Canyon State Park worth a stop. Just be warned that there is an entrance/parking fee.
Na Pali Coast
Examining the breathtaking Na Pali Coast is another fun activity to do on Kauai. The best way to do this is on a boat cruise that travels along the coast. Along with sunset drink or dinner cruises, they offer snorkeling excursions.
Hanalei Town
Hanalei is among the island's most beautiful communities on the North Shore of Kauai. It is well-known for its taro fields and Hanalei Bay. In addition, this is where George Clooney filmed The Descendants.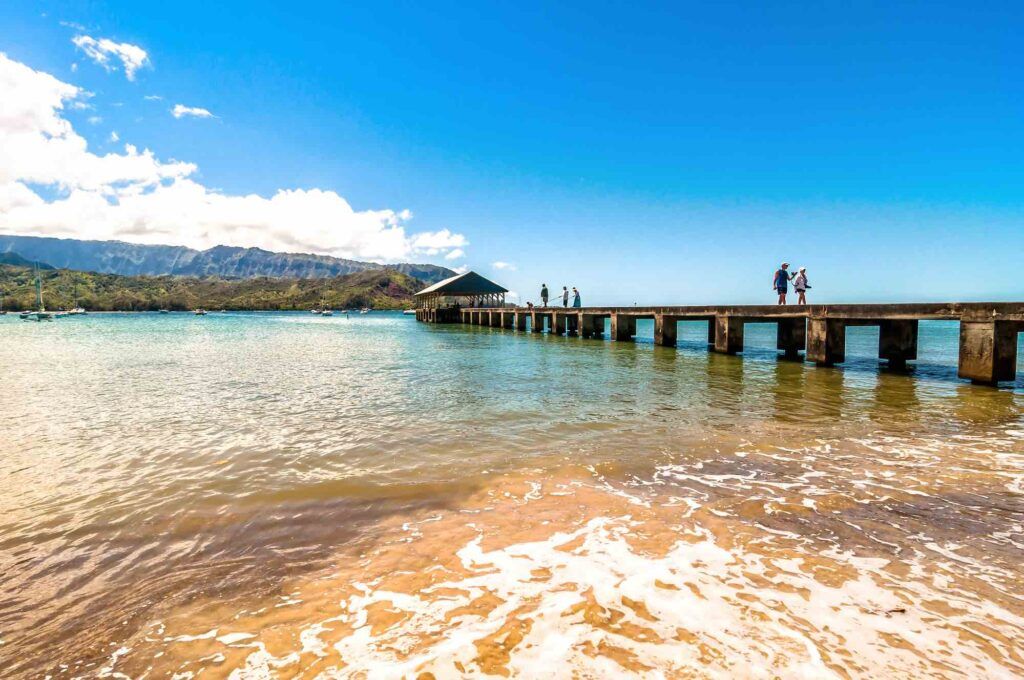 Surfers are drawn to this artistic community. Hanalei Bay is a calm, inviting, and swimmable beach that's also popular for stand up paddling.
Best Things to do in Kauai
Enjoy a Kauai Luau
Kauai is an excellent island to reserve a luau if you're thinking about having one in Hawaii. They offer both customary Hawaiian luaus and some unusual events. There are numerous pricing ranges and locales as well.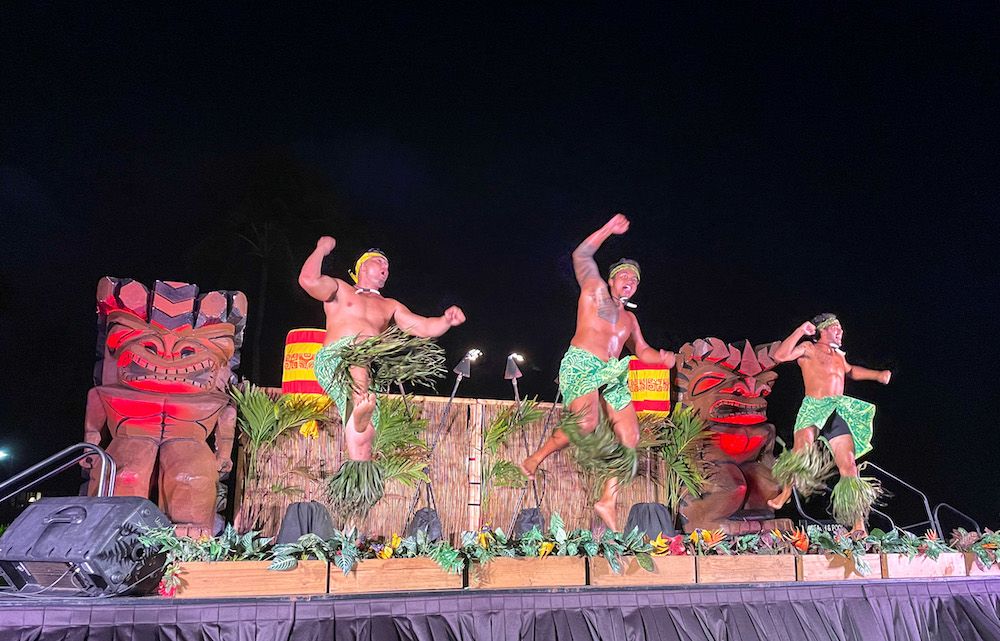 The Auli'i Luau and Luau Kalamaku are the greatest two luaus. Auli'i Luau is in Poipu and it's the only oceanfront luau on Kauai. You can ride a train around Kilohana Plantation in Lihue with Luau Kalamaku.
The Ahi Lele Fire Show in Kilauea is particularly great if you're searching for something completely unique. The entire show involves fire dancing.
Take a Helicopter Ride on Kauai
A helicopter tour of the island is the greatest way to experience Kauai's beauty from above and is one of the best methods to do it.
After hovering over the Waimea Canyon, you'll soar above the breathtaking Na Pali Coast. Even the renowned Manawaiopuna Falls can be enjoyed in the same manner as they were depicted in Jurassic Park. Since these falls are on private property, a helicopter tour is the only way to see them.
Go Ziplining
Although practically all of the Hawaiian islands offer ziplining, ziplining on Kauai has a unique charm. Over some of the islands' most beautiful scenery, you can soar.
The Flyin' Kauaian and Kauai Backcountry Outfitters are two of the most well-liked ziplining locations on Kauai.
Sugar Cane Canal Tubing
Mountain tubing at Mt. Waialeale is one of the most fun activities you can do on Kauai with kids that are at least 5 years old. You get to ride along a former sugar cane canal in an inner tube as it takes off from private property.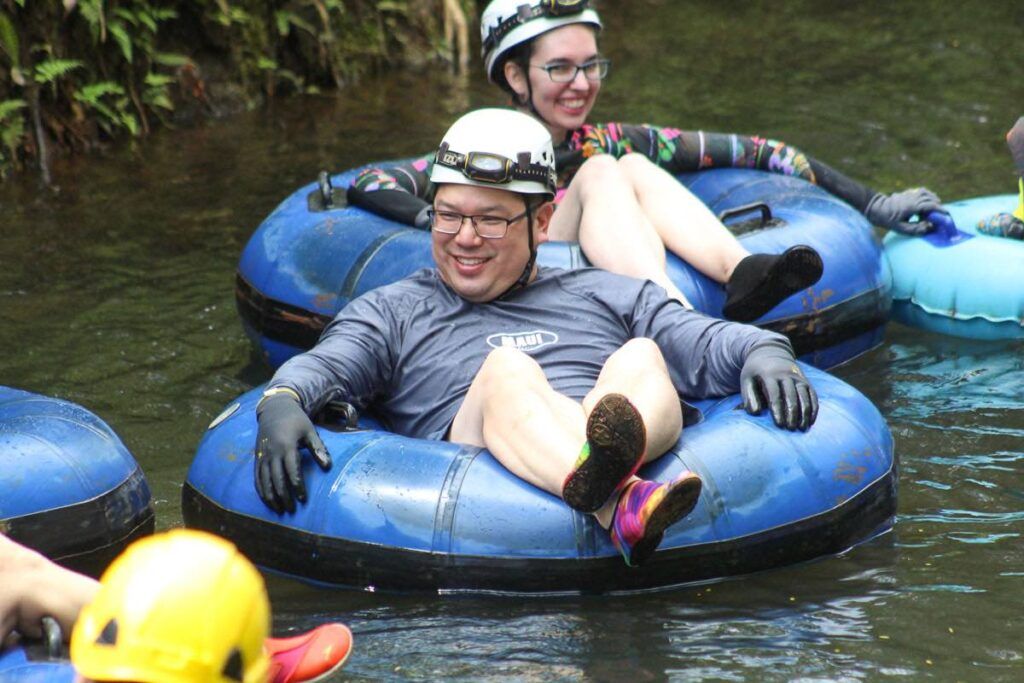 The coolest part is that you'll go through 5 tunnels while wearing headlamps. This is a fun activity for families that isn't in the least bit spooky.
Go Hiking
Serious hikers should attempt North Shore's challenging 22-mile Kalalau Trail. The Na Pali coastline's magnificent woods are traversed on this Kauai trek. There is a quicker route to Hanakapiai Falls.
There is also the 7.5-mile Nu'alolo Trail, which offers stunning views of the Na Pali Coast. Alternatively, the 3.6-mile Kuilau Ridge Trail is a moderate Kauai hike suitable for families.
Check out a Botanical Garden
Because of how magnificent it is, Kauai is referred to as the "Garden Island." Additionally, Kauai has several amazing botanical gardens that are worth visiting.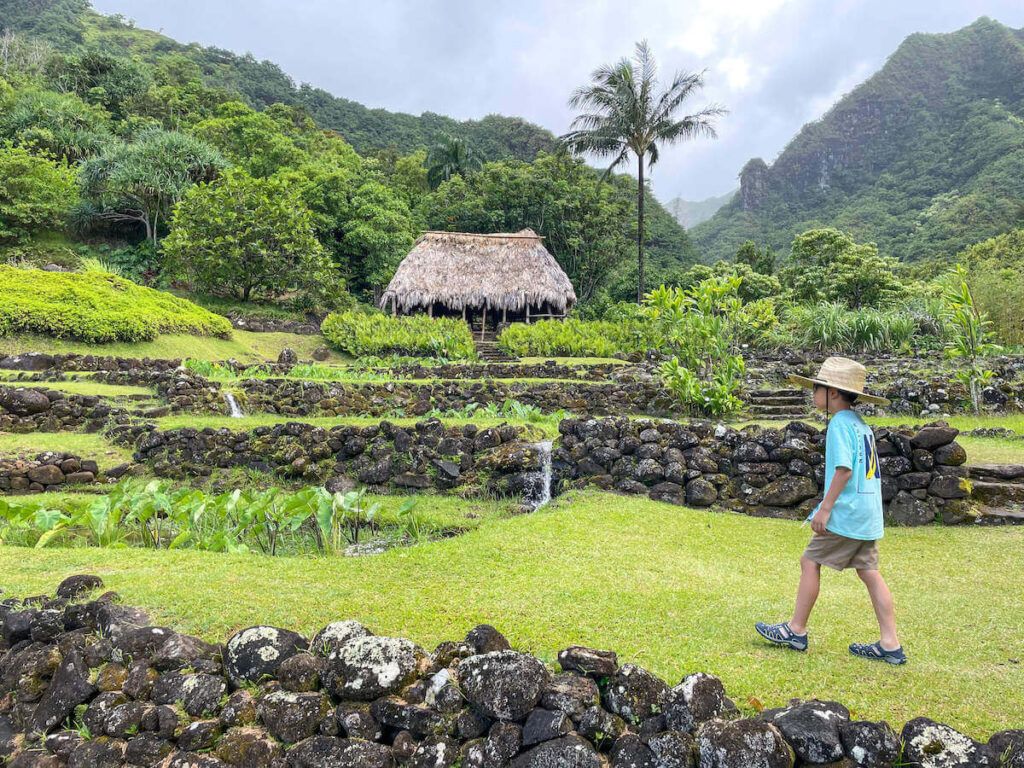 On Kauai's North Shore, the Limahuli Garden is incredibly lovely and a wonderful place to see an example of Old Hawaii. Additionally, there is a lovely walking path with breathtaking views.
Kilauea's Na Aina Kai Botanical Garden is a beautiful location. I advise taking a docent-led tour so you can discover more about the various pieces of art in the garden. Additionally, there is a children's garden with areas for play.
Go Snorkeling
Some beautiful Kauai snorkeling tours and beaches are worth checking out for people of all ability levels.
Tunnels Beach on the North Shore of Kauai is one of the island's most well-known snorkeling locations. It's an excellent chance to observe some lovely Hawaiian marine life.
Get Kombucha from Kauai Juice Co.
The gourmet scene on Kauai and the abundance of farm-to-table restaurants are well-known. They also offer fantastic cocktails, though!
There are really 3 locations for Kauai Juice Co. on the island. The finest spot to find freshly brewed kombucha with tropical flavors is also where you can obtain wonderful tropical juice, which is delicious.
So, How Many Days Do You Need in Kauai?
If Kauai is the only Hawaiian island you plan to visit, you should plan on staying there for at least 7 to 10 days. That will leave you with plenty of time to take a couple day trips, go on a few tours, check out the beaches, and chill.
You'll need 5-7 days on Kauai and 5-7 days on another island if you're island hopping. You should prioritize things you can only do on Kauai (like Waimea Canyon and the Na Pali Coast).
I am aware that some families are strapped for time but nonetheless desire to visit Kauai. Scroll down to see a few simple itineraries for 1–10 days on Kauai.
Kauai Itinerary: 1 Day
It is entirely possible to visit Kauai for a single day while vacationing on another island, but you will need to make some choices.
You might take an island tour where you begin in the Waimea Canyon, continue to Wailua to see the waterfalls, and ascend to the North Shore. You would have to leave early in the morning on a flight to accomplish this.
Or you may decide to go on an experience like a boat tour, a helicopter ride, or mountain tubing in Kauai.
Kauai Itinerary: 2 Days
You have a bit more leeway with 2 days in Kauai. I advise staying on the East Side (Kapaa or Lihue) to be centrally placed.
One day could be spent traveling to the North Shore to visit Hanalei, partake of Wishing Well Shave Ice, see Kilauea Lighthouse, stroll through Na Aina Kai Botanical Garden, and conclude with the Ahi Lele Fire Show.
The following day, you might travel to the south or west to see Waimea Canyon (hiking is optional), stroll around Hanapepe Town, view Spouting Horn in Poipu, and then have a look at the waterfalls at Wailua.
Kauai Itinerary: 3 Days
In Kauai, it's simple to have three beautiful days. To reduce driving, I still advise remaining on the East Side.
I'd advise following the 2-day program for Kauai (see above), but adding a Kauai experience in between. My top recommendations would be taking a cuisine tour, ziplining, a helicopter trip, or a boat tour of Kauai.
Kauai Itinerary: 4 Days
You'll have a little more leeway with your lodging with 4 days in Kauai. If there was a great pool area or other amenities, I'd pick somewhere on the East or South shore.
Make a day set aside to explore the North Shore. It would be fantastic if you could get reservations for Ha'ena so that you may visit Ke'e Beach, explore some Kauai caves, or go on a hike to Hanakapiai. You will then visit the Limahuli Botanical Garden. After that, you can have some time to rest at Hanalei Bay or eat lunch in Hanalei.
You should set aside a day to tour West and South Kauai. Early in the morning, make your way to Waimea Canyon and go hiking. After that, you can keep traveling until you reach Kokee State Park (either to have lunch at Kokee Lodge or do more hiking). The last option is to travel to Poipu and go shopping.
On the East side of Kauai, allocate a full day. Either go kayaking on the Wailua River or take a bike ride along the Kauai Coastal Path as your first activity. And wrap up the day with a luau in Kapaa or Wailua.
Pick a Kauai tour or activity from your Hawaii bucket list for your fourth day. You could also carry out separate morning and afternoon/evening activities. Or simply unwind by the pool all day.
Kauai Itinerary: 5 Days
If you have five days in Kauai, you should follow the four-day schedule listed above, but add a day on the beach.
You'll probably have an idea of where you would like to spend a few hours at a Kauai beach since you'll be driving across the island.
I advise grabbing plate lunches from Koloa Fish Market or Mark's Place to enjoy along the beach. On your way back, make a stop for some shaved ice!
Kauai Itinerary: 6-10 Days
On Kauai, your alternatives for vacations longer than five days are virtually endless. To experience extremely diverse surroundings, you may even split your stay between the North Shore and the South Shore.
Use the five-day Kauai schedule as a starting point, then add some tours, a few excursions, and downtime at the beach or by the hotel pool.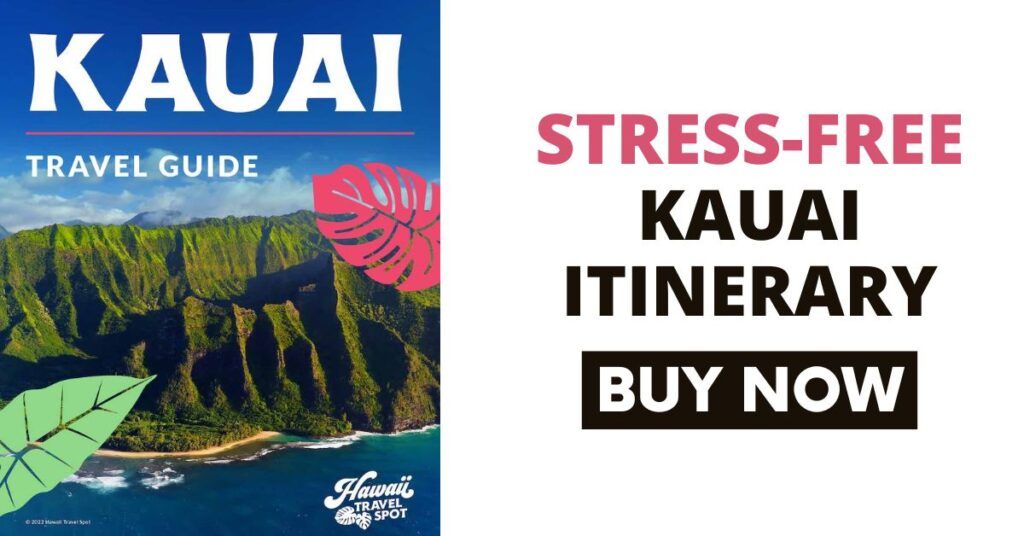 How Many Days to Spend in Kauai FAQs
What is the prettiest Hawaiian island?
The rich vegetation on Kauai makes it the most picturesque of all the Hawaiian islands, in my opinion. It has hiking paths, waterfalls, and a number of eco-adventures. Most visitors go to Kauai in order to escape the busyness of Oahu and Maui and enjoy a more disconnected holiday.
Are 4 days in Kauai enough?
While 4 days is the very minimum to prepare for a Kauai road trip, if you want to explore the island's key features, you may easily spend 7 days in Kauai (or much more!).
Do I need a car to get around Kauai?
That's what I recommend. You can use the shuttle, tour bus, cab, or public transit to navigate around Kauai. But think about renting a car to make the most of your time in Kauai.
How Many Days Do You Need in Kauai Wrap Up
I hope these sample itineraries have assisted you in deciding how long to stay in Kauai. Even while staying in Kauai for 7–10 days is ideal, even with fewer days you'll have a blast. Additionally, it's a wonderful reason to return!