Do you dream about snorkeling on your next trip to Hawaii but don't know which island to pick? Keep scrolling to find out the best Hawaiian island for for snorkeling that will blow your mind!
This post about the best Hawaiian island for snorkeling contains affiliate links which means if you purchase something from one of my affiliate links, I may earn a small commission that goes back into maintaining this blog.
If you've never been snorkeling in Hawaii, you're in for an unforgettable experience!
Hawaii is a great place to go snorkeling. Almost anyone can do it and there are so many different places to try it on every island.
But what's the best Hawaiian Island to snorkel on, and which snorkel spot should you go to?
You might prefer a free beach where you can jump in the water with your own gear, or perhaps you want to go on a boat for an offshore snorkeling tour. It's time to experience the fascinating underwater world through this user-friendly outdoor activity.
So, if you're looking for the details on the best Hawaiian Island for snorkeling, keep reading!
Want to skip all the planning and just access my detailed Hawaii itineraries complete with daily schedules, fun activities, and travel hacks? Click the button below.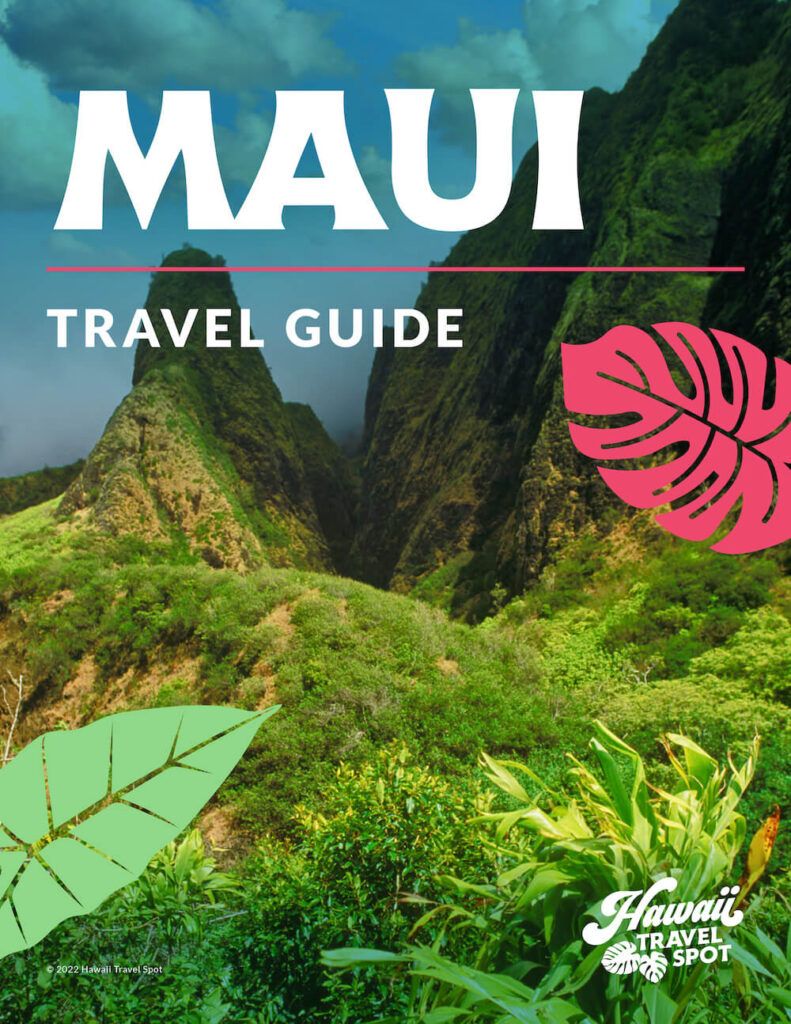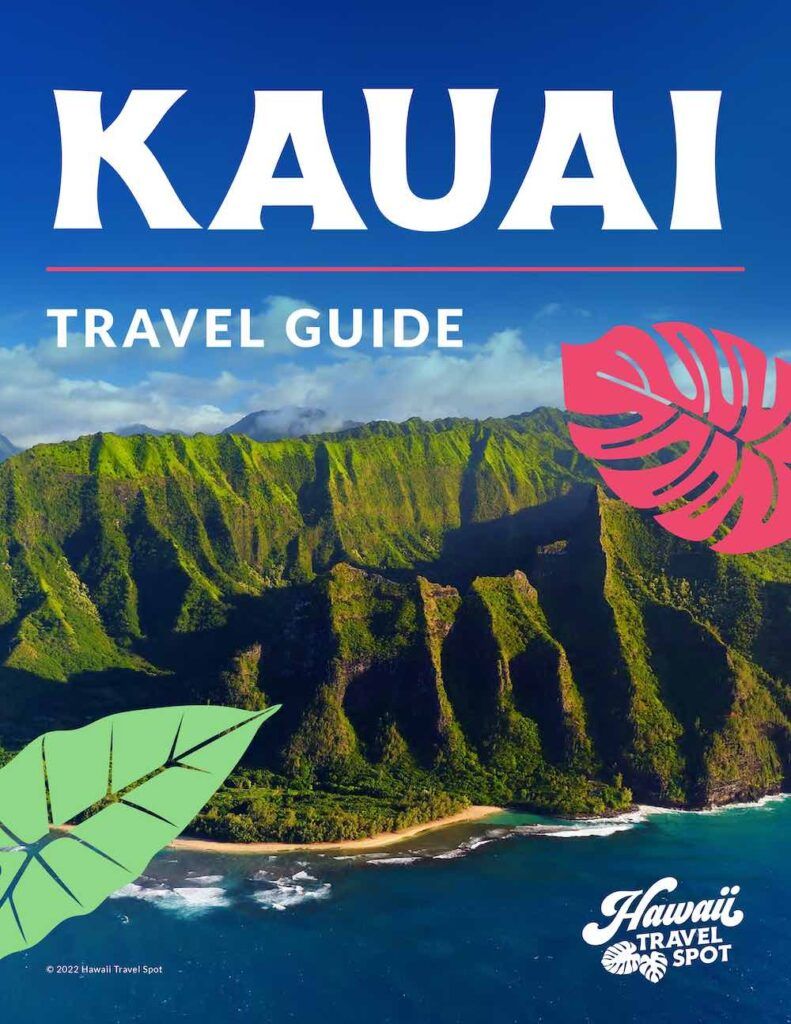 Best Hawaiian Island for Snorkeling
You can go snorkeling in Hawaii on every major island, and every snorkeling spot has its own personality. Everyone has their pick for which island has the best snorkeling and they can give you all the reasons for their choice.
I believe, hands down, Maui is the best snorkeling in Hawaii. Oahu, Big Island, and Kauai all have great snorkeling opportunities! But Maui has the most variety of places, is less crowded than other islands, and caters to all skill levels. Read more details below on what each island has to offer.
Save Money with Points
Here are the best credit card offers for people who travel and want to use points to pay for airfare and hotels in Hawaii.
Best Overall Snorkeling in Hawaii: Maui
The best snorkeling in the Hawaiian Islands can be found in Maui throughout the year. Even in the winter, you can find amazing spots on Maui's popular west and south shores.
Maui is great because all of the island's beaches are public and free!
So if you bring your own snorkel gear and walk onto the beach, you're set for a great free activity. In fact, you can find great beach snorkeling with soft sand, so you don't need a boat or to climb over rocks.
Or you can book a snorkeling tour from Maui to the popular Molokini Crater.
Maui also has 3 different marine life conservation districts where you can snorkel for the best chance to see protected marine life, including tropical fish and sea turtles.
Snorkeling on Maui is your best chance to see manta rays, and you might hear whale songs while you're in the water, too!
Best Island for Remote Snorkeling Spots: Big Island
The Big Island is also great if you don't like sharing the beach. You can find snorkeling beaches near resort communities on the Kona Coast, and great lava rock entries in North Kona and near the Volcanoes Nation Park in Kau.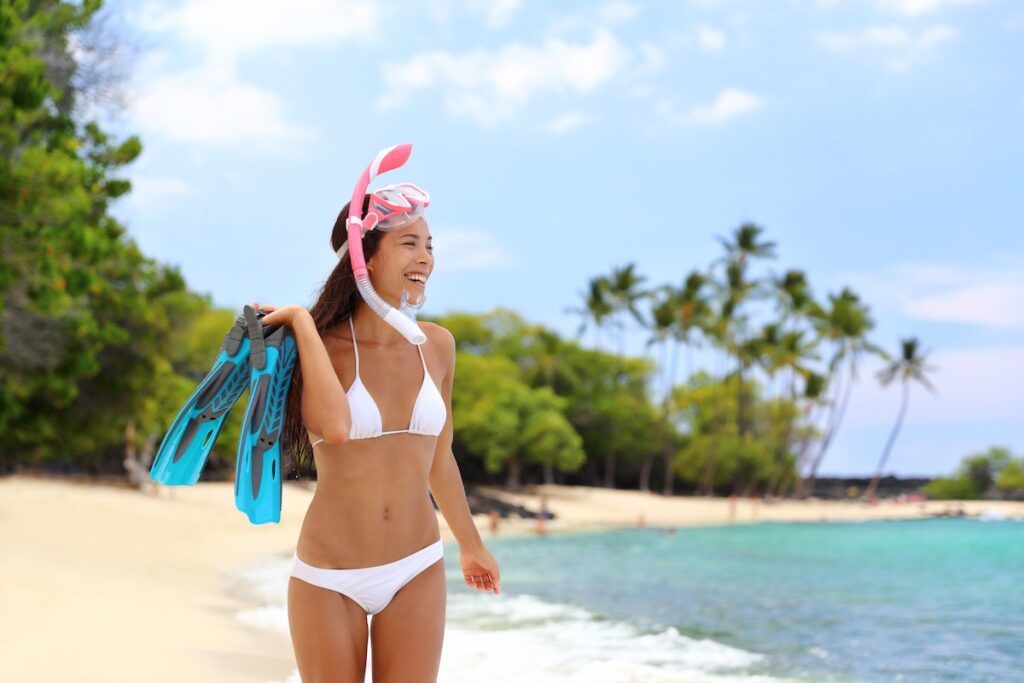 But the best snorkeling on Hawaii's Big Island are actually remote places you have to hike into! After a scenic walk, reward yourself with a snorkeling adventure, or just book a guide and boat out to the quietest snorkeling spots.
Best Snorkeling for Beginners: Oahu
Oahu is a strong contender for the best Hawaii island for snorkeling, but I think it's the best for beginners.
All year round, South Shore has amazing soft beach entries in public spaces. And North Shore is great in the summer when you can explore protected coves and see green turtles!
Come here for interesting lagoons with calm waters made from lava rocks. Also, some of the best snorkeling in Oahu Hawaii can be found in the island's great marine life conservation districts.
Best Island for Snorkelers of All Skill Levels: Kauai
The Garden Isle is known for its outdoor activities, but it only has a handful of snorkeling spots. But those spots offer variety, so snorkelers of all skill levels can enjoy a day out!
A lot of sandy beaches are perfect for children, new swimmers, and beginner snorkelers. Or for vetted snorkelers, just head further out into the rocks and reefs for something at your level.
You can also book a Hawaii snorkeling guide to take you out to the reefs off Napali Coast for a great tour.
North Shore has some rewarding spots, but you have to plan ahead for many spots because state parks where they're located require reservations and a fee. However, Kaui has great snorkeling almost year-round on the South Shore around Poipu.
Top Places to Snorkel in Hawaii
Now that you know the best island for snorkeling in Hawaii, where should you go? Below are just some of the best snorkeling spots across all the major islands.
Below you'll see beginner-friendly beaches and rocky jump-off points. There are places for the best chance to spot sea turtles and exclusive reefs that you can only reach with a boat tour. There's something for everyone on my list of the 10 best snorkeling spots in Hawaii.
Molokini Crater, Maui
Known as the best snorkeling spot in Hawaii, Molokini Crater is the dream spot! The ancient volcano crater supports an abundance of sea life and is known for its crystal-clear waters.
You can find several Hawaiian snorkeling tours that will take snorkelers of all skill levels out to this remote location off the coast of Maui.
Kapalua Bay, Maui
Cove beaches are perfect for spotting marine life because of the calm waters. This also makes for ideal snorkeling conditions!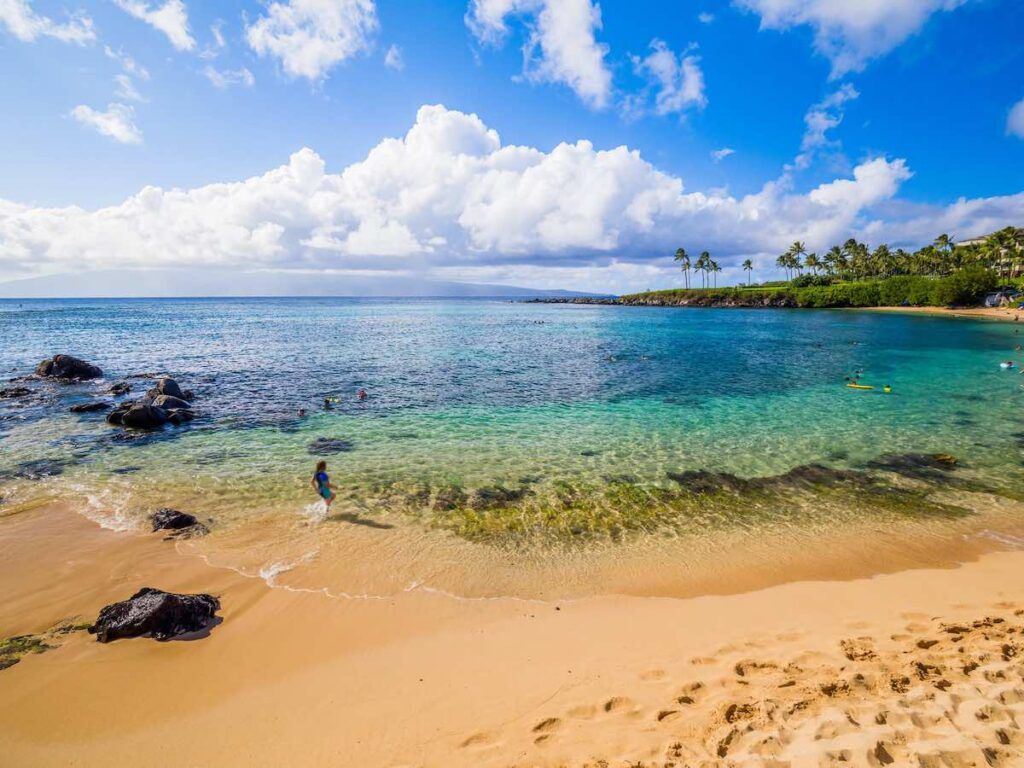 A great West Maui location to see green sea turtles is Kapalua Bay. This popular cove beach is right in the middle of West Maui's resort community by the same name.
Honolua Bay/Mokuleia Bay, Maui
Maui has a large marine life conservation district that covers both Honolua Bay and Mokuleia Bay in West Maui, north of Kapalua.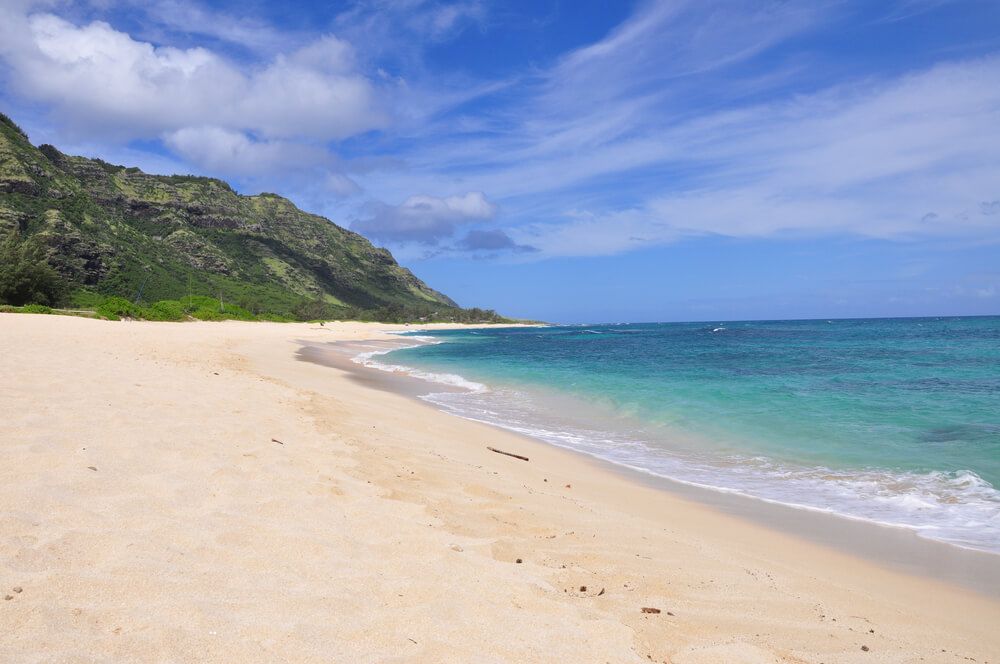 Mokuleia Bay has a beach that's great for beginners, and Honolua Bay has a gorgeous lava rock bed. And they're the only protected bays you can access in Maui without a guide.
Hulopoe Bay, Lana'i
Take a ferry from Maui to Lana'i for a great isolated bay with easy access. It's actually another protected marine reserve with tide pools you can explore! Plus. the gold sand beach is just off a beach park with banyan trees, picnic tables, and washrooms.
You can also join one of the many Lana'i snorkeling tours from Maui.
If you're taking a day trip from Maui to explore Lana'i, don't forget your snorkeling gear and jump in the water!
Hanauma Bay, Oahu
The goblet-shaped cove east of Diamond Head in Honolulu is one of the most popular places for Oahu Hawaii snorkeling. The golden beaches are trimmed by verdant mountains for a dreamy, picturesque location!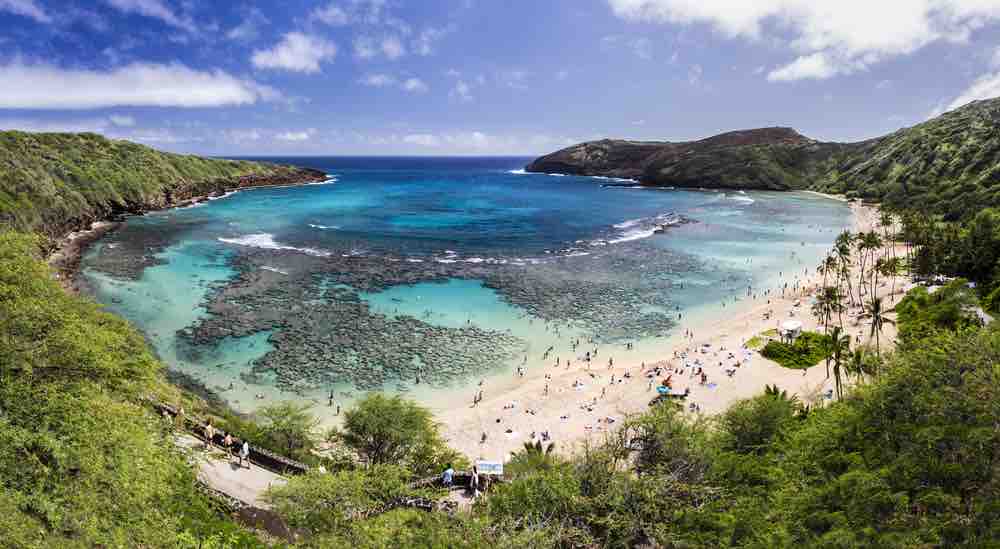 In the water, you are guaranteed to see turtles and tropical fish, including parrotfish. And there's a snorkel gear rental store off the beach.
Turtle Town, Maui
Maluaka Beach is known as Turtle Town because it's the best place to see green sea turtles up close on South Maui!
The beach park south of Wailea is possibly the best snorkeling beach in Hawaii. The calm waters are great for kids, and you'll likely see turtles, eels, and other peaceful marine life.
There's free but limited parking, or you can walk a few miles to the bus stop. Turtle Town has a wide sandy beach, shade trees, grassy areas for laying out, and a picnic area. There are food trucks on the curb.
Queens Beach, Oahu
Guests of Waikiki can find the best snorkeling beach in Oahu just off Kapiolani Regional Park at Queens Beach.
This conveniently located beach is popular for its soft sand, great amenities, and lots of marine life. The break wall along the northern side of the beach creates calm waters that attract turtles and allow for great snorkeling for free near your Waikiki hotel.
Shark's Cove, Oahu
One of my favorite snorkeling spots in Hawaii is Shark's Cove on Oahu's North Shore. Located in Pupukea, the rocky bay is part of the Pupukea marine life conservation district.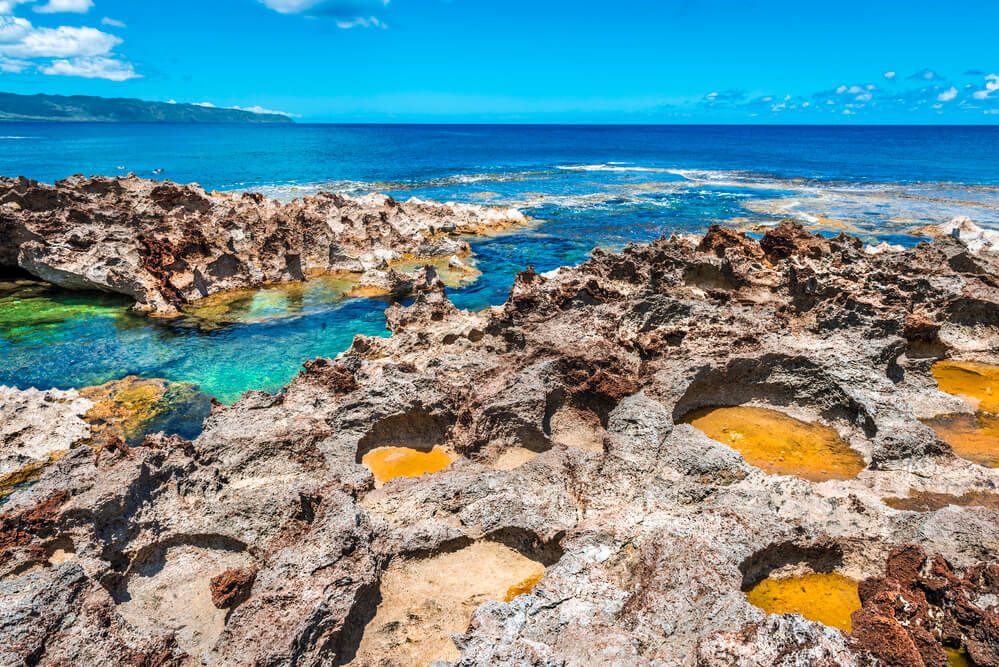 You can snorkel in the bay and explore tide pools formed by lava rock to find tons of fish, sea urchins, and other sea creatures!
This is a perfect spot for beginners. Plus, there are food trucks and restaurants all along the street across from the park.
Kahaluu Beach, Big Island
Big Island is known for its reef snorkeling, but Kahaluu Beach in Kailua-Kona is one of the best beaches in Hawaii for snorkeling. It's a popular beach with washrooms, lifeguards, and other great amenities.
There's a sandy beach but also black lava rock for a nice mix (just bring water shoes). Come here to see all kinds of colorful crabs, oysters, sea turtles, coral, and more.
Anini Beach, Kauai
Experienced snorkelers who prefer a walk-in beach should to Princeville on the North Shore. There, Anini Beach offers a peaceful cove with a wide sandy beach, shallow reef, and calm waters.
Turtles love coves on North Shore where they can get away from strong currents, and the water is so clear! Just watch out for lava rocks and rip currents when you're exploring the reef further out.
Tips for Snorkeling in Hawaii
Especially if it's your first time snorkeling in Hawaii, you'll appreciate my advice on how to have the best experience!
If you're headed to a snorkeling spot with reefs and lava rocks and you're not wearing fins, bring water shoes. Coral and rocks can cut you up pretty quickly!
If you want to take pictures, invest in a GoPro or a good waterproof phone case.
Don't forget the reef-safe sunscreen! Also, think about how the sun will be on your back for a few hours while you're in the water. Consider wearing a UV shirt or a wet suit. Take of yourself and the reef when snorkeling in Hawaii.
If you're driving around looking for a great snorkeling beach, look for SUP boards. That means the water is calm enough for snorkeling. If there are surfers, it's not good snorkeling conditions.
Always check the weather conditions before you go snorkeling. Also, if it's just rained or if it's windy, you won't have great visibility in the water.
Unless you're going snorkeling with an experienced guide, go in the middle of the day, when you have the most sunlight. This is important for your safety and will allow for the best underwater photos!
If you plan on renting or buying snorkeling gear in Hawaii, be aware that you won't be able to find full-face snorkel masks. Gear shops don't have them anymore and tour companies won't allow guests to wear them. A potential risk to the user due to potential carbon dioxide build-up is stated as the reason.
FAQ about Snorkeling in Hawaii
What month is best for snorkeling in Hawaii?
For the best snorkeling in Hawaii, go from May through September. During these warmer months, you'll have more sunny days and see more marine life. You can find great snorkeling spots pretty much all year round in Hawaii! But summer means the best weather conditions and the calmest waters so you have the best time.
What is good snorkeling etiquette?
The goal is to protect reef life by not disturbing it. Rule number 1 is don't touch anything in the water. That means don't mess with fish, don't try to touch coral, and don't take anything from the reef. Also, don't push off on the reef or sit on it to rest. And wear reef-friendly sunscreen!
Is snorkeling in Hawaii worth it?
Snorkeling lets you experience Hawaii in a way you'll never forget. It's the best way to see tropical fish, sea turtles, and corral reefs. You can find great free snorkeling beaches as well as tours for the best chances of seeing marine life. And the islands are perfect for both beginners and experienced snorkelers.
So, What's the Best Place to Snorkel in Hawaii
If you want to have the ultimate tropical vacation, you have to go snorkeling in Hawaii. Maui is the best place to find snorkeling opportunities for everyone throughout the year, but each of the Hawaii Islands offers a special experience under the sea.