Heading to Kauai and want to know the prettiest beaches in North Shore Kauai? Scroll to check out the most amazing North Shore Kauai beaches you have to see to believe!
This list of North Shore Kauai beaches contains affiliate links which means if you purchase something from one of my affiliate links, I may earn a small commission that goes back into maintaining this blog.
Ready to explore the best beaches on Kauai's North Shore?
The North Shore of Kauai is home to some of the most beautiful and secluded beaches in all of Hawaii. From swimming and sunbathing to surfing and snorkeling, these beaches have something for everyone.
With this guide, you'll be able to find the perfect beach for your needs – whether you're looking for a place to relax or a place to get active. No matter what you choose, you won't be disappointed with the incredible beauty of Kauai's North Shore.
Here is your guide on the best North Shore Kauai beaches!
Don't have time to read a bunch of Hawaii blog posts and reviews? Here are some of our top picks for visiting Kauai.
Popular Kauai Tours/Activities
Favorite Kauai Resorts/Hotels
Grand Hyatt Kauai (this Poipu resort has a luxurious pool area, romantic restaurants, and a stunning ocean view)
Koloa Landing Resort (this is a luxury resort with an amazing pool area and truly spacious rooms)
Royal Sonesta Kauai (we LOVE the pool here because it's the largest one in Hawaii)
Want to Rent a Car in Hawaii?
One of the best places to rent a car in Hawaii is Discount Hawaii Car Rental because they get the best rates from top national companies like Alamo, Dollar, Thrifty, Avis, Enterprise, Budget, and Payless.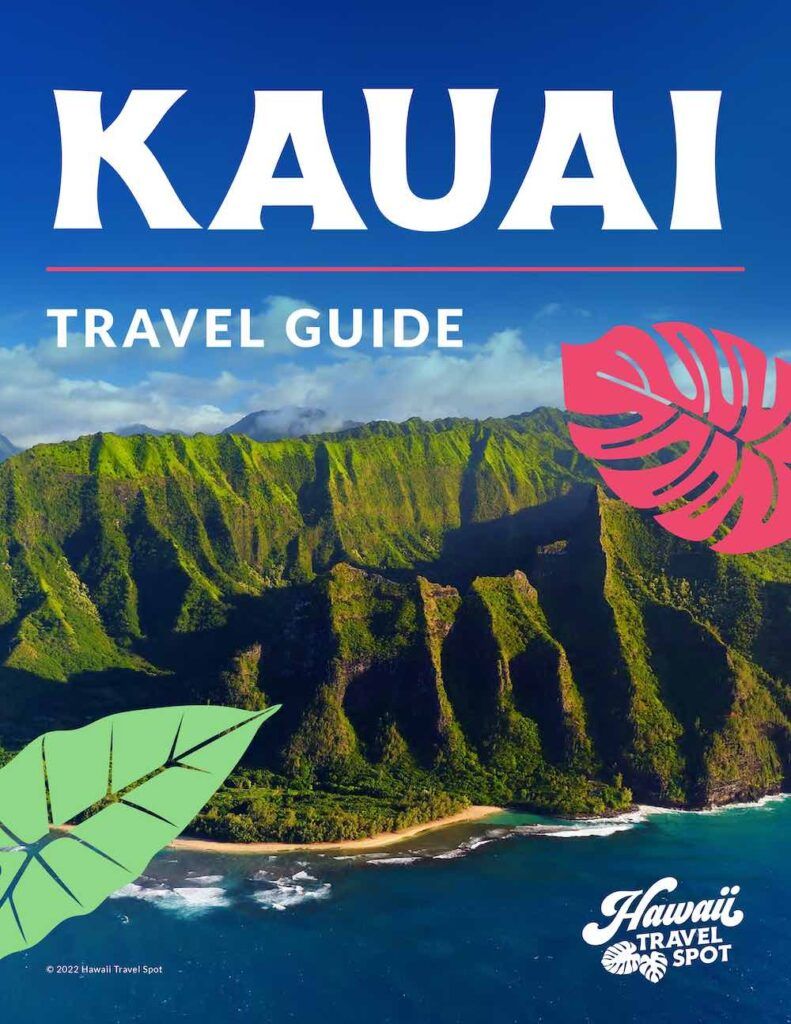 Best North Shore Kauai Beaches
Here are the best Kauai North Shore beaches! Learn all about the beaches that are great for swimming, snorkeling, surfing, and simply relaxing.
Ke'e Beach
Ke'e Beach is at the end of the road on the North Shore and is a great beach to visit. It has a lifeguard, restrooms, and showers.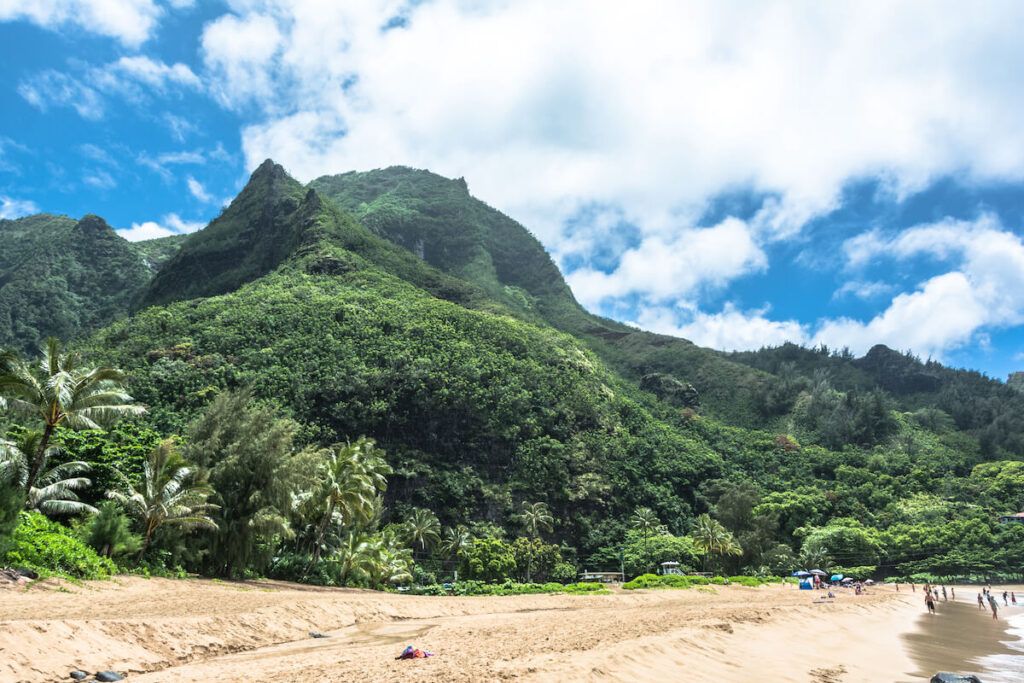 There is a reef around the area, so it is great for snorkeling and swimming. During the summer, the water is very clear and generally calm, while during the winter, there are usually high surfs.
At this beach, you will find some of the best North Shore Kauai snorkeling and might even be able to spot some sea turtles! If you want to go, you must make reservations.
Haena Beach Park
At Haena Beach Park, you will find black rocks, white sand, and a gorgeous backdrop of Mount Makana.
With restrooms, showers, and a lifeguard, this is a great beach to do just about anything at! You can even camp out at this beach park if you get a permit.
Cannon's Beach
If you plan to do some North Shore Kauai surfing, you will enjoy the waves at this location, especially during the winter season.
Cannon's Beach is one of the secluded beaches on Kauai and is perfect for surfing or watching professional surfers.
The water is not great for swimming, but you can relax on the sand or go surfing. A trail at Haena Beach Park leads straight to this beach.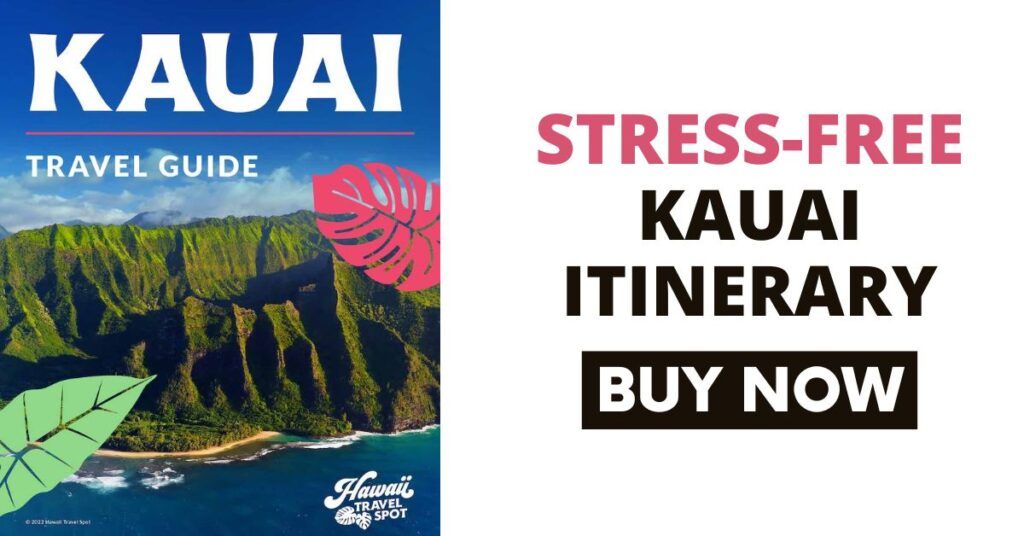 Tunnel's Beach
Tunnel's Beach offers some of the best snorkeling in North Shore Kauai. This beach is covered in a beautiful coral reef and has tons of tropical fish and sea life; the perfect location for snorkelers.
You will also enjoy relaxing on the sand or going out for a surf and snorkeling at Tunnel's Beach.
Kepuhi Beach
One of Kauai's secret beaches is Kepuhi Beach. Here you will rarely find tons of people here. It is a very secluded beach, perfect for a romantic picnic on the beach.
While it is not a good place to go swimming, it is great for sunbathing and enjoying the sand in between your toes.
Lumahai Beach
If you want to have some beautiful pictures of North Shore Kauai, HI, head to Lumahai Beach. While you do not want to swim or go in the water at this beach, it is the perfect backdrop for your pictures.
This beach is on some of the Hawaii postcards that you see. You will probably catch some gorgeous Kauai sunsets here too!
Kahalahala Beach
Right next to Lumahai Beach is Kahalahala Beach. It is another one of the prettiest beaches on Kauai but offers very limited swimming conditions.
It is only safe to swim or snorkel on super calm days during the summer. Other than that, the current and waves are too strong and dangerous.
Have a picnic, relax on the sand, or take some stunning pictures at this beach!
Hanalei Beach
Many fun North Shore Kauai activities can be done at Hanalei Beach. This is one of the most popular beaches on the North Shore of Kauai, Hawaii, and for a good reason.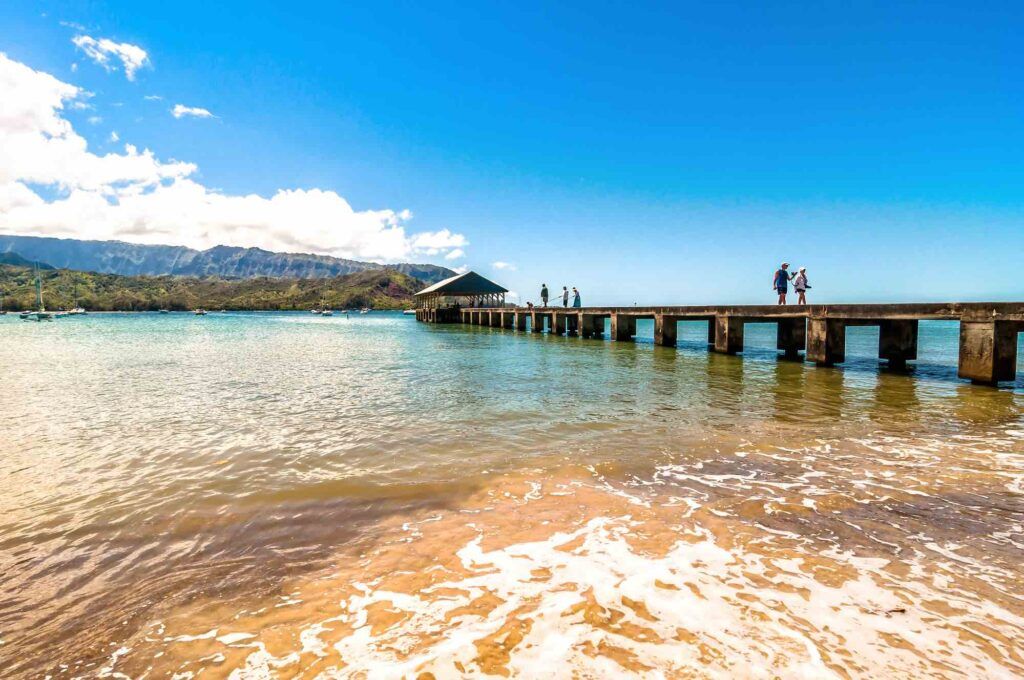 If you are traveling with kids, this is a great, calm place for little ones to enjoy the beach. This beach offers soft white sand, blue waters, tropical trees, and great conditions for swimming and surfing. You can even kayak and paddleboard here too!
Hanalei has a few resorts and vacation rentals, so you will definitely be close to this beach during your trip if you stay on the North Shore.
There are showers, restrooms, picnic tables, and a few other great facilities here. If you plan to go on one of the North Shore Kauai boat tours, you will probably leave from this beach.
Black Pot Beach
Black Pot Beach is one of the Hanalei beaches and is a popular beach for locals. Locals love to set up tents and tarps for BBQs and get-togethers every weekend.
It is another one of Kauai's swimming beaches and is generally a safe one for children too. You will find a decent size parking lot, making it a more accessible beach than others.
Pu'u Poa Beach
If you want to relax in calm waters, head to Pu'u Poa Beach. It is right next to a few resorts and offers a more private beach to enjoy.
There is a nice reef, and it is a great spot to go snorkeling and swimming during the summer months. There can be stronger waves during the winter, so it probably is not best to swim or snorkel during those few months.
Anini Beach
Another one of the best North Shore Kauai beaches is Anini Beach. It is generally a very calm and relaxing beach. The waters are perfect for kayaking, paddle boarding, swimming, snorkeling, and even windsurfing!
At this beach, you will find showers, restrooms, and a few pavilions with picnic tables.
If you cross the Anini Stream when the water is calm and low, you will find Wyllie's Beach. It is a very small section of sand on the edge of Anini Beach and is a fun secluded place to explore.
This beach is generally safe, especially if you stay in the reef. However, always watch the water and learn about conditions before getting in, just to be extra safe.
Kalihiwai Beach
Kalihiwai Beach is in a bay surrounded by lava rocks and is another gorgeous beach. It is less known and more secluded as most people choose to visit Anini Beach.
On one side of the beach is the Kalihiwai River. It usually is calmer and creates a nice little pool for kids to enjoy.
It is a great beach for bodysurfing as there is no reef, just plenty of sand. The waves can get pretty strong during the winter. If you are an expert surfer, you might enjoy these; otherwise, enjoying the view from the sand is best.
Kauapea Beach (Secret Beach)
Kauapea Beach is most commonly known as Secret Beach. Here you will find a big secluded beach. You can also see the Kilauea Point Lighthouse from this beach!
The main reason this is a secret beach is that you have to hike to get there. Once you park, you will find the trail, and it will take about 15 minutes until you reach the beach. For some, though, that's worth it!
It is probably best to avoid this beach with your little ones.
Kahili Beach
Kahili Beach, or Rock Quarry Beach, has an area for swimming and an area for snorkeling when weather and ocean conditions allow.
Sometimes the water can be murkier here, but other times it is the perfect beach to explore! If it is murky, don't go in the water.
There is no reef to protect the water from high surf, so be careful if you plan to go in the water. Only surf here if you are experienced!
Moloa'a Beach
One of the last beaches on the North Shore is Moloa'a Beach. It is the beach from Gilligan's Island and is a more secluded beach.
It is not a good beach for swimming as the water can be very rough here, especially during winter. There are no facilities here either.
However, it is a beautiful beach to visit, especially if you are looking for very few tourists nearby.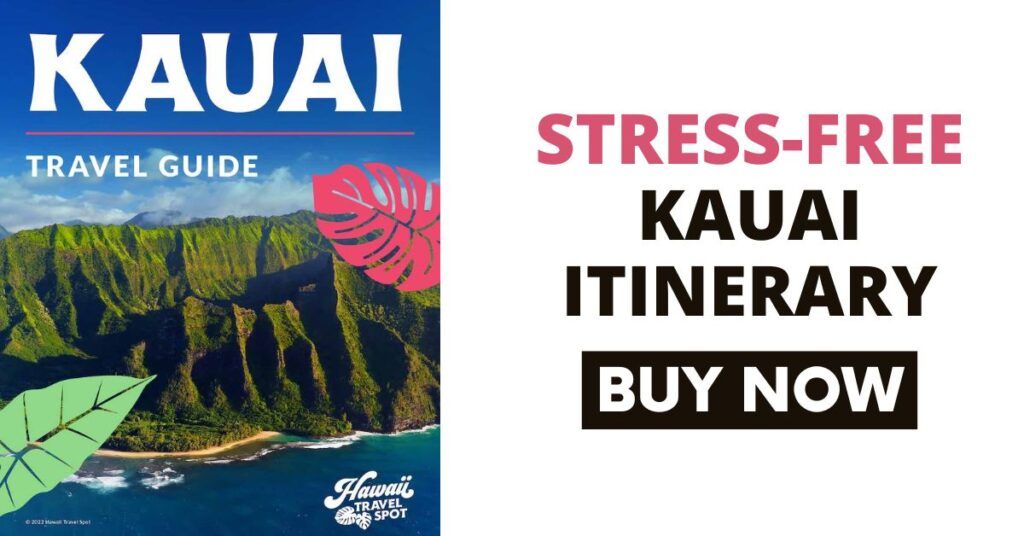 Kauai North Shore Beaches FAQs
Can you swim on the North Shore of Kauai? 
Yes, you can swim on the Kauai North Shore beaches! There are plenty of great ones for swimming, snorkeling, and having fun in the water.
Which side of Kauai has the best beaches?
Both the North Shore and the South Shore of Kauai offer stunning beaches. You will find the best Kauai beaches on both sides!
Is it better to stay in North or South Kauai?
Typically, most tourists will stay on the South Shore, so it can get a little busy. If you want the untouched nature and beauty of Kauai, you will love the North Shore in Kauai!
What is the Kauai North Shore weather like?
The North Shore Kauai weather is usually anywhere between 78 to 84 degrees. There might be some wind here and there, and you will probably experience a few rain showers.
Kauai North Shore Beach Wrap Up
There are plenty of North Shore Kauai vacation rentals close by some of these beaches, and there is even a Kauai North Shore Shuttle that will take you to the beaches if you don't have a rental car. Make sure to visit any of the North Kauai beaches to experience the beautiful nature in Hawaii.