Are you planning a trip to the Big Island but don't know where to stay in Kona? Keep scrolling to check out this honest Courtyard by Marriott King Kamehameha review!
This honest Courtyard by Marriott King Kamehameha Review was written by Marcie Cheung (a Hawaii travel expert) and contains affiliate links which means if you purchase something from one of my affiliate links, I may earn a small commission that goes back into maintaining this blog.
The Big Island is one of my top Hawaiian islands to visit because it's HUGE! And there are so many cool places to see in Kona.
Recently, I stayed at the Courtyard by Marriott King Kamehameha Hotel which is located along the famous Ali'i Drive in downtown Kona. I'd heard about their awesome beachfront location and restaurants and wanted to check them out for myself.
Why should you take my advice? I've visited Hawaii more than 40 times and bring a depth of firsthand Hawaii expertise unmatched in the travel sphere.
Keep scrolling to read my honest Courtyard by Marriott King Kamehameha Resort review so you know if it's one of the Big Island hotels worth booking.
Want to skip all the planning and just access my detailed Big Island Itinerary complete with daily schedules, fun activities, and travel hacks? Click the button below.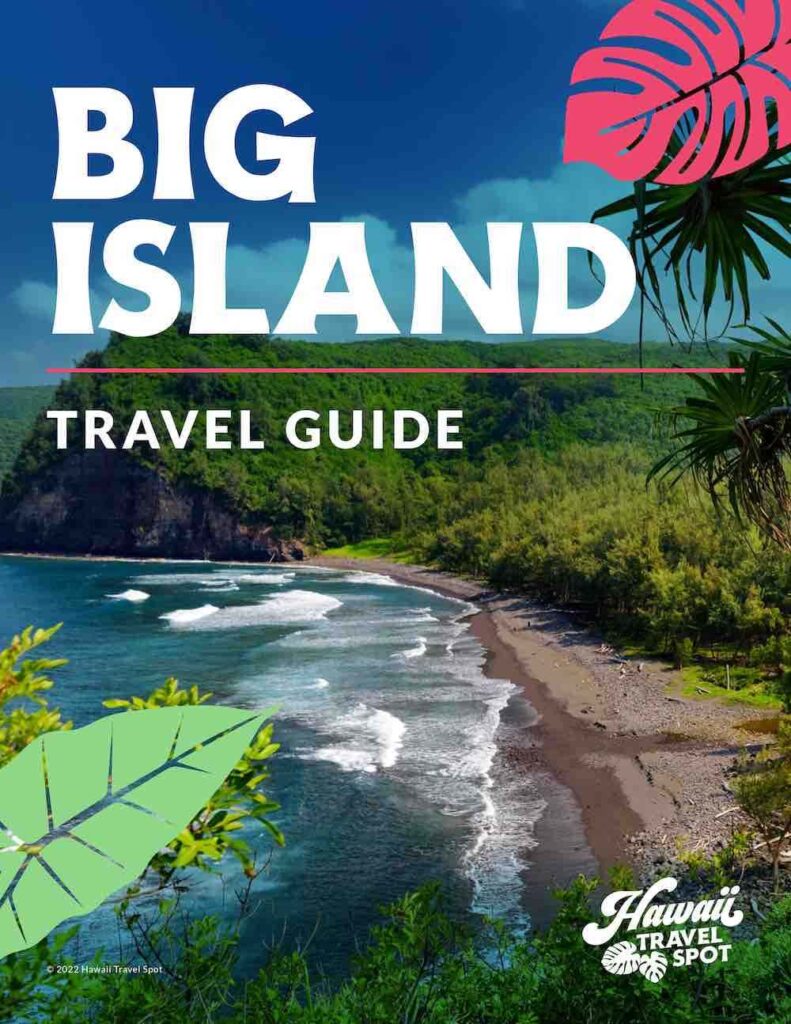 Where is the Courtyard by Marriott King Kamehameha Hotel?
The Courtyard by Marriott King Kamehameha is perfectly placed on the famous Ali'i Drive, just 20-30 minutes from Kona Airport.
It's super close to popular activities, making it awesome for those wanting to explore. Plus, with its spot right on the Southwest side of the Big Island, you're in a prime spot to walk to cool restaurants.
If you're driving, they offer parking for $25 a day, which lets you come and go as you please. And hey, there's also wheelchair-friendly parking.
This hotel is a top pick for easy access to the best of the Big Island!
First Impressions & Check-In
When I first saw the Courtyard by Marriott King Kamehameha's Kona Beach Hotel, I was hooked. The building's look is super cool, and after exploring it a bit on my last trip, I just knew I had to stay here next time.
When we arrived for check-in, it was busy, mainly because some airline folks were also checking in. Even though there was a short wait, the lobby was comfy with lots of seats for guests.
The hotel staff was friendly, and once we got to the counter, the process was quick and easy. Plus we got shell leis! It made a great first impression! Check hotel rates here.
What Did Our Room Look Like?
During our stay at the Courtyard by Marriott King Kamehameha's Kona Beach Hotel, we got a room with two cozy queen beds. The bathroom had a unique touch with its two sliding doors, giving it a different feel.
One cool thing we loved? The bedside lamps had dimmer switches! It made early mornings easy on our eyes.
There was a small desk area, which quickly became our go-to spot for snacks and stuff we bought.
And wow, the view! We could see the ocean, pool, and the lagoon. At night, my son loved chilling on the lanai, listening to the soothing ocean waves. Although there was music from the pool bar, it wasn't loud in our room.
Plus, the room had free WiFi, comfy air conditioning, and a handy mini-fridge.
They offer many room types, so there's something for everyone! Check the latest rates and availability.
Hotel Facilities at Courtyard by Marriott King Kamehameha's Kona Beach Hotel
The Courtyard by Marriott King Kamehameha's Kona Beach Hotel sure has a lot to offer when it comes to facilities!
For sporty types, there are 2 outdoor tennis courts, and if you're new to the game, you can even take tennis lessons. They also have a gym for your daily workouts and yoga classes for those who love a good stretch.
The outdoor pool is pretty straightforward, surrounded by comfy lounge chairs and shaded cabanas. And here's a bonus: right next to the pool is Billfish, where you can grab a refreshing drink or some snacks while the kiddos enjoy their pool time.
Everyone gets a wristband at check-in to access the pool, making it exclusive for hotel guests.
Now, the lagoon is a real highlight! It's just a few steps away and is super calm, making it perfect for families with little ones. Even though it's not private, its location offers a lot of conveniences.
For some extra relaxation, you can rent cabanas by the pool or lagoon. Though I tried to book one before our trip, it didn't work out, but that turned out to be a good thing due to unexpected rain.
In a nutshell, this hotel is packed with amenities and is especially great for families with young kids. It's got that mix of relaxation and activity, all in one place!
Dining at the King Kamehameha's Kona Beach Hotel
The Courtyard by Marriott King Kamehameha's Kona Beach Hotel boasts a nice variety of dining choices that cater to both kids and adults! Here's a quick overview:
Menehune Coffee
Situated conveniently in the hotel's lobby, Menehune Coffee is a local favorite. The Big Island latte, with its coconut and macadamia nut syrup, is a must-try! Not too sweet, just perfect.
If you're looking for a light breakfast, their bagels are a hit. They even have a variety of smoothies to choose from.
Ululani Shave Ice
Talk about a sweet treat! This place is right near the pool and it's known to be one of the best shave ice spots. Let's just say we couldn't resist getting some every day. Maybe even more than once!
Billfish
This spot was under renovation for a bit, but we did get to try it out. The verdict? Well, it felt a bit typical for hotel food. While my huli huli chicken didn't wow me, my son was quite pleased with his hamburger.
Honus by the Sea
This is the hotel's main restaurant. They offer grab-and-go dinner options, a dinner buffet, and a hearty breakfast. On a rainy day, we got to enjoy their buffet in the comfort of our room, which was a nice touch.
In short, whether you're in the mood for a latte, shave ice, or a full meal, the Kona Beach Hotel has something to satiate every appetite. Though some options might be hit or miss, you won't go hungry with their range of choices!
Pricing & Packages at the Kona Beach Hotel
If you're planning to stay at the Courtyard by Marriott King Kamehameha, expect to pay between $500-$600 per night for their standard guest rooms.
These rooms have recently been upgraded and now feature a fresh, coastal-inspired decor. Plus, you get a big 55″ TV to watch your favorite shows!
There's also a new desk area with great lighting, which is perfect if you want to do some writing or planning for your Hawaii adventures.
Depending on your choice, you can get awesome views of the ocean, pool, or garden.
One thing to note: if you're thinking of getting an extra bed, they don't offer rollaway beds.
When weighing the cost and the amenities, it seems like a pretty good deal for a comfortable stay on the Big Island, especially with those new upgrades.
Keep an eye out for special promotions or packages that might come up for tourists!
Nearby Attractions & Activities at the King Kam Hotel
Staying at the King Kam Hotel is like being in the heart of Kona's coolest spots.
Just a short walk, and you're at the Kailua-Kona Wharf or trying out some tasty brews at Kona Brewing Company. Both are just about 3 minutes away!
And if beaches are your thing, Kamakahonu Beach is super close.
Want a unique underwater experience? The hotel is right in front of the Kona Atlantis Submarine tour, known as the best submarine tour in Hawaii!
If you prefer staying above the water, try the Kona Glassbottom boat tour, also nearby. You can catch glimpses of colorful fish and learn about the area's history.
Shopping for snacks or forgotten items? The ABC Store, right on the property, has got you covered. From snacks to beach toys, they have everything.
For those into Hawaiian culture, don't miss the historical tour offered by the hotel. Dive into the rich history and maybe even try some Hawaiian cultural activities. They've got lei making, hula dancing, and more!
They also have an on-site luau that we attended. We personally had a pretty bad experience due to a staffing issue, but I've heard that it's not normally like that.
The hotel also showcases beautiful Hawaiian artwork, so art enthusiasts should definitely take a stroll to appreciate them.
If relaxation is your goal, their spa offers massages, facials, and even daily yoga classes. With so much around, you'll never run out of things to do!
Courtyard by Marriott King Kam Hotel FAQs
How does this hotel stand out from its competitors in Hawaii?
While the rooms are pretty standard hotel rooms, the location is really ideal. Plus, it's nice to have several on-site dining options and an ABC Store.
Is the location practical for the activities and sights I want to enjoy?
Absolutely! Ali'i Drive is the main hot spot in Kona so it's easy to walk to lots of shops, restaurants, and activities. Plus, it's easy to hit the highway and explore the Big Island.
Is it worth the price, and am I getting good value for my money?
If you're just staying here to sleep, I'm not sure you'll get your money's worth. It's really great for people who want to explore for part of the day, but also enjoy the ocean lagoon, go swimming in the pool, and walk around the area.
Conclusion & Personal Verdict on the Courtyard by Marriott King Kamehameha's Kona Beach Hotel
Our stay at Kona Beach Hotel was a mix of ups and downs. On one hand, daily housekeeping was limited, the food quality didn't meet our expectations, and our luau experience was below par.
However, the location is unbeatable! It's ideal for visitors who prefer beach over pools, with a calm lagoon nearby.
The hotel is conveniently located at the end of Ali'i Drive, surrounded by shops and eateries. Plus, big stores like Target and Walmart are a short drive away.
Would I recommend this hotel? Absolutely, especially for families. The proximity to attractions like Atlantis Submarine and the Glassbottom Boat Tour makes it a top choice for family fun.
If you want easy access to the best of Kona, this hotel is for you!
Rating for the Kim Kam Hotel
Overall Score: 7/10 ⭐️⭐️⭐️⭐️⭐️⭐️⭐️
Location: 9/10 – The resort's position is its strongest point. We loved the beach area and calm lagoon. Being able to easily stroll to nearby restaurants, shops, and activities added so much convenience to our stay.
Service: 6/10 – The service was decent but there were gaps, notably the sparse housekeeping.
Amenities: 7/10 – General amenities were good, but the luau was a letdown which brought down the score.
Dining: 5/10 – The dining options available were just average. We were hoping for tastier meals given the resort's reputation.
Value for Money: 7/10 – Given the location and the amenities, the resort offers good value. However, improvements in dining and service could boost this rating further.