Looking for amazing Kona nightlife? Keep scrolling to see where to find the best bars in Kona, Hawaii!
This list of where to find the best bars in Kona, Hawaii contains affiliate links which means if you purchase something from one of my affiliate links, I may earn a small commission that goes back into maintaining this blog.
Ready to party the night away in Kona?
You bet! The bars in Kona are well known for their lively atmosphere and amazing views. Whether you're looking for a local dive bar or a tiki restaurant on the beach, you'll find what you're looking for in this town.
Once the sun goes down, the real fun begins! Dance the night away at one of Kona's many bars and enjoy some of the best cocktails on the island.
Be it local dive joints, oceanfront tiki restaurants, or jazz bars, you will never run out of options to savor delightful concoctions as you sing and dance the night away.
Here's a detailed compilation of all the spots you need to hit during your night of revelry!
Don't have time to read a bunch of Hawaii blog posts and reviews? Here are some of our top picks for visiting the Big Island.
Popular Big Island Tours/Activities
Favorite Big Island Resorts/Hotels
Want to Rent a Car in Hawaii?
One of the best places to rent a car in Hawaii is Discount Hawaii Car Rental because they get the best rates from top national companies like Alamo, Dollar, Thrifty, Avis, Enterprise, Budget, and Payless.
Want to skip all the planning and just access my detailed Big Island Itinerary complete with daily schedules, fun activities, and travel hacks? Click the button below.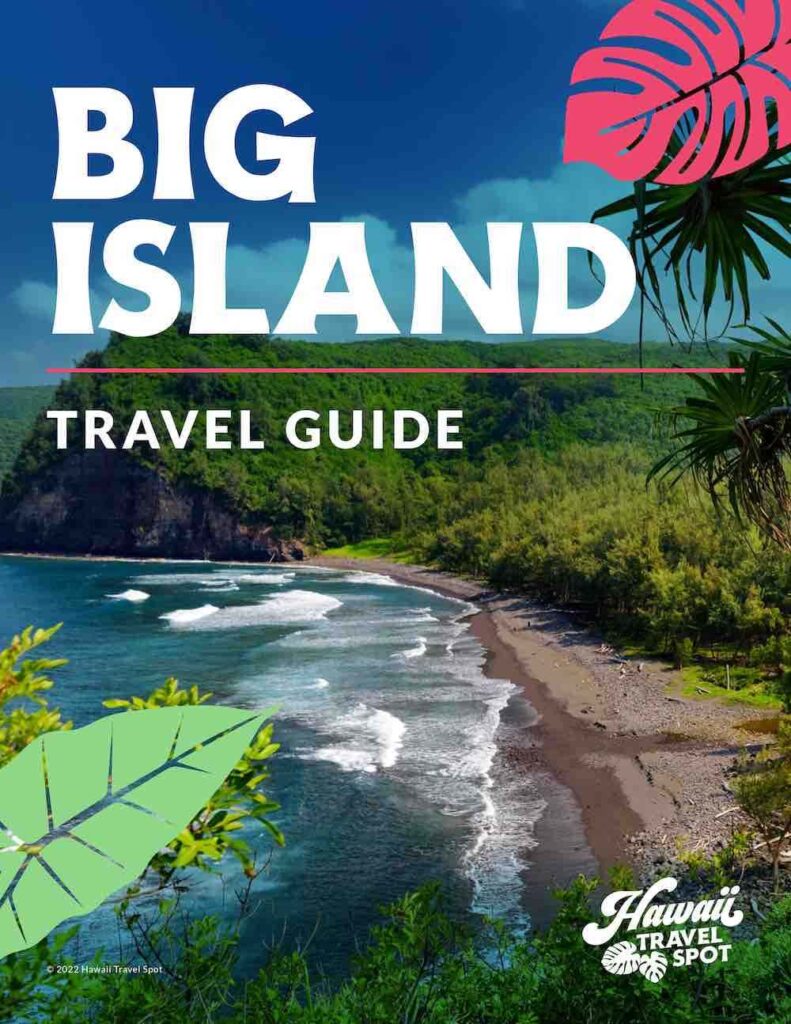 10 Best Bars in Kona, Big Island
Kona Brewing Co.
Begin your exploration of the nightlife in Kona, Hawaii, at the Kona Brewing Co. – the original creators of the locally popular "Liquid Aloha."
This popular Hawaiian restaurant and brewery chain began right here in Kona over 25 years ago and is still an icon among both tourists and locals.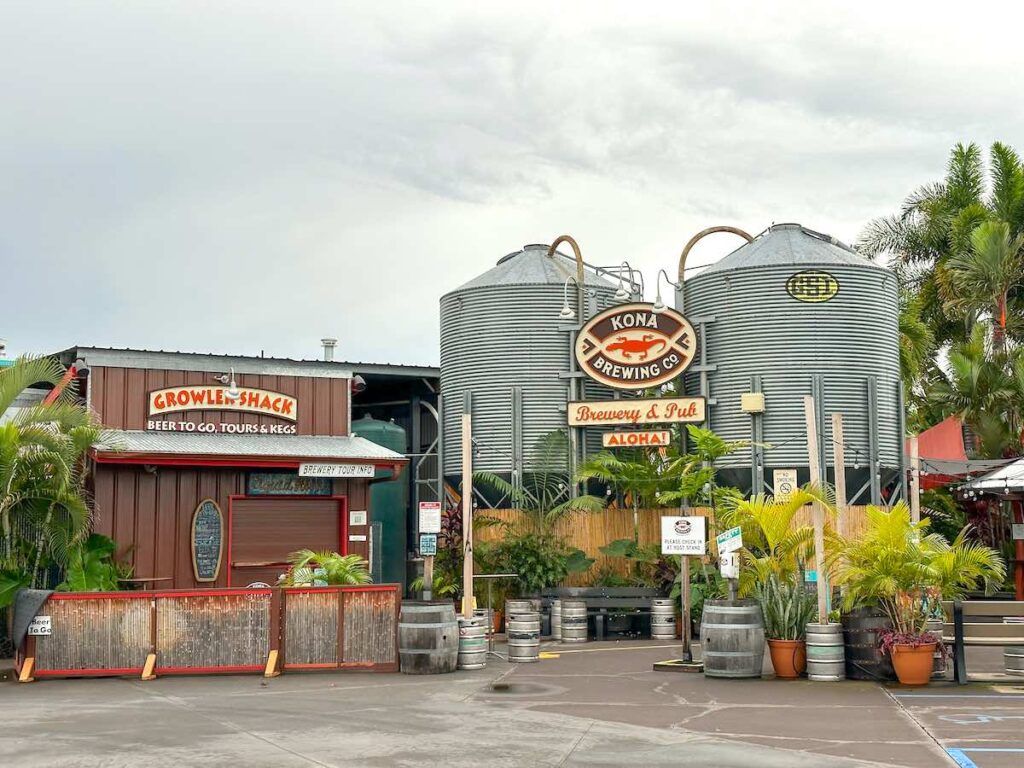 What was once set up with the vision of creating exquisite brews locally has since expanded to serve specially crafted beer all across the world!
The beers crafted here are as strong as the brewery's vision itself, and every sip will give you a hint of the love they share for the Island, its culture, and its stunning beauty.
Try a pint (or more) of some of the brewery's freshly brewed beers, like the Longboard Island Lager or a Lavaman Red Ale.
The menu recommends what dish pairs well with each beer, such as the chicken salad with the Longboard Island and a meat sandwich or pizza with the Lavaman. With almost a dozen varieties to taste, you just can't get enough of the aloha in here!
Although the place offers takeout, it's best to come here to cool yourself off after a hot morning in the sun. Relax on the large outdoor lanai with a chilled mug in your hand and the island wind in your hair.
You might even decide to sign up for the Kona Brewing Co.'s fun and informative brewery tours. With tickets ranging between $34 – $65, this 1-hour tour lets you witness how they bring the magical Liquid Aloha and other brews to life.
74-5612 Pawai Pl, Kailua-Kona, HI 96740
Huggo's On The Rocks
When the sun goes down, and the Kona, Hawaii nightlife comes alive, head right down to Huggo's On The Rocks, located a little bit north of the Royal Kona Resort. Because if delicious island treats and a full bar with a dance floor are what you're looking for, this is the place to be!
Grab a seat at the waterfront space with your toes in the sand and chat over an exotic drink. Or, head to the upstairs area for a fine dining experience as you savor beautiful steaks and other island fares.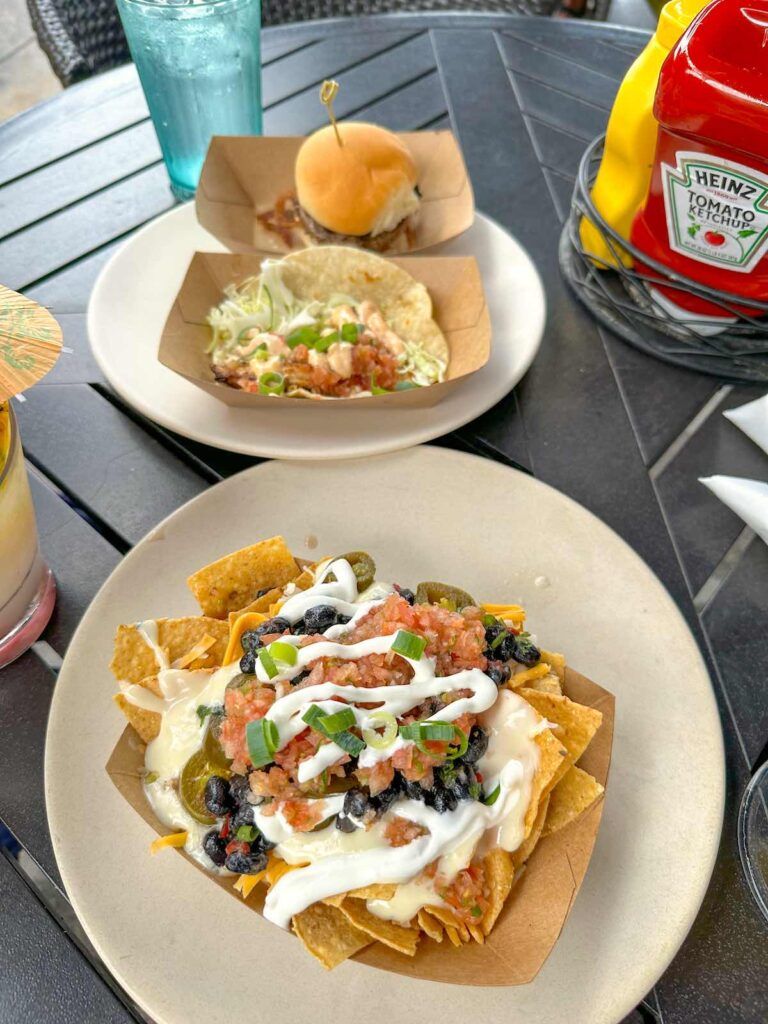 Order a round of the bar's signature drinks, including names like the Big Bamboocha Mai Tai, Hibiscus Seltzer beer, and the Coconut Porter beer if you're looking for something simple yet tropical.
For a sumptuous meal, the Pork Nachos, Kilauea Fire Burger, and Huggo's Famous Seawood Chowder are dishes you must try.
Make sure you visit during happy hour, between 3 p.m. and 5 p.m., to sip on as many Mai Tais and cocktails as you can. Stay back for the majestic views of the sun setting over the endless sea, which is best experienced from the upstairs seating area.
If you are looking for things to do in Kona at night, extend your visit at this tropical bar and watch it transform into a popular hotspot for entertainment.
With a lineup of talented musicians serenading you from 5 p.m., you will be captivated by the live music and magical hula performances every night.
75-5824 Kahakai Rd, Kailua-Kona, HI 96740
Humpy's Big Island Ale House
Welcome to one of the most high-quality breweries in town, a "tailor-made place for beer lovers, by beer lovers." True to its motto, the place offers an astounding 36 varieties of handcrafted microbrews, making it a must-visit for those who take their drinks by the pint.
Between the local Big Island BrewHaus Kaffir and the international WeisseBier from Germany, you will have more than enough to keep your hands (and bellies) full. Happy Hour is from 3 p.m. to 6 p.m. on all weekdays, so if you're looking to drink more and pay less, you know when to visit!
While it is one of the most buzzing bars in town, it is also a pleasant eatery for families looking to hang out and munch on a range of dishes at breakfast, lunch, or dinner.
Do try the bar's specialties like the Alehouse Calamari, Humpy's Original Fish Tacos, and Kalua Pork Sliders. For something a bit more indulgent, ask your server for the dinner specials, which include seafood and steaks made with authentic island flavors.
With a laid-back ambiance and open-air patio seating for visitors, it provides the ideal setting to catch seafront views with the sounds of the crashing waves to keep you company.
Need a change of pace? Head over to the floor upstairs for some live music and dance till you drop on the dance floor because the party at Humpy's goes on till almost 2 a.m.!
75-5815 Ali'i Dr, Kailua-Kona, HI 96740
Gertrude's Jazz Bar
Don't let the name fool you – Gertrude's will surprise you with more than just jazz. From musical blues to mystical views, this place is sure to sweep you off your feet. And if the atmosphere doesn't, the drinks surely will.
One of the best bars in Kona, Gertrude's is renowned among patrons and tourists for "raising the bar, for bars"!
Known for its unparalleled music scene across all bars in Kona and the Big Island, it regularly hosts a diverse range of performances, from Jazz and Blues to Latin, Reggae, and Rock. The open mics, jamming sessions, and locally and internationally renowned artists who perform here set the scene for guests almost every day.
Enjoy the rich melodies that this place promises with a glass of its elegant cocktail creations, especially during Happy Hour (6-7 p.m.). From classics such as the Cosmopolitan or Pina Colada to exciting specials like the Kona Nightingale and the Vesper Martini, you'll never run out of options to try.
As for dining, you'll find most of the bar's signature dishes on the tapas menu, but don't just take our word for it. Try them out yourself! The menu is also in the process of being revamped to provide some fresh new tastes, so when that is out, don't forget to check it out!
Gertrude's is more than just a bar; it is now also a networking hub where admirers and performers of various art forms come together. Plan a stop here for an exquisite art and dining experience like no other!
75-5699 Ali'i Drive, Kailua-Kona, HI 96740
Laverne's Sports Bar
If you're on the hunt for the true Kona nightlife experience, know that Laverne's is where locals and tourists gather to ring in the weekends.
Make your way through the Coconut Grove Marketplace to find this open-air paradise that offers quirky concoctions, the best burgers in town, and some amazing draft beers to tie it all together.
In true sports bar fashion, this place is packed with 32 televisions all around. You can catch the latest sporting event while enjoying classic bar bites and vistas of the endless, glistening sea.
Stop by at happy hour to try out some of the menu's specials half-off, such as the Pork Wings in BBQ, Buffalo, or Hawaiian Garlic. Ever try nachos served on a platter that's as big as your face? Now you can at Laverne's!
Stay long enough, and you'll get to join a livelier crowd for an authentic night out in a bar that stays on all the way up till 2 a.m! Live music is present almost every night of the year, so pop by and dance the night away with friends, family, or loved ones.
75-5819 Ali'i Dr, Kailua-Kona, HI 96740
Don's Mai Tai Bar
Craving a laid-back, enjoyable evening where you are having a quintessential Hawaiian bar experience with a tropical Mai Tai in hand? Head over to Don's Mai Tai Bar, located inside the Royal Kona Resort, for an elegant and memorable time.
Don's is Kona's largest, open-air, oceanfront (yes, a sea-facing patio) bar. It's known for its classic Tiki architecture and soothing island music that only adds to the ambiance of the grand venue. If you're lucky, you may spot humpback whales and dolphins putting on a show in the water!
Don's Mai Tar Bar has something for everyone – beer collections for beer lovers, wines for the connoisseurs, and perfectly mixed cocktails that hit all the right notes.
Pair your choice of drink with mouthwatering fusion dishes from European, American, and Island cuisines. You can't go wrong with the seafood specialties here, like coconut shrimp, fish tacos, and the Royal Seafood Poke Bowl, so order a couple for the table and enjoy your perfect afternoon by the sea!
If you plan to visit in the evening, try to stick around for the bar's oceanfront luau, a Polynesian feast that celebrates the island's culture through food, song, and dance. The luau starts at 5 p.m. on select weekdays, and you can reserve your seats through the resort's website.
75-5852 Ali'i Dr, Kailua-Kona, HI 96740
Sam's Hideaway
Those looking for an affordable option among the best Big Island bars will find Sam's Hideaway to be their ideal match. The staff is friendly, the service is great, and the drinks – light on the pocket.
Sam's Hideaway is a popular local watering hole and a favorite among tourists too. The bar provides a communal atmosphere for its guests to unwind with a chilled drink and let off some steam by singing karaoke.
While the food options are limited to simple bar bites, the vast selection of drinks definitely makes up for it! The bartenders here know their stuff too, and their fresh blends of cocktails, like the popular Tropical Snitch and Mermaid Surprise, speak for themselves!
Head down there for a guaranteed night of fun as you grab a few drinks, make a few new friends, and sing to your heart's content!
75-5729 Ali'i Dr, Kailua-Kona, HI 96740
Harbor House
Experience pure, uninterrupted zen, away from the music and the bustle, at the Harbor House. Nestled away in the docks, this is one of the most serene bars in Kona, offering a blissful atmosphere for you to relish a punchy drink on a lazy afternoon.
The Harbor House is a casual restaurant for the whole family, with seating spaces set overlooking the ocean. The menu consists of lip-smacking American dishes, like salads, sandwiches, and burgers, making it easy for you if you have fussy little eaters in the bunch.
You can order from their kids' menu if your little ones love mac and cheese with chicken nuggets or a classic kiddie's burger.
For the adults, Harbor House serves the coldest beers in town (and there are awards to prove it!) in frozen schooners or glasses. Enjoy them during Happy Hour, from 3 p.m. to 6 p.m., with the popular fish and chips, smoked pork, or a plate of the award-winning hamburger.
With affordably priced beers that can be savored right on the water, it is no wonder why visitors keep going back for more!
74-425 Kealakehe Pkwy #4, Kailua-Kona, HI 96740
Foster's Kitchen
Fresh food, fresh drinks, and fresh vibes. Find all of this and more at Foster's Kitchen, a top-notch dining spot that serves some of the finest food you'll find in town, including local cuisine and casual American bites.
Based on a freshly-prepared, locally-sourced cuisine, everything you get here is authentic Kona food – harvested, reared, and prepared on the island.
Be it the Steakhouse Burger, Cajun Fries, or special Banana Pudding, this bar's menu provides a culinary experience you do not want to miss out on when looking for the best bars in Kona, Hawaii.
Wash down this delectable fare with some creative cocktails. Try the Lele Lemonade or the special Pahoa, made with the bar's in-house Pina Colada mix, as you take in the views of the azure blue sea before you.
With the best musicians in the locality to set the mood, the restaurant also has two happy hours every day – from 3 to 5 in the evening and from 9 to 10 at night. All the more reason not to miss this one!
75-5805 Ali'i Dr, Kailua-Kona, HI 96740
Ola Brew Co
If world-class beers and ciders are on your list, then make a pitstop at Ola Brew Co taproom to fill up on some of the best brews you will taste in all of Kona.
Ola Brew Co's mission encourages agricultural growth by sourcing locally-grown crop produce to craft its brews. They have over 40 varieties of beer, cider, hard tea, and hard seltzer available, with the classic Vanilla Porter and the Lilikoi Lime garnering raving reviews.
The brewery's specialty is the Weekly Release. Every Thursday, the bar launches a limited edition drink for a short period of time, so make sure you are one of the few people in the world to sample it before it's off the menu!
The food menu offers perfect pairings for a glass of cold beer, from chicken, pork, and mushroom tacos to sourdough flatbreads. Sample its in-house sauces with fries, and let your child order their favorite from the Keiki menu.
74-5598 Luhia St, Kailua-Kona, HI 96740
Kona Hawaii Nightlife Wrap Up
Around every corner of Kona, you will find a new watering hole that offers a little something for everybody. Whether you desire a drink with your feet in the sand or seek to indulge in fine dining, the bars in Kona, Hawaii, are ready to quench your thirst for aloha!