Are you planning a trip to Kauai and want to visit one of the best sights on the island? Scroll to find out the top Waimea Canyon tours worth checking out on your next trip.
This list of the best Kauai Waimea Canyon tours contains affiliate links which means if you purchase something from one of my affiliate links, I may earn a small commission that goes back into maintaining this blog.
Have you ever heard of the "Grand Canyon of the Pacific"?
That's Waimea Canyon, one of the most breathtaking spots on Kauai, Hawaii!
This massive canyon is a feast for the eyes with its deep valleys, colorful rocks, and lush green areas. It tells a rich story of Earth's power and the beauty of nature.
Now, while you can definitely explore this majestic place on your own, have you thought about taking a guided tour?
Imagine having someone with you who knows all the best viewpoints, hidden gems, and fascinating stories behind each rock and plant.
A sightseeing tour doesn't just show you the sights; it takes you on a journey, making the canyon come alive in a whole new way.
Let's dive into the best Waimea Canyon tours that promise an unforgettable experience!
Don't have time to read a bunch of Hawaii blog posts and reviews? Here are some of our top picks for visiting Kauai.
Popular Kauai Tours/Activities
Favorite Kauai Resorts/Hotels
Grand Hyatt Kauai (this Poipu resort has a luxurious pool area, romantic restaurants, and a stunning ocean view)
Koloa Landing Resort (this is a luxury resort with an amazing pool area and truly spacious rooms)
Royal Sonesta Kauai (we LOVE the pool here because it's the largest one in Hawaii)
Want to Rent a Car in Hawaii?
One of the best places to rent a car in Hawaii is Discount Hawaii Car Rental because they get the best rates from top national companies like Alamo, Dollar, Thrifty, Avis, Enterprise, Budget, and Payless.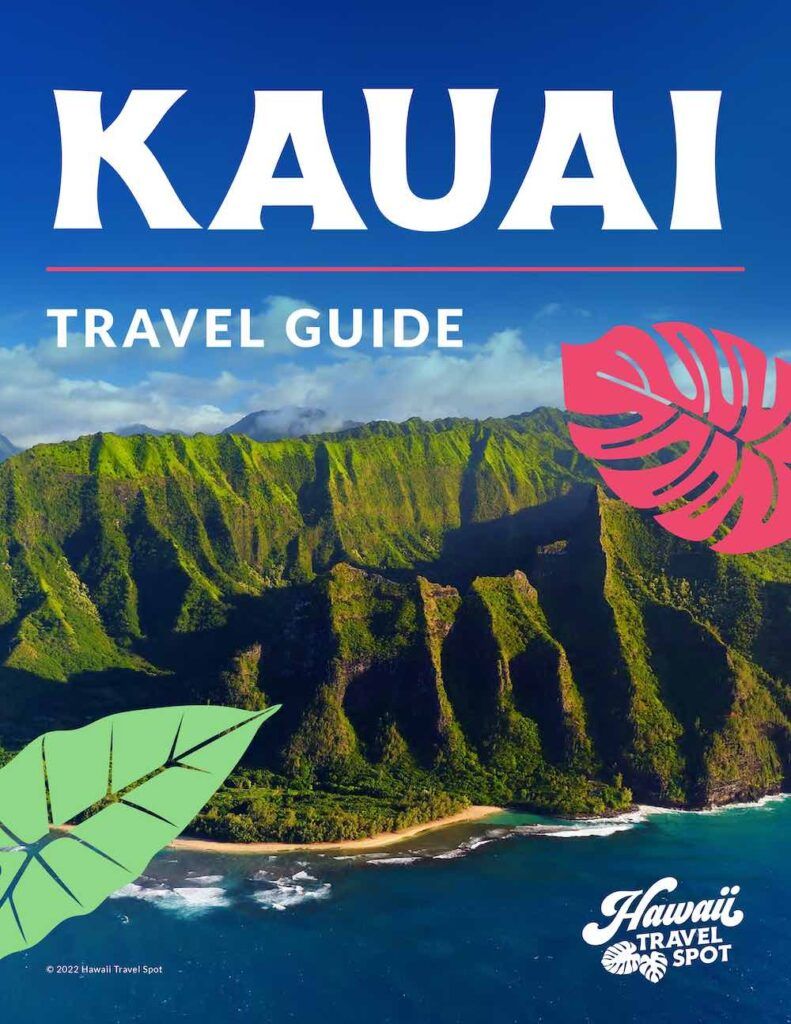 The Beauty of Waimea Canyon: A Jewel of Kauai
Ever wonder what makes Waimea Canyon so special? Well, folks call it "The Grand Canyon of the Pacific," and that's a big clue!
Just like the famous Grand Canyon, Waimea Canyon shows off layers upon layers of Earth's history. These layers tell tales of ancient times, shaping the gorgeous cliffs and valleys we see today.
But there's something else that's amazing. Instead of just lava rock and cliffs, beautiful Waimea Canyon is bursting with green! Lush plants, native Hawaiian flora, tall trees, and colorful flowers decorate its deep valleys.
This mix of rocky wonders and green beauty makes it a super important part of Kauai's natural landscape.
When you stand at the edge and look out over the canyon, it's like seeing a painting come to life. It's a must-visit spot for anyone coming to Kauai.
So, ready to explore this masterpiece of nature in Hawaii?
Self-Guided vs. Organized Tours: Which Way to Explore?
Thinking about how to see Waimea Canyon? Let's weigh our options!
Self-Guided Tours
This is like a solo adventure! You explore on your own terms, deciding where to go and how long to stay. It's great if you want freedom and have done your homework about the place.
Pros: Make your own schedule. Drive your own car. Feel more adventurous!
Cons: Might miss out on hidden gems. No expert to answer questions.
Organized Sightseeing Tours
Here, you'll join a group led by an expert guide. They know all the cool spots and stories!
Pros: Learn fun facts and history. See the best places without missing out.
Cons: Fixed schedule. Might be with a group, which isn't everyone's cup of tea.
In the end, both choices have their perks. Want to explore freely? Go self-guided! Love learning new stuff? An organized tour might be your pick!
Scenic Flights & Kauai Helicopter Tours
Sightseeing Flight over Napali Coast & Waimea Canyon
Take an amazing flight tour over Kauai and see beautiful places you can't reach by car! Check tour rates.
On this trip, you'll fly over untouched parts of the island, like the tall spires of the Napali Coastline and the bright white sand of Hanalei Bay.
You'll also see the big red walls of Waimea Canyon from high above. Your pilot will share cool stories about the island, and you can take awesome pictures of beaches, cliffs, and waterfalls.
See Kauai like a bird in the sky! Check the latest rates and availability.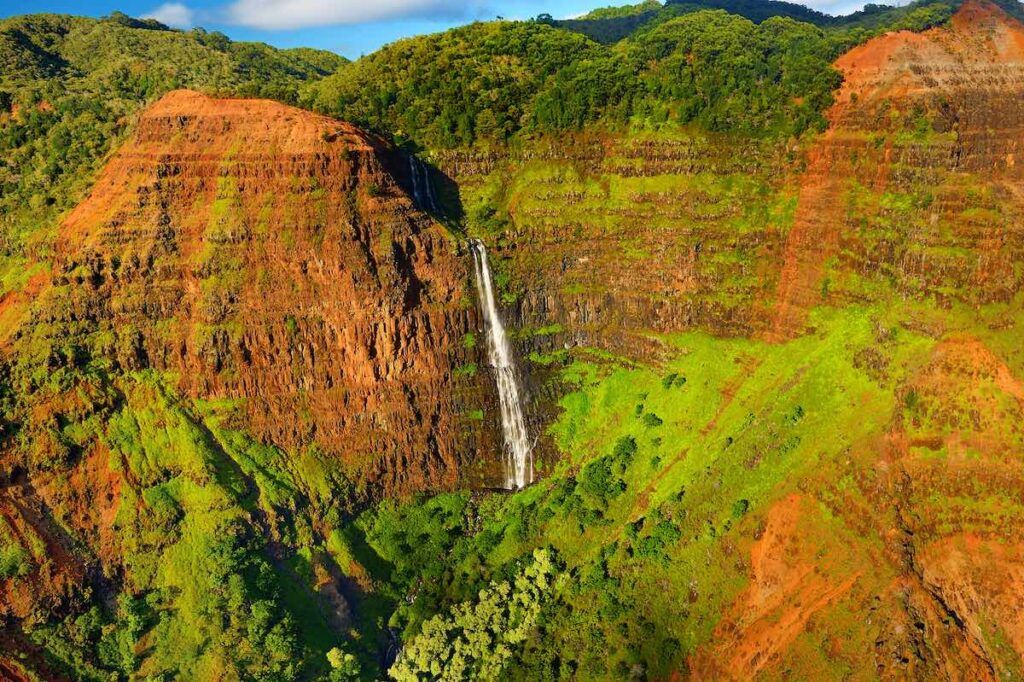 Wings Over Kauai Air Tour of Na Pali Coast & Waimea Canyon
Hop on the G8 AirVan for an amazing 65-minute tour in the sky over Kauai. Fly past the Waimea Canyon and see the tall cliffs of the Na Pali. Check tour rates.
You'll also fly over the beautiful Hanalei Bay, see waterfalls, and maybe even the crater of Mt. Waialeale. If you visit in winter, you might spot whales! The pilot will share cool stories and facts about Kauai, and you can ask him questions.
With Wings Over Kauai, you'll have a safe and exciting trip, and they make sure everyone has a great time! Check the latest rates and availability.
Kauai Highlights Helicopter Tour
Fly over Kauai, known as the Garden Isle of Hawaii, in a helicopter. Check tour rates.
From the sky, you'll see amazing places like the Na Pali Coast, Waimea Canyon, and the famous Jurassic Falls from the movie "Jurassic Park".
The pilot will tell you cool facts about each place. Look down at waterfalls, big red cliffs, and thick jungles.
And the best part? You can take awesome pictures from your seat in the helicopter! Check the latest rates and availability.
Guided Waimea Canyon Hiking Adventures
Nāpali Cliff Top & Waimea Canyon Hike
Join this 6-7 hour hike that offers a unique view of the Nāpali Coast from high cliffs. No special permit is needed! Check tour rates.
The trail might be muddy and challenging, but the stunning views of the Nāpali Coastline are worth it.
You'll drive through historical towns and witness Kauai's changing landscapes. Up at Waimea Canyon, you'll see rainbow-colored walls and feel cool mountain air.
The tour includes stops at breathtaking viewpoints, including an 800 ft. waterfall, and a guided tour of Kōkeʻe and Waimea Canyon State Parks.
Be prepared for a long hike, and note it's not for those with heart conditions or a fear of heights. Check the latest rates and availability.
Ultimate Adventure – Waimea Canyon and Kōkeʻe State Park
Join this 8-hour ultimate adventure in Waimea Canyon and Koke'e State Park! You decide how much or little you hike, with a variety of trail options for any level. Check tour rates.
Travel comfortably in a coach through Western Kaua'i, learning about the rich history of sugar farming.
Road trip from sea level in Waimea Town up to spectacular lookouts, 4,000 feet high! You'll see rainbow-colored canyon walls and the stunning Nā Pali Coast.
At the park, your guide tailors the experience to your interests, from challenging hikes to exploring hidden trails. Check the latest rates and availability.
Waimea Canyon Waipoo Waterfall Hike
Join an easy and relaxing hike in the stunning Waimea Canyon. Check tour rates.
Along the way, you'll see colorful canyon views and a beautiful waterfall surrounded by ginger. At the end, there's a pool where you can cool off or you can enjoy watching the waterfall.
The hike is 4.5 hours long and is great for kids 8 years and older. Don't forget to enjoy a peaceful lunch in this amazing place! Check the latest rates and availability.
Driving Tours
Highlights Tour – Waimea Canyon & Kōkeʻe State Parks
Join this 5-hour driving tour exploring the breathtaking Waimea Canyon and Kōkeʻe State Parks. Check tour rates.
Without the long hikes, you'll comfortably visit both official and hidden overlooks, capturing the colorful Waimea Canyon and the stunning Nā Pali Coast.
Your journey starts from the sunny Po'ipu, passing through artistic Hanapēpē, up to the historical Waimea.
As you climb to 4,000 ft, be ready for cool mountain air and unmatched views of the island. Enjoy short walks to savor Kauai's natural wonders. Check the latest rates and availability.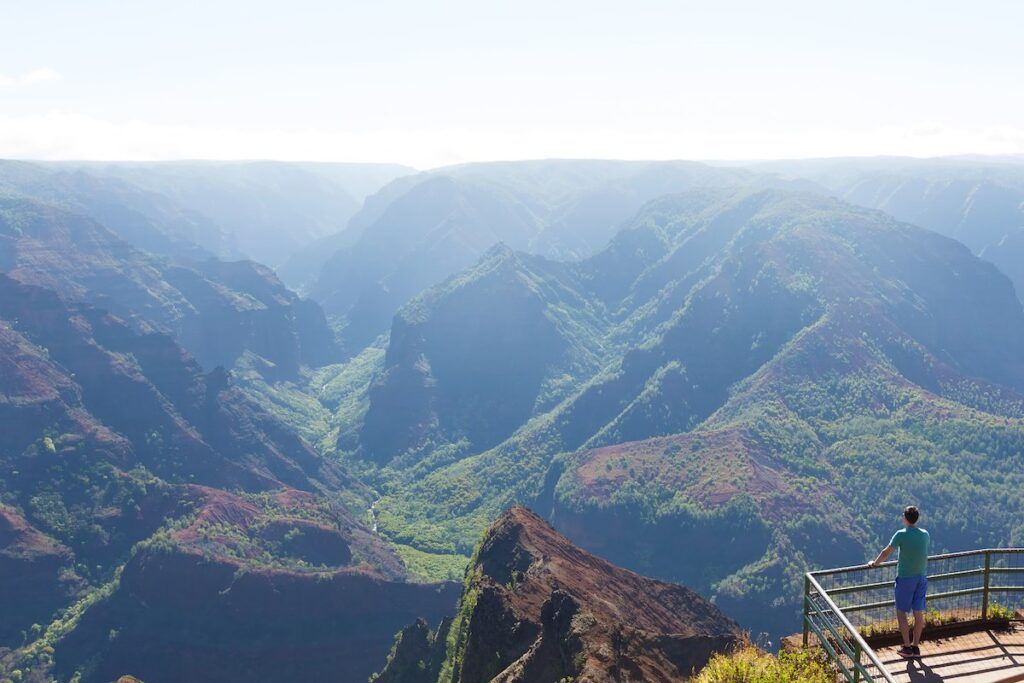 Kauai Waimea Canyon & Wailua River Tour
Discover Kauai's amazing sights on this exciting tour! First, see the beautiful Opaeka'a Falls, named after the shrimp that used to live in its waters. Check tour rates.
Then, enjoy a boat ride on the Wailua River surrounded by green trees and learn about ancient Hawaiian temples from the captain.
Walk to a fern-filled cave where singers perform the Hawaiian Wedding Song just for you.
Hungry? A tasty lunch from Puakea Grill is waiting. After that, head to the Waimea Canyon, which looks so grand it's called the "Grand Canyon of the Pacific."
You'll also visit the Kauai Coffee Plantation. Learn how coffee is made and try some for yourself! Check the latest rates and availability.
Tour stops are:
Opaeka'a Falls
Wailua Marina & Fern Grotto
Puakea Grill for lunch
Hanapepe Valley (if time allows)
Waimea Canyon & Town
Kauai Coffee Plantation
Spouting Horn
Waimea Canyon & Koke'e Adventure
Come explore the stunning Waimea Canyon, also known as the "Grand Canyon of the Pacific," a place so beautiful that it'll stick in your memory for a long time. Check tour rates.
As you drive up the mountain, you'll see trees and open fields before reaching the canyon's breathtaking views.
On your journey, you'll watch ocean waves shoot up at the Spouting Horn, visit the peaceful Hanapepe town, and enjoy a walk through Koke'e State Park, listening to the songs of rare birds.
After some great views from the Puu Hinahina lookout, you'll see the King Kaumuali'i Statue and end your adventure at the Kauai Coffee Plantation. Check the latest rates and availability.
Tour stops include:
Spouting Horn
Hanapepe Valley & Bridge
Waimea Canyon lookouts
Koke'e State Park hike
Puu Hinahina view
Russian Fort & King's Statue
Kauai Coffee Plantation
Ultimate Kauai Private Island Tour with Expert Guide
Join a private 6-hour day tour to explore Kauai's best spots in the south and west! Check tour rates.
Visit Old Koloa Town, watch the Spouting Horn, and relax on Poipu Beaches. Enjoy the view from Hanapepe Valley Lookout, and see the Fort Elizabeth State Park and Captain Cook's Monument.
Be amazed by the big Waimea Canyon and learn at Kokee Museum. From Kalalau Lookout, see beautiful views and visit the Kauai Coffee Company. End with a peek at Menehune Fish Pond.
This private tour is available every day and includes pick-up. Check the latest rates and availability.
Secret Kauai Waimea Canyon & Coastlines Private Island Tour
Join a 5-hour day tour to explore Waimea Canyon on Kauai. With a knowledgeable guide, you'll visit Spouting Horn, a famous spot on the island. Check tour rates.
Then, hike to Waipoo Falls (totally optional), a huge 800-foot waterfall where you can swim. The tour is small, with only four people in each vehicle, so it's a close-knit experience.
If you're coming from a cruise or a south shore hotel, they'll pick you up for free! But if you're in Princeville/NorthShore, meet at the Kukui Grove Shopping Center by 9am.
The tour goes from 9:00 AM to 2:00 PM, and you can even help choose the places you visit! Check the latest rates and availability.
Self-Guided Waimea Canyon Tours
Shaka Guide App
The Shaka Guide app is like having a tour guide in your pocket for the island of Kauai! Check app rates.
It tells you about the island's cool places, nature, and stories. You'll learn about many spots, but one of the best is the Waimea Canyon.
The app will explain how this huge canyon was made and its history. You'll also get to see the amazing colors of the canyon from a special lookout point. The guide will even tell you about the local food to try and cool activities to do.
So, if you're going to Kauai and want to learn more, the Shaka Guide app is perfect for you! Download it here.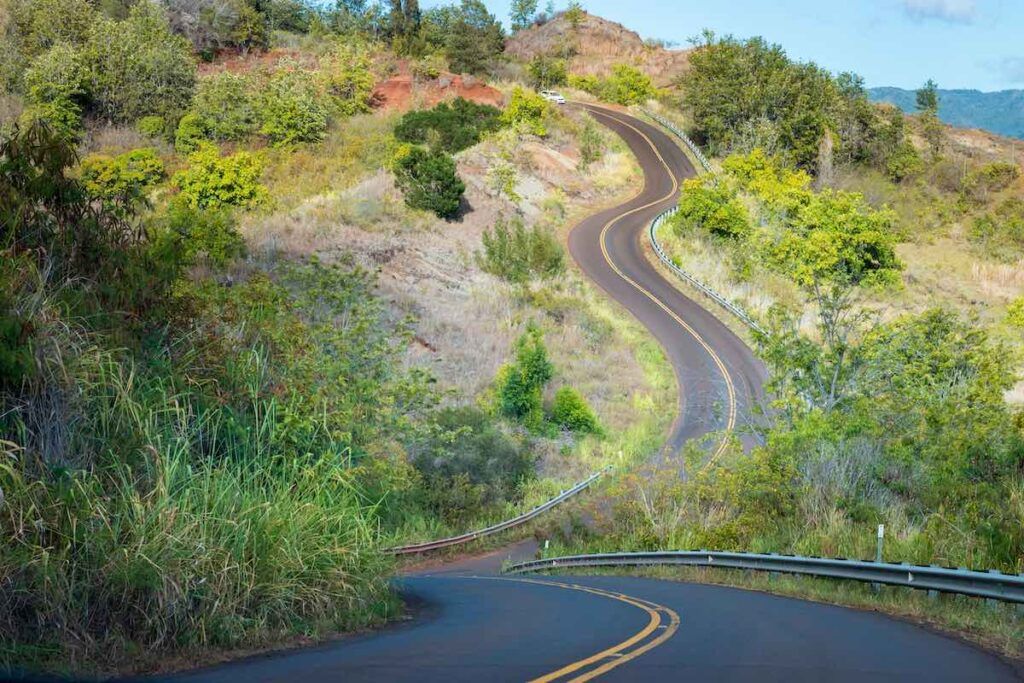 Self-Guided Audio Driving Tour of Kauai
The Kauai driving app helps you see the coolest places on the island of Kauai! You can choose from suggested tours or make your own. Check app rates.
Some of the cool spots you'll learn about are beaches like Anini Beach, towns like Hanapepe and Kapa'a, and special spots like the Kilauea Lighthouse.
If you head to the North and East, you'll see cool beaches, a popular waterfall called Wailua Falls, and maybe even monk seals! There's also a great town, Kapa'a, where you can get tasty treats.
The big highlight in the South and West is the Waimea Canyon. It's one of the most awesome sights on the island!
Nearby, you can also see the Kalalau Lookout, which has an amazing view of the Na Pali Coast. Besides the canyon, there are fun beaches, artsy places, and the resort area of Poipu.
Use the app, and you won't miss a thing! Download it here.
Tips for Choosing the Right Waimea Canyon Tour for You
Picking the best tour isn't just about the coolest spots, but what works best for you. Here's how to choose:
Fitness Level
Some tours involve hiking or long walks. If you're a fitness champ, pick a challenging trail. If you like it easy, go for a relaxed drive or short walk.
Interests
Do you love history, nature, or both? Make sure the tour matches what you're curious about.
Budget
Tours come in all price ranges. Some might include lunch or special extras. Pick one that fits your wallet.
Quick Picks
Families
Choose a tour with fun activities for kids.
Solo Travelers
Group tours can be a chance to meet new friends.
Couples
A sunset or private tour might be perfect for some romantic moments!
Remember, it's all about enjoying the beauty of Waimea Canyon your way!
Preparing for Your Waimea Canyon Tour
Getting ready for your Waimea Canyon adventure? Here's what you should pack.
Waimea Canyon Packing List
Gear
A good camera or smartphone to capture the views! If you're hiking, comfortable shoes are a must.
Clothing
Kauai can be warm, but the canyon might get a bit cooler. Wear light layers, and if rain's in the forecast, pack a light jacket.
Essentials
Don't forget water to stay hydrated, snacks for energy, and sunscreen to protect your skin.
Safety First!
Always stay on marked paths and hiking trails. The views are awesome, but don't get too close to cliff edges. Listen to your guide or follow signs; they're there to keep you safe.
Packing right and following safety tips means you'll have a fantastic and worry-free time exploring the canyon!
Visiting Waimea Canyon Kauai FAQs
How do I get to Waimea Canyon?
Waimea Canyon is located on the western side of Kauai. You can take Highway 50 from Lihue, turn onto Waimea Canyon Drive (Highway 550), and follow the road to the Waimea Canyon Lookout.
How long does it take to drive to Waimea Canyon from Lihue or Princeville?
From Lihue, it takes approximately 1 hour to 1.5 hours. From Princeville, it can take around 1.5 to 2 hours, depending on traffic.
Can I hike in Waimea Canyon?
Yes, there are numerous hiking trails ranging from easy to challenging. The Canyon Trail to Waipoo Falls is one of the popular hikes.
Is there an entrance fee?
Yes, there is an entrance fee for Waimea Canyon on Kauai for out-of-state visitors. As of April 19, 2021, out-of-state visitors must pay both an entrance fee of $5 per person and a parking fee of $10 per car. These fees are paid upon arrival, when parking, at a kiosk. No prior reservation is required.
How much time do I need at Waimea Canyon?
Depending on your interest, anywhere from 2 hours (just for a quick look) to a full day (if you plan to hike or explore extensively).
Are there facilities or food options nearby?
There are restrooms at the main lookout. Food options are limited within the park, so it's a good idea to bring your own or eat in nearby Waimea town before heading up.
Is Waimea Canyon kid-friendly?
Yes, the main lookout is easily accessible for kids. However, always watch children near cliffs and be cautious about which trails you choose if hiking with young ones.
When is the best time to visit Waimea Canyon?
Early morning is often clearer and less crowded. Afternoons might have more clouds, but the lighting can be spectacular. Always check the weather forecast.
Why is it called the "Grand Canyon of the Pacific"?
The nickname was popularized by Mark Twain. The canyon's vast size, deep valleys, and colorful rock layers resemble the Grand Canyon, hence the comparison.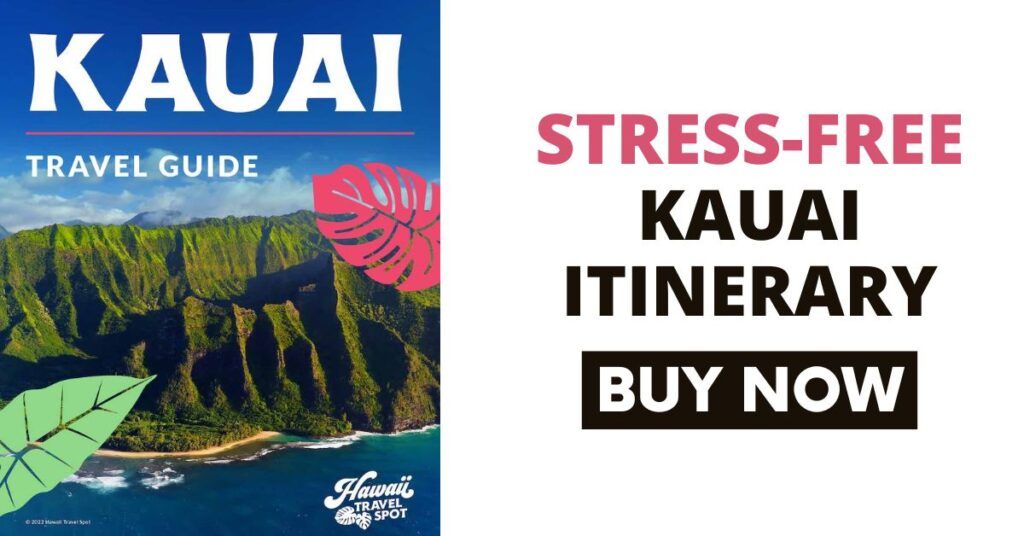 Visiting Waimea Canyon on Kauai Wrap-Up
If you're looking for an amazing adventure on Kauai, consider a Waimea Canyon tour.
These sightseeing tours take you to the west side of the island, where the meandering road offers breathtaking views of the "Grand Canyon of the Pacific."
Whether you have just a few hours or want to enjoy day trips filled with nature's beauty, these tours are a must-do for everyone visiting the island.
Don't miss out on this unforgettable journey through Waimea Canyon!